Difference between revisions of "Hampden"
From MasonicGenealogy
 

Line 589:
Line 589:
 
 
 

* Julian J. Anderson, '''[http://masonicgenealogy.com/MediaWiki/index.php?title=MAOtherBrothersA#ANDERSON.2C_JULIAN_JAMES_1832-1877 Memorial]'''

 

* Julian J. Anderson, '''[http://masonicgenealogy.com/MediaWiki/index.php?title=MAOtherBrothersA#ANDERSON.2C_JULIAN_JAMES_1832-1877 Memorial]'''

 
+
 

* Willard M. Hall, '''[http://masonicgenealogy.com/MediaWiki/index.php?title=MAOtherBrothersH#HALL.2C_WILLARD_M._1830-1864 Memorial]'''

 

* Willard M. Hall, '''[http://masonicgenealogy.com/MediaWiki/index.php?title=MAOtherBrothersH#HALL.2C_WILLARD_M._1830-1864 Memorial]'''

 

* John B. Kirkham, '''[http://masonicgenealogy.com/MediaWiki/index.php?title=MAOtherBrothersK#KIRKHAM.2C_JOHN_B._1791-1857 Memorial]'''

 

* John B. Kirkham, '''[http://masonicgenealogy.com/MediaWiki/index.php?title=MAOtherBrothersK#KIRKHAM.2C_JOHN_B._1791-1857 Memorial]'''
---
Latest revision as of 14:22, 6 April 2020
HAMPDEN LODGE
Location: Springfield
Chartered By: Francis J. Oliver
Charter Date: 03/11/1817 III-94
Precedence Date: 03/11/1817
Current Status: merged with Roswell Lee-Indian Orchard Lodge to form Indian Orchard Masonic Lodge, 09/12/2003.
---
PAST MASTERS
need living PMs
Roswell Lee, 1817, 1821, 1825
Justice Willard, 1818
Oliver B. Morris, 1819, 1820, 1822, 1824; SN
Diah Allen, 1823
Calvin Shattuck, 1826, 1830, 1844, 1845
John B. Kirkham, 1827, 1846 Mem
Ocran Dickinson, 1828, 1847-1849, 1851, 1855
Charles Ball, 1829
David Wood, 1831, 1832
Abraham G. Tannatt, 1833, 1834
Clark B. Stebbins, 1835-1837
John A. Gamber, 1838-1843, 1850; SN
Daniel Reynolds, 1852, 1854
Frederick A. Strong, 1853
Samuel E. Bailey, 1855
James W. Crooks, 1856
James J. Twiss, 1857; Mem
Augustus L. Soule, 1858
William S. Wood, 1859
William Shurtleff, 1860; SN
Asa E. Haywood, 1861
Francis T. Merrick, 1862, 1863, 1865
William H. Spooner, 1864
William E. Granger, 1866-1868
Henry M. Hutchinson, 1869, 1870
Richard H. Bailey, 1871-1873
Henry S. Lee, 1874
Lawrence W. Hatch, 1875, 1876
Asher Bartlett, 1877, 1878
Edward P. Kendrick, 1879, 1880
Ethan A. Lewis, 1881
William F. Andrews, 1882, 1883
Charles D. Hosley, 1884, 1885
Frederick W. Buffington, 1886, 1887
Orthello K. Merril, 1888
Frank A. Cooper, 1889
Henry J. Whitcomb, 1890
Edwin A. Blodgett, 1891
Fred A. Eldred, 1892; SN
Henrie A. Prouty, 1893
Guy Carleton, 1894
Charles F. Cooper, 1895, 1896
Edwin C. Spear, 1897
Thomas T. Davee, 1898, 1899
Henry J. Williams, 1900
Francis B. Bickley, 1901
Fred C. Hubbard, 1902
John B. Chapman, 1903
George M. Hendee, 1904
Albert Boedeker, 1905
Enos E. Penny, 1906
Harry D. Buckbee, 1907
Frank O. Hartwell, 1908; N
William J. Schlatter, 1909
Arthur E. Braman, 1910
Samuel S. Pease, 1911
Robert A. Buchan, 1912
Lewis W. Swan, 1913
Nedd W. Brown, 1914
Charles F. Hunt, 1915
John A. Webster, 1916
Ellis G. Knox, 1917
William L. Buchan, 1918
Josiah Dearborn, 1919
Hiram I. Dillenback, 1920
Ernest W. Carman, 1921
Samuel E. Strangford, 1922
Harry W. Tilley, 1923
Emil U. Dillenback, 1924; N
Harris A. Colwell, 1925
Wolcott W. Gumble, 1926
Stephen R. Carr, 1927
Raymond L. Combs, 1928
Clifford A. Cook, 1929
Harold H. Jensen, 1930
Raymond J. Syrett, 1931
Richard R. Hartwell, 1932
Benjamin H. Spencer, 1933
George W. Gray, 1934; N
David P. Mackay, 1935
Maurice H. Crandall, 1936
Edric F. Bascom, 1937
Charles H. Gray, 1938
Merrick H. Swift, 1939
A. Carlisle Stone, 1940
Fredric H. Couch, 1941
Roy F. Smead, 1942
Edmund B. Cartmill, 1943
Alfred G. Phillips, 1944; N
William E. Thompson, 1945
John E. Avery, 1946
Donald B. Hanks, 1947
J. William Bennett, 1948
Frank E. Tourtellot, 1949
Harry E. Kennedy, 1950
Chester M. Spangler, 1951
Frederick R. Hill, 1952
Leonard G. Curtis, 1953
Douglas F. Knight, 1954; N
Leonard J. Robert, 1955
Daniel D. Brown, 1956
Robert M. Lantry, 1957
Willard M. Field, 1958
George R. Gray, 1959
Richard E. Hillsburg, 1960
Robert S. Haynes, 1961
Miles M. Hapgood, Jr., 1962
Alan E. Brigham, 1963
Philip A. Christensen, 1964
Herbert Simpson, 1965
F. Allen Keith, 1966
William E. Nickerson, jr., 1967
Hector A. Paquette, 1968
Gilbert F. Mueller, 1969
Paul E. Contois, 1970
Spencer W. Shaw, 1971; N
Roland F. Maxim, 1972
Philip Ehnstrom, 1973, 1985, 1994, 1998, 1999; N
Joshua M. Duncan, 1974
Woodbury B. Knight, 1975
Alexander Kotrotsos, 1976, 1981
George P. Nay, 1977, 1978, 1984, 2000, 2001; PDDGM
Robert A. Bouchard, 1979
Irving W. Cowles, 1980
Dennis T. Biggins, 1982
Romeo H. Borgatti, 1983
Taylor B. Cook, 1986, 1987
Vartan Zeroogian, 1988
Joseph E. Kusick, 1989
Joseph W. Wojcik, 1990
Lawrence C. Adams, 1991
Kent J. Friberg, 1992, 1996, 1997, 2002, 2003
Silvain E. Schulze, 1993
---
NOTES
V-40: Hampden Lodge suspended work from 1835-1844; remitted dues in December 1845.
---
REFERENCES IN GRAND LODGE PROCEEDINGS
ANNIVERSARIES
VISITS BY GRAND MASTER
BY-LAW CHANGES
1858 1869 1874 1876 1877 1878 1882 1886 1890 1891 1900 1903 1905 1909 1911 1912 1916 1917 1919 1921 1924 1925 1927 1933 1937 1945 1952 1976 1977 1979 1981 1982
HISTORY
125TH ANNIVERSARY HISTORY, MARCH 1942
From Proceedings, Page 1942-47:
by Worshipful Frederic C. Couch.
The facts of interest in the history of Hampden Lodge during the first hundred years of its existence were taken for the most part from the history as written by our Past Master Edward P. Kendrick at the time of our one hundredth anniversary.
As we all know, at the time Hampden Lodge was organized Masonry was not a new institution in Massachusetts. According to the Grand Lodge reports of the year 1817, it held jurisdiction over 105 Lodges, 27 being in what is now the State of Maine and 78 in Massachusetts. Among the Lodges in the County of Hampden were Thomas of Monson, afterwards moved to Palmer, Federal of Blandford, Mount Pleasant of Granville, and Friendly Society of West Springfield. Thomas Lodge is the only one of these which is now in existence.
The Masonic Lodge nearest to us at the time of the organization of Hampden Lodge was the one in West Springfield. Several of the members withdrew and joined Hampden Lodge when it was organized.
The earliest record we have referring to the organization of Hampden Lodge, in fact the only one prior to the records of the first meeting, is that of an agreement which reads as follows:
Springfield, Jan. 16, A. L. 1817

"We the subscribers hereby agree to and with each other that we will each advance our proportionate share of the money which.may be found necessary for the Purpose of obtaining a charter for a Lodge of Free and Accepted Masons in the Town of Springfield, said money to be paid to Col. Roswell Lee whenever he or any other of the subscribers duly authorized may have reason to expend the sum for the purpose aforesaid."
This agreement was signed by twenty-five Brethren, all of whom were present at the first meeting of the Lodge.
Our charter is dated March 11, 1817.fThe records of the Grand Lodge in Boston show that a petition had been presented asking for a charter for Hampden Lodge, signed by Roswell Lee, Joseph Hopkins, Ezra Osborne and eleven others. This petition was presented to the Grand Lodge on September 9, 1816, and was referred to a committee. The petition was granted at the meeting of the Grand Lodge held March 10, 1817. It is evident that at this time there was no provision requiring work under dispensation before a charter could be issued. Nothing appears on our records as to how it came to Springfield or how or to whom it was delivered. It was without doubt present at the first meeting which was held March 16, 1817. Probably it was sent or delivered to Colonel Lee and he notified the Brethren when and where to meet. The records do not state where this meeting or the next two were held, but that of April 10th was held at Hampden Hall and this was the regular place of meeting thereafter. This was in what was known as the Hampden House at the northwest corner of Main and Court Streets.
The names on the charter are: Col. Roswell Lee, Ezra Osborne, Jr., Joseph Hopkins, Alba Fish, Joel Brown, Chester B. Chappell, John Burt, George Colton, Warren Church, William H. Foster, Diah Allen, Stephen Cooley, Jr., John llawkins and John Newbury. These charter members, with two or three exceptions, were connected in some way with the United States Armory in this city.
At this meeting it was voted to admit as members of the Lodge thirteen other Brethren, all of whom were Free and Accepted Masons. So the Lodge started off with a membership of twenty-seven. It was voted to proceed to the election of officers, and the following were chosen:
W. M. Roswell Lee
S. W. Justice Willard
J. W. Elisha Tobey
T. John Hawkins
Sec. George Colton
S. D. Warren Church
J. D. Diah Allen
Tyler John Hopkins
A committee was appointed to draft a constitution and another committee.to procure jewels and fixtures for the Lodge.
The Lodge thus officered evidently considered itself duly organized for the transaction of such business as should lawfully come before it, without waiting for further action by the Grand Lodge, and we can celebrate this date, March 16, 1817, as its birthday. At the third meeting, held April 8th, five petitions were received and the first "work" was done by raising Brother Samuel B. Lathrop to the degree of Master Mason.
From this time the Lodge for a while met about once a week, busily engaged in receiving petitions, initiating, crafting and raising Masons, although the Lodge was not "constituted" or its officers installed until May 29th.
The first code of By-Laws adopted contained some peculiarly quaint and interesting provisions. The first three articles of the By-Laws were as follows:
Art. 1. The stated meetings of said Lodge shall be held at their Lodge Room on Wednesday preceding the fulling of the moon in each month except when the moon falls on Wednesday between the hours of 12 o'clock the night preceding and succeeding, the meeting shall be held on that day.
Art. 2. The hours of meeting shall be at four o'clock P. M. when the Master (or Senior Officer) shall proceed to open the Lodge as soon as a competent number of members are present to proceed to business.
Art. 3. At half past eight o'clock lodge nights the Senior Warden will inform the Master of the hour and the time for closing shall not be later than 9 o'clock and every member who shall remain in the Lodge Room after 10 o'clock P. M. on said nights shall forfeit and pay into the treasury for the benefit of the Lodge fifty cents each."
It was provided that Article 3 "may be dispensed with in extraordinary cases, seven-eights of the members agreeing thereto." Every candidate was entitled to three ballots. In case the first ballot went against him, at the request of his proposer: the other two might be postponed until the next regular Lodge when the next two must be taken. A night's fee for each Brother to pay was 12 1/2 cents, "the Chaplain, Tyler, Stewards excepted, also excepting visitors the first time they sit in the Lodge Room and Clergymen of regular standing."
The provision fixing the hour of meeting did not last long, for the next year it was voted to amend the By-Laws respecting this so that it should be at 5 o'clock in the months of November, December, January, February, March and April, and at 6 o'clock during the remaining months. The By-Laws for a night's fee was changed by a provision that the members should pay a fee of 25 cents every three months. These By-Laws were amended e from time to time, and it was not long before an entirely new code was adopted.
On the 8th day of May, 1817, the Hampden Federalist contained the following.advertisement, which was also printed in the issue of May 15, 1817:
Masonic Notice

Hampden Lodge of Free and Accepted Masons will be instituted on Thursday, the 29th day of May by the Dis. Dept. G. M. The Lodge will be opened precisely at nine and the public exercises commence at eleven A.M. All brethren of regular Lodges to whom this notice may come are respectfully invited to be present.

Per Order, Geo Colton, Secretary
Springfield, May 1 A.L. 5817
What was done at this meeting can perhaps be best stated in the account in the Federalist of June 5, 1817, as follows:
"On Thursday last, according to previous notice, Hampden Lodge of Free and Accepted Masons was constituted and the officers installed in due form by M.W. Rev. Titus Strong, Installing Officer. The ceremonies were performed in the presence of a crowded audience at the meeting house in this village with the order and solemnity which are the distinguishing characteristics of this ancient and honorable institution.

"The discourse which was delivered by W. Rev. Samuel Osgood, was particularly Masonic, appropriate and impressive. After the exercises at the meeting house about one hundred and fifty brethren of the craft partook of a sumptuous repast prepared by W. Capt. John Bennett in a style of elegance and richness which could scarce have been surpassed at this season of the year. The festivities were closed at an early hour in much harmony and sobriety."
The records of the meeting of June 2, 1819, state that it was held at Bro. E. Gunn's Hall, which was located on State Street near Walnut Street. Why the meeting place was changed does not appear. Gunn's Hall was used for less than a year, as in February, 1820, the Lodge moved to Carew's new building, as it was then called, at the southeast corner of Main and State Streets.
Our Brethren in these days seem to have been quite enthusiastic and energetic. The festival of St. John the Baptist was celebrated in fine shape on June 26, 1826. According to our records the Lodge met at ten o'clock in the morning and marched in procession to the first meeting house. There services were held, after which the Craft, the Clergymen and Selectmen of Springfield, and several gentlemen of distinction, who were invited, partook of an excellent collation.
In November 1826, an agreement was made for the building of the upper story of the Town Hall building, at the corner of State and Market Streets, to be owned and occupied for Masonic purposes. The town built the first two stories, and the Masonic bodies then in existence there built the third story. The cornerstone of this building was laid by Hampden Lodge with appropriate Masonic ceremonies May 15, 1827.
It is not stated in our records when Hampden Lodge first occupied this Hall, which was to be the home of all the Masonic bodies in Springfield for forty-six years, nor do our records show that it was ever dedicated. The building is said to have been completed in February, 1828. The part belonging to the town was first used at the annual town meeting held March 24, 1828. The Hall was considered very grand. It was, of course, in those days lighted by oil lamps. Brother John Howard, President of the Springfield Bank, presented a very handsome chandelier, costing $75, for holding the lamps.
What is known as the anti-Masonic excitement commenced about the time the new hall was completed and had for many years a very damaging effect upon the Lodge. The supposed abduction of Morgan took place in 1826. That year twenty-four members were added to the Lodge . In 1827 there were only nine. In 1828, three. In 1829, only one, and that by affiliation. In 1830 and 1831, only one each year. The last person initiated before the Lodge suspended work was Brother Lucius C. Allin, in April, 1832. For fourteen years after this no work was done.
From 1832 to 1846 the Lodge met about once a year for the election of officers and then without any public notice, the officers decided on a meeting and personally notified a few of the faithful to be present.- In the years 1838, 1840 and 1841 there are no records of any meetings being held. It is understood that the members used to meet at different houses and hold regular meetings but there are no records of any except at Masonic Hall. The Grand Lodge called in all the charters of Lodges not working and many were delivered up. Several members of Hampden Lodge were in favor of surrendering the charter.
A convention of Masons throughout the country was called by an anonymous advertisement in the papers, to be held in this city, to consider the advisability of Lodges giving up their charters. The convention was held September 3, 1834, and it was supposed that it was called in the interest of the anti-Masonic political party. Very few Springfield Masons attended. A series of resolutions were adopted at this meeting, stating that while there was nothing in Masonry to conflict with a man's duties as a citizen or as a Christian, yet, in view of the present strife and excitement, it was deemed advisable that all Masonic charters should be surrendered and cancelled.
At a meeting of Hampden Lodge held September 17,1834, the following resolutions were unanimously adopted:
RESOLVED: That we will never consent to be deprived of the rights and privileges which belong to us as citizens of a free country.
RESOLVED: That in our opinion it is not expedient nor necessary that the Masonic charters should be surrendered and cancelled.
Through fear that in some way the charter might be given up or misappropriated, it was taken possession of by Past Master Ocran Dickinson and safely concealed till the Lodge commenced working again. It was kept by him in the vault of the old Springfield Bank.
It is told that for some years after the Lodge suspended work some of the Brethren were accustomed to meet together for the purpose of going over the ritual, so that it should not be forgotten. These meetings were after a time discontinued, and when work was resumed in 1846, after an interval of fourteen years, it was found that nearly everyone had forgotten the ritual and it was quite difficult to recall or revive it. Worshipful Brother Dickinson stated that he and three other members of the Lodge got together and by comparing recollections of different parts, managed to get it in shape and Hampden Lodge soon acquired the reputation of being one of the most accurate working Lodges in this part of the State.
The period of the Civil War had a marked effect on Hampden Lodge. Many who had entered the service in defense of their country at this troublesome time, desiring before their departure for the South to receive the light of our great order, which shone bright and pure in the camp, in the hospital, and even on the battle field and in the prison, applied to Hampden Lodge, and often under dispensation their petitions were received, ballot taken and all three degrees conferred in one evening.
The fiftieth anniversary of the Lodge was celebrated May 17, 1867. After a special communication of the Lodge, in which the degree of Master Mason was conferred, the members of Hampden and Roswell Lee Lodges adjourned to Military Hall to the number of two hundred. The record of the event states that "after doing justice to an elegant and satisfactory banquet, prepared under the superintendence of our efficient tyler, Brother George D. Rollins, the cloth was removed, and a feast of reason and flow of soul followed which was keenly enjoyed and will long be remembered as an epoch in the annals of Hampden Lodge." After singing "Auld Lang Syne," the Brethren then adjourned, the record says, "feeling that they had been laid under still another tie to the fraternity, and hoping that those who shall celebrate the one hundredth anniversary of our beloved Lodge may be able to record an occasion of equal profit and enjoyment."
As the business of the Masonic bodies in the City increased and their membership grew larger, it seemed advisable, if not necessary, that we should have more commodious apartments and in 1873 arrangements were made for the leasing of the two upper stories of the Massachusetts Mutual Building on Main Street. The rent of these two floors was $1500 per year.
The first meeting of Hampden Lodge in the new apartments was held May 12, 1874, before they were dedicated, and the Entered Apprentice Degree was conferred on four candidates. The quarters were dedicated on June 24, 1874, by the Most Worshipful Grand Lodge of Massachusetts, M.W. Sereno D. Nickerson, Grand Master, presiding.
The seventy-fifth anniversary was duly observed March 15, 1892. A large assemblage of members of the Lodge and other Masons were present, taxing the capacity of the hall. Music was furnished by the Henschel quartet. Past Master Edmund P. Kendrick delivered an historical address, followed by reminiscences from a number of the Past Masters. The Lodge then adjourned to the banquet hall where an elaborate repast was partaken of.
On the afternoon of February 9, 1891, a fire rendered useless the upper story of the building used by all the bodies except the two Lodges, and all the apartments, including the organ, costumes and paraphernalia were deluged with water. Hampden and DeSoto Lodges of Odd Fellows promptly offered the use of their halls, but as the water dried up, it was found that the "lower hall" could be used, although it was in a somewhat unsightly condition, and it was decided to remain in our old quarters for the present. This partial destruction of the Masonic apartments immediately started the idea for the erection of a Masonic Temple for the use of the fraternity. The presiding officers of the seven Masonic bodies called a meeting February 16, 1891, and it was decided to erect a Masonic Temple. The property at the southeast corner of Main and State Streets was purchased for $58,000, a contract was made and the building was erected.
The cornerstone was laid October 21, 1892, with the usual form and rites. The ceremonies were performed by the Most Worshipful Grand Lodge of Massachusetts, M. W. Samuel Wells, Grand Master, officiating. It was a great day when the Temple was dedicated, October 24, 1893. The ceremonies of dedication were performed by the Grand Lodge of Massachusetts, Most Worshipful Harvey N. Shepard, Grand Master, presiding. After a parade, in which there were 2100 persons in line, a fine collation was partaken of and the events of the day were over.
There were two more ceremonies attend,ing the laying of cornerstones which deserve mention. That of the new post Office c Federal Building, F'ebruary 22, 1880, and that of the new HighSchool Building on State Street on June 1897. Both of these ceremonies were performed by the Most Worshipful Grand Lodge of Massachusetts.
At a special communication March 26, 1901, Past Master's jewels were presented bv the Lodge to the seventeen living Past Masters. The presentation speech was made by Most Worshipful Charles T. Gallagher, Grand Master of the Grand Lodge. Over three hundred members of the Lodge were present. It was an unusual occurrence for a Lodge to present jewels to all its Past Masters at one time, and since then, it has been the custom to present a jewel to the retiring Master at the time of the installation of his successor.
The one hundredth anniversary celebration was held. March 16 and 17, 1917. There was a concert and ball held in the municipal auditorium on Friday evening, the 16th. On Saturday, the 17th, the Master Mason Degree was conferred. on Brother Nathaniei A. Billings, the work being done by the Past Masters. A bronze memorial tablet was presented on behalf of Worshipful Brother George M. Hendee. Saturday evening a dinner was served for invited guests and members of the Lodge, after which historical exercises were held. Right Worshipful Brother Edmund P. Kendrick made the historical address. The affair was attended by officers of the Grand Lodge and addresses were given by Most Worshipful Leon M. Abbott, Grand Master, and Right Worshipful Frederick W. Hamilton, Grand. Secretary.
Although the Temple at the southeast corner of Main and State Streets had been in use for less than twenty-five years, it was apparent that the apartments used for Masonic purposes were not large enough and that before long a new Temple would be necessary. It was therefore decided to purchase a tract of land on the south side of State Street from the executors of the will of the late George W. Tapley.
It was just twenty days after the one hundredth anniversary that the United States declared war on Germany. Then started immediately a period when men rushed into Masonry. From 1917 to 1927, Hampden Lodge raised 687 candidates, the greatest number coming in 1920, when 131 candidates were raised. The membership peak came in 1925, when Hampden Lodge closed the year with 1194 members.
The necessity for larger quarters became more apparent during this rush of work, and on November 2, 1920, it was reported that the Masonic Hall Association had voted to build a new Masonic Temple on State Street.
On March 28, 1923, Hampden Lodge was shocked at the death of one of our most beloved Past Masters. The Lodge record of his death reads as follows: "Hampden Lodge has received an irreparable loss in the death of Right Worshipful Hiram I. Dillenback, Worshipful Master in 1920, District Deputy Grand Master in 1921 and 1922, and Deputy Grand Master in 1923. A man who by his personality and love of Masonry, and whose great fidelity to duty in office, won the respect of Masons not only in his Lodge, but in every part of the State where known."
On June 24, 1924, the corner stone of the new Masonic Temple was laid by Most Worshipful Rev. Dudley H. Ferrell. The first meeting of Hampden Lodge in this Temple was on January 5, 1926, and the dedication took place February 16, 1926. Hampden Lodge being the oldest Lodge, called the special communication to receive the Grand Master, and the ceremonies of dedication were conducted by Most Worshipful Frank L. Simpson, Grand Master.
March 15th, 1927, a special communication was called for the purpose of celebrating the one hundred and tenth anniversary and presentation of Veteran's Medals to twelve members of the Lodge by Most Worshipful Frank L. Simpson.
Soon after this came the period of depression, which was the worst the country had ever known, and Hampden Lodge showed a continued falling off in membership until last year, 1941.
It is hard to realize as we sit here celebrating the completion of one hundred and twenty-five years of a character building organization based on brotherly love, relief and truth, that the United States is fighting a gigantic war against those who would force us in just the opposite direction. However, the spirit and power of free men is strong and I feel we can look forward with confidence to the time when we shall accomplish our task abroad. Although the future looks dark, the vigor of Hampden Lodge is increasing, and we may anticipate many years of continued success.
175TH ANNIVERSARY HISTORY, MARCH 1992
The festivities for the 125th Anniversary celebration lasted for ten days. The activities began on Friday evening March 13, 1942 with a six act talent show followed by dancing to the music of Al Strohman. Masonic events were highlighted with the presence of 18 Past Masters who conferred the Master Mason degree on Bro. George Delarm.
The next 24 years found Hampden Lodge apprenticing, crafting and raising Masons without a need to move or build.
The year 1966 brought both good and bad news. On January 11th vandals broke into the Temple and slashed five precious paintings - four of the founders of Masonry in Springfield and one of the most beloved members of Hampden Lodge. Portraits of Roswell Lee, Elisha Tobey and Hiram Dillenback belonged to Hampden Lodge while those of Ocran Dickinson and Samuel Osgood belonged to the Morning Star Chapter. The good news came in October of the same year when a new monument in memory of Col. Roswell Lee was dedicated in Springfield Cemetery.
Just a few months later, in March, 1967 Hampden Lodge began a celebration recalling a century and one-half of teaching "Faith" in God, "Hope" in Immortality, and "Charity" to all Mankind. This important milestone was marked by a three-day program distinguishing the connection with supporters of the Fraternity, reverence to the Grand Architect and the formal presentation of a Lodge at work and refreshment.
This event included the first recorded recognition of wives, and lady friends who support and back up the Officers and Members of the Lodge as they go about their tasks. Twenty-six Past Masters were present on March 14th, 1967 when the Master Mason Degree was conferred on Bro. Phillip Ehnstrom.
In 1973, a search for funds to be used for expansion of the Masonic Home in Charlton was begun by the Grand Lodge of Massachusetts. Lodge Brethren contributing to this fund made it possible to furnish one of the new rooms. The original Masonic Home was established in 1911. Since Hampden Lodge began utilizing its facilities in 1916, 27 guests have been accepted from our Lodge - 14 brothers and 13 Ladies. At this time Brother Erie Dunn and Alma McManus are guests of the home. In August, 1974 the Lodge was again contemplating a move. A review of finances revealed that what seemed an excessive percentage of our income from dues (over 67%) was needed to rent the meeting room. With a majority in favor of the move and permission from the Grand Master, the Lodge began meeting, on a temporary basis, at the Masonic Temple on Berkshire Street, Indian Orchard. Following a six year, unsuccessful search for permanent quarters, Hampden Lodge returned to the Masonic Temple on State Street in Springfield in 1980. This was the eighth move in 163 years.
In the early years of our history, it was not uncommon for a Brother to serve more than one year as Master. Wor. Roswell Lee served four terms! Between the years of 1900 to 1977 none had served for more than one year. In 1977, 1978 and 1984 Wor. George Nay served the Brethren as their Worshipful Master. In 1976 and again in 1981 Bro. Alexander Kotrotsos served as Master. Wor. Phillip Ehnstrom served two years-once in 1973 and again in 1985. Our present Secretary Wor. Taylor Cook continues to serve the Lodge as Secretary having been its Master in 1986 and 1987. Throughout its long history Hampden Lodge has had reason to be proud of its membership. They have maintained a position of Masonic prominence for 175 years. It is the Mother Lodge of ten other Masonic Lodges. Those chartered with the approval of Hampden Lodge are:
OTHER
---
EVENTS
OFFICER LIST, JUNE 1828
From Amaranth, or Masonic Garland, Vol. I, No. 3, June 1828, Page 94:
R. W. J. Newbury, M.;
C. Ball, S. W.;
D. Wood, J. W. ;
J. Carew, Tr.;
H. Brewer, Sec.
OFFICER LIST, MAY 1829
From Amaranth, or Masonic Garland, Vol. II, No. 3, June 1829, Page 95:
At a regular communication of Hampden Lodge, held at Masons' Hal], Springfield, Mass. May 23:
Charles Ball, Master;
David Wood, S. W.;
A. G. Tannail, J. W.
J. Carew, T.;
H. Brewer, S.;
L. Foster, S. D.;
C. B. Stebbins, J. D.
ST. JOHN'S DAY, JUNE 1856
From Moore's Freemason's Monthly, Vol. XV, No. 10, August 1856, p. 305:
The anniversary of the nativity of St. John the Baptist, was celebrated, under the auspices of Hampden Lodge, at Springfield, in this State, on the 24th June last. The day was one of the finest of the season, and the place one of the most beautiful and inviting inland cities in the Commonwealth. Everything contributed to render the occasion an agreeable one, and we but embody the general sentiment when we say that it was eminently so. It was a holiday for others than Masons. The citizens generally seemed to enter into the spirit of it, and "hundreds flocked from distant towns and villages to participate in, and be curious spectators of, the jubilant demonstrations incident to the day and its associations." The windows of the principal business stores (to borrow the words of a contemporary,) "were decorated with flags, and festooned with streamers which fluttered the red, white, and blue, in graceful undulatory motions in the breeze, and thousands of bright eyes sparkled with delight from balconies and windows as the immense procession passed along. From ten in morning until the sun went down, a continual hum of excitement pervaded the city — crowds of eager people hurried backwards and forwards, making the occasion appear as much a holiday as one set apart exclusively for that purpose."
"Never"—says the Springfield Republican of the next day—"never was a prettier or more successful celebration of that august anniversary. Some six hundred of the Brothers gathered, representing various Chapters and Lodges in and about Boston and along the Connecticut river. Venerable were many with years and honors ; heavy were others with cumulative regalia, betokening honored and long service in behalf of the patron saint of the Brotherhood; curious to the "world's people" were the bright belts, rosettes, crosses, little aprons, covered with signs and wonders, unlike anything in earth or in heaven, banners, candles, etc., etc., that the representatives of the different degrees of progress distinguished themselves to each other with; interested and gratified seemed all who had worshiped at the inner shrine and tasted at the secret spring ; while the throng of ladies that appropriately filled the galleries of Church and Hall and lined the streets, fed eagerly on what they saw and heard, and, unsated, looked the unuttered cry of Oliver Twist, for "more." Not within this generation's day, certainly, has there been such a demonstration of the beauty and bravery of Freemasonry in our neighborhood, as was this. It was a healthy token of the revival which has come over this ancient Institution. The Lodge in Springfield is now growing rapidly, has 200 members, and is constantly increasing. The same seems generally true of the Order everywhere in New England, if not in the Union. Surely nothing is worthy of contempt or ridicule, that survives time and persecutions as has this Brotherhood of men, and rises vigorously into new activity at a period of the world when the practical is more than ever worshiped as the one sole god."
The procession was formed at about half passed 11 o'clock, under the direction of Col. J. M. Thompson, as Chief Marshal. The escort duty was performed by the De Molay Encampment of Boston, under the command of Sir Clement A. Walker, M. D., accompanied by Bond's celebrated Cornet Band. The ranks were full; and never has this excellent military body appeared to better advantage, or discharged its public duties with more credit to itself. It was the attractive feature of the procession, and elicited the highest praise from the spectators. There were rising six hundred Masons in the procession, including several carriages with aged Brethren. It reached the Church soon after one o'clock, and the exercises of the day were commenced with " a voluntary on the Organ by Henry Wilson, of Hartford, and following it were: a chorus by the choir; invocation by Rev. William Flint, of Greenfield; the singing of an ode written for the occasion ; reading of the Scriptures by Rev. J. J. Twiss, of Springfield; singing of another ode, written by Miss Mary A. Livermore ; oration by Rev. N. M. Gaylord, of Boston; anthem by the choir, and benediction. The exercises lasted about an hour and a half, and were highly interesting. The oration was a splendid effort on the part of the orator in favor of Masonry and its ancient customs, and to prove the religious and moral advantages of the Order as an institution of benevolence and Christian virtue. The Church was crowded during the exercises, the galleries being filled with ladies, and the body of the house with the Masonic delegations and a large body of interested spectators." The singing was admirably and effectively executed. We have rarely heard it equaled on similar occasions.
The exercises at the church being concluded, the procession was again formed and proceeded to the new City Hall, where the tables were beautifully spread for six hundred persons, and about that number partook of the rich entertainment before them. The cloth being removed, Col. N. A. Thompson, of Boston, as President of the day, welcomed the Fraternity in the name of Hampden Lodge, and closed a neat and appropriate address by an eloquent tribute to women. He gave the following sentiment:
Woman: In all the occupations of life, whether as wife, mother, daughter or sister, our truest, earliest and latest friend; in the journey of life our way would be a toilsome one indeed, without the joys with which she surrounds it.
The President then offered the following regular toasts:—
The Day we Celebrate: The natal day of our patron saint; may his fidelity to truth be ever a living example.
J. W. Crooks, Esq. of Springfield, Master of Hampden Lodge, responded, and offered the following;—

The Masonic Platform: As far as the east is from the west, from north to south, its planks will ever endure.
The president here arose, and alluding to the respect and veneration which every Mason entertained for his Grand Master, gave
The Health of Most Worshipful Dr. Winslow Lewis, Grand Master of Massachusetts.
This was received by the Brothers with three cheers, standing, and Dr. Lewis replied in his usual happy strain, closing with a beautiful tribute to Masonry.
The president then gave
The Health of George M. Randall, Past Grand Master of Massachusetts.
To which Br. Randall responded, and gave

Masonry: May its proudest eulogium be, that it has answered its mission.
The president here spoke of the music in the church, and complimented it in the highest terms, as among the most pleasing and successful exercises of the day. He offered
The ladies and gentlemen of the choir, today; their best health and three cheers for all.
In response to this, the choir, which was present, rose and gave a song, and the De Molays of Boston returned them three cheers, with "one additional for the ladies."
The President next remarked upon the propriety of calling out some one capable of responding in behalf of the ladies, and gave, as a suitable selection,
Col. I. H. Wright : Ever welcome to our fraternal circle, but more especially welcome on our festive occasions.
Col. Wright, who is Senior Warden of Hiram Lodge, West Cambridge, responded, speaking of the ladies as the originators and early friends of Masonry ; especially, of that part which treats of 'unity and fraternity,' and gave,

Masonic Union: It applauds the right, it condemns the wrong, and to individual judgment it leaves all minor matters.
The next toast was announced by the President as follows :—
Liberty and Masonry: One and inseparable, wherever they exist there is our country.
The President having requested R. W. John T. Heard, Senior Grand Warden, to respond to this sentiment, that Brother cordially assented to the proposition contained in it, and proceeded to advocate social and festive gatherings of the Fraternity. He recommended the observance of the anniversary of the Evangelist at Boston, which presented a most fitting occasion for an annual feast of the whole Order in Massachusetts. This feast, like that long established in England, would be patronized by the Grand Lodge, and would, without doubt, be attended by the first three officers, at least, of the subordinate Lodges in the jurisdiction.

The Brother also referred to the important services of the M. W. Henry Price, in introducing Freemasonry into America, and presented for the consideration of the Fraternity the plan of erecting a Monument to his memory. A memorial of this kind would be appropriately erected in Mount Auburn, and the ground for it might be of sufficient extent to afford also a burial place for stranger Brethren who might die among us. In conclusion he gave as a toast:—

Henry Price — The first Grand Master of America — the founder of Masonry on this continent — may he ever be held among Masons, in grateful and honorable remembrance.
The next toast was as follows :
Freemasonry: Unconnected with political or party strife, aloof from the conflicts of sectarian controversy, its seeks as its legitimate object to benefit and bless mankind.
Women: The mothers of Masons and the true representatives of the "faith, hope and charity" of our profession. God bless them forever.
Three cheers were given to the De Molays, a splendid corps of Sir Knights, for their services as escorts during the day, and Hon. Moses Kimball, who is a member, responded in a happy speech. Three cheers were given by the audience for Governor Gardner, who could not be present because of other and more imperative engagements, and the company dispersed at six o'clock, pleased with their day's festivities.
Says the Springfield Republican — "Colonel Thompson of Boston discharged the duties of president of the day with energy and grace. The dinner was well served, the tables were fragrant and beautiful with flowers, and the Hall wore a very gay and attractive aspect throughout the continuance of the festival. Every feature of the occasion seemed to shine with success, and to both spectator and participant it was a day of much satisfaction."
PRESENTATION, JANUARY 1864
From Moore's Freemason's Monthly, Vol. XXIII, No. 3, January, 1864, p. 87:
The following beautiful and interesting speech was made by Bro. P. M. E. W. Clark, on the occasion of presenting an elegant Past Master's Jewel and Collar to Bro. P. M. F. T. Merrick, Tuesday eveuing, November 3d, 1863 :—
"My Brother—In times like the present, when every eye and ear is strained to catch the first news from our gallant armies, we are apt to forget that, Peace has her victories as well as War.
"The members of Hampden Lodge have often given to their gallant Brothers who have gone forth in defence of our common country, valuable tokens of their esteem, and appreciation of their services in that defence, and it is well that they should do so, for the principles of Masonry are founded on love of God and Country.
"My Brother — we are assembled here this evening, as visiting Brethren of Hampden Lodge; not to pay our homage to the warrior for gallant deeds done in the defence of Country, but to express lo you our esteem for you as a man and a Mason.
"My Brother — you have this evening laid aside the square as a symbol of your office, and again assumed the Trowel, and the visiting Brethren of this Lodge desirous of expressing to you their appreciation of your skill in governing Hampden Lodge, and their thanks for the many acts of kindness which we have received from you, have appointed me to perform that duty, and I can but regret that some one more competent had not been appointed by them.
"For two years, my Brother, you have been Master of Hampden Lodge, and during that time, I think I may say with propriety, no Master could perform his duties more faithfully, being absent but one Communication, I think, and that a special one.
"Your decisions have always been according to Masonic Law, and as such of course acceptable to all. I speak of these things, my Brother, for we, as visiting Brethren, representing thirty different Lodges, (I think) would be apt to discover some imperfections, were it possible. Most of us came to your Lodge entire strangers, we knocked and the door became opened to us, and we have ever received from you, and the members of this Lodge, that courtesy and affability, which we duly appreciate, and for which we express to you our thanks.
"Here have we formed those many pleasing associations which will endear us to this Lodge, not only as Masons, but we have formed many friendships, which will last till life shall end ; and here, under your government have we always found Peace, Love and Unity: thus, my Brother, have you endeared yourself to us as a Mason, and by practising those virtues out of the Lodge, which you have so often inculcated wiihin, you have endeared yourself to us as a man. And now, my Brother, accept these words from me as a token of the friendship of the visiting Brothers towards you, trusting that you may look back on your mastership of this Lodge as one of the bright spots in a well spent life; and wishing you a long and happy life; that you may be blessed not only with this world's goods, but that you may receive that
"Which nothing earthly gives, or can destroy,
The soul's calm sunshine and the heart felt joy."
"There is an old adage, that 'actions speak louder than words,' accept then my Brother this Jewel, not for its intrinsic worth, but as a token of our esteem for you, and when you wear it, may it call to your mind many of these valuable lessons in which you have so often instructed others. The compass extended on a quadrant will remind you that your sphere of usefulness in this life, is only bounded by your ability to perform ; let the Square remind you, although not the symbol of your office, yet God has made all things square, upright and perfect; and the Sun, in the centre, of that great light which God has given us to lead us through life, and when you shall have done with life, and shall have passed to your reward, then may that beautiful passage of Holy Scripture be made manifest to you, which says, "The sun shall be no more thy light by day, neither for brightness shall the moon give light unto thee; but the Lord shall be unto thee an everlasting light, and thy God thy glory."
CENTENNIAL CELEBRATION, MARCH 1917
From New England Craftsman, Vol. XII, No. 7, April 1917, Page 228:
No Masonic event in Springfield, Mass., has transpired in a long time of equal importance with the recent celebration of the one hundredth birthday of Hampden Lodge. Two days were devoted to the ceremonies; distinguished visitors contributed by their presence and by their words to the success of the celebration.
The celebration began with a concert and ball in the "Auditorium," Friday, March 16, at which it is estimated four thousand persons were present.
The real celebration took place Saturday, March 17, beginning in the Masonic Temple at 2 P.M., where the work of the Third Degree was presented by Past Masters of Hampden Lodge. The special guests of the occasion were: Most Wor. Leon M. Abbott, Grand Master; Rt. Wor. Moses C. Plummer, Deputy Grand Master; Rt. Wor. William M. Farrington, Senior Grand Warden; Rt. Wor. Edward L. Chase, Junior Grand Warden; Rt. Wor. Charles H. Ramsay, grand treasurer; Rt. Wor. Frederick W. Hamilton, Grand Secretary; Wor. J. Everett Brown, Grand Sword Bearer and acting Grand Marshal; Wor. H. Everett Crane, Senior Grand Deacon; Wor. George T. Wiley, Junior Grand Deacon; Wor. John H. Blodgett, Senior Grand Steward; Wor. Percy W. Witherell, Wor. Herbert M. Chase, Junior Grand Stewards and Wor. George W. Chester, Grand Tyler.
Accompanying the grand officers were past Grand Masters J. Albert Blake and Melvin M. Johnson.
The party were met at the station by a committee of Hampden lodge and conducted to Hotel Worthy where a substantial lunch was served. They were afterwards escorted to Masonic Temple where they were welcomed by Worshipful Master Ellis G. Knox and witnessed the impressive work of the Third Degree as presented by the Past Masters of the lodge.
Other distinguished visitors were: Most Wor. Wilbur A. Scott, Grand Master of Masons in Rhode Island; Most Wor. Edgar H. Parkman, past Grand Master of Masons in Connecticut; Rt. Em. Samuel D. Sherwood, Grand Commander of the Grand Commandery, K. T., Massachusetts and Rhode Island.
The Past Masters who participated in the conferring of the Third Degree and the stations they assumed were as follows: Worshipful Master, first section, A. E. Braman; second section, F. A. Eldred; third section, A. Boedeker; Senior Warden, W. F. Andrews; Junior Warden, T. T. Davee; Treasurer, Guy Carleton; Secretary, H. A. Prouty; Chaplain, F. E. Penney; Marshal, H. D. W. Buckbee; Senior Deacon, F. C. Hubbard; Junior Deacon, H. J. Williams; Senior Steward, F. B. Bickley; Junior Steward, W. J. Schlatter; Inside Sentinel, S. S. Pease; first craftsman, C. F. Hunt; second craftsman, R. A. Buchan; third craftsman, G. M. Hendee. The incidental music for the degree work was provided by Robert W. Field, organist, and by a male quartet of Boston.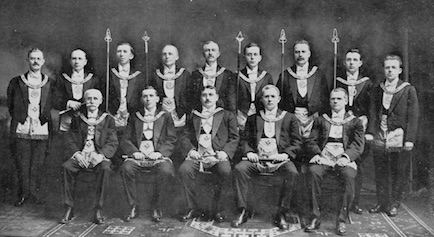 Officers of Hampden Lodge
A bronze tablet, the gift of George M. Hendee, was presented to the lodge at this time, the address being made by Fred R. Brown. Worshipful Master Ellis C. Knox accepted the tablet in the name of the lodge. It is oblong in form, with Masonic emblems at the four extremities and in the center, upon a field composing a Mason's apron is inscribed: "Erected in commemoration of the 100th anniversary of the institution of Hampden Lodge, March 16, 1817-March 16, 1917."
A grand banquet was served at 6 o'clock in the lower hall of the Auditorium.
The formal and distinctive features of the centennial observance began at 8 o'clock in the Auditorium. The program included, organ selection, invocation by the chaplain, words of welcome by Worshipful Master Ellis G. Knox, address of Grand Master Leon M. Abbott, historical address, by Rt. Wor. Edmund Kendrick, read by Wor. Charles F. Cooper, Address by Rt. Wor. Frederick W. Hamilton, Grand Secretary, and singing by the Harmony Club. Worshipful Master Ellis G. Knox presided and introduced the speakers.
Grand Master Abbott, in his congratulating address, told what Freemasonry stands for in the world at large and what it has meant to this community through the endeavors of Hampden lodge. His theme was of glory to God and peace and good will to men, ideals which he said ought especially to be regarded at this time, and which had been disseminated through Hampden lodge to an incalculable degree.
The history of Hampden lodge presented in the paper prepared by Wor. Edmund P. Kendrick was complete and full of interest; from it we learn that the earliest record referring to the lodge was an agreement under date of January 16, 1817, to contribute towards the expense of procuring a charter. It was signed by twenty-five brethren all of whom were present at the first meeting of the lodge. The charter is dated March 11, 1817. There are fourteen names on the charter, nearly all were in some way connected with the U. S. Armory in Springfield. The first meeting of the lodge was held March 16, 1817. At this meeting it was voted to admit thirteen members which, with the brethren named in the charter, gave the lodge a membership of twenty-seven with which to start its career. The first master of the lodge was Roswell Lee. The first code of By-Law contained some peculiar provisions, as follows:
"Art. 1. The stated meeting of said Lodge shall be held at their Lodge Room on Wednesday preceding the fulling of the moon in each month except when the moon fulls on Wednesday between the hours of 12 o'clock the night preceding and succeeding, the meeting shall be held on that day."
"Art. 2. The hours of meeting shall be at four o'clock P. M. when the Master (or Senior Officer) shall proceed to open the Lodge as soon as a competent number of members are present to proceed to business."
"Art. 3. At half past eight o'clock lodge nights the Senior Warden will inform the Master of the hour and the time for closing shall be not later than 9 o'clock and every member who shall remain in the Lodge-Room after 10 o'clock P. M. on said nights shall forfeit and pay into the treasury for the benefit of the Lodge fifty cents each."
During the "Anti-Masonic" period the lodge did no work but held their meetings about once a year. In the years 1838, 1840 and 1841 there is no record of any meetings. The historian said: "I have been informed that the members used to meet occasionally at houses of members, but there is no record of any meetings except those held in Masonic Hall."
The records make no mention of any attention being given to the 25th anniversary of the lodge. The 50th anniversary was celebrated with a banquet and speeches by several brethren. The 75th anniversary was more formally observed with banquet, excellent music, reminiscent speeches from several brethren and an historical address by the writer of the address under review.
During the one hundred years of its existence the lodge has passed through periods of adversity and prosperity which our space will not admit mention.
All the original record books are in existence so is the charter. During the career of the lodge it has received 3215 petitions including the names of the original members. The number initiated is about 2100. The present number of members is about 800. The senior initiate living is Bro. Milton F. Patience who took the E. A. degree September 18, 1860.
The subject of Rt. Wor. Bro. Hamilton's address was the history of Masonry from earliest times. It was of great interest. Floral gifts received by the lodge were admirable and extensive. A basket of 100 roses was sent by Springfield Lodge and a basket of calla lilies and other flowers by Bela Grotto.
Only one member of Hampden lodge is living whose father was one of those initiated into the lodge in its first year, 1817. He is Lyman W. Sexton and his presence at the afternoon initiation was the cause of a respectful demonstration by the lodge. A handsomely printed illustrated program of the celebration has been prepared by the lodge which is an admirable souvenir of a memorable occasion.
---
GRAND LODGE OFFICERS
OTHER BROTHERS
---
DISTRICTS
1817: District 6 (Central Massachusetts, Worcester)
1867: District 10 (Springfield)
1902: District 16 (Springfield)
1911: District 18 (Springfield)
1927: District 18 (Springfield)
---
LINKS