MassachusettsYear1849
From MasonicGenealogy
1849
EDWARD A. RAYMOND, Grand Master
George M. Randall , Deputy Grand Master
John J. Loring, Senior Grand Warden
Thomas M. Vinson, Junior Grand Warden
NOTES
---
QUARTERLY COMMUNICATIONS
Held at Masonic Temple, Boston
03/14: V-224;
06/13: V-234;
09/12: V-238;
12/12: V-259; (Annual Communication)
03/14 Agenda
V-225: Reception of Most Wor. William Field, Grand Master of Rhode Island.
V-225ff: Report on the February convention "for the purpose of providing a more general uniformity in the mode of Work and Lectures." A vote was adopted to exemplify the lectures; this was done by a group of Brothers, which were "discussed, amended and adopted."
V-226: Report of committee on a report "in relation to the existing Masonic difficulties in Louisiana."
V-229: Report of the Committee of Finance.
V-230: Petition of King Hiram's Lodge from 12/1848 was withdrawn.
V-232: Committee appointed "to put the Regalia of the Grand Lodge in a suitable condition."
V-233: Complaint by King Solomon's Lodge against East Thomaston Lodge in Maine (possibly Orient #15), for "initiating Sojourners from this State" referred.
06/13 Agenda
V-235: Committee appointed to obtain jewels and regalia for Permanent Members, Grand Lecturers, and Grand Organist.
V-236: Committee appointed for arrangements for Feast of St. John the Baptist in Newburyport.
09/12 Agenda
V-239: Report on communications from two different Grand Lodges in New York.

V-245ff: Committee report.

V-240ff: Report on the reduction of Grand Lodge fees.
12/12 Agenda
V-260: Report of the Committee of Finance.
V-261: Reception of Most Ex. Robert P. Dunlap, General Grand High Priest of the General Grand Chapter of the United States.
V-262: Presentation of the Constitution for a General Grand Lodge by the Grand Master, as adopted by the Grand Lodge of Rhode Island; referred.
V-262: Communication from the Washington Monument Association; referred.
V-263: Re-election of Grand Master Raymond (49 ballots), and other Grand Lodge officers.
V-264: Committee appointed on installation arragements.
Grand Constitutions Amendment Proposals
None.
Grand Master's Address
None.
Necrologies and Memorials
None.
Petitions for Charters
06/13: V-234; Petition by members of Evening Star Lodge, and to remove to Lee; granted.
Petitions for Dispensation for Lodges
None.
Petitions for Restoration of Charter
None.
SPECIAL COMMUNICATIONS
None.
FEAST OF ST. JOHN THE EVANGELIST
(held at Masonic Temple, Boston, 12/27/1849)
V-266: Report of the Committee of Charity.
V-267: Report of the Trustees of the Temple.
V-268: Report of the Trustees of the Grand Charity Fund.
V-269: Instruction session.
V-272: Installation of Grand Master Raymond and other Grand Lodge officers. Most Wor. Raymond was installed by proxy (Rt. Wor. John B. Hammatt, the oldest Past Master - having presided over a lodge in 1809).
V-274: "The Committee of arrangements having been disappointed in procuring the services of an orator the usual festive ceremonies were dispensed with."
LIST OF LODGES BY DISTRICT: 1849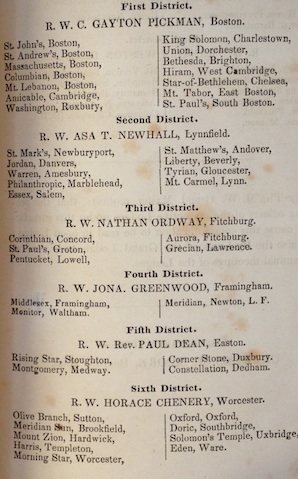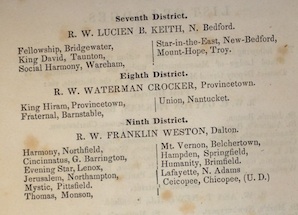 From the collection of the Grand Lodge of Masons in Massachusetts
This list is based on the O.P. for 1849 (see above).
C. Gayton Pickman, District Deputy Grand Master; 14 Lodges
Asa T. Newhall, District Deputy Grand Master'; 9 Lodges
Nathan Ordway, District Deputy Grand Master; 9 Lodges
Jonathan Greenwood, District Deputy Grand Master; 3 Lodges
Paul Dean, Jr., District Deputy Grand Master; 4 Lodges
Horace Chenery, District Deputy Grand Master; 10 Lodges
Lucien B. Keith, District Deputy Grand Master; 4 Lodges
Waterman Crocker, District Deputy Grand Master; 2 Lodges
W. Franklin Weston, District Deputy Grand Master; 10 Lodges
Benjamin Brown, District Deputy Grand Master; 1 Lodge
OUTSIDE OF MASSACHUSETTS
No District Deputy Grand Master; 1 Lodge
---