Essex2
From MasonicGenealogy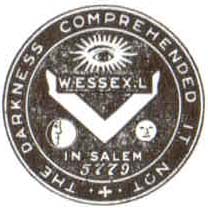 ESSEX LODGE
Location: Salem
Chartered By: Joseph Webb (1779)
Chartered By: Moses Michael Hays (1791)
Charter Date: 03/10/1779 I-272
Precedence Date: 03/10/1779 (Backdated in 1928 to date of original charter)
Current Status: Active.
---
NOTES
PAST MASTERS
Robert Foster, 1779
Joseph Hiller, 1780, 1785, 1791, 1793
Edward Pulling, 1794, 1798
Benjamin Hodges, 1799, 1800, 1803
Abel Lawrence, 1804
Robert Brookhouse, 1805
Thomas Hartshorne, 1806, 1808
Edward Lang, 1809
Joseph Baker, 1810, 1811
James Charles King, 1812, 1815
Thomas Cole, 1816, 1819
Henry Whipple, 1820, 1822
Jesse Smith, 1823, 1845, 1846
Benjamin F. Brown, 1824, 1827; SN
George Choate, 1828, 1829
Caleb Foote, 1830, 1832
Stephen Haraden, 1833
Samuel B. Buttrick, 1847
Robert H. Farrant, 1848, 1851
Nathaniel Pitman, 1852
George C. S. Choate, 1853
Thomas M. Dix, 1854, 1855
George H. Pierson, 1856, 1862; SN
Henry A. Brown, 1863, 1864
Israel S. Lee, 1865, 1866
Thomas J. Hutchinson, 1867, 1868, 1874
Charles H. Norris, 1869, 1870
Charles E. Getchell, 1871, 1872
William L. Hyde, 1873
William F. Annable, 1875, 1876
Arthur S. Williams, 1877
William A. Hill, 1878, 1879
Oliver D. Way, 1880, 1882
Edward A. Daniels, 1883
Charles H. Tuttle, 1884, 1885
Horace N. Smith, 1886, 1887
James F. Johnson, 1888
Arthur T. Way, 1889, 1890
Charles W. Richardson, 1891, 1892
John M. Raymond, 1893, 1894; Mem
Andrew J. Wilson, 1895, 1896
Thomas G. Pinnock, 1897, 1898
Gardner M. Jones, 1899, 1900
Charles H. Osborne, 1901, 1902
Albert P. Chute, 1903
Albert F. Smith, 1904, 1905
Charles S. Chase, 1906, 1907
George F. Cooke, 1908, 1909; Mem
Edward Jenks, 1910, 1911
Frederick F. Warner, 1912, 1913
Fred A. Norton, 1914, 1915
Harry P. Gifford, 1916, 1917; Mem
Adelbert Dennett, 1918, 1919
Frank T. Goodell, 1920, 1921; N
John Danforth, 1922, 1923
Roscious S. L. Marsh, 1924, 1925
Frederick W. Full, 1926, 1927
Theodore R. Marsh, 1928, 1929
Everett A. Sumner, 1930, 1931; N
Charles E. Bickford, 1932, 1933
George W. Curtis, 1934, 1935
Edmund S. Cogswell, 1936, 1937
William Hilton Webb, 1938, 1939
Hatherley A. Stoddard, Jr., 1940, 1941; N
Wallace V. D'Entremont, 1942, 1943
Edgar W. Nickerson, 1944, 1945
John W. Hubbard, 1946, 1947
Gordon C. Smith, 1948, 1949
Edward S. Averell, 1950, 1951
Winthrop F. Doty, 1952
Dean E. Cogswell, 1953; N
Roy C. Earley, 1954
R. Marshall Finniss, 1955
W. Keith Butler, 1956; SN
John L. Farley, Jr., 1957
Robert B. Addison, 1958; SN
Hollis M. Buxton, 1959
Hyman Goldfarb, 1960
Herbert B. Plummer, 1961
Allen B. Newton, 1962
Harold P. Hadley, 1963
Howard H. Young, 1964
Philip E. Forsberg, Jr., 1965
Sahag Sahagian, 1966, 1967
Donald Y. Sellars, 1968
William R. Wiley, 1969
Clinton T. Macy, 1970
John H. Raynes, Jr., 1971
Paul W. Lunn, 1972, 1987
Ralph E. Noble, 1973
Robert S. Randall, 1974
Henry L. Berkowitz, 1975
Harvey A. Whitmore, 1976, 1989
Achille D. Presutti, 1977
Robert M. Shimer, 1978
Karol John Buba, 1979
Ray F. Randall, 1980, 1986
Mark C. LeBeau, 1981, 1999, 2007; PDDGM
John S. Linehan, 1982, 1983
Barry S. Kossover, 1984, 1985
Richard E. Haley, 1988, 2008; DDGM
Donald R. Daly, 1990, 2009
Judson W. Greene, 1991, 1992
Eugene A. Haley, 1993, 1994, 2002, 2006, 2010, 2011
Myron C. Osterstuck, Jr., 1995, 1996
Roger A. Poor, 1997, 1998
John D. Linn, 2000, 2001, 2003
Scott D. Wells, 2004, 2005
Robert E. Simoneau, 2012, 2013
Evangelos Liapis , 2014
James Sweet 2015.
---
NOTES
A Tale of Two Charters
~ The Lodge was originally chartered as Essex Lodge #10 by The Massachusetts Grand Lodge on 03/10/1779, however. due to the fact that many of our members were men of the sea, and gone for sometimes years at a time, attendance and receipt of dues became very low. This led to non-representation at the Grand Lodge Quarterlies, and non-payment of Grand Lodge dues, and the Charter was revoked on 06/06/1788. A petition for a new charter was granted on 06/06/1791 under the name of Essex Lodge. At the Communication of 10/02/1928, Wor. Theodore B. Marsh, Master, read a communication from Grand Lodge stating that a request, made by the Lodge, that the date of the origin of the Lodge be backdated to 03/10/1779, the date of the original charter, had been granted. A notation was made on the charter, and Grand Lodge adjusted our date of presidence accordingly. Due to the Morgan Excitement, The Charter was voluntarily returned to Grand Lodge on 03/08/1837 for safe keeping, and held until 06/12/1845. Essex, along with Lodges all across the North Shore, were among the last in the Jurisdiction to surrender their Charters, and the first to reclaim them.
---
HISTORY
A Lodge is Born
The founding of a Masonic Lodge in Salem was met with some resistance and controversy.
Prior to the establishment of Essex Lodge in 1779, if the Brethren of Salem wished to attend Lodge or do any Masonic work, they were obliged to travel to United States Lodge in Danvers, a distance of 5 miles away (A long and potentially dangerous journey in 1779.) So, on Thursday 4 March 1779, local silversmith John Butler invited 13 of the Masons of Salem to his home, for the purpose of discussing the possibility of establishing a Lodge in Salem. After much deliberation, and a certain amount of libation, a petition was drafted to the Most Worshipful Joseph Webb, Grand Master of All Lodges in the Commonwealth of Massachusetts.
The following evening, the Brethren again assembled, this time at the home of auctioneer William Lang, to review and polish the petition, and also to determine the most expedient way of sending it to Boston.It was decided that it should be hand delivered to the Grand Master, and Bro. Butler and Bro George Abbot, a local trader, commenced this arduous undertaking. Upon their arrival, however, they were in for a shock. Somehow, United States Lodge in Danvers got wind of the Salemites plan, and sent their own representative in an attempt to block the establishment of the new Lodge, arguing that the chartering of a Lodge in Salem could be ruinous to the Danvers Lodge and that the Brethren from Salem would always be welcomed as members of United States Lodge. Most Worshipful Webb read the petition from Salem, and listened to the arguments on both sides, then informed those present that the matter would be discussed and debated the following Wednesday at the next regular communication of the Grand Lodge, and that all parties concerned would be notified of the decision.
Brothers Abbot and Butler returned forthwith to Salem and reported on the situation. Having heard of the actions of United States Lodge, on 9 March 1775, seven more Salem Masons drew up a petition to bolster the previous request, they not being present at the original meeting. Brother Abbot was dispatched post hast with the new document, and got it to the Grand Master just as the Grand Lodge communication was about to begin. After a good deal of debate, it was decided that a Charter would be granted to the Salem Brethren, and a new Lodge know as Essex Lodge #10 would be formed and empowered to work. The documents were signed and the Grand Lodge Seal affixed on the 10th day of March, A. D. 1779, A. L. 5779. A letter was immediately dispatched thanking the Grand Lodge, and authorizing Bro. William Carlton, Master and Commander of the privateer sloop Black Snake, to act as the Lodge's agent to receive the Charter and any other edicts or instructions that the Grand Lodge might wish pass on. he arrived at Boston on 12 March 1779, paid thirty pounds to the Grand treasurer for the Charter, six pounds to the Grand Clerk for engrossing, along with an additional three pounds for the cost of the vellum and ink. With that, Essex Lodge #10, Salem, Massachusetts, was born!.
With Charter in hand, the Lodge held its first Lawful and Regular meeting on the night of 14 March 1779, at Bro. Butler's home. Brother Robert Foster, blacksmith and Captain of Militia, best known for holding Col. Alexander Leslie and 250 British troops at bay at the North Bridge on 26 February 1775, preventing them from capturing the cannon that he had been fitting out with gun carriages, was chosen as moderator until such time that a regular election of officers could be held. However, there would be one last, feeble attempt to strangle the infant Lodge in its cradle.
In late March, a letter from United States Lodge arrived. Expecting warm fraternal greetings, instead it contained a proposition. If Essex Lodge would return their newly awarded Charter, United states Lodge would absorb their members, transfer their Charter, Lodge name and number, and By-laws from Danvers to Salem. The range of reactions went from insulted to amused. A polite letter of refusal was drafted, and a committee of five, Brothers Robert Foster, George Abbot, Ebenezer Winship, William Lang, and James Eaton, was formed to deliver it to the Danvers Lodge, along with our fraternal good wishes and a pledge of eternal Brotherly friendship.
---
A Brief History of the United States Frigate Essex, our Lodge's "Mascot." (and her descendants)
The Frigate Essex was constructed on Winter Island in Salem, with an armament of 32-guns. She was built, paid for, and crewed chiefly by Salemites. Our Lodge Brethren, both collectively and individually, raised the majority of the funds to build her, as well as supplying manpower and material to build and crew her. Some people believe that our Lodge took the name of the ship. This is impossible, since she was launched 20 years after the Lodge was Chartered. In truth, both the Lodge and the ship were named for Essex County, the seat of which was, and still is, in Salem.
This history comes courtesy of the Naval History and Heritage Command.
The first Essex was launched 30 September 1799 by Enos Briggs, Salem, Mass., at cost of $139,362 subscribed by the people of Salem and Essex County, Mass. On 17 December 1799 she was presented to the United States and accepted by Captain Edward Preble.
With the United States involved in naval action against France on 6 January 1800. Essex, commanded by Captain Edward Preble, departed New York in company with United States Frigate Congress to rendezvous with and convoy merchant ships returning from Batavia, Dutch East Indies. Congress was dismasted only a few days out, and Essex was obliged to continue her voyage alone, making her mark as the first U.S. man-of-war to double the Cape of Good Hope, both in March and in August 1800, prior to successfully completing her convoy mission in November.
Captain William Bainbridge commanded Essex on her second cruise whereon she sailed to the Mediterranean with the squadron of Commodore Richard Dale. Dispatched to protect American trade and seamen against depredations by the Barbary Powers, the squadron arrived at Gibraltar on 1 July 1801, and spent the ensuing year convoying American merchantmen and blockading Tripolitan ships. Following repairs at the Washington Navy Yard in 1802, Essex resumed her duties in the Mediterranean, under Captain James Barron, in August 1804. She participated in the successful attack on the town of Derne on 27 April 1805 and remained in these waters until the conclusion of negotiations for peace terms in 1806.
Returning to the Washington Navy Yard in July, she was placed in ordinary (a vessel in ordinary means it his held in reserve, what today we refer to as "the Mothball Fleet.") until February 1809, when she was recommissioned for sporadic use in patrolling American waters and a single cruise to Europe. When war was declared against Britain on 18 June 1812, Essex, commanded by Captain David Porter, made a successful cruise to the southward. On 11 July near Bermuda, she fell in with seven British transports and, by moonlight, cut out and seized one of them. On 13 August she encountered and captured the sloop Alert after an engagement. By September, when she returned to New York, Essex had taken 10 prizes.
Essex sailed in South Atlantic waters and along the coast of Brazil until January 1813, when Captain Porter undertook the decimation of English whale fisheries in the Pacific. Although her crew suffered greatly from a shortage of provisions and heavy gales while rounding Cape Horn, she anchored safely at Valparaiso, Chile, on 14 March 1813, having seized the schooners Elizabeth and Nereyda in due course. The next five months brought Essex 13 prizes, including Essex Junior, (formerly Atlantic) who cruised in company with her captor to the Island of Nukahiva for repairs.
In January 1814 Essex sailed into neutral waters at Valparaiso, Chile, only to be trapped there for 6 weeks by the British frigates, Phoebe and Cherub. Porter determined to gain the open sea, but a heavy squall crippled Essex, forcing her return to the harbor. The enemy, disregarding the neutrality of the harbor, proceeded to attack the disabled ship. The engagement which followed was one of the most remarkable in naval history. For 2½ hours, Essex resisted with intrepidity the enemy's superior fighting power; however, the loss of 155 men forced the gallant frigate to surrender. Essex was repaired by the British, sent to England, and, in 1833, served as a prison ship at Kingston, Jamaica. On 6 June 1837 she was sold at public auction.
Other United States Navy ships named Essex: (Each named for the preceding vessel or vessels)
USS Essex (1856 - 1865) was an ironclad steam driven river gunboat during the Civil War. She was sold for scrap in 1865.
USS Essex Built 1874 and launched in 1876, she was a wooden screw driven steamer. She was sold in 1930. Her wooden hull was burned and the metal remove for scrap.
USS Essex (CV-9) was an Essex-class aircraft carrier. She was commissioned in 1942 and served through World War II, Korea, the Cuban Missile Crisis, and the recovery of the Apollo 7 space capsule before being decommissioned in 1969, and sold for scrap in 1975.
USS Essex (LHD-2) is a Wasp-class amphibious assault ship. She was commissioned in 1992 and is still in active service.
---
EVENTS
OFFICER LIST, 1802
From Vocal Companion and Masonic Register, Boston, 1802, Part II, Page 11:
R. W. Benjamin Hodges, M.
W. Abel Lawrence, S. W.
W. Jonathan Mason, J. W.
Stephen Abbot, Tr.
Edward Lang, Sec.
Joseph Eveleth, S. D.
William Patterson, J. D.
James Devereaux, Steward.
Joshua Goodale, Steward.
Elijah Johnson, Tiler.
OFFICER LIST, JANUARY 1818
From New England Galaxy, Vol. I, No. 16, 01/30/1818, Page 3:
Officers in Essex Lodge, Salem.
R. W. Thomas Cole, M.
W. Henry Whipple, S. W.
George A. Ward, J. W.
Joseph Eveleth, Treasurer.
James Burr, Jr., Secretary.
Jeremiah Peabody, S. D.
Benjamin Day, J. D.
Jacob Lord, S. S.
Thomas Farless, Jr., J. S.
Jesse Smith, Jr., Marshal.
HALL DEDICATION, FEBRUARY 1827
From Masonic Mirror and Mechanics' Intelligencer, Vol. III, No. 9, February 1827, Page 62:''
The new Masonic Hall recently erected by Essex Lodge, in Washington St., Salem, was solemnly dedicated to Masonry, Virtue, and Universal Benevolence, by a Deputation of the M. W. Grand Lodge, on Tuesday evening last. The services commenced with prayer appropriate and rich with fervency and zeal; followed by an anthem, the execution of which was creditable to the taste and judgment of the choristers. This was succeeded by the services of dedication performed in a manner calculated to make a deep and solemn impression on the minds of those who witnessed the ceremonies. The Grand Master for the occasion, the Rev. Mr. Bartlett of Marblehead, then made a few pertinent inappropriate remarks, touching on the nature of the Institution, and admonishing the brethren to circumspection and virtue; enjoining it upon them to watch over and keep sacred and inviolate the interests trusted their chart; spoke of the admission of members, and of the dangerous consequences that might ensue from inattention. The Most Excellent Master's Ode, beginning, "All hail the occasion", was then performed to the tune of Adams and Liberty, after which the services of dedication closed and the Grand Lodge retired.
INSTALLATION, JANUARY 1831
From Boston Masonic Mirror, New Series, Vol. 2, No. 33, February 12, 1831, Page 260:
Officers of Essex Lodge in Salem, installed at their regular communication, on 4th Jan. 1831.
R. W. Caleb Foote, M.
W. Stephen Haraden, S. W.
W. Albert G. Browne. J. W.
Joseph Eveleth, Treas.
Maltheus A Ward, S.
Nathaniel Pitman, S. Deacon
Jewett Maxfield. J. D.
Samuel B Buttrick, M.
Cornelius Baker, John W. Pepper, Stewards
John Albree, Tyler.
INSTALLATION, JANUARY 1850
From Moore's Freemason's Monthly, Vol. IX, No. 4, February 1850, p. 128:
The officers of Essex Lodge, Salem, were publicly installed at the Lyceum Hall, on the 7th ult. The ceremonies of installation were performed by R. W. Br. C. Gayton Pickman, P. J. G. W., and the address was delivered by R. W. Br. Geo. G. Smith, P. D. G. M. The occasion as represented to us as having been one of much interest.
CHANGE OF MEETING NIGHT, SEPTEMBER 1850
From Moore's Freemason's Monthly, Vol. IX, No. 12, October 1850, p. 381:
Salem, Sept. 25, 1850.
W. Br. Charles W. Moore: - At the last Regular Communication of Essex Lodge, it was unanimously voted to change the evening of monthly meeting from the First Thursday to the First Tuesday, of each month, which will hereafter be the time of their Regular Communication.
Respectfully and Fraternally,
William Leavitt, Secretary.
FEAST OF ST. JOHN THE BAPTIST, 1851
From Moore's Freemason's Monthly, Vol. X, No. 10, August 1851, p. 306:
CELEBRATION AT SALEM. (from the Boston Post).
The anniversary of St. John was celebrated at Salem, by Essex Lodge, and several Lodges from other parts of the State, numbering in all some six hundred "Brethren of the mystic tie." During the earlier portion of the day the weather threatened to be unfavorable, but after some faint attempts at sprinkling, the rain held up, and the participants in the celebration, and the thousands of spectators, were favored with a dry time, and air sufficiently cool for processional purposes.
Most of the Lodges rendezvoused in Perkins' Hall, near the Common, and the balance in Phoenix Building and the Essex House, where Mr. Leavitt had made ample arrangements for their reception. The procession was formed on the Common about 12 o'clock, with the DeMolay Encampment, under A. B. Young, Grand Commander, as escort. The Worcester County Encampment of Knights Templars were also there in full regalia. But at the head of the list stood the Grand Lodge of Massachusetts, under the Rev. G. M. Randall, Deputy Grand Master, and other Masonic bodies in regular order, according to the date of their Charters.
The Knights Templars had the Boston Cornet band, and the Salem Brass Band discoursed the music for the main body. Thomas M. Dix, Esq., was chief marshal of the day, and formed the procession in good style, as soon as all the component parts had been reported as on the ground.
With such an array, it is hardly necessary to say that the display was imposing and interesting, particularly to the friends of the initiated, male and female, who were among the spectators.
After marching and countermarching about half an hour, the column moved to Mechanic Hall, the galleries of which had been previously filled with the youth and beauty of Salem and the neighboring towns. The services in the hall consisted of a prayer by the Rev. Ebenezer Fisher, the singing of a Masonic hymn by the choir, and an oration by the Hon. Joseph R. Chandler, of Philadelphia, which was a beautifully written discourse, and admirably delivered. It was chiefly devoted to a reply to the objections most commonly urged against the Masonic Institution. It abounded in felicitous expressions, conveying sentiments of morality and religion in language proving him to be a gospel-read gentleman. With graceful playfulness and delicate compliments to the ladies, he ingeniously essayed to reconcile the sex to the rule which excludes them from the Order; but in one passage, without perhaps unveiling any secret of the Craft, he rather distinctly disclosed one of the attitudes of a member when at work. The discourse occupied an hour and a quarter in the delivery, and in every particular gave the highest gratification to the Brotherhood.
These services over, the procession was reformed, and marched to Hamilton Hall, in Chestnut Street, where dinner had been provided. Robert H. Farrant, Master of the Essex Lodge, presided at the table, and in the course of the sitting made several brief and happily turned addresses in relation to the incidents of the day.
Charles Allen Brown officiated as toast-master, and announced the regular toasts as follows:
1st. The Day we Celebrate - Commemorative of the great patron of our Order, whose voice from the wilderness proclaimed the coming of Him who taught Faith in God, Hope in immortality, and Charity to all mankind.
2d. Our Country and Our Order - May an all-wise Providence ever preserve us from domestic discord.
3d. The Memory of Washington, Franklin, Lafayette and Warren - names upon the records of our institution, and shining like letters of gold in pictures of silver upon the pages of our country's history.
4th. The Grand Lodge of Massachusetts.
5th. The Orator of our Festival - At home alike in our national councils, in guiding the public mind through the press and at the Masonic Trestle Board.
6th. The De Molay Encampment of Knights Templars - Their splendid martial array in our Salem is calculated to remind us of those chivalric Knights whose religious zeal and good swords led them to the rescue of the Holy Temple at the Salem of ancient Palestine.
7th. The Grand Chapter of Massachusetts.
8th. The Christian Clergy - We are ever ready to assist them in their work of Brotherly love with our Square, our Compasses and our Trowel.
9th. The Ladies - Earth has no fairer flowers, Masonry no brighter jewels: - let them be received on all points of social, if not Masonic fellowship.
10th. The Press - Like Masonry, it has transmitted to us the lights of by-gone ages.
11th. New Hampshire Freemasons - From generation to generation, may they enjoy the sweetness of Fraternal communion.
12th. The District Deputy Grand Master of this Masonic District - Venerable in years and honored for his enlightened zeal for our ancient Order - may his remaining days be as peaceful as his life has been virtuous.
Responses were made by Mr. Chandler, the orator, Rev. Mr. Randall, Rev. Mr. Fisher and others, and the dinner passed off very agreeably.
INSTALLATION OF OFFICERS, JANUARY 1862
From Moore's Freemason's Monthly, Vol. XXI, No. 4, January 1862:
This is one of the oldest, as it is one of the best, Lodges in the jurisdiction of Massachusetts. It was originally chartered in 1779, having for its first Master Brother Robert Foster, who is distinguished in the local revolutionary history of the town from his connection with the affair at Essex Bridge. He was one of those hardy mechanics of New England to whom the success which followed the battle at Bunker's Hill is so largely attributable. The Lodge prospered for the first four or five years of its existence, but being composed mostly of mariners, including |many masters of vessels, who were necessarily much absent from home, its meetings about 1785 were thinly attended, so much so, indeed, that in the Spring of that year it was decided to suspend them during the summer months, with the intention of resuming them in the Fall.
This intention, however, was not carried into effect and the Lodge went into abeyance. It continued in this condition until 1791, when some of the former members assembled together, at the request of one of their number, to consider the expediency of re-organizing it. It was at this meeting determined not to ask the Grand Lodge for the return of the Charter, which seems to have been surrendered, but to petition that body for a new one. This was done and the present Charter was granted, the M. W. Moses Michael Hays being Grand Master. The Master of the Lodge at this time was Brother Joseph Hiller, who was, or had been, a Major in the army of the United States, and among the petitioners were Benj. Crowninshield, master mariner, and the ancestor of a family that has since attained to distinction in the local history of the town, as well as in the more general history of the State and Nation ; and Elias Hasket Derby, also a master mariner, whose descendants have honored his memory by their mercantile enterprise and public spirit. The learned and distinguished divine, Rev. William Bentley, D. D., was likewise one of the petitioners, and Junior Warden of the Lodge. With such a combination of talent and energy the Lodge soon attained to eminence among its sister Lodges, and continued to prosper in its labors until about the year 1832; we write wholly from memory) when it fell before the terrible storm of antimasonry and surrendered its Charier. It lay dormant until 1845, when nine of the former members petitioned and obtained of the Grand Lodge a restoration of its Charter. The Lodge was reorganized, with W. Brother Jesse Smith for its Master ; S. B. Buttrick, S. W.; and Putnam I. Farnam, J. W.; and from that time to the present it has continued an uninterrupted course of prosperity, and now bears on its roll of members the names of one hundred and fifty-eight (158) Brethren, including a full share of the aged and the young, the active and intelligent, men of the city. The Lodge may justly feel proud of its historical past and its present condition.
The installation of its officers for the present year took place on the 14th January, in the presence of about eighty Brethren, most of whom were members of the Lodge, and the number would doubtless have been much larger but for the severity of the weather. We were gratified, notwithstanding, with the presence of a large number of the older members, among whom we were particularly pleased to meet the first Master of the Lodge after its revival in 1845, Brother Jesse Smith, than whom no truer or more faithful Mason is to be found on the roll of Masonry in Massachusetts. Long may he be permitted to enjoy in the society of his Brethren the rich fruit of his early labors.
The ceremony of installation was performed by the Grand Master; at the conclusion of which he addressed the Lodge in a forcible and interesting manner. After the Lodge was closed the Brethren partook of an excellent collation together, and separated at an early hour, all feeling that they had passed an agreeable and profitable evening.
The following are the officers for the year:—
George H. Peirson, W. M.
Henry A. Brown, S. W.
Israel S. Lee, J. W.
Charles Harrington. Treas.
Jonathan Perley, Jr., Sec.
Joseph E. Glover, S. D.
Dana Z. Smith, J. D.
Herbert T. Conant, M.
John L. Page, S. S.
Richard Briggs, J. S.
Edward Rea, Tyler.
PRESENTATION, OCTOBER 1862
From Moore's Freemason's Monthly, Vol. XXII, No. 1, October 1862, Page 8:
The members of Essex Lodge, Salem, Oct. 7th, presented their W. Master, Col. George H. Pierson, with a gold Past Master's Jewel, in token of their appreciation of his services, and esteem for his character as a man and Mason. Bro. Peirson has served the Lodge for the last seven years as its Master, and given unqualified satisfaction lo his Brethren by his promptness, energy, accuracy and gentlemanly deportment. He now leaves them to take command of the 5th Massachusetts regiment in the service of his country. The presentation was made by R. W. Brother Winslow Lewis, P. G. M., in the presence of rising a hundred Brethren. We have been politely favored with a copy of the presentation address, and lake pleasure in laying it before our readers:—
ADDRESS BY PAST GRAND MASTER LEWIS
W. Master — I have been honored with the privilege of addressing you in behalf of the members of this Lodge, on the occasion of your leaving them and your old Slate of Massachusetts, to battle for the cause of our country, to sustain those laws, which as citizens we have sworn to defend, and which as Masons are hallowed in our hands.
Essex Lodge has ever maintained a high position among the Fraternity, and has numbered among its members many of the best and truest of the Order. It has-for me a peculiar, heartfelt interest, for when I had the honor to preside over the Institution of this State, my very first appointment was the selection of your present Deputy Grand Master. The first among his equals in deeds of charity and pure benevolence. You all know him; all of you have felt the influence of his generous hospitality. But it is not this Lodge, ibis city, or any circumscribed limits which bound his good deeds. His heart and hand are wherever heart and hand are needed, and the widow and the orphan, the poor and suffering rise up and call him blessed. The "Man of Ross." God bless him. Amen.
You, my Brother, have left your impress on the character and respectability of this Lodge. Your zeal and excellence as its presiding officer for so long a period, have manifested your interest as a Mason ; and your Brethren, by their repeated re-elections, have evinced their appreciation of your worth, and confidence in your Masonic skill and sagacity. They have crowned you with chaplets of honors, and now you have laid them down, untarnished. Therefore in behalf of Freemasonry, in behalf of the Grand Lodge of Massachusetts, in behalf of all your Brethren of Essex Lodge, I most earnestly and sincerely thank you for all you have done, and so well done.
Your fellow-citizens have this day donated to you tangible evidences of their regard towards you as a soldier, and a loved friend. Those gifts are to arm the combatant for the suite and struggle of battle, for the din of war, and the honors of an unnatural combat, but now we present you with a testimonial which breathes of peace and good will to all; the badge of a Mason, and of one who has won its honors, its highest deserts. Its teachings, while in a Lodge, you well know and have ever exemplified. But these teachings will go with you abroad, in the spirit-moving, in the awful commingling of man with man. It will tend to temper justice with mercy, to remember that having subdued your enemy to your power, he is no longer such to the death, but to extend to him that most God-like attribute, mercy.
You may find in your fallen enemy a Brother. Pity and forgive him. Shield him with the aegis of fraternal ties. I have not lost my confidence either in Freemasonry or its benign influences to quell the disturbed passions. I feel still that in the metropolis of the secessions! government, ay, in Richmond itself, that many a Brother's heart beats responsive to its Masonic obligations, and sorrows for the dismemberment of their fraternal connexions. May you conquer their bodies by the physical force of manly power, and be the greater conqueror of their hearts by mercy "thrice blest, blessing him who gives, and him who receives."
May God have you in his Holy keeping; preserve you in safety and return you to the hearts of the loved, and to the enjoyments of that friendly communion which has so long been vouchsafed you. But if otherwise ordered, it is cheering to feel, that if you fall in a just and virtuous cause, that the memory of the good patriot is forever blessed. Our united aspirations are — God be with you.
---
YEARS
1779 1780 1781 1782 1783 1784 1785 1786 1787 1788
original charter revoked 06/06/1788
1789 1790 1791
second charter granted 06/06/1791
1792 1802 1810 1814 1835 1836 1837
charter temporarily revoked 03/08/1837 due to the "Morgan Excitement."
charter restored 06/12/1845
1845 1850 1868 1871 1873 1874 1879 1881 1882 1884 1886 1889 1890 1895 1901 1908 1909 1912 1916 1917 1920 1923 1924 1928 1933 1939 1940 1949 1951 1954 1955 1956 1957 1959 1961 1965 1968 1979 1980 1984 1985 1991 1993 2003
---
GRAND LODGE OFFICERS
OTHER BROTHERS
---
DISTRICTS
1803: District 2 (Newburyport and North Shore)
---
LINKS
---
The curator of this page is Brother Bob Simoneau. Please direct informational updates and questions to him.