Difference between revisions of "Revere"
From MasonicGenealogy
 

Line 493:
Line 493:
 

* Jabez K. Montgomery, '''[http://masonicgenealogy.com/MediaWiki/index.php?title=MAOtherBrothersM#MONTGOMERY.2C_JABEZ_KIRKPATRICK_1829-1907 Memorial]'''

 

* Jabez K. Montgomery, '''[http://masonicgenealogy.com/MediaWiki/index.php?title=MAOtherBrothersM#MONTGOMERY.2C_JABEZ_KIRKPATRICK_1829-1907 Memorial]'''

 

* William H. Neal, '''[http://masonicgenealogy.com/MediaWiki/index.php?title=MAOtherBrothersN#NEAL.2C_WILLIAM_H._1840-1907 Memorial]'''

 

* William H. Neal, '''[http://masonicgenealogy.com/MediaWiki/index.php?title=MAOtherBrothersN#NEAL.2C_WILLIAM_H._1840-1907 Memorial]'''

 
+
 

* William C. Ulman, '''[http://masonicgenealogy.com/MediaWiki/index.php?title=MAOtherBrothersU#ULMAN.2C_WILLIAM_CURTIS_1836-1908 Memorial]'''

 

* William C. Ulman, '''[http://masonicgenealogy.com/MediaWiki/index.php?title=MAOtherBrothersU#ULMAN.2C_WILLIAM_CURTIS_1836-1908 Memorial]'''

 

* Erastus Willard, '''[http://masonicgenealogy.com/MediaWiki/index.php?title=MAOtherBrothersW#WILLARD.2C_ERASTUS_1851-1905 Memorial]'''

 

* Erastus Willard, '''[http://masonicgenealogy.com/MediaWiki/index.php?title=MAOtherBrothersW#WILLARD.2C_ERASTUS_1851-1905 Memorial]'''
---
Latest revision as of 09:21, 8 April 2020
REVERE LODGE
Location: Boston
Chartered By: John T. Heard
Charter Date: 03/11/1857 VI-96
Precedence Date: 03/04/1856
Current Status: in Grand Lodge Vault; merged with Germania Lodge to form Germania-Revere Lodge, 08/19/1999; now a part of The Consolidated Lodge.
---
PAST MASTERS
William W. Baker, 1856-1858
Orren S. Sanders, 1859, 1860
Charles C. Dame, 1860, 1861
Richard Briggs, 1862, 1863
William Rogers, 1864
Horace P. Hemenway, 1865, 1866
George T. Ambrose, 1867, 1868
Marlborough Williams, 1869, 1870; Mem
Charles H. Bolles, 1871, 1872
Samuel Wells, 1873, 1874
Joseph B. Mason, 1875, 1876
William R. Cooke, 1877, 1878
Frank T. Dwinell, 1879, 1880
George F. Wright, 1881, 1882
Zacheus Holmes, 1883, 1884
William B. Fisher, 1885
Edwin B. Holmes, 1886, 1887
Henry K. Dunton, 1888, 1889
Melvin L. Ingalls, 1890, 1891
E. Loring Richards, 1892, 1893; SN
G. Ellis Reed, 1894, 1895
Charles H. Ramsay, 1896, 1897
Royal Wilton, 1898, 1899
Charles W. Bascom, 1900, 1901; SN
Henry N. Rice, 1902, 1903
Sumner L. Stackhouse, 1904, 1905
George G. Perry, 1906
Charles Bickford, 1907
John G. Godding, 1908
John W. Crooks, 1909, 1910
Francis J. Whitton, 1911, 1912
John H. Blodgett, 1913, 1914
William W. Brooks, 1915, 1916; N
Jay B. Crawford, 1917
Winfield C. Towne, 1918
William P. Bullard, 1919, 1920
Clarence M. Cobb, 1921
William H. Campbell, 1922, 1923
Leon H. Davis, 1924, 1925
T(homas) Rutherford Edwards, 1926, 1927
Archibald J. Jackson, 1928, 1929
George S. Murray, 1930
Clinton B. Hayes, 1931
Russell M. Sanders, 1932, 1933
Henry H. Hill, 1934, 1935
Parker O. Bullard, 1936
Walter L. Kraemer, 1937
Reginald C. Garner, 1938, 1939
Earle W. Spurting, 1940
George A. Butters, 1942
Waldo M. Hunt, 1943, 1944
John H. Willet, Jr., 1945
Charles M. Sparkes, 1946
Albert E. Blodgett, 1947
Walter H. Heaman, 1948, 1949
Marvin S. Bowman, 1950, 1951
Arthur H. Edwards, 1952, 1953; SN
Carl R. Allen, 1954, 1955
Warren B. Clark, 1956, 1957
Bert P. Brockbank, 1958, 1959
Donald G. Lothrop, 1960, 1961; N
Daniel A. Lorge, 1962
A. Bentley Kurtis, 1963, 1964
Frank M. Sophia, 1965, 1966
E. Rea Seeley, 1967, 1968
Edward Newpol, 1969; N
Harry Lavidor, 1970
Edward Finkelstein, 1971
Leonard B. Cutler, 1972
Ralph S. Cohen, 1973; N
Alan C. Hochberg, 1974, 1975
Leon Rabin, 1976, 1992-1997
Stefanos J. Loisou, 1977
David Ginsberg, 1978
Jack L. Zimmerman, 1979, 1980; N
Benson Brown, 1981, 1982; N
Daniel L. Needleman, 1983, 1984
Ernest A. Pearlstein, 1985, 1986
Joseph J. Trofimow, 1987, 1988
Joseph J. Newpol, 1989
(Edward) Donald Weiner, 1990, 1991; N
David F. Howard, 1998, 1999; PDDGM
---
REFERENCES IN GRAND LODGE PROCEEDINGS
Petition for Dispensation: 1856
Petition for Charter: 1857
ANNIVERSARIES
VISITS BY GRAND MASTER
BY-LAW CHANGES
1869 1871 1879 1885 1899 1903 1917 1919 1925 1926 1930 1945 1946 1961 1966 1976 1992
HISTORY
CENTENARY HISTORY, MARCH 1956
From Proceedings, Page 1956-57:
By Brother Bert P. Brockbank.
Revere Lodge, A. F. & A. M., in reaching the 100th milestone along Time's endless highway, is justifiably proud of the results achieved and looks with confidence to the century ahead. Truly, it is an occasion of momentous import, a time for solemn reflection as well as for joyous celebration.
One hundred years is a much longer period then the traditional life-span of man, but it is only a split moment of measured time in humanity's struggle for a better way of life and a better world in which to live it.
Therefore it is fitting for all of us on this great and important occasion to pause and look back through the vista of years and reflect upon the birth, youth and maturity of the Lodge.
It is particularly appropriate to recall with reverence and admiration the founders of Revere and those leaders who have charted the course and piloted the Lodge through many turbulent shoals into comparatively calm waters. They were just and upright men dedicated to the promotion of Brother Love, Relief and Truth.
Past historians have presented the historical highlights of our Lodge on the several anniversaries that have been observed down to the last decade. Since the 90th anniversary in 1946, the activities of the Lodge have proceeded smoothly with few events of historical value left to be recorded. This review, therefore, is largely a rewrite of previous accounts plus coverage of the past ten years.
Thus we turn back to the year 1856. To emphasize the long trail traveled, it may be recalled that Franklin Pierce was serving as 14th President of the United States; the Crimean War had just ended with the signing of the Treaty of Paris by Great Britain, France and Russia; and the literary world was acclaiming Longfellow's latest epic, the "Song of Hiawatha," when Revere Lodge was instituted in Boston on March 4th of that year.
What changes have been wrought since that time! It seems almost incredible, but most of the changes tending to improve human living standards since time immemorial have been made during the past 100 years: from candlelight to electricity, from dirt roads to steel and concrete highways, from horse-drawn vehicles to airplanes. These are but a few of the modern improvements which we enjoy today.
Notwithstanding all these changes, Freemasonry has kept pace with and has adjusted itself to them, proceeding along its timeless course and bearing witness to the unchanged and unchangeable verities upon which it is securely founded.
BIRTH OF THE LODGE
Revere Lodge is a scion of Columbian Lodge, of which three members, Bros. William W. Baker and George W. Thacher, both Past Masters of Columbian Lodge, and Bro. John McClellan, met one evening in the early winter of 1856 and proposed the establishment of a new Lodge in Boston.
These three Brethren, who were really the Founders of Revere Lodge, having associated seventeen others with them, called a meeting for March 1st for the purpose of preparing a petition for dispensation from the Grand Lodge, to choose a name for the new Lodge and to nominate officers.
At the suggestion of Bro. McClellan, the name of "Paul Revere" was chosen in recognition of the fact that the famous Patriot and scientific worker in metals was, from 1795 to 1797, Grand Master of Masons in Massachusetts.
Although the records do not disclose why the Christian name of "Paul" was dropped, it is generally assumed that two petitions for the full name had been received simultaneously by the Grand Lodge, one from a Masonic group in Brockton, and that the latter's petition was the first to be opened. Be that as it may, the Brockton petition was given precedence and the Boston group gracefully accepted the name of "Revere." Before the dispensation could be granted, it was necessary for the petitioners to obtain the assent of another Lodge in the jurisdiction. A committee was appointed to wait upon St. John's Lodge and request its assent, which was gladly and immediately given.
The dispensation was then issued. It was dated March 4, 1856, and authorized the petitioners to work until the meeting of the Grand Lodge a year hence. It also appointed Wor. William W. Baker to be first Master; Bro. William Rogers, first Senior Warden; and Bro. Jonas H. French, first Junior Warden. The document was signed by Most Worshipful Winslow Lewis, Grand Master, and R. W. Charles W. Moore, Grand Secretary.
FIRST REGULAR MEETING
That evening, March 4th, the first regular meeting of Revere Lodge was held, opening on the Third Degree with eleven members present. The dispensation was read, after which a committee was appointed to draft a code of by-laws and to procure a seal. The Lodge received four applications for the degrees, exemplified the work of the First Degree and then adjourned.
A brief description of the official Seal of the Lodge which the committee procured may be appropriate at this time. An enlarged sketch of this Seal appears on the front cover of this booklet. It was designed by Wor. Bro. Baker and has remained unaltered to the present day.
The central figure of the design represents the head of Harpocrates, with his finger pressed to his lips to indicate secrecy. In Egyptian mythology, Harpocrates was worshiped as the God of Silence. He was the son of Isis and the successor of Osiris.
The legend, or motto, Non Ulli Tacuisse Nocet, is appropriate to the Deity, and together with the figure, represents an important requisite in Freemasonry. It may be freely translated: "Silence harms no one."
At the the second regular meeting held the following month, eleven members and nineteen visitors assembled for the first real work performed by the Lodge, that of the First Degree. Wor. Bro. Baker presided in the East, with Bros. Rogers and French occupying the Senior and Junior Warden stations respectively. The other stations were filled by Bro. George M. Thatcher as Treasurer; Bro. John McClellan, Secretary; Bro. Orris S. Sanders, Senior Deacon; Bro. Richard Briggs, Junior Deacon; Bro. George W. Patton, Senior Steward; Bro. Cyrus B. Davenport, Junior Steward and Bro. William C. Martin, Tyler.
The candidate that evening was a young Boston gentleman by the name of Marlborough Williams, who thus attained Masonic fame as the first intitiate of Revere Lodge. How wise and fitting was his selection may be realized by the fact that he soon distinguished himself as an officer of the Lodge. Later, in 1869 and 1870, he served as Worshipful Master.
GOVERNOR BECOMES BROTHER
At the same meeting, the application of His Excellency, Henry J. Gardner, Governor of the Commonwealth of Massachusetts, was presented by Wor. Bro. Thatcher, then a member of the Governor's staff. Another member of the staff was also proposed that evening, and as Bro. French was a staff member, Revere Lodge soon had within its fold the Governor and three of his aides.
The initiation of the Governor naturally attracted wide attention in Masonic circles. The records disclose that on that occasion there were present sixteen members of the Lodge and no fewer than seventy-five visiting Brethren. When he took his Fellowcraft Degree, there were forty-four visitors. At the next meeting another large turnout of seventy-four visitors expected to see him raised, but he did not receive the Third Degree until the following December.
Revere Lodge was thus started on its career under most favorable and promising auspices. Work was abundant and the character of the initiates of the highest. During the year of dispensation twenty-nine applicants were accepted, a good year's work for any Lodge.
At the meeting of February 3, 1857, a month before the Lodge was constituted, a singular event occurred which may be of interest to present members. An accepted candidate, on being admitted for initiation, refused to comply with the regulations and, by order of the Worshipful Master, was removed from the lodge-room in the prescribed manner. Such an occurrence has never been repeated in Revere Lodge, and we doubt if in any other Lodge in the Massachusetts jurisdiction.
LODGE RECEIVES CHARTER
On March 11, 1857, there was a meeting of the Grand Lodge> and, as the new Lodge had complied with all the requirements under its year of dispensation, the necessary Charter was granted. Before being constituted, however, the Lodge met and elected officers, these being the same Brethren who had filled the stations during dispensation. A code of by-laws was also adopted.
The special meeting for the consecration of the Lodge and the installation of officers was held March 27th, at which Most Worshipful John T. Heard, Grand Master, with other officers of the Grand Lodge, performed the ceremonies in due and ancient form. On completion of the ceremonies, the Grand Master delivered an address, which was responded to by the Master of the Lodge.
The Lodge Charter is dated March 11, 1857, and it declares: "The precedence of Revere Lodge shall commence from March 4, 1856." It is from that day, therefore, that we date our beginning.
The early meetings of the Lodge were held in the Masonic Temple at Tremont Street and Temple Place, on the site now occupied by R. H. Stearns Co. The fact that the Temple was located there gave the street its name.
The first death of a member of our Lodge occurred on January 21, 1858, when Bro. William W. Delano was called to the Celestial Lodge at the early age of twenty. On that occasion was commenced the series of Memorial pages in our records, a practice that has continued through the years to the present. Sooner or later all of us will have our Memorial page. It is only a question of time.
In 1859, the Temple Place building having been sold to the United States government, the Lodge was forced to seek quarters elsewhere. On January 25th of that year the Lodge met at Nassau Hall, located at the corner of Washington and Common Streets, and continued to meet there until the completion of Free Masons Hall, on the site of the present Temple.
FIRE SWEEPS TEMPLE
The new Lodge suffered its worse disaster in March, 1864, when, after a regular meeting, the building was destroyed by fire, the Lodge losing all its regalia, its working tools and even its original Charter. The following October the Lodge took part in the exercises at which the corner-stone of a new Temple on the same site was laid.
While this building was under construction, the Lodge met in Odd Fellows Hall at Washington and Kneeland Streets, and later in Thorndike Hall in Summer Street, until the newly-completed Temple was dedicated to Masonic usages on June 24, 1867, with elaborate ceremonies, in which President Andrew Johnson participated. On that day the Lodge appeared in the procession with sixty members in line under Wor. Master George T. Ambrose. The first regular meeting there was on the following September 3rd.
That structure was of Gothic architecture and seven stories in height. Constructed of light granite, it presented an imposing appearance when viewed from Boston Common. The entrance was on Tremont Street and access to the upper floors was by means of a massive, wide stairway branching to right and left at the first landing.
There was no elevator in the building. Members were forced to climb two long flights of stairs to reach Sutton Hall, where Lodge meetings were held, and three more flights to Gothic Hall, where the Commanderies and other bodies met. Two flights above this was the banquet hall, on the top floor. Just imagine the caterer of that time having to haul his supplies and equipment up those seven flights and then down again after a dinner.
It was in that building that the 25th anniversary of Revere Lodge was held on March 5, 1881, with Wor. George F. Wright in the East. The principal speaker on that occasion was Past Master Samuel Wells, who was then serving as Treasurer of the Lodge and also Grand Treasurer of the Grand Lodge. At a later date, 1890 to 1892, he was Grand Master of the Massachusetts jurisdiction.
At the close of the exercises in Sutton Hall, an opportunity was afforded visiting members and ladies to inspect the several apartments in the Temple, the celebration concluding with a banquet in the upper hall.
This Temple was likewise destroyed by fire on September 7, 1895, and was replaced by the present structure which was dedicated December 27, 1899. During its construction, Revere Lodge
 met in the Masonic Temple in Roxbury until February, 1896,
 and thereafter in Boylston Hall at Washington and Boylston
 Streets.
The 40th anniversary of the Lodge was observed March 3, 1896, in Boylston Hall, with Wor. Charles H. Ramsay, Master.
This celebration was necessarily restricted because the Lodge
had no home at the time. Despite the obstacles, there were
present that night no fewer than sixty members and forty-eight
visitors. From that date until 1906 the Lodge pursued its even
way without any outstanding events worthy of special mention.
FIFTIETH ANNIVERSARY
It is unfortunate that no special record appears to have been made of the 50th anniversary observance. It has been learned, however, that the exercises followed closely those of the 25th year's celebration. The ceremonies opened with a reception and organ recital in Corinthian Hall, followed by a dinner in the banquet hall. The presiding Master was Wor. George G. Parry.
After the repast, the gathering again returned to Corinthian Kail, where the exercises resumed with the reading of "An Historical Sketch of Revere Lodge" by Wor. George F. Wright. A diligent search has failed to reveal a copy of that address, which dealt in detail with many interesting activities of the Lodge since its 25th birthday. Next on the program was a concert and a variety entertainment followed by a banquet and dancing until midnight.
Our 75th anniversary was observed March 3, 1931, during the Master's term of Wor. Clifton R. Hayes, and attracted a large attendance of members and visitors. The Master received the Grand Master and other Grand Lodge Officers, Masters of the several Lodges comprising the Boston First Masonic District, and distinguished visitors. Bro. William B. Revere, the Patriot's great grandson, was also a guest of the Lodge. The anniversary address was delivered by Bro. Newell A. Thompson. It was entitled "A Retrospect of Revere Lodge, A. F. & A. M.," and proved to be the most comprehensive history of the Lodge to that year.
On the occasion of its 90th birthday on March 5, 1946, the Lodge held a special meeting, featuring a reading of the Lodge record compiled by the historian, Bro. Marvin S. Bowman, entitled "Ninety Years of Revere Lodge." Four years later Bro. Bowman became Master of the Lodge and served through 1950 and 1951. The exercises on this occasion were conducted by the Master, Wor. Charles M. Sparkes, with a goodly number of the Brethren present.
During the past decade there has been a dearth of unusual events to highlight the activities of the Lodge. It stood fast under the second World War and the Korean Conflict, in which many of our members participated, making the necessary postwar adjustments without fuss or fanfare.
ONE HUNDREDTH MILESTONE
We are now meeting to celebrate our Centennial anniversary. For a full century, through dark days of doubt and distress and periods of good times, Revere Lodge has exemplified the eternal verities that have made our beloved Fraternity one of the greatest forces for good in the world. Revere Lodge has been privileged to be a vital part in a glorious period of our nation's history, from Franklin Pierce to Dwight D. Eisenhower. It has survived five great wars, including the lamentable Civil War and two World Wars, several disastrous depressions, fires and epidemics. The key to the Lodge's successful career lies in the type of leadership it has always enjoyed. A total of fifty-nine Worshipful Masters have guided its destinies during its first 100 years, including our present Master, Worshipful Warren B. Clark. Of these, all but sixteen have served two-year terms, the others one year each. We also have tender thoughts for the thirty-nine of these leaders who have laid down the working tools of the Craft at the call of the Supreme Master.
One fact of which members of Revere Lodge may be justifiably proud is that we have been signally honored by Grand Lodge in the election or appointment of Grand Officers. Since 1856 the Lodge has furnished more officers to the Grand Lodge than any other Lodge in the Massachusetts jurisdiction. The roster follows: four Grand Masters, five Deputy Grand Masters, three Senior Grand Wardens, one Junior Grand Warden, three Grand Treasurers, one Grand Secretary, eight District Deputy Grand Masters, one District Deputy Grand Marshal, and one Senior Grand Steward.
One of the District Deputies was R. W. T. Rutherford Edwards, who was Master of the Lodge in 1926 and 1927. It was more than 25 years ago when he conceived the establishment of Lodges of Instruction as an adjunct to the Masonic educational program. He organized the first of such Lodges in Boston and before he died several years ago, he had the satisfaction of seeing similar Lodges of Instruction adopted throughout our jurisdiction.
Our present Treasurer, Worshipful Walter H. Heaman, who was Master of the Lodge in 1948-1949, is also an ardent supporter of this educational project and was Worshipful Master of the Third Lodge of Instruction in 1950.
The Past Masters who are present with us tonight need no praise from your historian. We know and respect them for their proven efficiency and earnestness in the field of leadership, their ritualistic ability, and their faithfulness at all times to the great trust reposed in them. The Lodge has had only eight Secretaries since its inception. Last year our beloved Brother H. Frank Spurr resigned the office of Secretary after twenty-three years of faithful service. In June he was elected Secretary Emeritus and voted honorary membership, and Bro. C. Donaldson Damon was elected to succeed him. Only a few weeks later, Bro. Spurr was called suddenly to his eternal reward, and his Brethren still mourn his passing.
When Revere Lodge was founded, there were fewer than 25,000 Masons in the Massachusetts jurisdiction. Today, there are 342 Lodges, with a total membership of 128,652.
We believe that "what's past is prologue," and that the record achievements of Revere Lodge in the century just closed are but the preparation for continued progress in the century ahead.
Today, Freemasonry is one of our nation's greatest assets. It has furnished architects of a better society and a better way of life. Like the principles of our American democracy, it points the way to universal peace and a Brotherhood of Men under the Fatherhood of God.
Revere Lodge will always remain a pillar of this great institution. Its past is revered, its present is resolved, its future is assured.
OTHER
---
EVENTS
PRESENTATION, JANUARY 1858
From Moore's Freemason's Monthly, Vol. XVII, No. 4, February 1858, Page 119:
The last stated meeting of Revere Lodge was made the occasion of a very interesting and pleasing occurrence. The retiring Master, W. William W. Baker, having served the Lodge as Master from its commencement, was presented by the members thereof with a beautiful silver testimonial, expressive of their brotherly love and Masonic estimation.
The presentation was made by the Senior Warden, Br. Wm. Rogers, in a very felicitous and highly pleasing address. He adverted to the labors of Br. Baker as one of the founders of the Lodge, his devotion to its interests, and his jealous care and watchfulness while Master. The speaker also alluded in fitting terms to the services of his Worshipful Brother in other departments of the Institution ; his love for the Craft, and the confidence and esteem in which he was held, not only by the members of his own Lodge, but also in the Order at large. Brother Rogers' remarks were exceedingly appropriate, and were listened to with great attention.
Brother Baker, in reply, was much affected at this unexpected event, and ex pressed his heartfelt thanks for the beautiful testimonial and the flattering terms in which it had been conveyed. He alluded to the success that had attended their endeavors to form a first class Lodge, and their present prosperous condition, and ascribed it, in a great measure, to that harmony and oneness of sentiment that had ever characterized them as a Lodge.
Revere Lodge already numbers more than fifty members, a majority of whom have so far perfected themselves as Masons, as to be able to fill with honor, almost any office in the Lodge. This, Brother Baker held to be a sure and certain foundation, and the only sure and certain foundation for a Masonic Lodge, and urged upon the Brethren the necessity of attention to the study of the ritual, and a prompt attendance at the meetings, both of the Lodge and sodality. He concluded with trusting that the harmony and brotherly love that now existed might ever prevail, and that the present W. M. (Brother Sanders,) might leave to his successor, as happy, as prosperous, and as united a Lodge.
The testimonial is a Silver Pitcher, of chaste design, elegantly wrought, and beautifully finished. It is inscribed —
From the Members of
Revere Lodge
to
Worshipful William W. Baker,
for his
Eminent services as First Master of this Lodge.
January, 1858."
The ceremony was witnessed by a large number of the Brethren, who expressed themselves much pleased at the appropriateness and the interest of the occasion.
INSTALLATION, JANUARY 1860
From Moore's Freemason's Monthly, Vol. XIX, No. 3, January 1860, Page 72:
Revere Lodge of Boston held their fourth annual meeting at Nassau Hall, on Tuesday evening, Dec. 6th, at which time the following Brethren were duly elected and installed :—
Chas. C. Dame, W. M.
Richard Briggs, S. W.
H. P. Hemenway, J. W.
John McClellan, Treas.
William W. Baker, Sec'y.
T. F. Clark, S. Deacon.
B. F. Wilson, J. Deacon.
C. W. Huntington, S. Steward.
J. A. Osborne, J. Steward.
G. W. Harris, Organist.
The W. M. elect was installed by the retiring Master, W. O. S. Sanders, who made some impressive remarks upon the nature and importance of the office, add entered at length upon the necessity of a strict adherence to the rules and regulations of the Order. W. Bro. Dame, in turn, in a very happy manner installed the remaining officers. R. W. Wm. D. Coolidge, D. D. Grand Master, then presented W. Bro. Sanders with a Past Master's diploma and took occasion to remark upon the great success that had attended Revere Lodge since its institution, and the excellent standing it maintained in the Grand Lodge.
This Lodge is a legitimate offspring of Columbian Lodge of Boston, its founders being two Past Masters of that Lodge (R. W. Brothers Geo. M. Thacher and Wm. W. Baker) and John McClellan, for many years Secretary of Columbian Lodge. It numbers at present seventy-six members, and ranks second to none in the country, for the excellence of its work, for the interest taken in the Order, and for the high social position of its members.
After the ceremonies of the evening, which were not concluded till a late hour, the Lodge, with its invited guests, repaired to the banqueting hall, where a table had been beautifully spread by Smith, the well known caterer. A proper consideration having been extended to the more solid portion of the viands, Br. Wm. W. Baker, the first Master of the Lodge, was called to the Chair, who, after a few preliminary remarks, welcomed the company to the hospitality of Revere Lodge, and announced as the first sentiment — "The Grand Lodge." In the absence of the M. W. Grand Master, John T. Heard, R. W. Winslow Lewis, Past G. M., responded in a very happy vein, and provoked a rejoinder from R. W. Dan. Harwood. Speeches and sentiments rapidly followed — prominent among which were those by R. W. Bros. Coolidge, Dame, Sanders, Clapp (who responded to the memory of Paul Revere, for whom the Lodge was called), Allen (who spoke for the Members of Revere Lodge), McClellan, Wood, and others.
The company separated at a late hour, highly gratified with the entertainment of the evening.
PRESENTATION, APRIL 1860
From Moore's Freemason's Monthly, Vol. XIX, No. 6, April 1860, Page 177:
The Masonic Fraternity generally, and especially the older members, are interested in the welfare and doings of the younger Lodges; and, therefore, we take occasion to notice a very agreeable episode which occurred during the exercises at Revere Lodge, at its regular communication on the 6th instant.
It is a cheering and pleasing judication of the condition of the Order in this jurisdiction, to see the Brethren of a Lodge, organized but three years since, manifesting their appreciation of Masonic zeal and services in their officers in the manner exemplified on the occasion above referred to.
A committee of the Lodge, consisting of W. M. Dame, Briggs, Hemenway, McClellan, Wood, Rogers and M. Williams, having been appointed to consult upon some suitable testimonial to present to Worshipful Past Master, Bro. Sanders, for his faithful and able discharge of the duties of Master of Revere Lodge, also to express the feelings of the members towards him personally, made choice of a beautiful silver pitcher, elegantly chased and with an appropriate inscription, and the presentation was made by Brother Rogers, on behalf of the committee, in the following felicitous remarks, which, as well as the reply thereto, have been committed to paper and kindly furnished at our solicitation.
A Member of Revere Lodge.
Worshipful Matter Sanders, — A pleasing observance has become customary in many of our Masonic bodies, upon the retirement of a presiding officer, who has always been faithful and efficient in his duties, a true-hearted Mason, and worthy of all Brotherly regard, of giving him some permanent testimonial, for the purpose of showing that bis Brethren appreciate his worth and his services, and wish him and his friends to know and remember that he is properly esteemed. The principal value of the gift, not derived from the material or the workmanship, springs from the esteem and good will of those friends and Brothers who take pleasure in presenting it. The inscription upon its face displays in words what is felt in the hearts of the givers, and imparts a value richer than silver or gold.
Worshipful Brother, you have presided over this Lodge, during two years of progress, harmony and prosperity. And during the first two years of our working, also, previous to your occupancy of the Master's chair, as Senior Deacon, yon were a prominent, faithful and efficient officer. Both positions you have filled with credit to yourself and honor to the Lodge; and you have never spared any effort, or care, or study, or pain, to fulfill every part of your duty faithfully, and to advance the best interests, the welfare, the harmony and good feeling of the Lodge. Your constant endeavor has appeared to be, to do your whole duty, and such an endeavor secures its own success. This Lodge, which has grown up with you, these just and upright Masons, selected with care from the applicants for admission to our ancient mysteries, attest the watchful care, not only of your worthy predecessor, whom we all esteem and love, but also of yourself; and the prudence and discrimination of the committees appointed by both. And to those who have been associated with you io the pleasant relations of Masonic Brotherhood, among whom no contention has ever existed, but that noble contention, or rather emulation, of who best could work and best agree, you yourself would be one of the most ready to accord their appropriate measure of commendation.
And now, worshipful Brother, we ask you to receive from our hands this token of our esteem (a beautiful Silver Pitcher, a rare specimen of workmanship). May it always remind you to continue firm and steadfast in every Masonic duty, so that in age you may enjoy the happy reflection consequent on a well spent life.
INSTALLATION, DECEMBER 1877
From Liberal Freemason, Vol. I, No. 10, January 1878, Page 315:
Revere Lodge held its annual meeting on Tuesday evening, December 11, at Masonic Temple, when the following officers were elected for the ensuing year: William R. Cooke, Worshipful Master; Frank T. Dwinell, Senior Warden; George F. Wright, Junior Warden ; John McLellan, Treasurer; William W. Baker, Secretary; Zaccheus Holmes, Senior Deacon; Horace Crosby, Junior Deacon; Rev. Charles H. Titus, Chaplain ; George Phippen, Jr., Assistant Secretary; William Downie, Marshal; William B. Fisher, Senior Steward; Henry F. Lynde, Junior Steward; Fred. C. Fairbanks, Inside Sentinel; Henry Orr, Tyler. The officers were duly installed by Past Grand Master Charles C. Dame, after which Worshipful Samuel Wells, in the name of the members of Revere Lodge, presented Worshipful William W. Baker, who was the first Master of Revere Lodge, with an elegant Past Master's Jewel. The affair was a complete surprise to the recipient, and considerable feeling and emotion were manifested during the course of the presentation. The members then adjourned to the banquet hall, where an excellent collation awaited them. Speeches and songs terminated the proceedings of the evening.
INSTALLATION, DECEMBER 1878
From Liberal Freemason, Vol. II, No. 10, January 1879, Page 314:
At the Annual Meeting of this Lodge, held at Masonic Temple on Tuesday evening December 3d, the following officers were elected and installed: Worshipful Master, Frank T. Dwinell; Senior Warden, George F. Wright; Junior Warden, Zaccheus Holmes; Treasurer, Samuel Wells; Secretary, Wm. W. Baker; Assistant Secretary, George Phippen, Jr.; Chaplain. Rev. Mr. Silloway; Marshal, William Downie; Senior Deacon, Horace Crosby; Junior Deacon, Wm. B. Fisher; Senior Steward. Henry F. Lynde; Junior Steward, Fred. C. Fairbanks; Sentinel, E. B. Holmes; Tyler, Henry Orr. These officers were installed by Right Worshipful C. C. Dame, Past Grand Master, after which the members, ovei 200 in number, participated in the Annual Banquet.
INSTALLATION, DECEMBER 1880
From Liberal Freemason, Vol. IV, No. 10, January 1881, Page 317:
The twenty-fourth annual communication of Revere Lodge was held in Masonic Temple on Tuesday evening, December 7th, and the following officers were elected for the ensuing year: George F. Wright, Worshipful Master; Zacheus Holmes, Senior Warden; William B. Fisher, Junior Warden; Samuel Wells, Treasurer; William W. Baker, Secretary; Edwin B. Holmes, Senior Deacon ; Wm. N. Eayrs, Junior Deacon. The Worshipful Master elect made the following appointments: George Phippen, Junior, Assistant Secretary; Henry K. Dunton, Senior Steward; Charles A. Drost, Junior Steward; Thomas W. Silloway, Chaplain; Daniel F. Knight, Marshal; George O. Noyes, Inside Sentinel; William H. Gerrish, organist; George O. Townsend, Tyler. The officers elected and appointed were duly installed by Right Worshipful Charles C. Dame, after which the members of the Lodge, together with Most Worshipful Charles A. Welch, Grand Master of Massachusetts, and other distinguished guests, repaired to the banquet hall, where an elegant collation was served by Bro. Wm. Tufts, caterer.
ANNUAL MEETING, NOVEMBER 1888
From Liberal Freemason, Vol. XII, No. 9, December 1888, Page 284:
The annual meeting of this Lodge was held in Masonic Temple, Boston, Tuesday, December 5th, when R. W. Charles C. Dame, P. M. of the Lodge, and Past Grand Master, installed the officers for the twenty-seventh time. R. W. Samuel Wells, P. M. of the Lodge, and Dep. Grand Master, was presented with a loving cup, of silver, lined with gold, in recognition of his efficient services to the Lodge for a period exceeding twenty-five years, within which he had been Master and Treasurer.
The Lodge received the gift of an ebony baton, silver mounted, from W. Henry G. Jordan, for personal considerations. A banquet followed, and speeches by M. W. Henry Endicott and other members of Grand Lodge; by other visitors and members of the Lodge. This was the thirty-second annual of the Lodge, and was of more than usual interest. The officers installed are : Wor. Master, Henry K. Dunton; S. W. Melvin L. Ingalls; J. W. James E. Leach; Treasurer, Wor. Edwin B. Holmes; Secretary, George Phippen, Jr.; S. D. Royal Whiton, Jr.; J. D. E. Loring Richards. Chaplain, Wor. William R. Cooke; Marshal, George O. Noyes; S. S. Jessie S. Wiley; J. S. Frederick Estabrook; I. S. Lewis T. Foss; Organist, William H. Gerrish; Tyler, Seth. T. Dame.
PAST MASTER'S NIGHT, FEBRUARY 1908
From New England Craftsman, Vol. III, No. 6, March 1908, Page 227:
Past Master's Night in Revere Lodge, Boston, February 4, was an occasion worthy of the name of that respected lodge. There was a large attendance of members and guests who were made welcome by the cordial words of Worshipful Master, John G. Godding. After the introductory exercises the officers' chairs were filled by Past Masters as follows: George T. Ambrose (1867-68) as W. M., Charles W. Bascom (1900-01) as S. W., Royal Whiton (1898-99) as J. W., Charles H. Bolles (1871-72) as treasurer, E. Loring Richards (1892-93) as secretary, Sumner L. Stackhouse (1904-05) as marshal, George F. Wright (1881-82) as S. D., George G. Perry (1906) as J. D., Charles Bickford (1907) as S. S., John G. Godding (W. M.) as J. S.
The feature of the evening was the work of Wor. Brother George T. Ambrose, who has not before occupied the chair in forty years, but who on this occasion was as alert and impressive as in the days of his youth. Brother Ambrose was ably seconded by Worshipful George F. Wright, who filled the chair of Senior Deacon and whose excellent work contributed much to the success and pleasure of the meeting. Brothers Ambrose and Wright may pose as men of mature years, in every day life, but not in the lodge when officiating with the ease and confidence exhibited at this meeting. Following the work an excellent banquet was served, which was a delightful affair the post-prandial part being under the direction of Brother John W. Crooks. Vocal music was furnished by the Weber Quartet. A unique little song book full of popular songs was given to each present and between Brother Crooks and the songs things were kept lively.
50TH ANNIVERSARY CELEBRATION, MARCH 1906
From New England Craftsman, Vol. I, No. 7, April 1906, Page 239: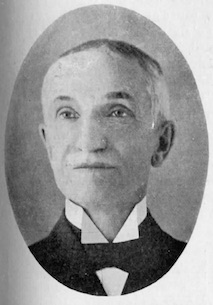 Wor. George G. Perry, Master
The fiftieth anniversary of Revere Lodge A. F. & A. M., Boston, Mass. was commemorated in Masonic Temple, Tuesday evening, March 6, 1906 by a reception tendered its members, their ladies and friends to the number of about three hundred persons. R. W. Everett C. Benton, Deputy Grand Master of the Grand Lodge, and R. W. Albert B. Root, District Deputy Grand Master of the First District, were the special guests of the evening. The celebration was wholly social in character. The program of the evening was as follows: Social Gathering from 5.30 to 6 o'clock; Banquet from 6.30 to to 8 o'clock; Entertainment by Apollo Quartet from 8 to 9.30 o'clock and Dancing from 9.30 to 12 o'clock. The entire program was carried out to the satisfaction of all who were present and reflects great credit on the executive committee of which Wor. Bro. George F. Wright was chairman. Although no attempt was made to give an historical character to the exercises of the evening, Revere Lodge, during the half century of its existance has achieved a reputation of which it may well be proud. Its loyalty to the principles of Freemasonry, the honesty of its service in their behalf give to the lodge a place second to none other. The lodge has been honored by furnishing from its members four Grand Masters of the Grand Lodge of Massachusetts, while many other of its members have been conspicuous for eminent service to the Craft.
Revere Lodge was founded March 4, 1856 that being the date of the Dispensation granted by the Grand Lodge. It may be considered the child of Columbian Lodge for the three brethren who laid its foundation were members of that lodge. These three brothers, whose names will always be dear to every member of Revere lodge were: George M. Thacher, William W. Baker and John McClellan. The first two named formerly served as Wor. Master of Columbian Lodge. Bro. Baker was the first Master of Revere Lodge, Bro. Thacher the first Treasurer and Bro. McClellan the first Secretary of the lodge. It is an interesting fact that each of the three named served the lodge in some office until the time of his death. The lodge was chartered March u, 1857, twenty charter members are named being the same as those who signed the petition for the Dispensation which was granted under the date of March 4, 1856 and which is the date of Precedency as declared by the charter. The original Dispensation is still in the possession of the lodge hanging on the walls of its private room.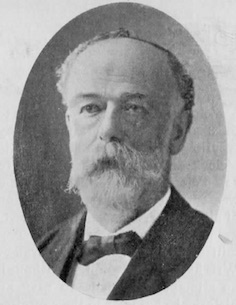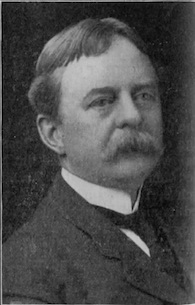 George T. Ambrose, Secretary; George F. Wright, Past Master
The first initiate of the lodge was Marlborough Williams who was afterwards Master of Revere Lodge and distinguished in other departments of Masonic work. During the year of dispensation, twenty-nine candidates were accepted. "At the meeting of February 3, 1857, a singular event occurred. An accepted candidate after having been introduced for initiation, refused to comply with the regulations, and by order of W. Bro. Baker, then in the East, was removed in the prescribed manner. Such an occurrence has never been repeated in the Lodge."
On the occasion of the 25th anniversary of Revere Lodge, an historical address was read by Wor Samuel Wells, afterwards Grand Master of the Grand Lodge of Massachusetts. We quote the closing words of Brother Wells : "But it must not be forgotten that, while twenty-five years is a large part of a man's life, it is only the beginning of the life of an organization like this. When the youngest of us shall no longer be in the land of the Revere Lodge will still flourish, and long may it continue to exist, as one of the main supports of the immortal institution of Free Masonry.
"When you and I behind the Veil are past,
Oh! but the long, long while the World shall last."
PRESENTATION, APRIL 1907
From New England Craftsman, Vol. II, No. 7, May 1907, Page 305:
Revere Lodge A. F. & A. M., Boston, was the recipient of a unique present at its last meeting in April. The presentation was made by Bro. Geo. W. Spaulding, one of the oldest and best known members of the lodge. Brother Spaulding has a friend, Brother Higgins, who has been visiting the Holy Land, and while there he obtained a souvenir of great interest to the Masonic fraternity from its association with the name of King Solomon. Brother Higgins has in the past been the recipient of courtesies at the hands of members of Revere Lodge. As an acknowledgement of those favors he sent to the lodge, by the hand of Brother Spaulding, an Ashler and Gavel taken from King Solomon's Quarry in its rude and natural state but which have been "made ready by the hands of the workman" as mementos of fraternal regard. The gift was accepted for the lodge by the Worshipful Master in a modest but appropriate speech and a vote of thanks presented to the donor.
---
GRAND LODGE OFFICERS
William W. Baker, Senior Grand Warden 1863
Charles W. Bascom, DDGM, District 1 (Boston), 1911, 1912; SN
Richard Briggs, Junior Grand Warden 1870, Grand Master 1893 (died in office)
William W. Brooks, DDGM, District 1 (Boston), 1922, 1923; N
Brown, Benson, DDGM, District 2 (Boston), 1992, 1993; N
George A. Butters, DDGM, District 1 (Boston), 1945; Grand Chaplain
Ralph S. Cohen, DDGM, District 3 (Chelsea), 1971, 1972; N
Charles C. Dame, Junior Grand Deacon 1862, Deputy Grand Master 1863-1865, Grand Master 1866-1868
Henry K. Dunton, Grand Marshal 1896-1898, Senior Grand Warden, 1899
Frank T. Dwinell, DDGM, District 1 (Boston), 1889, 1890; Deputy Grand Master 1890
Arthur H. Edwards, DDGM, District 1 (Boston), 1958, 1959; SN
Edwin B. Holmes, Deputy Grand Master 1894, Grand Master 1895-1896
David F. Howard, DDGM, District 1, 2003, 2004
Donald G. Lothrop, DDGM, District 1 (Boston), 1967, 1968; N
Edward Newpol, DDGM, District 1 (Boston), 1979, 1980; N
Ernest A. Pearlstein, DDGM, District 2 (Boston), 1988, 1989; Junior Grand Warden 2005
E. Loring Richards, DDGM, District 1 (Boston), 1896; SN
(Edward) Donald Weiner, DDGM, District 1 (Boston), 2001, 2002; N
Samuel Wells, Grand Treasurer 1879-1887, Deputy Grand Master 1888-1889, and Grand Master 1890-1892
Jack L. Zimmerman, DDGM, District 3 (Chelsea), 1989, 1990; Necrology
OTHER BROTHERS
---
DISTRICTS
---
LINKS