GMHDean
From MasonicGenealogy
HERBERT WARREN DEAN 1871-1944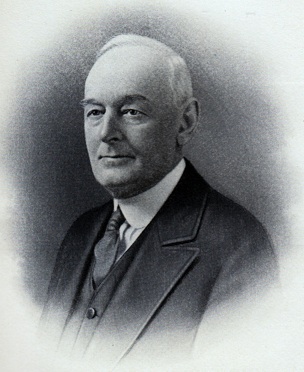 Senior Grand Warden, 1922
Grand Master, 1929-1931
---
TERM
NOTES
MEMORIAL
FROM PROCEEDINGS, 1944
From Proceedings, Page 1944-107:
Born at Cheshire, Massachusetts, October 7, 1871
Died at Cheshire, Massachusetts, March 30, 1944
On March 30, 1944, at his home in Cheshire, Herbert Warren Dean passed to the Great Beyond. In failing health for several years, his death was not unexpected, although until the very last week he had, with characteristic courage, continued his daily visits to his office and carried on his work as usual.
So once again Time in its relentless march has summoned from our midst another who has contributed by precept and example much to the advancement of Freemasonry within and without our jurisdiction and has left behind a precious memory of work well done.
Born in Cheshire, Massachusetts, on October 7, 1871, of old revolutionary stock, he lived there continuously except for a brief few years following his graduation from college, when he practiced his profession as a civil engineer with the Northern Pacific Railroad and with the United States Geodetic Surveys. The call of his old Berkshire hills proved too strong, however, and he returned to Cheshire to join with his father in a business career which he carried on until he entered the service of the Berkshire Lime Manufacturing Company, of which he later became president. He also became Treasurer of the Cheshire White Quartz Company, of which his grandfather, James V. Dean, had been head.
Arduous as were his business activities, he yet found time to serve his community in many ways. He was a member, and for a time chairman, of the Cheshire School Committee, a member and chairman of the Cheshire Finance Committee, Treasurer of the Cheshire Library Association and Treasurer of the Cheshire Water Company.
Shortly after his twenty-fifth birthday, he applied for the degrees in Masonry in Upton Lodge in Cheshire, and after being raised on March 9, 1897, almost immediately began his long career of office holding in some one or other of the Masonic bodies. He was Master of Upton Lodge in 1902 and 1903. He served as District Deputy Grand Master for the Fifteenth Masonic District in 1911, by appointment of Most Worshipful Dana J. Flanders, and in 1912, by appointment of Most Worshipful Everett C. Benton. In 1921 he was elected Senior Grand Warden and in 1928, Grand Master, serving as such during 1929, 1930 and 1931. In 1924 he was elected a member of the Board of Directors and continued a member for twenty years, retiring in 1943, at his own request. It is difficult, indeed, to estimate the value of his services as such a member. Rarely did he fail to attend any meeting and never did he decline to perform any requested service. When the budget system was introduced in the Grand Lodge financial set-up, it was but natural that he should be called upon to prepare the budget. This task he continuously performed until 1943, when his physical condition did not permit his journeying to Boston. Even then, however, by letter and by telephone he gave to his successor much sage advice and many helpful suggestions.
He was also a strong advocate of practical Masonry and was a member of the Organizing Committee of the Service Bureau. In this branch of our activities he always took a keen interest. He likewise was a firm believer in and a staunch supporter of our own Educational Program. No distance was too great to deter him from speaking at a Lodge of Instruction when requested and he gave generously of his valued experience in the preparation and revision of our Manuals.
He was also active in the collateral bodies. Exalted in Corinthian Chapter of Royal Arch Masons in 1897, he became its High Priest in 1912 and 1913. He was District Deputy Grand High Priest in 1920 and 1921 and Grand King in the Grand Chapter in 1925.
He was greeted in William Parsons Council of Royal and Select Masters in Greenfield in 1920, demitting later to become a charter member of Hamilton Council in North Adams. He received the Order of the Temple in 1902 in Berkshire Commandery in Pittsfield.
In the Ancient, Accepted Scottish Rite Bodies he was a member of Onota Lodge of Perfection, Pontusac Council of Princes of Jerusalem, Pittsfield Chapter of Rose Croix and the Connecticut Valley Consistory. He was crowned Sovereign Grand Inspector General 33°, Honorary, in September, 1930.
He always retained a deep affection for and an intimate relationship with the Grand Lodge of Connecticut. For fifteen years he was a welcome visitor and regular attendant at their Annual Communication. At the Annual Communication of the Grand Lodge of Connecticut on February 3, 1944, the Grand Secretary of that Grand Lodge was ordered to convey to Brother Dean the keen disappointment of the Brothers in Connecticut in not seeing him there for the second Annual and wishing for him a speedy recovery.
He also visited many other Grand jurisdictions both within the United States and abroad, having in 1930, while Grand Master, journeyed as such around the world.
He was twice married - in 1898 to Alice B. Cowan, who died in 1902, leaving two sons surviving, Raymond B. and James B. In 1903, he married Harriet L. Jones, who with his sons and four grandchildren, survive. Both sons have served as Masters of Upton Lodge.
The many positions of honor and trust, both within the Fraternity and in his community, to which he was chosen and which he filled with such conspicuous ability, amply testify to the respect and esteem in which he was held by his associates. Office holding was not to him an empty honor; he took his tasks seriously and never hesitated to express his opinions though he knew they might not coincide with the majority view. And it may be added, many times his view was later adopted by the majority.
Perhaps no more fitting testimonial could be given than to quote verbatim from a letter sent by a long and close acquaintance:
"During over 40 years of rather close association with M.W. Herbert W. Dean, one learns of the high principles which governed his life. Firm in his convictions yet fair in his judgment he trod a path not always easy, for once he had made up his mind it was not easily changed. He was careful in his judgment never speaking ill of those who may have had opposite opinions. Thoughtful of others, his many acts of kindness can never be enumerated. As a close friend he was a cheerful companion, his ready wit made conversation with him a delight. I doubt if there are many men with as complete knowledge of their condition, who could have maintained such a cheerful outlook toward the future. Those of us who knew him intimately had the highest respect and regard for him."
On April 2, funeral services were conducted at his home in Cheshire before a very large assembly of his Masonic Brethren from all parts of the jurisdiction and his numerous neighbors and friends. So in the quiet of a beautiful spring sabbath, they laid him with his fathers among the Berkshire Hills he loved so well.
"So I am glad, not that my friend has gone,
But that the earth he laughed and lived upon
Was my earth, too:
That I had closely known and loved him
And that my love I'd shown.
Tears over his departure!
Nay, a smile
That I had walked with him a little while."
Albert A. Schaefer
Arthur D. Prince
Frank E. Peirson
FROM NEW ENGLAND CRAFTSMAN, 1944
From New England Craftsman, Vol. XXXIX, No. 8, April 1944, Page 144:
There recently died a man who served the fraternity of Massachusetts as its Grand Master. Herbert Dean was quiet in taste and conservative by nature. Not showy, never superficial, he had withal a great fund of common sense to draw upon in the conduct of his high office. He had, deservedly, many friends who will miss his passing, for in addition to the possession of qualities of high administrative excellence, his heart heat strong and true in the interests of the Craft lie served. He was loyal to his principles and to all men to whom his rare gift of friendship was given.
CHARTERS GRANTED
RULINGS
---