GMWeld
From MasonicGenealogy
OTIS E. WELD 1840-1897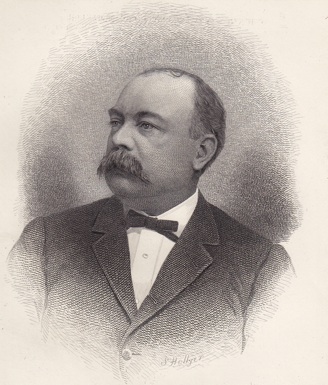 Junior Grand Warden, 1880
Grand Master, 1894
---
TERM
NOTES
MEMORIAL
From Proceedings, Page 1897-99:
Our late Grand Master, Otis Everett Weld, was the son of John Davis and Elizabeth Everett Weld, and was born in Boston, May 20, 1840. He was educated in the public schools of the city, and at an early age entered the employ of his relatives, who composed the firm of J. D. and M. Williams, wine merchants. Later he became a member of this house and continued in the business until his death, the name of the firm having been made Otis E. Weld & Co. He was connected with other business interests, notably as one of the Directors of the Third National Bank and of the Boylston Insurance Company, and was a member of several social organizations, being President of the Temple Club at the time of his death.
He was an active member for nearly forty years of the Independent Corps of Cadets, and for twenty years of the Ancient and Honorable Artillery Company. He was a Corporal in the former organization at the time it was called out by Governor Andrew in 1862 to hold Fort Warren, when its regular garrison was ordered to the front, and later held the rank of First Lieutenant for about ten years. He was an active member of Edward W. Kinsley Post, G.A.R., deriving his eligibility to membership from his service at Fort Warren, which was further commemorated by the organization some years ago of the Fort Warren Cadets, who have since met annually to recall the days when the solid men of Boston were called upon to prove their fidelity to flag and country.
Brother Weld received light in the The Lodge of Eleusis Jan. 18, 1866. He was crafted March 26, raised May 17, and elected to .membership October 18, of that year. Serving two years each as Senior Deacon, Junior Warden and Senior Warden, he was elected Worshipful Master Dec. 19, 1872, and held that office for the two years following. He was exalted ih St. Andrew's Royal Arch Chapter Jan. 3, 1867, and elected to membership February 6. In this Body he was for many years Trustee of the General and Permanent Funds. He was knighted in St. Bernard Commandery in 1867, and was its Eminent Commander in 1874 and 1875. He received the degrees conferred by Boston. Council of Royal and Select. Masters in 1869. His connection with the various Bodies of the Ancient and Accepted Scottish Rite dates from 1868. He was crowned a Sovereign Grand' Inspector General of the Thirty-third degree at Milwaukee, Wis., in September, 1878.
Brother Weld was elected a member of the Auditing Committee of this Grand Lodge in December, 1874, and held that office five years. In 1879 he was Grand Pursuivant, and in December of that year was elected Junior Grand Warden by a unanimous vote. He was a member of the Board of Directors from December, 1882, to the close of his term as Grand Master in 1894. Serving one year in the latter position, the condition of his health interfered with a discharge of the duties of the office in a manner satisfactory to himself and prevented his becoming a candidate for re-election. His interest in all that pertained to the affairs of the Craft suffered no abatement, but his attendance at our Masonic gatherings became of necessity irregular. Travelling in the South for his health, the end came unexpectedly, and he died at Savannah, March 17, 1897. His remains were accompanied to Boston by the relative who was with him, and were committed to kindred dust March 20, at Forest. Hills. The Grand Master and R.W. Samuel Wells represented the Grand Lodge as pall-bearers.
R.W. Otis E. Weld, whether we speak of him as Brother, or apply to him any of the words by which we are wont to indicate our fraternal relations, responded fully to them all. Genial in nature, plain and direct in speech and action, his heart beat warmly for all with whom he was connected by the ties of family, by business, or social association, and made its feelings manifest in deeds of benevolence wherever sorrow and want became known to him. He rejoiced in doing for others. He delighted in the exercise of the virtues of charity and hospitality. His remembrance of the claims of his kindred, of those who were in his employ, and his noble contribution to the charitable endowments of this Grand Lodge, as shown in his bequests to them, prove the thoroughness with which he- had learned and obeyed the Scriptural and Masonic injunction to "do good to all, more especially to such as are of the household of faith."
His advancement in our Order was due not alone to his gifts of popularity, boundless though they seemed; not because he was an appreciative student of the ritual, but because the teachings of the Institution permeated his very being; because so far as health and strength permitted he endeavored to prove himself a good Mason: and his Brethren recognized - these qualities in him. Sympathy and generosity were his prominent characteristics.
Above his grave we may fitly place the urn and the broken column, but in the hearts of those who knew and loved him will be found the open book and the sprig of acacia, for in these his virtues will remain on lasting record, and in them his memory will be kept forever green.
Respectfully submitted,
THOMAS W. DAVIS,
HENRY S. ROWE,
GEORGE F. HALL,
Committee.
CHARTERS GRANTED
---
RULINGS
None.
---