GMBauer
From MasonicGenealogy
FRED KIRBY BAUER 1936-2006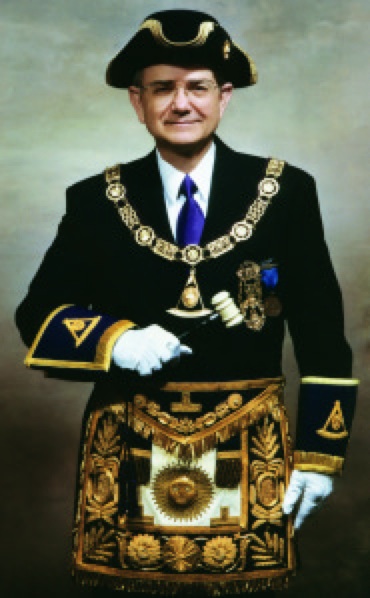 ---
TERM
NOTES
BIOGRAPHY
From TROWEL, Winter 1989, Page 15: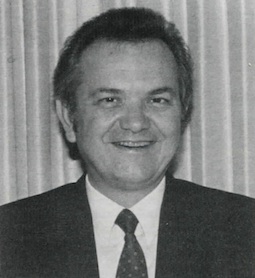 New DeMolay Executive State Officer
R. W. Fred K. Bauer of North Reading, Past Deputy Grand Master and a DeMolay in his native St. Louis, MO, has been appointed by the Grand Master of the International Order of DeMolay and by M.W. Albert T. Ames, Grand Master of Masons in Massachusetts, as Executive Officer of DeMolay in Massachusetts. His appointment became effective Aug. 13, the same day that R.W. Herbert M. Tinkham of North Attleboro retired following three years of effective leadership.
Dad Bauer was installed to office the last day of the Massachusetts DeMolay Conclave. He is a Past Master Councilor of Sentinel Chapter in Missouri and has been active in Massachusetts Masonry since his employment by the General Electric Co., Lynn. Raised in North Reading Lodge, he was Worshipful Master in 1974-75. He had served Grand Lodge as Junior Grand Steward in 1979 and as D. D. G. M. of the Maiden 7th District in 1980 and 1981. Author of the North Reading Plan that has been used as a planning tool for the Wardens' Workshops, R.W. Bauer was Master of the 35th Lodge of Instruction in 1980. He is active in the Valley of Boston, Scottish Rite, and a clown with the Aleppo Temple Shrine clown unit.
Fred and his wife Kay are parents of daughters Kim, Jan, and Jill, each of whom has been Worthy Advisor of Rainbow. Fred has been Chairman of the Open House program for the state for the past two years.
From TROWEL, Spring 1990, Page 16:
R. W. Fred K. Bauer of N. Reading, Past Deputy Grand Master and now Executive Officer for the Massachusetts DeMolay, was the speaker at the dinner. His thoughts coincided with those of the Grand Master. "It isn't always easy to be a Master Mason but we can make it easier if we project ourselves into society in a more united effort so society will learn more of our purpose in life."
From TROWEL, Spring 1999, Page 2: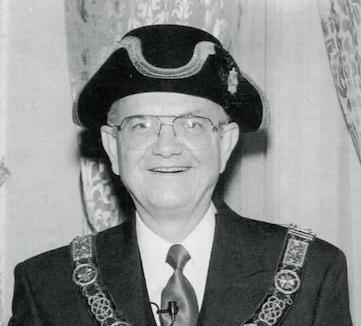 When Grand Master Fred Kirby Bauer was born on April 21, 1936, his maternal grandfather, Worshipful Alfred J. Kirby of Beacon Lodge No. 3, St. Louis, MO, signed a petition for his new grandson's start in fraternal life. Like many others, DeMolay has led our new Grand Master into a productive and useful life for the benefit of mankind.
A native of the city with the arch, home of the St. Louis Cardinals and Mark McGwire, and the Hall of Fame of tenpin bowling, Most Worshipful Fred Bauer was the Master Councilor of Sentinel Chapter and honored with the Degree of Chevalier in 1960. When raised in North Reading Lodge in 1968 he became the fourth generation of his family to receive light in Freemasonry. The son of Brother and Noble Frederick H. and Marguerite (Peggye) Bauer, he was to carve his own niche in the fraternal life prepared for him by his grandfather.
Educated in the public schools of St. Louis and graduated from Washington University, St. Louis, with a B.S. degree in Business Administration he did graduate study there and at Northeastern University, Boston, majoring in Transportation Law. He was sworn a Transportation Practitioner by the Interstate Commerce Commission in 1966 and is licensed to practice before the Department of Transportation.
His career began in 1956 with Monsanto Chemical Company of St. Louis where he was promoted and then transferred to Everett, MA as Traffic Manager. After 18 years with Monsanto he became Traffic Manager with Carling Brewing of Waltham until that company merged with another brewery. From there he went to Bird, Inc., of East Walpole and then to the General Electric Company at its Lynn plant in 1989 until transferred to the Fitchburg plant from which he retired at the close of 1998.
Like Most Worshipful Arthur E. Johnson, who installed him to the Oriental Chair of our Grand Lodge, Brother Bauer has spent an active life in scouting and attained the title of Life Scout. He extolled the benefits of scouting before public gatherings and on radio and he has done the same in promoting the Community Chest. A member of the Union Congregational Church of North Reading where he taught Sunday School for 15 years, he and his wife have served 14 years as Coordinators of the Confirmation Classes. He is a past president of the Transportation Club of New England and in 1979 he served as the state chairman for National Transportation Week.
Invested by DeMolay with the Active Legion of Honor in 1980. he has served for a decade as the Executive Officer for Massachusetts of DeMolay International in Kansas City, MO. He has been an advisor of North Reading Chapter and is a professional musician and former teacher of the accordion, piano and organ. The Bauer family enjoys their escape cottage situated in the beautiful White Mountains of New Hampshire. Married to his high school sweetheart, the former Kay J. Probst, the couple has lived in North Reading for 33 years. They are parents of married daughters Kim Taylor, Jan Ratcliffe and Jill DeCourcy, each of whom are Past Worthy Advisors of North Reading Rainbow Assembly No. 103. Fred and Kay are grandparents of five, ages 7 to 23.
Most Worshipful Fred Kirby Bauer was the Worshipful Master of North Reading Lodge in 1974 and 1975 and was appointed Junior Grand Steward in 1979. He served as District Deputy Grand Master of the Malden 7th Masonic District in 1980 and 1981 and was the author of the North Reading Plan, used as a planning tool for workshops. In 1988 he was appointed Deputy Grand Master by Most Worshipful Albert T. Ames.
A member of the Scottish Rite Bodies in the Valley of Boston, he has been active in Massachusetts Consistory and Mt. Olivet Chapter of Rose Croix. His York Rite affiliations are with the Royal Arch Chapter in Reading, Melrose Council of Royal and Select Masters and St. Bernard Commandery, No. 12 of Boston. He is a member of Massachusetts College, S.R.I.C.F. He and his wife are members of Mount Carmel Chapter, Order of the Eastern Star in North Reading. He is a past Dad of the North Reading Rainbow Assembly and holder of the Grand Cross of Color. Our Grand Master is the Grand Representative from the Grand Lodge of California near the Grand Lodge of Massachusetts and he has served on the Committee on Records, the Grand Master's Award Committee and is a Director of our Grand Lodge.
As Kirby the Clown with the Aleppo Shrine Temple Clown Unit, he has shared with the children his moments of being a kid again for at least a day at a fair, in the streets or in a hospital. He is an Adjutant of Aleppo Temple and a member of its Past Masters' Association.
The Henry Price Medal he received in 1988 continually reminds him of the Craft's beginning of the third oldest Grand Masonic Jurisdiction in the world and the challenge that now is before him as he presides as the modern Henry Price of the Grand Lodge of Masons in Massachusetts.
MEMORIAL
From TROWEL, Winter 2006, Page 18:
As a brother, lodge Master, the Grand Master, and as a Past Grand Master, when Brother Fred Kirby Bauer rose to speak, everyone would listen. His mom, Peggye Bauer, once said that her son stepped on a box at age four, so that he might be heard.
He didn't need that box in lodge, because he would address his brethren, raised on the balls of his feet, leaving them inspired by his love and knowledge of the craft, his commitment to live by its teachings, and his deep affinity for his fellow men and Masonic brethren, especially those in DeMolay. "His enthusiasm was infectious," said Rt. Wor. Clayton A. Bemis, one of his Grand Wardens. "He was a true friend," added Most Wor. Albert T. Ames.
Over 700 people attended visiting hours held at the Grand Master's lodge. One Mason approached Kay Bauer, the Past Grand Master's high school sweetheart and wife of 50 years. His feelings, spoken simply but eloquently, were surely shared by many others in attendance. "I didn't really know him," he said, "but I've heard him speak and I had to come to pay my respects."
Most brethren will remember this fourth-generation Mason as their Grand Master for a time being. Others knew him for his dedicated work in North Reading Lodge, as an excited promoter of the CHIP child identification program, as the playful Shriner clown "Kirby," faithful "Reverend Fred" at the Conference of Grand Masters, and as Dad Bauer in Massachusetts and International DeMolay.
Most Worshipful Brother Bauer had many loves, none more than Kay and his entire family, who shared their devotion, respect and love of him. Another was the International Order of DeMolay for boys.
It was once suggested that he had missed his calling; that he should have entered the ministry, as he was deeply faithful and often delivered church sermons. He responded by reaffirming the correctness of his unending commitment to the young men of DeMolay, to help guide them towards becoming better men. That theme of searching for improvement resonated in many of the speeches that he gave in lodge. He would often direct the attention of his brethren and lodge guests to the rough and perfect ashlars, admonishing all to live by their teachings; that thinking of any person or making any decision with prejudice based upon race, religion, position in life or other differentiating factors — or achieving a personal gain by harming others — would be a failure on our part to live our lives guided by the aspiration of exemplifying the teaching of Freemasonry's perfect ashlar.
He lived by the Masonic creed, not surprising for a Mason whose grandfather had signed his petition on the day the future Grand Master was born. For instance, he believed 'we're all on the level.' After being installed Grand Master in late 1998, the Master of his lodge asked him whether it would be permissible for the Master to deliver the Canadian Charge, the charge that the Grand Master had often given. Bro. Bauer said, "It's not my charge, it's just my favorite. Don't do it the way I do it, do it your way." His response pleased the Master and placed him at ease.
He was a man of good humor and sound perspective; "a humble person," said Most Wor. Donald G. Hicks, Jr., his successor as Grand Master who remembers Bro. Bauer being offered a bank director's position. "But what are my qualifications to serve?" he asked. "Integrity and common sense are the primary qualifications, and you have both," responded Bro. Hicks.
As Grand Master, he put the craft to work on a long-range strategic plan that has given direction to the initiatives of subsequent Grand Masters, and he invited his senior Grand Lodge officers to actively contribute in Grand Lodge meetings. "He always took our thoughts under advisement," said Rt. Wor. Louis A. Harmon. And he was innovative. Rt. Wor. Stephen H. Burrall, Jr. recalls one evening, when "Grand Master Bauer was unexpectedly asked to dedicate a new lodge Bible, which he did in such a beautiful and flawless manner that lodge members requested copies of the ritual. Of course it was all impromptu, but showed his love for and knowledge of the fraternity."
"It is rare that one man embodies the spirit of Freemasonry as Most Wor. Bro. Bauer did," said Rt. Wor. Eugene E. Nichols. "It is my hope that his spirit will live on in the lives of those whom he inspired."
From Proceedings, Page 2006-185:
Our Brother Fred Kirby Bauer was born in St. Louis. Missouri, on April 21, 1936. He was the only son of Henry Bauer and Peggy Kirby Bauer. Brother Bauer was educated in the St. Louis public school system, graduating from high school in June of 1954, moving on to study business law at Washington University with continuing graduate study in transportation at Washington, and further study at Northeastern University, Brother Bauer was sworn in as a Transportation Practitioner by the Interstate Commerce Commission in 1966.
On April 7, 1956, Brother Bauer married his high school sweetheart Kay Probst which union resulted in three beautiful children, Kim Bauer, Jan Rasche and Jill DeCourcy and six grandchildren, Matthew, Keith, Andrew, Brittany, Kelly and Ashley. From the banker to the toddler they all had the greatest admiration and love for their grandfather.
Brother Bauer's working career began in St. Louis in 1956 joining the Monsanto Chemical Company. In 1966, Brother Bauer and his family were transplanted to New England by the Monsanto Company. After eighteen years of steady employment with one company, our Brother started to move on, first to Carling Brewing Company in Natick as Director of Traffic and then as Corporate Traffic Manager of Bird & Sons Inc. in East Walpole, Massachusetts. In 1983, Brother Bauer became the Supervisor of Traffic for the General Electric Company in Lynn, later moving on to the Fitchburg location from which he retired in 1998. Brother Bauer, although retired, did not stop working. He continued as a Director of the Reading Co-operative Bank which position he began in 1995 and served until his passing. Brother Bauer served as Treasurer of the Scottish Rite Valley of Boston from 2003 until his passing.
Brother Bauer was an active member of Union Congregational Church in North Reading, serving as Moderator, a member of the church council, a church school teacher, an entertainer, using his talents as an accordion player and as a chef at church suppers and too many other committees to mention. In addition he, along with his wife Kay, taught the confirmation classes for many years. Both were always an inspiration to the youth of the church.
In this same vein Brother Bauer served as Dad of North Reading Assembly, No. 103, I.O.R.G., and in 1972 received the prestigious honor of the Grand Cross of Color. He also served as Dad advisor for North Reading Chapter Order of DeMolay. Dad Bauer was a Past Master Councilor of Sentinel Chapter, Order of DeMolay in St. Louis, Missouri.
In 1989 he was appointed the Executive Officer of DeMolay in Massachusetts and served ten years in that position. Fred was held in such high esteem by the members of DeMolay they elected him as an Honorary Past State Master Councilor, one of only three to hold this honor in Massachusetts DeMolay. He was the holder of the coveted Degree of Chevalier, a member and Past President of the Massachusetts Court, DeMolay Legion of Honor. He was also an active member of the International Supreme Council Order of DeMolay where he served on many committees.
The Masonic career of Brother Bauer started by his being entered, April 15, 1968. passed May 20, 1968 and raised to the Sublime Degree of Master Mason on June, 17, 1968 (his father traveling from Missouri to be present for that occasion). Brother Bauer is the fourth generation of his family to become a Mason. Not being one to sit on the sidelines, Brother Bauer quickly became involved with lodge work and was installed Master of North Reading Lodge in 1975, his leadership ability was quickly recognized by Most Worshipful Arthur H. Melanson who appointed him Junior Grand Steward in 1979, quickly followed by an appointment by Most Worshipful J. Philip Berquist to the position of District Deputy Grand Master of the Malden 7th Masonic District which he served in 1980 and 1981. Having completed his work as District Deputy, Brother Bauer took on several other Grand Lodge responsibilities including chairman of the Blood Program, CPR Committee, Awards Committee and Children's activities for the Grand Master's Fair. While doing all these things he did not neglect his Blue Lodge either, but rather served as his Lodge Blood Chairman and Treasurer of the North Reading Masonic Temple Association. In 1988 Brother Bauer was appointed Deputy Grand Master of our Grand Lodge by Most Worshipful Albert T. Ames and received the Henry Price Medal for outstanding service to Masonry in that same year.
In 1999 Brother Bauer was elected to the office of Grand Master and again in 2000 and 2001. As Grand Master, Brother Bauer's innovative ideas led to a Grand Lodge session being held in Springfield with an open forum type meeting to listen to the concerns of the rank and file. This meeting resulted in many of the changes in our Grand Lodge that have been accomplished by his successors. His dedication to the Fraternity never ceased. He served the Conference of Grand Masters in North America and served as Chaplain for many years.
Brother Bauer was a strong advocate of C.H.I.P. (The Child Identification Program), the beginning of the Overlook Visiting Nursing Association, which now serves over 1700 patients a day, and he was very influential in the development of the Overlook Communities project, housing more than 200 families. I will not take the time now to mention the many Masonic accomplishments of Brother Fred K. Bauer, but will list all that I am aware of in this written memorial. However I do want to mention that Brother Bauer was coroneted a 33° Mason by the Supreme Council of the Ancient Accepted Scottish Rite of Freemasonry for the Northern Masonic Jurisdiction of the United States of America in 1998.
In addition to the above, Brother Bauer held membership in and served the following:
Scottish Rite Valley of Boston Treasurer
Mount Olivet Chapter of Rose Croix Guard
The DeMolay Lodge Honorary Member
Norumbega Fraternity Lodge Honorary Member
King Hiram's Lodge Honorary Member
The Masters Lodge Past Master
Blue Hill Lodge Honorary Member
Proxy for Sinim Lodge in Japan
Grand Representative to the Grand Lodge of California
Reading Royal Arch Chapter
Melrose Council of Royal and Select Masters
St. Bernard Commandery No. 12 Guard
Massachusetts College, S.R.I.C.F. Suffragan
Mount Carmel Chapter Order of Eastern Star
Aleppo Temple Ancient Arabic Order Nobles of the Mystic Shrine of North America Clown (Kirby) Adjutant Past Master Association
Brother Bauer also served the Grand Lodge Board of Directors, The Masonic Education and Charity Trust, the Massachusetts Health System, Inc and its several affiliates.
Most Worshipful Fred Kirby Bauer was a dedicated servant to all, his family, his church, his community, his country, DeMolay, Rainbow and Masonry. Brother Bauer will be long remembered for his positive attitude, his dedication to the task, his warm smile and always friendly greeting.
The Grand Architect of the Universe chose to call our Brother from his work here on earth to his heavenly home above on the last day of the 2006 Masonic year. (August 30, 2006) We do miss you, my Brother. You will always be in our thoughts. We are all better for having known you.
Respectfully,
Albert T. Ames, Chairman
Jeffrey B. Hodgdon
Donald G. Hicks
The Memorial Committee
SPEECHES
FEAST OF ST. JOHN, DECEMBER 1987
From Proceedings, Page 1987-183:
It is indeed a pleasure and an honor, to be present on the occasion of the Feast of Saint John. As I stand before you, I am reminded of the first question each of us were asked when we became a Mason; "What Came You Here To Do?" And your answer was ..."To learn to subdue my passions and improve myself in Masonry."
There is an old story told that one of our candidates, after completing his first degree, didn't return to the lodge for thirty years to take his second degree. (You can tell already that this candidate was not of our Grand Jurdisdiction. Ha, Ha!) The Worshipful Master was naturally curious why the brother hadn't returned to the lodge for thirty years. The candidate replied: "Well, you know the question ... What Came You Here To Do?, and I answered, To learn to subdue my passions?" "Yes, yes," the Master replied, "but, what's that got to do with staying away for thirty years?" "Well," said the candidate, "it's taken me thirty years to subdue my passions."
Tonight I feel like that candidate, I find it very hard to subdue my passions. Most Worshipful Grand Master, I am deeply honored and overjoyed in being appointed Deputy Grand Master and pledge to you and our Grand Lodge, that I will do my very best to live up to the trust and confidence you have placed in me.
To my Brethren, I still ask..."What Did You Come Here To Do?"
As Masons, I believe there are three obligations we have in the discharge of our duties as Masons: As A Citizen, As A Man, As A Mason.
As A Citizen
There is not a better time in history than to stand for the moral and social issues, that our forefathers had in mind, when they wrote the Constitution of the United States. In today's world, we seem to be out of step with society, when we practice the moral lessons taught in our ritual. If we look back in history once great countries no longer exist, because of a decay of moral standards within that society. And the "now" generation better wake up, or there may not be a future generation!
What an opportunity we have to be the leaders in our community, state and nation. It is by our example, that others will judge Masonry.
As A Man
I once read, there were no great men, only men who distinguished themselves as fathers, husbands, brothers and sons. Our beloved fraternity points out those duties. In our daily lives is where we need to continue to practice being a good Mason. The time, energy and love we show those who mean the very most to us, need our constant attention. In today's world, the family traditions and values are being challenged. By many, it is no longer necessary to be responsible for one's son and daughter, and why remain faithful, no one else seems to? Let someone else take care of the sick, the hungry, the needy. But, no one asks "who?" My brethren, as Masons, we are the "who". It is by our example and not by words alone. We need to be the leaders in the youth groups, the Boy/Girl Scouts, Little Leagues, Rainbow and the Order of DeMolay. As Most Worshipful and the President of the United States, Harry S. Truman said, "...there is nothing more important than the proper education and guidance of our young people, who will become the leaders of tomorrow..."
Let me illustrate by telling you a favorite story of mine:
A father and son were in their living room one evening. The father was reading his newspaper when he noticed that his son was not doing anything at all and seemed bored. The father saw a map of the world in the newspaper and began tearing it into strips of paper. He handed it to his son and said, "Here, son, is a map of the world which I have tom into a puzzle. Why don't you put it together?" thinking it would take his son several hours to reassemble. In just a few minutes his son retumed with the map of the world all together. His father was very surprised and said, "How did you put back together so fast the map of the world?" His son replied, "Well, Dad, there was a picture of a boy on the back of the world, and I knew if the boy turned out alright, the world would turn out alright."
As A Mason
What a beautiful lesson we are taught in the first degree with the symbol "the point within a circle". on this occasion, it seems most appropriate to remind ourselves of our two patron Saints, st. John the Baptist and St. John the Evangelist. Many times we are asked, "What can I do, I am only one person, one small human being. Nothing I could do would make that much of a difference?" None of us know what the Great Architect of the Universe has in mind. It is our task to faithfully fulfill the duties he has given to each of us. To use our God-given talents to the benefit of mankind. Even as one small individual, we influence our circle of friends, by our good work and deeds and give purpose and meaning to our lives. And keeping within the boundary of our patron saints and the book of Holy scriptures, it is impossible for us to materially err.
Brethren, just one last question, "What Did You Come Here To Do?"
Thank you.
CHARTERS GRANTED
RULINGS
---