MassachusettsYear1880
From MasonicGenealogy
1880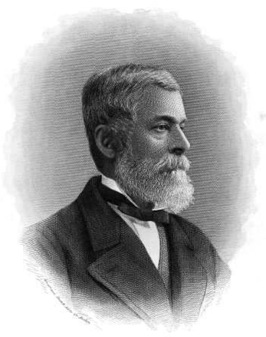 CHARLES ALFRED WELCH, Grand Master
Abraham H. Howland, Jr., Deputy Grand Master
Charles W. Moody, Senior Grand Warden
Otis E. Weld, Junior Grand Warden
---
QUARTERLY COMMUNICATIONS
(Held at Masonic Temple, Boston)
03/10: 1880-4;
06/09: 1880-65;
09/08: 1880-85;
12/08: 1880-113; (Annual Communication)
03/10 Agenda
1880-8: Announcement of severe illness of Rt. Wor. Abraham H. Howland, Jr., Deputy Grand Master; by vote of the Grand Lodge a letter would be written expressing sympathy and good wishes for a speedy and full recovery.
1880-11: A communication from Bro. G.J. Barnet, Grand Secretary of the Grand Lodge of Colon "that the difficulties heretofore existing between that Grand Lodge and the Grand Lodge of the Island of Cuba had been amicably adjusted" and that they had united as "the United Grand Lodge of Colon and the Island of Cuba." Referred.

06/09: 1880-71; United Grand Lodge recognized by Grand Lodge.

1880-11: Recognition for the Grand Lodge of Quebec was referred to a committee. Report was made on page 1880-22, and that Grand Lodge was recognized.
1880-12: By vote of the Grand Lodge, the lodges in South Boston were granted concurrent jurisdiction with the entire city of Boston.
1880-13: Installation of various Grand Officers.
1880-13: A warning was issued regarding the sale of a "so-called Masonic Register" and it falsely contained the signature of the Grand Secretary and the seal of the Grand Lodge.
1880-15ff: Report of the Committee on Expenditures.
1880-20: Remarks by Rt. Wor. Marshall P. Wilder; granting of request for him to take a copy of the hymns used in Grand Lodge "to be hung up in his Library as a reminder of the pleasant seasons he had enjoyed in the society of his Brethren."
1880-21: Address by the Grand Master on the capitation tax.
1880-24ff: Report of Committee on the change of the seal of the Grand Lodge. Extended history of this process, dating in part back to 1857, with the history of the seal itself dating as far back as 1752. A heraldic description is given on page 1880-30. Depiction of the seal appears opposite page 1880-51.

12/08: 1880-164; Supplementary report; new seal to be used effective March 8, 1881.

1880-51: Report of the Charity Committee.
06/09 Agenda
1880-69: Installation of Wor. Joseph Winsor as Grand Sword Bearer; the Grand Master "congratulated him on the restoration of his health."
1880-82: Committee appointed to consider the idea of a Centennial Medal for lodges that have worked for a century, according to an English custom (referred to by Wor. William T.R. Marvin).

12/08: 1880-158; Report of committee, endorsing the idea as long as it makes application to the Grand Lodge.

1880-82: Grand Master Welch's comments on the capitation tax. Wor. Alfred F. Chapman presented a check for Zetland Lodge in the full amount of commutation; Rt. Wor. William F. Salmon reported that three of the four Lowell lodges had voted to commute and the fourth would likely follow. A number of other Brethren "spoke in a most encouraging manner" on this subject.
09/08 Agenda
1880-88: Grand Master Welch's comments on the capitation tax; he provided details on commutation as of mid-June 1879. A full list of commutation as of this date is given on page 1880-89ff. By vote of the Grand Lodge, the time of payment was extended to November 25.
1880-100; Grand Lodge voted to assess liability to members of lodges that had not yet commuted the tax.
1880-92: The Grand Master announced that Rt. Wor. William Sutton had presented his valuable Masonic library to the Grand Lodge; it had thus "become necessary to enlarge the accomodations hitherto afforded to our books" by "connecting the Grand Master's room with a portion of the clothing room, thus making, with the office of the Grand Secretary, three large rooms en suite."
1880-94: Communication from Bro. Peter H. Hooe, of the District of Columbia, with regard to the existing debt upon the Masonic Temple in the city of Washington; it was voted to communicate with these brothers to explain why the Grand Lodge could not at present comply with that request.
12/10 Agenda
Recorded in Grand Master Welch's address, beginning on page 1880-130:

Lodges constituted, officers installed:
Lodges visited:
Hall Dedications:

Dispensations:

Granite, Northbridge (10/30)
"A warrant was issued to Rt. Wor. Henry Buist, Past Grand Master of the Grand Lodge of South Carolina, to represent me at the celebration of the anniversary (October 7) of the Battle of Cowpens. It was the wish of the Fraternity in South Carolina to have the Grand Lodge of each of the thirteen original States represented by the Grand Master or his representative."

1880-143: Auditing Committee report.
1880-145: Election of Rt. Wor. Samuel Crocker Lawrence as Grand Master; election of other Grand Officers. Address by the Grand Master and response of the Grand Master-elect.
1880-157: Introduction of Past Grand Master Edward P. Burnham of Maine.
1880-162: A circular from Lodge #15, Skibbereen, Ireland, requesting charitable aid for a member of this Lodge.
1880-168: Charity Committee report.
Grand Constitutions Amendment Proposals
09/08: 1880-93; Proposal to amend the Grand Constitutions, Part I, Article 2, to allow the Past Masters of each district to elect one of their number for two years, to be permitted to vote in Grand Lodge. Referred.

12/09: 1880-154; Amendment approved with slight rewording.
Grand Master's Address
09/08: 1880-94; Report on Grand Master's Annual Address of December 1879.
12/08: 1880-123; Annual Address by Grand Master Welch; among the recommendations is a standing order that any lodge may request a certified copy of its charter to be used on all occasions; except that the Grand Master may order the production of the original for inspection or other purposes.

Referred to committee, 1880-151.
1880-167: This was made a standing order of the Grand Lodge.
Lodge By-Law Changes
03/10: 1880-7;

Full Codes : Berkshire, Martha's Vineyard, Morning Star, Soley (U.D.)
Amendments: Belmont, Charity, Charles W. Moore, Fraternity, Good Samaritan, Isaac Parker, John Abbot, Jordan, Joseph Webb, Pioneer, Saggahew, Zetland.
1880-23: approved, with Charity amendments revised; full codes are "amended'" with a description of seal to be furnished by Berkshire and Morning Star.
06/09: 1880-68;

Full Codes : Paul Dean, St. John's (Newburyport).
Amendments: Charles C. Dame, Crescent, Eliot, Hayden, Ionic (Easthampton), Mount Carmel, Mount Vernon, Pentucket, Phoenix, Starr King, Upton, William Parkman.
1880-81: full code from St. John's (Newburyport) and amendments from Charles C. Dame further time requested; all others but one are correct, and Paul Dean must furnish a description of seal; Upton recommitted as it is "not in proper form."
12/08: 1880-122;

Full Codes : Philanthropic.
Amendments: The Lodge of Eleusis, Fellowship, Ionic (Taunton), King Hiram's, Quinsigamond, Rising Star, Robert Lash, Spencer, Star.
1880-129: approved; as amended: Star, King Hiram's, Philanthropic; others approved as submitted.
12/28: 1880-172;

Full Codes : Monitor.
Amendments: Kilwinning.
1880-187: approved with slight changes.
Necrologies and Memorials
1880-108; Boston. Funeral of Past Grand Master John T. Heard (Special Communication).
Petitions for Charters
03/10: 1880-8: Petition by Pilgrim Lodge for a change of location, to the town of Harwich; referred.
03/10: 1880-10: Petition from members of Philanthropic Lodge, Marblehead for restoration of its charter; referred. A remonstrance by eleven other brothers against that petition was also presented.

1880-53: Petition to restore charter granted.
Petitions for Dispensation for Lodges
Dispensations, mentioned in Grand Master's Address beginning on Page 1880-130:
SPECIAL COMMUNICATIONS
02/26/1880: 1880-1; Belmont. Dedication of the new Masonic apartments of Belmont Lodge.

1880-2: Grand Lodge opened at the residence of Wor. William J. Underwood. Procession to the hall, where they were received by a committee.
1880-2: Dedication of the hall "to the offices and purposes of Masonry." The building had formerly been a station-house in Belmont for the Fitchburg Railroad Corporation.
1880-3: "The Grand officers were sumptuously entertained by Wor. Brothers Thomas W. Davis and William J. Underwood, at the house of the latter."
04/09/1880: 1880-55; East Somerville. Constitution of Soley Lodge and the installation of its officers by the Grand Master.

1880-56: Grand Lodge opened in an ante-room, and was welcomed in the lodge by members of Soley Lodge, U.D.
1880-56: Constitution of Soley Lodge in ample form; installation of officers.
1880-57: Address by the Grand Master.
1880-58: "Grand Officers and invited guests were sumptuously entertained in the banquet-hall of Soley Lodge."
05/04/1880: 1880-59; Marblehead. Restoration of the Charter of Philanthropic Lodge.

1880-59: Grand Lodge opened at Odd Fellows' Hall.
1880-60: Entrance of Grand Lodge into hall "in formal procession."
1880-60: Grand Master recited "the circumstances of the suspension of work of Philanthropic Lodge'" and the petition for its reinstatement.
1880-60: Reading of charter, recently endorsed by the Grand Lodge; Grand Master "with words felicitously adapted to the occasion" presented it to Wor. Michael J. Doak, Master-elect. The Grand Marshal made proclamation.
1880-61: Installation of officers, as listed.
1880-62: Address by the Grand Master.
1880-63: A "sumptuous banquet" in the vestry of the Universalist Church.
1880-63: A reading of "a carefully prepared and succinct history" of the Lodge by Bro. Stephen P. Hathaway, Jr., many years the Secretary of the Lodge.
10/01/1880: 1880-103; Randolph. Dedication of the new Masonic apartments of Norfolk Union Lodge.

1880-104: Grand Lodge opened and marched in procession to the new hall, where "in the presence of a large company of invited guests, including ladies" the hall was dedicated to "the uses and offices of the Institution in Ample Form."
1880-105: Address by the Grand Master to the brethren and visitors.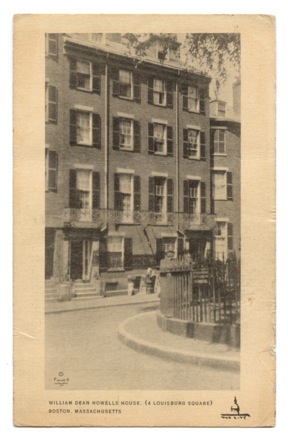 4 Louisbourg Square, Heard's residence in 1880
12/04/1880: 1880-108; Boston. Funeral of Past Grand Master John T. Heard.

1880-109: Grand Lodge opened and the purpose of the meeting was announced. The Grand Master "briefly expressed his appreciation of the great loss which the Fraternity in this jurisdiction have sustained" by the loss of Past Grand Master Heard.
1880-110: The Grand Master conducted the Masonic Funeral Service, then the Brethren proceeded to the late residence of Past Grand Master Heard, and "an impressive funeral service" was performed by Rev. Cyrus A. Bartol of West Congregational Church. Heard resided at 4 Louisbourg Square; this house was later the home of novelist William Dean Howells.
1880-111: The funeral cortege proceeded to Mount Auburn Cemetery, where the Masonic Burial Service was performed by the Grand Master.
FEAST OF ST. JOHN THE EVANGELIST
(held at Masonic Temple, Boston, 12/28/1880)
1880-170: Opening and roll call.
1880-172: Installation of Grand Master Lawrence. Grand Chaplain's prayer; ceremonies fully described. Golden urn transmitted. Other Grand Lodge officers installed.
1880-184: Presentation of a Past Grand Master's Jewel by Wor. John Rodoccanachi.
1880-185: List of lodges not represented in Grand Lodge in 1880, as well as the past 2-4 years.
1880-185: List of Grand Lodge Proceedings received.
1880-188: Report of Charity Committee.
1880-189: Report of Library Committee.
1880-194: Feast of St. John, listing toasts and names of speakers.
LIST OF LODGES IN MASSACHUSETTS BY DISTRICT: 1880
There were 19 districts in Massachusetts in 1880, as well as districts for Chile and China.
Albert L. Richardson, District Deputy Grand Master; 13 Lodges
Report: 1880-201; Tabular: 1880-233
Jonathan Bigelow, District Deputy Grand Master; 11 Lodges
Report: 1880-203; Tabular: 1880-234
William H. West, District Deputy Grand Master; 13 Lodges
Report: 1880-204; Tabular: 1880-235
George J. Townsend, District Deputy Grand Master; 12 Lodges
Report: 1880-205; Tabular: 1880-236
John B. Hill, District Deputy Grand Master; 14 Lodges
Report: 1880-207; Tabular: 1880-237
Nathan S. Kimball, District Deputy Grand Master; 13 Lodges
Report: 1880-209; Tabular: 1880-238
Daniel B. Ingalls, District Deputy Grand Master; 9 Lodges
Report: 1880-209; Tabular: 1880-238
Hiram O. Smith, District Deputy Grand Master; 11 Lodges
Report: 1880-212; Tabular: 1880-240
William H. Murray, District Deputy Grand Master; 12 Lodges
Report: 1880-214; Tabular: 1880-241
William C. Robinson, District Deputy Grand Master; 12 Lodges
Report: 1880-215; Tabular: 1880-242
David M. Earle, District Deputy Grand Master; 13 Lodges
Report: 1880-216; Tabular: 1880-243
Arba C. Slater, District Deputy Grand Master; 14 Lodges + 1 U.D.
Report: 1880-219; Tabular: 1880-244
C. E. Smith, District Deputy Grand Master; 10 Lodges
Report: 1880-221; Tabular: 1880-245
Albert H.W. Carpenter, District Deputy Grand Master; 14 Lodges
Report: 1880-222; Tabular: 1880-246
Russell Matthews, District Deputy Grand Master; 11 Lodges
Report: 1880-223; Tabular: 1880-247
Edward Avery, District Deputy Grand Master'; 10 Lodges
Report: 1880-225; Tabular: 1880-248
Augustus E. Scott, District Deputy Grand Master; 10 Lodges
Report: 1880-226; Tabular: 1880-249
George Robinson, District Deputy Grand Master; 10 Lodges
Report: 1880-227; Tabular: 1880-250
John B. Thayer, District Deputy Grand Master; 9 Lodges
Report: 1880-228; Tabular: 1880-251
David Trumbull, District Deputy Grand Master; 3 Lodges
Report: None; Tabular: None
William F. Salmon, Proxy for Ancient Landmark Lodge; 1 Lodge
Report: None; Tabular: None
---