MassachusettsYear1857
From MasonicGenealogy
1857
JOHN T. HEARD, Grand Master
William Flint, Deputy Grand Master
Bradford L. Wales, Senior Grand Warden
John H. Sheppard, Junior Grand Warden
---
NOTES
QUARTERLY COMMUNICATIONS
Held at Masonic Temple, Boston
03/11: VI-93;
06/10: VI-111;
09/09: VI-120;
12/09: VI-137; (Annual Communication)
03/11 Agenda
VI-95: Petition from Evening Star Lodge, Lee, asking for assistance and a replacement charter, lost due to fire.
VI-98: Report of Charity Committee.
VI-99: Communication from a committee of the Bunker Hill Monument Association; Grand Lodge invited to inaugurate a statue of General Joseph Warren.
VI-100: Report of committee on the printing of diplomas.
VI-103: Report of the Trustees of the Grand Charity Fund.
VI-107: Committee appointed to procure a new banner for the Grand Lodge.
VI-108: Committee appointed to review By-Laws of subordinate lodges.
VI-108: Committee appointed to procure regalia for the District Deputy Grand Masters.

06/11: VI-113; Grand Lecturers to be furnished with regalia as well.
06/10 Agenda
VI-112: Report of committee on obtaining better accomodations; current building unsatisfactory, and unsuitable to be modified. Recommended that the Trustees take charge of this.
VI-114: Report of Charity Committee.
VI-115: Resolution for the Trustees of the Temple to be directed to sell the Masonic Temple; motion tabled.
VI-116: Invitation to attend St. John's Day in Nashua, N.H., and in Providence, R.I.
VI-116: Report of Seal Committee.
VI-118: Report of Committee on By-Laws.
09/10 Agenda
VI-123: Petition by Cincinnatus Lodge to remove from Sheffield to Great Barrington; granted.
VI-124: Correspondence with Bunker Hill Monument committee regarding expenses.

09/23: VI-133; Grand Lodge (reluctantly) grants $100 to the committee.

VI-128 (09/10), VI-135 (09/23): Report of Charity Committee.
VI-129: Committee to consider an Act of Incorporation.

12/09: VI-141; Committee instructed to draw up an Act of Incorporation under the Commonwealth of Massachusetts.
12/28: VI-154; Report of committee, tabled.

Adjourned to 09/23.

VI-134: Trustees authorized to sell the Masonic Temple.
12/10 Agenda
VI-142: Jeremiah Stone readmitted to Masonry, with the concurrence of King Hiram's Lodge.
VI-143: Report of Trustees of the Grand Charity Fund.
VI-145: Report of Trustees of the Temple.
VI-146: Report of Charity Committee.
VI-147: Report of the Committee of Finance.
VI-148: Committee appointed to secure land for the building of a new Masonic Temple.
VI-152: Committee on arrangements appointed.
VI-150: Petition by Mount Hope Lodge for remission of dues; referred.
VI-150: Re-election of Grand Master Heard elected (102 ballots) and other Grand Lodge officers elected.
Grand Constitutions Amendment Proposals
12/09: VI-151; Amendment to Grand Constitutions for a reduction in Grand Lodge Fees; referred to committee.
12/09: VI-152: Amendment regarding the requirements for certain Grand Lodge offices; referred to committee.
Grand Master's Address
03/11: VI-100; Review of the Grand Master's address in December 1856.
12/28: VI-159; Address by Grand Master Heard, regarding several matters; referred to committee.
Communication From the Grand Master, July 1857
From Moore's Freemason's Monthly, Vol. XVI, No. 10, August 1857, Page 306:
OFFICE OF THE GRAND MASTER OF MASONS IN MASSACHUSETTS. Boston, July 10, 1857.
To the Worshipful Master of _____ Lodge:
You are requested to cause this paper to be read in your Lodge at its first meeting after you receive it; and it is hoped that the subjects it contains will have that attention from you and from your Lodge which their importance demands.
— A printed circular, signed by J. F. Brennan, Louisville, Kentucky, having been addressed to Secretaries of Lodges in this Masonic jurisdiction, requesting information which ought not to be communicated except by the permission of the Grand Master, renders it necessary that instructions should be given to the Secretary of your Lodge, which will prevent compliance with the terms of said circular. The means thus employed to obtain a knowledge of important facts relating to affairs within this jurisdiction, are disrespectful to the Fraternity of Massachusetts, and deserve the severest condemnation.
— Members of Lodges should be cautioned against traveling traders, or pedlars, who seek to promote their private pursuits and speculations through a perversion of Masonic relations. This mode of advancing the selfish purposes of individuals, does much to bring our institution into disrepute. The less experienced and younger Brethren are peculiarly exposed to the designs of these unworthy men. Books professedly Masonic, but of dangerous tendency, jewelry with improper devices, arid regalia, tawdry and inconsistent with our regulations, compose the stock in trade of these unscrupulous traffickers.
— There is reason to believe that dissolute men, claiming to be Masons, journey about from town to town, soliciting charity and other aid from Lodges and the Brethren, who are so far successful as to be sustained in the practice. This species of vagrancy should be discouraged; to give such persons, supports the idle and vicious at the expense of the meritorious unfortunate. It is recommended that all cases of relief to travelers who profess to be Masons, should be reported to the Recording Grand Secretary, whether the contributions therefor be made by Lodges or by individual Brethren; and the utmost vigilance should be exercised to prevent impositions upon the sympathies and benevolence of the brotherhood. In this connection it may be useful to state, that colored persons, who have visited different portions of the State asking assistance as Masons, are not entitled to that consideration. The Grand Lodge of Massachusetts recognize no body purporting to be a "colored" Lodge, or "colored" subordinate Lodge, and it is believed that no regular Lodge in this country admits colored men into the Order; hence, relief afforded to such persons must be on the ground of common humanity, and not because they belong to our institution.
— It is desirable that the annual election of officers in all the Lodges, should precede the Festival of St. John the Evangelist (27th December), sufficiently early to allow their being installed on or before that day, in order that the Recording Grand Secretary may be enabled to obtain the organization of every Lodge at the commencement of the Masonic year. As soon after the election as possible, the R. G. S. should be provided with an accurate list of all officers chosen and appointed. And whenever a change of incumbent of any office takes place, information of the fact should at once be conveyed to the office of the Grand Lodge.
— The "proficiency" of candidates demands the serious consideration of every Lodge. The nominal proficiency now demanded is unjust to the candidate, and unworthy the high character of Masonry in Massachusetts. At least, such proficiency should be required at every stage of advancement as will qualify the candidate to pass creditably the examination he must undergo as a visitor to a Lodge where he is unknown. This qualification should be exhibited in open Lodge, before advancement be allowed.
— The privilege of conferring the degrees by Dispensation ought most rarely to be exercised. It is equal to the power of making Masons "at sight," which can be done only with great danger to the institution. The suspension of the probationary terms required by the Constitutions, it is hoped, will seldom be asked for by Masters of Lodges; and the Grand Master takes this opportunity to express his thanks to them for the support they have given to him in his efforts to curtail the exercise of this power.
— Each Lodge will hereafter state in its annual returns what degrees have been conferred by Dispensation, and the names of the Brethren who received such degrees.
—The attention of the Lodge is specially invited to the following important regulations of the Grand Lodge :—
"And no candidate shall be balloted for who has not been proposed at a stated monthly meeting, and who shall not have stood so proposed from one regular monthly meeting to another, without a Dispensation therefor ; nor shall a candidate, in any event, be balloted for, into whose moral character a strict inquiry has not been made, and whose name has not been borne on the notifications for the meeting at which he is to be balloted for. — Constitutions G. Lodge, Art. 3, Sec. 1.''
"Ordered, That from and after the passage of this Order, it shall not be regular to give more than one degree to the same individual on the same day, nor at a less interval than one month from his receiving a previous degree, unless a Dispensation shall have been obtained therefor. — Constitutions Grand Lodge, page 3."
"All applications for initiation shall be made to the Lodge in the town where the petitioner resides, if there be a Lodge in such town; but if there be none, then he shall apply to the Lodge nearest his residence. And no person residing in a town where there is a Lodge, shall be initiated in any other town, without the written consent and approbation of the Master and Wardens of that Lodge. Nor shall any candidate be received from any other State, (he being a resident thereof,) where a regular Lodge is established, without the written permission of the Grand Master of such State. — Constitutions G. Lodge, Art. 3, Sec. 5."
John T. Heard, Grand Master.
Lodge By-Law Changes
Necrologies and Memorials
09/09: VI-121; Death of Rt. Wor. Elias Haskell, Past Senior Grand Warden; Grand Lodge recessed to attend funeral.
Petitions for Charters
12/09: VI-140; Petition by Morning Star Lodge, Worcester, to have their charter dated to the original one; granted.
Petitions for Dispensation for Lodges
Petitions for Restoration of Charter
None.
SPECIAL COMMUNICATIONS
None.
FEAST OF ST. JOHN THE EVANGELIST
(held at Masonic Temple, Boston, 12/28/1857)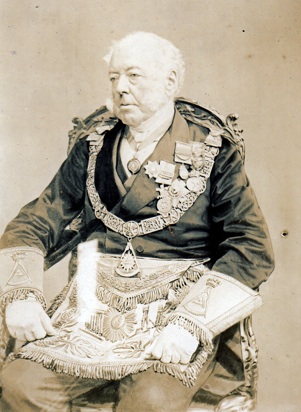 The Earl of Zetland, Grand Master of the United Grand Lodge of England
From the collection of the Grand Lodge of Masons in Massachusetts
VI-154: Lodge of Instruction.
VI-154: Invitation to dedicate the hall of Mount Zion Lodge in Barre; accepted.
VI-156: Petition by members of the late Bethel Lodge, referred.
VI-157: Installation of Grand Master Heard and other Grand Lodge officers.
VI-158: Grand Master's Address, beginning on Page VI-158.

Lodges constituted, officers installed:
Hall Dedications:

VI-161: Correspondence with the Grand Master of England, the Earl of Zetland.
A description of the communication can be found in Moore's Freemason's Monthly, Vol. XVII, No. 4, February 1858, Page 102:
The Annual Communication of the Grand Lodge of this State, for the exemplification of the ritual, the installation of the officers for the ensuing year, and the celebration of the anniversary of St. John the Evangelist, was held at the Masonic Temple, in this city, on Monday, the 28th December ultimo. The number of Brethren present during the day and evening was larger than we have ever before known it to be on any similar occasion, — the large hall of the Temple being filled to its greatest capacity.

The Grand Lodge was opened by the M. W. Grand Master at 9 o'clock; and the Grand Lecturers immediately entered upon their official duties, in which they occupied the entire day. Of the manner in which the lectures were delivered and work exemplified we have heard but one opinion expressed, and that most complimentary to the skill and ability of the lecturers. Perhaps on no former occasion have they succeeded in giving higher satisfaction to the Brethren assembled, and on none have they been honored with a more numerous and attentive presence.

The installation ceremonies took place in the evening. The hall, as during the day, was crowded with members and visitors, notwithstanding most o£ the Brethren from the interior towns had left the city in the afternoon trains. The Grand Master was installed by his immediate predecessor, Dr. Lewis — the Deputy G. Master, the Wardens, Treasurer, Secretary, and District Deputy Grand Masters, by the Grand Master, and the remainder of the officers by the Deputy Grand Master. After which the Grand Master delivered an able and highly interesting and valuable address, the principal parts of which — (indeed all, with the exception of a few points of wholly local interest) — we give below. It was listened to with attention by the large number of Brethren present, and will be read with profit by all who feel an interest in the condition and prosperity of the Order in the State. It will be seen that there have been about eleven hundred initiates during the past year — a greater number than were ever before admitted to the Order in this Commonwealth in any one year since the introduction of Freemasonry into this country. Five Charters and an equal number of Dispensations have been granted during the year, and four new halls dedicated. But perhaps the most striking and interesting, because unprecedented, point in the address, is the fact stated by the Grand Master, that during the year he has visited every Lodge in the Commonwealth (83 in number,) personally examined into their condi tion, and addressed at least 2,500 Brethren, assembled in their respective Lodge-rooms ; and for this purpose has travelled more than two thousand miles ! It is doubtful if such a labor was ever before performed by any Grand Master in this or any other country, in the same space of time, if at all ; and the value of the service thus voluntarily rendered, (without ex pense to the Lodges or the parent Body,) cannot be too highly appreciated, nor can its good effects be over estimated. In performing it the Grand Master is entitled to, and he will receive, the warmest thanks of the Lodges and Brethren in this Jurisdiction. The Address follows : — (It can be found here).
LIST OF LODGES BY DISTRICT: 1857
There were 11 Districts in 1857, plus special areas for Nantucket, Provincetown and Valparaiso, Chile.

This district layout is based on the O.P. edition of the Proceedings. However, this publication is riddled with errors and omits several lodges known to have existed in 1857; accordingly they have been conjecturally assigned to districts.
Note that District Grand Lecturers were appointed, as per the vote in Grand Lodge; the District Deputy Grand Masters were appointed, except for District 1 (Wor. William C. Martin).
DISTRICT REPORTS
The reports of District Deputy Grand Masters were printed in the Original Proceedings in 1857, in the form of letters to Grand Master Heard.
DISTRICT 1
The period of my appointment as District Deputy Grand Master of the First Masonic District being about to expire, and the constitutional requirements of my office having been fulfilled, I avail myself of this opportunity to thank you for a privilege which has brought me more closely into connexion with my Brethren of the Masonic Fraternity, and to express to you the satisfaction I feel in making this Report to you of the standing and progress of the Lodges in this District.
And first, let me say, that in point of loyalty to the Grand Lodge of Massachusetts, they are unsurpassed, and, with one or two exceptions, there is great uniformity in the work of the several degrees.
The number of Masons made during the past year throughout the District is 219, and the amount contributed to the funds of the Grand Lodge is $1,170.
In the case of Germania Lodge, whose work is conducted in the German language, there is need of greater proficiency on the part of the officers. I am surprised that it is as good as it is under their circumstances; but some method, I think, will suggest itself to you by which these Brethren can be better instructed and thereby rendered more proficient than they are at present. The best spirit is manifested among them, and a desire to become as perfect as possible in the work.
St. Paul's Lodge, of South Boston, has initiated 36; Mount Tabor, of East Boston, 25; and St. John's, Boston, 34 during the year. I am of opinion that this is entirely too much for Lodges to do, taxing their officers to the utmost, and admitting of no time for the improvements and social enjoyments of the Order.
The average number of initiates in this District is 17 to each Lodge, which is judicious, if the work could be equally distributed. A pleasant feature in the doings of the past year, is the occasional meeting in Boston of the District Deputy Grand Masters for the purpose of comparing notes, acting ia uniformity and encouraging each other in the promotion of Masonic interests throughout the State. The experience of the past year has proved that some changes may be advantageously made in remodeling the Districts, making them more convenient to the Lodges and the Deputies, and a recommendation will be presented to you to promote this object. There have been but few rejections, and but few Dispensations granted, showing that the Brethren are more careful whom they introduce.
My interviews have been pleasant, and the deep interest evinced by the Lodges in the teachings and counsels I have felt it my duty to lay before them, is highly satisfactory. Again thanking you for the distinguished honor I have received, I remain, most truly and fraternally,
DISTRICT 2
In compliance with your request, it is with pleasure that I record a few facts in relation to the present condition of the Lodges which you have seen fit to place under my care.
The first in order in seniority of date is Philanthropic Lodge, of Marblehead, chartered by St. John's G. L. March 25th, 1760. In former years this Lodge enjoyed a high reputation for the elevated character of its memberships, its liberal and large hearted benevolence, and for the union and spirited endeavors to carry out the principles of our Order within its tyled precincts. On my last annual visit to it, it was gratifying to witness the promptness and satisfaction with which the Records, By-Laws and working implements, were presented for inspection and approval. The exemplification of its work was also presented with alacrity and performed with readiness, although it was far from conforming to the standard ritual as given by the G. Lecturers; still but little doubt can be entertained that under the administration of the present faithful executive, not a little of the antique will be most cordially omitted.
St. John's Lodge, Newburyport, chartered by St. John's G. L, 1766.— The Charter has twice been returned to the G. Lodge in consequence of causes from without, which disturbed the peace of its members. At present, however, it can be truthfully said to be one of the largest and most flourishing Lodges in the District, as since resuming work in 1853, it has labored most assiduously to possess the standard ritual in all its purity, which has not only enabled it to make larger accessions to its membership, but to perpetuate the sublime principles of our institution to all who may come after. The large attendance upon its meetings; the frank and cordial intercourse between its members, and the harmony which pervades its proceedings, bespeak that invigorating power which must result, if perpetuated, in a healthful success.
Tyrian Lodge, Gloucester, chartered by Massachusetts G. L. 1770.— Previous to the anti-masonic whirlwind of 1826, this Lodge sustained a prominent position for Masonic intelligence both in the ritual and operative expertness. During the past year some progress has been made in reclaiming its lost energies and restoring itself to a fruitful activity. Its present mode of work is far from being complete, and differs essentially, from the established rule of our commonwealth. Situated in a seaport village, it may well be termed a maritime Lodge, whose members are often called upon the ocean to prosecute their daily toil; hence dispensations here have been sought for and readily granted, which must necessarily give to some of them a hurried insight into the sanctum of our Temple. This class of initiates, however, I am happy to submit, is rapidly diminishing in the Lodges of this District, strongly indicating a just appreciation of the efforts now making to curtail the granting of Dispensations. The spirit and concord which characterize its proceedings are the fruits of a true loyally. The frequent calls made upon it for charity, are by no means an inconsiderable tax,—but they are promptly met with a generous cordiality.
Essex Lodge, Salem, chartered by Massachusetts G. L. 1791.—No Lodge probably in this vicinity can boast of more venerated Brethren of a ripe old age than can this. In it many may be found, those whose feeble limbs testify too plainly that soon their presence will cease among the brotherhood on earth. While performing the pleasant duties of my official visit to this Lodge, its well filled Hall exhibited specimens of aged membership which are seldom witnessed, and to which I feel it a privilege to allude. Though their bodily strength seemed impaired, yet none were more eager to listen, none more scrupulous in their demeanor and attentive to the regulations and ceremonies of our Order, and none expressed deeper satisfaction through the lighted countenance and flashing eye, —merely showing that he who receives Masonic rule in early life for his guide, will not lack a staff of comfort upon which to lean the drooping spirits of his declining age. These ancient ashlers live to impart the leaven of their good example to those who must ere long take their places, with all their responsibilities. The strict attention given by this Lodge to the proper work and lectures, and the persevering care manifested in the practice of the same, as well as its harmonious action, have placed it, we believe, second to none in this District, if not in the Commonwealth.
Merrimack Lodge, Haverhill, chartered in 1802.—Since resuming its charter in 1852, the zealous perseverance of its officers has, to a considerable degree, established the fall code of the ritual in its practice, which has resulted quite successfully to the Lodge in a large accession to the fraternal fold. The unprecedented supply of labor has enabled, it to fit up a beautiful and commodious place of meeting, which will compare well with any other in the Commonwealth; and although it has not yet been dedicated to Masonry, we trust the time is not far distant when this will be done with proper ceremonies. On my annual visit to this Lodge, a specimen of working was duly presented for inspection, which was performed with much credit to the members and satisfaction to the Grand officer. Dispensations are seldom asked for by this Lodge, and never except with great caution. Its objects of charity are not so numerous as some of our Lodges are called upon to meet; they seem, however, to have been met with true Masonic generosity.
St. Mark's Lodge, Newburyport, chartered in 1803. Since the consecration of this Lodge it has held its charter and continued to hold its meetings regularly, though many dark days have passed over its horizon. If was enabled to meet throughout the antimasonic times. During a few years past, efforts have been made to revive.its long lost energies, and, at present, its circumstances indicate its accomplishment. The efforts making by the present organization to perform its duty, by obtaining a thorough knowledge of the ritual, will soon be exhibited by a vigorous and healthful activity that will do honor to our institution.
Jordan Lodge, South Danvers, chartered in 1808.—This Lodge, it may truly be said, was once the best working Lodge of the District Among its members maybe found some who were original petitioners for its Charter. Its former glory, so beautifully represented in deeds of great benevolence, it is hoped will return to it, and that it will again be distinguished for the virtues it practiced of old. The inculcation of our ritual in years past, for good reasons, have not been prosecuted with proper diligence; hence its decay in some respects may be accounted for. On my annual visit, an increased desire, however, was fully manifested among the members to perfect themselves in the work and lectures. The large field of its resources from which it is entitled to draw its members, leaves no doubt that soon the good fruits of their toil will be fully exhibited. The fortunate circumstances of the past year have enabled it to fit up a commodious Hall which was duly consecrated by the G. Lodge.
Liberty Lodge, Beverly, chartered in 1824.—Much has been accomplished by this Lodge and much remains to be done in bringing it to the standard of our ritual. It has however done a good work; and has continued peaceful and harmonious.
From the records examined, it appears that much has been done in charities, and judging by its past acts, we are warranted in saying that the poor and needy among them will not lack for bread. On my annual visit, much promptness and despatch were observable in the performance of its duties, with an ardent desire to pay due honors to the G. Lodge.
Mount Carmel Lodge, Lynn, chartered in 1805.—This once flourishing Lodge is again reviving from the internal shocks that have come upon it from time to time crippling its best energies. From the manifested determination of its present officers, the time is soon coming when that portal to our fraternal fold will be well guarded and secured. The exemplification of its work was given with promptness, and revealed a proficiency in its officers most commendable.
The records for the past few years deserve honorable mention for the faithful and intelligent manner in which they have been kept by the present exemplary Secretary.
Warren Lodge, Amesbury, chartered in 1822.—From the scattered and distant residences of its members, and the consequent difficulty of a punctual attendance, this Lodge has not enjoyed that amount of success which has fallen to the lot of some others. This, to some extent, has caused the interest of the members to subside as well as the ritual to become more or less neglected. I am happy to say, however, that evidences of improvement are now manifested. But the incompleteness of its practiced ritual will not admit of that position which others take who follow the established one. Its condition internally is harmonious and peaceful, and it has during the past year received a fair share of success.
Ashler Lodge, Rockport, chartered in 1851.—This being strictly a maritime Lodge, most of its members are called by their occupation to follow the sea, thus rendering nine months productive of little of interest. Much praise, however, is due to those few members who endeavor to carry on its affairs, and who sncoeed in performing the duties under extreme disadvantage. On my visit to this Lodge the work and lectures presented, corresponded pretty well with our form, and reflected credit upon those who took part therein. Harmony and good fellowship pervades its assemblies. Fraternally yours,
ISAAC P. SEAVEY, D. D. G. M. of the 2d District.
DISTRICT 3
Having attended to the duties annexed to ray appointment of D. D. G. M. of District No. 3, in visiting all the Lodges in said District, I now most cheerfully comply with the requirement of presenting to you the general state of Masonry and the true condition of the Lodges therein whose interests have been entrusted to my care.
This duty is the more pleasing to me because that of commendation of the Lodges generally is their merit. At no previous period, it is fully believed, have they stood as well as at the present. While none have suffered any retrogression, some have made decided advances, and are still pursuing the course that will raise them high in rank with the Lodges of this Commonwealth.
The number of initiations is less than in some former years, as will be seen by the returns; yet it is believed to be as large as the healthy growth and safety of the institution require. Harmony and good fellowship prevail throughout the Lodges, while the zeal that is manifested among the Brethren, augurs well for their future prosperity.
St. Paul Lodge, Groton.—This Lodge has continued for several years in nearly the same state, receiving but few initiates and having about the the same number of members. Most of the Brethren are aged—some more than eighty years—living in different towns quite remote from their place of meeting, yet the remarkable fact appears of their almost invariable attendance at their slated meetings. The last year has been one of unusual' prosperity with them. They have initiated nine and will increase their membership eight—mostly young men, or in the prime of life—and they enter into the spirit of Masonry with a commendable zeal. One of them remarked, "I am desirous of receiving the higher degrees in Masonry, but I am determined to become thorough in the Work and Lectures on these degrees before entering upon others."
Aurora Lodge, Fitchburg.—This is one of the best working Lodges in the District. Among the Brethren are some aged pillars who stand at their post, and by their skill and attention guard well the landmarks of the Order and suffer no deviations from the established usages and customs of the fraternity. This Lodge meets quite frequently for the purpose of lecturing, and it is pleasant to observe the correctness of the lectures and the strict observance of the ritual as established by the Grand Lodge.
Pentucket Lodge, at Lowell, is still pursuing its even tenor and still maintains its former character among the Lodges in this District. Many of the members have become aged in the ranks; having passed through the days that tried their integrity, they now stand honored by the Brethren as beacons to guide the course of the less experienced. One peculiar trait has characterized this Lodge for many years — that of harmony and brotherly kindness. Having presided over their deliberations for seven consecutive years, without scarcely hearing a discordant note or jarring-string, duty compels me to bear testimony of their adherence to the Masonic principle of uniting in the grand design of being happy and of communicating happiness.
St. Matthew's Lodge, at Andover, has been rising for the last two or three years, yet this year has been the most prosperous they have had. Ten have been initiated, which, it is believed, will add much to their strength and be an honor to the fraternity.
Grecian Lodge, Lawrence.—Under the efficient management of the officers of this Lodge it has continued in its usual prosperous state during the past year.' It has one hundred and twenty-one members, including some of the most worthy and respectable citizens in the city. Their hall has been neatly refitted and embellished. The work in this Lodge is excellent—the Masters having taken unusual pains in qualifying themselves, under the instructions of the Grand Lecturers. Harmony prevails among its members, while every thing indicates its prosperity in the future.
Ancient York Lodge, at Lowell, continues to maintain its high character among the Lodges in this District. Frequent changes have been made in the Masters and other officers, yet in every case their successors have been fully competent to fill their places. The present Master, Brother Hutchinson, although a younger man than is usually placed in the Master's chair, yet he is thoroughly skilled in the work and lectures and will do honor to the station he fills. Less work has been done this year than usual. Seven applicants have been received and eight rejected.
According to your direction I went to Reading and received the Charter and Records of Good Samaritan Lodge. Their request to surrender their Charter will accompany it. It may be proper to copy a note appended to the resolution of the Lodge by the W. Master.
"Allow me to say in extenuation of this rather singular action, that the remaining members of Good Samaritan Lodge are too few in number (not over seven,) and too aged (none under fifty-seven and living quite scattered) to sustain a creditable working Lodge. I avoid casting blame on any one.

"Respectfully and fraternally yours,
"Frederick F. Root, Master."
In the discharge of my duty in visiting the Lodges, I have urged the necessity of fully conferring the degrees on the candidates; that the case should be an extraordinary one that should justify any abridgement in the work or explanation of the emblems, and especially has it been urged to adhere strictly to our ritual. All of which is respectfully submitted.
WILLIAM NORTH, Dept. for the Third Masonic District.
DISTRICT 4
I respectfully submit the following report as District Deputy G. Master of District No. 4, for the year ending December, 1857.
Bethesda Lodge, at Brighton, Meridian, at Natick, and Middlesex, at Framingham, I am sorry to be obliged to say, that circumstances, beyond my control, prevented my visiting sufficiently to acquire a thorough knowledge of their condition. They have had considerable work, and should judge from what I do know of them, that they are in a flourishing condition. They enroll as members several distinguished Masons. Their communications are well attended; their officers efficient, and the members attentive to their business in the Lodge.
Franklin Lodge, at Grafton, has not made a Mason during the year past. The Lodge is small, having but twenty-two members. They occupy their time in acquiring a knowledge of the ritual and perfecting their work, that they may, when they have work, do it as directed by the Grand Lodge. Though few in number they, perhaps justly, pride themselves on the worth and character of their members; which they think of more consequence to sustain, than to increase their number.
Montgomery Lodge, at Milford, is large for a country Lodge, and is very fast increasing, having made twenty-five during the year. It has many true and trusty members. I believe their work is of good material. Within, peace and harmony prevail.
Solomon's Temple Lodge, at Uxbridge, has materially improved during the year; some old and influential Masons have taketih old of late, and I trust will be of essential service to the Lodge. They have elected, (and they have been installed,) young men for officers, who appear to be determined to qualify themselves for their respective stations. Though it will take time, with their facilities, yet I trust they will finally accomplish their purpose.
Blackstone River Lodge, at Blackstone, has been much troubled by a quarrel between two unruly members. It is to be hoped that they will soon be able to rid themselves of their difficulties, and again enjoy peace and harmony. Although the reputation and prosperity of this Lodge have been materially injured by its unfortunate difficulties with its members, yet it has sufficient members of worth and character to sustain it and make it a worthy and respectable Lodge.
In this District, during the year, sixty-nine persons have been initiated. Most of the Lodges have been unusually prosperous. The work has been, in some, much improved. Many old and worthy members have been induced to resume their labors. A new interest in the principles of Masonry seems to have been awakened, and a greater zeal for light and knowledge is manifested, caused I think in a great measure by the M. W. Grand Master's and the Special Grand Lecturer's visits to the Lodges. All which is respectfully submitted.
LEVI RAWSON, D. D. G. M., 4th District.
DISTRICT 5
The Masonic year for which (by your favor) I received the appointment of District Deputy Grand Master for the 5th Masonic District having expired, I am reminded that an account of my stewardship is called for. In doing so allow me to say, that I have performed the duties assigned to me so far as lime and ability would permit.
The Lodges generally in my Jurisdiction, are respectable in numbers, work and lectures, and they manifest a desire to perfect themselves in the work, as exemplified by the Grand Lecturers. In this connection, I would say, that, in my opinion, the course pursued by the Grand Master, in causing the Lectures and Work to be given to the Lodges at their respective Halls, is the only one that will accomplish a proficiency and induce a uniformity.
During the past year I have granted three Dispensations for conferring the degiees in less time than the Grand Lodge regulations require, which act I regret; and I assure you that none shall be granted in future, unless stronger reasons shall be urged than have ever yet been presented.
L. B. KEITH, D. D. G. Master.
DISTRICT 6
The Sixth Masonic District, as at present constituted, is composed of seven Lodges, four of which have not held a meeting for more than twenty years; the other three I have visited and found them in good condition, with one exception, which will be noticed below.
Morning Star Lodge, at Worcester, has one hundred and thirty-seven members, and has initialed twenty-six during the year ending the 30th of September last. This Lodge has fitted up and furnished a new and elegant Hall, which was Dedicated to Masonry by the officers of the Grand Lodge in January last. It is one of the best working and most flourishing Lodges in the State.
Mount Zion Lodge, at Bam, has forty-six members; is in good condition, in a flourishing village, and no doubt will do good service in the community in which it is located. This Lodge has also constructed and furnished a new Hall, which was Dedicated to the purposes of Masonry by a portion of the Grand officers on the 30th of December. A visit of the Grand Lecturer would have a tendency to improve their labors.
Olive Branch Lodge meets alternately at West Sutton and Webster, and is one of the few Lodges that continued its meetings through the antimasonic excitement; it has forty-one members, scattered in several adjoining towns, which makes it difficult for them to meet often for improvement, except at the regular monthly meetings. A visit of one of the Grand Lecturers to this Lodge is much needed. Otherwise it is in good condition.
Eden Lodge, at Ware. I have learned that the Charter, jewels, records and furniture of this Lodge were destroyed by fire many years ago. Consequently this Lodge has no existence at the present time.
Doric Lodge, at Southbridge. I have not as yet been able to obtain any information in relation to this Lodge, or of any person who knows any thing about it, except that it has not held a meeting for many years. On further investigation I may perhaps be able to find its Charter and records, which I shall endeavor to do.
Meridian Sun Lodge, at Brookfield. Agreeable to your instructions I visited Brookfield, and found the Charter and records of this Lodge in the hands of Brother Rufus Dodge, a worthy farmer eighty-four years of age, who was the last Secretary. On showing Br. Dodge my authority be very readily placed them in my hands, and I have deposited them in the office of the Grand Treasurer. This is probably all that remains of Meridian Sun Lodge.
Harris Lodge, at Templelon. I have visited Templeton, where I obtained the records of this Lodge of the former Secretary, Brother Joseph Upham, and have deposited them with the Grand Treasurer. The jewels, as I am informed, were melted up as old silver, and the Charter cannot be found. This Lodge has not held a meeting since 1834. Their funds, about nine hundred dollars, were divided among the several towns where the members of the Lodge resided, to be used for the benefit of the poor, as will be seen by reference to the records. All of which is respectfully submitted.
Yours Fraternally,
HENRY EARL, D. D. G. M.for the 6th Masonic District.
DISTRICT 7
I am pleased to inform you that the Lodges in my District are in a flourishing and harmonious condition. There have been fifty-six initiations the past year—a small increase over the previous year. I are pleased to find a disposition to scrutinize the characters of applicants more closely on the part of the Lodges than has heretofore been the custom.
I have had but few applications for Dispensations; have granted but four — one to King David's, two to Star in the East, and one to Mount Hope. I noticed a marked change for the better in tbe Lodges since your visit: there seems to be a determination on the part of the members to comply more strictly with the rules and regulations, and I do hope the advice and counsel you gave will prove a lasting benefit. For the confidence you have again expressed by appointing me D. D. G. M., I return you my sincere thanks, and pledge you my word there shall be nothing on my part left undone to make our beloved Order take that exalted position to which it is so eminently entitled.
Fraternally yours,
GEORGE C. TABER,
D. D. G. M for the 7th District.
DISTRICT 8
I submit the following report, in relation to the 8th Masonic District, for your consideration. I will commence with Marine Lodge, that having the oldest Charter, though it is but little over a year since it had its Charter restored. Since that time it has had eight initiates. It holds its meetings in the town of Falmouth, and has a comfortable Lodge room.
Fraternal Lodge, of Barnstable, is situated in the village of Hyannis, and is the largest Lodge in the District,—numbering one hundred and thirty members. It has had nineteen initiations the last year. It has been to a great expense in building and fitting up its Hall, within a few years.
Social Harmony Lodge, of Wareham, numbers twenty-five members, and has had eight initiations the last year. Although small in number, it appears to have the right feeling among its members.
Plymouth Lodge, of Plymouth, appears to be in a flourishing condition. It has had twenty-five initiates the past year. Although it has had a good deal to contend with heretofore, by its wisdom it has subdued much of the prejudice that existed in that town against our institution. It bids fair to be a large and good Lodge.
Mount Horeb Lodge, of West Harwich, has initiated fourteen the past year; and although it hat to contend with some uneasy spirits, it seems to prosper.
Benjamin Franklin Lodge, of West Dennis, has been so unfortunate as to have its principal officers absent most of the time the past year. It has had four initiations; and has commenced a new era with brighter prospects.
De Wilt Clinton Lodge, of Sandwich, has had six initiations the past year; and the fraternity iu that place seem to appreciate the principles of the Craft.
The whole District is indebted to our Grand Master for the interest he has excited in it, by visiting the Lodges in person, and for sending a Grand Lecturer through it, to perfect them in the ritual. It must be beneficial to the whole State to have the work as near uniformity as possible throughout it. The materials of which the fraternity in this Stale are composed, will compare favorably with those of any other set of men in it, for morality, or in any other respect.
SYLVESTER BAXTER, D. D. G, Master, 8th District.
DISTRICT 9
In conformity with the requirements of the Constitution of the Grand Lodge, I herewith present a statement in reference to the condition of the several Lodges under my jurisdiction.
I was not privileged to witness the practical work of some of them, enough to judge of their correctness in each degree. While I find some of them in their work strictly agreeing with the work as exemplified by the Grand Lecturers in Boston, there are others who, for certain reasons, are in an unsettled condition, and considerably confused, in getting their work to agree with that established by the Grand Lodge. This class of Lodges are those which, from their small means and remoteness from the authorized Lecturers, are without the proper instructions to qualify them, as it is their wish to be.
Wisdom Lodge, at West Stockbridge, which is a small Lodge and short of means, I find is in want of some such assistance as might be rendered by a Lecturer who could be with them in the practical work and inspire confidence. They are so conducting as to avoid the necessity of rejecting unworthy applicants, and endeavoring to strictly guard the door of the Lodge. Judging from what I could learn, if they had only been desirous to have increased their members and obtain funds, they would not have obliged me to have reported the non-payment of their annual dues.
Cincinnatus Ledge, now located in Great Barrington, is laboring under some of the disadvantages of Wisdom Lodge, but is in a much more flourishing condition. They have recently elected new officers and bid fair to become a useful Lodge.
La Fayette Lodge, in N. Adams, is much in need of the counsels of a Lecturer; having the services of one the past season has inspired in them a commendable zeal for more of the same in kind, which will render them an efficient Lodge.
Thomas Lodge, at Palmer, for a comparatively new Lodge, is doing a good work, they have a commendable zeal, and have made some valuable acquisitions to their numbers, and are truly worthy of the fostering care of the G. Lodge.
Hampden Lodge, in Springfield, has performed a greater amount of labor than any Lodge in my District, and have added some valuable members to their number, who will do honor to the institution. They have labored under some disadvantages in adapting their work to the work of the G. Lodge, which I am confident will be overcome in their choice of new officers for the current year. They have abundant material when brought into practical use to place Hampden Lodge on that high eminence which it sustained in times of yore.
Evening Star, Mystic, and Mount Moriah Lodges, I shall class under one and the same head, as being the Lodges of the District. And so far as I had the pleasure of witnessing their work am led to the conclusion that they are one and the same thing. They have efficient and capable officers, their Lodges are well governed, and are in a prosperous condition. The course adopted by one of them in introducing candidates for admission, has a happy effect upon the Lodge in perpetuating harmony among the Craft, and serves to guard the door of the Lodge even from the application of unworthy persons ; consequently avoiding the unpleasant duty of a rejection. Judging from all that was presented to my observation, I have no hesitancy in saying it would be a pleasure to any well-informed Brother to spend an evening in either of these Lodges.
I found the records in each of the above Lodges correctly kept, and all pertaining to them in proper order.
In order that the first named Lodges in the western part of the District may be placed ou the same round of the ladder with the last named, I would suggest to the M. W. G. Master the propriety of appointing one as a Lecturer, who resides in that portion of the District, giving to the feeble and worthy Lodges there a more ready access to the means of elevation to which they so honorably aspire.
In presenting to you this hasty sketch oi my observations touching all the Lodges in my District, I may not have met your wishes, but shall hope for the indulgence of that characteristic trait which is so frequently enforced on all who participate in our labors, Charity.
I feel confident, however, that the information you obtained in your recent visit among the Lodges in my District, will render it entirely unnecessary for roe to add any thing further.
Most fraternally yours,
DANIEL REYNOLDS,
D. D. G. Master 9th District.
DISTRICT 10
Report of Lodges and the present state of Masonry in the Tenth Masonic District of said Commonwealth, A. L. 5857.
There are six Lodges comprised within this jurisdiction, viz. :— Harmony, at Northfield; Republican, at Greenfield; Mountain, at Shelburne Falls; Jerusalem, at Northampton; Mount Tom, at Holyoke, and Chicopee, at Chicopee.
Harmony Lodge is inactive, having accomplished no work during the past year. The present Master has energy of character and is desirous of becoming skillful, and only wants a few applications, to become a workman, though I fear he is not sufficiently supported by the Brethren. There is but little interest here. The present Secretary of this Lodge bears the weight and care of fifty-seven Masonic years, and is probably the oldest Mason in this District.
Republican Lodge bears an excellent reputation. It comprises among its members men of eminence and talents; professional men and those who are or have been of service to the State and country. The work in this Lodge is performed with skill and with a commendable effort to imitate and follow the instructions and rules of the Grand Lodge. This Lodge has had one difficulty to encounter, growing out of the neglect of the members to elect their Wardens from among those who are well skilled in the mysteries; the Master elect being compelled to leave, and his duties devolving upon those unprepared to fill his station. If all Lodges would elect their Wardens with the expectation that they may (accidentally or otherwise) be called upon to take the chair, we should save much inconvenience, and vastly increase the interest and skill of the members.
Mountain Lodge is yet in its infancy; most of its members bright and enthusiastic, possessed in a good degree with Masonic energy, and with a determination to do all their work well. They are commendably harmonious, and it gives one much pleasure to visit them in their modest Lodge-room. Masonry will not deteriorate in their hands.
Jerusalem Lodge is an institution of long standing, comprising among its members many old and experienced Brethren to counsel and caution the younger members and repress their ardor in any effort that may be made to increase the number of members. The work in this Lodge is very well performed, and from the usual attendance of members I should judge that much interest is taken in the institution.
Mount Tom Lodge is situated in a new manufacturing place, where the population is continually changing, and where much care is necessary in the selection of proper persons to be made Masons, and it is certainly commendable, that out of such a heterogeneous mass, with but short acquaintances, the Lodge has been kept so free from unworthy members. This Lodge has had the same difficulty which embarrassed Republican Lodge, namely — the absence of the Master elect, and the advance of the Wardens who were not fully qualified. This Lodge is now in good standing.
Chicopee Lodge is in a very healthy condition. It is composed of good men and true, those of integrity and position in the community. It is governed by a good Master (though he finds some difficulty in unlearning some old forms and adapting his work to the lectures,) and the members take an interest in the institution.
Upon the whole, I think I can safely assert that Masonry in the 10th District is in a prosperous condition, and an impulse has been given to the institution during the past season by the visits of the M. W. Grand Master to the several Lodges, and by the instructions of the R. W. Brother Seavey; the effect of which will undoubtedly be felt as long as the present generation shall exist. I have visited all the Lodges. I have granted six Dispensations in cases which I deemed emergent, though I have taken every occasion to discourage the practice. Fifty-five new members have been initiated into the mysteries, and a general state of harmony prevails.
All which is submitted with the respects and regards of
W. B. C. PEARSONS, D. D. G. M. 10th District.
DISTRICT 11
I have visited nearly all the Lodges in my District once, besides the annual official visitation; deeming this necessary according to my understanding of the duty required of me to watch over with care and vigilance the Lodges placed under my charge. I found in most of them some matters requiring words of comment and correction; not from any intention on their part of doing wrong, but rather proceeding from a gradual creeping in of negligence and carelessness in the transaction of the general business of the Lodge ; possibly proceeding, in some of them, from the large quantity of work they had to do. There is a general desire manifested to do right, and any chidings I have found necessary to administer, have been kindly received, and will, no doubt, be productive of good results.
With respect to the Work and Lectures, in all that I have witnessed, there has been a general correctness and near approach to the standard required by the Grand Lodge. Since I have been a Mason, now nearly eighteen years, there has not been, to my recollection, any District Deputy Grand Master visited King Solomon's Lodge at any other time than the regular annual visitation; and that having been previously notified. It could not be possible for any one under such circumstances to become acquainted with the character, standing and general condition of a Lodge. I can now perceive that the extra visits made by me to the Lodges were really necessary, and of much service in giving me an opportunity to become acquainted with the manner of conducting the general business, as well as the mode of work practised in the Lodges, and affording occasion to speak to them on such matters as were noticed to be deviations from the usual Masonic standard and custom. From my own experience thus far, I deem it expedient and requisite that some one in official position, who would feel authorized to speak as one having authority, and in whom the Master and Lodge would have confidence, should make one or more unceremonious visits, so as to see all the work and business of the Lodges, and thus make himself acquainted with all their doings, in order to be able to judge correctly of their true position and standing, as well as to offer counsel and advice as occasion and circumstances might require. This would have a tendency to induce caution, and, in a great measure, prevent the negligence, carelessness and error, which, on-perceived perhaps by the members of the Lodges themselves, will sometimes make their way into them, and it would be productive of a higher state of discipline; bring the Lodges into more perfect harmony with one another and the Grand Lodge, and be for the best interests of the Institution as a whole.
Since writing the above we have had a meeting of District Deputy Grand Masters, when I learnt that it is a custom among them to make more than one visit, where it can be done without incurring too much expense, except in the First District, in which it has not been usual before this last year,—our active and energetic R. W. Brother Coolidge having adopted the practice as necessary and beneficial.
Thanking yon for the honor and privilege accorded me, and for the renewed expression of confidence by the offer of a reappointment, which I accept, with the assurance of my best endeavors to discharge the duties in a faithful and acceptable manner,
I remain, Fraternally, your obedient Servant,
CHAS. B. ROGERS, D. D. G. Master, 11th Masonic District.
DISTRICT 1
William T. Coolidge, Newton, District Deputy Grand Master; 12 Lodges + 2 U.D.

DISTRICT 2
Isaac P. Seavey, Newburyport, District Deputy Grand Master; 11 Lodges

DISTRICT 3
William North, Lowell, District Deputy Grand Master; 7 Lodges

DISTRICT 4
Levi Rawson, Farnumsville, District Deputy Grand Master; 7 Lodges

DISTRICT 5
Lucien B. Keith, Hingham, District Deputy Grand Master; 8 Lodges

DISTRICT 6
Henry Earle, Worcester, District Deputy Grand Master; 7 Lodges

DISTRICT 7
George H. Taber, Fairhaven, District Deputy Grand Master; 6 Lodges + 1 U.D.

DISTRICT 8
Sylvanus Baxter, Provincetown, District Deputy Grand Master; 7 Lodges

DISTRICT 9
Daniel Reynolds, Springfield, District Deputy Grand Master; 8 Lodges + 1 U.D.

DISTRICT 10
W.B.C. Pearsons, Holyoke, District Deputy Grand Master; 12 Lodges + 2 U.D.

DISTRICT 11
Charles B. Rogers, Charlestown, District Deputy Grand Master; 11 Lodges + 2 U.D.

NANTUCKET
Benjamin Brown, Nantucket, Special Deputy for Nantucket; 1 Lodge

PROVINCETOWN
J.P. Johnson, Provincetown, Special Deputy for Provincetown; 1 Lodge

VALPARAISO
C.T. Ward, Special Deputy for Valparaiso; 12 Lodges + 1 U.D.

---
Years