GMWJohnson
From MasonicGenealogy
WHITFIELD W. JOHNSON, Esq. 1897-1995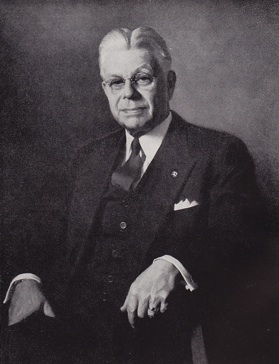 Junior Grand Steward, 1936
Grand Sword Bearer, 1941-1943
Grand Marshal, 1944-1947, 1950
Senior Grand Warden, 1948
Grand Master, 1954-1956
---
TERM
NOTES
FROM TROWEL, 1988
From TROWEL, Winter 1988, Page 26:
Galva Lodge No. 243, IL Honors Distinguished Member
Galva Lodge No. 243 of Galva, IL, has probably had many members who have been honored because of their contribution to Freemasonry, but none more distinguished than M.W. Whitfield W. Johnson, Senior Past Grand Master of Massachusetts. He visited the Lodge where he was Raised 70 years ago and was treated with the warmest of Brotherly Love and Affection during a June visit to his old home town.
Raised 70 years ago by his father, Bro. Johnson left to serve in the armed forces during World War I. He received the three degrees in one day. Locating in the Greater Boston area, he affiliated with Harvard Lodge, where he began a long winding road that led him to the East of our Grand Lodge. He has since been made an Honorary Member of Galva Lodge and the Grand Lodge of Illinois.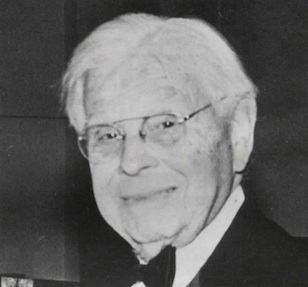 M. W. Whitfield W. Johnson
96TH BIRTHDAY, MARCH 1993
From TROWEL, Fall 1993, Page 19:
Wor. Robert A. Steen, Master of Frank W. Thompson Lodge of Bedford recently presented a Citation, signed by Gov. William Weld, commemorating the 96th birthday of M. W. Whitfield Whittemore Johnson. Esquire. P. G. M. M. W. Bro. Johnson is an Honorary Member of the Lodge and signed the original charter of the Lodge. M. W. Bro. Johnson was born March 25, 1897. in Galva, IL, The third child of Laurence and Clara (Seeley) Johnson. He is the grandson of the late S. Peter Johnson who fought in the Civil War and survived the POW camp at Andersonvilie.
M.W. Bro. Johnson has a long and distinguished Masonic career which began when he was Raised on June 24. 1918, in Galva Lodge #243 of Galva. IL. Among his most notable accomplishments are: Master of the Harvard Lodge in 1933 and 1978: Judge Advocate to the Grand Lodge. 1938-1953: Grand Sword Bearer. 1941-1943: Henry Price Medal. 1944: Grand Marshal 1944-1947 and 1950: Grand Representative to the Grand Lodge of North Carolina. 1947-1969; Senior Grand Warden. 1948: Grand Master 1954-1956; pictured on the cover of Life Magazine in 1956: Grand Representative to the Grand Lodge of Illinois, 1969: Honorary Grand Master of the Grand Lodge of Illinois (the first to receive this honor); and recipient of a 60-Year Veteran's Pin in 1984.
M.W. Bro. Johnson has not let advanced years or diminished health interfere with his Masonic participation as he can still be seen at many Masonic functions including regular attendance at Grand Lodge Quarterly meetings. We wish Most Worshipful Bro. Johnson many more birthdays to come.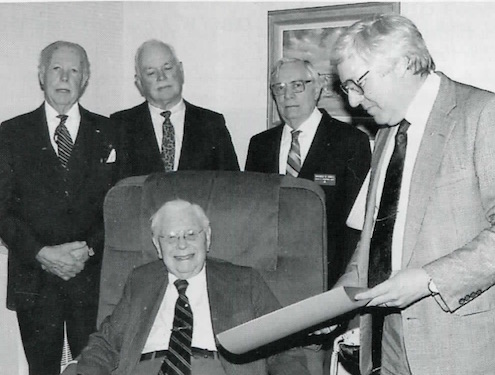 Bro. Charles Emnerson Fox, Organist; Wor. Lennard Arthur Mathew Bean, Senior Past Master; Bro. Maurice Wadworth Isbell. Auditor; and Wor. Robert Allen Steen. Master. Seated is M. W. Whitfield Whittemore Johnson, Esquire, P. G. M.
BIOGRAPHY
FROM TROWEL, 1984
From TROWEL, April 1984, Page 9:
There was more than a change in Grand Masters and other Grand Lodge officers at the installation and the Feast of Saint John the Evangelist on December 27, 1983. Two of our distinguished Brethren silently, but typical of their dignity, retired as Directors. Most Worshipful Whitfield Whittemore Johnson and Right Worshipful Walter Noble Cooper have served our Grand Lodge well.
"It was time," said Brother Johnson as we shared good conversation in his East Dennis home on Cape Cod. "We need lie insight and expertise of some younger men, otherwise our Grand Lodge will not be the viable institution it has been for the betterment of man and the future of Massachusetts Masonry." The sands of the hourglass really passed imperceptibly while he recounted his active lifetime.
Often accepted as a native New Englander, Brother Johnson was born and raised in Galva, Illinois, the son of Lawrence Charles and Clara Louise (Seely) Johnson. It was there he received his early schooling, followed by training at Culver Military Academy in Indiana. He then attended Phillips Exeter Academy in Exeter, New Hampshire. A Harvard College graduate of 1920, when he received his A. B. degree, he earned his L. L. B. from Harvard Law School in 1923.
Returning from Cambridge to his Galva home in 1918, he received the three degrees in Blue Lodge within six days. His father was Master of that Lodge and later Grand Examiner for lie Grand Lodge of Illinois. The world was now at war and within two months he enrolled in the United States Naval Reserve. Training for the Naval Air Force would take him to Dunwoody Institute, Minneapolis, then to Naval Air Stations in Florida. Appointed an ensign in May, 1919, he was then released from duty.
In 1922 Brother Johnson took as his bride Pauline Ames Skinner of Boston. They first resided in Cambridge and in 1926 settled in Watertown. It proved to be the right move because he learned that at least one-half of his family roots were in New England. His maternal grandfather was a direct descendant of Robert Seely, one of the original founders of Watertown in 1630. "That made us both happy and we were glad we made the choice of Watertown."
He has served the town as Trustee of the library; President of Sachem Council, Boy Scouts of America; Vice President of the Community Federation; Chairman of Watertown's part in the 1941 Greater Boston Community Fund campaign; Chairman, United War Fund campaign of 1942; Trustee of Watertown Home for the Old Folks since 1948; member of the Watertown Draft Board during World War Two, and as Treasurer and Moderator of Phillips Congregational Church.
He has been Assistant Treasurer and Director of the James Sugden Company of Boston, Trustee of Boston Penny Savings Bank, Director of Volunteer Cooperative Bank, the George B. Spurr Educational Foundation, Morton Charitable Foundation, Proctor Academy (Andover, New Hampshire), and Director and fchaimian of the Board of Frances E. Willard Homes of Waltham and Bedford.
A charter member of The Harvard Lodge in 1922, our esteemed Brother Johnson demitted from Galva Lodge of Illinois in 1938. But the Masonic bond of fellowship would grow stronger again when the Grand Lodge of Illinois conferred the Honorary Grand Master title upon him. He has been similarly honored by the Grand Lodge of New Brunswick, Canada.
Appointed Junior Grand Steward in 1936, he was assigned the duty of Judge Advocate of our Grand Lodge in 1938. Following two terms as Grand Sword Bearer, he was Grand Marshal to Most Worshipful Arthur Coolidge and Samuel Holmes Wragg, 1944-47, and Senior Grand Warden in 1948 when he received the coveted Henry Price Medal. Elected and installed Grand Master in 1953, he is proud of the impetus he gave the Order of DeMolay in Massachusetts. He was quick to admonish those who suggested he tread softly on the youth movement.
Succeeded in office by Most Worshipful Andrew G. Jenkins of Lowell, Brother Johnson was delegated in 1957 to attend the 200th anniversary celebration of the Grand Lodge of The Netherlands. A highlight of the visit was a reception given for the official foreign guests by Queen Juliana at her summer palace at Soestdijk. She recalled to him her sojourn in Massachusetts during the German occupation of The Netherlands in World War Two. Mrs. Johnson accompanied her husband on that trip and they spent several weeks traveling throughout Europe.
He was appointed a Director of the Masonic Education and Charity Trust in 1958. Three years later he renewed the Directorship of Grand Lodge which he had held while Grand Master. He holds membership in York Rite and Scottish Rite Bodies.
Admitted to the Massachusetts Bar in 1923, he was in partnership with the Honorable Bert E. Holland, a Thirty-third Degree Mason and a Special Justice of the West Roxbury District Court. Judge Holland was a second cousin to Brother Johnson's mother. The lovely Chapman home on Old King's Highway, East Dennis, was owned by the family of Mrs. Holland and it was bequeathed to Mr. and Mrs. Johnson when Judge Holland died. Built in 1797, the site is where one of the first settlers of Cape Cod staked his claim. The home beckons Brother Johnson on weekends when not conflicting with a busy Masonic schedule. He maintains a law office in Dennis as well as his main office at 73 Tremont Street, Boston.
Truly a "Stalwart Builder" and a man of genius distinguished by his humility and sense of humor, our learned philosopher, teacher, and friend has been honored through the gift of $50,000 to establish the Whitfield W. Johnson Fund at Harvard Law School. Given in December, 1982, by the Sarah and Pauline Maier Scholarship Foundation, Inc., of Charleston, West Virginia, it is in appreciation for the recognition and twenty years of warm Fraternal friendship Brother Johnson had with the late William J. Maier, Jr., a Past Grand Master of the Grand Lodge of West Virginia. The fund will financially assist deserving law students at Harvard.
Thanks, thanks to thee, our friend,
For the lessons thou hast taught!
Thus at the flaming forge of life
Our fortunes must be wrought;
Thus on its sounding anvil shaped
Each burning deed and thought.

— Longfellow
90TH BIRTHDAY FROM TROWEL, 1987
From TROWEL, Summer/Fall 1987, Page 4: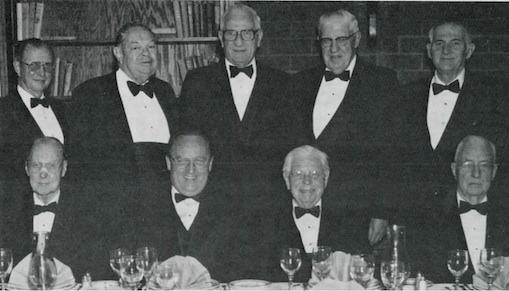 Grand Master Albert T. Ames (front row, second left) and Past Grand Masters salute Whitfield W.Johnson (second right, front) on his 90th birthday.
Front: Herbert H. Jaynes, Laurence E. Eaton.
Back: J. Philip Berquist, Donald W. Vose, David B. Richardson, Stanley F. Maxwell, and Arthur H. Melanson.
A Pillar of Wisdom, Strength and Beauty
Born in Galva, Illinois, on March 25, 1897, our senior Past Grand Master enjoyed his early years in this farming community with two older sisters and a younger sister and brother; one sister survives and resides in Cincinnati, Ohio. As a youngster, he went one day to his grandmother's home next door to his own and was informed later in the day that he had a new brother. His question, "Is he going to stay all night?" After three years in the local High School, his father decided that a year at the recently instituted Culver Military Academy would be beneficial where our Brother Johnson earned good marks but lacked certain qualifications to fulfill his father's hopes to send him to Harvard University. Entering Exeter Academy in 1916, he found the courses somewhat different from those he had previously experienced and managed several "F's" and the displeasure of his instructors. Almost expelled at the Christmas break, he avoided a father's disappointment by being granted a "second chance" and was exuberantly elated by receiving a "D" on his first exam following his return in the new year.
Diligent study particularly toward the college entrance exams resulted in his passing Latin and his acceptance to Harvard. He enjoyed two good years at Harvard prior to his entry into the U.S. Naval Air Service and previous to which he joined the Lodge in Galva, Illinois. His father, a prominent Illinois Mason, entered, passed and Raised his son within a week's time because of his imminent entry into the service. Brother Johnson is proud that he learned his three lectures before leaving and all by word of mouth.
He was first stationed at Indianapolis and later at Miami, Key West and Pensacola for flight school. During his time in the Navy, he joined the Scottish Rite in Florida and was in the same class as was his commanding officer.
Upon release from active duty he returned to Harvard graduating in 1920, and entering Harvard Law School where he met Dean Roscoe Pound, a giant among all Masons. The Harvard Lodge was being formed at the time with Dean Pound being one of the prime motivators. Brother Johnson became a charter member, retaining his membership in the Lodge in Galva, which incidentally was at the time Masonically illegal unbeknownst to our Brother Johnson. After his father's passing, he did demit. Following his term as Grand Master, he was invited to attend the Grand Lodge of Illinois at which session he was awarded Honorary Membership, the first, in the Grand Lodge of Illinois.
His father practiced law in Galva and was rather sharp in his reply to Brother Johnson when informed that he had affiliated in Massachusetts and indicated that his membership here was illegal, but "probably no one would know the difference." However, Brother Johnson did take a demit from Illinois sometime before becoming Grand Master here!
In the early 1930's he served as Master of The Harvard Lodge and again, forty-five years later, he served in the same capacity. His service to Grand Lodge commenced in 1935, as a Grand Steward and was followed by his being appointed Grand Marshal to M.W. Arthur W. Coolidge, who was a State Senator at the time, and who during his first year in office was virtually drafted as President of the State Senate, and did not run for reelection as Grand Master. M. W. Samuel Holmes Wragg followed and immediately appointed Brother Johnson as Grand Marshal for the three years, who became Senior Grand Warden as is the tradition following. M. W. Roger Keith succeeded as Grand Master and in his term also appointed Bro. Johnson as Grand Marshal. Three years later in December of 1953, Bro. Johnson was elected Grand Master and served during the years 1954-1956 with great distinction.
His devotion to our Grand Lodge and to Freemasonry is evidenced not only by the esteem and affection in which he is held but also by the dedication which he has displayed as Grand Lodge Counsel, Trustee of the Masonic Education and Charity Trust, Director of our Grand Lodge, member of the Board of Managers of our Masonic Home, and the many offices and memberships which he has held in the allied Masonic Bodies.
He continues to serve with compassion, adeptness, concern, acuity, and always with a tremendous sense of humor. His grasp of matters Masonic is unmatched and he has been a source of wisdom and guidance to every Grand Master who has followed him. His memory is faultless and a source of the history of our Grand Lodge that is immeasurable in value which in many instances depends upon his associations with most Grand Masters from M. W. Melvin Maynard Johnson (1914-1916) to the present. His recollections concerning many of these men will be the subject of a future contribution to TROWEL.
Most Worshipful Whitfield Whittemore Johnson, Esquire, attorney, educator, benefactor, counsellor, wit, gentleman, we salute you as do men and Masons throughout the world, on your ninetieth birthday!
MEMORIAL
From Proceedings, Page 1995-115:
Most Worshipful Whitfield Whittemore Johnson, Esq. was born in Galva, Illinois, March 25, 1897. He was educated at the Galva Public Schools; Culver Military Academy, Culver, Indiana; Phillips Exeter Academy, Exeter, New Hampshire; Harvard College, AB 1920; and Harvard Law School, LL.D. 1923. He was admitted to the Massachusetts Bar in 1923 and was in partnership with the Honorable Bert E. Holland, 33° under the firm name of Holland & Johnson, with offices at 73 Tremont Street, Boston, from 1930.
On August 31, 1922, in Chicago,.Jllinois, he married Pauline Ames Skinner, the daughter of Edward A. and Harriet Ames Skinner. He was a direct descendant of Robert Seely, one of the original founders of the Town of Watertown, Massachusetts.
In the Masonic Fraternity, Whitfield Whittemore Johnson was Entered, June 18, 1918; Passed, June 20, 1918; and Raised, June 24, 1918, in Galva Lodge No. 243, Galva, Illinois. He was a Charter Member of The Harvard Lodge in 1922 and was Worshipful Master in 1932-1933. He was Junior Grand Steward in 1936, Grand Sword Bearer in 1941, 1942, and 1943; Grand Marshal from 1944 to 1947, and in 1950; Senior Grand Warden in 1948. Whitfield Whittemore Johnson was Grand Master of Masons in Massachusetts in 1954, 1955, and 1956. He was at that time the third ranking Mason in the world.
He was awarded the Henry Price Medal in 1944. From 1947 to 1969, he was Grand Representative, Grand Lodge of North Carolina, and from 1969 on, he was Grand Representative, Grand Lodge of Illinois. He was an Honorary Director. He was an Honorary Trustee of the Masonic Education & Charity Trust. He was Judge Advocate from 1938.
He received the Royal Arch Degree in Newton Royal Arch Chapter on June 16,1936, and was High Priest in 1941-1942. He received the Super Excellent Degree on May 27, 1937. He received the Order of the Temple, April 14, 1937,in St. Bernard Commandery in Boston. He was Commander of St. Bernard Commandery in 1945.
In Ancient Accepted Scottish Rite Bodies, he was a member of Boston Lafayette Lodge of Perfection and was Sovereign Prince, from 1950 to 1953, of Giles F. Yates Council, Princes of Jerusalem. He was also a member of Mt. Olivet Chapter of Rose Croix and of Massachusetts Consistory.
He was Treasurer of the Massachusetts Council of Deliberation. He was an Honorary Past Grand Master of the Grand Lodge of lllinois. He was coronetted an Honorary Member of the Supreme Council, September 27, 1950.
His work here in building the temple in the hearts of men is finished. May he find new service when the Grand Masters of all the ages in magnificent array welcome him into the celestial Lodge above where the God of us all and The Grand Architect of the Universe presides
Respectfully submitted,
M.W. LAURENCE E. EATON
M.W. STANLEY F. MAXWELL
M.W. J. PHILIP BERQUIST
M.W. DAVID B. RICHARDSON
M.W. ALBERT T. AMES
M.W. EDGAR W. DARLING
M.W. DONALD W. VOSE, Chairman
SPEECHES
FEAST OF ST. JOHN THE BAPTIST, JUNE 1955
From Proceedings, Page 1955-179:
Brethren, I want to tell you how very, very much I appreciate your coming out on a hot night in the midst of the vacation season to do honor to our distinguished guests. This occasion is one which has considerable significance, apart from the fact that we are entertaining guests from abroad. Their being here has given us the excuse to have a good time, and of course we had to manufacture some plausible reason for this occasion. There are several good reasons. Two hundred and thirty-eight years ago, on St. John the Baptist Day, 1717, four Lodges met together at the Goose and Gridiron Tavern in London and organized the Mother Grand Lodge. I think that the 238th anniversary of the organization of our Mother Grand Lodge is justification for a celebration. Two hundred and twenty-two years ago, on July 30, 1733, Henry Price organized our first Provincial Grand Lodge of Massachusetts, which was the first Provincial Grand Lodge in the Western World. This was organized at the Bunch of Grapes Tavern, which was located at the corner of State and Kilby Streets in Boston. Now the building at 53 State Street occupies that site, and the next time you walk down State Street, take a look at the plaque at the corner of the building which memorializes the fact that on July 30, 1733, the Provincial Grand Lodge of Masons in Massachusetts was organized on that spot. In the commission which was issued to Henry Price in 1733 as Provincial Grand Master of Free and Accepted Masons in New England, there was contained this significant admonition by the Grand Master of England: "And Lastly we Will and Require that our said Provincial Grand Master of New England do Annually cause the Brethren to keep the Feast of St. John the Evangelist, and Dine together on that Day, or (in case any Accident should happen to prevent their Dining together on that Day) on any other Day near that time as he shall Judge most fit as is done here. ..." (I Mass. 2)
I believe it is fair to say that our Grand Lodge has celebrated the Feast of St. John the Evangelist on the 27th day of December or on a date very close thereto, continuously from 1733 down to the present time. But an interesting fact is that when Robert Tomlinson was appointed Provincial Grand Master as Henry Price's successor, his commission said this: "We Will and Require The Feasts of St. John the Baptist and Evangelist to be Observ'd." (I Mass. 6) Brother Tomlinson was charged to observe both feasts, and the records show that both feasts were celebrated in the early days of our Grand Lodge. When we come to Thomas Oxnard, who followed Robert Tomlinson, his commission provided that there should be quarterly communications of the Provincial Grand Lodge which should be held upon the Feast of St. John the Evangelist or as near that time as convenient. (I Mass. 8) But when Jeremy Gridley was appointed Provincial Grand Master, his commission provided that one of the quarterly communications of Grand Lodge should be held "upon or as near to the Feast day of Saint John the Baptist as Conveniently may be." (I Mass. 40) The Mother Grand Lodge apparently had some difficulty in determining whether we should celebrate the Feast of St. John the Baptist or the Feast of St. John the Evangelist; so were very careful to observe them both in the early days. When John Rowe was appointed Provincial Grand Master, he was charged to celebrate the Feast of St. John the Baptist. (J Mass. 151) So two of our Provincial Grand Masters were charged to celebrate the Feast of St. John the Evangelist, and two were charged to celebrate the Feast of St. John the Baptist, and one was charged to celebrate both Feasts.
We have not in recent years celebrated the Feast of St. John the Baptist with this kind of festival. As most of you know, however, we do have church services in many of our communities on or about the 24th of June, which is St. John the Baptist Day.
Tonight we are very happy on this great and auspicious occasion to come together in festival form to celebrate the Feast of one of our Patron Saints of American Freemasonry, and we are very happy to welcome you all here. I am not going to take the liberty of introducing the entire head table as we might if we had a cooler evening, because you know most of them. Our guests from abroad will all be introduced separately and asked to respond. We have two special guests, however, at the head table whom I do wish to introduce so that they may rise and receive a greeting from you: Most Excellent Henry F. Smith, the Grand High Priest of the Grand Royal Arch Chapter of Massachusetts, and Most Illustrious Eugene B. Hamilton, the Grand Master of the Grand Council of Royal and Select Masters of Massachusetts.
Unhappily tor us, Right Eminent Kenneth H. Earle, the Grand Commander of the Grand Commandery of Knights Templars of Massachusetts and Rhode Island, was unable to accept our invitation to be present and participate at this occasion. I have received the following telegram from his Excellency the Governor of the Commonwealth whom we Masonically like to refer to as Brother Christian A. Herter. "Please extend my warmest regards to the Right Honorable The Lord Macdonald, the Grand Master of the Grand Lodge of Scotland, and Major-General Sir Allan Adair, the Assistant Grand Master of the Grand Lodge of England, as well as those of the Grand Lodge Officers who will be your guests at the special communication on July 22. We are very pleased to welcome these distinguished guests into our Commonwealth and know that this occasion holds very special Masonic and global significance." Honored guests, I take great pleasure in extending the greetings of the Governor of the Commonwealth and the welcome which he has extended to you to our Commonwealth.
AT CRISTOBAL, CANAL ZONE, JANUARY 1956
From Proceedings, Page 1956-10:
Worshipful Acting District Grand Master, Worshipful Masters and Brethren:
When Vice-President Marshall was in the White House, he wrote a book which he called "Hoosier Salad" because there was no connection between one paragraph and the next one; it was just a collection of the various incidents that happened while he was Vice-President. What I am going to say tonight may be classified as a "Massachusetts Salad," but which I hope will be of some interest to you.
Some reference was made tonight with regard to the hat which the Grand Master wears, and of course we get a little used to wearing this kind of thing and the only time we get into trouble is when our picture is taken and we get into the press; and then some of our relatives and acquaintances always want to know if you have to wear that hat that is on your head. But we get used to it. The Masters tonight wear Panama Hats, straw hats, an appropriate headgear for this particular location and at this particular time. The Massachusetts Grand Lodge is a very ancient Grand Lodge. If it weren't for the presence of Most Worshipful Brother Heuther, I would probably do a little bragging about our Grand Lodge, but that might be a little incautious in the presence of the Past Grand Master of Maryland. But he will agree with me that Massachusetts is a very fine old jurisdiction, dating back to the year 1733, when Henry Price came to Massachusetts bearing a commission as Provincial Grand Master issued by the newly organized Grand Lodge of England. Henry Price was a merchant tailor down on Cornhill in Boston; Cornhill is on College Square in Boston. Henry Price went to England in 1733, and then returned to the United States as Provincial Grand Master. Our Grand Lodge was organized on his return to Boston as a Provincial Grand Lodge. And simply because the tricorn was the dress hat of the day in those early colonial days, the Grand Master wore the traditional and appropriate dress hat of the time, the tricorn, and our Grand Masters have continued that custom; they have continued to wear the tricorn, and it is honored as the symbolical head dress of the Grand Master.
We have another Lodge in Massachusetts, the Lodge of Saint Andrew, which had its original charter from the Grand Lodge of Scotland. Joseph Warren was a Master of that Lodge, so also was Paul Revere, and the Master of that Lodge continues to wear the tricorn. The Master of no other Massachusetts particular Lodge wears the tricorn; no other Grand Lodge uses the tricorn. Therefore, the tricornered hat is so completely characteristic of the Massachusetts Grand Lodge that when our baggage was examined several days ago, one of the Brothers that came to meet us, Brother Sanders, expected to find some tricornered baggage. But since he saw none, he thought there must be some mistake. But the Grand Marshal is a very practical man and he learned a year ago that a tricorn hat will go into a square suitcase just as easily as it will go into a box that was especially designed to carry the tricorn. So the Grand Master's hat is now carried in a square suitcase, much to the delight and satisfaction of Bro. Sanders.
I said something about Paul Revere's Lodge, the Lodge of Saint Andrew, which is also the Lodge of Joseph Warren. Perhaps you know that the steeple on that North Church was demolished last fall. Maybe you have seen that significant and very unique picture that someone took of the steeple just as it was falling, at an angle of 45°. Of course as it fell, it was smashed into smithereens; but immediately architects and engineers were summoned, and all the pieces were collected and assembled, and very carefully assembled, just as archeologists assemble the pieces dug up from the ground. All the pieces were assembled and stored, and out of all those pieces, the architects designed a new steeple which has been erected during the last year, and which is now fully completed. People from all over the world sent in contributions for this worthy project, including our own Grand Lodge. The steeple has now been fully restored, and the people of Boston breathe much more easily because it seemed as if we were in a foreign country when we could not take our guests to the old North Church and point to the steeple that Paul Revere used when the lanterns were hung.
There is one great misconception about the story of Paul Revere and his midnight ride. The story is usually told as based on the poem of Longfellow, but of course Longfellow took poetic license with the facts. He was a Professor at Harvard. But most of us have studied our history from the poem. Paul Revere was not on the other side waiting for the signal lantern. Paul Revere had been across to Charlestown, and he had gone into the back country on the Sunday before the 19th of April. There had been a general sense that the British were going to move in some way. Paul Revere made arrangements with friends in Charlestown that, when the British started to move, he, Paul Revere, would hang lanterns in the Old North Church. If he hung one, that would signify that the British were going to move out across the neck; and two would indicate that they were to move across the water. On the 18th of April, he and Joseph Warren, who was also my predecessor, became worried, and they thought that something was going to happen. They felt that Paul Revere should go across to Charlestown as quickly as he could, even before they found out which way the British were going to move, and it was left to someone else to hang the lanterns. The notes left by Paul Revere showed that he left Joseph Warren's home, went to his own home, stopping on his Way to speak to a friend to hang those lanterns. The friend did it, and when Paul Revere got across the waters safely, the first thing he asked of the people on the other side was about the lanterns. The people reported that the lanterns had been hung, and it was on the basis of that report that Paul Revere made the trip.
I think it is interesting to know that there is a little variation between the actual facts and the poem picture that Paul Revere stood on the other side on his horse to see the lanterns.
One other thing might be of interest to you. It was suggested to me at dinner because of the fact that Brother Howard Gee was in New York this last summer when the Paul Revere Urn was brought to New York. The Paul Revere Urn is one of out-choicest Masonic treasures in Massachusetts. At the time of George Washington's death, our Grand Lodge had apparently been conducting a rather extensive correspondence with George Washington on Masonic matters; and on his death, our Grand Lodge was greatly grieved, as of course were all Masons and all Americans. Our Grand Lodge wrote to his widow immediately upon his death as a result of a resolution of our Grand Lodge, and asked her if she would be good enough to send to our Grand Lodge a lock of Brother Washington's hair.
Even in a fairly recent generation preserving the lock of a deceased friend's hair was rather common, because it was one of the living tissues that could be preserved; and many of you have seen pins, breast pins, lockets, with a lock of some beloved's hair. Sometimes it is preserved in a locket instead of a pin. This lock of hair was sent by Martha Washington to our Grand Lodge, with a most lovely letter. Our Grand Lodge commissioned Paul Revere to fashion a little urn in keeping with the importance of the lock of hair, and in keeping with the dignity of the hair that was once worn on the head of our beloved President.
This little urn stands about five inches high, perhaps about as high as a saltcellar. It is wrought of pure gold, with a glass cover, and underneath this is enclosed the lock of hair. There is a little cover that goes over the glass. This Urn and lock of hair were presented to our Grand Master in December of the year 1800, George Washington having died in the year 1799. As I recall, it was presented to the Grand Master at the time of his installation, and from December 1800 down to the present time, that golden Urn enclosing George Washington's hair, wrought by Paul Revere, has been handed down from one Grand Master to the next at the installation ceremony. So that in December 1953, when I was first installed as Grand Master, I received that Urn from Dr. Thomas S. Roy, whom most of you remember. That golden Urn will be, of course, passed on by me to my successor.
I was in New York in the Grand Lodge of New York last May, and the Grand Master of the Grand Encampment of the United States asked if I would bring this golden Urn to New York in order that it might be present when the Grand Master of New York was Knighted in a ceremony that was to be coincident with the Triennial Conclave, with Masons from all over the United States present. That request posed quite a problem because that golden Urn has been carefully preserved. It is placed in a vault by the Grand Master when he receives it, and he leaves it there in the vault until he passes it on to his successor. Still, I thought that treasure was something we should share with other Masons. I felt somehow that we shouldn't lock up this treasure in the vault where it would do no one any good, even though that was thoroughly the easiest way to preserve the golden Urn. We discussed it with our Past Grand Masters; and so far as we could find out, that Urn has not been outside of our Temple; certainly, I am sure, it has never been outside the jurisdiction of Massachusetts. But they agreed with me that if a proper way could be found, we should try to share this great treasure. So, after carefully considering the matter, I recommended to our Directors that a Committee of three, consisting of the Grand Master, in whose custody it is officially deposited, in company with the two Senior Past Grand Masters of the Grand Lodge as a guard, take it to New York, provided it was constantly in the possession of this Committee of Three — the Grand Master with the two Senior Past Grand Masters. It was agreed that that was a suitable way, a reasonably safe way, to take this treasure to New York. And it was taken that way. Most Worshipful Brothers Melvin M. Johnson and Claude L. Allen, and I carried the golden Urn to New York. Immediately upon our arrival at the Hotel, we deposited it in a safe deposit box; it stayed there until we took it to the auditorium for the Knighting of Most Worshipful Brother Ellis. It was in our possession all along; we were holding it; and one Brother wanted to take a picture of the Urn with the Grand Master holding it.
After the ceremonies, we took it back to the Hotel, put it in the vault, and just as we departed from New York to Boston on the day train, we took it out of the vault. We took it back to Boston, and there ended the first trip outside of Massachusetts that most distinguished treasure of ours has taken. I mention it tonight because there were four Brothers of the Canal Zone in New York to see it: Brother Howard Osborn, District Grand Secretary, Howard Gee, Senior Warden of Canal Zone Lodge, Brother E. Reed Hopkins, and Wor. Subert Turbyfill, District Grand Lecturer; and they had an opportunity to see at first hand this treasure.
Just another observation. I said that General Joseph Warren was one of my predecessors. He was Grand Master of our Grand Lodge when he was killed at the Battle of Bunker Hill. In the Grand Master's office in Boston we have a Benjamin Willard grandfather clock, a standing clock, that belonged to Most Worshipful Joseph Warren, and that clock is in beautiful running condition today. It is as good today as it ever was; it is a very choice and very beautiful piece of furniture — a piece of mechanism that continues to give good service. Those are things which are not of great importance of themselves, but which taken together, are part of our great heritage Masonically in Massachusetts — a heritage which you Brethren here share with us as Massachusetts Masons; and I wish it were possible for you to fully understand just how much these things should mean, to have this rich Masonic heritage which we share. I wish it were possible lor you all to come to Boston and see with your own eyes and touch these things with your own hands and thereby acquire a knowledge of your Masonic heritage.
But you know I am embarrassed by the fact that there is a little difference between what we have been doing with the Paul Revere Urn and what I think we should do with it. The Paul Revere Urn, locked up in the vault, has certainly done nobody any good. We know it is there, but what good is it? If we share it with others, we have to take out it of the vault; we have to bring it out. Perhaps it is like our Masonry; we can protect our Masonic principles by locking them up, so that they do not become damaged, so that they are there when we want them. Some may fear that they will be worn out if used too hard, and perhaps some may think that is the way we should protect them. But I don't think so. I believe our Masonic belongings should be more symbolised by being taken out of the vault, placed on display and revealed where other people can catch a glimpse of them; and in that way they will be of some benefit to others; to be of assistance and inspiration to someone else. I think we must realize that that is the way we can best preserve the heritage that has been handed down to us. We are responsible for taking care of it for a brief period when our Masonic principles and heritages are placed in our hands for a relatively short time.
I feel very keenly about this matter, because I am not one who thinks of Masonry as being just a place where we can get together as Brethren to enjoy a good dinner, as we did tonight, and the fellowship of friends, hear a few jokes, see a little work, and perhaps get together for a little gabfest afterwards; and that is all good. But that is not what Masonry is. Masonry must mean something in your life and my life, in our every day actions, whether in Lodges or churches, or business, or family, or the life of our charitable activities, political life. Masonry must influence us to do those jobs in accordance with the teachings of our Craft.
I am going to illustrate by telling you a true story that came to my attention just a year ago last summer when I returned to the little town in Illinois where I was born, which was celebrating the 100th anniversary of its founding. But in Illinois 100 years is quite a long time, especially for a small town, because, with the exception of Chicago and a few towns on the Mississippi River, Illinois was not settled and towns were not built up until the railroads had passed over the Appalachian Mountains so that the people could come from the eastern seaboard to the West. In the little Baptist Church that my family attended, my parents took me down to one of the very front row pews. On the south side of the church there were several stained glass windows. One of the windows depicted the Good Shepherd, dressed in a very beautiful red robe, tending his flock. The window was in stained glass, and I sat there in church letting my mind wander while the Pastor was preaching his sermon. Well, I was always greatly impressed by that window; it was a very fascinating and beautiful thing because the sun was always in the south during our church hours, and when the sun shone, that window was a very beautiful thing. Last summer I heard this story about a little girl that went to that church for the first time. When her parents brought her home, in order to test how she was impressed, they asked her what there was about the church services that impressed her the most that she remembered, or how she felt about it, and she told them that the one thing that she remembered about the church was the light shining through the man. The parents looked at her questioningly and asked her further and she answered: "Why, didn't you see that window with the man standing there and the light shining through him?" Her parents then remembered that there was such a window and the representation of the Good Shepherd tending his flock of sheep. Seemingly the little girl had put her finger on something that the parents had not heretofore seen or noticed — the light shining through the man!
When I heard that story and remembered my own experience of the light shining through the man, I couldn't help but think that it is just that light symbolism we all need in Masonry to make us understand that Masonic principles are of no value to anyone unless they can shine through the man — through me, through you. The principles of Masonry in the abstract, good as they are, serve no useful purpose unless they can be reflected through your life and through my life in our everyday activities, just as the sun could not get into that church through that window unless it could come in through the man that was pictured there. And when I remember how beautiful the sun was coming through that beautiful red robe that the Good Shepherd was wearing, I am suddenly reminded of my obligation, and I hope you will be reminded of your obligation, and let the light of Masonry shine through our lives.
Before I take my departure, I cannot resist the temptation of telling you how very, very much we have enjoyed the many courtesies and generous things which you have done for us. I hope you will pardon me in telling you how much we are indebted to you, to the Brethren of the Canal Zone, for the many acts of kindness in honor of our visit. Thank you so much for the privilege of imposing upon you a little bit longer than I had intended, but I wouldn't have felt right without saying just a few words to you so that when I leave I can feel that I got acquainted with you and that you got acquainted with me.
FEAST OF ST. JOHN, DECEMBER 1956
From Proceedings, Page 1956-474:
Most Worshipful Grand Master, Distinguished Guests and Brethren:
I am very happy to have the privilege of speaking for these distinguished Past Grand Masters whom I have counted as my friends for many years and who, during my term of Grand Mastership, have stood so valiantly behind me and my efforts to preside over this Grand Lodge and the affairs of Masonry in Massachusetts.
I should like to say just something very personal first. Of course I am greatly moved by the very nice things that have been said about me. I am sure we are all much happier when people say nice things about us than otherwise and I appreciate them very, very much. They will mean a great deal to me. I am wearing tonight a very beautiful ring which was presented to me this noon by those Grand Lodge Officers who through the last three years have served under me. What I tried to express to them this noon I want to express to all of you now, and that is, how very much it has meant to me to be your Grand Master and receive this generous gift which, of course, will always be a reminder to me of these three years.
Another personal word. You perhaps noticed on the menu tonight that there was a reproduction of the portrait that was painted this fall and which is now hanging in the Grand Lodge room. I sojourned on the Island of Nantucket for, I think, six days while the portrait was being painted and had an enjoyable time with the Brethren of Nantucket. I was very graciously received in old Union Lodge by the Master. I haven't seen him here tonight, but I hope he is here. He is a very fine young man and very sincere, and apparently was impressed by the fact that he had invited the Grand Master to the Lodge meeting. He told me that he thought he had butterflies in his stomach and I told him not to be concerned. A night or two later he invited Mrs. Johnson and me to his home for dinner. He said, "You know, Most Worshipful, those weren't butterflies; those were flamingoes." (Laughter) I think everyone in the room knows exactly what he meant because all of us have experienced that.
I wish it were possible to say something significant, something equal to this occasion. I have said my goodbye's to you. I just want to tell you very briefly two things more that I didn't have an opportunity to say in Grand Lodge. The Sunday before Christmas at the Christmas party at our Masonic Home, I accepted a surprise, an anonymous gift to our Masonic Hospital of a Wurlitzer organ presented to the Grand Lodge for the residents of our hospital by a good Brother, or perhaps several good Brothers, who wish to remain anonymous but wished to do something for our guests there. I like to feel that the Craft has been very, very generous to our Grand Lodge in connection with our Home and Hospital during my administration and I want to thank each of you for it. I have just received notice, although I haven't received the check, that there is a check coming before the end of the calendar year, not the end of my administration, for $1,000 for our Masonic Home and Hospital by a Mason not a member of our Grand Lodge. For all those generous things, for the generous contributions that have come to me, I am very, very grateful.
Now just a word about the significance of this meeting tonight. I couldn't help, when I came into Grand Lodge this morning, but pull down the volume of our early Proceedings and to read to myself, and I thought I would share it with you, the significance of our meeting here tonight. When Henry Price received his commission to be Provincial Grand Master in 1733, this is the last paragraph of it signed by the Grand Lodge office in London. "And Lastly we Will and Require that our said Provincial Grand Master of New England do Annually cause the Brethren to keep the Feast of St John the Evangelist, and Dine together on that Day, or (in case any Accident happen to prevent their Dining on that Day) on any other Day near that time as he shall deem most fit . . . and that he do recommend a General Charity to be Established for the Relief of Poor Brethren in those parts."
Henry Price in 1733 was charged to celebrate this Feast and five months later, in December of 1733, we find this record closing the year. "Nothing further Remarkable happen'd this Year only the Celebration of the anniversary of St John the Evangelist after the manner of Masons . . . Masonry Caus'd great speculation in these days in New England to the great Vulgar and the small." And the next year, 1734, December 27, "The Festival of St John the Evangelist . . . was Celebrated in due Form and manner." In 1735, "Being the Festival of St. John the Evangelist it was Celebrated as usual." It got started and two or three years later was celebrated as usual. And the next year, December 27, 1736, "was Celebrated as usual The Festival of St John the Evangelist. Our Rt Worshl Bro. Mr Robt Tomlinson appointed D. G. M. by . . . Mr. Price," and so on.
I don't want to assert that the Feast of St. John the Evangelist has been celebrated every year since those early days, but you see that in those days Henry Price and his Brethren here in Boston faithfully followed out the charge to celebrate this Feast, and we have faithfully done so to this day; and I think it is significant to us. We are celebrating a traditional feast and I think it is significant that we come together to do this wth such solemnity upstairs and such jollity downstairs.
Now just a personal word in behalf of the Past Grand Masters for our newly-installed Grand Master. A year ago tonight I stood here in this spot, a little nearer the center of the table perhaps, and said to you that I felt that I had been guided in the selection of a Deputy Grand Master by the Great Architect of the Universe on Whom we rely for all great and important decisions. I felt so then; I feel more so now. At that time I had no idea that in the short space of time his capacity and his capability would have become so evident that in selecting a Deputy Grand Master a year ago I was actually selecting my successor. But my successor is a man of great capacity, of great capability, and those who know him recognize it and those of you who do not know him will soon recognize it.
I suppose that it is no secret that things of this importance are talked about, and when I heard his name talked about as my possible successor, and when I was delegated by those who have the interest of our Grand Lodge most at heart, to inquire whether or not he would be willing to serve if the Brethren of the Grand Lodge selected him to serve, he gave a characteristic answer. He said he didn't have the capacity for the job. I think if he had said he did have the capacity, that would be evidence that he didn't. But he said, "I haven't the capacity and don't feel qualified to do it." It was only after some persuasion that he agreed to serve if he were elected. When I left him to make his decision he said so sincerely and so almost pathetically, if I may use the word, "Oh I would have given anything if this problem hadn't arisen to confront me, because I knew Arthur Prince for many years and Arthur told me that if I were ever asked to do anything I should undertake to do it to the best of my capacity whether I felt my capacity was equal to the occasion or not. I told him then that his capacity would be developed and shown to him if he were willing to undertake the job. In the spirit of that thought, I am sure he agreed to undertake the job if he were elected, and you know the great acclamation by which he was elected on December 12th. I can assure you that he not only has the capacity and the touch that will make him a great Grand Master, but that any lack of capacity which he thinks he has will be made apparent to him as he takes up the reins of office.
The Past Grand Masters, for whom I am speaking now, have great hope for the future of our Grand Lodge during these three years in the hands of our newly-elected Grand Master, and in their behalf, Most Worshipful Sir, I want to pledge to you that we will do everything, and I mean everything, within our power to make your term of office not only a success for Masonry, but a great joy to you. (Applause)
CHARTERS GRANTED
RULINGS
---