Aurora
From MasonicGenealogy
AURORA LODGE
Location: Leominster; Fitchburg (1844)
Chartered By: Samuel Dunn
Charter Date: 06/08/1801 II-182
Precedence Date: 06/08/1801
Current Status: Active
---
NOTES
MEMBER LIST, 1802
From Vocal Companion and Masonic Register, Boston, 1802, Part II, Page 33:
R. W. Michael Newhall, M.
W. William Brown, S. W.
W. John Patterson, J. W.
Abijah Bigelow, Sec.
Daniel Bartlett, Tr.
John Simonds, S. D.
Peter Snow, J. D.
Elijah Holbrook, Tiler.
Benjamin Cox, Steward.
Ralph Payson, Steward.
No. of Members, 27
Abraham Haskell
Benjamin Marshall
Josiah Wheeler
Thomas Kimball
Verin Daniels
Oliver Fox
---
PAST MASTERS
Abraham Haskell, 1801, 1802
John Simonds, 1803
Abijah Bigelow, 1804, 1805
Benjamin Marshall, 1806
Abel Phelps, 1807, 1808
Oliver Fox, 1809
Abraham Haskell, Jr., 1810, 1811; SN
David Wilder, 1812-1816, 1829-1831
William Howe, 1817
Ephraim Wilder, 1818
Charles W. Wilder, 1819, 1832
Nathan Ordway, 1820-1821, 1841-1842; SN
Carter Gates, 1822, 1823
Moses Chase, 1824, 1825
Benjamin Rugg, 1826, 1827
John D. Pratt, 1828
John H. Wheeler, 1833, 1834
Peter A. Willard, 1835, 1836
Samuel Holden, 1837, 1838
Gustave Lyman, 1839, 1840
John D. Pratt, 1843, 1844
Alanson J. Whitcomb, 1845
Jonas A. Marshall, 1846, 1847, 1861
N. S. Boutelle, 1848-1850
Thomas C. Caldwell, 1851
A. F. Beaman, 1852, 1853
Joseph Peirce, 1854
D. Waterman Tuttle, 1855, 1856
Charles Fessenden, 1857, 1858
Moses Grant Lyon, 1859, 1860, 1864
Henry T. Pratt, 1862, 1863
John Burney, 1865
William J. Merriam, 1866
Charles S. Litch, 1867-1869
Elbridge G. Snow, 1870, 1871, 1877
Alfred A. Marshall, 1872, 1873
Eli Culley, 1874, 1875
Cyrus A. Foster, 1876, 1888, 1889
David W. Tinsley, 1878-1881; SN
George S. Richardson, 1882, 1883
Charles L. Sands, 1884
Waldo E. Clapp, 1885, 1886
Edward W. Ackley, 1887
Jabez F. Fisher, 1890
John R. Oldfield, 1891
Samuel W. Sawyer, 1892, 1893
William H. Bennett, 1894, 1895
Willard W. Jones, 1896, 1897
Walter M. Wellington, 1898
Walter A. Davis, 1899
Fred A. Tolman, 1900, 1901
William A. Pearce, 1902; SN
William L. Walker, 1903, 1904; Mem
Samuel H. Lowe, 1905
George E. Burt, 1906
Arthur G. Hunting, 1908
Leon C. Barnes, 1909
James C. Eteson, 1910
Perry I. Wilson, 1911; N
Alfred F. Tarbell, 1912
Harry E. Rogers, 1913
Frederick A. Watson, 1914
George E. Haven, 1915
Archie E. Perkins, 1916
Albert E. Persons, 1917
George W. Wyatt, 1918
William A. Robbins, 1919
Wilbur W. Henry, 1920
John W. Caldwell, 1921
Ernest L. Fickett, 1922
Carl W. H. Cowdrey, 1923
Ashton D. Ross, 1924
Loring E. Harkness, 1925; Mem
Rodney M. Liversage, 1926
Sanford E. Worthington, 1927
John Kilpatrick, 1928
Lester L. Foss, 1929
Albert Berg, 1930
Alfred Woollacott, 1931
Arthur M. Leader, 1932
Albert Taylor, 1933
Samuel A. Kenyon, 1934
Oscar A. Adler, 1935
Roger W. Fisher, 1936
Charles F. Murch, 1937; N
Porter W. Dawley, 1938
Leon C. Smith, 1939
Edwin H. Nichols, 1940
Randall H. Doughty, 1941
Harry W. Dole, 1942
John L. Mattson, 1943
Carl A. Runberg, 1944
Gordon E. Peterson, 1945
Alfred E. Rand, 1946
Henry F. Parker, 1947
Henry F. Parker, 1948
Kenneth H. Wyatt, 1949
George N. Maravell, 1950
Llewellyn M. Rowe, Jr., 1951
Stanley MacPhadden, 1952; N
Robert N. Fickett, 1953
Oliver E. Parker, 1954
Samuel R. Irons, 1955; N
George J. Rollins, Jr., 1956, 1974
George J. Rollins, Sr., 1957
Harold B. Starrett, 1958
John E. Stacey, 1959, 1960; N
Oscar Derderian, Sr., 1961; SN
Aleck Solovei, 1962, 1963
Aleck Solovei, 1963
Edwin W. Carlson, 1964
C. William Lakso, 1965
Richard A. King, 1966
Emerson M. Hall, 1967
Ray G. MacCracken, 1968
David W. Aldrich, 1969
William F. Maunder, 1970
Stanley B. MacPhadden, 1971
James M. Osgood, 1972
Walter A. Minkkinen, 1973, 1974
Jack A. McCann, Sr., 1975
Scott P. Nussey, 1976
Alvin A. LaRoche, Jr., 1977, 1982, 1985, 1995; N
Ronald M. Gaudet, 1978
Stephen O. Lynch, 1979
Richard I. Okerman, 1980
Leonce I Michaud, 1981
Philip E. McNally, 1983, 1984
Alvin A. LaRoche, Jr., 1986
Carl Useforge, 1987
Stanley W. Herriott, 1988, 1989
Frank Radzewicz, 1990, 1991
Donald W. Hollingsworth, 1992-1994
William F. Galloway, III, 1995
James B. Parker, 1996
James E. LeCuyer, 1997, 1998, 2001-2003, 2005-2009
David P. Macklin, 1999, 2004
Leslie W. Kusmirek, 2000
Clifford P. Bohnet, 2010-2012; DDGM
Scott Mathieu, 2013, 2014
Malcom Burdine, 2015
Andrew C. Paradis, 2016, 2017, 2018
Christopher W. Murray, 2019
REFERENCES IN GRAND LODGE PROCEEDINGS
Petition for Charter: 1801
ANNIVERSARIES
VISITS BY GRAND MASTER
BY-LAW CHANGES
1878 1879 1883 1887 1889 1890 1892 1902 1906 1910 1912 1920 1921 1923 1924 1926 1929 1937 1951 1954 1956 1958 1966 1973 1974 1976 1982 1986 1991 1995 1999 2006 2012 2013
HISTORY
125TH ANNIVERSARY HISTORY, JUNE 1926
From Proceedings, Page 1926-184; also in New England Craftsman, Vol. XXII, No. 5, March 1927, Page 427:
By Brother Frederick A. Currier.
Aurora Lodge is today passing to its one hundred twenty fifth birthday. It was a distinguished man who said over one hundred years ago, "I form my judgment of the future from the experiences of the past." It is very fitting that organizations like our own, as we travel along the pathway that leads from the dim and distant past to that bright and glorious future to which all aspire, should pause as we reach the recurring milestones and taking a backward glance over the road already trod, view
 the sunny heights and study the shadows, perhaps to 
learn from past experience something thai will prove 
of value in meeting the problems that confront us in days 
that are to come and be inspired to go forward with re
newed zeal to meet the work of the future. Aurora Lodge
 commenced its course as an organization only a few years
 after the adoption of the Constitution of the United 
States and eight of its first members were soldiers of the 
Revolution. The Charter, dated June 8, 1801, was for
 the 56th Lodge chartered in Massachusetts.
A goodly number of those here present have pleasant memories of the centennial celebration held on June 9th and 10th, 1901. It was a notable event, reflecting great credit upon those having it in charge. Well do we remember that distinguished representation of officers from the Grand Lodge and other guests who honored Aurora Lodge by their presence upon that occasion. As a detailed history of the Lodge covering the entire first hundred years was presented at that time and later published in the memorial volume, only brief reference to that period is needed at this time.
Aurora Lodge was organized and held its its first meeting on July 9, 1801, in the Hall of the "Old Kendall Tavern" at the terminus of the fifth Massachusetts Turnpike in Leominster, This building, still standing in a good state of preservation, is now occupied as a dwelling. "The Upper Room," the birthplace of Aurora Lodge, is much the same as one hundred twenty-five years ago, A fine picture of this building hangs on the wall of our apartments. Soon after its organization the Lodge removed to what is now Monument Square, and for nearly forty years its home was at the tavern of Brother Calvin Hale and his successors at the corner of Pleasant Street and Monument Square in Leominster.
There were few Lodge rooms in those days, and the halls then always a part of the taverns offered the most convenient place for all assemblies, This building was destroyed in the "big fire" of July, 1871. The Lodge progressed with a slow and steady gain from year to year for its first twenty-five years. It was the day of small Lodges; in fact there seems to have been an unwritten law that when the membership reached forty it was time to consider the starting of another Lodge. Social and home life were very different from those of today.
In 1827 commenced that strange public disturbance "The Anti-Masonic Crusade." Starting in Western New York, it spread over the entire country, causing intense bitterness. All sorts of crimes were ascribed to Freemasonry, To be known as a Mason then meant proscription in public and private life, in church and society and business, and subjection to all manner of ridicule and abuse. It entered into national and local politics. For nearly eighteen years not a Lodge was Chartered In Massachusetts, and of the one hundred one Lodges of 1826, only thirty-five retained their organizations - most of them disposing of their funds and other property and discontinuing their meetings. The craze was of great intensity in this section of the State. All of the Lodges of this vicinity except Aurora, of Leominster, and St Paul, of Groton, under the bitter persecution gave op their Charters, including the Lodges in Ashby, Sterling, Lancaster, Northboro, Templeton, Worcester, and Lowell. The Brethren of Aurora were a sturdy band and assured of their own integrity, and feeling that in the end rightl and truth would triumph they calmly held their ground and kept the Lodge fires burning, and avoiding controversy continued to hold their meetings, naturally in secret places carefully tyled against the approach of "cowans and eavesdroppers."
Many interesting incidents of these meetings were related to me by veteran members. Through their unflinching fidelity to the Masonic Institution we have today complete records for every year of the history of the Lodge and an unsurrendered Charter. On August 8, 1830, a petition was received by Aurora Lodge, and then for fifteen long years not another presented. In 1842 the storm clouds began to show signs of passing away and 
the dawning of a new day for the Fraternity. The general 
public awoke to the fact that they had been greatly de
ceived as to what Freemasonry really was, and soon the
 "anti Masons" were a repudiated clan, and from that time our Institution has steadily grown in the respect and
 confidence shown towards it by every class of the community. No member of Aurora Lodge ever renounced his connection with the Fraternity on account of this persecution. Several of its most active members were at that time residents of Fitchburg, and when it was proposed to remove the Lodge to Fitchburg every vote but one was in favor of so doing.
On March 17, 1845, Aurora Lodge held its first meeting in Fitchburg at Moulton's House in what is now known as the National Souse building. In December, 1871, these were occupied for the first time, and they have now been our home for nearly fifty five years. Anyone interested in the circumstances connected with the starting of the Lodge and its early history and progress during the first hundred years, cannot fail to find much interest in the printed volume. The twenty-five years that have elapsed since our centennial have been among the most eventful in the world's history. Wa have seen
 remarkable changes in national life, scientific advancement, and the social conditions of the daily life of the people of nearly every land. For Aurora Lodge they have proved to be years of continued and increasing prosperity in membership and usefulness. A high standard of efficiency has been maintained and its reputation for "good work" and helpful service fully upheld.
In the limited time on an occasion like this, it is not to be expected thai an extended narrative will be presented. I shall, therefore, offer a general summary of details that may be of interest. The total number of candidates ad
mitted to Aurora Lodge during the first hundred years 
was 704. During the past twenty-five years the number 
has varied annually from twelve to eighty-seven, the latter
 being for 1920, and the total for the twenty five years is 821. In 1901 our members numbered 222, today we have
 817 on our rolls. The Worshipful Masters elected to preside over the Lodge and who with wise judgment and faithful devotion have guided the Lodge in its activities during the period have been:
Elmer A. Onthank (1901)
William A Pearce (1902)
William L. Walker (1903)
Samuel H. Lowe (1904)
George E. Burt (1905)
William H. Hamilton (1906)
Elmer E. Horton (1907)
Arthur G. Hunting (1908)
Leon C. Barnes (1909)
James C. Eteson (1910)
Perry I. Wilson (1911)
Alfred F. Tarbell (1912)
Harry E. Rogers (1913)
Frederick A. Watson (1914)

George B. Haven (1915)
Archie B. Perkins (1916)
Al
bert E. Persons (1917)
George W. Wyatt (1918)
William 
A. Bobbins (1919)
Wilbur W. Henry (1920)
John W. 
Caldwell (1921)
Everett L. Pickett (1922)
Carl W. H.
 Cowdrey (1923)
Ashton D. Rose (1924)
Loring E.
 Harkness (1925), the Eightieth Worshipful Master.
The Senior living Past Master of Aurora Lodge is Wor. Brother Charles L. Sands (1884). Wor. Brother Elbridge G. Snow at the time of his death had served as Treasurer for nineteen years. Wor. Brother Willard W. Jones to the present time has filled that office for twenty three years. Wor. Brother William H. Bennett, our present efficient Secretary, is now serving his twenty-fourth year Wor. Brother George S. Richardson at the time of his death had been a Trustee for thirty-two years, and Wor. Brother Waldo E. Clapp, eighteen years. Our present Trustees are Wor. Brother Elmer A. Onthank (twenty years), Wor. Brother William L. Walker (six years), and Brother Frank H. Foss (seven years). The Lodge has been honored by appointment as officers of the Most Worshipful Grand Lodge of Wor. Brother William L. Walker as Senior Grand Steward in 1907, and Wor. Brother William H. Bennett as Junior Grand Steward in 1920, and as District Deputy Grand Masters for the Thirteenth Masonic District, Wor. Brother William A. Pearce in 1905 and 1906 and Wor. Brother William L. Walker in 1919 and 1920.
While we rejoice in the progress made during the twenty five years our joy is tinged with sorrow as memory brings to mind so many who have passed within the veil to eternal life.
"They labored with us, side by side - Our Brothers!
The sun sank slowly in the Crimson West —
At sunrise we awoke, again to tabor,
They had entered Into rest."
Of that large and brilliant company of our guests at the centennial only one is now living. Of the one hundred twenty six members of Aurora Lodge also present at that time only forty-six remain today among the living. During this short period of twenty-five years one hundred sixty-nine members of Aurora Lodge have passed from earth. Among them were many of our most devoted members. We miss them from our meetings, their cheery greetings, their cordial clasp of the hand, their wise coun
seI mature judgment. They but leave as with added duties and responsibilities to see that the work to which they gave such heartfelt adherence i s carried forward to greater advancement — nine of our Past Masters are among that number. Wor. Brothers Thomas C. Caldwell (1855), Elbridge G. Snow (1870, 1871, and 1877), Alfred A. Marshall (1872 and 1873), Cyrus A. Foster (1876,
 1887, 1888 and 1889), David W. Tinsley (1878 to 1881). George S. Richardson (1882 and 1883), Waldo E. Clapp (188S and 1886), Walter A. Davis (1898), and George E. Burt (1905).
Charity is always dispensed quietly and with
out ostentation. During the twenty-five years over $5,200 has been dispensed by Aurora Lodge for the care and relief of its distressed worthy Brothers, their widows and orphans. The charitable and relief work of the Lodge for the past thirteen years has been administered carefully and with sympathy by Wor. Brothers Walker, Hunting, and Bennett.
For the War Relief Fund Aurora Lodge members contributed a total of $2,900, an amount equaled by only four other Lodges in the State.
For the George Washington Memorial at Alexandria, Virginia, the corner-stone of which was laid in November, 1923, a dollar being asked from every Master Mason
 throughout the country, Aurora Lodge members have
 a total of $1,040 to their credit. The year 1911 saw brought
 to a realization the hopes and desires of many years, for the establishment of a Masonic Home in Massachusetts. To this beneficent work on the beautiful hills of Charlton the Brethren of Aurora Lodge contributed $2,392 for its establishment, and the Lodge voted the furnishing of a room at the Home. Since then for the Rainy Day Fund annual sums have been forwarded amounting to $2,400 in all.
Since October, 1910, Wor. Brother William L. Walker
 has been Associate Member of the Board of Masonic Relief
 for Aurora Lodge. Aurora Lodge has known intimately
 of the life of the Home from the fact that to date six of
 the inmates have been admitted from a vote of the Lodge.
Many years ago Aurora Lodge secured one of the most beautifully situated burial lots in Forest Hill Cemetery that any member of the Fraternity who should die in Fitchburg far from home, or who might have do other burial place or friends to provide one, should here find a final resting place. On Sunday afternoon, September 14, 1913, with simple but impressive ceremonies a monument was dedicated which bad been especially designed, finely symbolizing the brotherly love, relief, and truth taught by our Order, and procured at a cost of $1,200. Wor. Brother George S. Richardson presented it for the committee, Wor. Master Tarbell accepted it, and a thoughtful, inspiring and appropriate address was delivered by Wor. Brother William L. Walker. As in the days of the Civil and Spanish-American wars, the World War found the membership a loyal body in promptly responding to their country's call and the Honor Roll of this Lodge had fifty-four names inscribed therein.
In June, 1901, on the receipt of the legacy from Brother Collamore, an honorary member of Aurora Lodge, the Lodge voted to establish a permanent fund to be known as the John A. Collamore Charity Fund, which now amounts to $1,102.
The Lodge has been honored with fraternal visits from the most Worshipful Grand Masters on June 11, 1906, Most Worshipful J. Albert Blake and suite; on November 13, 1916, Most Worshipful Melvin M. Johnson; and November 3, 1919, Moat Worshipful Leon M. Abbott with a suite of Grand Officers. On this occasion the Grand Master presented Brother Moses P. Greenwood, a member of Aurora Lodge for fifty-two years, with a Henry Price Medal.
September 27, 1920, Right Worshipful Frederick W. Hamilton, Grand Secretary, was our guest and favored us with an interesting address on "The Origin, Purpose, Meaning, and Aim of Masonry." May 2, 1921, Rev. Brother Charles W. Loomis was our guest and gave a talk on his experiences in Syria and the Orient. At our one hundred and twentieth Anniversary Rev. Brother Francis W. Gibbs, Grand Prelate of the Grand Commandery, gave an address on "Men, Masons, and Modern Times."
The Lodge bas annually attended divine service at the various churches of Fitchburg by invitation of the several pastors. Fraternal visits have been exchanged with many of the Lodges of this district.
October 5, 1925, Worshipful Brother Perry I. Wilson was appointed a representative to the Council of the Masonic Service Bureau for the Fifth Zone, and on January 4, 1926, he gave an interesting talk on the work: of that organization which is doing such excellent service in the education of the present generation in what Masonry should represent in every member of the Fraternity.
There are other unwritten records in addition to those preserved by the Secretary; of friendships made within the walls of our Lodge-room, associations formed therein that are dear to us, and good influences thai have gone forth from it in its lessons of faith and duly and for the betterment of life, which are invisibly but Indelibly written with a deep and lasting influence on the character and lives of our members. This is to us all a day of thankfulness, enriched with grateful recollections of the past, rejoicing together over the prosperity that has attended us in the years gone by. We took forward with a hopeful expectancy to the future that lies before us.
As members of a great Fraternity we have greed privileges and great responsibilities in the work of life which falls for us in do, whatever it may be.
We cannot live on our past,
For yesterday is but a Dream
And Tomorrow is only a vision,
But today
Well lived makes every yesterday
A dream of Happiness
And every tomorrow a vision of Hope.
Look well therefore to this Day.
To quote the words of Theodore Roosevelt: "All who give service and stand ready for sacrifice are torch bearers. We run with the torches until we fall. content if we can pass them to the hands of other runners."
NOTES IN 75TH ANNIVERSARY HISTORY OF WILDER LODGE, JUNE 1934
From Proceedings, Page 1934-52:
In 1801, however, the records of the Grand Lodge show a Charter being granted to Aurora Lodge, of Leominster. At that time there were less than 50 Lodges in the State of Massachusetts and the total membership in the fraternity at that time was less than 2000. It might be of interest to note that at the time Aurora Lodge was started in Leominster the population here was 1495, that of Fitchburg 1390, while Lunenburg boasted of a population of 1243.
As stated by Bro. Frederick Currier in his historical address covering Aurora Lodge, a better understanding of the difficulties under which Aurora Lodge was established and maintained here would be procured, if we stop and consider the changes which have taken place since that time. At that time not a cooking stove nor even a wagon with springs was in use. Every gentleman wore a queue and powdered his hair. Knee breeches and cocked hats were the attire of the day and railroad, telegraph, gas, electric light, sewing machines, and even the common match were not dreamed of.
The original Charter was delivered to Aurora Lodge on June 8, 1801, and Captain Mitchell Newhall became the first Master. Therefore, Captain Newhall can rightfully be called the father of Masonry in Leominster. He settled in Leominster in 1792, living the remainder of his life here as a gentleman farmer. He was a man of means and the records show that he advanced the $20.00 necessary to cover the expenses incidental to procuring the Charter of Aurora Lodge. Records of the Lodge state that to his executive ability, energy, and clear judgment was due the successful establishing of Aurora Lodge and Masonry in Leominster.
The first meeting place was in Kendall's Tavern, located on West Street, near the junction of Lindell Avenue. This tavern was a terminus of the Fifth Massachusetts Turnpike, which was a stage coach line operating between Boston and Greenfield. This tavern was erected in 1785 and for over 50 years its sign announced that refreshments for man and beast could be found within. As one of the regular stations for changing stage horses the old tavern was a scene of great activity. The house is still in a state of good preservation, but the extensive barns have long since disappeared.
The Lodge started off auspiciously with prospects of a bright future, and on September 17 of the same year, 1801, a committee was appointed to locate new quarters and they moved one week later to Brother Leland's tavern located on the spot where the Unitarian Church now stands. The third move was made in November of the same year when quarters were occupied at the corner of Monument Square and Pleasant Street. They held regular meetings in this location for over 40 years, or until the move was made to Fitchburg in 1844. It is interesting to note that the lease for their new quarters called for the payment of $18.00 per year with the specific clause that the landlord would provide wood and candles for their use and that the fires should be started one hour before the scheduled meeting of the Lodge.
On February 26, 1844, the subject of the removal of the Lodge to Fitchburg was discussed and on May 24, 1844, a vote was taken on that important subject. The membership at that time was 31 and prior to the meeting a notice was sent to every member with information pertaining to the important matter that was to be acted upon. All present, with the exception of one member, voted for the move to Fitchburg. The last meeting of Aurora Lodge was held in Leominster on December 23, 1844. For 14 years, or from 1844 until the birth of Wilder Lodge in 1859, Leominster was without a Masonic organization.
150TH ANNIVERSARY HISTORY, JUNE 1951
From Proceedings, Page 1951-88:
By Worshipful Kenneth H. Wyatt.
Just one hundred and fifty years ago yesterday Most Worshipful Samuel Dunn and the Grand Lodge granted a charter to Aurora Lodge of Leominster; one month from today will be the one hundred and fiftieth anniversary of the first meeting of that newly constituted body.
Some Lodges are noted for their parties, others for their banquets, others for various things, but a perusal of the records of mis ancient Lodge reaffirms the belief held by the Brethren for many years — Aurora Lodge has always been principally concerned with the work.
Like my predecessor, Brother Frederick A. Currier, who revised the history of the first century of the Lodge fifty years ago today, I shall not attempt to give a history of Freemasonry or of its introduction into this country, but will confine myself to fitting a few of the high-spots along the way.
Perhaps we can better understand the difficulties under which the Lodge was established and maintained in its early years if we consider a few of the great changes that have taken place in the past century and a half.
At that time there was not a cotton or woolen mill in the country with a power loom. Neither was there a cooking stove, nor a wagon with springs — railroad, telegraph, telephone, gas, electric lights, sewing machines and even the common match were not dreamed of. Every gentleman wore a queue and pondered his hair and wore knee britches and cocked hats. They worshiped God in meeting houses without stoves through the long New England winters — and everyone went to church, too.
Even fifty years ago, when our Brethren celebrated their centennial, automobiles were a rarity and radio and television broadcasting were existent only in imaginations. Look around you, there are scores of scientific developments that could be named.
In 1800 there were less than fifty Lodges, with a total membership of less than 2000 in Massachusetts (including the district 0f Maine). The nearest Lodges to this City were Trinity at Lancaster, chartered in 1778, Morning Star at Worcester, chartered in 1793, Saint Paul in Groton, chartered in 1797, and Social Lodge of Ashby, chartered in 1798.
For several years previous to the regular organization of the Lodge at Leominster, what might be termed preliminary meetings were held with considerable regularity. Records of several of those meetings can be found in newspapers of the day. A Leominster paper, Political Focus, on September 5, 1798, said, "The brethren of the society of free and accepted Masons are informed that the last meeting in this town is adjourned to the first Monday in October, next, at 3 o'clock in the afternoon. A punctual attendance is requested from the brethren of Lunenburg, Fitchburg and Westminster." On November 1, 1798, that paper said, "The brethren of the society of free Masons of this and neighboring towns are informed that their last meeting stands adjourned to Monday next at 2 p.m. at Landlord Hale's in this town." This is all the record that can be found of these gatherings which probably continued until the Lodge was regularly organized. It is a pity that our Brethren did not keep a more detailed record of the first stirrings of Masonry in these parts.
The records of our Grand Lodge have nothing as to the application for the charter, but on June 8, 1801, the records state that charters were that day granted to the following Lodges:
The number of Aurora Lodge was 56, but of course numbers were discontinued in this state many years ago.
We are fortunate in having the carefully preserved records of our Lodge from the beginning. These old books with their sheepskin covers, straw-colored leaves of old-time unglazed paper and unruled pages contain much that is now old-fashioned and queer, both in handwriting and in phraseology. However, the ink is bright on most pages and some of them are as clear and easy to read as steel plate printing, but many years' records constitute a hazard to the eyesight of researchers.
Here is the record of that first formal meeting on July 9, 1801, in the old Kendall Tavern on the Massachusetts Turnpike — now the home of Irwin Cohen:
By virtue of a charter from the Grand Lodge of the most ancient and honorable society of Free and Accepted Masons for the Commonwealth of Massachusetts, dated the eighth day of June, Anno. Domini 1801 and of Masonry 5801, constituting a lodge within the town of Leominster, under the title and designation of Aurora Lodge, the following members of said lodge, Michael Newhall, William Brown, John Patterson, Abraham Haskell, Daniel Bartlett, Abijah Bigelow, John Symonds, Peter Snow, Asa Johnson, Benjamin Marshall, Thomas Kimball, John Litch, Josiah Wheeler, Collins Mills, Daniel Wetherbeem, Ralph Payson, Thomas Newell, Elijah Holbrook, and the following visitors, Benjamin Cox, Lemuel Cox, Caleb Wilder, Jr., Thomas Houghton, Jacob Upton, Sylvester Flint, met at Capt. Kendall's Hall in Leominster.

Voted that all of those brethren who signed the petition for a charter be considered members of this lodge. That Brothers Michael Newhall, William Brown and John Patterson, who had been chosen previous to the granting of the charter, be considered as Master and Wardens of the lodge.

Said Newhall as Master, said Brown as Senior Warden and said Patterson as Junior Warden, and the following other officers were elected — Treasurer, David Bartlett, Secretary, Abijah Bigelow, Senior Deacon, John Symonds, Junior Deacon, Peter Snow.

A committee was elected to prepare a code of By-Laws and another "to procure the usual apparatus and other necessary utensils for the Lodge."
It was voted also that each member pay $3 at the next meeting and visiting Master Masons could become members by paying the same amount before the passing of the By-Laws.
Of the charter members, Michael Newhall, the first Master and one of the most active promoters of the organization of the Lodge, was born in Lynn on August IS, 1740. He is said to have been a former sea captain and applied for membership in St. Andrew's Lodge on January 9, 1774. He purchased land and moved to Lancaster in 1775 and family tradition has him a "post rider" distributing the mails through that section on horseback and being noted for the volume of his horn blasts. He was the prime mover for the organization of Trinity Lodge in Lancaster — ancestor of the present Trinity Lodge in Clinton — and was its first Master when it organized in 1778. He moved to Leominster in 1792 and farmed there the rest of his life. He was the man who advanced $20 to pay for the charter of Aurora Lodge, and on retiring from the East, made a gift of money to the Lodge. Our ancient records show him as a regular attendant at meetings of Aurora Lodge until September 13, 1812, only four days before his death of paralysis.
Three other charter members were former officers of Trinity Lodge — Abraham Haskell, a Lunenburg physician, was a Past Master; Thomas Kimball of Fitchburg served as Junior Deacon; and John Patterson of Shirley as Senior Deacon.
Dr. Peter Snow of Fitchburg, another charter member, served the Lodge as Secretary for several years. He was one of this city's earliest physicians and was the town's principal magistrate for over forty years.
Thomas Kimball of Fitchburg was the only one of the charter members who was a Revolutionary War veteran, but Major John Goodridge of Fitchburg, Calvin Hale, Stephen Chase, Thomas Hale, Thomas Legate and Ebenezer Stewart, all of Leominster, and Joshua Goodridge of Lunenburg, who became members soon after the organization, were also Revolutionary War veterans.
At that first meeting of Aurora Lodge on July 9, 1801, the Lodge not only organized, but began its work, receiving petitions for the degrees from Ephraim Hazeltine, Capt. L-aleb Leland of Leominster and Lt. Oliver Fox of Fitchburg- *ne first work was done on July 23 that year, when the Master Mason Degree was conferred on Elijah Holbrook, who was the first Tyler.
In our Lodge library is preserved a book which Thomas Kimball presented to the Lodge in its first year. It is a copy or "The Constitution of the Ancient and Honorable Fraternity or Free and Accepted Masons, collected and digested from their old records and faithful traditions and lodge books for use of lodges, and History and Regulations of the Grand Lodge or Massachusetts, compiled by Rev. Thaddeus Mason Harris and printed by Brother Isaiah Thomas at Worcester — 1798, second edition." On the flyleaf is written "Zabdiel Adams book the gift of Mr. Isaiah Thomas 1799," also "Thomas Kimball his book bought at Vendue, April 1801, at $1.67."
The Lodge had started off in fine shape and the members on September 17 voted to seek a new hall, and one week later> voted to move to Brother Caleb Leland's house — an old tavern that stood on the site of the Unitarian Church on Leominster's Monument Square. The first meeting was held there on October 15, 1801. At that meeting the Lodge paid Brother Haskell $3.00 for a Bible, printed in 1787, which was used until the Lodge moved to Fitchburg. It is also in our archives.
At the end of the first year, Aurora Lodge had twenty-seven members; had a standing rule of the Lodge assessing visitors a twenty-five cent visiting fee; and elected officers with Abrariam Haskell succeeding to the East, John Symonds, the Westj and Abijah Bigelow, the South. The first installation brought receipts from ticket sales of $108, a considerable sum in those days, and left a net profit of fifty cents after paying all bills.
On the walls of our apartments, in badly faded ink, even today hangs the original Master Mason diploma issued to Stephen Chase on March 3, 1802, and signed by the new set of officers.
The first record of charity in the Lodge's books comes on July 15, 1802, and carries an unusual ending. At that meeting the Lodge "voted to pay Brother Samuel Stimpson's bill to Brother Calvin Hale, if it be not more than four dollars, provided he go directly home." Some problems never change it seems.
An event with special meaning to today's members took place on September 9, 1802. It wasn't the vote to pay sixty-seven cents for repairing a sword broken at the installation of the Lodge, but one "that Brother Haskell procure a seal for Aurora Lodge," which was done at a cost of $12.00.
If that ancient seal could only talk! It bears mute testimony that it was in constant use beyond the time of moving to Fitchburg because the town name of Leominster was cut out and a brass plate bearing the word "Fitchburg" inserted. Somewhere along the line in the past eighty or ninety years that seal became lost, only to turn up a year ago in a box of odds and ends Brother Llewellyn M. Rowe, Sr. was looking over. Today he has presented it to the Lodge through his son, our presiding Master. Its impression today adorns the front of the Lodge notice each month.
Abraham Haskell was elected Master on November 2, 1802, with John Symonds as Senior Warden and Benjamin Marshall as Junior Warden. At that meeting the Lodge voted to move to Brother Calvin Hale's and to give $18.00 a year for the use of his hall, he to provide "wood and candles sufficient for use of the Lodge, to have the fire made at least one hour before Lodge houses, to cause the tables to be Masonically spread, and after the Lodge is closed, to have the furniture properly taken care of." That was to be the meeting place of the Lodge for more than forty years — until its removal to Fitchburg in 1844.
Through those early years, the Lodge moved along quietly and enjoyed its social hours with crackers and cheese, rum, wine and spirits, provided by the Stewards just before the close of every meeting. To make sure that the collation would be ready, the Lodge even adopted a vote in 1804 directing the Stewards to have the refreshments ready before the close of the meetings.
An explanation of the records of the meeting on July 9, 1808, might be interesting for the only business appearing on the records is a vote "that the stewards shall present to Brother Joseph Hale 1 quart spirits and 1 pound loaf sugar at expense of Lodge." A month later comes, "Voted that a committee admonish Brother Stephen Chase (Tyler at the time) for his conduct this evening."
Owing to the war and consequent business depression, no petitions were received in 1810 or 1812 and only four in 1811. Very few rejections are recorded in the early years, the first recorded in the Lodge coming on March 13, 1811.
The By-Laws were amended on May 23, 1815, changing the annual election to September; requiring that an application should be made in writing and with a deposit of $2.00, and providing that two negatives should reject; also that fees for degrees should aggregate $19.00, of which $16.00 should be for initiation and $3.00 for crafting and "if the Brother is found worthy the third degree will be conferred gratis."
Aurora enjoyed one of its most prosperous years in 1826, admitting twenty-six candidates — a number only exceeded once in its first century. The anti-Masonic movement was on the horizon and swept like a whirlwind through the Northeastern states and was especially strong in Massachusetts and Vermont. From March, 1827, to December, 1844, not a Lodge was chartered in Massachusetts and only thirty-five of the 101 Lodges in the Commonwealth at the start of the period continued to exist and maintain their organization.
Aurora Lodge was one of those thirty-five, even though from the time Calvin Cook was raised on June 20, 1831, there was not a single candidate in the Lodge until A. F. Beaman received his Third Degree on January 12, 1846 — just a few months short of fifteen years without a single degree to confer, yet our ancient Brethren continued to meet, and believe it or not, their treasury continued to grow.
The first movement for the removal of Aurora Lodge to Fitchburg came on March 20, 1829, when a committee was appointed to petition the Grand Lodge for its approval of the move, but on May 18 of that year, the committee was discharged and action delayed.
At the height of the anti-Masonic feeling in 1831, David Wilder, Jr. resigned as Master of the Lodge to become Deputy Grand Master of the Grand Lodge. R. W. Brother Wilder was one of our most illustrious members. A member of the Lodge for sixty-three years, he was Master from 1812 to 1816, and again, from 1829 to 1832, District Deputy Grand Master from 1818 to 1820 and Deputy Grand Master in 1832. He was prominent and active in politics too, being elected state treasurer five times during the height of the anti-Masonic feeling despite his Masonic position. The subject of the removal to Fitchburg came up again on February 26, 1844, and the members voted unanimously in favor of the move. The Grand Lodge gave approval to the move on December 11, 1844, and on December 23, the last meeting was held in Leominster, with two Brethren being admitted to membership. The first meeting of the Lodge in Fitchburg was held on March 17,1845, at Moulton's Hall in the old Washington House, with twenty-one members present, representing more than two-thirds of the membership. A month after moving to this City, the Lodge voted to shift its meeting time to 2 p.m. on the Monday preceding the full moon, with the closing at 7:30 p.m., "except in case of special emergency." At the same time the unanimously favorable ballot was made necessary for acceptance of a candidate.
In January, 1846, the Lodge raised its fees for the degrees to $20.00, an increase of $1.00, and at the same time authorized the treasurer to see that the necessary alterations be made in the Lodge seal.
The move to Fitchburg signaled rebirth of activity in this section and eleven candidates were accepted in 1846. At that time the secretary was paid $10.00 a year.
The first record of the Most Worshipful Grand Master visiting Aurora Lodge comes in September, 1852, when A. F. Beaman, the first member raised after the fifteen year drought, was installed Master by Rev. George M. Randall, Grand Master. The present Lodge seal was ordered and adopted in 1856. In 1857, Grand Master John T. Heard made a personal visit to every one of the eighty-eight chartered Lodges in the state, visiting Aurora Lodge and installing Charles Fessenden as Master on September 28, 1857.
The first honorary memberships in the Lodge were voted on January 25, 1858, with that honor being voted to David Wilder of Leominster and Jonas Marshall of Fitchburg. In October of the same year, Brothers Peter Snow and Daniel Tuttle were also voted to honorary membership.
Those of you who really like to eat will be interested in the bill of fare for the "Masonic Levee" given by Aurora Lodge at the Fitchburg Hotel on February 22, 1860, at the tremendous cost, for those days, of $5.00 per person. The two hundred who attended were faced with:
SOUP
Portable

FISH
Baked Trout, Wine Sauce

BOILED
Virginia Ham and Tongue Leg of Mutton, Caper Sauce
Chicken, Celery Sauce Turkey, Oyster Sauce

ROAST

Beef Lamb Turkey Chicken

HOT ENTREES
Tenderloin of Beef, Larded Vol-eau-Vent of Oysters
Chicken Pie, al L'American Oyster, Escalloped
Macaroni, Italian Style Gateaux of Rice

RELISHES Horse-radish Assorted Pickles Worcester Shire Sauce

Kole Slaw Picallily Apple Sauce

COLD AND ORNAMENTED DISHES
Boned Turkey in Jelly Supreme of Chicken, a la Royal
Ham, Garnished in border of Jelly
Pickled Tongues, in form of Gelee

GAME
Mongrel Goose, Apple Sauce

Black Duck Grouse Chicken Partridge

VEGETABLES

PASTRY
Meat, Apple and Squash Pies, Charlotte do Russe, Blanc Mange, Wine Jelly, Aspic of Oranges, Fancy Cake, Jelly Tartletts, Washington Pie, Fruit, Round and Sponge Cakes, Apple Meringues, Cocoanut Cakes, Boston Cream Cake, Tipsy Cake, Macaroons

DESSERT
Apples, Oranges, Almonds, Pecan Nuts, Filberts, English Walnuts, Hickory Nuts, Raisins

TEA AND COFFEE
The year 1865 was a momentous one for Masonry in Fitchburg. John Burney was elected Master of Aurora Lodge and was installed by the Grand Master; a new Lodge, Artisan, was formed in Winchendon, with six charter members having received their degrees in Aurora Lodge; the fee for degrees was doubled to $40.00; and Jerusalem Commandery joined the Masonic family in Fitchburg.
On October 9, 1865, the Lodge approved the request of E. Dana Bancroft and others for the organization of a new Lodge in this City to be known as Charles W. Moore Lodge, and they also became occupants of the lodge-room.
Hard times struck the Brethren after the Civil War, and so numerous were the appeals for relief, that on February 26, 1866, the Lodge voted to call on every member to pay $1.00 at the next quarterly meeting. The Brethren were not content with the dollar, however, and circulated many subscription papers among themselves and collected a large amount extra in that manner. One committee alone reported at a meeting that Spring that it had collected $174.00 at that meeting.
Worshipful David Wilder died on September 21, 1866, at the age of eighty-eight and after sixty-three years membership in the Lodge. A lengthy eulogy in the Lodge records recounts his seven years as Master of the Lodge "not only in days of prosperity, but also in the days when the strong men were few and the keepers of the house trembled for the future prospects of the institution." It also recalls that in Leominster he had held all important offices and had been successively elected State Representative, State Senator, Governor's Councilor and for five years as State Treasurer.
The subject of more commodious quarters for the Masonic bodies was frequently under discussion eighty-five years ago, and in 1870, a joint committee from the four Masonic bodies reported in favor of leasing a hall in the new building to be built by the Fitchburg Savings Bank. On November 28th of that year, the Lodge approved leasing our present apartments.
On February 27, 1871, occurred the only trial for unmasonic conduct in the history of Aurora Lodge, resulting in the expulsion of the member from Masonry.
On May 1, 1871, new regalia was ordered at a cost of $375.00 — the same collars and truncheons that are still used by the Lodge today.
These apartments were first opened on the evening of November 23, 1871, for a concert and banquet, attended by more than five hundred. The formal dedication had been held that afternoon, with R. W. William F. Salmon, Acting Grand Master, being present and R. W. Charles W. Moore, Veteran Grand Secretary, and for whom our sister Lodge was named, was the principal speaker. The rooms were opened to the general public the following evening for a dedication concert.
Most Worshipful Samuel C. Lawrence, Grand Master, was present at the official visitation of R.W. Nathaniel C. Sanborn, District Deputy Grand Master, on November 14, 1881, and urged the Brethren to help wipe out the Grand Lodge Temple debt.
The years 1887 and 1888 saw the death of three of our oldest and most esteemed members. Our venerable Brother Jonas A. Marshall, who was initiated in 1822, died on February 25, 1887. On December 1, 1888, ritualistic funeral services were conducted for Brother Arnold Wilson, also a sixty-year member, and twenty-five days later, he was followed by his old friend, Worshipful Joseph Peirce, Tyler for more than twenty years, who had officiated for the last time the day of the funeral of Brother Wilson. Brother Wilson was Treasurer of the Lodge from 1861 to 1884.
Aurora and Charles W. Moore Lodges combined for an exemplification of the work on April 21, 1890, with Most Worshipful Samuel Wells, Grand Master, presiding.
The practice of presenting retiring Masters of the Lodge with a Past Master's jewel became part of the Lodge rules by a vote on November 2, 1896. On June 6, 1898, the Brethren voted that all members of the Lodge "who enlist in the United States Army" be remitted during the Spanish-American War. Nothing is said of Brethren who enlisted in the Navy or Marines.
The last of those who received their degrees in Leominster lived past the turn of the century before being called to the Lodge above. He was Brother Ivers Phillips, who died on June 10, 1900, at the advanced age of ninety-five years. He applied for the degrees soon after reaching his twenty-first birthday, in 1826, and was initiated on September 11, 1826. A short time before his death he wrote "Soon after I took my Master Mason Degree the anti-Masonic excitement came up and spread through the country. It got into politics and very discouraging times for Masons came on and lasted for a long time. Many of the Lodges surrendered their charters, but old Aurora maintained its organization and weathered the storm and still lives."
With Worshipful Fred A. Tolman serving his second year in the East, the Lodge celebrated its one hundredth anniversary on June 9 and 10, 1901. The first day's program featured an address by Worshipful Solon W. Stevens of Lowell, prayers by Rev. Arthur E. Harriman and Rev. Abram Conklin, and musical selections by the Mendelssohn Male Quartet. The Monday program found Worshipful Brother Tolman opening the Lodge in full form at 11 a.m. for its 1851st communication. Most Worshipful Charles T. Gallagher, Grand Master, spoke for the Grand Lodge and Brother Frederick A. Currier gave the historical address. The music was provided by the combined Albion and Corinthian Quartets under the direction of Brother William H. Gerrish, Organist.
The anniversary banquet featured bouillon, beef fillet with mashed potatoes, cucumbers, radishes, "Aurora Punch," chicken croquettes, green peas, lobster Mayonnaise, olives, banana fritters with wine sauce, strawberries and cream, Neapolitan Ice Cream, grape sherbert, frozen pudding, orange, chocolate and angel cakes, macaroons, sponge drops, lady fingers, Bent's water crackers with cheese, coffee, Londonderry Lithia water and cigars.
At the 101st annual meeting on September 2, 1901, Brother Charles L. Tenney presented a set of Fellow Craft working tools to the Lodge. In the election, Brother George P. Grant, Jr. declined election as Master and Brother Elmer A. Onthank was chosen. A year later, an unusual situation prevailed when Worshipful Brother Onthank declined re-election, Brother Robert S. Parks declined election, and not until the third ballot, was Worshipful William A. Pearce elected to the East.
One of the biggest fraternal visits in local history came on November 24, 1902, when about four hundred members of Rising Sun Lodge No. 39 and Ancient York Lodge No. 89, both of Nashua, New Hampshire, came here. Charles W. Moore Lodge worked the first section of the third degree that night and Aurora Lodge the second and third sections. The speaker after the work was Most Worshipful Henry A. Marsh, Past Grand Master of New Hampshire.
On January 5, 1903, Worshipful Willard W. Jones was elected Treasurer to succeed Brother Elbridge G. Snow, who had served since September, 1884. Brother Jones held the post for twenty-four years and was succeeded on October 3, 1927 by Worshipful George William Wyatt, who has filled that chair the past twenty-four years. He is the nineteenth Brother to be Treasurer of the Lodge in 150 years.
The large framed photograph of Kendall Tavern, birthplace of the Lodge, which hangs in the anteroom, was presented to the Lodge on November 4, 1903, by Worshipful William A. Pearce, outgoing Master. A year later Worshipful William L. Walker, outgoing Master, presented the Lodge with the carbon photogravure of the painting "Aurora" which is also in the anteroom.
The first appearance of one of Massachusetts' most distinguished Masons in Aurora Lodge came on October 23, 1905, when R. W. Melvin M. Johnson gave the charge in the third degree. A year later, as Grand Marshal, he accompanied Most Worshipful J. Albert Blake, Grand Master, to a banquet and third degree on the 105th anniversary of the Lodge. The records state "343 sat down to supper."
The Brethren eliminated an unofficial office on October 1, 1906, when they voted to endorse installation of an electric blower for the organ, eliminating use of the hand pump, whose handle is still just outside that northwest door. At that meeting they also raised the pay of the Secretary from $50.00 to $100.00 a year, and the Treasurer from $10.00 to $25.00 a year.
On June 3, 1907, the Lodge voted to buy the large cemetery lot at the entrance to Forest Hill Cemetery, and a few years later, paid $1200 for the monument which has been placed on it.
On January 3, 1910, skipping along the high-spots, the Lodge accepted $670 from the estate of Brother John H. Collamore to found a charity fund, but voted down a proposal to mail monthly notices to members.
Worshipful William L. Walker, as chairman of a by-laws committee, on September 12, 1912, recommended making hie memberships cost $60.00 instead of $40.00 and retaining the twenty-five years dues provision; also raising the fees i°r degrees from $30.00 to $45.00. The recommendations were accepted a month later. The matter of printed notices to members was still a point of argument, and on February 3, 1913, the Lodge was again unable to agree and indefinitely postponed action.
A special meeting was held on September 14, 1913, to dedicate the monument on the Lodge lot in Forest Hill Cemetery and Worshipful William L. Walker was the principal speaker of the occasion. A month later, the Lodge voted to have the bank install the present electric elevator.
On January 3, 1916, Bro. James E. Thompson gave a book of lectures on Masonry, published in 1822, to the Lodge.
At the installation of officers on November 13, 1916, a portrait of Worshipful Moses Brant Lyon, Master of Aurora Lodge in 1859-1860 and 1864, his Past Master's diploma and Masonic apron were presented to the Lodge by Bro. Charles A. Chase of Carmel, Maine, his step-son. The Grand Master, Most Worshipful Melvin M. Johnson, spoke on "The Two Grand Truths and Teachings of Masonry — God and Immortality."
On June 4, 1917, following the practice of other wars, the Lodge voted to remit the dues of "all members of the Lodge serving in the Army or Navy of the United States or its Allies" during the first World War. At that meeting, and again in October 1917, the Lodge purchased a $500 war bond. A $1,000 bond was purchased in 1919. On November 13, 1917, the Lodge voted to raise $5000 for the Massachusetts Masonic War Relief Fund and the amount was oversubscribed by solicitation of the whole membership.
The name of another Aurora Lodge appears on our records for the first time on November 4, 1918, when a release of jurisdiction over a man was granted to Aurora Lodge No. 50 of Rockland, Maine.
The Secretary was given another small raise in 1919 when his pay was raised to $150.
Most Worshipful Leon M. Abbott, Grand Master, paid a fraternal visit to the Lodge on November 3, 1919, with Worshipful George W. Wyatt in the East. The Grand Master awarded Moses P. Greenwood, Headmaster of Cushing Academy in Ashburnham and a Mason of fifty-two years standing, a Henry Price Medal. The Grand Master found no medal available, so he took his own off his chest and presented it to Brother Greenwood. The Grand Master was accompanied by R. W. Arthur D. Prince, Deputy Grand Master, R. W. Benjamin B. Gilman, Senior Grand Warden, R. W. Horace A. Carter, Junior Grand Warden, and R. W. Frederick W. Hamilton, Grand Secretary.
The matter for fees for degrees came up for discussion again on May 3, 1920, when it was proposed to raise the fee from $45 to $75. When it came to a vote on June 7, 1920, it was voted to set the fee at $60, where it still remains today.
A special meeting was held on September 27, 1920, to give the "Glad Hand" to eighty-seven new members of the year, with R. W. Frederick W. Hamilton, Grand Secretary, as the speaker.
The 120th anniversary was held on June 6, 1921, with a Second Degree and business meeting in the afternoon, when the annual dues were raised from $4.00 to $5.00, and a program, with Rev. Bro. Francis W. Gibbs, as speaker, in the evening. That year, too, the Secretary's pay was set at $250 a year. In 1923, the life membership fee was jumped from $60 to $100.
On July 19, 1923, Bro. Joseph M. Peirce, Tyler for thirty-two consecutive years, died. On October 5, 1925, R. W. Perry I. Wilson, our Secretary for many years, until last fall, was named to the Masonic Service Committee of Zone 4, and the fee for degrees was reduced from $80 to $60, after a one year trial at the higher figure.
Worshipful Willard W. Jones, on January 25, 1926, presided in the East and assisted in conferring the Third Degree on his grandson, Bro. Willard S. Jones.
The 125th anniversary of Aurora Lodge was held on June 7, 1926, with Most Worshipful Frank L. Simpson, Grand Master, participating. Other speakers included Wor. Elmer Onthank, Wor. Perry I. Wilson, Dr. William H. Bennett and R. W. William L. Walker. Bro. Frederick A. Currier gave the history of the Lodge as he did at the centennial. Twenty-five of the thirty living Past Masters attended in colonial costume, and a bronze medal, on key-chain, was presented to all present.
Most Worshipful Dudley H. Ferrell, junior Past Grand Master, visited the Lodge on September 6, 1926, and gave an illustrated lecture on "Travels through Latin America." He was accompanied by the Senior Grand Warden, R. W. Frank H. Hilton.
At the annual meeting on October 4, 1926, the pay of the Secretary was raised to $300 a year, an increase of $50, where it remains today. At the same time, the Treasurer's salary was raised from $25 to $50 a year.
Most Worshipful Frank L. Simpson, Grand Master, paid a fraternal visit to a joint meeting of Aurora and Charles W. Moore Lodges, attended by more than two hundred, on June 24, 1927. He presented Veteran's Medals to four members of our sister Lodges and the following to Aurora members: Charles A. Morgan, member 57 years; Frederick A. Currier, 53 years; Thomas C. Sheldon, 52 years; George A. Wilson, 51 years; Jabez F. Fisher, 51 years; Eben D. Blood, 54 years; George H. Chapman, 60 years; James P. Derby, 56 years; Charles F. Baker, 53 years; Robert D. Morris, 60 years; and Hiram C. Davis, 53 years.
The Worshipful Master, Sanford E. Worthington, was authorized on December 5, 1927, in conjunction with other Lodges in the district, to apply for permission to hold a Lodge of Instruction.
Brother Frederick A. Currier, Historian, served as Acting Secretary from May 15,1927, to June 4,1938, while Dr. William H. Bennett was laid up following an accident.
A gift of $250 to furnish an "Aurora Lodge Memorial Room" at Burbank Hospital was voted on June 4, 1928, and a gift of $50 to Tahattawan Lodge in Littleton, "baby" of the district, to furnish their Lodge the following spring.
On November 4, 1929, Right Worshipful William L. Walker was sent a gift of $100 in recognition of his long years of service as Chairman of the Relief Committee. The depression was reflected on January 6, 1930, when instead of the usual $100 appropriation to the Relief Committee, a $500 grant was given them. Four months later, however, the Brethren raised $1515 for Juniper Hall in Shrewsbury.
Most Worshipful Herbert W. Dean, Grand Master, paid a fraternal visit on March 30, 1931, and gave a stereopticon lecture on his trip around the world.
Brother Frederick A. Currier, Lodge Historian for many years, died on February 6, 1932, at the age of eighty.
A joint meeting of Aurora and Charles W. Moore Lodges was held on February 22, 1932, on the occasion of the 200th anniversary of the birth of George Washington. An open house was held, with over three hundred attending, and Rev. Bro. Howard A. Pease gave the address.
On April 11, 1932, Wor. Bro. Willard W. Jones, who was Master in 1896, returned to the East again and initiated his grandson, Orville A. Jones, Jr. of Greenwood, Rhode Island. This was the second grandson he worked in Aurora Lodge, and he raised him on June 27, 1932.
At the annual meeting on October 3, 1932, the Relief Committee reported aiding twenty families and twenty individuals at a cost of over a thousand dollars. At the same meeting, the lambskin of Brother Edward Smith, who joined the Lodge in 1818, was presented.
Most Worshipful Arthur D. Prince, Past Grand Master, spoke at an open house celebration of Aurora and Charles W. Moore Lodges on February 22, 1933.
At the annual meetings in 1933 and 1934, the Secretary, Dr. Bennett, reported that in the previous year only three new members had been admitted.
Right Worshipful Perry I. Wilson, new District Deputy Grand Master, paid his first fraternal visit to the Lodge on February 11, 1935. During 1935, there were six members admitted.
At the installation of Worshipful Oscar A. Adler on November 11, 1935, the ceremonies were public, the first time in many, many years. No public installation was held again until Worshipful George N. Maravell was installed on October 31, 1949.
The 135th anniversary of the Lodge and veteran's night was observed June 8, 1936, with Right Worshipful Brother Wilson presenting a Veteran's Medal to Wor. Walter M. Wellington, a member for fifty-two years. A recognition service was held for all members with twenty-five or more years of service.
At the annual meeting on October 6, 1937, a new Secretary was elected. Dr. William H. Bennett retired from the post after thirty-five years of service and R. W. Perry I. Wilson elected to the post he held until his death in 1950.
A by-laws change was adopted on February 7, 1938, reducing Lodge dues from $8.00 to $6.00 a year, plus $2.00 Grand Lodge dues, and raising the life membership fee to $150.00 and eliminating the automatic life membership provision for twenty-five year membership.
Right Worshipful William L. Walker was presented a Distinguished Masonic Service Medal on March 21, 1938, by Right Worshipful Frank D. Polley, District Deputy Grand Master. Two of the Lodge's most distinguished members, R.W. Brother Walker and Dr. Bennett, died during the summer of 1938.
Worshipful Matthew S. Herbert, a Past Master of William Whiting Lodge, was voted an honorary membership on May 5, 1941.
Worshipful Randall H. Dought was installed on October 21, 1941, by Worshipful Brother Herbert, with Right Worshipful Ronald Astley giving the charges. Attending the ceremonies was Right Worshipful Alfred W. Doughty, father of the new Master.
Brother Willis B. Atherton, Organist of the Lodge for thirty-five years, died on March 14, 1942.
Worshipful John L. Mattson reported on September 4, 1944, that $1623.50 had been collected for the Masonic Service Center at Ayer.
An honor roll of members of the Lodge in service in World War II was dedicated at the annual meeting on October 2, 1944, with Rev. Bro. Henry I. Bailey giving the address. Worshipful Matthew Herbert was assisted as installing officer on October 30, 1944, by R. W. Harold E. Brand, Junior Grand Warden of Vermont, as Installing Chaplain.
Worshipful Willard W. Jones, Master in 1896, and Treasurer for twenty-four years, died on August 10, 1945, at the age of ninety-three, of injuries received when struck by a taxicab.
Worshipful Gordon E. Peterson was installed on October 22, 1945, by Right Worshipful Ronald Astley — his first in Aurora Lodge. Worshipful Ernest L. Fickett had the privilege of raising his son, Robert N. Fickett, now our Junior Warden, on December 10, 1945.
The Treasurer's salary was raised from $50 to $100 a year at the annual meeting on October 7, 1946. The Secretary refused an increase at the same meeting.
Right Worshipful Ronald Astley was made an honorary member of the Lodge at the annual meeting on October 6, 1947.
Visits and exchanges of degree work were made with Aurora Lodge No. 43 of Henniker, New Hampshire, Mount Holyoke Lodge of South Hadley Falls, and Charles W. Moore Lodge during the 1948-1949 Lodge year. The following year the Aurora officers worked in Montacute Lodge in Worcester, William North Lodge in Lowell and Charles W. Moore Lodge.
During this past winter we have elected a new Secretary, Worshipful Henry F. Parker, and have increased our Lodge dues from $6.00 to $9.00 a year.
So we come to the 150th milestone, aware of the challenge of the past as we face the future. We cannot hope to be better than those who have gone before, but we can hope to be at least as good as they were.
175TH ANNIVERSARY HISTORY, JUNE 1976
From Proceedings, Page 1976-193:
By Brother Norman W. May.
The 175th Anniversary of Aurora Lodge coincides with the 200th birthday of the United States of America. As the third historian of the Lodge, it is my opinion that the past 25 years covers a significant period both for Aurora Lodge and the Nation. The reader will discover the close ties between Masonry and the United States as he reads on. One of the duties of a Mason embraces patriotism and surely North American Masonry, particularly, reveals the close association of freedom and the tenets of Freemasonry. This fact is attested to by the participation of men who were Masons in the nurture and growth of the United States. This includes Worshipful George Washington, plus many others throughout the 200 years of our country's existence right up to the present leader, Brother Gerald Ford.
The first Centennial history of Aurora Lodge covered the period June 8, 1801 to June 8, 1901 and was written by Brother Frederick A. Currier entitled "Centennial, Aurora Lodge", printed by Blanchard and Brown, Fitchburg, Massachusetts and published by the Lodge. It is an interesting account of the centennial celebration by the Lodge on June 9 and 10, 1901 which fell on a Sunday and Monday, respectively. Currier's history contains much detail of that observance. (1901 Mass. 60-71)
A second history, "Aurora Lodge, 1801-1951" (1951 Mass. 88-107), was written by the late Worshipful Kenneth Wyatt who is still fresh in the memory of many brethren and the writer, who was raised to the sublime degree of Master Mason by Worshipful Kenneth Wyatt on June 13, 1949. The first 150 years of Aurora Lodge can be read in detail in the aforementioned histories which would be interesting and informative to any Mason. For example, one can relive the days in 1801 when the Grand Master of Masons, Samuel Dunn, granted Aurora's founders who were Brothers Michael Newhall, William Brown, John Patterson, John Simonds,
Elisha Wilder, Ralph Payson, Abijah Bigelow, Joseph Hyde, William Morris, Peter Snow, Benjamin Marshall and others the full rights to form a Lodge in Leominster, all this attested to by the Recording Grand Secretary, Charles W. Moore. Worshipful Brother Michael Newhall was elected as Worshipful Master, William Brown as Senior Warden, and John Patterson as Junior Warden. It was noted that Worshipful Brother Newhall was also first Master of Trinity Lodge, Lancaster. Also of interest was the fact that the charter members included Thomas Kimball and John Goodridge of Fitchburg, Calvin Hale, Stephen Chase, Thomas Hale, Thomas Legate and Ebenezer Stewart of Leominster and Joshua Goodridge of Lunenburg, all Revolutionary War Veterans.
The population of Fitchburg at that time was 1,390; Leominster, 1,495; Lunenburg 1,243 and Westminster, 1,369. The founding of Aurora Lodge took place at the Kendall Tavern, Leominster, which is still in existence. In nearby Townsend, reposed the ashes of Worshipful Henry Price, founder of Free-Masonry in America and the first Grand Master of Masons in New England dating from July 30, 1733. One may still visit Price's tomb at the Highland Cemetery in Townsend.
At Aurora's Centennial Celebration, an urn containing a lock of George Washington's hair added to the festivities, its first appearance at any such kind of observance. It was brought to the Centennial Celebration by Most Worshipful Grand Master Charles T. Gallagher, who explained that the lock of hair was presented to the Grand Lodge by Martha Washington in 1801, when Most Worshipful Samuel Dunn, Grand Master presided and was one of the signers of the Aurora Charter. The physical presence of George Washington as well as the spiritual must have been felt strongly that day.
Another fascinating detail from Currier's history tells of some of Aurora's members attending the cornerstone ceremony of the Bunker Hill monument in June 17, 1825, with Masonic Brother General Lafayette standing by the side of the Grand Master during the laying of the cornerstone.
One hundred fifty years later, 1,000 Masons were to march up Bunker Hill in helping the citizens of Chariestown observe their Bicentennial Celebration. A good representation participated from Aurora, including your writer.
Currier chronicles many details too numerous to be recorded here. Any Mason who reads Currier's book will not only. learn about Aurora's first 100 years, but learn some U.S. history appreciating the part that Masonry played in the nation's development. Watt's 50 year history deals mainly with important personages as well as events during the period from 1901 to 1951. Highlights include the purchase of a lot and approval of $1200 to construct a monument at the entrance of Forest Hill Cemetery on June 3, 1907. The monument can easily be recognized today. During World War I, according to Wyatt, dues were remitted for all members serving in the armed forces. Purchase was made of $1500 in War Bonds, and $5000 was raised for the Massachusetts Masons War Relief Fund.
Worshipful Brother Wyatt described the Sesquicentennial observance of Aurora Lodge on June 9, 1951. The affair was held at the Fitchburg State Armory with Worshipful Master Llewellyn M. Rowe, Jr. welcoming 150 Brethren in attendance. Most Worshipful Thomas S. Roy, Grand Master of Masons in Massachusetts, was received with his suite. (1951 Mass. 85-107).
Brother Llewellyn M. Rowe, Sr. presented the original seal of the Lodge, lost for nearly a century, to Aurora through his son. Later, 502 members and their friends attended the anniversary banquet. Mayor Peter J. Levanti extended the congratulations of the City of Fitchburg to the Lodge.
Turning to the last 25 years, it can be found that those days had their momentous events, too.
In September 1951, Aurora Lodge, still in its Main Street apartments, began its 151st year. Worshipful Master Rowe finished his term as Master and Worshipful Master Stanley MacPhadden began his. At the time Brother Harry S. Truman was President of the U.S. and the Korean War was in full swing.
Aside from the Korean War, events were unspectacular those days. The Honorable Peter J. Levanti was still Mayor of Fitchburg, and His Excellency Christian Herter, Governor of the Commonwealth. Life was routine, stable, and fairly conservative, especially compared to the 70's. World War II veterans who didn't get recalled to the Korean Police Action were marrying and starting their families. No average Fitchburger was making big money, but enough to sustain a good standard of living and occasional extras. The Main Street of the city was filled with stores and Friday evenings the thoroughfare were filled with shoppers. Several movie theaters were thriving as well as a few restaurants. Aurora continued to be very active as its degree work kept the officers busy from September to June.
To reach this milestone, it is necessary in this narrative to go back once again to the year 1801, the time of founding, to the Kendall Tavern in Leominster. The Lodge resided in Leominster for 45 years. It then utilized several sites in Fitchburg for about 26 years, finally occupying the top two floors of the new Fitchburg Savings Rank Building in 1871. Many of today's members remember those apartments and the short wait for the elevator to take them up to the lodge room. These rooms served as the home for Aurora Lodge and its Brother Lodge, Charles W. Moore organized in 1865 with the permission of Grand Master Parkman and interestingly enough, Charles W. Moore, Grand Secretary. Thomas Royal Arch Chapter, Jerusalem Commandery Knights Templar, Eastern Star, Rainbow Girls and DeMolay also shared use of the apartments for 92 years.
On Saturday, November 12, 1955, Aurora Lodge No. 22 of Montpelier, Vermont by permission of the Grand Lodges of Vermont and Massachusetts, paid a visit to our Lodge and conferred the third degree on their candidate using Vermont ritual. Worshipful Edward J. Hamilton, Master of Aurora Lodge No. 22, then presented a rough ashler and a perfect ashler to our Lodge as a memento of this visit, through Worshipful Samuel R. Irons.
On November 4, 1963 we had our first meeting at Odd Fellows Hall.
On May 18, 1964, Past Masters' Night, Worshipful Brother Alfred Woolacott was presented his Past Masters' apron. This was also the day he celebrated his 72nd birthday.
On October 5, 1964, Worshipful Kenneth H. Wyatt presented Aurora Lodge a stone gavel which came from Jerusalem. Brother Robert Chadbourne, who was stationed at the American Embassy in Jerusalem at that time, purchased the gavel for Aurora Lodge and sent it to our Secretary for presentation to the Lodge.
Therefore, of the greatest significance in the 175 year history of Aurora Lodge was the construction of a temple solely owned by the Fitchburg Masonic Bodies, an edifice they could truly call their own.
Formal planning for new quarters began officially on September 15, 1954 when the Fitchburg Masonic Charity and Education Association, Inc. met to form a building committee. The representatives were Brothers Walter Blanchard, Henry Cutting, Harry W. Dole, Randall H. Doughty, Peter Paul DuBois, Harry Fergenson, Robert N. Fickett, Roger W. Fisher, Mrs. Alice Hills, Everett Kallio, O.V. Armas Laine, John W. Mackey, Peter L. Peters, and Mrs. Walter Woodruff. Articles of Incorporation and By-Laws were adopted on January 18, 1955. At that time Leominster Masonic Bodies were considering a joint venture but withdrew later.
Such an undertaking involved a great deal of work, particularly the raising of funds. It was to be nine years before the completion of the building was to be brought to fruition. A total of $284,000 was expended including cost of land on Thorndike Street, Fitchburg, the building itself and equipment. A system in which individual pledges were solicited was put into effect which resulted in a total of $172,000 raised, somewhat short of the goal of $250,000. The Masonic Bodies are continuing their efforts to reduce the mortgage and hope fully this can be accomplished in the near future.
The raising of $172,000 was due to the efforts of a large group of people representing the various spectrums of Masonry in Fitchburg.
Land was purchased at 16 Thorndike Street as previously recorded and the groundbreaking ceremony took place on April 26, 1964.
Later, on September 12, 1964, the cornerstone was laid by the Grand Lodge of Masons in Massachusetts, Most Worshipful A. Neill Osgood, Grand Master. (1964 Mass. 223-225) Artifacts relative to that particular point in time, are deposited in the cornerstone. Soon after, the construction of the Temple proceeded rapidly under the watchful eyes of Worshipful Robert N. Fickett, Chairman of the Building Committee and Brother William D. Blake, Clerk of the Works.
Finally, the dedication of the new Temple took place on Wednesday, December 16, 1964 with the joint opening of Aurora and Charles W. Moore Lodges at 5:05 P.M. (1964 Mass. 334-336)
Quoting directly from those minutes of Aurora Lodge which describes this important occasion, Worshipful Brother Wyatt wrote:
"Meeting 3997. A Special Communication of Aurora Lodge A.F. & A.M. and Charles W. Moore Lodge A.F. & A.M. was held Wednesday evening, December 16, AD 1964 AL 5964 to dedicate our new Temple. A Lodge of Master Masons was opened in form at 5:05 P.M. by Edwin W. Carlson, Worshipful Master, C. William Lakso, Senior Warden; Richard A. King, Junior Warden; John E. Stacey, Acting Secretary, and others.

The Lodge was called to recess and officers and members, along with Most Worshipful A. Neill Osgood, Grand Master of Masons in Massachusetts, and other Grand Lodge Officers, repaired to the banquet room where a delicious dinner was served by The Kendall Catering Co. Lodge reconvened at 8 :20 when the Most Worshipful A. Neill Osgood, Grand Master, and his suite were escorted into the Lodge by a committee composed of Past Masters of Aurora Lodge and Charles W. Moore Lodge, with Worshipful Robert N. Fickett as Chairman.

The following Grand Lodge Officers present were:

Most Worshipful A. Neill Osgood, Grand Master;
Right Worshipful Stanley F. Maxwell, Deputy Grand Master;
Right Worshipful Leonard Rawn, Senior Grand Warden;
Right Worshipful Burton K. Sawtelle, Junior Grand Warden;
Right Worshipful Frederick Hale, Grand Treasurer;
Right Worshipful Earl W. Taylor, Grand Secretary;
Right Worshipful Robert P. Beach, Grand Marshal;
Worshipful and Reverend Raymond W. Kendrick, Grand Chaplain;
Right Worshipful Harvey C. Haag, Senior Grand Deacon;
Right Worshipful Howard E. Perry, Junior Grand Deacon;
Right Worshipful Albert D. Tilton, Senior Grand Steward;
Right Worshipful William Low, Jr., Junior Grand Steward;
Right Worshipful Robert N. Alger, Acting Grand Tyler;
Brother and Reverend Carlton Talbott, II, Soloist, and
Brother Percy A.Y. Dunlop, Organist and a member of Wilder Lodge.


After the Grand Officers were in their stations, the Most Worshipful Grand Master proceeded to dedicate our new temple according to the ancient Masonic rites. After the dedication, the Grand Master made several remarks. He then called on the Past Grand Masters present to make a few remarks, after which he called on the four top officers to say a few words. Then he recognized the rest of the Grand Lodge Officers. The Grand Master enjoyed the singing of Brother Carlton Talbott, II, as he frequently called for a solo.

Worshipful Robert N. Fickett was called to the East and had Worshipful Samuel R. Irons and Brother William P. Blake of Charles W. Moore Lodge escorted to the East and presented each one of them a gold key to the Temple. The gold keys were presented as an expression of thanks from Aurora Lodge for the splendid work performed by these brothers.
,br> Lodge was closed in form at 10:15 P.M.

John E. Stacey — Acting Secretary
A collation was served under the direction of the Junior Warden.
It should be noted that sadly, one day after the dedication, Worshipful Brother Kenneth H. Wyatt passed away after years of devotion to Aurora Lodge.
The new building was opened to the public at an Open House held on December 27, 1964. At last the Fitchburg Masonic Bodies had their own home. The new Temple has served us well in the past twelve years.
SPECIAL MASONIC HONORS SINCE 1951
Right Worshipful Stanley MacPhadden was installed District Deputy Grand Master of the Fitchburg 13th Masonic District in December of 1954.
Right Worshipful Edgar G. Thompson, an honorary member of Aurora Lodge was installed District Deputy Grand Master of the Holyoke 17th Masonic District in December of 1954.
At the cornerstone laying at the new Masonic Temple, Fitchburg, on September 12, 1964, the then Worshipful Samuel R. Irons was presented the Joseph Warren Distinguished Service Medal in recognition of the time and service that he had given to the Craft. The presentation was made by Most Worshipful A. Neill Osgood, Grand Master of Masons in Massachusetts. This was the first time in Massachusetts history, that the Joseph Warren Medal had been presented to a Mason in public.
In December of 1964, Right Worshipful Samuel R. Irons was installed District Deputy Grand Master of the Fitchburg Masonic District.
On December 27, 1969, Right Worshipful Samuel R. Irons was installed Junior Grand Warden of our Grand Lodge. This installation made him the first member of Aurora Lodge to become a permanent member of Grand Lodge.
On December 27, 1971, Right Worshipful Samuel R. Irons was installed as a Grand Lecturer of Grand Lodge, a position he still holds today.
On September 18, 1972, Brother Henry E. Potts received the Joseph Warren Distinguished Service Medal in recognition of the time and service he had given to the Craft.
On September 28, 1970, Right Worshipful Samuel R. Irons, as Junior Grand Warden of the Grand Lodge of Massachusetts and being the senior officer within the State, was acting as Grand Master and paid Aurora Lodge a fraternal visit in that capacity.
On March 9, 1970, a reception for Right Worshipful Samuel R. Irons, Junior Grand Warden was held, with Worshipful David W. Aldrich, Master. The Henry Price Medal was presented to our new Junior Grand Warden by Most Worshipful Herbert H. Jaynes, Grand Master.
On May 17, 1976, Worshipful George J. Rollins, Sr., was presented a Certificate of Meritorious Service to the Craft.
During the last 50 years, Aurora Lodge has had two father and son combinations serve in the East. Worshipful Ernest L. Fickett served as Master in 1922. His son, Worshipful Robert N. Fickett was installed Master on October 27, 1952 by his father. Right Worshipful Stanley MacPhadden was installed Master on October 27, 1951. His son, Worshipful Stanley B. MacPhadden was installed Master on October 30, 1971 by his father.
At the time of this writing, it must be assumed that we will have another father and son combination to add to this list. Worshipful Philip W. Nussey was installed Master on October 29, 1960. His son, Scott P. Nussey, our present Senior Warden, will be presented and hopefully elected to serve as our Master the first meeting in June. It is also assumed that Worshipful Philip W. Nussey will install his son to be our Worshipful Master in October of 1976.
In addition we have had one father-in-law and son-in-law combination. Worshipful George J. Rollins, Sr. was installed Master on October 27, 1956, by Right Worshipful Ronald Astley, an Honorary Member of Aurora Lodge. On October 26, 1974, Right Worshipful Ronald Astley returned to our Lodge and installed Worshipful George J. Rollins, Sr. as Master of the Lodge a second time. This is the first time since Worshipful Fred A. Tolman was installed Master a second time in 1900, for a Master to serve our Lodge twice.
On October 18, 1975, Worshipful Jack A. McCann (son-in-law of Worshipful Brother Rollins) was installed Master by Most Worshipful Stanley F. Maxwell, Grand Master of Masons in Massachusetts. The installation took place in Leominster at the former Kendall Tavern, where Aurora Lodge was founded. The former Tavern is now the home of Mrs. Irwin Cohn. The quarters used by Aurora Lodge on the third door, are basically the same as they were in 1801. The benches against the walls are still there and all the windows have sliding shutters. There are also two fireplaces on the north side of the room that our brethren used for heating.
What will the next 25 years bring to Aurora and its members? Who can say? But as the Lodge heads for its own Bicentennial in the year 2001 A.D., the ancient truths and teachings of the Fraternity remain forever valid. The past accomplishments of Aurora's members should be a continuous inspiration to old and new brethren who should see the 200th Anniversary of Aurora Lodge. Your writer hopes to be present at that happy occasion.
EXCERPT FROM CENTENNIAL HISTORY, DECEMBER 2004
From Proceedings, Page 2004-162:
AURORA LODGE, A. F. & A. M.
CENTENNIAL ANNIVERSARY
June 9, 1901
The old Kendall Tavern, erected about 1785, and whose sign for over 50 years announced that "refreshments for man and beast could be found within," is still in a good state of preservation, showing the honest work in its construction. The extensive barns have long ago disappeared, and it has for many years been occupied as a farmhouse.
As the birthplace of Aurora Lodge, it has a special interest to our members, and is one of the reminders of the changes that have occurred since the beginning of the 19th century, when Turnpike Companies, now almost unknown, were in their glory, and deemed one of the greatest of improvements in the march of "rapid transit." As the terminus of the Fifth Massachusetts Turnpike, "which extended from Northfield to Jonas Kendall's tavern in Leominster," one of the principal highways of travel from Boston to Greenfield, Vermont and to Canada, the four and six horse coaches dashing along with heavy loads of passengers, and the long lines of teamsters transporting merchandise to and from Boston, made it a busy thoroughfare.
As one of the regular stations for changing stage horses, the old tavern was the scene of great activity. From its location it was a convenient meeting place for brethren from the neighboring towns. Leominster at that time was the largest place, having 1,495 inhabitants, Fitchburg 1,390, Westminster 1,369 and Lunenburg 1,243. The end of the century finds almost ten times as many people in these four towns, Fitchburg with 31,531, Leominster 12,392, Lunenburg 1,332, and Westminster 1,327. The coming of the railroad ended the days of the stagecoach, and travel was diverted from the old road, which today does not probably see one-quarter of the travel of one hundred years ago.
(From the "Centennial Memorial of Aurora Lodge, A.F. & A.M." by Bro. Frederick A. Currier, published by the Lodge, 1901)
OTHER
---
EVENTS
ST. JOHN'S DAY, JUNE 1828
From Amaranth, or Masonic Garland, Vol. I, No. 3, June 1828, Page 93:
The members and brethren of Aurora Lodge, (with such Lodges and Chapters as have been invited to unite with them) will celebrate the anniversary of St. John the Baptist, at Leominster, Mass. on Tuesday the 24th inst. The exercises will commence in the meeting-house precisely at 11 o'clock. Address by Br. J G. Carter, of Lancaster.
From Amaranth, or Masonic Garland, Vol. I, No. 4, July 1828, Page 124:
The anniversary of the patron saint of Freemasonry was celebrated at Leominster on the 24th of June last, by Aurora Lodge and other Lodges in the vicinity. Thomas Chapter from Princeton, also attended by invitation. A procession was formed of two hundred brethren, and about one hundred ladies, which with a band of music, moved to the meeting house, where after prayers, a truly excellent oraLion was pronounced by Brother J. G. Carter, of Lancaster. The effect of these performances was much increased by the fine manner in which the hymns, &c. were sung, accompanied by the organ. On leaving tho church, the procession proceeded to a tent erected on an adjoining green, where a sumptuous dinner was provided by Capt .E. Balch. A dinner was also prepared for the ladies in the hall of the hotel. R. W. Benjamin Rugg, Master of Aurora Lodge, presided. After dinner many sentiments were given, from which the following are selected.
Freemasonry. She has descended from heaven to lead us home.
Freemasonry. Man cannot destroy her, for she is blessed by God.
The following toast was sent to the ladies:
The ladies. Heaven's best gift to man: let the gift be gratefully received and fondly cherished by every Mason.
From the ladies to the masons:
The Masonic Fraternity. We have Faith in their good intentions, Hope for success, and Charity for their imperfections.
FEAST OF ST. JOHN THE BAPTIST, JUNE 1846
From Moore's Freemason's Monthly, Vol. V, No. 10, August 1846, p. 297:
MASONIC CELEBRATIONS JUNE 24, 1846 AT FITCHBURG, MASS.
The anniversary of St. John the Baptist, was celebrated at Fitchburg, Mass., on Wednesday, 24th June, under the direction of Aurora Lodge. The day was favorable, and the number of Brethren present was larger than usual on such occasions, though smaller than it would have been had not the weather for several days previous been stormy. We had no opportunity of ascertaining the precise number in the procession, but estimate it at six hundred, including about four hundred Masons and two hundred ladies—the wives and daughters of Masons.
The procession was formed at eleven o'clock, under the direction of Col. Ivers Phillips, Marshal of the day. Escort duty was admirably performed by the Boston Encampment of Knights Templars, under the command of R. W. Br. Winslow Lewis, Jr. The ranks of this excellent corps of the "Military Brotherhood," were full, and we have rarely, if ever, been more gratified with their general appearance. So far as our acquaintance with similar bodies extends, they stand unrivalled in the order of Masonry to which they belong, whether within their asylum or on public parade.
In the procession, were the Grand Lodge and Grand Chapter of the State, with their banners. The Grand Council of Princes of Jerusalem made their first public appearance, in their rich and expensive regalia, and added largely to the beauty of the procession. This body, in the absence of Ill. Br. E. A. Raymond, (who appeared in his place as S. G. Warden in Grand Lodge,) was under the command of Ill. Br. Enoch Hobart. It attracted much of the attention of the spectators, and was cordially welcomed by the Brethren. Besides these, there were a large body of Royal Arch Masons, and some eight or ten Lodges, the names of which we did not note down at the time, and have now forgotten.
Soon after the procession was formed, it proceeded to the dwelling house where the ladies were assembled, who were received under a salute from the escort. The procession then marched through the principal street of the village, counter marched, and proceeded to the Unitarian Church, where the following exercises took place :
VOLUNTARY, By Flagg's (Boston) Brass Band.
PRAYER, By Rev. Br. Albert Case, of Worcester.
HYMN, No. 85, from Br. Power's Masonic Melodies; Music: Bermondsey.
Blest Art of ancient fame !
Let echo's voice proclaim
The welcome word :
May this divine decree-
Man's dearest bond shall be
Indulgent Charity—
Still sound aloud.

When Chaos fled from earth,
Then Order first had birth
ln forms of Light:
'Twas Wisdom's own behest,
That Strength should ever rest
Where Beauty stood confessed,
In radiance bright.

Then God's most perfect plan,
In love to feeble man,
Was kindly given:
With Level, Plumb, and Square,
Form rose from rudeness there,
Proportions just and fair,
The boon of Heaven.

Should sorrow seek relief,
Then be another's grief
In mercy there;
Kindness for human woe,
Soft pity's warmest glow,
Let each true Brother know,
Our constant care.

Come, join a Brother's joy;
In sweetest song employ
This festal day;
Let each fraternal tie
Its purest Faith imply,
Our Hope still fixed on high,
In clouudless ray.
READING OF THE SCRIPTURES, by Rev. Br. Case.
HYMN, No. 84, from from Br. Power's Masonic Melodies; Music: The Indian Philosopher.
When darkness Veiled the face of man,
Then Light, with radiant beams, began
To cheer his clouded way ;
In graceful form to soothe his woes,
Then Beauty to his vision rose,
In bright and gentle ray.

Immortal Order stood confessed,
From Farthest East to distant West,
In columns just and true :
The faithful Plumb and Level there,
Uniting with the trusty Square,
The temple brought to view.

Descending, then, from Heaven most high,
Came Charity, with tearful eye,
To dwell with feeble man ;
Hope whispered peace in brighter skies,
On which a trusting Faith relies,
And earth's best joys began.

Abroad was seen the boon of Heaven ;
Fraternal Love was kindly given,
And touched each kindred heart:
The sons of Light, with transport then,
In kindness to their fellow-men,
Unveiled the gentle Art.

Let grateful paeans loudly rise,
O'er earth's domains, to azure skies,
As time shall onward move!
A Brother's joy and woe shall be
Undying bonds to mark the free,
To wake a Brother's love.
ORATION. By Br. John H. Sheppard.
ODE.
BENEDICTION.
OLD HUNDRED. By the Audience.
The Oration by Brother Sheppard was full of classic beauties and rich imagery. It was the production of an elegant scholar—enriched by a vivid imagination. Some portions of it were of surpassing beauty. A contemporary, in speaking of it, says:— "It was the testimony of an honorable, talented, and upright man and worthy Mason of thirty years standing,—who has gone through nearly all the degrees or orders,—in favor of Masonry. The orator gave some humorous hits at the various new-fangled doctrines and humbugs of the day, and concluded with an eloquent appeal to the Brethren to take measures to erect a suitable monument, at Mount Vernon, over the remains of Washington—who was an illustrious and worthy member of the Order, and who has left on record his testimony in favor of the institution and its principles." We are happy in being able to state that the address has been published by the Lodge before which it was delivered, and is on sale at the bookstores in this city.
The prayer by the Rev. Br. Case, was a fervent, eloquent and impressive invocation to Deity,—worthy of the high reputation of that excellent Brother as a preacher of the Gospel and a practical and devoted Mason. The music by the choir was excellent and added much to the interest of the services in the Church.
The dinner was provided by Messrs Jaquith & Comee, and served np in a spacious pavilion on the square in front of the Church. The tables were well arranged, and abundantly supplied with whatever the market afforded. The inte¬ rior of the pavilion was tastefully decorated with flowers and evergreens, under the direction of the excellent lady of the junior partner—who is the daughter of a most excellent Mason, and who inherits no inconsiderable share of the Masonic fervor of her respected father.
In the absence of the Master of the Lodge, the Senior Warden, Dr. J. A. Marshall, presided at the table, to the entire acceptance of the company. Owing to the early hour at which the cars left for the city, little opportunity was afforded for sentiments or speeches. Some of the Brethren, however, seemed very much disposed to improve, in this way, the time allowed them, and some excellent speeches were made, and sentiments given. In fine, the occasion was one which will long hold a place among the pleasant recollections of the past. We believe that all were satisfied with what they saw and heard, and participated in. The ceremonies took place in one of the most beautiful and romantic villages in New England, and in the midst of an intelligent, liberal, and respectful community. It was a holyday, in which all present, whether Masons or not, seemed to rejoice. And indeed it could not well have become otherwise, for an army of Ladies were there, with their bright eyes and smiling faces!
We understand that the celebration next year will be held at Worcester, under the direction of Morning Star Lodge.
INSTALLATION, SEPTEMBER 1856
From Moore's Freemason's Monthly, Vol. XVI, No. 1, October 1856, Page 32:
The officers of Aurora Lodge at Fitchburg, were publicly installed on the evening of the 21st ult.; after which the Brethren, with their ladies and invited guests, sat down to an elegant supper, provided for the occasion by the Lodge. The officers of Grecian Lodge at Lawrence were also publicly installed on the Friday preceding, the members and their ladies partook of a supper together. These reunions are pleasant and profitable, inasmuch as they promote sociability among the Brethren and afford an occasion when the ladies may properly be introduced into the Lodge room. They at least help to do away with much of the apparent selfishness of the Order.
INSTALLATION, SEPTEMBER 1857
From Moore's Freemason's Monthly, Vol. XVII, No. 1, November 1857, Page 9:
On Monday, Sept. 28, 1857, the M. W. Grand Master, John T. Heard, Esq. with his Wardens, Grand Secretary and others, by particular invitation, visited Aurora Lodge, at Fitchburg, and installed their Officers for the coming year. They were as follows:
Charles Fessenden, W. M
William Kimball, S. W.
Moses G. Lyon, J. W.
Asher Green, Treas.
James P. C. Cummings, Sec'y.
Jonas A. Marshall, S. D.
Henry A. Spooner, J. D.
Henry J. Lowe, S. Std.
Henry T. Pratt, J. Std.
John W. Wheeler, Marshal
Martin Newton, Tyler.
This flourishing Lodge was chartered June 8, 1801, at Leominster, an adjacent village, and since removed to the growing and prosperous town of Fitchburg. It was a cheering sight to look around their cosey and convenient Lodge-room and see such a cluster of fine-looking substantial Brethren, who for more than half a century have principally sustained this Lodge. There were many silvery locks and venerable forms, which brought back the memory of other days, and the appearance of the younger members was a pleasing omen of the future success of this Lodge. The address of our Grand Master was very appropriate, replete with instruction, and well calculated to promote among the members personal knowledge of the Art, and to instill a due caution and rigid scrutiny, both in bestowing charity on wanderers, and in receiving candidates for the degrees. He enjoined an unfailing attendance at the communications of the Grand Lodge. An hour was thus profitably employed, and every word which fell from his lips — delivered without note, in that frank and animated manner which comes from a soul deeply interested in our noble Institution — was listened to with deep attention. The hall was filled to overflowing by the Brethren and our fair sisters who honored the occasion. The little band — I think only a Quaternion of voices — with the aid of a Seraphine, gave us a treat of melody. For, it is worthy of remark, there are sometimes at concerts and on public celebrations, voices heard, so very highly cultivated and with such a pulmonary strain, that they rend the ear of a lever of Music. There was no attempt there at such fashionable super-excellence. Modern screaming has not yet reached the beautiful vale of Fitchburg. There was no vocal artist rising on octaves to the third heavens, nor dancing a rigadoon among aerial crotchets, nor exciting the plaudits of a gaping multitude by a double shuffle among starry appogiaturas. There was no hanging between heaven and earth on a discordant trill until the breath was almost gone. On this occasion we had the music of rich, sweet voices — it came from the heart — it reached the heart.
An elegant collation followed the ceremonies at the Lodge-room. It was given by Aurora Lodge at the American House, kept with much credit to himself and the place, by Mr. Comee. Brother Charles Fessenden, Master of that Lodge, presided. There was much beauty in the hall; whether the flowers which crowned the feast reflected their colors on the ladies, or their own fine complexions gave fresh coloring to the boquets, I will not decide. It is pleasant to see our sixers present at such convivial hours. They not only exhilarate the hearts of the Brethren but soften and temper noisy hilarity, which sometimes arises.
The president drew out several smart speeches from the officers and guests — all which, as they say editorially on great and stirring occasions, were received with — unbounded applause.
VISIT TO THE GRAVE OF HENRY PRICE, SEPTEMBER 1857
From Moore's Freemason's Monthly, Vol. XVII, No. 1, November 1857, p. 11:
At an early hour on Tuesday following the festival of Aurora Lodge, at Fitchburg, as noticed in another place, the M. W. Grand Master, John T. Heard, with Bradford L. Wales, S. W., John H. Sheppard, J. W., and Charles W. Moore, G. Secretary, visited Townsend, where lie the allies of our first Grand Master, Henry Price, Esq. The spot is about ten miles N. E. from Fitchburg, and we visited it under the charge and kind attentions of Brother James P. C. Cummings, M. D. A winding road over hill and dale, beautifully diversified at this season of the year by the various hues of leaf, flower and field, as we rolled along with a pair of fine horses, gave a refreshing zest to the excursion. It was a visit to the Mecca of Masonry in America; although we saw no Mohammedan Black Stone there, yet we do hope, that where a slate slab now stands, there will one day be a White Stone, such as Christians erect to the memory of worth.
At our arrival at Townsend, we had to make several inquiries before we found the dwelling of Mr. William Wallace, the only surviving grand child of our first, and distinguished Grand Master; — a man about 66 years of age — an old bachelor — living alone in a humble collage of a single story and single room, ten by twelve feet in dimensions — and situated on the brow of a hill. He had just risen, as we knocked at the door, from a small table by the wall-side covered with the fragments of his dejeuner. One corner of the room was the miniature of a cooper's shop, judging Irom the tools and a heap of shavings lying there, and in the middle was a cooking stove, and behind the door his homely couch. The building stood a few rods from the gate, overlooking his pauca jugera — as Horace calls his Sabine farm — about six acres of land, where he cultivated a small patch of potatoes, a few cabbages and some half dozen apple trees. Here dwelt in humble circumstances the immediate and only surviving descendant of one, who in his day was an opulent Merchant, accustomed to refined society and at the head, and, indeed, the founder of Freemasonry in this Western World. He was truly an original — another Robinson Crusoe — such a recluse did he appear in his attire, and in the wild and withered garniture of his face, where a grey and grisly beard cast a shadow over his features.
We found him very kind and communicative. He pointed out the spot on the opposite side of the road, where once stood the farm house of his grandfather, in which, among rural scenes and occupations, he spent his declining years. Not a vestige of the house remains, but he showed us an ancient Pear tree, near the site, which was transplanted by his grandfather from his garden in Menotomy, when he removed from West Cambridge to Townsend, where he at first had a mere summer residence and finally made his only home. It was suggested that this pear tree ought to be purchased by the Grand Lodge and converted into furniture and ornaments for our hall, as a memorial of this excellent man. The cherishing and veneration of remembrances of virtue are incentives to duty, and it is delightful to look at every sign and token of those endeared to us. Things in themselves indifferent, may become powerfully suggestive, in some circum stances, to memory, and awaken a train of feelings, which the best and wisest of our race have ever loved to cherish.
The interview with Mr. Wallace was the more interesting, because it was with him our Grand Master corresponded on the situation of the grave of Henry Price, Esq. From him. consequently, came the generous donation of the only existing and true portrait of our first Grand Master, which now adorns the walls of our Grand Lodge room in the Temple, already embellished with so many pictured faces of our distinguished officers. The resemblance of the grandson to this Portrait was very striking — the same prominent contour of features and lineament of expression. Mr. Wallace, after having been handsomely remem bered for the trouble we gave him, directed us to the spot where the remains of his grandfather were laid in the old village cemetery. We found the church-yard on our return without difficulty. It is on the western side of the county road. About two rods from the gate and nearly opposite to it the large slate-stone attracted our notice : — a slab three feet square with a circular top. On the face of it was the sculptured epitaph, traced in plain, clear outlines, and so deep as to resist the winds and rains of more than seventy years, which had injured or effaced the inscriptions on very many of the numerous dark grave-stones surrounding it. But, this needed no mallet nor chisel of Old Mortality to bring out and restore to view the dim and fading characters on the tablet. The following taken from Brother Moore's interesting sketch of Henry Price, Esq., in the appendix to the Constitutions of the Grand Lodge, is a correct copy : —
IN MEMORY OF
HENRY PRICE, Esq.
Was born in London about the year of our Lord 1697.
He removed to Boston about the year 1723 ;
Received a Deputation Appointing him Grand Master of Masons in New England;
and in the year 1733 was appointed a
Cornet in the Governor's Troop of Guards,
with rank of Major.
By his diligence and industry in business,
He acquired the means of a comfortabie living,
With which he removed to Townsend
In the latter part of his life.
He quitted Mortality the 20th of May, A. D. 1780,
Leaving a widow and two young daughters,
With a numerous company of friends and acquaintances
to mourn his departure,
Who have that ground of hope concerning his present lot
which results from his uudissembled regard to his Maker
and extensive benevolence to his Feltow Creatures,
manifested in life
by a behaviour consistent
with his character as a Mason,
And his nature as a Man.
This ancient cemetery is full of graves, and grey or dark brown slate stones are thickly scattered in every direction. I saw but one white tomb-stone in the whole circuit of vision. There was one slab like that at the grave of Henry Price ; it contained the memorial of the venerable clergyman of the village. This dwelling place of the dead is sequestered and lonely, and bounded by a thick forest of evergreens. It commands an extensive view of the village, fields and encircling hills. A stranger, who looks back on the early settlement of this mountainous part of Massachusetts, cannot gaze on these silent tenements of a great congregation of the dead of other limes, without solemn reflections. It is on such a spot, in a quiet village, among pastoral scenery, that we feel and realize the simple melody of that exquisite production, Gray's Elegy in a Country Churchyard,
"Beneath those rugged elms that yew trees shade,
Where heaves the turf in many a mouldering heap,
Each in bis narrow cell forever laid
The rude forefathers of the hamlet sleep."
But among these humble memorials, doomed at a future day to oblivion, from the perishable nature of the material, let not the ashes of the first Grand Master of Masons in America be exposed to ruthless neglect. The letters on the dark slab of slate .erected to his memory, in a few years will become illegible, and the grave itself will be forgotten, unless some more durable monument be raised to perpetuate the spot. This Cemetery is already forsaken and has become obsolete: and another and larger Churchyard, more convenient and in tended to be tastefully laid out and decorated with trees and shrubbery, attracted our eye as we passed by the hill-top. Consequently, neglect of this one will only hasten the natural decay which time produces, and make it hereafter an oblivious field, a nameless tenement, of the buried dead of other generations. As our little company grouped around this humble tablet of slate — already touched by the finger of lime — it seemed as though I heard a voice from the ground where lie the ashes of our distinguished Grand Master, calling on the great Fraternity to remember the founder of Freemasonry on this Continent, and leave some enduring vestige of gratitude and affection on the spot — some modest column of eternal remembrance over his remains. Such a tribute is due to our ancient Grand Master — such a memorial to Masonic worth. True, his portrait adorns our Grand Lodge room ; and among the endearing pictures of his admired successors, which embellish the walls, it looks down over the pillar of the R. W. Grand S. W. in the west; but that is not enough. It is confined to our own sanctuary. Let the world around us see how we honor the memory of patrons and eminent Brethren.
To recall the virtues of the good and great — to look on the monuments, and portraits, and memorials of men who have done the world some good, re-acts on our own hearts. It inspires better resolutions for the time to come; it invigorates us in the path of duty ; and it awakens an ardent desire of imitation. "Quam multas nobis imagines, non solum ad intueridum, veium etiam ad imitaudum, fortissimorum virorum expressas scriptores et Graci et Latini reliquerunt! quas ego mihi semper in administranda republica proponens animum et mentem meam ipsa cogitatione hominum excellentium conformabam." "How many pictures of the bravest of men have the Greek and Latin writers left, not only to contemplate, but likewise to imitate! These illustrious models I always set before me in the government of the State, and formed my conduct by contemplating their virtues." Thus spake Cicero nearly two thousand years ago — in his splendid defence of the poet Archias.
All nations have felt the influence of such remembrances of worth on the people. Greece was full of splendid pictures, monuments, statues, and temples, in her days of glory. The ruins of the Doric temple erected to Theseus, still charm the traveller. Pictorial entablatures, fallen pillars, and broken columns, still survive to speak the gratitude and the glory of Athens. The Tumulus or Sepulchral Mount raised between the two great marshes on the plains of Marathon, still reminds the traveller of a greatness never surpassed in the life and death-struggle of freedom. There, says Byron,
"The Mountains look on Marathon, And Marathon looks on the sea."
Italy abounds in memorials to departed excellence. Trajan's lowery column yet shadows the spot in Rome where his ashes lie. When Cicero was quaestor in Sicily, he explored the tomb which Marcellus raised over the remains of Archimedes, and he found it amidst thorns and thistles by the discovery of the cylinder and sphere sculptured on the stone. The most beautiful exhibitions of architecture and the richest designs of sculpture were devoted to the illustrious dead.
We might dwell upon this subject with profit: but the detail would fill volumes: for in numerous localities in Europe and Asia, and all along the primeval banks of the Nile, successive monuments, mausoleums, columns, temples, and pyramids, rise up to memory before the mind's eye. Nor would our ancient Fatherland in her remembrance of the dead, be cast into the shade. All England speaks of such memorials, and in the deep vaults and death- chambers of her Westminster Abbey, a multitude of shrines and statues of her great men, stand forth amidst the awful imagery of the place and emerge into light. Scotland, too, has not been deficient in her obituary of worth. In Edinborough the splendid monuments to the memory of our illustrious Brethren, Burns and Walter Scott, loom up in bold relief. Indeed, there is scarce a church or cathedral on the continent of Europe or in Great Britain, in which monuments, effigies and tablets, in honor of the lamented dead, do not appear, as handed down by the gratitude of hoary centuries.
Within a few years, the attention of our own country has been awakened, and the eye of the nation fixed on this solemn, yet heart-moving subject — the memory of the great and good. Need I refer to the lofty obelisk on Bunker-Hill, or the gorgeous and magnificent structure now being erected in the capital, to the honor of our deathless Washington? And the recent inauguration of the statues of Franklin and Warren is familiar to every one.
A change, too, has come over us, touching the adornment and sacredness of church-yards. It is not a very distant period of time, when burial-places, especially in country villages, were the most neglected spots in the land. With ragged, shattered fences, or none at all — without path or alley — exposed to the unhallowed tread of cattle and beasts of the field — covered with brambles, thistles and briars — with grave-stones broken or almost prostrate on the ground — and in some cases, on the side of sandy hills, with coffins exposed to sight. Such is an unvarnished picture of a country church-yard not very long ago, in many parts of New England, — a place which ought to be holy ground, called, by our Saxon ancestors, " God's Acre," and yet seldom or never visited, except when the mourner was forced there in the funeral procession to follow the remains of some friend to the neglected spot. Even a Turk, whose country has ever been remarkable for the embellishment and veneration of the homes of their dead, would then have blushed at such depraved taste in a land of light and knowledge. But another and a better spirit prevails everywhere, and we trust that all this barbarous neglect and savage indifference have disappeared forever from this Christian land. Not only in numerous towns and villages have neat and appropriate enclosures been prepared, but many of our cities have laid out and adorned large and splendid cemeteries, surrounded by all the beauties of nature. In some of them the sepulchres of the dead are touching landmarks of affection, rising among groves, and winding walks, and on the hill top or by the river's side, in the midst of landscape scenery. Where the dead repose in retired places, among the loveliest imagery of nature, where the birds of music fill the groves, and the tree buds and the flower blooms with the earliest zephyr of spring, it seems as though the spirits of our much loved friends were around us, invisible to the eye, but whispering better, holier thoughts. Of this description are the beautiful localities of Mount Auburn in the vicinity of Boston — Greenwood Cemetery of New York — Laurel Hill in Philadelphia — and Green Mount in Baltimore. Many others might be named: such as Forest Hills in Roxbury, and Wood Lawn in Chelsea, and Mount Hope in Bangor.
If, therefore, such veneration has been paid in all past times, to the memory of patriots, warriors and learned or holy men, why should not our Fraternity — now spreading over thirty-two States, from the waters of the St. Croix to the Rio Grande, from the Atlantic to the Pacific oceans — why should not cur Fraternity remember its founder and first Grand Master of Masons in America?
I repeat it again and again, that we owe a monumental tribute of our respect and affection to the honored memory of Henry Price ; something beyond a humble) homely, perishable slate grave-stone, only distinguished in that old cemetery by its being a little larger than its surrounding companions. A memento more conspicuous and durable, it is our duty to erect ; and let the present slate tablet be removed to the walls of the Grand Lodge room of Massachusetts, and like those venerated tomb-stones, which adorn Cathedral walls in Europe, be pre served in our sacred retreat. Let the heart hut feel its importance, and the hand of our loyal Brethren will readily open to its execution.
A handsome Monument of Italian marble can be erected without a heavy cost. It can be finished and placed on the spot, enclosed by a neat, and substantial iron railing, for three hundred dollars. But, we may do more than this : and the way and manner are plain without being burdensome to our Brethren, or a severe encroachment on our Grand treasury. Let the Grand Lodge appropriate, say two or three hundred dollars, to this object, and every Lodge in this Common wealth — and there are nearly one hundred at this time — devote a sum not less than five dollars ; and thus a thousand dollars could be raised. Then might a rich and elegant Monument stand conspicuous in that ancient Cemetery, and tell the world how good and true Masons love one another, and honor the virtues of departed worth.
Should this proposal meet the generous feelings of the Brethren, we may see, next summer, the noble work accomplished, and the Grand Lodge of Massachusetts may have the opportunity, if they see fit, at our next festival of Holy St. John, in June, to consecrate a titling memorial to Henry Price, on the spot, with clue and august ceremonies. --S.
SOCIAL LEVEE, FEBRUARY 1860
From Moore's Freemason's Monthly, Vol. XIX, No. 5, March 1860, Page 160:
The members of Aurora Lodge at Fitchburg gave a Social Levee and Ball at the Fitchburg Hotel on the 23d February. Engagements in another part of the State prevented our accepting an invitation to be present, but we understand that it was as eminently agreeable and successful affair. It has been the practice for several years past among the members of this excellent Lodge to afford their female friends an opportunity once a year to mingle with and make the acquaintance of the Masonic associates of their husbands, fathers and brothers, and thus to soften down in some degree the rough corners of the necessary exclusiveness of the Lodge room. The practice is a good one and we could wish that it was more generally in vogue.
ANNUAL DINNER, OCTOBER 1865
From Moore's Freemason's Monthly, Vol. XXIV, No. 12, October 1865, Page 370:
It has been the custom for many years past with this energetic old Lodge to hold a Public Installation of its Officers, and to give an Annual Supper, to which the families and lady-friends of the members are invited, though we believe that for the last two or three years, on account of the war, and the consequent absence of many of its members, the custom has been allowed to fall into abeyance. It was, however, renewed the present year, and came off on the evening of the 12th ultimo. The attendance of the Brethren and ladies was considerably in excess of the ball- accommodations, though all were made as comfortable as they well could be, under the circumstances, and the pressure of an excessively warm evening. The ceremonies of Installation were performed by the M. W. Grand Master, assisted by his officers. At the conclusion of these the G. Master addressed the Lodge and the visitors present, referring to the early history of the Lodge, its uninterrupted success for the long time of sixty-four vears, and its faithfulness and loyalty to the parent Body. He also referred in appropriate and impressive terms to the general principles of the Institution and the great objects it has in view. His remarks fell onattentive ears, and apparently afforded gratification to his large and intelligent audience. The Music was performed by a fine quartette choir, and added largely to the interest and pleasure of the occasion.
At the conclusion of the ceremonies in the hall a procession was formed and the company proceeded to the Fitchburg Hotel, (an excellent public house,) where they sat down to a bountiful and well-served Supper, and where the ceremonies of the evening were interspersed with brief speeches by Bros. Parkman, Moore, Dame, Bancroft, and others. The occasion was an exceedingly agreeable one, and we trust not altogether unprofitable in its results.
The officers installed are as follows:—
John Barney, W. M.
Charles S. Litch, S. W.
C. H. B. Snow, J. W.
Arnold Wilson, Treas
S. W. Huntley, Sec.
Henry Allison, S. D.
Francis Shelden, J. D.
Henry G. Morse, S. S.
Henry S. Hitchcock, J. S.
William Kimball, Marshal
D. C. Brick, Chaplain
James Peirce, Tyler.
We had forgotten to say in its proper place, that at the conclusion of the Installation services the retiring Master, Brother M. G. Lyon, was presented with an elegant Past Master's Jewel, in gold, by Brother G. H. B. Snow. The speeches were appropriate, and that of the retiring Master especially interesting for its reminiscences.
125TH ANNIVERSARY CELEBRATION, JUNE 1926
From New England Craftsman, Vol. XXI, No. 8, June 1926, Page 226:
Aurora Lodge, A. F. & A. M., of Fitchburg, celebrated its 125th anniversary June 7 with a banquet, speaking and entertainment program in Masonic Hall. Loring E. Harkness, Master, presided. About 150 members of the order from this and other cities attended. Officers of the Grand Lodge were present and spoke. The lodge was founded in this city June 8, 1801, on Turnpike Road.
150TH ANNIVERSARY CELEBRATION, JUNE 1951
From New England Craftsman, Vol. XLVI, No. 7, July 1951, Page 110:
Aurora Lodge, Fitchburg's oldest Masonic lodge, celebrated its 150th anniversary recently with more than 500 persons attending its special programs at the Masonic hall and armory.
The program opened at 4 when Rev. Dr. Thomas S. Roy of Worcester, Grand Master of the Grand lodge of Masons in Massachusetts, was received with his suite of officers by a committee of Past Masters of Aurora Lodge headed by Albert Taylor.
"I take off my hat to the men who kept Masonry alive during the years of persecution," said Dr. Roy. "They were not interested in just making a living but in making a life. The influence of Free Masonry on the community and the country is so great that it is immeasurable." Dr. Roy recalled coming to Fitchburg 38 years ago to serve as student pastor of Beth Eden Baptist church in West Fitchburg.
Alton L. Miller, Deputy Grand Master, spoke on "Invariance," and called the lodge an invariant in the community in which it has existed 150 years. "The men who make up its ranks," said Mr Miller, "have come and gone but the lodge goes on unchanged."
Kenneth H. Wyatt, chaplain of the local lodge, gave its history, Llewellyn M. Rowe, Sr., presented the lodge with its original seal which had been lost for nearly a century and recovered by Mr. Rowe when he was examining old metal in a house in this city. The seal was presented in a dustproof case made by Richard Parker.
Robert B. Donaldson was awarded a 50 year veterans' medal by Rev. Dr. Roy. William H. Hamilton of Buffalo, N. Y., master of the local lodge in 1906, was the oldest of the 21 past masters in attendance. He and Mrs. Hamilton, who accompanied him here, were also present at the 100th anniversary of the lodge.
While the program was being conducted the women guests were entertained at Oak Hill Country Club by tha wives of Aurora lodge members.
Mayor Peter J. Levanti attended the banquet served in the armory and extended greetings from the city. The entertainment program included solos by Eric Anderson of Worcester and selections by the Wellington ensemble under the direction of George W. Wellington.
INSTALLATION, OCTOBER 1984
From TROWEL, Spring 1985, Page 31:
On Oct. 27, 1984, before a capacity attendance, Aurora Lodge of Fitchburg, MA, held the 184th installation of its officers at the Masonic Temple, 16 Thorndike St. Masons and guests were present from throughout the Fitchburg 13th Masonic District.
In a unique manner, all of the installing suite were Past D. D. G. M.'s as pictured in the photo.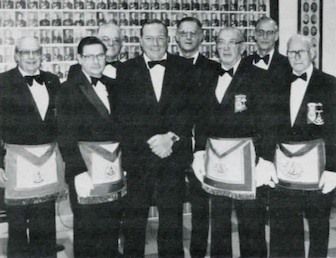 Front Row: R. W. George M. Rodgers; R. W. Richard S. Sleeper;
the Master-elect for the second consecutive year, Wor. Philip E. McNally; R. W. Arthur E. McLean, and R. W. Milton G. Peterson.
Second Row: R. W. John L. Bemis; R. W. Donald P. Baker; and R. W. John E. Stacey.
CEMETERY PLOT DEDICATION, SEPTEMBER 1993
From TROWEL, Spring 1994, Page 25:
On Saturday. September 11, 1993, M. W. David W. Lovering, Grand Master, and Suite traveled to Fitchburg to dedicate Aurora Lodge"s Cemetery Plot in Forest Hill Cemetery. The day began with coffee and donuts and a Master Mason Degree. At 12:00 noon the members of the Lodge and guests departed by bus to the cemetery for the dedication ceremony. A return trip was made to the Lodge and the Grand Master presented 50-Year Veterans' Medals to Bro. A. William Dahlgren and Bro. Leo F. Seelig. There was a brief ceremony to recognize the widows of the departed Brethren of Aurora Lodge. After the closing of the Lodge, a luncheon was held at the Royal Plaza Hotel Restaurant in Fitchburg.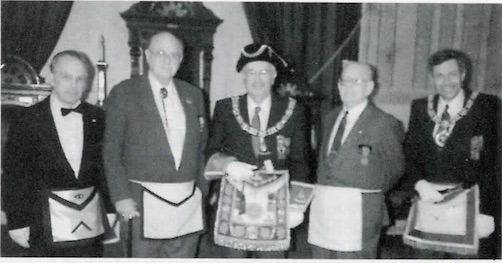 Wor. Don W. Hollingsworth, Master; Bro. A. William Dahlgren; M. W. David W. Lovering. Grand Master: Bro. Leo F. Seelig; and R. W. E. Joel Peterson, Grand Marshal.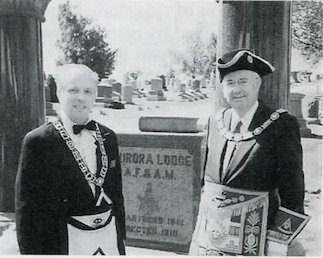 Wor. Don W. Hollingsworth, Master and M. W. David W. Lovering, Grand Master.
---
GRAND LODGE OFFICERS
OTHER BROTHERS
---
DISTRICTS
1803: District 5 (Framingham, west and north)
---
LINKS