MassachusettsYear1830
From MasonicGenealogy
1830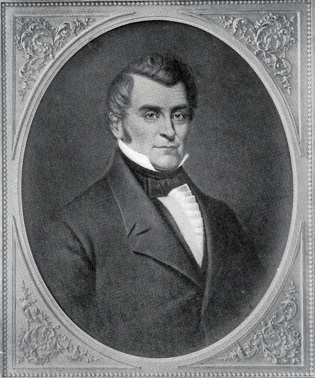 JOSEPH JENKINS, Grand Master
Elijah Morse, Deputy Grand Master
Abraham A. Dame, Senior Grand Warden
William J. Whipple, Junior Grand Warden
---
NOTES
---
QUARTERLY COMMUNICATIONS
03/10 (Masons Hall, Boston): IV-176;

IV-177: Report of committee to receive the deed from Meridian Sun Lodge; refused, as "some inconvenience might result from a practice of receiving such grants in trust"
IV-178: Report of Grand Lodge Annual Fee committee; recommendation to reduce the fee from $8 to $4; recommitted.
IV-179: Grand Master Jenkins' address provided for publication.
IV-181: Petition from Cassia Lodge, referred.
IV-182: Petition by Bristol Lodge to remove to Attleboro, East Parish, granted.
06/09 (Masons Hall, Boston): IV-183;

IV-187: Communication from the members of Christ Church expressing their thanks for use of the Masonic Hall.
09/08 (Masons Hall, Boston): IV-188;

IV-192: Grand Corresponding Secretary authorized to procure a "suitable chest or case for his papers."
12/08 (Masons Hall, Boston): IV-199; Annual Communication.

IV-200: Report of Committee on Charity.
IV-201: Report of Trustees of the Charity Fund.
IV-201: Report of Committee on Finance.
IV-203: Grand Master Jenkins re-elected. (Only 38 ballots cast.) Other Grand Lodge officers elected.
12/28 (Masons Hall, Boston): IV-206:

IV-206: Report of Grand Treasurer; the following lodges by district were reported as delinquent:
IV-209: Installation of Grand Lodge officers; appointment of Grand Lodge officers. (8 appointed, Districts 8-12 vacant.)
PETITIONS FOR CHARTERS
None.
GRAND LODGE TEMPLE HALL
03/10: IV-180; A committee of five appointed to procure a place of meeting place for the Grand Lodge. The Grand Secretary is directed to request Boston lodges to co-operate with the Grand Lodge.
06/08: IV-185; Grand Master authorized to cancel the Lease now in force with the City of Boston; Grand Lodge to proceed as a corporation to procure real estate and construct a building for the accomodation of the Grand Lodge and Boston Masonic bodies.
09/08: IV-192; Building Committee authorized "to borrow from any person or persons and at such rate of interest as they shall consider fair and proper the sum of $15,000."
10/14: IV-195; Corner Stone ceremony (see below).
12/27: IV-208; Committee formed to "take into consideration the propriety of applying to the Legislature" to alter the Grand Lodge Charter to hold a larger amount of real estate.
SPECIAL COMMUNICATIONS
CORNER STONE LAYING OF NEW TEMPLE, OCTOBER 1830
10/14: IV-193; Laying of Corner Stone of the new Masonic Temple. Extensive description of procession and ceremonies. New building to be located south of St. Paul's Church. Address by the Grand Master.
From Boston Masonic Mirror, New Series, Vol. 2, No. 16, October 16, 1830:
According to previous arrangements, on Thursday, the 14th inst., at half past 11 o'clock, the procession moved from Faneuil Hall, through Merchants' Row, up State, Court and Tremont streets, to the site of the Temple, between St. Paul's Church and Washington Garden. The Stone was laid with the usual ceremonies; after which the Rev. Mr. Sabine, offered up a prayer. Mr. Joseph Jenkins, G. M. then delivered an eloquent and impressive address. After the address the procession formed again, and marched through Tremont and Court streets, Cornhill, Dock Square to Faneuil Hall.
In the afternoon a dinner was provided in Quincy Hall, of which about four hundred Masons partook. The day was uncommonly fine, though ushered in by one of the most violent thunder-storms, we have been visited with for the year past; every thing the day previous seemed to forbode an uncomfortable time for the procession; but when the day arrived the clouds which had frowned upon the earth were scattered by tbe sun's bright beams, and all nature seem'd to smile again. — The Grand Masonic March we think one of the most inspiring and effective, that we have ever heard: Mr. Zeuner deserves the highest praise for this specimen of his musical talent. There were over two thousand Masons in tbe procession.
We copy the following paragraph from the Commercial Gazette of yesterday.
The procession, was composed of about two thousand persons, and a more respectable body of individuals we never have seen together in this city We noticed in the procession several aged men, among them the Rev. Dr. Ripley of Concord, and Major Melvill, two patriots of the revolution. Tbe appearance of this procession was at once rich and imposing; and among those who swelled its ranks were hundreds of our most intelligent and influential merchants and mechanics; gentlemen whose names and characters would confer an honor to any institution in this or any other country. And we will remark farther, that there was apparently as much mind in the procession, as is usually found among any body of the same magnitude. We were not a little surprised te see so many of our old friends in Masonic ranks, who, until yesterday, were not known to us as members of the much abused institution. We hope that our antimasonic neighbors obtained a 'good place to see the review.' It was certainly worth seeing, and worth remembering too.
LIST OF LODGES BY DISTRICT (with date of precedence): 1830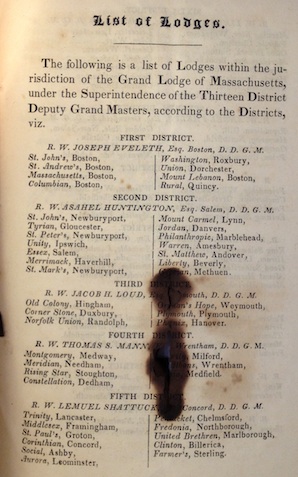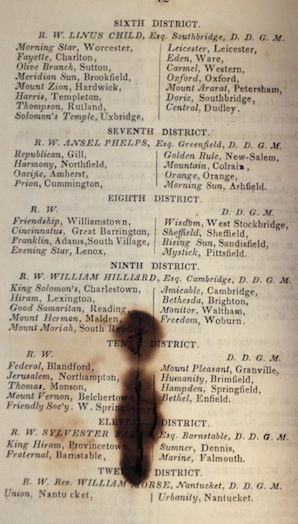 From the collection of the Grand Lodge of Masons in Massachusetts
This list is based on the O.P. for 1830 (see above).

Morning Sun Lodge listed as being in Ashfield; removed to Conway 1828 (IV-118)
Meridian Lodge listed as being in Needham; removed to Conway 1828 (IV-118)
Joseph Eveleth, District Deputy Grand Master; 8 Lodges
Asahel Huntington, District Deputy Grand Master; 14 Lodges
Jacob H. Loud, District Deputy Grand Master; 6 Lodges
Thomas S. Mann, District Deputy Grand Master; 7 Lodges
Lemuel Shattuck, District Deputy Grand Master; 11 Lodges
Linus Child, District Deputy Grand Master; 14 Lodges
Ansel Phelps, District Deputy Grand Master; 8 Lodges
Charles Baker, District Deputy Grand Master; 8 Lodges
William Hilliard, District Deputy Grand Master; 9 Lodges
Levi Lyman, District Deputy Grand Master; 9 Lodges
Sylvester Baker, District Deputy Grand Master; 4 Lodges
William Morse, District Deputy Grand Master; 2 Lodges
Luther Hamilton, District Deputy Grand Master; 6 Lodges

OUTSIDE OF MASSACHUSETTS
No District Deputy Grand Master; 1 Lodge
★ = appeared in Grand Lodge in 1830. (See Attendance Summary)
---