Difference between revisions of "Occidental"
From MasonicGenealogy
Line 153:
Line 153:
 

* '''[http://www.masonicgenealogy.com/MediaWiki/index.php?title=MassachusettsYear1920 1920]''' ("Historical Sketch of Masonry in Stockbridge, 1777-1920", 1920-232; see below)

 

* '''[http://www.masonicgenealogy.com/MediaWiki/index.php?title=MassachusettsYear1920 1920]''' ("Historical Sketch of Masonry in Stockbridge, 1777-1920", 1920-232; see below)

 

* '''[http://www.masonicgenealogy.com/MediaWiki/index.php?title=MassachusettsYear1970 1970]''' (Centenary History, 1970-238)

 

* '''[http://www.masonicgenealogy.com/MediaWiki/index.php?title=MassachusettsYear1970 1970]''' (Centenary History, 1970-238)

 
+
 
 
 

==== HISTORICAL SKETCH OF MASONRY IN STOCKBRIDGE, 1777 TO 1820 ====

 

==== HISTORICAL SKETCH OF MASONRY IN STOCKBRIDGE, 1777 TO 1820 ====
---
Revision as of 20:36, 9 February 2015
OCCIDENTAL LODGE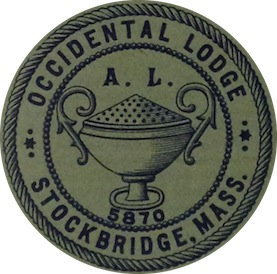 Location: Stockbridge
Chartered By: William Sewall Gardner
Charter Date: 09/13/1871 1871-150
Precedence Date: 06/14/1870
Current Status: Active
---
PAST MASTERS
John H. Burghardt, 1870-1872, 1874, 1879
Henry J. Dunham, 1873, 1875, 1880, 1881
Franklin W. Adams, 1876
Charles H. Willis, 1877, 1878, 1882-1886, 1888-1890
George Knowles, 1887
William Monteith, 1891
Charles E. Evans, 1892, 1893
William C. Fields, 1894, 1895
F. M. Griffin, 1896, 1897
Joseph G. Schilling, 1898, 1899
James H. Punderson, 1900, 1901; SN
James Emmet Drumm, 1902, 1903
Allen T. Treadway, 1904
George W. Searing, 1905, 1906
Adam Schilling, 1907, 1908
Henry P. Wookey, 1909
Charles E. Searing, 1910, 1911
Charles A. Jones, 1912, 1913
John Henry Knowles, 1914, 1915
Stephen C. Burghardt, 1916
F. George Foulsham, 1917
Sereno Albert Noble, 1918, 1919
Henry V. Rathbun, 1920, 1921
Albert E. Adams, 1922
Horace F. Terrell, 1923, 1924
Wenzel H. Krebs, 1925, 1926
Edmund C. Wilcox, 1927, 1928
John W. Cooney, 1929, 1930
John P. Palmer, 1931; N
Clinton J. Foster, 1932, 1933
Richard K. Thorsell, 1934, 1935
John W. Harrington, 1936
G. Olin Manchester, 1937
John C. Cooney, 1938
Newton A. Kasson, 1939
Chester W. Baker, 1940
Orville M. Trepania, 1941
John S. Turner, 1942
Russell F. Davidson, 1943
Gilbert S. MacClintic, 1944
Cecil E. Babcock, 1945, 1946
Harold L. Williams, 1947
Courtland V. Rathbun, 1948, 1949
Miles Rees Moffatt, 1950
David E. Braman, 1951
Robert G. Williams, 1952
Samuel H. Sprott, 1953, 1954
Irwin R. Sprott, 1955
Robert E. Bracknell, 1956
John A. Miller, 1957, 1971
William J. Buckler, 1958
Norman V. Opperman, Sr., 1959
John A. Dietrich, 1960
Loren A. Warner, 1961, 1966
Paul A. Moore, 1962, 1965, 1972-1974, 1986, 1992, 1995, 1996; PDDGM
Henry C. Edwards, 1963; SN
Frederick W. Downs, Jr., 1964
Stephen H. Hopkins, 1967
Ralph H. Tinker, Jr., 1968
Kenneth M. Hall, 1969
David E. Braman, 1970
Richard W. Mouke, 1975, 1976
David McMeekin, 1977
George D. Rubin, 1978, 1993
Charles W. Tyler, 1979
Frank H. Brown, 1980
Edward E. Stanard, 1981
Bruce G. Rubin, 1982
George Greene, 1983-1985
Robert C. Elman, 1987, 1989
Carl R. Bohn, 1988
Charles R. Hunter, 1990
Hugh G. Black, 1991, 1994
Kenneth C. Hall, 1997, 1998, 2007
Kevin Gene Foster, 1999, 2000, 2012; PDDGM
John D. Robatalle, 2001, 2002
Charles H. Hunter, Jr., 2003, 2004
Robert H. Knight, 2005, 2006
Kevin C. McGinnis, 2008-2011; PDDGM
---
REFERENCES IN GRAND LODGE PROCEEDINGS
ANNIVERSARIES
VISITS BY GRAND MASTER
BY-LAW CHANGES
1874 1882 1892 1912 1917 1931 1943 1945 1956 1964 1968 1976 1977 1980 1997 2003 2006
HISTORY
HISTORICAL SKETCH OF MASONRY IN STOCKBRIDGE, 1777 TO 1820
From Proceedings, Page 1920-232:
By Brother Arthur W. Searing.
For such light as is possible for the Secretary to throw on the subject of local Freemasonry, he is most appreciatively indebted to his twelve predecessors who so carefully observed and have so correctly recorded the seven hundred and seventy-five communications of Occidental Lodge entrusted to their care, and to the Grand Secretary for facts that have enabled us to change rumor and tradition into truth and reality.
A special meeting of the Grand Lodge of Massachusetts was held in Boston February 14, 1777. This was the second meeting held by this body after the stand of the Minute Men at Lexington, April 19, 1775, the beginning of hostilities between Great Britain and America, and in consequence of which, the town being blockaded, no Lodge was held until December 27, 1776. At this meeting was heard the petition of Seth Dean and other citizens of Stockbridge for a Charter to hold and erect a Lodge in this town, and it is interesting to note that beside referring this petition to the March meeting, preliminary steps were taken to elect a Grand Master to succeed the late Most Worshipful Gen. Joseph Warren, killed at the battle of Bunker Hill. On the 8th day of March this Charter was granted by the Most Worshipful Joseph Webb to John Patterson, Samuel Brewer, Seth Dean, John Grace, Stephen Pearl, Charles and Israel Debel, all free, ancient and accepted Masons resident in Stockbridge and Lenox. They were given authority to meet and convene as Masons in the town of Stockbridge, to receive and enter Apprentices, pass Fellowcrafts, and raise Master Masons, upon the payment of such sums as may be hereafter determined, to be known under the name, title, and designation of Berkshire Lodge No. 5, they were enjoined to collect and receive funds for the relief of the poor and decayed brethren, their widows and children, to conform to all ancient customs and usages of Masons, were required to attend the Quarterly Communication of the Grand Lodge, and keep a fair and regular record of their proceedings. For the support of the Grand Lodge they were to contribute the sum of six dollars per quarter. This Charter was signed by Samuel Barrett, Senior Grand Warden, and Paul Revere, Junior Grand Warden. That this Lodge survived the most troublesome times in the history of the nation reflects great credit on its founders, who not only interested themselves in Masonic work but were actively prominent in town, county, and state affairs. John Patterson was commissioned General and served with Washington during his campaigns. Samuel Brewer held a Colonel's commission and served faithfully and well during the war. Seth Dean rendered great assistance to his cousin Silas, who was appointed Commissioner to Prance for the purpose of making arrangements for the supply of materials necessary for carrying on the war, and other members are frequently mentioned in the Town records as having always taken their places in affairs of interest and public welfare.
In September, 1784, the Grand Lodge demanded the Charter of Berkshire Lodge for failure to pay its dues. This demand, however, was not enforced, for on December 6, 1785, the time of settlement was extended to the following year. This assessment, amounting to 7 pounds and 10 shillings, was undoubtedly paid, for when the Massachusetts Grand Lodge combined with the Saint John's Grand Lodge to form the Grand Lodge of Massachusetts in 1792, Berkshire Lodge is borne upon the list of the former Grand Lodge. As no mention is made of its proceedings after that date it is presumed that it became extinct shortly afterwards.
On June 13, 1803, Wisdom Lodge was chartered in West Stockbridge and worked there until March 18, 1815, when they requested of the Grand Lodge and were granted permission to move to Stockbridge, where they remained until 1818, when they returned to West Stockbridge where they have actively practiced the tenets of their profession ever since. As to their being entirely satisfied with their last change we have no definite information.
After 1818 Masonic activities here ceased until 1870 when, on June 14, twenty-three citizens of Stockbridge and Master Masons petitioned for and were granted a Charter that the light of Masonry might again shine in this community. This Lodge was first named Stockbridge, but was early changed to Occidental in remembrance of the older organization. Like all other agencies for promoting the welfare of mankind and an earnest desire to assist them to higher ideals, we have in exchange for these motives experienced both joy and grief, approbation and criticism, and finally what we believe to be victory, but with defeat and possible annihilation sometimes in sight. The first few years were exceedingly prosperous ones, candidates being received in almost every meeting, and we are here reminded of Dr. Wright, beloved of all Berkshire Masons, who assisted in the East at the raising of our first Master Mason.
That we early intended to promote Masonry and confer its degrees on all comers entitled to enjoy its privileges is evidenced by the acceptance of the first three applications, those of an Englishman, an Irishman, and a Scotchman. This combination has become popular with, us, having been repeated many times since. The first prosperous years were followed by a depression of Lodge activities, resulting in the loss of many members through various causes. So persistent was this lack of interest that on one occasion of the official visit of the District Deputy Grand Master the chairs were all occupied by substitutes, with the exception of the Junior Deacon and Senior Steward, with complete nothingness in the body of the Lodge. The District Deputy in his report to the Grand Lodge rightfully recommended that the Charter be revoked. This suggestion was not considered, however, and soon after the upward trend again started and has steadily continued to the present time. In reaching the half century mark of our existence we feel that we have attained the ideal Lodge, having at our last meeting realized the long wished for possession of just one hundred members, all actively interested in its welfare. Although the larger part of our membership is scattered in ten different states, we are constantly reminded of their interest and loyalty in many, many ways. In the world war every sixth member elected to follow the colors, some of them following other flags than their own, but all believing in the freedom of all people, and we are justly proud of the fact that their going was of their own free will and accord.
While the scythe of time in the short space of fifty years has prevented the presence of those who first met as Masons under the name of Occidental Lodge, we believe in our inheritance from them, and until we relinquish our present places and again join them in that greater Lodge, we will, in the years to come, always strive to make each succeeding effort more effectual in promoting the welfare of the Craft.
OTHER
1871 (Institution of lodge, 1871-209)
1873 (Constitution of lodge; Special Communication; no record in Proceedings)
1895 (Participation in centennial of Evening Star Lodge, 1895-79)
1896 (Participation in centennial of Cinncinatus Lodge, 1895-166)
---
GRAND LODGE OFFICERS
---
DISTRICTS
1883: District 15 (Pittsfield)
1911: District 16 (Pittsfield)
1927: District 16 (Pittsfield)
---
LINKS