LafayetteGreylock
From MasonicGenealogy
LAFAYETTE-GREYLOCK LODGE
Location: North Adams
Chartered By: Albert T. Ames
Charter Date: 04/25/1988 1988-43
Precedence Date: 07/08/1847
Current Status: Active; formed by the merger of Lafayette and Greylock Lodges, 04/25/1988.
---
PAST MASTERS
Raymond H. Moulthrop, 1988, 1989; PDDGM
Richard R. Sherman, 1990
Jon A. Fessenden, 1991
Lawrence E. Jones, 1992
Arthur E. Wylde, 1993
Nicholas J. Mantello, 1994, 1995; PDDGM
George E. Morse, 1996, 1997, 1999, 2001, 2002
Alan D. Horbal, 1998
Michael J. Morris, 2000
Michael P. Sherman, 2003
R. Bradford Columbus, 2004
Charles R. Blaisdell, 2005
Joshua N. Mantello, 2006
Michael J. Hernandez, 2007; PDDGM
Gregory C. Onorato, 2008
Charles R. Ransford, Jr., 2009
Robert D. Waltermire, 2010
Daniel B. Bergeron, 2011
Nelson E. Ogert, 2012
---
REFERENCES IN GRAND LODGE PROCEEDINGS
Consolidation Petition: 1987
VISITS BY GRAND MASTER
BY-LAW CHANGES
---
EVENTS
CONSOLIDATION, APRIL 1988
From TROWEL, Fall 1988, Page 31:
Grand Lodge officers visited North Adams on April 25 to perform the merger of Lafayette and Greylock Lodges into the Lafayette/Greylock Lodge. Following the ceremony the Grand Master installed the newly-appointed officers into their respective stations. The merger reduces the number of Lodges to five in the 15th District. Lafayette was chartered in 1847 and Greylock dated its precedence to 1871.
150TH ANNIVERSARY CELEBRATION, AUGUST 1997
From TROWEL, Winter 1997, Page 9:
70 YEARS OF DEDICATION
On August 14, 1997, Lafayette-Greylock Lodge held a chicken BBQ on the lawn of the North Adams Masonic Building to commemorate the 150th Anniversary as a Lodge. The first meeting was held on Saturday, August 14, 1847, somewhere in the North Village of Adams.
The Past Masters of Lafayette-Greylock Lodge raised two men, Michael J. Hernandas and Roy W. Dupree, to the Sublime Degree. The guest of honor was Wor. Albert E. Garratt, the oldest living Past Master in Massachusetts. He served the Lodge in 1927, some 70 years ago! Bro. Garratt was born November 11, 1895, in Fall River and was Initiated on January 17, 1922, a 75 year member. He now resides at the Masonic Home in Charlton. He was presented a 70 year pin and a Table Lodge apron by the Lodge.
A sesquicentennial directory was printed containing a list of all members, the by-laws and a brief history of Lafayette-Greylock Lodge. This directory is dedicated to Albert E. Garrett and in memory of Rt. Wor. Donald O. Canedy, P. D. D. G. M. and all departed Brethren of Lafayette-Greylock Lodge.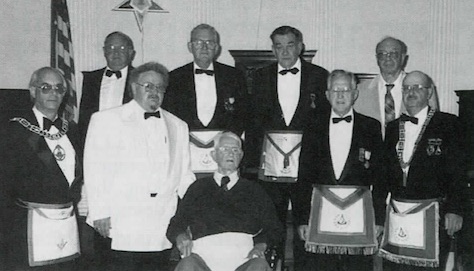 Wor. Albert Garratt, pictured front and center, with Wor. Alan D. Horbal, Master, and Past Masters from Lafayette-Greylock Lodge during a ceremony to honor his 70 years of dedicated service.
---
GRAND LODGE OFFICERS
DISTRICTS
1988: District 15 (North Adams)
---
LINKS