GMDarling
From MasonicGenealogy
EDGAR W. DARLING 1927-2018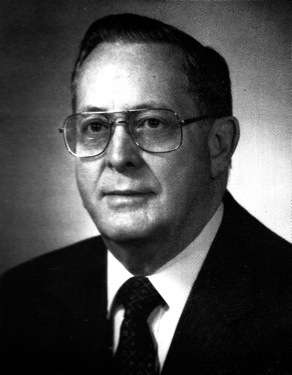 MM 1951, WM 1958 Esoteric
Member 1993, WM 1993-1995, Rose of Sharon
DDGM, Chicopee 18, 1974-1975
Junior Grand Warden 1979
Grand Master, 1990-1992
Honorary Grand Master, Grand Lodge of Oklahoma, 1992
Honorary Past Grand Master, Grand Lodge of Iran in Exile, 1992
Affiliations (H indicates Honorary Membership):
---
TERM
NOTES
MEMORIAL
From Springfield Republican, 10/09/2018:
Edgar (Ed) William Darling, 14 Arbor Lane Wilbraham, MA passed away with his family at his side on October 8th, 2018 at the Masonic Home in Charlton, MA. Ed was predeceased by his wife Lilla (Taft) Darling. Ed was born on March 27, 1927 in Springfield, MA. He graduated from Tech High School in Springfield, MA in 1944. After High School he joined the Merchant Marines and was honorably discharged in 1947. After proudly serving his country, Ed went to work for the Telephone Company traveling to VT and NH. In 1950, Ed went to work for the Western Mass Electric Company in Springfield, MA, where he met his wife Lilla (Taft) Darling. Ed and Lilla worked together for 5 years when they married at Hope Church in August 5, 1955. Ed went to work for Northeast Utilities as a meter reader and rose through the ranks to Director of Nuclear Purchasing. After 40 years at Northeast Utilities (now Eversource) Ed retired to assume the position of Grand Master of the Grand Lodge in Massachusetts, a role in which was one of his proudest accomplishments. In addition to his title of Grand Master he was a 33rd degree Mason. Ed was very active in Melha Shrine, Red Cross of Constatine, York Rite and Scottish Rite. He was also a longstanding member of Wilbraham United Church in Wilbraham, MA. Edgar leaves behind; a daughter Nancy and her husband George Como, a son Allen Darling and his youngest daughter Judie and her husband Ken McInerney. He also leaves behind 6 grandchildren: Sarah Como, Nathan Singleton, Riley McInerney, Karissa McInerney, Katie Yu and Matthew Darling, as well as 5 great grandchildren: Brady and Colton Darling, Kailee Dickenson, Lillianna and Spencer Yu. The Family would like to thank the staff at Overlook in Charlton MA for the excellent care he received in his final years.
BIOGRAPHY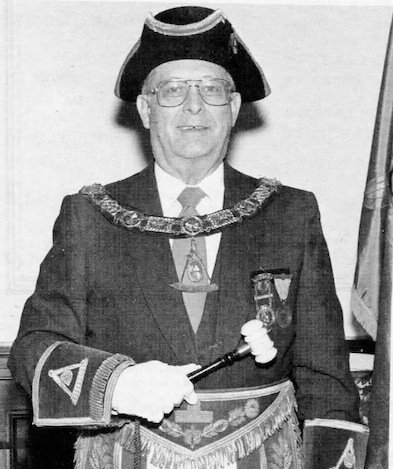 From TROWEL, Spring 1990, Page 2:
Edgar William Darling of Wilbraham was elected the 71st Grand Master of Masons in Massachusetts Dec. 13 and installed to that office Dec. 27. A Director of Grand Lodge and the Masonic Home for several years, he is the first man from western Massachusetts to be elected and installed since 1928 when M. W. Herbert W. Dean (1929-31) from Cheshire served that office.
Raised in Esoteric Lodge, Springfield, on April 19, 1951, he was Master of that Lodge in 1958 and has since affiliated with Newton Lodge of Wilbraham. He was appointed by M. W. Donald W. Vose as the District Deputy of the Chicopee 18th Masonic District for 1974 and 1975. He was elected Junior Grand Warden and served in 1979. Appointed Grand Representative to the Grand Lodge of Kansas, he is an Honorary Past Junior Grand Warden of that jurisdiction. He has served on advisory boards for Rainbow and DeMolay, been a Lecturer for the Fifth Lodge of Instruction in Springfield, and a speaker for the Grand Lodge Education Department.
He is a member of Scottish Rite Bodies in the Valley of Springfield and is the Second Lieutenant Commander of the Connecticut Valley Consistory. His York Rite memberships are with Morning Star Chapter, where he is a Past High Priest, Past District Deputy Grand High Priest of the 5th Capitular District, and Grand King of Grand Chapter. He is Past Illustrious Master of Springfield Council and has been Grand Lecturer for the Grand Council of Royal and Select Masters of Massachusetts.
A Past Sovereign of Saint Matthew's Conclave Red Cross of Constantine, he holds membership in the Massachusetts College of Rosicruciana. Active in Melha Temple, Shrine, he is a member of Springfield Coufi 144, Royal Order of Jesters.
The husband of Lilla (Taft) Darling, they are parents of Nancy J. Como, Allen D. Darling, and Judith G. Darling, and grandparents of Kathleen and Matthew Darling and Sarah Ashley Como. The family has been] associated with the South Congregational Church of Springfield where he has been a Deacon, Vice Chairman of Christian Education, head usher and Chairman of the Committee on Membership and has served as the President of the Men's Club.
Educated in Springfield public schools, he is a graduate of Springfield Technical High School, and attended Western New England College. He was employed for 3! years in the Northeast Utilities System with Western Mass. Electric Co. until his retirement in mid-December as the Director of Major Projects and Nuclear Fuel Purchases. He was a member of the Western Mass. Purchasing Management Association, Pooled Inventory Management for Nuclear Power Plants and the Edison Electric Institution Committee for Materials Management and Procurement. During World War II he attended the U.S. Merchant Marine Academy at Kings Point, NY, an< served in the Atlantic, Mediterranean and Pacific Theaters of War.
Installed as the 71st Grand Master of Masons in Massachusetts on Dec. 27, Edgar William Darling of Springfield set the tone for the coming year when addressing his audience at the Feast of St. John the Evangelist: "We have high standards that this world needs and we will not lower but standards to suit any individual or any group of people, but we must work together to bring the world up to our moral code of living. Society has paid a big price for its permissive living, creating a troubled youth in the world. I saw a bumper sticker that said, "The Quiet Fraternity." Not any more, my Brethren, we're going to be heard and seen because we have nothing to be ashamed of and I ask you to join me toward that goal!" He was installed by M. W. Albert T. Ames, the retiring Grand Master.
R. W. Fred K. Bauer of N. Reading, Past Deputy Grand Master and now Executive Officer for the Massachusetts DeMolay, was the speaker at the dinner. His thoughts coincided with those of the Grand Master. "It isn't always easy to be a Master Mason but we can make it easier if we project ourselves into society in a more united effort so society will learn more of our purpose in life."
R. W. Lowell Underwood Hammett was seated Senior Warden, the second highest elective office in Grand Lodge. Elected without opposition, it is a traditional act of reward to a man who has served faithfully as Grand Marshal for three pars. A member of Norumbega and Brookline Lodge of Newtonville, he as a Past D. D. G. M. of the Brighton 5th and was the Grand Sword Bearer during the administration of R. W. David B. Richardson.
Richard Earl Johnson of Northboro was installed Deputy Grand Master and in his talk he emphasized ". . . the need for genuine sense of purpose, and for the Craft to be more pare of our community needs among the aged and misguided youth. It is our duty as Masons to provide the moral fiber of life to others and to understand that our personal efforts are as important to society as giving money. The need to stretch forth our hands to save others, not just our fallen Brothers. Let us unite to expose to society the lodges we take inside our temples."
Robert A. Meffen of Springfield was installed Junior Grand Warden. He had been elected Dec. 13 in the only contested ballot at the quarterly communication. A third generation member of Mt. Orthodox Lodge of West Springfield, Is a Navy veteran of the Korean conflict as an Underwater Demolition expert and deep sea diver. He served 34 years in the Springfield Police Dept. of which 23 were in a Vice Control Unit of which he was the captain for 15 years. He and his wife, Lillian L. (Walsh) are parents of eight children (including a set of mixed twins) and nine grandchildren. Two sons are members of Mt. Orthodox Lodge. Bro. Meffen is now Director of Security for the Colebrook Corp., a reality entity of the Springfield Institution for Savings.
Because of the crisis in Panama, Donald P. Garrido was unable to attend to be installed the District Grand Master, succeeding R. W. Charles R. Lavallee. There are four Lodges in the Panama Canal District under the jurisdiction and chartered by the Grand Lodge of Massachusetts. They are Sojourners and Ancon (1912), Balboa (1915), and Sibert (1918).
The Grand Master installed M. W. Stanley F. Maxwell as Treasurer and M. W. David B. Richardson as Secretary. R. W. Erwin D. Hill, Sr., Past Master of Mt. Orthodox Lodge and Past D. D. G. M. of the Springfield 18th, was appointed and installed Grand Marshal. Lewis E. Prentis of Palmer was installed District Deputy Grand Master of the Chicopee 18th, the home district of the Grand Master and Bro. Prentis took the oath of office at the altar for the other appointed deputies.
Installed as District Deputy Grand Masters in addition to Bro. Prentis: George J. Avis, Boston 1; Charles R. Dauwalter, Cambridge 2; Stanley G. Winer, Boston 2; William M. Appel, Boston 3; Jack L. Zimmerman, Chelsea 3; Michael Pecoraro, South Boston 4; Charles P. Buckley, Dorchester4; Dana A. Jackson, Waltham 5; Bruce Hutchings, Brighton 5; Michael A. Brown, Somer-ville 6; Paul F. Miller, Arlington 6; Walter C. Brown, Jr., Maiden 7; William A. St. Clair, Melrose 7; Chester R. Harris, Salem 8; Samuel F. Gynan, Lynn 8; Lyle R. Drenth, Gloucester 9; Charles D. Batchelder, Jr., Newburyport 10; Clifton R. Milne, Lawrence 11; Robert W. LaPierre, Lowell 12; Andrew W. Waugh, Fitchburg 13; Bryan E. Ward, Barre 13; Edward F. Stange, Greenfield 14; Raymond H. Moulthrop, N. Adams 15; Donald J. Drosehn, Pittsfield 16; George R. Dion, Holyoke 17; Robert A. Goewey III, Springfield 18; Kenneth W. Rhodes, Palmer 19; James W. Blackburn, Jr., Blackstone 20; Raymond W. Benoit, Brookfield 21; James A. Gates, Jr., Worcester 22; Richard W. Graham, Natick 23; Edwin E. Sarvela, Marlboro 24; Graham A. Long, Hyde Park 25; John B. MacKay, Quincy 26; Philip M. McCaffrey, Plymouth 27; George E. Munroe, Taunton 28; Wayne F. Hoyle, Attleboro 28; Paul S. Chase, Brockton 29; John Catterall, Fall River 30; George N. Morris, New Bedford 30; Peter G. Richter, Nantucket 31; E. Joel Peterson, Hyannis 32; Joseph F. Prose, Provincetown 32; Theodore E. Cooledge, Springfield 33; Oscar E. Gibson, Chile; Joe A. Diele, China; and William R. Knowles, Sr., Cuba.
Installed by the Deputy Grand Master were: Grand Chaplains William A. Rice, Oscar A. Guinn, Jr., Dean E. Benedict, John R. Higgins, Brian S. Dixon, and Lloyd E. Chorpenning, Jr.
Grand Lecturers installed: Robert Johnston of Woburn, David W. Lovering of Falmouth, James R. Franklin of Newton, Russell S. Wise of Uxbridge, Willis B. Altman, Donald J. Lohnes, Ara Manoogian, and Robert H. Hartley.
From TROWEL, Spring 1991, Page 2:
Most Worshipful Edgar William Darling was reelected to a second year as the Grand Master of Masons in Massachusetts, Right Worshipfuls Charles Dana Batchelder, Jr. and Warren Roy Davis were elected Senior and Junior Grand Wardens respectively, and Worshipful Harris T. Luscomb, II, Master of Columbian Lodge, was elected a new member of the Board of Directors at the December Quarterly Communication of Grand Lodge. R.W. James C. Sirios was cited by the Grand Master for his long service to the Craft and in particular as the Lodge News Editor of the TROWEL Magazine. He had been the Grand Recorder for the Grand Commandery of Massachusetts and Rhode Island.
CHARTERS GRANTED
RULINGS
---