GMAmes
From MasonicGenealogy
ALBERT TIMOTHY AMES 1932-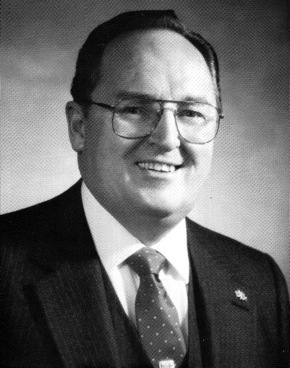 MM 1958, WM 1963, Meridian
Grand Steward 1971
Charter Member 1975, WM 1976, The DeMolay
DDGM, Natick 23, 1976, 1977
Grand Marshal 1978-1980
Senior Grand Warden 1981
Charter Member 1983, The Masters
Grand Master 1987-1989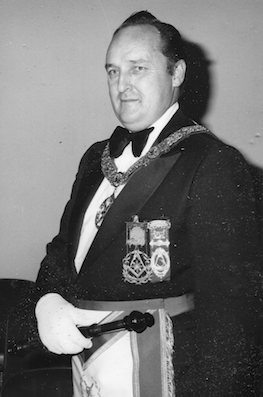 M. W. Brother Ames as Grand Marshal, 1978
---
BIOGRAPHY
From TROWEL, Spring 1987, Page 3:
Albert Timothy Ames of Natick was elected the 70th Grand Master of Masons in Massachusetts at the Dec. 10 quarterly communication of Grand Lodge and installed into office by retiring Grand Master David B. Richardson on Dec. 29. The ceremony was followed by the annual Feast of Saint John the Evangelist, at which M.W. Richard E. Fletcher, Past Grand Master of Vermont, was the principal speaker.
First serving Grand Lodge as a Steward in 1971, Bro. Ames was Grand Marshal for M.W. Arthur H. Melanson, 1978-80, and Senior Grand Warden in 1981. A year later he began the first of four years as Executive Officer in Massachusetts for the Order of DeMolay and is now Trustee of the state DeMolay Foundation.
Raised in Meridian Lodge of Natick 1958, he was Worshipful Master in 1963-64. A charter member of The DeMolay Lodge of Boston, he was Master in 1976-77 and served as Secretary for three years. He affiliated with Wellesley Lodge in 1977, is an Honorary Member of Artisan Lodge of Winchendon, and was a charter member of The The Masters Lodge, Newtonville, in 1984. He was D. D .G. M. of the 23rd District in 1976-77 and a year later was Master of the 39th Lodge of Instruction. He was actively involved in the 250th anniversary of Grand Lodge in 1983 and is the Grand Representative of the Grand Lodge of Arizona at the Grand Lodge of Massachusetts. Bro. Ames is a holder of the Henry Price Medal.
The new Grand Master began his fraternal life as a charter member when Natick Chapter, Order of DeMolay, was reorganized in 1946. He was Master Councilor of that Chapter and Marshal in 1950, and in 1976 he was honored with the the DeMolay Legion of Honor. Elected as Honorary Member of the International Supreme Council in 1978, he was elected an Active Member in 1981 and was elected to the I .S. C. executive committee two years later.
In York Rite Masonry Bro. Ames is a member of Parker R.A. Chapter of Natick, Cryptic Council of Newton, and is Commander of St. Bernard Commandery No. 12 of Boston in 1987-88. He is a member of all Scottish Rite Bodies in the Valley of Boston, has been active in Aleppo Temple, A.A.O.N.M.S., since 1963, is an Honorary Member of Abou Saad Temple of Panama, a member of the Charles River Valley Shrine Club, and Boston Court No. 103, Royal Order of Jesters.
His other Masonic-related associations are the Newton Masonic Club, Back Bay Square and Compasses Club of Boston, First Worshipful Masters Association of Boston, the Masters Association of the Fifth District, Past District Deputy's Association, The Philalethes Society, Massachusetts College Societas Rosicrucianas, Royal Order of Scotland, and Balboa Assembly No. 1, International Order of Rainbow for Girls of Panama.
A native of Natick where he was born in 1932, Bro. Ames is the son of the late Eugene H. and Adeline (Hawes) Ames, Sr. Married to Nancy Lee (Hamilton) Ames, they are parents of a daughter, Sherrill, who is a teacher in Portland, ME, and four sons, Stephen, Timothy, Kenneth, and Richard.
Educated in the Natick schools and attending Northeastern University night classes, the Grand Master worked in home construction and remodeling for 14 years and in 1971 established Al Ames Associates, Inc., an automotive repair and service business in Natick. He served with the Regimental Ordnance Supply in the Army during the Korean conflict, was the town deputy building inspector for five years, and a member of the Natick Town Report Committee for 12 years. President and charter member of the Charles River Rotary Club (Wellesley-Natick), he has supported Little League and Babe Ruth League baseball programs.
Bro. Ames is a Vestryman of Saint Mary's Episcopal Church of Newton Lower Falls and this year is co-chairman of the Every I Member Canvas drive. He is also a member of the Earl W. Harvey Post of Disabled American Veterans, the Aircraft Owners and Pilots Association (holding a license for private flying), and the Smithsonian Associates.
SPEECHES
AT CORNER STONE LAYING FOR FRATERNAL LODGE, MAY 1987
From Proceedings, Page 1987-31:
We are gathered here on this historic day for the purpose of laying this cornerstone. This is truly an exciting time in the life of Fraternal Lodge and other bodies which will use this edifice.
As the ceremony states, this is a beginning, a foundation - upon which this Temple is to be built. As this Temple is designed and constructed according to the plan of the architect to withstand the inclemencies of the weather - time and seasons, so let us each endeavor, as we travel through life, to educate and prepare ourselves for those daily trials which will confront us.
As the plan of this structure has created useful space for the purpose of Masonic work, so let us conduct our lives that we will be able lo fulfill our duties and responsibilities to Masonry, our community, our country, our families and our God.
It is no secret that Masonry, in general, along with most other fraternal, civic, and church groups, has passed through some difficult times with loss of membership. Apathy in general has prevailed. Yet, just as the leaders and members of this Lodge have the foresight and courage to move into the future with this new building, so do I have a sincere hope and joy in planning ahead, with a linn belief that Masonry is not dead (nor are most of the churches and other organizations).
The principles of our Craft have stood the test of time. We. the Masonic Fraternity, have experienced difficulties in the past just as we have in our personal lives. However, with a firm belief in the Almighty, confidence in ourselves and our fellow men, we WILL move forward. I see the day when (if we practice the teachings of God and our Fraternity) we will again become the leaders of our local state and county government. We will be enabled to dispel the corruption and wrongdoing that is so prevalent today. But my challenge to you is to start today. Do it now - make your commitment today.
Let us show the world that our principles are what our lessons teach. Let us practice every day outside of our Lodge those great moral lessons we are taught in it so that by our actions we will be known as Masons, for what we are and for what we do.
Be proud that you are a Mason - let the world know that you are a Mason, but above all be a good Mason in thought, word and deed.
And now I extend to you, the members of this Temple Association, my congratulations and best wishes in your endeavor with this new building and many years of continued service to Masonry.
AT CHURCH REDEDICATION, SEPTEMBER 1988
From Proceedings, Page 1988-107:
As we gather at this, the 175th Anniversary of Saint Mary's Church, it is indeed a pleasure for me to lead this rededication by the Most Worshipful Grand Lodge of Masons in Massachusetts.
It is fitting that the Grand Lodge conduct this service inasmuch as the original cornerstone of this church was laid in a ceremony by The Grand Lodge of Massachusetts on October 11, 1813, having been postponed from the assigned date of September 29, 1813, due to inclement weather. Grand Lodge was joined in the procession by Meridian Lodge, along with the congregation such as we have done here today. Then one hundred years later, on September 29, 1913, a relaying of the cornerstone was again conducted by The Most Worshipful Grand Lodge with Meridian Lodge and the congregation forming the procession. As an aside, let me say a few words about Meridian Lodge, now of Natick. Meridian Lodge was chartered in 1797 by the then Grand Master, Most Worshipful Paul Revere, in Watertown, then moved to Needham, thence to Newton, and in 1852 moved to Natick where it has remained to date. I am pleased that the Worshipful Master of Meridian Lodge (just installed last night) is here with us today along with a number of the members of Meridian Lodge.
In 1963, at the 150th Anniversary of Saint Mary's, I was Master of Meridian Lodge and had the privilege of participating in that celebration by reading a portion of the Scriptures along with the Most Worshipful A. Neil Osgood of Wellesley, the Grand Master at that time. Now, twenty-five years later at this, the 175th Anniversary, I am proud to stand here as the Grand Master of Masons in Massachusetts, however, I am more proud to be here as a member of this Parish and its Vestry.
In reading the history of Grand Lodge with reference to Saint Mary's Church, it is interesting to me that the laying of the original cornerstone, in October of 1813, and the relaying of the same stone one hundred years later in September 1913, were both conducted by the then Deputy Grand Masters rather than the Grand Master, and it would appear that Most Worshipful Brother Osgood was the first Grand Master to be here, that being the 1963 participation at the 150th Anniversary Church Service. It, therefore, seems that I am the first Grand Master to perform an actual Masonic Dedication or Rededication Ceremony here at Saint Mary's Church.
The principles of the church and Masonry are very similar and closely aligned. Both teach friendship, morality and brotherly love. Both profess the brotherhood of man under the fatherhood of God. The prime difference as I see it, is that the church does not, nor is it expected to, encourage its members to be a part of the Masonic Fraternity, on the other hand, the Masonic Fraternity does require a belief in a Supreme Being and encourages its members to be an active supporter of the church or synagogue of their choice. I am a member here at Saint Mary's because of my Masonic relations with a member of this parish, M. W. J. Philip Berquist. It was through Masonry that I was drawn here.
Yes, we do have much in common and I trust that during the next one hundred years we will continue to work together for the betterment of all mankind.
I thank you for the honor and privilege of being a part of this 175th Anniversary Celebration of Saint Mary's Church.
TERM
NOTES
CHARTERS GRANTED
RULINGS
---