GMRaymond
From MasonicGenealogy
EDWARD A. RAYMOND 1791-1864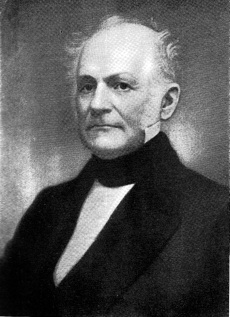 Senior Grand Warden, 1846-1848
Grand Master, 1849-1851.
---
TERM
BIOGRAPHY
From 1916 Proceedings.
Brother Raymond was born in Holden, Mass., February 6, 1791. He engaged in business as a grocer in Dock Square, Boston, for many years and was afterwards an appraiser in the Customs House. He then engaged in real estate operations, in which he was eminently successful, and accumulated a large fortune. He was made a Mason in Amicable Lodge, Cambridge, January 15, 1816, was admitted a member of Saint John's Lodge, Boston, April 2, 1836, and became a member of The Massachusetts Lodge, November 2, 1843. At the time of his death, however, he was non-affiliated. For more than forty years he was an active member of the Masonic institution, devoting his services chiefly to the Chapters, Encampments, and the Scottish Rite, having been Grand High Priest of the Grand Chapter, Grand Master of the Grand Encampment of Massachusetts, and at one time Grand Commander of the Supreme Council for the Northern Jurisdiction of the United States. He died in Brookline, Mass., August 4, 1864.
1871 Mass. 617.
1864 Mass. 22.
23 M.F.M. 336.
Memorial Volume of the 125th Anniversary of The Massachusetts Lodge.

MEMORIAL
FROM PROCEEDINGS, 1864
From Proceedings, Page VI-528:
It having pleased the All wise Ruler of the Universe, to remove from the labors of earth, our late R. W. Bro. Edw. A. Raymond.
Resolved. That this G. Lodge has heard with profound sorrow, the announcement of the sudden death of the R.W. Bro. E. A. Raymond, who for many years has been a permanent member of this body — and who for the Constitutional term of three successive years, presided over its deliberations, as its M. W. G. Master.
Resolved. That in the faithful discharge of his duties as Senior G. Warden, and as G. Master for nearly a quarter of a century, as a member of the Board of Trustees of the Masonic Temple — he has richly earned a title to the grateful remembrance of his Brethren.
Resolved. That his unfaltering fidelity during his long Masonic life of almost half a century, to the cause of Freemasonry and his manly defence of its principles during the dark days of Anti-Masonic persecution, will enshrine his name among the Loyal and the true, when the Craft in coming generations, will ever delight to honor.
Resolved. That we deeply sympathize with the afflicted family of our lamented Brother, and while with them, we bow submissively to the Divine decree, which has bereaved them and us, we receive the admonition, with the hope of that blessed resurrection, when the Mortal shall put on immortality.
Resolved. That a copy of these Resolutions, be transcribed by the Secretary and forwarded to the family of our late Brother.
FROM MASONIC MONTHLY, 1864
From Masonic Monthly, Vol. I, No. 11, September 1864, Page 510:
OBITUARY NOTICE OF M. W. EDWARD A. RAYMOND.
Death is constantly at work among the builders of our mystic temple. One after another the long and tried supporters of our institution are passing away from their labors in the lodges below. But few indeed remain of those who commenced their Masonic life when this century was young. Although it has become matter of high import how we shall fill the places of the leaders who in the course of nature have left us, it is worth our while to let our thoughts dwell for a season on the lives and examples set before us by those whose departure for other fields of labor in other spheres of existence we are so frequently called upon to mourn.
On the first of August of this year died that eminent Mason whose name appears at the head of this article.— The illness from which he suffered and which resulted in his decease, was of several years standing. Being in Europe at the commencement of the difficulties between the courts of Turin and Vienna, which culminated in the war of Italian independence, he crossed the Alps with the French under Louis Napoleon, and followed the march of the liberating army through the campaign. We had it from the lips of our deceased brother, that he attributed the illness which he feared would carry him to his grave to exposure on the battlefield of Solferino, which had proved so disastrous to the Austrian arms, but which opened up an era of brightest hopes
 to the awakening Italian nation.
Brother Raymond was born in Holden, in the county of Worcester, on the 6th of February, 1791, and at the time of his death had overrun the threescore and ten years allotted to man. While yet in early life his parents removed with him to Shutesbury,
 Mass., where they continued to reside
 until their decease. At the age of nine he made an arrangement with his
 father, which, while releasing his pa
rent from all pecuniary responsibility, 
himself was set free to earn and own undividedly the profits of the exertions
 he had determined to make thus early in 
life. He left the residence of his 
parents at Shutesbury and took up his
abode in Cambridgeport, Mass., where
he entered service in a store. He after
wards, in the year 1814, when about 
twenty-three years of age, commenced 
business there himself. Subsequently,
 either in the year 1817 or 1818 he left 
his native State for the South, settling 
in Richmond, Va., and remained there 
four years — but the character of the
 climate proving unsuitable to his constitution, he was compelled again to
 come North and once more locate himself in the territory of the old Commonwealth.
On his return from Vir
ginia, he stayed for a brief period in
 Shutesbury, where his parents still resided. But about the year 1824 he removed to the city of Boston, and embarked in commercial pursuits, choosing for his own special employment the
 West India trade, in which he met with a fair share of success. In later years,
commencing in 1825, in company with others, he entered largely into operating real estate, the purchase and
 sale of building lots. To this department of business he confined himself until very recently.
In his business career he was uniformly prosperous, and had secured for himself, by that perseverance and energy which were so characteristic of him, a very handsome fortune – a large portion of which he distributed by his last Will and Testament among several well-deserving charities.
We will now turn from his secular to his Masonic life. The latter he commenced in the town of Cambridgeport, being made a Mason in Amicable Lodge there located, on the 15th of Jan., 1816, and remained at the time of his decease an honorary member of the same lodge. Few members of the Masonic Fraternity have received so many honors from their brethren or worn them for so long a period as the subject of this sketch. For nearly forty-nine years an active worker in numerous departments of our institution,he reached and retained to his latest breath a lofty place in the esteem of the Craft. An eminent Mason, who was most intimately associated with him in his Masonic labors, writes to us as follows:—
"There was no day, for more than forty of the last years of his life, when he did not hold some responsible office or offices in the Masonic organization, which fact affords sufficient proof that he discharged his duties faithfully, and secured the approbation of his faithful Masonic brethren."
Another Brother who has known him intimately for the last forty years, and frequently during that period associated with him in important Masonic operations, also writes of him :—
"During that moral pestilence (anti-masonry) which swept over the country like a tornado, prostrating lodges and churches in its course, and sowing broadcast, strife, discord and hatred, he was 'faithful in the midst of the faithless,' and as true to his Masonic engagements as the needle to the pole.— Whatever his conscience told him was right he had the moral courage to do. Neither promised favor nor threats could drive him from his purpose, and make him violate his vows or betray his trust.

"When it was determined to build the Temple and provide a masonic home for the Craft, he cheerfully devoted himself to its accomplishment, and encouraged and facilitated the work by his unshaken faith, in the ultimate success of the undertaking, and that the right would eventually prevail. When it became necessary to put the property in charge of trustees, to save it from the itching hands of the anti-masonic vandals, his fidelity, Masonic intelligence and business capacity pointed him out as a suitable person for that responsible trust, in which capacity he served a quarter of a century, and most of the time was President of the Board."
He was three consecutive years S. G. Warden of the Grand Lodge of Mass., and three years Grand Master. He was H. P. of St. Paul's R. A. Chapter; and subsequently Grand H. P. of the Grand Chapter of Mass. He was Commander of Boston Encampment; and when the DeMolay Encampment was chartered, its first Commander. He was also G. Commander of the Grand Encampment of Mass. and R. I. For about twenty-four years he was Treasurer of the General G. Chapter and Gen. G. Encampment of the U. S. He was also Sov.-. G.-. Com.-, of the Sup.-. Council of the Northern Jurisdiction of the U. S., which office he held about twelve years, until the union consummated with the Sup.'. Council of Sov.-. G.'. I.'. G.'.. of the United States.
It speaks volumes in the praise of the subject of this sketch that for so long a period he commanded the confidence in his ability and respect for his faithfulness and worthiness from so widespread an association as the Masonic Fraternity. No fulsome eulogy need be written to embalm the reputation of a man of sterling worth. The facts we have named speak for themselves and are weightier than the most rhetorical flattery which an admirer might engrave upon Bro. Raymond's tombstone. That he had his failings and his faults need not be denied. All men, even the very best, are but men. To be human, as humanity is constituted, is to be fallible. We are no perfectionists. We do not look for perfect men, neither are we prone to speak in superlatives—yell we think that in his day and generation Bro. Raymond was a good man and true, and that the world would be a better world were all to live out as thoroughly good principles and perform their duty in life as faithfully. Only one wora will we add, that were each living Mason to serve the institution as industriously and faithfully as Bro. Edward A. Raymond did during the whole period of his Masonic life Masonry would be well served. Peace be to his memory.
FROM MOORE'S FREEMASON'S MONTHLY, 1864
From Moore's Freemason's Monthly Magazine, Vol. XXIII, No. 11, September 1864, Page 336:
Bro. Raymond died suddenly, at his residence in Brookline, on the 1st of Aug., and was buried at Mount Auburn on the 4th, aged 73 years. He had been an invalid fur several years, and finally died of what is commonly called the heart disease. He was in the city attending to his ordinary business on the day of bis death, apparently in his usual health. On reaching his residence about noon, he sat down in front of his door, and when spoken to, complained of the heat and not feeling very well, and soon after breathed his last.
The deceased had through a long life been an active business man. He was originally a grocer, but leaving that business some years since, engaged in real estate operations, in which he was eminently successful, and being a strict economist, acquired a fortune.
He had been for more than forty years an active member of the Masonic Institution, devoting his services chiefly to the Chapters and Encampments and other bodies of the higher Orders of Masonry. With the exception of two short terms he was not connected with any particular Lodge as a member, and was non-affiliated at the time of his decease. He was a permanent member of the Grand Lodge, of which Body he was Grand Master during the years 1858, 1859 and '60. He had also sustained the office of G. H. P. of the Grand Chapter and Grand Master of the Grand Encampment of the State. He was at one time Grand Commander of the Supreme Council for the Northern Jurisdiction of the United States.
FROM MOORE'S FREEMASON'S MONTHLY, 1865
From Freemasons' Monthly Magazine, Vol. XXIV, No. 4, February 1865, Page 127:
In Grand Encampment, Oct. 28, 1864.
The Committee appointed to prepare Resolutions on the decease of our late Grand Master, Sir Edward A. Raymond, submit the following: -
Resolved, That the services rendered by him to this Encampment entitle his memory to our respectful consideration.
Resolved, That the offices which he was called by the Masonic Fraternity to fill, during a period of more than forty years, afford the best evidence of their appreciation of his merits.
Resolved, That the persistent determination and untiring energy which marked the conduct of our deceased Brother in his business transactions made him eminently successful therein.
Resolved, That we sympathize with the family of our deceased Brother Sir Knight, in this time of their affliction.
For the Committee, Abraham A. Dame.
NOTES
SPEECHES
FEAST OF ST. JOHN, DECEMBER 1848
From Moore's Freemason's Monthly, Vol. VIII, No. 4, February 1849, p. 101:
Brethren:—
Placed by your fraternal kindness in the responsible position of Grand Master of the oldest Grand Lodge in America, I should be false to my own feelings— recreant to the sentiments of my heart—if I failed to avail of the earliest opportunity to return you my most sincere and heartfelt thanks for the honor thus conferred upon me, and to pledge my best efforts to realize whatever reasonable results you may have anticipated to follow as the consequences of my election. We are just commencing a new term in the administration of Masonic government in this Commonwealth,—we are just entering on the one hundred and sixteenth year of the existence of this Grand Lodge, and my humble prayer is that the future may be but the semblance of the past; that what Freemasoury under its wise administration has been, it will continue to be; that the lessons of deep wisdom that have come down to us from our fathers, we may be enabled faithfully to transmit to our successors; and that the Grand Lodge of Massachusetts may continue for many future centuries a bright and shining light in the growing constellation of our Order,—the bright Eastern Star that shall continue to guide us, and those who may come after us, to the everlasting fountain of Truth. The Masonic Institution in this country, and particularly in this Commonwealth has, within the recollection of the youngest among us, been called to pass through a severe trial of persecution and oppression. Individuals may have suffered in their personal happiness, and in their domestic enjoyments ; but the Institution triumphed over its enemies and came out of the fire like gold from the crucible seven times purified,—the dross was consumed and destroyed,—the pure metal remained,—its value was increased by the purifying process. At no period within the last twenty years, has the Institution in this jurisdiction, presented a more encouraging prospect than at the present time. Many of the decayed Lodges throughout the Commonwealth have been revived, and several new ones chartered within the last few years; and there is an encouraging degree of activity among the Brethren in all parts of the State. The returns of the Lodges for the year just closed, are suprj as to afford a reasonable hope that the day is not far distant, when the Grand Lodge will be enabled to adopt incipient measures for the removal of the heavy pecuniary responsibility, which now forbids that degree of active charity which should distinguish so enlightened a body.
To this end, our best efforts should be directed; and for the attainment of a result so desirable in all respects, I cannot doubt that our Lodges, and our Brethren, will be ever willing to labor and ready to contribute to the full extent of their means.
I congratulate the Grand Lodge on the general harmony which prevails throughout the jurisdiction. I am not aware of the existence of but a single subject, in respect to which there is a difference of opinion among the Brethren. This may, or may not, be one of importance; but it is enough to know that it exists. Our first business should be reconcile it in a spirit of Brotherly lore and kindness. The best interests of this Grand Lodge, the prosperity of the Lodges, and the personal happiness of our Brethren, all demand this reconciliation: and no efforts of mine shall be withheld that may tend to secure it Let every good Brother give bis aid, and co-operation, and the work is done.
Brethren—let us set about the matter at once. Before we leave "this sacred retreat of friendship and virtue to mix again with the world," let us resolve that all cause of difference, with respect to the work and lectures, shall be removed. And to the attainment of this most desirable and important object, I respectfully submit for your consideration, that the former action of this Grand Lodge in the premises be reconsidered, and that a committee of the oldest, wisest and most experienced of our Brethren, be appointed to take the matter into their most serious consideration, and report at a future meeting of this Grand Lodge. Or, what would, 'perhaps, be a better course, that a Convention of Brethren, consisting of one, or more, delegates from each Lodge in the State, together with the Permanent Members of the Grand Lodge, be summoned to meet at this place, at some period not far distant, to compare, discuss, determine and finally settle, all matters of difference relative to the mode of work and lectures to be authorized and used by this Grand Lodge and practised by all the Lodges under its jurisdiction. The decision of such convention should be final and binding upon all parties forever, so far as Massachusetts is concerned.
In conclusion, Brethren, and before I take my seat, you will allow me again to return you my sincere thanks for the honor conferred on me, and to invoke for us all the guidance and blessing of Him without whose approving smiles our labors will be in vain, and our strength be spent for nought.
FEAST OF ST. JOHN, DECEMBER 1850
From Moore's Freemason's Monthly, Vol. X, No. 4, February 1851, p. 102:
Brethren: - In compliance with our regulations, and in conformity with long established usage, the Grand Lodge of Massachusetts has again been organized. Its officers have been elected with great unanimity, and installed into their respective offices, with the customary formalities of our ancient and honored Fraternity. The one hundred and seventeenth anniversary of our existence as a Grand Lodge, has been celebrated, under auspices that call upon each one of us, as Masons and Christians, to acknowledge our gratitude to our Heavenly Father, for the great and manifold blessings which he has been pleased to vouchsafe to us, and our beloved Institution, in time past, and reverently to invoke the continuance of his favor and protection, in time to come.
The past has been a year of universal Masonic prosperity, equally in our own and foreign lands. "Glad tidings of great joy" have been constantly greeting us from across the deep waters; while our hearts have been encouraged, our resolutions confirmed, and our hands strengthened, by the gratifying intelligence which, from time to time, has reached us from every section of our own hoppy, prosperous and united country, - united by the glorious recollections of the past and the hopes of the future, - united by a common ancestry, common interests, and kindred blood. That it may forever continue to be united and happy, is a prayer that will find a ready and ardent response in the breast of every true Brother. It is the sentiment of Masonry, - the sentiment of Philanthropy,-the sentiment of Patriotism!
Within our own particular jurisdiction, the Fraternity are at peace, and emulous only in good works. I am not aware of the existence of any cause of difference or disquietude among the Brethren. Our Lodges, with few exceptions, are all at work and prospering; and the receipts of the Grand Lodge for the past year, are most encouraging. This gratifying result is attributable in a great degree, if not entirely, under the favor of Providence, to a faithful observance of the ancient regulations and a conscientious regard for those great moral principles which lie at the foundation of our Institution.
I take great pleasure in bearing testirnony to the fidelity of all the officers who have been associated with rne in nry administration of the affairs of the Grand Lodge. To their kindness and cheerful co-operation, I am indebted for much of whatever of success rnay have attended my official labors.
During the past year, the General Grand Chapter and General Grand Encampment of the United States, have held triennial sessions of their respective bodies in this city. The meetings were numerously attended by distinguished Brethren from every part of the country,-representing twentyfour States of the Union, - being a larger number than was ever before represented in any General Convocation of Masons on the American continent. The most perfect harmony prevailed among the members, and the proceedings were characterized by a high degree of intelligence. I am happy to add that the distinguished slrangers in attendance, were received by the Brethren of this city, with kindness, courtesy and liberality; and that these attentions were properly appreciated and duly acknowledged.
But, Brethren, how true it is, that the tear of sorrow is too often found mingled with the wine in our cup of joy! Since our last annuai festival, we have had frequent occasion to exclaim with the sacred writer, "What man is he that liveth, and shall not see death!" Four of our elder Brethren have been gathered to their fathers! "They rest in the stilly shades," and the places they once adorned and made radiaut with wisdom, shall know them no more, forever. The grave had scarcely closed over the mortal remains of our dear friend and Brother, R. W. Winslow Lewis, (Senior), Past Junior Grand Warden of this Grand Lodge, ere the sad tidings of the departure from this world, of the soul of our beloved associate and Past Grand Chaplain, the Rev. Addison Searle, reached us from a far distant and foreign land. Next in the sad catalogue, stands enrolled the name of our rvell-beloved and distinguished Past Grand Master, Augustus Peabody. And to-day, another has been added to the sad list of the departed. Our venerable and beloved Junior Grand Warden, the R. W. Asa T. Newhall, whose cheerful countenance and silvered locks it was pleasant to look upon, and who, we fondly hoped, would have been with us this evening, to take a part in our labors, has been called home ! He has obeyed the frnal summons, and gone from us to join his Brethren in the celestial Grand Lodge above, where the Suprerne Grand Master and Giver of every good and perfect gift, fbrever presides - forever reigns!
CHARTERS GRANTED
CHARTERS RESTORED
RULINGS
---