MassachusettsYear1902
From MasonicGenealogy
1902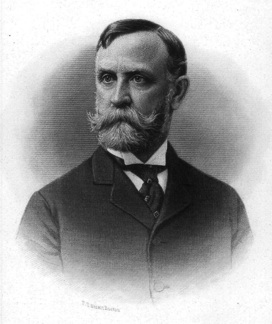 CHARLES THEODORE GALLAGHER, Grand Master
Charles M. Green, Deputy Grand Master
Daniel W. Taft, Senior Grand Warden
William B. Lawrence, Junior Grand Warden
---
Note: This portrait appears in the frontispiece of the 1903 Proceedings.
QUARTERLY COMMUNICATIONS
(held at Masonic Temple, Boston)
03/12: 1902-1;
06/11: 1902-59;
09/10: 1902-140;
12/10: 1902-163; (Annual Communication)
03/12 Agenda
1902-7: Installation of Grand Officers not present at the 1901 Feast of St. John.
1902-57; Report of Charity Committee.
06/11 Agenda
1902-68: Recognition of the Grand Lodge of Costa Rica.
09/10 Agenda
1902-150: Appointment of a special committee appointed on 08/14/1902 to investigate "the so-called Ancient Landmark Lodge No. 1 acting in the city of Boston" at Castle Square Hall. The committee was invested with powers to summon persons, demand papers, and to recommend summary action against any Master Mason acting in violation of Masonic duty.

The committee determined that a Master Mason had worked with another person, and that the lodge claimed to hold a dispensation from an unrecognized Grand Lodge in Ohio; that emissaries were "sent out . . . into the highways and hedges, soliciting anybody and everybody to join the Masons at the very moderate price of ten or fifteen dollars for three degrees." More than one hundred persons were thus solicited; the regular Mason was expelled.
12/10: 1902-178; The Cerneau rite was apparently involved in the creation of the spurious Ohio Grand Lodge.
12/10 Agenda
Recorded in Grand Master Gallagher's address, beginning on page 1902-181:

Anniversary Celebrations:

Baalbec, South Boston (05/06, 50th Anniversary).
Corinthian, Concord (06/16, 105th Anniversary).
Corner Stone, Duxbury (06/24, Centennial; Special Communication.)
150th Anniversary of the initiation of George Washington, Philadelphia; by invitation of the Grand Lodge of Pennsylvania (11/05; extensive description starting on Page 1902-185. Also, the address by the Grand Master in Philadelphia is provided starting on Page 1902-214).

Corner Stone Layings and Hall Dedications:

Roxbury, Masonic Temple corner-stone (07/30; Special Communication).
Needham, Town Hall corner-stone (09/02; Special Communication).
Everett, Armory corner-stone (11/01; Special Communication).

Lodge Visits:

Washington Lodge #22, Alexandria, Virginia (01/1902)
Dalhousie, Newtonville (02/12)
King Philip, Fall River (02/18)
Crescent, Pittsfield (02/20; by Deputy Grand Master and Junior Grand Warden, with Grand Master of New York).
Eliot, Jamaica Plain (04/16)
King David, Taunton (04/23; by Deputy Grand Master; Mayor of Taunton was present).
John Abbot, Somerville (06/03, degree work with Grand Officers in stations).
Lodge of St. Andrew, Boston (11/13, installation)
Winslow Lewis, Boston (11/14)
St. Matthew's, Andover (11/21)
Kilwinning, Lowell (11/29, Feast of St. Andrew)

1902-195; Report of Auditing Committee.
1902-208: Election of Baalis Sanford as Grand Master. Election of other Grand Officers. Remarks by Grand Master-elect.
1902-202: Report of Committee on Charity.
Grand Constitutions Amendment Proposals
03/12: 1902-14; Proposal to repeal Part 5, Sections 21 and 22. A petition was presented in September 1901 to repeal these sections, reading as follows:
To the Most Worshipful Grand Lodge of Ancient Free and Accepted Masons of the Commonwealth of Massachusetts:
Brethren: We, the undersigned, Master Masons in good standing and Past Masters of Symbolic Lodges under the jurisdiction of this Most Worshipful Grand Lodge, believing that Sections 21 and 22 of Part Fifth, Miscellaneous Regulations of the Constitutions of the Grand Lodge of Massachusetts, are contrary to the spirit and teachings of Ancient Craft Masonry, first, because they interfere with our moral duties and deny us the exercise and enjoyment of certain rights guaranteed at the altar of Freemasonry, such as liberty of conscience and other kindred rights; second, because they are inconsistent with the original plan of Masonry, which is clearly defined by the Constitutions, and violate the several Landmarks embodied in the Code of Laws to which every Mason must solemnly subscribe before he can become Master of a Lodge; third, because they are at variance with our solemn obligation not to countenance dissenters from the original plan of Masonry; fourth, because they destroy the sanctity of our Obligations, sacred and binding as they are, and that a compliance with their provisions compels the violation of those immutable laws and encourages a disregard of the serious and faithful discharge of the duties of a good Mason; and fifth, because it is beyond the authority of any Grand Lodge to define the status of any organization or degrees save those of Ancient Craft Masonry, namely: Entered Apprentice, Fellow-Craft, and Master Mason:
Respectfully Pray that said Section 22 be repealed, and that said Section 21 be amended so as to read as follows:
Section 21. This Grand Lodge recognizes no degrees of Masonry except those conferred by a Lodge working under a lawful charter, or warrant, issued by a regular Grand Lodge of the various States and Territories of the United States, and the lawfully constituted authorities throughout the world.
(Note: Section 21 at this time defined recognized the following organizations in Section 21: Royal Arch Chapters, Councils of Royal and Select Masters, the Grand Encampment of the United States; the Grand Commanderies; and the Supreme Councils of the Ancient and Accepted Scottish Rite in the Northern and Southern Jurisdiction. Any Mason admitted into any other order would be considered as acting un-Masonically and was liable to expulsion. Section 22 further declared that any Mason who would "confer, communicate or sell" any "so-called Masonic degree limited to Freemasons, not hereinbefore recognized or admitted" or aid in such acts would also be liable to expulsion.)
This petition was in part due to the action of the Grand Master against Saggahew Lodge in March 1901 when he forbade certain officers who had participated in the Cerneau Rite from being installed into elected offices. The committee argued that if the Grand Lodge had "sovereign power and authority" within its jurisdiction per Article XXXIX of the Ancient Constitutions (1721) - "Every Annual Grand-Lodge has an inherent Power and Authority to make new Regulations, or to alter these, for the real Benefit of this ancient Fraternity: Provided always that the old Land-Marks be carefully preserved - then the Grand Lodge had the right to decide what regular Masonic bodies are, and which ones it could recognize. Therefore, the committee adopted the following resolutions:
Resolved, That this Grand Lodge declares its understanding of the law in relation to its powers and authority over the Craft within its jurisdiction to be:
That it is the supreme authority in Masonry.
That it has the power to determine what Masonry is.
That it has the power to decide what Masonic bodies are regular, wherein symbolic Masonry is used, shown, or made a part of the ceremonies.
That it has the power and authority to prohibit the Masons of its obedience from practising as Masonic any other rites than those which it declares to be Masonic; and from using any of its esoteric ceremonies as Masonic ceremonies in any other body that those it shall hold to be Masonic.
Resolved, That this Grand Lodge affirms the well-established doctrine that it is a violation of the jurisdictional rights of any Grand Lodge or other Grand Body for a foreign organization of the same grade or rite to establish subordinates within the jurisdiction of such Grand Body, and it is due as well to Masonic comity as to the watchful care of our own rights that all attempts of such a nature shoudl meet with the stern disapproval of this Grand Lodge.
The committee provided a wealth of examples of decisions by various Grand Lodges asserting their right to recognize, or declare clandestine, bodies outside of Ancient Craft Masonry due to this sovereignity and authority argument. The report was adopted and the petitioners were given "leave to withdraw."
The Grand Master then indicated that he felt that the circular was misleading and incorrect in some parts; he declared that the Grand Lodge and its integrity were seen to be attacked, and he declared the petition to be an "apparent attempt on the part of some of the petitioners to mislead the members of the Grand Lodge . . . I feel it my duty to the Grand Lodge, its officers and members to thus condemn such action."
Grand Master's Address
12/10: 1902-175; Opening remarks; the Castle Square Hall clandestine Masons; deaths of Norris, Field; portraits of Butler, past Grand Secretary William Hoskins, past Deputy Grand Master Jerome Van Crowninshield Smith; and past Junior Grand Warden Isaac Hurd; an ancient hall clock; visitations; warrants and exemplifications; reports of Grand Lecturers; report on lodges (235, including 3 in Chile and 1 in China, 2,392 diplomas in 1902); report of Board of Directors.
Lodge By-Law Changes
03/12: 1902-56;

Amendments: Boylston, Constellation, Mizpah, Mount Carmel, Mount Lebanon, Quinsigamond, Rabboni, Roswell Lee, Satuit, Springfield, Thomas, Tuscan, Warren, William Parkman; all approved.
06/11: 1902-74;

Full Codes : Belmont; approved with "slight changes."
Amendments: Bethany, Bristol, King David, Mount Carmel, Mystic, Norfolk Union, Starr King, Pequossette, Washington; approved without change; Aurora, approved with slight changes.
The committee called attention to Rule IX appended to the Grand Constitutions, indicating that extracts from the Grand Constitutions should not be included in by-laws, but that the article regarding initiation of candidates (Part 4, Article 3) might be included as a supplement.
Necrologies and Memorials
06/11: 1902-69: Memorial for Rt. Wor. George H. Taber, past Junior Grand Warden; presented by Rt. Wor. George D. Hammond for the committee.
09/10: 1902-149: Memorial for Rt. Wor. Charles H. Norris, Past Senior Grand Warden; reported by the Grand Master.

12/10: 1902-179; Mentioned in Grand Master's Address.
12/10: 1902-204; Presented by Rt. Wor. John Albert Blake, for the committee.
12/10: 1902-179: Death of Rt. Wor. Richard Montgomery Field, Past Deputy Grand Master; mentioned in Grand Master's Address.
Petitions for Charters
SPECIAL COMMUNICATIONS
06/18: 1902-76; Haverhill. Centennial of Merrimack Lodge.

1902-77; Entrance of Grand Lodge, Reception by Wor. Nelson James Hunt, Master of Merrimack Lodge.
1902-77: Presentation by Wor. Fred D. McGregor, Master of Saggahew Lodge, "of a beautiful wassail-bowl, in recognition of the hearty sympathy of the younger Lodge with its venerable mother on the entrance upon a new century." Gracious reply by Wor. Hunt.
1902-78: At refreshment, "examination of a large collection of interesting Masonic relics and curiosities", followed by "an elegant lunch."
1902-78; Grand Officers proceeded to the First Universalist Church.
1902-78: Order of Exercises.
1902-79: Address of welcome by Wor. Nelson James Hunt.
1902-80: Response by Grand Master Gallagher; he was accompanied by the Golden Urn.
1902-86: Historical address by Senior Warden Dr. Charles E. Durant.
1902-86: Hospitality at the Pentucket Club and a banquet at the City Hall, with remarks by various Brothers.
06/24: 1902-88; Duxbury. Centennial of Corner Stone Lodge.

1902-89; Entrance of Grand Lodge, Reception by Wor. Levi E. Ford, Master of Corner Stone Lodge.
1902-89; Grand Officers proceeded to the First Universalist Church.
1902-89: Order of Exercises.
1902-90: Address of welcome by Wor. Levi E. Ford, at the end of which the Master presented the Grand Master with the lodge's original charter.
1902-92: Response by Grand Master Gallagher; he was accompanied by the Golden Urn.
1902-86: Historical address by Rev. Bro. Edward B. Maglathlin.
1902-120: Oration by Bro. Willard Howland.
1902-125: A "bounteous collation" in a spacious tent near the church, with further speeches by various Brethren.
07/30: 1902-126; Roxbury. Corner-stone laying for Masonic Temple.

1902-127: Opening of Grand Lodge at Masonic Hall; procession with escort of Commandery and Lafayette (Roxbury) and Washington Lodges to the new site on Warren Street.
1902-127: Order of Exercises.
1902-128: Address by Grand Master Gallagher.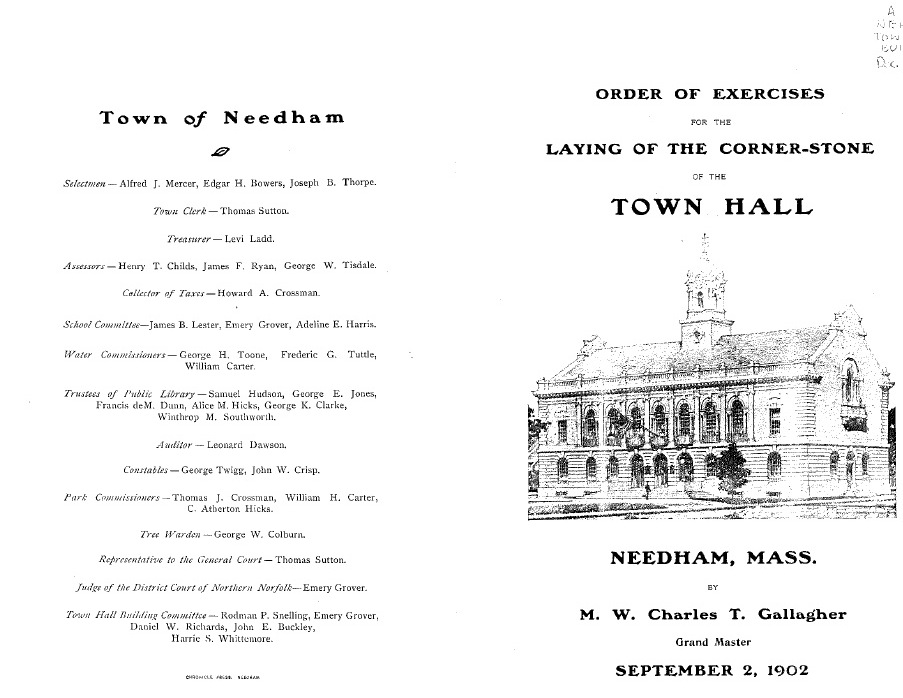 Program of Exercises, 1902
09/02: 1902-136; Needham. Corner-stone laying for Town Hall.
11/01: 1902-159; Everett. Corner-stone laying for Everett Armory.

1902-160: Opening of Grand Lodge at Masonic Hall; reception by Wor. Edwin M. Hall of Palestine Lodge.
1902-160: Procession to building site.
1902-160: Order of Exercises.
12/11: 1902-220; Dorchester. Dedication of Masonic Temple.

1902-221: Opening of Grand Lodge in anteroom and entrance into the lodge with reception by Wor. J. Frank Hadley, Master of Union Lodge. There were over two hundred brethren of that lodge and Rabboni Lodge in attendance.
1902-221: Dedication of the building "to Freemasonry, to Virtue and to Universal Benevolence."
1902-222: Address by Grand Master Gallagher.
12/23: 1902-228; Wilmington. Constitution of Friendship Lodge.

1902-229: Opening of Grand Lodge in anteroom and entrance into the lodge.
1902-229: Constitution of the lodge and installation of the officers.
1902-231: Address by Grand Master Gallagher.
FEAST OF ST. JOHN THE EVANGELIST
(held at Masonic Temple, Boston, 12/30/1902)
1902-236: Opening and roll call.
1902-237: Installation of Grand Master Baalis Sanford; ceremony described (380 Brethren saluted the new Grand Master "with due and ancient form." Installation of other Grand Officers.
1902-245: Report of Recording Grand Secretary: 2,403 Master Mason diplomas issued in 1902.
1902-246: List of lodges not represented in Grand Lodge in 1902, as well as the past 2-4 years.
1902-249: Feast of St. John, listing toasts and names of speakers:

1902-249: Grand Master Sanford.
1902-254: Rt. Wor. William H. Rider.
1902-258: Past Grand Master Gallagher.
1902-266: Grand Chaplain Edward A. Horton.
1902-272: Wor. George A. Sanderson.
1902-276: Past Grand Master and Recording Secretary Nickerson.
1902-279: Senior Grand Chaplain Skinner.
1902-282: Deputy Grand Master J. Gilman Waite.
1902-285: Rev. Bro. Bush.
1902-291: Junior Grand Warden Edward P. Kendrick.
GRIDLEY HOUSE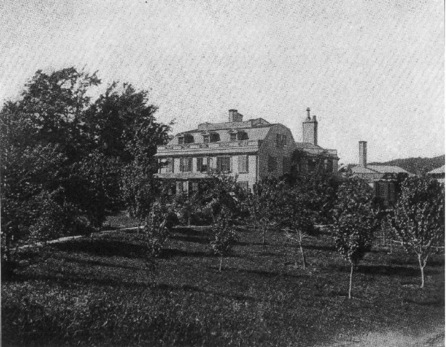 Jeremy Gridley House, Brookline
An essay prepared by Capt. and Bro. R.G.F. Candage, a charter member of Beth-Horon Lodge, prepared a paper on the life of Jeremy Gridley, Past Grand Master;. The house (depicted above and opposite Page 1902-295) was built in 1740. The biography of Gridley begins on Page 1902-305.
LIST OF LODGES IN MASSACHUSETTS BY DISTRICT: 1902
There were 28 districts in Massachusetts in 1902, as well as districts for Chile and China.
Daniel J. Strain, District Deputy Grand Master; 9 Lodges
Tabular: 1902-v
Walter C. Wardwell, District Deputy Grand Master; 8 Lodges
Tabular: 1902-vi
Eugene F. Endicott, District Deputy Grand Master; 9 Lodges
Tabular: 1902-vii
Ira B. Goodrich, District Deputy Grand Master; 10 Lodges
Tabular: 1902-viii
George S. Parker, District Deputy Grand Master; 8 Lodges
Tabular: 1902-ix
Charles S. Soule, District Deputy Grand Master; 10 Lodges
Tabular: 1902-x
George E. Fenn, District Deputy Grand Master; 10 Lodges
Tabular: 1902-xi
John M. Raymond, District Deputy Grand Master; 8 Lodges
Tabular: 1902-xii
William A. Butler, District Deputy Grand Master; 8 Lodges
Tabular: 1902-xiii
Albert S. Manning, District Deputy Grand Master; 8 Lodges
Tabular: 1902-xiv
Charles S. Hart, District Deputy Grand Master; 8 Lodges
Tabular: 1902-xv
Henrie C. Fay, District Deputy Grand Master; 8 Lodges
Tabular: 1902-xvi
Frank H. Oakman, District Deputy Grand Master; 10 Lodges
Tabular: 1902-xvii
Hobart C. Tower, District Deputy Grand Master; 5 Lodges
Tabular: 1902-xviii
Orlando C. Bidwell, District Deputy Grand Master; 9 Lodges
Tabular: 1902-xix
Harry W. Haskins, District Deputy Grand Master; 11 Lodges
Tabular: 1902-xx
Hubert M. Coney, District Deputy Grand Master; 7 Lodges
Tabular: 1902-xxi
Forrest E. Barker, District Deputy Grand Master; 9 Lodges
Tabular: 1902-xxii
George C. Winter, District Deputy Grand Master; 7 Lodges
Tabular: 1902-xxiii
Herbert S. Eldredge, District Deputy Grand Master; 8 Lodges
Tabular: 1902-xxiv
John J. Van Valkenburgh, District Deputy Grand Master; 7 Lodges
Tabular: 1902-xxv
William G. Allen, District Deputy Grand Master; 8 Lodges
Tabular: 1902-xxvi
Daniel H. Smith, District Deputy Grand Master; 8 Lodges
Tabular: 1902-xxvii
Arthur C. Boyden, District Deputy Grand Master; 9 Lodges
Tabular: 1902-xxviii
George S. Marsh, District Deputy Grand Master; 8 Lodges
Tabular: 1902-xxix
George D. Hammond, District Deputy Grand Master; 7 Lodges
Tabular: 1902-xxx
Albert G. Brock, District Deputy Grand Master; 7 Lodges
Tabular: 1902-xxxi
Edward C. Hinckley, District Deputy Grand Master; 8 Lodges
Tabular: 1902-xxxii
Frank H. Thompson, District Deputy Grand Master; 3 Lodges
Tabular: None
John R. Hykes, District Deputy Grand Master; 1 Lodge
Tabular: None
---