MAOtherBrothersV
From MasonicGenealogy
VAN RIPER, THOMAS 1838-1910
From Proceedings, Page 1910-178:
Bro. Thomas Van Riper, Secretary of Mount Holyoke Lodge, South Hadley Falls, was born in New York City, Nov. 17, 1838. He learned the trade of bookmaking when a very young man, and followed that trade until his death. He saw some service during the Civil War, being a member of the Eighth Regiment of New York Militia.
Brother Van Riper received the Masonic degrees in Polar Star Lodge of New York City, in 1866, and withdrew to become a member of Mount Holyoke Lodge. He was elected Secretary of Mount Holyoke Lodge in November, 1883, and held that office until his death with the exception of one year. He was deeply interested in the Masonic Home, and worked earnestly for its endowment. His last official act was to give a receipt for a contribution to the Home. He was a painstaking Secretary, a faithful Brother, and a Freemason whose fraternal work survives.
On Saturday, Oct. 1, 1910, after he had finished his day's work, and while resting quietly by his door, he passed to the world beyond.
VAN VALKENBURGH, JOHN J. 1856-1938
From Proceedings, Page 1938-231:
Right Worshipful Brother Van Valkenburgh was born in West Ghent, New York, May 13, 1855, and died in Framingham, August 3, 1938.
After graduation from Worcester Polytechnic Institute he entered the office of Simpson C. Heald, a consulting engineer in Worcester. He gave particular attention to the problems of sewer construction and water works. He went to Framingham with Mr. Heald in 1885 to lay out a sewer system and remained in active business there up to the time of his death. He was widely known in his chosen field of engineering and had charge of many municipal and institutional projects. He rendered most valuable service to the Grand Lodge by laying out and supervising the sewage disposal plants at the Masonic Home and Masonic Hospital.
Brother Van Valkenburgh served Framingham as Town Engineer until a full time engineering department was set up, and for a time he served as Chairman of the Board of Public Works.
Brother Van Valkenburgh took his Masonic degrees in Middlesex Lodge in 1890 and was its Master in 1899-1900. He was District Deputy Grand Master for the Twenty-first Masonic District in 1902 and 1903, by appointment by Most Worshipful Charles T. Gallagher and Most Worshipful Baalis Sanford.
He received the Chapter degrees in Concord Royal Arch Chapter in 1890 and was its High Priest in 1902-3. After holding several offices in the Grand Chapter he served as Grand High Priest in 1919, 1920,and 192l. He was a member of Hiram Council of Royal and Select Masters, and a member of and Past Commander of Natick Commandery, Knights Templar. A member of the Scottish Rite Bodies in Boston, he was a past Thrice Potent Master of Boston-Lafayette Lodge ol Perfection and was made an Honorary Member of the Supreme Council in 1913.
Brother Van Valkenburgh had suffered several serious illnesses in late years, but had recovered and resumed business activity, to all appearances in good health. His death was startlingly sudden and entirely unexpected. He was one of the most lovable of men, and will be deeply mourned by those who were so fortunate as to know him.
VAN VLIET, LEON 1866-1920
From New England Craftsman, Vol. XV, No. 7, April 1920, Page 216:
Leon Van Vliet, the well-known 'cellist, died suddenly Wednesday, April 14th, at his home, 72 Westland Avenue, Boston. Bro. Van Vliet had not been in the best of health for some time, but he had attended to his professional duties as usual even up to the evening before, when he returned home late from a Masonic gathering and complained of feeling; very tired. Soon after midnight he succumbed to an attack of heart failure.
Bro. Van Vliet was fifty-four years of age, and was born at The Hague. He studied music at Leipsig and in France and one of his teachers was the father of Fritz Geise. And Bro. Van Vliet often played with the son during the early days of his career in this country, to which he came thirty years ago.
Van was especially well known as one of the trio that bears his name, the others being Walter Loud, violinist, and J. Albert Baumgartner, pianist. Each season they often played at the Boston Art Club, of which he was a member. With the members of the various branches of Masonry they also were familiar. For many years he had been in charge of the music at Wentworth Hall, Jackson, N. H., and last summer the twenty-fifth anniversary of his connection with this hotel was observed by the management and guests. For several winters, too, he had conducted a series of chamber concerts at the Hotel Vendome in this city. Bro. Van Vliet was a thirty-second degree Mason. He is survived by his wife, who was Katherine Buitekan of this city. His sunny smile and beautiful music will be much missed by the thousands of brethren who knew him and had heard him play.
VICKERS, WALTER ARTHUR 1937-
BIOGRAPHY, 1988
From TROWEL, Winter 1988, Page 10: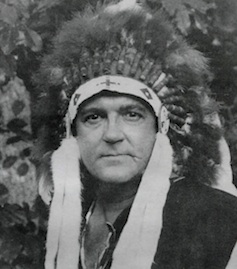 Walter A. Vickers
Wor. Walter A. Vickers Keeps Indian Heritage Alive
On the crest of a hill in the town of Grafton, once known as Hassanamesitt, is located the third smallest Indian reservation in the United States. The descendants of James the Printer still live there, because in 1962 they did something to preserve, for posterity, the little-known historic place to show future generations how the eastern American Indian lived in his natural habitat.
Chief Natachaman leads the band of Hassanamisco survivors of the Nipmuc tribe who are responsible for the preservation. To Massachusetts Freemasonry, the Sachem is better known as Wor. Walter A. Vickers who has just completed a two-year term of office as Master of United Brethren Lodge of Marlboro. Now a resident of Northboro, Bro. Vickers is a native of Marlboro where he was born 51 years ago. He received his degrees in 1980.
"The reservation was set aside in 1728," Bro. Vickers explained. "There were four and one-half acres set aside for the Hassanamisco tribe. Although Hassanamessitt means "the place of many stones," it is actually very fertile land. We weren't as fortunate as our western tribes because there aren't many barren pieces of land in Massachusetts."
The Algonquin Indian Nation inhabited the northeastern region and included many tribes and bands. The Nipmuc Nation included central Massachusetts and dates back to the Paleo period, some 10,000 years ago, according to latest records. Although not as well known as the western Indian Nations, "We must remember that the white man's history in America began on the very doorsteps of the eastern Indians. They may have retrenched, but they did not retreat, and the survivors of the Hassasamesitt band are intent upon keeping the historical site alive and informative for the future. "There are people of our heritage who believe that Thanksgiving Day is a national day of mourning for the American native because of mistreatment and the loss of land through the arrival of white settlers. But I live in a white man's world and I tend to go along with them on their Thanksgiving," Chief Natachaman (Walter Vickers) explained.
The reservation is open to visitors May through October. A highlight of the summer is the annual Pow-Wow, held the last weekend of July. Bro. Vickers was elected Chief as a lifetime position, which is hereditary in his family, coming from a long line of Nipmuc chiefs. His father is a chief and a medicine man who dances around the medicine circle (campfire) during ceremonies, spreading herbs about, supposedly to rid the place of evil spirits.
"Personally, I'm not superstitious, but I think the ceremony works because people put themselves in the ancient time zone of their ancestors and, none of us should ever forget our founding forefathers." He cannot recall any discrimination during his three years in the Air Force. "I can recall when I was a kid and leaving the theater, how the other boys would say, 'Let's play cowboys and Indians.' And, of course, I was always the bad guy. I was teased about scalping, but there was never any meanness about it."
His mother, part Mohawk and part French, and his father always taught him to keep his heritage alive. "My father had a hat that was worn by my great-grandfather who was an Indian scout for Teddy Roosevelt and his Rough Riders," he stated. Bro. Vickers' wife, Carol Anne, is not of Indian heritage but she is as concerned about preserving the history of the eastern Indians as her husband. Their daughters, Sherry Anne, Robin Theresa, Pamela Jean, and Michelle Louise, have also been given Indian names of Bluebell, Red Robin, Morning Glory, and Fawn. "I'm sure my Indian heritage will be more meaningful to them as they grow older." He is equally proud of the privilege and opportunity he has had to preside as Worshipful Master of a Massachusetts Masonic Lodge.
Many Indians have passed through the degrees of Freemasonry and the Red Man has been as tenacious of his obligations and as observant of his duties as his White Brother. There is proof of Indians receiving the degrees as early as the period of the Ameican Revolution and earlier. In MacKay's Encyclopedia of Freemasonry, revised and enlarged to the copyright date of 1929, may be found the story of Joseph Brant, a Mohawk Indian Chief who was made a Freemason "and admitted to the Third Degree" at London, England on April 26, 1776. This was in a Lodge of the Moderns and the Falcons, in Princess Street, Leicester Fields.

Longhouse
It is recorded that, during the American Revolution, Brant was in command of some Indian troops on the British side, by whom Capt. McKinsty of the U.S. Army, had been captured. The Indians had tied their prisoner to a tree and were preparing to torture him, when he made a mystic appeal (known by all good Masons) of a Freemason in his hour of danger. Brant interposed and rescued his American Brother, took him to Quebec, and placed him in the hands of some English Freemasons who ultimately returned him, uninjured, to an American outpost.
Bro. Joseph Brant, or Thayendabegea in his native name, was born on the banks of the Ohio River in 1742 and was educated in Lebanon, CT. He was a member of Lodge No. 11 at the Mohawk Village, about a mile and one-half from Brantford, and was also affiliated with Barton Lodge No. 10 in Hamilton, Canada. In the History of Freemasonry in Canada, Bro. Robertson (page 687) states that Bro. Brant translated the Gospel of St. Mark into the Mohawk language and it was published in 1787. Thanks to the charitable act of Bro. Brant, Col. and Bro. McKinsty lived to the year 1832 in New York. Historical reports tell of how the Colonel repeated with great emotion, his singular experience through the Brotherly act of one Indian, Bro. Joseph Brant.
(Editor's Note: The replica Longhouse on the reservation shows visitors life-size figures with their crafts and implements. The original was built in the 1500s and added to, like other ancient buildings. Books are not on loan but catalog files contain data on 200 Indian tribes and on current subjects. Boy Scouts, Girl Scouts, and Campfire Girls may earn badges there. Inquiries may be made to Walter A. Vickers, Chief, (617) 393-8860, or Anna M. Mays, (617) 753-5034. Reservations to visit can be obtained by calling Shelleigh M. Wilcox, (617) 839-7394.)
VICKERY, CHARLES RICE 1800-1883
From Proceedings, Page 1883-226:
The death of Bro. Charles Rice Vickery, of Taunton, removed from our earthly association a respected representative of the past of Masonry in this State, a member of the little band of surviving signers of the Declaration of 1831. Brother Vickery was born in Taunton, November 23, 1800. He was made a Master Mason in King David Lodge, of Taunton, May 29, 1822 ; and he died, January 16, 1883, — in the eighty-third year of his age, and the sixty-first year of his Masonic life.
The modest career of our worthy Brother was marked by a consistent practice of the Christian precepts, and his character was brightened by a manly sincerity and a quickness of social sympathy, which won for him the respect and love of his fellow-men. From the moment he assumed the obligations of a Mason his heart and his conscience went out to meet the responsibilities thus incurred ; and his love for the Craft, and his interest "in its work,, ritualistic and practical, increased with each advancing year. One of the last acts of his life was the execution of a bequest of $3,000 to King David Lodge, as a perpetual charity fund, the income of which is to be appropriated to the support of the needy and destitute widows of members of the Lodge. By this act of thoughtful generosity his memory will be endeared to the -hearts of those who, through coming generations, will be the grateful recipients of his bounty. It is well for us to hold up the example of this good Mason and large-hearted man, for our OWN encouragement and imitation. May it move us all to a deeper recognition of our duties as members of this Fraternity, and quicken our hearts to the performance of every deed of charity and love!
---