MAOtherBrothersP
From MasonicGenealogy
PACKARD, HENRY HOWE 1818-1885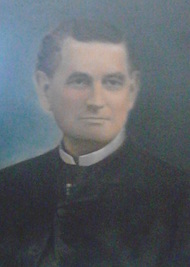 From Liberal Freemason, Vol. IX, No. 2, May 1885, Page 55:
The funeral services over the remains of H. H. Packard, ex-Mayor of the city of Brockton, were held in the Porter Congregational Church, in Brockton, during the afternoon of April 17th last, in the presence of an immense assemblage of people of all classes, who filled the great structure to overflowing, so that fifteen hundred to two thousand persons were turned away from its doors. The deceased was born in 1818, and had been so completely one of the many, that every household, whether rich or poor, seemed to feel that it had lost a member.
All the most prominent business men of Brockton and from the neighboring towns were present. The majority of these had enjoyed an intimate acquaintance with the deceased. Such a representative gathering has been seen in Brockton rarely, if ever before. The entire City Council of this year, many of the members of last year's boards, Mayor Keith, City Clerk Packard, and nearly "every other city official was present. Occupying prominent £eats, attired in the full regalia of the older, were Bay State Commandery of Knights Templars of Brockton, Paul Revere Lodge of Masons and Norfolk Union Lodge of Randolph, with all of which organizations the deceased had been connected.
The casket containing the remains rested in front of the altar. Above it were the chapeaux, sword and apron of the deceased bearing the designs of the Blue Lodge. The floral tributes were of the most elegant description. Among them was a maltese cross of white carnations with border of pansies ; in blue flowers was the motto "Faithful Unto Death," from Paul Revere Lodge, F. and A. M.; a large cross from Bay State Cominandery, Knights Templars, was composed of roses, passion flowers and lilies; a large triangle of carnations and lilies, on which was the word "Rest," from Satucket Royal Arch Chapter. There were handsome floral offerings from Norfolk Union Lodge of Masons of Randolph, from H. N. P. Hubbard of Plymouth, a former partner of the deceased, and from Mayor Keith.
Rev. Warren Goddard, the oldest clergyman in the county, offered the opening prayer, which was followed by a Scripture reading by Rev. J. B. Green of the Unity Church. Rev. F. A. Warfield, pastor of the Porter Church, who delivered the sermon, paid the following high tribute to the character of the deceased:
"Of commanding presence, of tender heart, of philanthropic spirit, of wide fraternal associations, as evinced by these Masonic banners, he must be profoundly missed. Broad in his sympathies, positive in his convictions, prominently identified with public interests, in private life a genial friend, a conscientious counselor, he cannot pass away as a bubble bursts, to be thought of no more, but as a beautiful painting prints itself upon the mind, to be viewed again and again, even after the canvass is destroyed, so they to whom he was dear will live with him, even though he has passed from us."
At the close of the services the cortege was formed on Main Street, as follows:
Escort of Police. Twelve officers under command of Marshal Wheeler.
Martland's Band — 24 pieces. W. J. Martland, Leader.
Bay State Commandery — 86 men — under Sir Knight B. O. Caldwell.
Norfolk Union Lodge — 57 men — under Brother Henry Belcher, Master.
Paul Revere Lodge — 75 men — under Brother D. W. Bullies, Master.
City Governments, 1883-1885, Mayor Ziba C. Keith, City Clerk Packard, Aldermen and ex-Aldermen, Councilmen and ex-Councilmen.
Relatives and friends in carriages.
The pall bearers were J. White Belcher, J. B. Thayer, S. A. Bates and J. W. Pratt of Norfolk Union Lodge, John A. Jackson, Henry Copeland, J. H. Davey and J. H. Swain of Pay State Commandery. It was an impressive scene as the procession moved down Main Street. The latter had been abandoned to the funeral, and every store was closed to business. The streets were thronged with respectful crowds, many of the people reverently lifting their hats as the cortege passed by. At the Union Cemetery a hollow square was formed by the Masonic organizations and the remains were interred with the beautiful services of the order, Henry Belcher, Esq., Master of Norfolk Union Lodge of Randolph, acting as leader.
PADDACK, HENRY 1838-1919
From Proceedings, Page 1920-86:
R. W. HENRY PADDACK was born in Nantucket April 2, 1838, and died in that town December 13, 1919. He was descended from a long line of New England ancestry being eighth in descent from Robert Paddock, who came to Plymouth in 1634.
Brother Paddack attended the public schools of Nantucket and in 1853 was apprenticed to the ship painter's trade, which he followed nineteen years. In 1857 he moved to Fall River, where he was employed in painting ships and steamers. In 1871 he returned to Nantucket and established the firm of H. Paddack & Co., Ship Painters.
Brother Paddack was elected a member of the State Legislature in 1870 and served four years. For ten vears he was a member of the Board of Selectmen in Nantucket and in 1892 he was elected County and Town Treasurer, positions he held for eleven years, when he retired from active business. In 1893 he was elected President of the Pacific National Bank of Nantucket and held that position until 1915, when he resigned. He was for years a member of the Board of Investment of the Nantucket Institution for Savings. In all these positions he gave universal public satisfaction.
Brother Paddack reeeived the degrees of Ancient Craft Masonry in Mount Hope Lodge, of Fall River, in 1865. He dimitted October 6, 1876, and November 6, 1876, became a member of Union Lodge, of Nantucket. He was Master of Mount Hope Lodge in 1868, 1869, and 1870, Master of Union Lodge in 1880, 1881, and 1882, and its Secretary for thirty years, 1883 to 1913. He was appointed District Deputy Grand Master for the Twenty-seventh Masonic District and held that office in 1889, 1890, and 1891.
Brother Paddack was a member of Fall River Royal Arch Chapter and honorary member of Isle of the Sea Royal Arch Chapter in Nantucket. He received the orders of the Temple in Sutton Commandery, K. T., of New Bedford and dimitted to become a charter member of Godfrey de Bouillon Commandery, K. T., of Fall River. He was a life member of the four Bodies of the Scottish Rite in Boston.
As the record shows, Brother Paddack was a zealous and willing worker. Union Lodge had in him a strong pillar of support. He was of pleasing manners, quiet disposition, and an open hand. Everybody in Nantucket respected and admired him, for he was the soul of integrity, a Brother of wise counsel, and a friend of the needy.
Mrs. Paddack died in 1910, ever grieving over the loss of their only son some years before. Funeral services over the remains of Brother Paddack were held, in the presence of a large congregation, in the Masonic Temple, Nantucket, December 16, 1919.
PAINE, ROBERT TREAT 1731-1814
From New England Craftsman, Vol. XVIII, No. 5, February 1923, Page 133:
THE FAME OF ROBERT TREAT PAINE
By Prof. Gilbert Patten Brown, D. C., Ph.D., LL. D.
The fame of many great men has never been fully measured until long after they have given up the labors of life. That which gives a lasting charm to biography is a particular phase of genius in the individual which makes him or her a leader in any chosen endeavor.
In Boston, Massachusetts, there are several old time graveyards. Notable for its many Patriots and Masons sleeping therein is the "Granary Burial Ground" on historic and busy Tremont Street, for it is here that have long since crumbled back to Mother Earth the mortal parts of Robert Treat Paine, a few of whose many virtues will now be told in brief.
Born in Boston, near the present city hall on School street at 4.30 a. m. on March 11, 1731, Robert Treat Paine, whose life demonstrated the true nobility of New England ancestors, is at this time worthy of our at-pntion. The Paines were Masons, as were the Warrens, Gridleys, Webbs, Hancocks and others of Revolutionary fame.
As we follow the life-labors of those sons and daughters of New England whose names le enrolled in the Boston Hall of Fame, we find a reason for the pride we have in family traditions and influences. This section of the country has much of old English conservatism that preserves a pride in the Anglo-Saxon race.
With the Paines we have an example in point of a distinctive New England family, loyal and honorable, proud to trace its history to the emigrant Thomas Paine and to James Paine who was a member of the expedition against Canada in 1694. Robert Treat Paine's father was pastor of a church at quaint Weymouth, Mass. and sometime after 1730 he removed to Boston, entered commercial life and became a successful merchant. Our subject was descended from Stephen Hopkins of Mayflower fame.
Robert's mother was the grand-daughter of Governor Robert Treat of Connecticut, and for this relative young Paine was named. Governor Treat was made a Mason in England. About the time that Paine graduated from Harvard, his father lost his property and that he might at once be a help rather than burden, Robert took a position to teach school and made a success of the work.
With the true New England idea of seeking a fortune in sea life, Robert's next venture was as master of a vessel, making three voyages to North Carolina, following this with a voyage to the coast of Greenland as captain of a whaler. There seemed nothing incongruous to Paine in coming home to take up a study of law and theology, and at 24 years he was chaplain of a frontier regiment at Lake George.
Before he settled down as a lawyer he preached for a while at Shirley, Mass., but at the age of 26 he was admitted to the bar, and began practice at Boston.
He was only 31 years old when in 1768 he was sent as a delegate to consider the conditions of the country. He was chosen to conduct the proceedings against Captain Thomas Preston and his soldiers for the "Boston Massacre of 1770." He was elected a delegate to the first Continntal Congress, and to the second Provincial Congress at Cambridge.
As a delegate to the Continental Congress, 1770, he voted for the Declaration of Independence, and also signed this famous document. In 1777 he. was elected unanimously attorney general for Massachusetts, and was a member of the committee that conferred with members of other colonies for the price to be paid for labor, for provisions and for manufactured goods.
Robert Treat Paine voted for the adoption of the State Constitution; he was for II years judge of the Superior Court; and he was one of the founders of the American Academy of Arts and Sciences.
At Lake George was working a Masonic lodge in the British troops as there bad been at Crown Point. Here Paine is thought to have been made a Mason though the records are not quite clear as to the same. At anv rate, he was a most enthusiastic craftsman. and active in St. John's Lodge, Boston, for several years.
When he was 28, on Tuesday, June 20, 1759, we find him at the home of General John Greaton at "Roxberrie" at the Celebration of the Feast of St. John the Baptist," in company with other notable Masons, such as Major Henry Price, Governor Andrew Belcher, Honorable Benjamin Hollowell, Colonel John Leverett, Colonel Jeremy Gridley, LL.D., Honorable John Rowe, Richard Hooton, (the father of Mrs. Joseph Warren), Colonel Joseph Webb (later Grand Master), Lieutenant Governor Andrew Oliver, Honorable Hugh McDaniel and others of eminent fame in their generation as Masons.
In December of the following year we find him in company with General Jedediah Preble, (father of Com. (Brother) Edward U. S. N.), General Richard Gridley, Honorable Fitch Poole, Colonel James Frye, and one hundred and fifty more notable Masons at a celebrated Masonic banquet.
He appears to have been active in "St. John's Lodge No. 1" of Boston. For a period of 19 years the records of this old lodge arc lost. While at present the lodges in Massachusetts are not numbered, this lodge is still known as the outcome of the first chartered lodge in Boston under Major Henry Price, the founder of New England Freemasonry in 1733.
In the Granary Burial Ground in the heart of the Athens of the New World sleeps Robert Treat Paine, LL.D., beside many of his brethren in Freemasonry — the most notable being Samuel Adams, James Otis, John Hancock, Colonel Jeremy Gridley (father of the Boston Bar), and Paul Revere. Hon. Robert Treat Paine died in Boston, May 11. 1811. In every one of these United States of America there should be at least one Masonic body named in his honor.
The writer has many times visited St. John's Lodge of Boston where Robert Treat Paine often met his brethren in fraternal intercourse. He has more than a score of times stood upon the sacred soil of this lion ored graveyard of Boston. There are no hot-beds of flowers there growing, nor do costly monuments grace that Heaven-like spot, but the true religion of the eternal God is there in evidence to the metaphysical mind, and Robert Treat Paine, the Boston preacher, diplomat, orator, Mason, lawyer, mariner and patriot there rests till time will be no more.
A most interesting chapter of our Colonial history would be a full account of Captain Robert Treat Paine's whaling voyage. He was a good man at any occupation or profession he ever followed. While the ey-whaling captain (a genius to the letter) was in the zenith of manhood there were alive in the fraternal life of "ye modern Athens' three of the most noteworthy Masonic bodies i ever chartered in Anglo-Saxon world Masonry — St. John's Lodge, The Lodge of St. Andrew, and The Massachusetts Lodge.
In the hearts of these Masons of Colonial and Revolutionary Boston was the spirit of the "Boston Tea Party" of December 16, 1773, born there, then came the war of 1775-1783 — the hope of a thousand years, and history tells the rest.
The greatest document since the "Sermon on the Mount" — the Declaration of Independence —was nothing short of the spirit of the ritual of Freemasonry, and Robert Treat Paine with the assistance of Samuel Adams, of St. John's Lodge, created the sentiment that placed John Hancock, (a member of the Lodge of St. Andrew) president of the Continental Congress, a body composed of over 98 per cent Masons.
Seasons come and go, generations are born and pass away, but while the tide of the ocean still ebbs twice in each twenty-four hours and the stones of the republic still stand, the mind of the lover of history will never tire in hearing of the fame of Robert Treat Paine, who lived a life worthy of emulation by all pilgrims to eternity.
Old St. John's Lodge of Boston, where our hero once worshiped in "due and ancient form" is one of the most thrifty bodies in New England's Masonic life. Near the last resting place of Paul Revere, the "Messenger of the Revolution", sleeps this patriot of a time when the souls of men were tried and when Masons labored to establish the most unique republic in all history.
It was through Mr. Paine's patriotic influence that Judge Peter Oliver was impeached. Lawyer Oliver was an officer of St. John's Lodge. He was a Tory of much prominence in his day.
Captain Paine married on March 15, 1770 Miss Sally Cobb, (the daughter and sister of a Mason). She died in Boston Jan. 6, 1816. In the Continental Congress Captain Paine was modest and brave, honest and candid. He moved to Taunton in 1761, and is not known to have attended a meting of the craft in Boston afterwards. In the Continental Congress he spent much time with such of his Masonic brethren as Elbridge Gerry, William Whipple, and Samuel Adams. He was a statesman and not a political expert, as are many in Congress today.
PALFREY, WILLIAM 1796-1878
From Liberal Freemason, Vol. II, No. 5, August 1878, Page 160:
Mr. William Palfrey, who died at his residence, No. 12 Garland Street, on Saturday, July 27th, 1878, at the age of 82 years, was formerly in the City Registrar's office, and was always known as a faithful servant. He was a brother oi Rev. Cazneau Palfrey, and cousin to Hon. John G. Palfrey. His grandfather was one of the charter members (1770) of Massachusetts Lodge of Masons, and his father for a long while Secretary of the same Lodge. He and his son Robert also were members, making four generations in the same organization.
PALMER, ALFRED M. 1866-1907
From New England Craftsman, Vol. II, No. 1, October 1906, Page 38:
Brother A. M. Palmer was drowned in Chicago, August 17. His body was recently brought to the home of his father in Candia, N. H., for interment.
Prayer was offered at the grave by the Rev. J. S. Curtis. Hearers were Donis Patten, C. S. Lang, G. A. Beane and Frank Allen. Among the flowers was a wreath from Rabboni Lodge, A. F. and A. M., Boston: wreath from Silver Hill Outing Club, Dorchester, Mass. There was a profusion of (lowers from family and friends.
PALMER, CHARLES EDWARD 1840-1915
From New England Craftsman, Vol. XI, No. 2, November 1915, Page 67:
Brother Charles E. Palmer, a well known business man of Hyde Park, Mass., died suddenly October 25th. He was born in Gardner, Me., seventy-five years ago, and for the last thirty-five years had been a resident of Hyde Park. At the outbreak of the Civil War he enlisted in Company A 47th Regiment, M. V. M., for three months. He re-enlisted in the 2nd Maine Artillery and was discharged March 19, 1863, for disability. Mr. Palmer was a member of Hyde Park Lodge, A. F. & A. M., Hyde Park Council, R. and S. M., Norfolk Royal Arch Chapter, Cyprus Commandery, K. T., a charter member of Neponset Council, R. A., and a member of the Master Painters' Association.
PALMER, LEWIS M. 1860-1919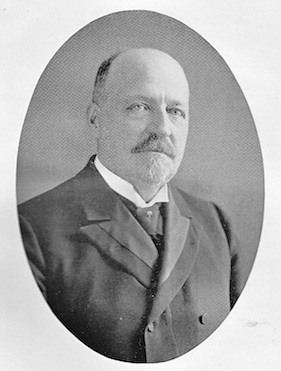 From Proceedings, Page 1919-187:
R.W. Lewis M. Palmer, M.D., was born in Richfield, Me., September 2, 1860, and died at the Framingham Hospital, June 4, 1919. After graduating from the schools and academy of his native town he entered Bates College from which he graduated in 1875. For the next three years he was Principal of the Hopkinton High School and then took a course in the Harvard Medical School, from which he was graduated in 1882.
Shortly afterwards he settled in Framingham and attained a high reputation as a physician. His preparation for work in his chosen profession was completed by taking several courses in some of the largest medical colleges in Europe.
Dr. Palmer was active in establishing a hospital in Framingham, was chairman of its staff, and an instructor in the Framingham Training School for Nurses. He served on the School Committee for several years and was prominent in the activities of the Board of Trade, being a past President. He promoted and formed the Framingham Choral Union and was a member of the committee of thirty three which in the year 1900 had direction of the celebration of the two hundredth anniversary of the incorporation of the town. He was Medical Examiner of the Eighth Middlesex District for seventeen years. This brief sketch of his life and work proves his activity in the civic and social life of Framingham and his great interest in the welfare of its inhabitants.
R.W. Brother Palmer received the Masonic degrees in John Warren Lodge, of Hopkinton, 1876, and dimitted February 15, 1883. He joined Alpha Lodge of Framingham, July 10, 1883, and served as its Master in 1892 and 1883. He served as District Deputy Grand Master for the Twenty-first Masonic District in 1892 and 1893. He was a member of Concord Chapter, Royal Arch, of Natick Commandery, Knights Templars, and of Boston-Lafayette Lodge of Perfection.
Notwithstanding Brother Palmer's many calls for advice and work in his professional aqd public duties, he was a zealous Mason, interested in all the interests of the Fraternity, and publicly and privately exhibited the character of a true and faithful Brother.
In the passing away of R.W. Brother Palmer, I feel a deep sense of personal loss. During nearly all the years of my Masonic iife he has been a close and valued friend and Brother-one upon whose j.udgment and kindly advice I could always rely. Masonry is richer and the world is better because he lived.
PALMER, MARTIN d. 1859
MM 1856, Star in the East
Died 11/1859 Cannot find a birth date for him, but he appears to have been a sailor aboard the bark Kingfisher, out of New Bedford
From Moore's Freemason's Monthly, Vol. XIX, No. 3, January 1860, Page 95:
At a Special communication of Star in the East Lodge, held at Masonic Hall, Monday evening, Nov. 28th, A. L. 5859, on motion of Bro. Hiram Webb, the following Preamble and Resolutions were unanimously adopted by the Lodge:—
Whereas it has pleased Almighty God to withdraw from our earthly Lodge our esteemed Brothers Martin Palmer and Joseph R. Tallman, Therefore
Resolved, That by this dispensation of Divine Providence, we feel that this Lodge has sustained the loss of active, generous and worthy Brethren, who have been associated with us, and with whom we have enjoyed many pleasant hours.
Resolved, That we bow with submission to the will of the Great Architect of the Universe, who doeth all things well, and while we deeply mourn the loss of these our Brethren, we are consoled in the reflection, that their labors are ended, and they are now made perfect Ashlers, fitted and prepared by the Great Master builder for that house not made with bands, eternal in the Heavens.
Resolved, That we sincerely, deeply and most affectionally sympathize with the widows, children and immediate friends of the deceased in their afflictive bereavement, and that a copy of these resolutions be sent to their families through the Secretary.
Resolved, That the Lodge wear the usual badge of mourning for thirty days.
Resolved, That the above resolutions be entered on the Lodge Books, and a copy of the same be forwarded to the Masonic Magazine for publication.
Lucius H. Morrill, Secretary of Star in the East Lodge.
PALMER, WILLIAM 1780-1860
From Moore's Freemason's Monthly, Vol. XIX, No. 6, April 1860, Page 166:
Among the older members of the Fraternity in this city — of those who were the stays and supports of the Institution in the day of its greatest trial and pressing need, when its friends were few and its enemies were many — there was none — no, not one — who was truer to his duties as a Mason, or more reliable in his fraternal relations and friendships, than the beloved and lamented Brother whose decease, in the providence of God, it has become our duty to record in the pages of this Magazine. He was-n Mason, not more from a love of the principles and purposes of the Institution, than from the natural benevolence of his heart. He loved Masonry because it was in harmony with the instincts of his own nature, and he would have been a good and true Mason — true to its teachings and purposes, had he never entered a Lodge. He was an honest man — a reliable man — a benevolent man, — a true friend — a warm and genial companion — and, it is hoped and believed, he died a good Christian.
We have not the necessary data for a suitable memoir of our Brother. He was born at Shirley, in Massachusetts, and was for many years extensively engaged in the manufacture of printing paper in Sudbury, having a warehouse in this city, where he resided, and where he was held in high esteem as a merchant and citizen. He represented the city for several years in the Legislature, but whether he ever held any municipal office we are unable to say.
He was initiated into Masonry in early life, and in 1822 he became a member of the Boston Encampment of Knight Templars, to which he was ever warmly and ardently attached. And at a meeting of that body on the 9th February last, Dr. Winslow Lewis offered the following appropriate and fitting remarks and resolutions, which were adopted and ordered to be entered upon the records, as a slight testimonial of the affection and esteem in which the deceased was held by his Companions and friends :—
The old generation of our Order is fast passing away. How few the number of those who are spared to witness its present prosperity! How fewer those who can still come among us to help, aid and assist. Where are the companions of our early days? Echo can only reply, Where! but Faith points to happier skies. This little band, mere remnants of themselves, have been rendered less by the recent departure of one, who, at the age of 80 years, has gone to be numbered with the good and true.

Sir William Parker died after a lung and painful illness, Feb. 3d. He died leaving the odour of a good name among the general community, and of a firm, loyal, unwavering character as a Sir Knight of our Order. Those of us, now so few, to bear testimony of his worth, can well recall bis manly devotion to his vows, when so many were recreant; his kindness of heart; his benevolence of soul; his genial face ; his social, hospitable characteristics. When we have met him tottering under the load of age, but more under the inflictions of a torturing, wearing disease, how his countenance would radiate when the olden, joyous days were recalled. For the moment, age and suffering were forgotten." 'He shouldered his crutch and told how fields were won.'

But he has now fallen before the great conqueror, death. In life he has well fought the fight of faith, and has come off more than conqueror through Him in whom he put his trust. A tribute to his memory should grace our Records. Now dead, the pen should there inscribe those virtues which through life were ever felt and acknowledged by our hearts. Therefore


Resolved, That this Encampment shall ever hold in dear remembrance, the many virtues which through a long and successful life distinguished our late excellent Brother, Sir Knight William Parker.
Resolved, That those of his contemporary associates who best knew his worth, his zeal, his excellence as a man and Sir Knight, would now bear their testimony that he fulfilled every high duty imposed on him as a member of our Order.
Resolved, That the younger Sir Knights of this Encampment, stimulated by the example of one who, though unknown to them in life, has transmitted to them a bright example, will thus be ever urged to press onward in their high vocation in which they are here enlisted.
Resolved, That his family, sharers of his affection in life, of his precious memory in death, be tendered the sincere sympathies which affect us all, at the loss of one, who as a husband, father, friend and associate well fulfilled every duty.
PARKER, BOWDOIN STRONG 1841-1923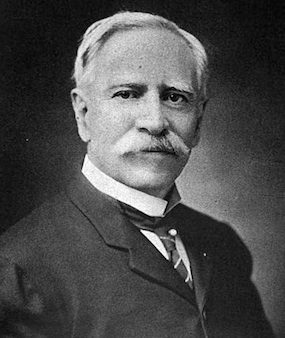 From Proceedings, Page 1923-32:
Bowdoin Strong Parker died on December 19th at San Francisco, California, while on a business trip for the Crystal Copper Company, with which he had been associated for the past eight years and of which he was Treasurer at the time of his death.
He was born at Conway, Mass., August 10, 1841. During the Civil War he served. as a private in the Fifty-Second Massachusetts Volunteer Infantry, and in 1870 he became a Captain in the Militia. From 1879 to 1881 he was an Adjutant, and he was Judge Advocate of the First Brigade from 1882 to 1888. For eight years he was Assistant Adjutant General and Chief of Staff of Brigade, and retired in 1897 with the rank of Colonel.
He was prominent in civic affairs - a member of the Common Council of Boston from 1889 to 1891, and a member of the State Legislature in 1872 and 1873, and in 1910 he was appointed City Collector of Boston, holding that office for the next four years.
He was a Past Commander of Edward W. Kinsley Post 113, Grand Army of the Republic, and he prepared a history of that Post. He compiled and edited the Special Laws of the State of Massachusetts from 1889 to 1893.
Bro. Parker was raised in Republican Lodge, of Greenfield, on September 24, 1862, and he was Master from 1866 to 1868, and again from 1872 to 1873, and he was for many years the proxy for his Lodge to this Grand. Lodge. He was District Deputy for the 8th District in 1874 and 1875.
He was Exalted in Franklin Royal Arch Chapter, June 22, 1864. He was Knighted in Connecticut Valley Commandery No. 23 on September 3, 1872, and was Eminent Commander in 1874 and 1875.
He was married in 1867 to Catherine Helen Eagen, of New York, who died in 1899, and in 1915 he married Mrs. C. A. Leizzinger, of Roxbury, who with a daughter, Mrs. C. W. McConnel, of Brookline, survives him.
Bro. Parker was a highly respected citizen, a valuable public servant, and an honor to our Masonic fraternity to which he contributed so long and faithfully of his time and ability. I cannot refrain from asking you to pause and recall not with sorrow, but with the joy that time's understanding brings, all those who once were with us, "men of power, wisdom, and foresight; honored in their generation, and by their knowledge fit helpers of their fellowmen." We thank God that such have been, and out of our )oving remembrance we vision for ourselves those splendid heights of serviee toward which their faces were turned and we set our feet more firmly.in those paths which their feet have worn.
PARKER, DAVID 1788-1866
MM 1815, WM 1820-1823, 1827-1828, 1835-1836, Lodge of St. Andrew
Grand Pursuivant 1824-1826, Junior Grand Steward 1827-1829, Junior Grand Deacon 1830-1833, Senior Grand Deacon 1834-1835
From Moore's Freemason's Monthly, Vol. XXV, No. 7, April 1866, p. 208:
One after another, and in rapid succession, our aged brethren — those of a school and generation now almost extinct — are passing on to that uncertain land appointed as the final home and resting-place of all men. But few of them are left. The links of the chain connecting the present with the days of their active labors are nearly all broken. In a very few years more, and all of that venerable band who in the fierce warfare of anti-masonry stood shoulder to shoulder in defence of our beloved Order will have gone to their reward. We owe them an inappreciable debt of gratitude ; and it is "right, and proper, and our bounden duty," that as they shall finish their work and pass on to their heavenly rest, we, their surviving brethren, should moisten their graves with the tear of fraternal love and grateful remembrance. Recognizing the obliga tion of this duty, and in compliance with the expressed wishes of the deceased, St. Andrew's Lodge of this city assembled at Freemasons' Hall on Wednesday, the 11th of April, to perform the last sad rites of sepulchre over the remains of their venerable and beloved Brother Deacon David Parker.
We have been permitted to publish the following interesting letter, written in answer to an invitation of the Lodge to attend a proposed celebration of the fiftieth anniversary of the writer's membership. It was probably the last letter he ever wrote on the subject of Ma sonry, and indicates his wishes: —
Mr. William Parkman.
West Barnstable, Jan. 21,1868.

My Dear Friend and Brother, — Your kind letter of 12th inst. was received by due course of mail; and I assure you that it gave me much pleasure to hear from my old friends of St. Andrew's Lodge, and more particularly for their kind remembrance of me; and if my health would permit, nothing would give me more pleasure than to meet with my brethren at the time proposed. But, alas ! it cannot be. My days are fast drawing to a close, and my facul ties are fast refusing to perform their wonted duties; so that for days I do not go out of my house. Under these circumstances, I have only to make myself as comfortable as possible, and wait patiently until our Heavenly Father shall call me home; and then my remains will be taken to Boston, and thence to Mount Auburn; and the assurance that a few of my old friends of St. Andrews' will attend my remains to their last resting-place, and deposit the Masonic evergreen on my coffin, will be a source of satisfaction to think of. You will please express to the brethren of the Lodge my gratitude for the many favors I have received at their hands; and as for yourself personally, my dear brother, you have always acted towards me as a true friend and brother, and you have the thanks of a grateful heart.
Yours truly,
David Parker.
The Lodge was opened in due form; and the W. Master having appropriately announced the purpose of the meeting, R. W. Brother Moore, as the Senior Past Master, submitted the resolutions appended to this notice. The members then proceeded in carriages to the Universalist Church in School Street, where the funeral services were performed. Rev. Bro. Gatlord of this city read the selections from the Scriptures; and Rev. Bro. R. S. Pope of Hyannis, who< at the special request of the deceased, had accompanied the family from Barnstable, pronounced the eulogy. It was a chaste, appropriate, and graphic performance, — a modest and truthful tribute of love and affec tion to the memory of a dear friend and brother. At the conclusion of the address, Rev. Dr. Miner, President of Tufts' College, ofFered an eloquent and earnest prayer for the bereaved family and kindred. The remains were then conveyed to Mount Auburn for burial. At the grave a portion of the Masonic funeral service was read by Past Grand Master Parkman, and a prayer was offered by the Rev. Bro. Pope. The "Masonic evergreen" was then deposited; our brother's request complied with, and our duty performed.
The following resolutions were adopted by the Lodge before pro ceeding to the Church: —
Preamble.
The seed-time, then the harvest - the sowing, then the reaping—death, and then the resurrection. Man cometh forth like a flower and is cut down; he fleeth also as a shadow, and continueth not; his life is swifter than a weaver's shuttle.
Another link in the chain of our fraternal circle is broken; another dearly- beloved brother has gone to that bright, celestial home, where there is no need of the light of the sun, or the moon, or the stars, for the Lord our God is the light thereof!
Brother David Parker, in a ripe old age, has laid down the gavel, and ceased from his labors on earth to renew them in heaven. The "West Gate" will no longer be opened for him; his footstep will no more be heard in our halls; his voice will no longer be lifted up in counsel; his accustomed place in our little Lodge will know him no more forever. The silver chord is loosed; the golden bowl is broken. Man goeth to his long home, and the mourners go about the streets.
Brother Parker died at West Barnstable on Saturday, the 7th of April instant, in the seventy-eighth year of his age. He was born at Shelburne, Nova Scotia, Dec. 29, 1788. Ho removed to Boston early in life, and soon engaged in active business. He was made a Mason in St. Andrew's Lodge in 1815, and was admitted a member in the succeeding year. He had served, at various times, in nearly all the minor offices of the Lodge; and, in 1820, was elected its W. Master, the duties of which office he discharged for two years to the great acceptance of his brethren, and was twice subsequently re-elected to the same office. He never advanced beyond the grade of a Master Mason: assigning as a reason, that he found more of good in the requirements of the Masonry of the Lodge, than he could live up to. He was for a long term of years the chairman of the Board of Trustees of the Lodge, and rendered valuable services in advancing and protecting its pecuniary interests. He loved his Lodge next to his Church; and the attachment was ever cordially reciprocated by his brethren. He filled at various times subordinate offices in the Grand Lodge, but declined promotion to any of the more important and arduous places in that Body, on account of his business engagements. Our brother was in some respects peculiar in his personal characteristics. Possessed of strong common sense and an indomitable energy of character, he was persistent, and usually successful, in whatever he undertook. The prevailing element of his character, and that which made him a useful member of society and a reliable friend, was his manly frankness, his generous im pulses, and sterling honesty. Nothing could sway him from the right, or persuade him into the wrong, against his own convictions of duty. But he has left us; and it only remains for us to place our appreciation of his worth on record, as a testimony to those who may come after us. To this end, the following resolutions are submitted: —
Resolved, That in the death of Brother David Parker, St. Andrew's Lodge has lost its oldest, and one of its most beloved and honored members, — one who had served it for more than half a century, with unabated zeal, untiring industry, and unyielding integrity. Honest, frank, and sincere in all his social relations, his brethren looked to him for counsel in every emergency, where intelligence, sound discretion, and faithfulness were necessary to success. Resolved, That in his death, the Masonic family of Massachusetts has lost a brother, who, in the day of trial and adversity, was to them a pillar of strength and a tower of defence.
Resolved, That we tender to his bereaved wife and family our warmest sympathies in their great affliction.
Resolved, That the Lodge attend his funeral this day, and that the Jewels be draped in mourning for the succeeding three months.
PARKER, DAVID FISKE 1834-1879
From Liberal Freemason, Vol. III, No. 7, October 1879, Page 208:
David F. Parker, commissioner of highways, died at his residence on Chatham street, Worcester, Mass., Saturday evening, September 20th, aged 45 years. His death had been expected almost hourly for several days, his illness having first shown itself in an alarmin» manner early last spring. It resulted from a hard cold taken whi]e attending to his official duties during a severe storm last winter which could not be shaken off, and finally settled upon his lungs.
Brother Parker was a native of Holden, but had been a resident of Worcester for 17 years, and was fully identified with its progress during that time, having filled the office of highway commissioner for eight or nine years. He was also interested in other branches of business, although the work was necessarily left to his partners, the city business demanding all his time.
He was prominently connected with the Masonic Order, and the Odd Fellows. At the time of his death he was Eminent Commander of Worcester County Commandery of Knights Templars. He was also a member of Montacute Lodge, Eureka Chapter, and Hiram Council. Naturally he was a man of wide acquaintance and claimed as friends probably as large a number of people as any resident of the city. As an executive officer he had few equals, and the more business he had on hand the more contented he always appeared. full of energy, which until less than nine months ago appeared supported by almost inexhaustible powers of endurance, he was prompt in the discharge of his duties, and never seemed willing to abandon a task once undertaken till it was completed. Although the demands upon his time were numerous, the energy with which he worked, enabled him to attend to duties which would never have been entrusted to a man of less determination.
His circle of friends was large and ever increasing. His friendship was valuable because it was reliable, constant, and susceptible ot strong tests, without danger of breaking. It was often remarked of him that if any man enjoyed life it was he. The truth of this will llC readily admitted by those who knew him best, but he was one of those who could not enjoy himself unless those around him were sharing in the pleasures which he enjoyed. He was generous almost to a fault, sharing his own willingly with others, and giving generously when called upon to assist a needy friend or object. His activity, generosity and hospitality made him a man who will be greatly missed in every day life, and among his main friends and associates his death will create a vacancy not easily filled. He leaves a wife but no children. His funeral took place Thursday following his death, at Plymouth Church, and was in charge of the Commandery, Eminent and Rev. T. E. St. John, Grand Prelate, officiated as Prelate, at Sir Knight Parker's request.
PARKER, FREDERICK WESLEY 1864-1923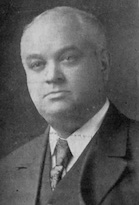 Card says born 05/09/1863
From New England Craftsman, Vol. XVIII, No. 6, March 1923, Page 183:
Frederick W. Parker died Tuesday, at 9.45 p.m. at his home, 135 Highland Avenue. He had been in poor health for several months and since November 1 had been seriously ill. He showed wonderful courage and hope throughout his illness. In his death Somerville loses a valuable and public spirited citizen and one who had the interests and welfare of the city at heart.
Bro. Parker was born in Boston, May 29, 1864, the son of Jerome W. and Ann Eliza (Wright) Parker. On his father's side he was descended from Deacon Thomas Parker, who came _ to New England in 1635 and settled in Reading. On the maternal side he traced his ancestry back to three men who came over with the Mayflower to Plymouth in 1620. These were Francis Cooke, from whom he was descended by four different lines of inter-marriage, Stephen Hopkins and George Soule.
Mr. Parker attended the public schools in Charlestown, where the family removed when he was two years old, and in 1878 he was graduated from the old Harvard School. At the age of nineteen he entered the employ of Perkins, Dupree & Company, bankers, of Boston, and four years later became a partner in the banking and brokerage business of Sawyer, Clement & Company. In 1892 Mr. Sawyer retired and the firm name became Clement, Parker & Company, and as such the firm name is still known. He had served as one of the governors of the Boston Stock Exchange of which he was a member. In 1895 and 1896 he was a member of the Common Council and served efficiently on some of the most important committees.
Deeply interested in historical and genealogical matters he was recognized as an authority in these lines, and was a member of the New England Historic Genealogical Society as well as the Society of Colonial Wars, the Bostonian Society (life member), the American Philatelic Society, the Somervilla Historical Society, life member, and the Society of Mayflower Descendants. He was a member of John Abbott Lodge, Somerville Royal Arch Chapter, Orient Council, Royal and Select Masters, and St. Bernard Commandery, Knights Templar.
Bro. Parker was married in June, 1887, to Miss Nellie E. Blodgett, of Cambridge, Besides Mrs. Parker he leaves one daughter, Miss Mildred Blodgett Parker.
The funeral services were held at 2 o'clock, at the family residence, 135 Highland Avenue. The services were largely attended.
PARKER, JAMES HENRY 1834-1885
MM 1861, WM 1863, 1865, 1866-1868, Meridian
From Liberal Freemason, Vol. VIII, No. 12, March 1885, Page 383:
The funeral services of James H. Parker of Milford, who for many years has been prominently connected with Masonic bodies, occurred in Natick, March 19th. The remains, accompanied by a delegation of Milford Conn mandery, were received at the railway station at 10 :30 a. m., and in charge of Meridian Lodge, A. F. & A. M., escorted by Natick Commandery and Parker Royal Arch Chapter, were conveyed to Masonic Hall, where the services were held. The exercises consisted of singing by the Masonic quartette, followed by an invocation by Rev. J. P. Sheafe, chaplain of the Meridian Lodge.
A brief eulogy upon the life of the deceased was delivered by E. H. P. H. G. Wood, after which was performed the regular Masonic service. The pedestal and bier were tastefully trimmed with flowers, and the floral emblems contributed were beautiful. The remains, accompanied by a delegation of Natick and Milford Masons, were taken to Cohasset for interment.
Brother Parker was Master of Meridian Lodge something like twenty years ago, and was always a zealous and skilful ritualist. He was one of the charter members of Parker Royal Arch Chapter, which was instituted in 1867, and which bears his name, and was the first H. P. of that organization. He was also one of the founders of Natick Commandery and its first eminent commander.
PARRY, JOHN EPHRAIM 1855-1905
From New England Craftsman, Vol. I, No. 3, December 1905, Page 104:
Brother John H. Parry, ex-Senator from the second Middlesex district, died at his home in Cambridge, Mass., November 1st after a long illness. He was born in Cambridge July 3, 1854. He worked several years as clerk in a grocery store, and in 1878 he entered the brickmaking business, succeeding his father, and then became senior member of the firm of Parry Bros. & Company, one of the largest brick-making concerns in New England. The firm operated large yards in North Cambridge and Belmont, and in West Rochester, N. H.
Mr. Parry was elected a member of the
Common Council of Cambridge in 1SS8,
and was an alderman in that city in 1889,
1890 and 1891. He served in the House of
Representatives in 1893 and 1894. He was
elected to the Senate from the second
Middlesex district in 1900 and 1901. He 
was Past Master of Charity Lodge of
 Masons, Past District Deputy Grand Master, 
a member of Cambridge Royal Arch
 Chapter and of Cambridge Commandery,
Knights Templars. He was an ex-director
 of the Citizens' Trade Association, and a 
member of the Boston Master Builders'
Association. He was also a member of the
Colonial and the Newtowne clubs in
Cambridge.
PARSONS, GEORGE NELSON 1833-1886
From Liberal Freemason, Vol. X, No. 4, July 1886, Page 125:
The death of this zealous craftsman occurred at his home, in Springfield, Mass., on Saturday forenoon, June 19th, 1886, at the age of about fifty-three years. Companion Parsons was a native of New Hartford, Conn., but had lived in Springfield for thirty years. He received the degrees in Roswell Lee Lodge, F. and A. M., was exalted in Morning Star R. A. Chapter, received the Council degrees in Springfield Council, and was knighted in Springfield Commandery. He was a working Mason from the beginning, notably in the three latter bodies. He had presided over the Chapter and Council and was Prelate of the Commandery at the time of his death. He was Deputy Grand Master of the Grand Council of R. and S. Masters of Massachusetts in 1885, and was occupying for the fourth year the office of D. D. G. H. P. of the 5th Capitular District. His widow and only daughter have the sympathies of the brotherhood, a large number of whom, especially in Springfield, where he was known, held Brother Parsons in high estimation.
PARSONS, WILLIAM, III 1876-1916
From Proceedings, Page 1916-304:
R.W. William Parsons, 3d, was born in Gloucester June 17, 1876, and died there June 23, 1916. Practically he spent all his life in that city. He was educated in the public schools, after which he assumed management of the "Retail Dry Goods, Men's Clothing and Furnishing, Boots and Shoes" business left by the late Joseph Parsons. Brother William Parsons, 3d, managed it profitably and to the great satisfaction of his customers during his business life.
Brother Parsons received the Masonic Degrees in Acacia Lodge, East Gloucester, in 1903 and became its Master November 24, 1909. He was appointed District Deputy Grand Master of the Ninth Masonic District December 28, 1915, and held that office at the time of his decease. He was also a member of William Ferson Royal Arch Chapter and of Bethlehem Commandery, Knights Templars, No. 43, both of Gloucester, Mass.
Brother Parsons lived a quiet but active life, endearing himself to all classes by his kindly disposition and pleasing demeanor. The respect in which he was held by his Masonic Brethren was evinced in the representation at the funeral from the Lodges of the Ninth District and the attendance of Bethlehem Commandery, Knights Templars. Burial services were observed by Acacia Lodge assisted by R.W. and Reverend William H. Rider, D.D., who attended as the personal representative of the Grand Master. Brother Parsons is survived by a widow and three children.
From New England Craftsman, Vol. XI, No. 10, July 1916, Page 346:
William Parsons, 3d, for many years prominent in Masonic circles throughout the State, died at his home in Gloucester, Mass., Friday evening, June 23, after a brief illness. He was forty-five years old. Parsons at the time of his death held the office of District Deputy Grand Master for the Ninth Massachusetts District. For some years he had been proprietor of a dry goods business in East Gloucester. He is survived by a widow and three children.
PARSONS, WILLIAM EMERSON 1862-1931
From Proceedings, Page 1932-17:
Brother Parsons was born in Rockport January 30, 1862, and died in Gloucester December 23, 1931.
During all his active life Brother Parsons was a conspicuous figure in the business, social, and fraternal life of Gloucester and the neighborhood. He was for many years Secretary and Treasurer of the Gloucester Mutual Fishing Insuiance Company. He was also Treasurer of the Addison Gilbert Hospital at Gloucester.
Brother Parsons took his Masonic degrees in Ashler Lodge in 1884 and was its Junior Warden in 1886, but did not progress beyond that station. He dimitted from Ashler Lodge in 1894 and affiliated with The Tyrian Lodge, serving as its Master in 1895 and 1896. He was District Deputy Grand Master for the Ninth Masonic District in 1916 and 1917, by appointment of M.W. Melvin M. Johnson and M.W. Leon M. Abbott.
He was High Priest of William Ferson R.A. Chapter in 1893 and 1894, and Distict Deputy Grand High Priest for the Second Capitular District in 1925 and 1926. He was Commander of Bethlehem Commandery No. 43, K.T., from 1904 to 1906. He was also a member of the Scottish Rite Bodies in Boston.
In 1916 he was elected Treasurer of his Lodge, Chapter, and Commandery and held the same offices at the time of his death.
Brother Parsons was a fine exemplar of truly Masonic manhood. Honored for his high integrity and his conspicuous civic interest, he was loved for his large generosity, his sympathetic understanding, and his unfailing friendliness. The community which he served and the Fraternity which he loved are immeasurably poorer by his loss.
PARTRIDGE, ALMOND G. 1847-1906
From Proceedings, Page 1906-152:
Wor. Bro. Almond G. Partridge, D.D.G. Master of the Twentieth Masonic District in 1904 and 1905, died at his home in West Medway Nov. 14, 1906. He received the Masonic Degrees in Charles River Lodge, of West Medway, in 1877, and was Master of that Lodge in 1888, 1889 and 1899. He was very much beloved by thc Fraternity, especially of tbe Twentieth District, and held the regard and respect of all persons who knew him.
PATCH, DANIEL A. 1832-1907
From New England Craftsman, Vol. II, No. 12, September 1907, Page 470:''
Brother Daniel A. Patch who was formerly a well known business man of Boston, died August 3d. He was a member of the Common Council in 1870 and 1871 and of the House of Representatives in 1872 and 1873.
Mr. Patch was a life member of the Columbian Lodge of Boston, A. F. and A. M., a member of the Boston Light Infantry Association, and of the Central Club (now disbanded).
PATERSON, WILLIAM 1918-2001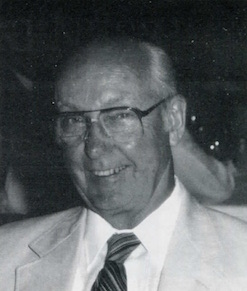 From TROWEL, Summer 1991, Page 16:
R. W. WILLIAM PATERSON. P. M. and Secretary of Amicable Lodge and P. D. D. G. M. for the Cambridge 2nd Masonic District, was installed Most Excellent Grand High Priest of the Grand Royal Arch Chapter of Massachusetts at its Annual Convocation on December 12, 1990.
The close-knit Paterson family emigrated from Wishaw, Scotland, to Cambridge, MA. in the early and mid 1920's. In September 1941, R. W. Bro. Paterson married M. Phyllis Jones, whose family had transplanted from Hazelbrook. P. E. I., Canada in the mid 1920's. Their family consists of daughters Jean and Ellen (who were active in the Belmont Assembly of Rainbow Girls) and son William L. (an Officer in the Belmont Chapter of DeMolay and now a P.M. of Amicable Lodge, a member of Cambridge Chapter, of Scottish Rite-Valley of Boston and of Aleppo Temple). They have six grandchildren. Phyllis Paterson died in 1982.
R. W. Bro. Paterson graduated from Cambridge High & Latin School in the midst of the Great Depression. After months of part-time and full-time work in the stores of a large grocery chain, he was hired in 1936 by Cambridge Electric Light Co. From Office Boy he progressed through various operating departments to become Assistant General Manager. As a result of the consolidation of several electric companies into the Commonwealth Electric Co., he became manager of Training for the new company and was based in New Bedford, and eventually in Wareham, MA. After more than 46 years of service, he retired in 1983.
During WWII, Paterson served with the U. S. Navy in communication and navigation assignments aboard the U. S. S. Aquila AK-47, an attack cargo ship that traversed the North Atlantic and Caribbean areas. In December 1945, he returned to civilian life.
After the war, he resumed his interrupted schooling at Northeastern University's Evening Program and in 1952 was graduated with his B.B.A. degree. He was also graduated from the University of Michigan Public Utility Executive Program in Ann Arbor, Michigan, as well as the New England Public Utility Middle Management Program, which he had assisted in establishing and in which he served for many years as a director and conference leader.
His volunteer services to church, civic and Masonic activities have been intertwined over more than 45 years. In the First Baptist Church of Cambridge, he was a Sunday School teacher for high schoolers, the General Superintendent of the Church School, and served on many of the church boards. He has sung in various church choirs for more than 30 years. He served as publicist for many years for the Cambridge Ministers' Council and its Reformation Day Observance Committee.
In Cambridge, he was committeeman for the Boy Scouts Council and also for Troop 53. For 18 years he was a director of the East End Neighborhood House during which time he served 4 years as treasurer and 10 years as president. He was also a director of the Cambridge Community Services and served on its Budget and Finances Allocation Committee, and was a first aid instructor and instructor's instructor for the Red Cross Chapter and for the Cambridge Auxiliary Police. He is a Senior Active Rotarian.
R. W. Bro. Paterson became a Master Mason in February 1949, in Amicable Lodge, Cambridge, its Master in 1958 and has been its Secretary since 1960. In the late 1960's, he was a committeeman for Belmont Chapter DeMolay. He is Secretary of the Lodge of Eleusis and a member of Victory Lodge.
He was Master of the Seventh Lodge of Instruction in 1963-64 and its Secretary in 1984-89. He is a speaker at Lodges of Instruction. He served as D. D. G. M. for the Cambridge 2nd, 1986-87, and has been a director of the Cambridge Masonic Hall Association for over 20 years during which time he has served as its clerk, vice-president, and president.
He was High Priest of Cambridge Chapter in 1965, its 100th anniversary year, and its treasurer since 1974. He served as D. D. G. H. P. for the Grand Chapter in 1971-72; was Deputy G. H. P. in 1985 and treasurer 1986-90. He holds the Benjamin Hurd, Jr. Medal for distinguished service to Grand Chapter.
He was Illustrious Master of Cambridge Council in 1971; its Treasurer since 1981; and Grand Conductor of the Grand Council in 1989. He holds that body's Blake-Bayley Medal for distinguished service.
In 1969-70, he was Commander of DeMolay Commandery #7, Knights Templar, and has been Prelate of Gethsemane-DeMolay Commandery since 1978.
He is Viceroy of Bay State Conclave Knights of the Red Cross of Constantine; a member of Massachusetts Priory, Knights of the York Cross of Honour; of Mayflower York Rite College, an active worker in the Valley of Boston Consistory-Scottish Rite; a member of Aleppo Temple; Chieftain of the Kilted Craft and a member of other appendant Masonic orders.
PAUL, JOSEPH TOTTEN 1862-1940
From Proceedings, Page 1940-188:
Brother Paul was born in Saint John, New Brunswick, September 17,1862 and died in Boston, May 10, 1940.
For many years, up to the time of his death, he maintainedan office in Boston for the practise of Dentistry.
His Masonic record follows. Raised in Mount Lebanon Lodge of Boston, May 11, 1896; served as Worshipful Master 1908-1909, and as Secretary 1935-1940. Became a Charter Member of Shawmut Lodge, Boston, September 26, 1913 and remained a member until his death. Became a Charter Member of Brookline Lodge of Brookline Septepber 29, 1921, but dimitted December 21, 1922. District Deputy Grand Master of the First Masonic District in 1920-1921.
Exalted in Saint Andrews Royal Arch Chapter of Boston January 6, 1897, and was High Priest in 1904-1906. Charter Member:of Roslindale Royal Arch Chapter of Roslindale and was High Priest 1922-7924. Grand Royal Arch Captain of the Grand Royal Arch Chapter of Massachusetts in 1909, and District Deputy Grand High Priest of the First Capitular District in 1928-1929. Anointed in the Massachusetts Convention of High Priests March 7,1905. Received in Boston Council, R. & S.M., March 25,1897, and Thrice lllustrious Master in 1910-1911. Knighted in Boston Commandery, K.T., April 21, 1897; Eminent Commander in l914-1916, and Trustee 1917-1940. Received membership in Commanders Union October 29, 1914.
Received the Scottish Rite Degrees as follows:
Boston Lafayette Lodge of Perfection, October 2, 1896
Giles F. Yates Council, Princes of Jerusalem, October 9, 1896
Mt. Olivet Chapter of Rose Croix, October 16, 1896
Most Wise Master, l910-1913
Trustee of Permanent Fund, 1925-1940
Massachusetts Consistory, October 23, 1896
Coronetted a 33rd Degree Mason, Honorary, October l, t9t2
In his profession he received the degree D.M.D. at Harvard in 1891, was dernonstrator of operative Dentistry at Harvard, 1892-1899, and instructor in the same department 1899-1926.
He was Treasurer of Massachusetts Dental Society, 1896-1940, Trustee of Metropolitan District Dental Society, 1922-1940, and the first and only Honorary Past President of the Massachusetts Dental Society, His genial personality and long active service endeared him to his host of friends.
PEABODY, CHARLES A. 1845-1933
From Proceedings, Page 1933-99:
Right Worshipful Brother Peabody was born in Danvers, June 4, 1845, and died in Worcester, March 21, 1933.
Brother Peabody was educated in the Danvers public schools, Fhillips Andover Academy, Amherst College, and Jefferson Medical School at Philadelphia. He practiced medicine in Worcester for the rest of his life, except for three years beginning in 1876 when he practiced in Bombay, India. In addition to his private practice he served for twenty years as Superintendent of the Worcester City Hospital. In addition to membership in several professional associations, he was a Director of the Public Library and a member of the Worcester Historical Society.
Brother Peabody took his Masonic degrees in Morning Star Lodge in 1886 and was its Master in 1891. He served as District Deputy Grand Master for the Eighteenth Masonic District in 1894 and 1895, by appointment of Most Worshipful Otis E. Weld and Most Worshipful Edwin B. Holmes.
Brother Peabody was a Past High Priest of Worcester Chapter, and Past Deputy Grand High Priest; a member of Hiram Council; a Past Commander of Worcester County Commandery, and had held several positions in the Grand Commandery. He was a member of the several Scottish Rite bodies and a Past Sovereign Prince of Goddard Council, Princes of Jerusalem. Brother Peabody's long life was filled with a varied service to his fellow men, and he leaves a fragrant memory in the hearts of countless friends.
PEARE, CHARLES 1876-1927
From Proceedings, Page 1927-103:
Brother Peare was born in East Weymouth March 1, 1876, and died in Scituate April 25, 1927. He lived in Scituate the greater part of his life, and was an active participant in the affairs of the town. He had served on the Board of Selectmen, and on the Board of Overseers of the Poor, as well as on important town committees. For many years preceding his death he had operated a garage and machine shop.
Brother Peare was initiated in Satuit Lodge March 11, passed May 6, and raised June 3, 1903. He was Worshipful Master in 1911 and 1912 and was District Deputy Grand Master for the Twenty-seventh Masonic District in 1916 and 1917 by appointment from M.W. Melvin M. Johnson and M.W. Leon M. Abbott. He discharged the duties of his office with the quiet efficiency which so strongly characterized him. He was a very quiet, unassuming man, thoroughly dependable in any or all conditions, a real servant of the Craft and the community, an excellent example of a type of character which means much to the world.
PEARSON, GEORGE HENRY 1838-1907
From New England Craftsman, Vol. III, No. 2, November 1907, Page 75:
Brother George H. Pearson of Whitman, Mass., died October 24. He was born in Boston in July, 1838, and at an early age ■Went to Whitman. He was for many years a town official, and in 1883 was elected town clerk, which position he held up to the time of his death. He also served as a member of the board of registrars, and had been continuously in office since 1885. He served in the Civil War, enlisting in 1862 fcs a member of Company K, Fourth M. V. M., for a term of nine months. He became a member of David A. Russell Post, G. A. R., in 1879, and for over twenty years he served as a quaitermaster of the post. He had been for years a member of Puritan Lodge, A. F. and A. M., and for a long while acted as secretary.
PEARSON, NORMAN WILLIS 1916-1997
From TROWEL, Fall 1991, Page 19: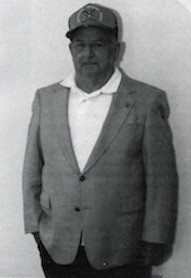 Wor. Norman W. Pearson ANSWERS THE CALL
The mora! support given our personnel in Desert Shield and Desert Storm by our country as a whole was exemplary. The display of yellow ribbons, the mailings, the prayers and the tremendous rallying of support was inspiring. Some did more than others.
Wor. Norman W. Pearson is the presiding Master of Milton Lodge and he is 74 years old. He retired from the Merchant Marine in 1982, and after being in three years, he thought that Vietnam would be his last. Such was not the case!
After eight years of retirement, he found himself on the bridge of a cargo ship en route to the Persian Gulf. When Iraq invaded Kuwait in August, Bro. Pearson was alerted by the Marine Engineers Beneficial Association that he could be called to augment the military supply vessels carrying needed materials to the Gulf area.
"I was ready if they needed me and I certainly had been through it all before," he admitted. More than 225 merchant marine vessels were involved in the Desert Storm operation under the Military Sealift Command. Many retirees were called to duty, and as Captain Pearson says, "I guess they relied pretty heavily on some of the old ancient mariners, so to speak." Bro. Pearson's association contacted the cargo company, International Marine Carriers, and a company official called him on December 13th. He is a placid individual and was unruffled by the startling request. His wife, Cecilia, was not as unconcerned, but resigned herself to his sense of duty. "When he asked me what I thought, I knew he had a mind of his own and I couldn't tell him to go or not to go. Knowing him, I figured he'd be back because he's gone to so many different wars and he's always come back. I think he's like the cat with nine lives," she philosophized.
He kissed Cecilia good-bye, said, "I'll be back," and without his hearing aid functioning, departed.
He made the trip without its use until he was able to get a replacement battery two months later when he was out of the Gulf and on his way home from Livorno, Italy.
On board the Cape Flattery he had a crew of 27. They were carrying weaponry to Ad Dammad, Saudi Arabia, the busiest port in the war, entering the Straits of Hormuz on the day the war started. They were in the Gulf for 35 days. Their cargo included bombs, Patriot missiles, and a "multitude of sins." They had no armament to protect themselves and their greatest concern was chemical or biological attack.
He said that another concern was Scud missiles. They experienced six separate attacks by Scuds, which were noisy, but were effectively taken out by the Patriots.
He also said he wasn't nervous because he was probably too old. "I'd been through this all before. I'd been through three wars, remember. I was in London the night they had the last big blitz, so this didn't bother me too much."
In World War II he helped run supply convoys across the North Atlantic and during Vietnam he was sailing up the Saigon River when he was hit in the Number 2 hatch by a missile from the shoreline rice paddies.
His father and grandfather were sea captains; Bro. Pearson was born in Belfast, ME, on Penobscot Bay. He is the last of a line of seafaring men stretching back to Yorkshire, England, for ten generations. His ancestors emigrated in 1632.
None of his three sons or his daughter, including cable television sports show host, Bruce Pearson, foresee a life at sea.
Wor. Bro. Pearson is "back from the sea," happily ensconced with his Ham radio, his devoted wife and attentive family, including ten grandchildren.
This is rewritten from a story by Ellen Nakashima which appeared in The Patriot Ledger.
Photo by Paul W. Anderson, Staff.
PEIRCE, I(SAAC). NEWTON 1843-1907
From New England Craftsman, Vol. III, No. 1, October 1907, Page 37:
After an illness of about three weeks Brother I. Newton Peirce, aged 64, for many years a well known Boston business man, died at Newton, Mass. Sept. 20.
Brother Peirce was a native of Andover, but spent the greater part of his life in Cambridge and Charlestown He was many years identified with the firm of Joel Goldthwaite Co.
Brother Peirce was prominent in Masonry, having been a past master of Henry Price Lodge, A. F. and A. M., of Charlestown, and a member of Waverly Chapter, Royal and Select Masters, and
Gethsemane commaudery, K. T. of Newton. He was also a member of Bunker Hill Lodge. I. O. O. F., and held membership in several minor organizations.
PEIRCE, I(SAAC). NEWTON 1843-1907
From New England Craftsman, Vol. III, No. 1, October 1907, Page 37:
After an illness of about three weeks Brother I. Newton Peirce, aged 64, for many years a well known Boston business man, died at Newton, Mass. Sept. 20.
Brother Peirce was a native of Andover, but spent the greater part of his life in Cambridge and Charlestown He was many years identified with the firm of Joel Goldthwaite Co.
Brother Peirce was prominent in Masonry, having been a past master of Henry Price Lodge, A. F. and A. M., of Charlestown, and a member of Waverly Chapter, Royal and Select Masters, and
Gethsemane commaudery, K. T. of Newton. He was also a member of Bunker Hill Lodge. I. O. O. F., and held membership in several minor organizations.
PEIRSON, GEORGE HENRY 1816-1881
From Liberal Freemason, Vol. IV, No. 12, March 1881, Page 380:
General George H. Peirson, Postmaster of Salem, died Tuesday morning, February 8th, aged 64 years and nine months. He was a native of Salem. In early life he was a blacksmith, and was associated with Daniel Potter in this line. Just before the war he was Captain of the Salem Mechanic Light Infantry, and went to the seat of war with his command at the first call of troops, and was made part of the Fifth Regiment. On July 5th, 1861, he was appointed Lieutenant-Colonel. In the nine months' service he was Colonel of the Fifth Regiment. He went to the war a third time on July 28th, 1864, and again as Colonel of the Fifth Regiment. He obtained his title of Brigadier-General from service in the State militia.
Genera] Peirson has been prominent in several private organizations. He joined Essex Lodge of Masons in 1851, and was Master of the lodge from 1856 to 1862. He joined Starr King Lodge in 1864, and became Master in 1864 and 1865. He was also a member of Salem Council Royal and Select Masters; a charter member and a Past Commander of Winslow Lewis Commandery of Knights Templars. He was Past District Deputy of the Fifth Masonic District, and has held other offices in the Masonic Order. He took the 33d degree in Masonry several years ago. He was Noble Grand of Fraternity Lodge of Odd Fellows in 1850. President Grant appointed General Pierson as Postmaster of Salem, in 1868, and he has been reappointed twice since. The General had been in failing health for some years, and his constitution had so broken up that he was obliged to discontinue the duties of his office a few weeks ago.
The funeral occurred from the Universalist Church, Thursday afternoon. The attendance was very large, including representatives from the following organizations: Salem Mechanic Light Infantry, Salem Veteran Mechanic Light Infantry, Naumkeag Encampment, No. 13, I. O. O. F., Fraternity; Lodge No. 26, I. O. O. F. ; Starr King Lodge, F. and A. M.; Winslow Lewis Commandery of Knights Templars, Washington Royal Arch Chapter, Sutton Lodge of Perfection, Post 34, G. A. R., and the Ancient aud Honorable Artillery. The floral offerings were profuse and elaborate. TI1.1t from the Ancient and Honorable bore dates of General Pierson's commission as Commander of that body. There were ten pallbearers selected from the organizations above named, and the Post Office employees. The ceremonies at the church were conducted by Rev. E. C. Bolles. At the Harmony Grove, where the remains were interred, the Masonic rites were conducted by Rev. Fielder Israel, of the First Church.
The Post Office, of which the deceased was head official, was closed during the funeral services.
PERKINS, DAVID 1826-1914
From New England Craftsman, Vol. IX, No. 7, April 1914, Page 239:
David Perkins, a venerable Mason and old citizen of Hyde Park. Mass., died April 1, 1914 at the age of 88. He was a building contractor and stood high among his associates as a man of sterling character. He was vice president of the Hyde Park Savings Bank. He was initiated in Mt. Lebanon Lodge, Boston, Nov. 11, 1861 and retained his membership until the end of his life. For several years he has seldom attended his lodge, but on the occasion of his last visit made a generous contribution for the Masonic Home. He was a good citizen and a good Mason. His memory will be revered by all who knew him, especially by the editor of this magazine who gratefully remembers him as his sponsor when he was proposed for the degrees many years ago.
PERKINS, DAVID 1873-1946
From Proceedings, Page 1946-246:
Brother Perkins was born in Bridgewater, Massachusetts, on August 10, 1873, and died in Brockton on July 3, 1946, the victim of a heart attack in his automobile.
After serving for many years as purchasing agent for the George E. Keith Company of Brockton, he became first vice president and a trustee of the People's Savings Bank of Brockton.
His civic interest is evidenced by his having served as president of the Brockton Chamber of Commerce for three terms, and as an Alderman for one term.
He was raised in Saint George Lodge on November S, 1899, and served as Master in 1910 and 1911. He became a Charter Member of Baalis Sanford Lodge on March 13, 1918, but dimitted therefrom October 14, 1936.
He was District Deputy Grand Master of the 29th Masonic District in 1929 and 1930, by appointment of Most Worshipful Herbert W. Dean. In 1938, he was awarded the Distinguished Service Medal by Most Worshipful Joseph Earl Perry.
For many years he was the Representative of Saint George Lodge on the Board of Masonic Relief and was very faithful in his attendance at its meetings and in his careful and thorough attention to all calls for service and relief.
His interest in the Lodge of Instruction and in the educational work of the Grand Lodge was keen and active. As a member of the Education Committee, he was a bulwark of strength and wisdom. His valued service is well expressed by the following excerpt from the memorial issued by that Committee:
"But most of us of the Committee on Education know him best as a member of that Committee, to which he gave continuous service from his appointment in 1931. We always knew where Dave stood, and he always knew why he stood there. He rather enjoyed taking issue in disputed points in our discussions, and must have realized how we loved him for it, for he was never bitter, never vindictive nor unkind. Would that there were more men like him!

"We close ranks and push on without the physical presence of David Perkins, but with us will ever march the indomitable spirit, the unquenchable devotion to our Craft, with which he was so thoroughly imbued."
Wordsworth might well have had Dave Perkins in mind when he penned these words:
"Enough, if something from our hands have power
To live, and act, and serve the future hour."
PERKINS, GEORGE H. 1863-1927
From Proceedings, Page 1927-104:
Brother Perkins was born in North Andover May 10, 1863 and died there ApriI 25, 1927. His whole life was passed in North Andover. After passing through the public-schools of the town, he entered the employ of a local druggist and in 1883 started a drug business of his own which he carried on up to his death. He early became prominent in town affairs and at the age of twenty-six he was elected Treasurer of the town, holding office for thirty-two years.
IIe was initiated in Cochichewick Lodge January 9, passed February 6, and raised March 13, 1885. He was Worshipful Master in 1895 and 1896, and District Deputy Grand Master for the Tenth Masonic District in 1906 and 1907, by appointment from M.W. John Albert Blake. At the time of his death he was a member of the Committee on Records of this Grand Lodge.
R. W. Brother Perkins was interested in all the bodies of Masonry, both of the York and Scottish Rites, though not an office holder except in his Lodge and in Grand Lodge.
Brother Perkins had the confidence and respeet of his associates and fellow citizens to a very great degree, and justified it fully by his faithfulness to every duty, his strict integrity, his uprightness in business, and his kindliness and sympathy in all his social and fraternal relations.
He is survived by a widow and one son.
PERKINS, GEORGE W. 1841-1913
MM 1867 Red Mountain #68, Sandwich, NH
Charter Member 1880, WM 1891, 1892, Soley
From New England Craftsman, Vol. VIII, No. 7, April 1913, Page 233:
George W. Perkins, a well known citizen of Somerville, Mass., and Ex-State Senator, died March 26th. He was a charter member and Past Master of Soley Lodge. He was also a member of Somerville R. A. Chapter, Orient Council, DeMolay Commandery and a trustee of the Somerville Masonic Apartments.
PERKINS, HARRY EDWIN 1873-1945
From Proceedings, Page 1945-240:
Brother Perkins was born in Georgetown, Massachusetts, on December 8, 1873, and died there April 22, 1945.
He was a graduate of Governor Dummer Academy, Boston University and the Harvard Law School. Following graduation from the latter School, he practiced law in Boston for about forty years, retiring eight years ago to become Treasurer of the Georgetown Savings Bank.
He was President of the Carleton Home of Georgetown for twenty-two years, and a member of the First Congregational Church of his home town.
Brother Perkins was raised in Charles C. Dame Lodge of Georgetown on November 25, 1901, and served as Master of that Lodge in 1908 and 1909. He was one of the leaders in the formation of Hesperia Lodge of Boston, serving as Master, U.D., in 1925 and as first Master of the Lodge in 1926.
He served as District Deputy Grand Master of the Tenth Masonic District in 1914 and 1915, by appointment of Most Worshipful Melvin M. Johnson. Quiet and unassuming by nature, he was a deeply interested Mason and one whose sound advice was sought, and freely given. No call for service was ever neglected by him, and his passing leaves a deep void in Masonry and in his community.
"To us from falling hands, they throw the torch.
It is ours to hold it high."
PERRIN, MARSHALL L. 1855-1935
From Proceedings, Page 1935-210:
Right Worshipful Brother Perrin was born in Wellesley, July 31, 1855, and died there December 1, 1935.
Brother Perrin was graduated from Harvard College in 1874. He did post-graduate work at Harvard and at Gottingen, Germany, until 1885. He taught in Gottingen from 1885 to 1888. On his return to this country he joined the staff at Boston University, where he remained until his death. He was Professor of Germanic Language, from 1891 and taught Sanskrit since 1910. From 1893 to 1907 he was also Superintendent of Schools in Wellesley.
Brother Perrin had travelled widely in the Orient, and learned severai of the Oriental languages. He was a frequent contributor to magazines and author of a considerable number of German textbooks. He was a member of the American Philological Association, the American Oriental Society, and many other learned societies.
Brother Perrin took his Masonic degrees in Meridian Lodge, of Natick, in 1892, and was its Master in 1897-8. He was a Charter member of Wellesley Lodge in 1913 and a Charter member of Boston University Lodge in 1926. He affiliated with International Lodge, of Peiping, while making an extended visit to China in 1920.
Right Worshipful Brother Perrin served as District Deputy Grand Master for the Twenty-third Masonic District in 1912 and 1913, by appointment of Most Worshipful Everett C. Benton.
He was a member of the bodies of both the York and Scottish Rites, including Natick Commandery, Knights Templar, and Massachusetts Consistory.
Brother Perrin was one of the leaders of the intellectual life of America. He was not only a great scholar, but a great teacher, endowed with a remarkable capacity to inspire intellectual enthusiasm and personal affection in his students. The same qualities extended to his Masonic associations. He passes full of years and of honors, leaving a void in the circle of American teachers and in the ranks of the Fraternity which he loved and which loved him.
PERRY, CHARLES WILLIAM 1877-1943
From Proceedings, Page 1943-168:
Brother Perry was born in Newbury, Massachusetts, on October 10, 1877, and died in Newburyport on November 3, 1943, after a lingering illness of several years.
Upon graduation from a school of pharmacy in Boston in 1898, he entered the employ of Castelhun's Drug Store at No. 2 State Street, Newburyport, and became the owner at the death of his employer.
He was active in the Belleville Congregational Church and was Superintendent of the Sunday School for many years. He was also active in the banking business, being a Director of the Newburyport Co-operative Bank and of two Savings Banks.
He was raised in Saint Mark's Lodge on December 21, 1904, and served as Master in 1916 and 1917. He was Junior Grand Steward of the Grand Lodge in 1922, and District Deputy Grand Master of the 10th District in 1924 and 1925, by appointment of Most Worshipful Dudley H. Ferrell. He was a member of King Cyrus Chapter, R.A.M., and of Newburyport Commandery No. 3, K.T.
Funeral services were held in St. Paul's Episcopal Church, Newburyport, followed by the funeral rites ;f the Elks and Odd Fellows and the Masonic rites by Saint Mark's Lodge.
Brother Perry was of a quiet and unassuming nature and his many acts of helpful kindness were known only to him and those who were the recipients. No call for service ever went unanswered by him - a true Mason, who believed in his fellow man!
The words of Brother Edgar A. Guest are most appropriate with our Brother Perry in mind:
"Lord, as the robins let me serve. Teach me
To do the best I can
To make this world a better place, an' happier
For my fellow man.
If gift o' mine can cheer his soul an'
Hearten him along his way
Let me not keep that talent hid; I would
Make use of it today.
An' since the robins ask no praise, or pay
For all their songs o' cheer,
Let me in humbleness rejoice to do my bit
O' service here."
PETERSON, REUBEN, JR. 1793-1884
From Liberal Freemason, Vol. VIII, No. 1, April 1884, Page 27:
Mr. Reuben Peterson, aged 93 years, died in Duxbury, Monday, April 7th. He became a member of the Masonic Fraternity in the "Corner-Stone Lodge," of Duxbury, Mass., in 1825, and continued his membership with the Lodge up to the time of his death. Quite recently he was present at an installation of officers, and manifested a lively interest in all the proceedings. The funeral services was held at his late residence, April 9th, under the auspices of the Corner Stone Lodge.
PETHERBRIDGE, WILLIAM THOMAS 1848-1924
From New England Craftsman, Vol. XIX, No. 10, July 1924, Page 317:
William T. Petherbridge, 75, a 33rd degree Mason of Pittsfield, Mass., who had held more offices than any other member, died Tuesday afternoon, July 15th at St. Luke's Hospital, New York, where he had been for one week. He was born in England, came to this country when a boy and had lived 39 years in Pittsfield, being at various limes president, treasurer or bookkeeper for several enterprises, including the Bel Air Woolen Company, Stevenson Manufacturing Company and Woods Garage. nis widow, a son, William T.. Jr., a daughter, Mrs. William S. Moore, and five grandchildren survive him. Brother Petherbridge had always maintained the closest connection with the Masonic organizations to which he belonged, and was a man much loved to all with whom he came in contact. His presence and counsel will ve missed by the brethren at Pittsfield to whom he meant so much.
PHELPS, JESSE 1800-1847
MM 1825, Monitor
affil. 1826; WM 1827-1829, 1832-1834, 1846-1847, Pentucket; retained membership through the reorganization according to GL white card record.
From Moore's Freemason's Monthly, Vol. VII, No. 6, April 1848, p. 190:
At a special meeting of the members of Pentucket Lodge, holden in Masons' Hall, in Lowell, Oct. 2, 1847, the following preamble and resolutions were unanimously passed:
Whereas, it has pleased an all-wise Providence, in bis inscrutable dispensations, to call from our midst our beloved Brother and Worshipful Master, Jesse Phelps,—be it therefore
Resolved, That in this melancholy event, our community has sustained the loss of an industrious, enterprising and public-spirited citizen, society the watt of an upright and honest man, and Masonry a worthy exemplar of her principles, fulfilling, as he did, his varioua social and domestic duties under the promptings of a noble and generous heart.
Resolved, That as a token of respect and esteem for our Brother snd W. Master, and as a further testimonial of our grief at his loss, we wear the usual badge of mourning for the space of thirty days.
Resolved, That we tender to his afflicted widow and relatives, in this truly distressing dispensation, the Warmest sympathies of our hearts.
Resolved, That a copy of this preamble and the accompanying resolutions, be furnished the bereaved family of our deceased Brother, and placed on the records of oui Lodge; and that they be published in the Freemasons' Magazine at Boston.
Attest, Colburn Blood, Jr., Sec.
PHELPS, TIMOTHY 1793-1883
From Proceedings, Page 1883-227:
Among the men who witnessed the early trials of Masonry in this State, and who lived to see its days of prosperity and honor, was Timothy Phelps, another signer of the Declaration of 1831, who was born in Tewksbury, May 11, 1793, and who died in Dedham, March 24, 1883, in his ninetieth year. He was made a Mason in Constellation Lodge, Dedham, December 19, 1821, and was for two years Worshipful Master of that Lodge.
His Masonic life covered a space of sixty-two years, and his attachment to the Institution continued unabated to the last. His career was not marked by conspicuous events. A worthy man and a useful citizen, simple in his tastes and habits, he lived a blameless and well-ordered life, interested in every good work, and it was said of him that " he died without an enemy. What better record could he leave than this?
From Liberal Freemason, Vol. VII, No. 1, April 1883, Page 17:
Timothy Phelps, one of the oldest residents of Dedham, died on Saturday, March 24th, after a brief illness, at the age of ninety years, lacking a few days. He was born at Tewksbury, Mass., May 11, 1793, his father, Joseph Phelps, who died at the age of ninety, having been a soldier in the Revolutionary War. After learning his father's trade at Billerica, Mass., he removed to Boston, where he worked as a journeyman, serving for some time as a Minute man in one of the regiments raised for the defence of the town in the war of 1812-14.
In 1821 Mr. Phelps removed to Dedham, where he remained until his death, a period of sixty-two years. During the first five years of his residence here he worked for the late Reuben Guild, who at that time carried on the hatting business on High street. He then commenced business for himself near the same locality, and about the year 1832 removed to Church street, where he remained until his death. About twenty years ago he gave up the business of hatting and engaged in the sale of paper-hangings, newspapers and periodicals. Mr. Phelps was one of the first men in this town to identify himself with the temperance and anti slavery reforms, in which he was an active and earnest worker. He was made a Mason in Constellation Lodge, Dedham, Dec. 19th, 1821, and was for two years Worshipful Master of that organization, of which he continued a member until its charter was surrendered. He was one of the petitioners for a dispensation and a charter member of Hyde Park Lodge in 1866 and was made an honorary member in 1868. A new Masonic Lodge was organized in Dedham in 1872 under the old name of "Constellation," in which he also received honorary membership. He received the chapter degrees in Norfolk Royal Arch Chapter of Hyde Park in 1872 and the council degrees in Hyde Park Council of Royal and Select Masters in 1874. The orders of knighthood were conferred upon him by Palestine Commandery, Chelsea. He was a charter member of Cyprus Commandery, Hyde Park. His active interest in the Masonic institution continued until the last, and at the time of his death lTe was one of the oldest members of the fraternity in the country. His good wife, for more than fifty years a loving help-meet, died in 1881, and since that time the declining years of the aged man (whose attachment to this locality was so strong that he refused the repeated invitations of relatives living elsewhere to spend the remnant of his life with them) have been cheered and sustained by the kind and unremitting attentions of his brethren in the Order which he so dearly loved. Simple in his tastes and desires, he lived a blameless and well-ordered life and died without an enemy.
The funeral services, which were conducted by the Masonic fraternity, took place at the Unitarian church, where the Rev. Mr. Peach, in an extended address, gave an interesting sketch of the life and character of the venerable deceased. Appropriate music was rendered by a quartette consisting of Arthur VV. Thayer, Edwin A. Brooks, Carrie E. Guild and May Southgate. The remains were interred with Masonic ceremonies, beside those of his wife in the old burial ground. The bearers, representing the different Masonic organizations with which the deceased was connected, were A. B. Endicott and C. C. Churchill, of Constellation Lodge; Merrill Underbill, Hyde Park Lodge; Moses N. Gage, Norfolk Chapter; Andrew Washburn, Hyde Park Council; M. P. Morrill, Cyprus Commandery. —Norfolk County Gazette.
PHILLIPS, ROBERT, JR. 1906-1998
BIOGRAPHY
From TROWEL, Spring 1988, Page 4: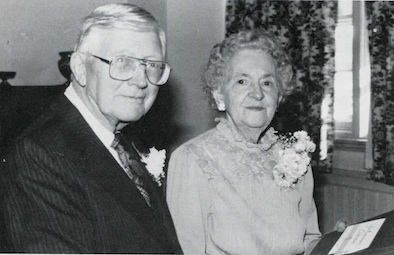 Bob and Gladys Phillips Share Anniversaries
When the officers of King David Lodge, Taunton, were installed on Oct. 3, organist Robert Phillips, Jr., added another chapter to his 81-year life. He and his faithful wife, Gladys (Eddy), had celebrated their 60th wedding anniversary a week earlier and Bob was observing 60 years as a Masonic organist. And there was more.
Newly-installed Wor. Richard H. Williams would have the privilege and pleasure of having Bob Phillips as his organist, just as his grandfather, Wor. Robert W. Williams, Jr., had done in 1940 and his father, R. W. Robert W. Williams III, when he was Master in 1947. Did he (Phillips) realize he had been tapping the keyboard for that many years? "I can't believe I've served three generations. But it's true and I'm happy to have had that association with a family that has done so much for Freemasonry. I guess I've been playing for Masonry almost since the night I was Raised in 1927. My love for music is as enthusiastic today as when I first began at age 13."
His mother, Bertha (Wood), was organist for St. Paul's Church in North Dighton. "She became ill and I substituted for her." It was the beginning of 60 years as organist for several churches in his home area. He is now the organist-choir director for Pilgrim United Church of Christ, for many years known as the Broadway Trinitarian. It hasn't been unusual for him to play for morning worship in one church, at another church at 4 P.M., and at a third church for evening prayer.
When he was organist-choir director at St. Thomas Episcopal Church of Taunton, his three sons sang in the choir. David is now a teacher at Taunton High School, Raymond is a heart specialist in Tarrytown, NY, and Robert is a machinist in Connecticut. During World War II Bro. Bob would play at an early Sunday service for Protestant soldiers who were stationed at Camp Myles Standish, a port of embarkation located in Taunton's north end.
Life for the Phillips family began in England where Robert, Sr., and Bertha Wood were married. They first settled in Fall River in 1902 where the father was employed in a textile mill. Two years later they moved to North Dighton where he spent 40 years as an inspection supervisor for the Mt. Hope Finishing Co. Robert, Sr., was raised in Pioneer Lodge, Somerset, and another son, Harold — now living in Englewood, FL — is a 50-year member of Charles H. Titus Lodge.
Robert, Jr., was a silk inspector with Mt. Hope for a short time, then an electrical repairman. For many years he has been repairing and tuning organs and it is not uncommon to find an organ is his van when he has a date to play where there is no organ. He has played for the high school graduation at Bristol County Agricultural School for 40 years. Last June the school paused in its ceremonies to honor him. He once had a four-man orchestra in which he was pianist.
In 1943 Bob served as Worthy Patron for Rose Croix Chapter, Order of the Eastern Star, when the late Mabel Cameron was Worthy Matron. He played for Grand Chapter for two years and has substituted for the Grand Lodge organist. In November he was honored by the Grand Council, Royal and Select Masters, with its Distinguished Service Medal. In 1975 he received the Meritorious Service Citation from Grand Lodge.
Bob was president of Taunton Rotary Club in 1955 and he is organist for three of the four Lodges in Taunton; he also lends his talent when Rainbow and DeMolay have their installations. Ionic Lodge of Taunton has elected him to Honorary Membership. Anniversary messages to Bob and Gladys came in the form of Golden Dome Citations from Sen. John F. Parker and the State Senate and from Rep. Theodore Aleixo of the House of Representatives. Did he have a teacher? "No, just what I picked up from my mother. But it helps to always have a song in your heart."
PHILLIPS, THOMAS WALLEY 1797-1859
MM 1821, Mount Lebanon
Treasurer 1832-1859, Lodge of St. Andrew
Grand Pursuivant, 1824, 1825
Junior Grand Steward, 1830-1832
Junior Grand Deacon, 1849, 1850
Signed the Declaration of 1831
From Moore's Freemason's Monthly, Vol. XVIII, No. 12, October 1859, Page 329:
It is with much sorrow that the intelligence of the somewhat sudden and unexpected decease of Thomas Walley Phillips, Esq., of Boston, is announced. The melancholy event took place early on the morning of Thursday, September 8th, at his summer residence at Nahant, where he bad been passing the season with his family. About a fortnight before his decease he was severely seized with an attack of pleurisy, which soon became complicated with other serious affections of the lungs; and, these, with the general debility of his system, consequent to his laborous efforts in his office and profession, proving more powerful than the skill and attention of his medical friends, he was taken from life after a very brief illness and in the sixtythird year of his age.
Brother Phillips was a worthy descendant of an eminently respectable family, many members of which have been prominent in the history of his native city and Commonwealth. His earliest American progenitor was George Phillips, the first minister of Watertown, who came to New England in June, 1630, in the same vessel (the Arbella) with Governor Winthrop, and Sir Richard Saltonstall and other Assistants of the Colony of the Massachusetts Bay; and who, after continuing in the ministry fourteen years, greatly beloved and respected, died on the 2d of July 1644, aged about fifty one years, as Winthrop relates "a godly man, specially gifted, and very peaceful in his place, much lamented of his own people and others." The father of the subject of this sketch was Hon. John Phillips, who successively represented the town of Boston and County ot Suffolk as Representative and Sen¬ ator to the General Court; in the latter capacity acting as President for many years. He was also, at times, a Judge of the Court of Common Pleas, member of the Convention in 1820 for revising the Constitution of the State, member of the Corporation of Harvard College, Chairman of the committee of Twelve, who reported a city charter for Boston, and, on the incorporation of the city, its first Mayor, receiving nearly the unanimous vote of his fellow-citizens.
The deceased was born in Boston on the 16th of January, 1797; and, consequently, at the time of his death, was about eight months over sixty-two years of age. His brothers and sisters, (with the exception of Samuel, who died in 1817 while a sophomore in Harvard College,) all survive him ; they are, Sarah Hurd, wife of Prof. Alonzo Gray of Brooklyn, N. York, Margaret, wife of Dr. Edward Reynolds of Boston, Miriam, wife of Rev. Dr. Blagden of Boston, Rev. John Charles Phillips of Methuen, George William Phillips, Esq., Wendell Phillips, Esq., and Grenville Tudor Phillips, Esq., the three last named also of Boston. He was sent early in boyhood to the Phillips Academy in Andover, founded by his relatives, and was there fitted for Harvard College, which university he entered in September, 1810, in a class among the members of which were the following dis¬ tinguished persons: Rev. Dr. Bigelow, Samuel D. Bradford of West Roxbury, Dr. Gamaliel Bradford, Martin Brimmer, Waldo Flint, Benjamin A. Gould, Rev. Dr. Greenwood, Rev. Dr. Lamson, Judge Paine of N. York, William H. Prescott, and President Walker.
Having received his Bachelor's degree in 1814, at a few months over seventeen years of age, he read law with Chief Justice Shaw, and was admitted to the Suffolk Bar in 1817. For about fourteen years he practiced law successfully in Boston, until he succeeded the late Joseph H. Pierce as Clerk of the Municipal Court; the arduous duties of which office he has fulfilled with great ability and with perfect acceptance to the public, to the time of his decease.
Although Br. Phillips was of a retiring disposition, he has been at various times called from his much loved quiet life at home to take part in public official duties. In 1827 he was an influential member of the Common Council under the Mayoralty of the elder Quincy, and in 1827 he performed the duties of school committeeman for the Ward in which he resided. In the years 1834 and 1837 he served the city as a Representative to the General Court. But the most important position which he occupied was that of Clerk of the Municipal Court, which office he held under the appointment of Judge Thacher in 1830, and which office, in its various changes, he has since retained by successive appointments and elections.
In the discharge of this last named office were exhibited those remarkable traits of character — so much like those attributed to his venerated ancestor by the discriminating Winthrop — which won for him the highest esteem and love of all who were called into personal official communication with him. The most learned in the law relied much upon him for counsel and advice in perplexing and intricate cases of criminal jurisprudence, such was his knowledge of the peculiar department of the law he was called upon to study; and at the same time that the bench and the bar were profiting by bis experience, the poor prisoners, in many instances destitute of natural friends, found in him a kind counsellor, tender hearted confidant and advocate, one who sympathised in their troubles and afflictions, and one who had always a pleasant look and an encouraging word for the unhappy and depressed. Many have been the convicts who have through him received mitigated punishment, and many the persons who through his personal influence have derived benefits in their day of forlorn hope.
On the 18th of March, 1824, Mr. Phillips and Anna Jones (now his bereaved widow) the daughter of Samuel Dunn, Esq., formerly Grand Master of the Grand Lodge of Massachusetts, were married in Boston. The surviving issue of this marriage consists of two sons, John, an engineer of promise, recently employed in the construction of railways in Chili, and Samuel, a member of the Junior class in Harvard College.
For many years Br. Phillips has been a worthy and conscientious member of the Masonic Fraternity, always fulfilling his duties with the strictest fidelity and zeal. He was proposed for the degrees in Mt. Lebanon Lodge in Boston by Brother Thomas Power on the 28th of May, 1821; was initiated as Entered Apprentice on July 2, 1821, and raised to the degree of Master Mason on the 9th of the same month. On the 10th of June, 1822, he was proposed to St. Andrew's Lodge for membership, by his late friend, John J. Loring, and was admitted to the Lodge on the 12th of the following September, at which meeting he made his appearance subsequent to his election. Although Brother Phillips was constantly at the meetings of the Lodge, entering with heartiness into all the charities of the institution, nevertheless he was unambitious of office preferring to do the work of others without holding any special trust. His excellent points of character, together with his business tact and great integrity, however, would not allow him to remain as quiet in the Lodge as his wishes dictated, and he was early elected to places on the Charity Committee, on the Board of Trustees of the Real Estate belonging to the Lodge, and on the Members' Committee. On the 18th of November, 1832, he was elected Treasurer; in which office he continued until his decease. In the various positions which he was called upon to fill in the Lodge, he was constantly befriending the needy, dispensing charity with an open hand and a liberal heart.
It was not his ambition to rise in Masonry to the higher degrees, as many others have done: for he was content to remain through life a Master Mason, believing, as he has oftentime said to the writer in those hours of delightful and unrestrained converse, which few were permitted to enjoy more frequently, that "the first three degrees contained the substance of Masonry, and were sufficient for any man who strictly and conscientiously lived by their inculcations. He himself did live by them; and may we not believe that the high points of his moral and social character were heightened and tempered by them too? A large number of the Lodge of which he had been for thirtyseven years a beloved member, (some from a very remote distance,) attended his funeral services at St. Paul's Church in Boston, where he had for many years been a vestryman, and followed his remains to their last earthly resting place in the quiet shades of Mount Auburn. There they deposited upon his bosom the last tokens of their regard, evergreen sprigs of acacia, emblems of their faith in the immortality oi the soul, and reminders of the possession of the spiritual part which survives the grave.
Descended from one of the good old puritan families of New EngUnd, the first colonists of Massachusetts, and born of pious parents, be was early imbued with religious feelings, and was educated and brought up in the sentiments of a sound Christian theology. He himself was also a sincere follower of Christ, — devoted while he was humble and unostentatious, faithful to his own creed and respectful to that of others. Passing a blameless lile in a firm and rational belief, which he deemed efficacious for salvation, a regular attendant on public divine service on the Lord's dsy, and devout in his closet and family worship, he was an ornament to that faith which he practised as well as professed.
The funeral obsequies of the deceased took place at eleven o'clock on the morn. ing of Monday, the 12th of September, in the presence of a large concourse of mourning relatives and friends. Among the latter were his College classmates, the members of the bench generally, a large number of the gentlemen of the Suffolk bar, and many of the most distinguished citizens of Boston and vicinity. A touching emotion pervaded the crowded assembly, and tears fell from many manly eyes. The Episcopal burial service was read by Rev. Dr. Stone of Brookline ; the responses and other music by the choir. At the conclusion of the services, the assembly took their last look at the features of the deceased. The body was clad in the habiliments of life, and encased in a rich walnut burial casket. Upon the bosom of the dead was placed an exquisitely beautiful wreath of natural flowers, which, accompanied with the green sprigs of acacia deposited by the Masons, was interred with the body. The remains were conveyed to Mt. Auburn, followed by a large number of persons in carriages, and were deposited in a grave in the lot, on Elder Path, belonging to the deceased.
It is seldom that the public is called upon to mourn the departure of one possessing, in so large and eminent a degree, the estimable and social qualities of him who has just departed. Those who knew him most, loved him best. The artlessness of his character, the purity of his life and conversation, the honesty of all his dealings, the sincerity and strength of his friendship, his freedom from ostentation and display, the temperance, prudence, and integrity of all his actions, and above all his perfect reliability in all things at all times endeared him to all— to those who knew him well, and to those who were rarely favored with his society. In his domestic relations he was a devoted husband and father, as he had been during the life of his honored parents a dutiful son; and, possessing in a large degree the social qualities, tempered by a genial good nature, in all his positions in life he was an agreeable companion and warm hearted friend, creating friends in all his walks and retaining them when once made.
His ancient friendships were never broken. His early friends were his latest friends. His fathers friends were sure to be his friends. His attachments remained to the last. While bis father was president of the senate an enthusiastic friendship was formed between that gentleman and the then speaker of the House of Representatives. Both of those distinguished men died many years ago, but the attachment of the fathers descended to the sons. To the last day of his life he and his friend ex-mayor Bigelow, born in the latter part of the same year with him, were almost inseparable. For his College classmates his affection was unbounded, and it was reciprocated by them, as was attested by their sorrowing looks as they attended the funeral services over his remains. Writing to a valued friend, William Willis, Esq., of Portland, he speaks thus emphatically : "Can there be a doubt, my good friend, that these friendships are to be revived and perpetuated in a future and better state of existence." In speaking of the death of a venerable clergyman, he writes to the same friend : "I knew his reputation well, and in years past have heard his Catholic and Christian eloquence in his own pulpit. But be has now pierced the veil which separates us from the spiritual world, and comprehends the 'unsolved mystery of death.' " He also writes : "The western sun of life with us is descending fast, but let us, with gratitude to God for his many undeserved blessings, gird ourselves for the duties of life, trusting in his mercy, and strive to make ourselves happy by conferring happiness on others." To his very intimate and much esteemed friend, George Homer, Esq., to whom he indited the last letter to which be ever put pen, be expressed very strongly the same sentiments a very short time previous to his decease. Such was usually the tenor of his social correspondence, always indicative of the unspotted man. But he is now gone, and his departure will cause a blank in the community and in many circles which cannot be easily filled. To no one better than to Thomas Walley Phillips will apply the following words of the poet: Integer vita, celeriique purui.
N. B. S.
At a Quarterly Meeting of St. Andrew's Lodge, held at Nassau Hall, Boston, on Thursday, the 22d of September, 1859, the decease of Brother Thomas W. Phillips having been announced by the Worshipful Master, the following resolutions prepared by Brother Nathaniel B. Shurtleff, were offered by the most aged member present, and unanimously passed:—
In St. Andrew't Lodge, Boston, 22 September, 1859.
Resolved, That it is with emotions of the most profound sorrow, that the members of St. Andrew's Lodge recognize the solemn dispensation of Divine Providence which has deprived them of one of their dearest and most valued associates, by the decease of their late Treasurer, Thomas Walley Phillips; and, that they bow in submission and sadness to that will which has bereft them of one most tenderly beloved and sincerely respected.
Resolved, That the exalted character which he ever sustained and exhibited through life, as an upright Mason, a good and useful citizen, and a virtuous and guileless man, has endeared his memory to the Lodge and the Masonic brotherhood, as of one whose characteristics are worthy of the imitation of all, and of one who has pre-eminently honored the institution of which he was an ardent friend and ornament.
Resolved, That the members of the Lodge with sorrowing hearts respectfully tender to the bereaved family of their lamented friend and Brother, the deepest and most heartfelt sentiments of sympathy and condolence upon the present mournful occasion.
PHILIPPS, ERASMUS JAMES 1705-1760
MM 1737, First
Provincial Grand Master 1738, Nova Scotia
From New England Craftsman, Vol. XIV, No. 4, January 1919, Page 121:
We treasure the record of the founders of Freemasonry in every clime. Such Brethren laid the foundations upon which others have erected enduring structures.
What Henry Price was to Massachusetts and North America, R. W. Erasmus James Philipps was to Nova Scotia and Canada. His name stands first on the list of Grand Masters and Provincial Grand Masters of Nova Scotia. Wor. Bro. Harris Master of St. Andrews Lodge, No. 1, of Halifax has greatly increased our knowledge of Bro. Philipps.
Erasmus J. Philipps was born April 23, 1705. His father, Erasmus, was captain of the frigate Blandford in the Boston Naval Service, and was lost with all on hoard in March, 1719. Bro. Philipps was a nephew of Col. Richard Philipps, Governor of Nova Scotia from 1716 to 1749. When a young man Bro. Philipps enlisted in the Fortieth Regiment of Foot, of which his uncle Richard was the colonel.
His promotion was evidently rapid for in 1737 at the age of thirty-two years, he was appointed major of "the Fighting Fortieth." In 1726 at the age of twenty-one when an ensign, he was appointed by the Acting Governor to accompany the French Deputies to Minas on a special mission. On February 23. 1729, he was appointed Advocate of the Vice-Admiralty of Nova Scotia, a position which he held for more than twenty years. He was appointed a member of the Council of Nova Scotia in 1730 and was continued a member until his decease in 1760.
In 1736, a grant was made to Bro. Philipps and others of 50,000 acres of land in Norfolk, now Cumberland County. In 1737 he was appointed one of the Royal Commissioners to mark out and settle the boundaries between the Province of Massachusetts Bay and the Colony of New Hampshire. For this purpose, probably, he was in Boston from August 1, 1737 to June, 1738. It was during this time that Erasmus J. Philipps and William Sheriff, another commissioner, were made Masons in the First Lodge '** Boston. They received the degrees Nov. 14, 1737, and Bro. Philipps is recorded as present April 9, May 9, Nov. 28 and Dec. 26, 1739, and Aug. 12, 1741. In the record of April 9, he is recorded as "Rt. Worshipful Bro. Erasmus James Philipps, G. M. de Nov. Scot." He was appointed Provincial Grand Master of Nova Scotia, by M. W. Henry Price, prior to 1739.
On his return to Annapolis in 1738, he established the Annapolis Royal Lodge and was its first Master. June 12, 1750, a petition was presented to R. W. Bro. Philipps, P. G. M., signed by Gov. Edw. Cornwallis and four others asking for the establishment of Lodge No. 1 in Halifax. The request was granted, the warrant being received July 19 and on the evening of that day, Lord Colvill and a number of Naval officers were entered apprentices in the Lodge. Gov. Cornwallis was Master of the Lodge while he resided in the Province.
R. W. Bro. Philipps was constantly in the public service: commissary of Masters 1753-60; commander at Annapolis, and representative in the Home of Assembly. He died suddenly at Halifax ln 1760. "The twenty or more years of the Provincial Grand Mastership Major Philipps may not have been remarkable of the wide dissemination of Masonic principles and philosophy but the work then begun is still going on though Major Philipps is now only a name to present generation."
PHIPPS, WILLIAM H. 1833-1913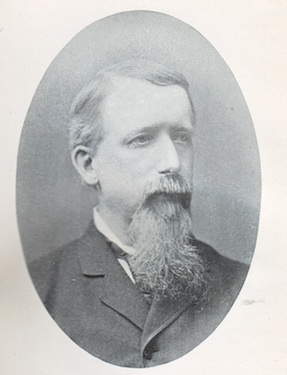 From Proceedings, Page 1913-35:
R.W. WILLIAM HENRY PHIPPS was born in Hopkinton, Mass., Oct. 9, 1833. and died at Oakland, Cal., Feb. 3, 1913.
He was made a Master Mason Sept. 21, 1858, in Montgomery Lodge, of Milford. He was a Charter member of John Warren Lodge, of Hopkinton, and was Master of that Lodge in 1862. He was a Charter member of Alpha Lodge, of South Framingham, and its Master under the Dispensation. In 1878 and 1879 he was District Deputy Grand Master of the Twelfth Masonic District.
Having settled in California, he united with Live Oak Lodge of Oakland, in that State. He received the Capitular Degrees in Mount Lebanon Royal Arch Chapter of Milford, in 1858; and received the orders of Knighthood in Milford.Commandery, K.T., of Milford. He was Eminent Commander of Milford Commandery in 1864. Brother Phipps received the Degrees of the Scottish Rite in Boston, in 1865, and those of the Royal and Select Masters in Worcester Council, in 1866. He was an active member of the Masonic Veteran Association of the Pacific Coast.
Brother Phipps, for over fifty years, was a consistent, active, and zealous Brother, who exemplified to a marked degree the principles of our Fraternity.
PIERCE, CHARLES EDWARD 1841-1918
From New England Craftsman, Vol. XIV, No. 4, January 1919, Page 127:
Charles E. Pierce, 32d degree Mason and active in Masonic circles, widely known civil war veteran, ex-assessor, ex-collector of taxes, and for many years connected with the Boston Journal, died December 26th, aged 77, of ptomaine poisoning followed by uraemic poisoning.
His home was at 368 K street, South Boston, where he had lived more than 35 years. He was twice married, his second wife passing away several years ago. He leaves one brother, George L. Pierce of 38 Green Street, Jamaica Plain.
He was a member of Rural lodge of Quincy, St. Matthew's R. A. Chapter of South Boston, Past Commander of St. Omer Commandery, K. T., of Dorchester, and had held several stations in the Grand Commandery.
He was a member and senior vice-commander of Edward W. Kinsley Post 113, G. A. R.
PIERCE, CLARENCE E. 1872-1939
From Proceedings, Page 1939-70:
Right Worshipful Brother Pierce was born in Bernardston June 17, 1872, and died in Athol January 20, 1939.
Right Worshipful Brother Pierce was for his whole life identified with the industrial and manufacturing interests of the locality.
He became a member of Star Lodge in 1904 and was its Master in 1913-14. He served as District Deputy Grand Master for the Barre Thirteenth Masonic District in 1929 and 1930 by appointment by Most Worshipful Herbert W. Dean.
Right Worshipful Brother Pierce was one of the most prominent and popular Masons of Athol. His passing came as a personal loss to a wide circle of affectionate friends.
PIERCE, WILLIAM H. 1850-1919
From New England Craftsman, Vol. XIV, No. 4, January 1919, Page 125:
William H. Pierce, business man and prominent as a Mason, died recently at his residence, 24 Parsons Street, Brighton, Mass., at the age of sixty-nine years. He had not been in his former good health for the past six months, yet was around and about, much as usual, until three weeks ago when he suffered a paralytic shock, from tne effects of which he died.
Mr. Pierce was born in Roxbury in 1850, and was the son of Horace W. Pierce and Louise (Swallow) Pierce, the latter a connection of the Swallow family long identified with the history of Brighton. Mr. Pierce attended the public schools in Roxbury and as a young man finding he could not go to sea, as he wished to do, started a market business which he conducted in Brighton and later in Belmont. Afterward he started the coal business in Cambridge, in which he had continued. Following his marriage, in 1876, at Hyannis, to Miss Annie G. Thatcher of that town, they made their home in Belmont for five years, and the remainder of their married life has been spent in Brighton.
In Belmont Mr. Pierce was interested in the public library and its place in the community but he found his greatest interest, aside from business, in his Masonic affiliations, as a member of Belmont Lodge to which he had belonged for thirty-five or more years, and it is noteworthy that in that time Mr. Pierce never missed attending its meetings. None had been held which he was absent. He was interested likewise in the Masonic Home in Charlton and its purposes. Mr. Pierce is survived by his wife and a sister. Miss Cora C. Pierce.
POPE, BENJAMIN 1829-1879
From Liberal Freemason, Vol. III, No. 7, October 1879, Page 210:
By Wor. Bro. E. H. Brainard,
And read before the Eastern Masonic Mutual Relief Association.
Brethren:— It is my painful duty to announce to you the death of our honored and efficient President, W. Brother Benjamin Pope, the founder of this association.
Brother Pope was born in Waterford, Ireland, January 13th, 1829, and came to this country when an infant, and has resided in South Boston for nearly fifty years.
He graduated with honor from the English High School, where he was distinguished by his love of athletic exercises, and for proficiency in his studies. While yet a youth, it was through his endeavors that the Mattapan Literary Association was formed, May 15th, 1848, an institution which has been of signal benefit to this community, and of which he was President in 1853 and 1857.
He was raised to the Sublime degree of Master Mason in the Gate of the Temple Lodge, Sept. 26th, 1856.
Was exalted to the degree of Royal Arch Mason in St. Matthew R. A. Chapter, Nov. 30th, 1863.
Was created Knight of the Temple and Malta in Boston Commandery, Feb. 19th, 1865.
Was one of the Charter members of St. Omer Commandery.
Was W. M. of the Gate of the Temple Lodge, 1862-63-64.
Was E. High Priest of St. Matthew's R. A. Chapter in 1868 and 1873.
Was E. Commander of St. Omer Commandery of Knights Templar from Oct., 1874 to Oct., 1877.
Was District Deputy Grand Master of the Third Masonic District of Massachusetts in 1869, 1870, and 1871. 1870, he became a Charter Member of Rabboni Lodge, and was wards elected an Honorary Member.
Brother Pope became actively interested in the A. and A. Rite, and was soon elected Ill. Commander-in-Chief of De Witt Clinton Consistory, and closely following the Union of the Consistories in Massachusetts, he succeeded Ill. Brother S. K. Hutchinson as 111.-. Commander-in-Chief of Massachusetts Consistory, from which office he retired in 1876, after holding it for a period of six years.
For many years he was an Honorary Member of the Thirty-Third Degree.
He was also a member of Lafayette Lodge of Perfection, Giles F. Yates Council of Princes of Jerusalem, and of Mt. Olivet Chapter of Rose Croix.
He was a member of the Common Council in 1875, '76, '77, and for the last two years was President of that body.
He was elected Alderman at the city election in 1878, receiving much the largest number of votes of any one of his political party.
He was for several years a member of the Public School Committee, a Trustee of the South Boston Savings Bank, and a Director of the John Hancock Mutual Life Insurance Company, and was especially interested in the duties of the last position.
He was the leading Layman in the Church of which he had been any years a member and officer, most of its important secular business having been transacted by him.
From the time of his leaving school until his last sickness, he was constantly engaged in active business pursuits, for many years being a partner in a firm transacting a large lumber business, requiring a portion of his time and attention; yet such was his remarkable tenacity, business capacity and self-possession, that he was enabled to give the requisite attention to this as well as to his civic, Masonic and other duties which he took upon himself to perform, without being hurried or confused.
Brother Pope was a remarkably gifted man, possessing an uncommon physical development, great massive strength and activity, a fabulous intellect strengthened by mental culture and discipline, a great energy and force of character, strong personal magnetism, a natural and fervid eloquence of speech, a genial and kindly disposition, with versatility and tact which enabled him to act with great proficiency in every position in which he was placed. Every Masonic body over which he presided received a material and moral impulse under his administration, and his more public trusts were performed to the entire satisfaction and admiration of his constituents.
His personal popularity was universal, his well-known integrity of purpose, and the purity of his life and conduct won the love and respect of the entire community among whom he had lived from his infancy. Those of every shade of opinion, religious or political, of every grade in social life, rich and poor, high and low, young and old, delighted to do him honor.
He was present with us at the monthly meeting of the Board, on the first Wednesday in September, and a few days after was stricken down by illness, and on the evening of the 24th, his medical attendant deemed it his duty to inform him that he could live but a short time. He then calmly arranged his worldly affairs, and on the morning of the 25th he called for his family, bade them an affectionate farewell, and at seventeen minutes past three passed through the Eternal Gates to the bosom of his Heavenly Father.
Brethren, let us endeavor to imitate his example of industry, energy and fidelity to duty, his purity of life and character, his kindness of heart, his charity for the weakness and infirmities of others, and is humbly hope to obtain the favor of God and the respect of good men.
POPE, E. FRANCIS 1866-1917
From Proceedings, Page 1917-25:
Brother Pope was born in Acushnet, Mass., August 30, 1866, and died at his residence in Brockton January 24, 1917. His death resulted. from melancholia following a nervous breakdown. It was with profound sorrow that his friends in the city learned of his death, for there were few men more generally esteemed, held in higher respect, or more welcome in business, fraternal, and social circles.
Brother Pope came to Brockton in 1887 and found employment with the O. A. Miller Machine Company, where he remained until 1901 when he was elected tax collector of the city. When R.W. William H. Emerson retired from the position of city treasurer Brother Pope was elected as his successor. He retained the position until 1913 when a change in the dominant party removed him from office. There was no criticism, however, of the man or his methods. He was affiliated with the Cunningham Rifles and became their military instructor and drill master. Later he was engaged by Chief Gettemy of the State Bureau of Statistics in establishing his system throughout the State. He was also Treasurer of the F. B. Washburn Company and in 1916 became Treasurer of the Wallace Shoe Company.
R.W. Brother Pope received the Masonic Degrees in Paul Revere Lodge, of Brockton, in 1891. He was Worshipful Master in 1901 and 1902 and District Deputy Grand Master of the Twenty-fourth Masonic District in 1904 and 1905. He was also a member of Satucket Royal Arch Chapter, of Brockton, and at the time of his decease was Eminent Commander of Bay State Commandery, Knights Templars, of Brockton.
POPE, RICHARD 1843-1880
From Liberal Freemason, Vol. IV, No. 9, December 1880, Page 284:
Richard Pope, well-known in insurance circles, died at an early hour Tuesday morning, Nov. 30th, at his residence on N Street, South Boston, his death resulting from inflammation of the stomach. Mr. Pope's illness was of very brief duration, he having been present at a meeting of Gate of the Temple F. and A. M. Lodge, on Tuesday evening of the week preceding.
He was born in South Boston, February 28th, 1843, and was a brother of the late Mr. Benjamin Pope, who died in September, 1879. During the war, he served as a private in the Union army. In 1874 he was a member of the House of Representatives, having been elected as a Democrat. He was re-elected for the year 1875, and was a member of the Common Council in 1876 and 1877.
Among his business associates he was very highly esteemed, and held the office of Vice President in that very useful organization, the Boston Protective Department. He was one of the best-known residents of South Boston, and always took an interest in social and political matters. Brother Pope took an especial interest in the Masonic fraternity, was Past Master of Rabboni Lodge, and a member of St. Matthew's Royal Arch Chapter, and St. Omer Commandery, K. T. In the Commandery he held the position of Trustee of the Permanent Fund. He was also a member of the Ancient and Accepted Scottish Rite, and had attained the Thirty-Second Degree.
He leaves a family, consisting of a wife and five children. The funeral took place on Saturday, Dec. 4th. at St. Matthew's Episcopal Church, and in accordance with his wish was without any special display. It was, however, largely attended by the Masonic Fraternity, as well as by acquaintances and friends of the deceased.
PORTER, ARTHUR HOMER 1877-1945
From Proceedings, Page 1945-37:
Brother Porter was born in Salisbury, Vermont, on May 12, 1877, and died at his home in Turners Falls, Massachusetts, on February 9, 1945.
After attendance at the schools in Turners Falls, he entered the employ of the Keith Paper Company, retiring in 1944 after a service of forty-five years as Superintendent of the finishing department.
He was raised in Mechanic's Lodge on April 21, 1909, and served as Master in 1918 and 1919. At the time of his death, he was Lodge Representative of the Board of Masonic Relief, a position in which he had served faithfully for several years.
He was appointed District Deputy Grand Master of the 14th Masonic District by Most Worshipful Dudley H. Ferrell and served in that position during the years 1923 and 1924.
He was a member of the Scottish Rite bodies of Greenfield and took an active interest, but never served as presiding officer in any of them.
Brother Porter took an active interest in civic affairs and was highly respected in his community. He served for many years as Town Moderator, Overseer of the Poor, and as Town Auditor. The Town of Montague has lost a valued and highly respected citizen, a4d Freemasonry has lost a faithful and well beloved Brother. Failing health alone caused his active interest to be lessened, but his heart interest in Masonry never ceased.
"They never quite leave us, the Brethren who've passed
Through the shadow of death to the sunlight above.
A thousand sweet memories are holding them fast
To the places they blessed with their presence and love."
PORTER, FRANK KENDALL 1858-1910
From New England Craftsman, Vol. V, No. 6, March 1910, Page 207:
Brother Frank K. Porter, who was widely known among Scottish Rite Masons of Massachusetts died January 25th at his home in Waltham, Mass. He was born in Leominster and went to Waltham more than thirty years ago. He was a Past Commander of Gethsemane Commandery, K. T., of Newton. He was a long time secretary and treasurer of the Waltham Co-operative Bank.
From New England Craftsman, Vol. V, No. 6, March 1910, Page 215:
The death of Frank K. Porter, second officer of Mt. Olivet Chapter of Rose Croix, Boston, was announced at a meeting of that body, Friday, February 18th. The most wise master Addison L. Osborne, 33° said that since the last assembly death had called to the temple beyond Frank K. Porter, senior warden. "To know him was to love him, he possessed a noble heart and was ever ready to assist by his counsel, while as an officer he has been most painstaking and energetic," said the head of the chapter.
While the members stood with heads bowed the double quartet sang "The Vacant Chair."
Illustrious Leon M. Abbott, Deputy of the Supreme Council made an official visit to the chapter and was warmly welcomed by the Most Wise Master.
Daniel W. Lawrence, 33° active member of the Supreme Council, and Horatio G. Hall, 32°, of Mt. Olivet Chapter, were added to the honorary list.
PORTER, ZACHARIAH B., 1799-1864
From Moore's Freemason's Monthly, Vol. XXIII, No. 11, September 1864, Page 352:

Cambridge Cattle Fair Hotel, 1866
Bro. Z. B. Porter, the well known and popular landlord of the Cambridge Cattle Fair Hotel, died at his residence on Saturday, July 30, aged about 65 years. He was formerly a member of the Boston Encampment, and always a steadfast Mason. He had been an invalid for many years.
From the History of the Ancient and Honorable Artillery Company, Vol. 3:
Ziba B. Porter (1835), innkeeper, of Brighton, held the office of lieutenant in the State militia. He received the orders in Boston Encampment, and became a member June 20, 1832. Lieut. Porter (1835), proprietor of the Cambridge Cattle Fair Hotel, died, after a long and lingering illness, July 30, 1864, aged sixty-five years.
POWERS, HENRY 1837-1886
From Proceedings, Page 1886-138:
WOR. HENRY W. POWERS was born in Abington, Sept. 8, 1837, and died at Santa Barbara, Cal., July 4, 1886. He was prepared for college at Andover, Mass., and in early life became a member of the Congregational Church. He enlisted in the Union Army July 24, 1862, Co. C, 38th Regt. Mass. Vols.; was promoted a sergeant July 17, 1863; was wounded in action at Cedar Creek, Va. in Oct., 1864, and was mustered out of service in July, 1865. In 1878 and '79 he was a member of the Massachusetts Legislature, and served each year as Chairman of the Committee on Engrossed Bills.
He was initiated, crafted and raised in John Cutler Lodge, at Abington, during the year 1860, and was Worshipful Master thereof: from 1869 to 1872. In 1868, with other Brethren, he assisted in establishing Puritan Lodge at South Abington and became its first Master, serving in that office three years. He served as D.D. Grand Master of the Twenty-fourth District of Massachusetts during the year 1885.
He was buried at Colebrook Cemetery, where our impressive ritual was rendered by Puritan Lodge. Wor. Bro. Powers was recognized as a man of spotless character and large ability. Having had the advantage of a liberal education, he naturally held prominent positions and filled all with credit to himself and his community. In social and business circles he was welcomed and esteemed. Truthfulness, fidelity and honor were his ascribed characteristics. He was a kind and benevolent citizen, a brave soldier and a loyal Mason, — beloved by home, friends and Brethren, he reciprocated their esteem and confidence. His decease bereaves family, church, community and Fraternity of a kind, earnest and valued member.
PREBLE, EDWARD 1761-1807
From New England Craftsman, Vol. XIX, No. 6, March, 1924, Page 184:
THE VALOR OF EDWARD PREBLE SON OF NEW ENGLAND
By Prof. Gilbert Patten Brown, A. M., LL. D.
New England has ever been noted for its great men in all walks of life. In the war of the Revolution (1775-1783), such are a few of her patriots, who were of the Masonic cloth, Henry Knox, Peleg Wodsworth, Robert Treat Paine, Samuel Adams, Israel Putnam, Paul Revere, Joseph Warren, John Warren, Rufus Putnam, Samuel Tucker, William Whipple, Matthew Thornton, Caleb Strong, John Foster William, Abraham Whipple, Roger Sherman, Josiah Bartlett, Henry Dearborn, John Stark, John Sullivan, Jeremiah O'Brien and John Greaton.
It was in the old Colonial days, and while Mother England was fighting one of her many race battles, and the Lion was roaring to sec whom he might next devour, that a little ship left a British port, and wasted away into the dark blue waters of the Atlantic, bound for New England. Her passengers were the "Men of Kent," one of whom was the paternal immigrant ancestor of the gentleman a few of whose many virtues will be told at this late day by an American author.
Abraham Preble loved his God and family and hated king craft and despots of all kinds. At heart he was a Puritan and loved and read the Bible of his forefathers. He was one of the founders of the present town of York, Maine, when it was called "Saint Aspinquid," and when witchcraft was much in the air, and when the established Church of England showed the band of despotism in the land of the Pilgrims and Puritans. A lineal descendant of this pioneer was "Honorable Jcdediah Preble, Gentleman," and styled in early history as the "Husbandman of Wells." Here the war-like hand of the savage met all newcomers, and the Preble family played no small part in protecting early New Englanders during those trying times.
"Colonel Jcdediah Preble, Esq." fought under General James Wolfe upon the Plains of Abraham, and there won distinction defending the crown. He was made a master mason in "due ancient and ample form" in the "Louisburg Lodge" in 1758.
At the breaking out of the War 1775-1783 he took an active part in new issues. He had associated in military life with three other distinguished sons of New England; General Samuel Waldo, Colonel David Dunbar and Captain Jonas Fitch. This was when Maine was a part of Massachusetts, and had furnished valiant warriors that helped to make some of the most important history of the Colonial and Revolutionary period. In 1775 Colonel Preble was made a Brig. General of New England militia. He met General George Washington undet the Old Elm in Cambridge, Mass., on that hot and memorable July 3rd, 1775, and the records of his Journal read that he "Supped wine with the Commander-in-chief and other gentlemen."
To General Preble and his sweet spouse, who was Mehitable Bangs, a son was horn on August 15, 1761, and was named Edward. The family at the time resided at Falmouth, now Portland, Maine. At school Edward Preble made good at books, and soon took to the liking of a Mariner. In 1801 he married Miss Mary Deering of Portland. She was a belle in her day ind given to music and poetry. At 10 years of age young Preble ran away and joined a privateer, as he said, to fight Britishers. To be exact, it was in 1777 that he began his marine career as a full-fledged Continental Naval Officer. Those were days when all mariners were real sailors. One was required to do even better than "hand, reef and steer." He was to know something of the art of navigation, and in this art young Preble soon became well skilled. Even many landsmen in those days could box a compass, and Preble knew this before entering upon a ship.
Ships of all kinds depended on sails in those times, so that life was strenuous from the time anchor was weighed until it let go again and the sails clewed up and furled. It was an imperative thing a youth know how to knot and splice as well as to reef and furl; such education left little time for leisure, but it built into his nature the habits of industry and discipline.
It was in 1779 that our hero of the old school of warriors entered the provincial marine of Massachusetts as a midshipman, the duties of which were not so strenuous but he found some time for study. It is remarkable to discover how much he, and other men under similar circumstances, managed to learn from books. He was in the action between the Protector and the British privateer General Duff during the Revolution. Afterwards he was captured and confined on the prison ship Jersey in the harbor of New York. When released he joined the Massachusetts war vessel Winthrop and remained with that ship until 1782, during which period he once distinguished himself boarding, with fourteen men, an armed brig lying off Castine and carrying her off under fire of the enemy's shore batteries. After peace was declared, Preble returned to the merchant service, in which he remained fifteen years. The Young Republic was too poor at that time to afford a Navy in days of peace.
Captain Bro. William Friend of old Newburyport, under whom Bro. Edward Preble first sailed, was a fighter and sailor of no mean standing. Captain Bro. John Foster Williams of Boston, the next master mariner to have young Preble under his command, was a thorough sailor, and taught the lad much in Marine life. In 1783, the last year of the Revolutionary War, he rose to the grade of a full fledged Continental Naval Lieutenant. In those days it was customary for Mariners to become members of the Masonic Institution, and it was difficult to find a Naval or Marine officer who was not a Mason. In Boston was the Lodge of St. Andrew. Upon its rolls of membership were the signature of such great patriots as Dr. Joseph Warren. Dr. John Warren, Col. Joseph Webb, General John Crane, Captain Jeremiah O'Brien. Colonel Paul Revere, Hon. Peter Faneuil, Hon. John Hancock, Col. William Burbeck. Gen. James Jackson, Col. Thomas Crafts, Dr. Josiah Bartlett, Gen. Benjamin Lincoln. Captain George Stillman, Hon. Amos Lincoln, Nathaniel Hatten, Esq., and half a hundred more illustrious sages of the times, and it was in the heart of "Lieut. Edward Preble, Continental Navy," to there be made a Mason. On May 8, 1783, he was initiated in this old Scottish Lodge. The next time he was in the port of Boston was three years later, and on Feb. 8, 1786. he was passed to the degree of Fellowcraft at this ancient honorable shrine. There is no record that he ever received the third or master's degree, but it was probably given him in a foreign port.
 We next find him elected to membership in old Portland lodge No. 1, of which his father was a member at the time. In 1799 he was commissioned a lieutenant in the regular Navy and was given command of the Pickering, a small ship stationed in the Windward Islands; but later, in the same year, was promoted to a captaincy and given command of the Essex. While on this command he once convoyed home from Batavia a fleet of fourteen merchant vessels to prevent their being pillaged by the French, who were then preying on our commerce.
In 1803 he was placed in command of the fleet sent by our Government against Tripoli, his flag ship being the old Constitution. He came to anchor with a part of his squadron at Tangier and there carried on the negotiations that prevented a war with Morocco. A month later he declared a blockade of Tripoli. The Philadelphia under command of Captain William Bainbridge had been run upon the rock by the Tripoli seamen and thus captured, but was later destroyed at anchor by Lieutenant Stephen Decatur, also a Mason.
On July 25 of 1804, Captain Preble appeared before troublesome Tripoli with fifteen vessels, including eight small ships borrowed from the Neapolitan government, and began an attack, which he concentiated on the Tripolitan squadron, protected by shore batteries. Of these he captured three and sunk three more. On the seventh he made another attack, but with less success, as the Tripolitans remained nearer shore. In this attack he lost one of his own ships. He renewed the attack on the 28th, upon which one of the enemy vessels was sunk, two were driven ashore and the others retreated; during this engagement the Constitution itself lay nearly an hour within pistol shot of the mole to deliver a destructive, fire on the town batteries. A week later Preble once again returned to the attack, but this time was so hotly repelled that he was obliged to haul off his whole fleet. The Intrepid was then converted into a fire ship, with one hundred barrels of powder and one hundred and fifty shells above the powder, which Captain Somers and Lieutenant Wads worth, with thirteen men, volunteered to take into the harbor to explode; but the shore batteries opened successful fire upon her and exploded In r prematurely, and not one of the volunteers escaped. Soon afterwards Captain Samuel Barron arrived aboard the frigate President, and relieved Preble of command. Upon his return to the United States, Preble was given the thanks of Congress and a gold medal.
Commodore Preble died of pulmonary consumption in the eity of his nationality, where we read the inscription:— "In memory of Edward Preble of the United States Navy. Died August 25, 1807, aged 46 years: Commodore of the U. S. S. Constitution." "Commodore" was a title of courtesy and was bestowed upon an officer Commanding more than one ship. The first commission of Commodore our government ever issued was to David G. Farragut in 1862. He was also a Mason.
Commodore Preble fired the last gun against Tripoli in the War of 1801-1801.. He signed the treaty of peace with that country on June 3, 1805. President Bro. Jefferson offered him a seat in his cabinet in 1806. Preble was the first American Naval officer to carry our flag around the Cape of Good Hope. When F.dward Pichle sailed the naval men of the world gave heed to his actions. The writer was born but a few miles from the birthplace of F.dward Preble. He has visited the Lodge of St. Andrew, where our hero was given his first light in Masonry in the uniform of an American Naval officer. He has visited the old graveyard on historic Munjoy Hill, in Portland in the "Pine Tree" state, where sleeps the hero of Tripoli. Those were days of real sailors, and Edward Preble stood without a peer for valor and seamanship, in his time and generation.
For many years Portland had a very celebrated hotel named in honor of our hero; a business block now replaces it. In merry summer time many tourists, while visit the "Forest City," enter the old graveyard, where sleeps the victor of Tripoli, and read the brief epitaph to this never tiring memory. It is truly an old time graveyard for for here sleep Patriot and Tory side by side. No careless eye ever looks over these walls. The frosts of winter may chill the soil and the burning sun of summer may cause wild flowers to there grow, but on sleeps Edward Preble until the end of time.
Old York is a typical New England town. Here are many good Masons. Many times has the author visited this once home of the pioneer ancestors of Edward Preble. Ilere people are religious and law abiding, and in manners are as were their forefathers in the old Colonial Days, true to the ethics of Anglo-Saxon man and womanhood.
While the ships of our Navy float on the dark blue waters of the Seven Seas, ana the heart of man continues to love valor and integrity, the name of Edward Preble will inspire the youth of the Republic.
Shipmates and brethren in Freemasonry, hats off at the name of Edward Preble. U. S. N., who first carried our flag around the Cape of Good Hope, flying from the mizzen topmast head.
PRESCOTT, JAMES 1766-1829
From Moore's Freemason's Monthly, Vol. XXVI, No. 8, June 1867, Page 247:
Br. Moore, — I find by looking over the records of St. Paul's Lodge,
 (Groton), that Br. James Prescott was elected W.M., Dec. 26, 1803. He
 was born April 19, 1766, educated at Harvard College, graduated in 1788,
 read law and commenced practice in Westford, where he remained about ten
 years, and then returned to his native town. He was a judge of probate, and
chief justice of the court of common pleas for. the county of Middlesex." One
who well knew him says, "He possessed a strong discriminating mind, was a
good classical scholar, a learned lawyer, and is entitled to have the credit of
having reduced the proceedings in the probate court to a system more correct
than had been adopted, at that time, by any other court in the State. He died
 Oct. 14, 1829." He loved the Institution of Freemasonry, and was punctual
 at our meetings, and well posted in the work of the Lodge. He was the
youngest brother of Dr. Oliver Prescott, Jr., who has been noticed in pre
ceding numbers of the magazine.
Yours fraternally, Luther S. Bancroft.
PRICE, EDWARD R. 1846-1911
From Proceedings, Page 1911-118:
R.W. EDWARD R. PRICE was born in North Attleborough Oct. 9, 1846. His early education Was gained in the public schools of North Attleborough, and later he studied at the Green Mountain Institute, Woodstock, Vt. On his return home he obtained a position as clerk in the Attleborough Savings Bank in which he continued till April 8, 1872, when he was chosen to succeed to the office of secretary and treasurer of the corporation. Fot twenty-eight years, in addition to the above-named duties, he was cashier of the First National Bank of North Attleborough. While holding these two positions of responsibility he found time to participate id the management of the North Attleborough Gas Light Company, and was affiliated with other business interests. When the affairs of the Interstate Electric Street Railway Company were in financial chaos, Brother Price was called to the rescue and made the concern a paying investment. He was deeply interested ir the Public Library of the town, and was active in all town affairs.
Brother Price was a prominent member of the Universalist Parish, having served as clerk of the parish and superintendent of the Sunday School. His many responsibilities and continued activity undermined his health. In 1898 he received eight months leave of absence from the banks and railroad, but in 1900 he relinquished his position with the railroad company and in 1902 practically retired from business.
"Brother Price received the Masonic degrees in Bristol Lodge of North Attleborough, in 1870, beeoming a member June 7 of that year. He was Master of the Lodge in 1879 and 1880 and District Deputy Grand Master of the Twenty-third Masonic District in 1893 and 1894. (Note: original text read 1883, which is in error.)
After a busy and successful life, universally esteemed by his townsmen, a worthy exponent of thc principles of our Fraternity, Rt. Wor. Bro. Edward R. Price passed on to the better life Aug. 6, 1911.
PRIESTLEY, SEYMOUR WOOD 1902-1988
From TROWEL, Winter 1988, Page 27:
Seymour "Jack" Priestley, 86, of Brockton and a member of Paul Revere Lodge, also in Brockton, died suddenly in June. He had been a clothing salesman in Brockton for 57 years and was a veteran of World War I. He is survived by two daughters and six grandchildren. Gifts in his memory are requested to be sent to the Masonic Home in Charlton.
PROVAN, ROBERT 1834-1907
From New England Craftsman, Vol. II, No. 6, March 1907, Page 236:''
With a record of forty years' continuous practice in Boston, Dr. Robert Provan, a well-known former resident of South Boston, died February 23, at his residence in Brookline, after a ten weeks' illness with heart disease. Born in New Brunswick, Dr. Provan received his early education in Fredericton, but obtained his medical degree from Harvard College.
He had been a member of St. John's Lodge, Boston, since June 1873, and was a member of many other societies. He was for two years a member of the Common Council from South Boston.
PUFFER, WILLIAM H. 1855-1923
From Proceedings, Page 1923-152:
R. W. WILLIAM H. PUFFER was born in Athol, October 22, 1855. He moved to South Boston in early years and passed the remainder of his life in and around Boston. His whole active life was spent in the drug business, in which he was widely and favorably known. At one time he was president of the Massachusetts College of Pharmacy. Thoroughly devoted to his business and to his Masonic interests, he never sought public office or honors.
In 1876 he married Miss Mary Ellen Bean, of Cambridge, who survives him.
R. W. Bro. Puffer was Raised in Rabboni Lodge January 13, 1880, and was its Worshipful Master in 1890, 1891, and 1892. He served as District Deputy Grand Master for the Fourth Masonic District in 1905 and 1906. He was past High Friest of Dorchester Royal Arch Chapter, Past Commander of Saint Omer Commandery of Knights Templars, Past Sovereign Prince of Giles F. Yates Council, Princes of Jerusalem, and Past Second Lieutenant Commander of Massachusetts Consistory. He was crowned an Honorary Member of the Supreme Council, 33° for the Northern Masonic Jurisdiction in Boston, September 20, 1904.
R.W. Bro. Puffer was a familiar figure for many years in our Masonic gatherings of all sorts in and about Boston. His cheerful disposition and his ever-ready helpfulness endeared him to a very wide circle of the Brethren. His passing deprives us of a loved and honored colleague and a dear and valued friend.
PUTNAM, ISRAEL 1718-1790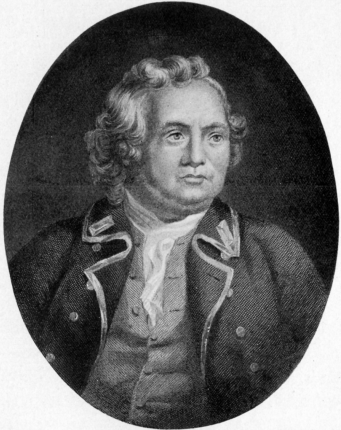 From Moore's Freemason's Monthly, Vol. XXVI, No. 2, December 1866, Page 45:
GEN. ISRAEL PUTNAM. Putnam was born at Salem, Mass., January 4, 1718. He was a farmer at Pomfret, Conn., after his first marriage, till the opening of the seven years' war. There were three expeditions, the first against Fort Duquesne, by General Braddock; the second, by Gov. Shirley, against Niagara and Frontenac; and the third for the reduction of Crown Point, under Sir William Johnson. Putnam raised a company to serve under Johnson.
Putnam's corps were known by the name of Rangers. This campaign was short. In 1756 he again entered on duty. This campaign was less fortunate; but his gallantry secured him, from the Legislature of Connecticut, the commission of Major. In August, watching the enemy at Ticonderoga, in a severe skirmish, his own piece missed fire while he held its muzzle against the breast of an athletic savage; thus defenceless, he was compelled to surrender, and his antagonist, having bound him to a tree, returned to the battle. This tree, to which Putnam was secured, was thus brought midway between the combatants, in the centre of the hottest fire of both, several balls lodging in the tree above him, and several passing through the sleeves and skirts of his coat. Indians and French amused themselves at his expense. It was in vain that he claimed the treatment due to him as a prisoner of war.
When the Indians had retreated to a considerable distance from the field of battle, they deprived Major Putnam of his coat, vest, stockings and shoes, bound his hands tightly together, and piled the packs of a number of the wounded on his back. In this wretched condition, exhausted by fatigue, and severely suffering from the injuries he had received, he was forced to march for many miles through a mountainous and rugged tract, until the party, overcome with weariness, at length halted to rest themselves. Meantime, the tightness of the cords around his wrists had caused his hands to swell, and made them extremely painful; the blood was flowing from his torn and naked feet, the weight of his burden became intolerable to his exhausted frame, and he entreated the savages to loose his hands, or to release him from his sufferings by death. A French officer interposed, removed the ligatures, and relieved him of a portion of his burden; the Indian who had made him captive, and who had remained behind to attend to the wounded, also came up provided him with moccasins, and expressed much indignation at the treatment he had received.
A spot for the evening's encampment was selected, and the Indians, taking with them Major Putnam, went thither in advance of the rest of the party. On the way he experienced fresh outrages, and was deeply wounded on the cheek by a blow from a tomahawk. He had been thus far spared for a darker purpose; it had been resolved that ho should perish at the stake, with all those refinements of torture by which the savages knew how to enhance the bitterness of death. The depths of the forest were chosen as the scene of sacrifice. The victim was bound, entirely naked, to a tree; large piles of fuel were laid in a circle around him, and, while these fearful preparations were in progress, they were rendered more appalling by the wild songs and exultations of the Indians.
He had taken his last look of earth, and was consigning his soul to God, when he beheld this French officer approaching. As a last resort he hailed him, in a way that speaks with more than trumpet-tones to the heart of a genuine brother. Quick as lightning the cords were severed, the burning fagots were dispersed, and the officer rescued Putnam at the peril of his own life. So powerful is the word that binds our brethren in the hour of peril! Putnam always said that he owed his life to Masonry, as he felt confident the Frenchman never would have incurred the risk of displeasing the Indians so much to save any but a brother.
Through life his zeal and services to the "Good Cause" were equal to the debt he owed.
On arriving at Ticonderoga he was examined by Montcalm, and transferred to Montreal. Another brother, who was a French officer, treated him with great courtesy and kindness. At Montreal, Colonel Schuyler, one of the American prisoners, and also a brother, supplied General Putnam with all that his necessities required; and, after securing to him, by the most active intercession, the treatment to which his rank entitled him, found means to render him a more important service. The capture of Frontenac by the British, occasioned an exchange of prisoners, of which Putnam reaped the benefit by a stratagem of Colonel Schuyler. There were several officers among the prisoners whose claim to be exchanged was superior to his; and Schuyler, fearing that the opportunity might be lost if the character of the prisoner should be known, prevailed on the Governor to permit him to name an officer to be included in the cartel. He then assured His Excellency that he should name an old Provincial major, who was of no service there or elsewhere, but was very anxious to return to his wife and family, in preference to the young men who had no families to care for.
There is another instance of the Masonic beneficence of Colonel Schuyler. Mrs. Howe, the story of whose captivity by the Indians is familiar to American readers, was an inmate of his family in Montreal at the time of which we speak. The first husband of this lady had been murdered by the Indians several years before. Mr. Howe, the second one, and a Mason, met with a similar fate at Fort Dummer, in 1756; and his wife, with seven children, was carried into captivity. They wandered for many months, exposed to the extremity of hardship and privation. Her two daughters were destined by the Indians to become the wives of two young warriors, but this scheme was defeated by the address of their mother, who prevailed upon the French commander to procure them admission into a convent at Montreal. The sons, five in number, were distributed among various Indian tribes. She was herself ransomed from the Indians by an old French officer, from whose rude importunities, as well as those of his son; she found it difficult to escape.
She had heard of Colonel Schuyler, and found means to acquaint him with her story. With his usual generosity, he immediately paid the price of her ransom, and thought his work of charity imperfectly accomplished until all her sons were restored to her. It became necessary for him to return home before the other prisoners were ready for the journey, and he recommended Mrs. Howe and her family to the charge of Major Putnam, with whom, as a brother, she returned in safety to her friends, both having experienced a larger measure of suffering than humanity is often called upon to undergo.
It was in this campaign, at the battle of Lake George, that Thayendanegea, the young Mohawk chief and famous Indian Mason, better known as Joseph Brant, made his first appearance on the field of war. He was only thirteen years old. In relating the particulars of the bloody engagement, some time after, he stated that "he was seized with such a tremor when the firing commenced, he was obliged to take hold of a sapling to steady himself; but, after a few volleys, he recovered the use of his limbs and the composure of his mind, so as to support the character of a brave man." He was born to be a warrior, as his history abundantly proves. "I like," said he, when some one was speaking of music, "I like the harpsichord well, and the organ still better; but I like the drum and trumpet best of all, for they make my heart beat quick."
Putnam, in 1759, was made Lieutenant-Colonel. He commanded his regiment, 1762, in the war of Great Britain against Spain, and joined the armament before Havana. In 1763, he was commissioned as Colonel in the expedition against the Western Indians. Returning home he resumed the plow; but his fellow-citizens elected him to fill the higher municipal offices, and to represent them in the General Assembly of the State.
In 1765, the British Parliament consummated the stamp-act. Putnam opposed it. He was among the first to compel the stamp-masters appointed in Connecticut to relinquish their office, and was on the committee to confer with the governor of the colony.
He was asked by Governor Fitch, what he, as chief executive magistrate, was to do, if the stamped paper should be sent him by the orders of the king. "Lock it up," replied Putnam, "and give us the key; then, if you think proper to screen yourself from responsibility, prohibit us from entering the room where it is deposited; we will send it safely back." — "But should I refuse you admission!" — "In five minutes your house will be leveled with the dust." The repeal of the stamp act in 1766 permitted Col. Putnam to resume his agricultural labors.
April 19, 1775, Col. Putnam was laboring in the field when the news of tho battle of Lexington reached him. He left his plow standing in the furrow, and without even waiting to change his clothes, rode with the utmost expedition to the scene of action. On the 21st he attended a council of war at Cambridge, and, with the commission of Brigadier-General and 3,000 troops, was soon upon his march. Of the battle of Bunker Hill it is unnecessary to enter into details. Gen. Putnam's part was in a high degree important and effective. President Dwight said of him: "His word was regarded as an ample security for anything for which it was pledged, and his uprightness commanded absolute confidence."
After the battle of Bunker Hill, Sir Wm. Howe, through Major Small, proffered Putnam the commission of Major-General in the British service, with a large pecuniary consideration. These of course were indignantly rejected.
June 15, his Masonic brother, Gen. Washington, was unanimously elected Commander-in-Chief, and Putnam, Ward, Lee, and Schuyler, as Major-Generals under him. Putnam reached Cambridge July 2. "You seem, General Putnam," said he, after examining a work which had been erected with great expedition, "to have the faculty of infusing your own industrious spirit into all the workmen you employ."
It was in the midst of stirring and absorbing scenes, when heavily burdened with public cares, and overwhelmed with the calamities which had befallen him in his official capacity, as commander in the Highlands, that General Putnam was called to experience the heaviest of domestic afflictions in the loss of his wife. She died at his quarters, about a week after his removal to Fishkill; and it is not improbable that her death was hastened, if not procured, by the exposure, inconvenience, and fatigue, incident to this sudden change. General Washington, writing to him on the 19th of October, thus alludes to this severe bereavement: —
I am extremely sorry for the death of Mrs. Putnam, and sympathize with you upon the occasion. Remembering that all must die, and that she had lived to an honorable age, I hope you will bear the misfortune with that fortitude and complacency of mind that become a man and a Christian.

I am, dear sir, with great esteem, yours, etc.,

George Washington.
We pass over his command at New York, his suggestions to obstruct the Hudson and prevent the enemy's vessels ascending, his command on Long Island, the evacuation of New York, and retreat through New Jersey.
"Upon the salvation of Philadelphia," was the earnest language of Washington, "our cause almost depends." The selection of General Putnam to command it at this crisis, denotes the confidence reposed by the Commander-in-Chief in his energy and skill. Nor were his expectations disappointed. Gen. Putnam entered upon his duties with his usual diligence, forwarded with all his power the construction of the fortifications, and labored with untiring zeal to reconcile contending factions, and to animate the citizens to efforts for their own defence.
When Gen. Putnam reached Princeton, he found Capt. MacPherson, a Scotch officer and brother, had received a severe wound in the late battle, which, it was thought, must prove fatal. Gen. Putnam learned that it had been deemed inexpedient to provide medical aid and other comforts for one who was likely to require them for so short a period; but, by his orders, the Captain was attended with the utmost care, and at length recovered. He was warm in the expression of his gratitude; and one day, when Putnam, in reply to his inquiries had assured him that he was a Yankee, averred that he had not believed it possible for any human being but a Scotchman, and he a Mason, to be so kind and generous.
The military career of Gen. Putnam terminated with the campaign of 1779. On a visit to Brooklyn, Connecticut, the place to which his residence had been transferred, he suffered an attack of paralysis, and was doomed to pass the remainder of his life in inaction. He lived seven years after the close of the war. On the 17th of May, 1790, he was suddenly attacked by an inflammatory disease, and foresaw that his end was nigh. The consolations of religion sustained him in his closing hours; and two days afterwards he died, a tried and true Christian Mason, with resignation and in peace. His remains were borne by his fellow-citizens to the grave, with the martial honors due to the memory of a brave and patriotic soldier, and a feeling eulogy was delivered by a neighbor and personal friend.
Gen. Putnam was true to his masonic instructions, to his brethren, and also to a fallen foe. His humanity was always as conspicuous as his bravery; his treatment of the sick and wounded was such as to secure the warm attachment of his own soldiers, and to extort the gratitude of the enemy. He is certainly entitled to the praise of disinterested, ardent, and successful efforts in the cause of his country ; and he will long be remembered among those who served her faithfully and well at a season when she wanted either the ability or the inclination to reward their toils and sacrifices. —National Freemason.
PUTNAM, RUFUS 1738-1824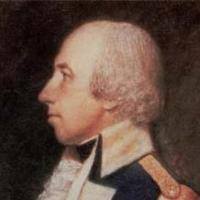 SCOTTISH RITE BIOGRAPHY
From Scottish Rite, N.M.J., Facebook posting:
Brigadier General, American Revolution, and "Father of Ohio."
Born April 9, 1738 in Sutton, Mass., a cousin of Israel Putnam the Revolutionary major general. Orphaned at an early age, he was almost self-educated. Served an apprenticeship as a millwright. After service in the Indian Wars of 1757-60, he settled down to farming in New Braintree, Mass. In 1773, with his cousin Israel he explored and surveyed the Yazoo bounty lands on the Miss. During the Revolution he proved to be a resourceful engineer, constructing the siege works at Boston, Newport, New York City, and rebuilding the defenses at West Point.
After the war he organized the Ohio Company of Associates, leading them into the Northwest Territory in 1788, and founded the city of Marietta, the first permanent city of the territory. He was appointed judge of the territory in 1790, and was general of militia. He was named surveyor general of the United States in 1796, holding that position until 1803. In 1793 he negotiated a peace treaty with the Indians, where others had failed. In 1802 he presided at the Ohio constitutional convention.
He received his degrees in American Union Lodge at West Point, N.Y., July 26, Aug. 26, and Sept. 6, 1779. When this famous traveling military lodge brought its altar to rest at Marietta, Ohio in 1790, and reorganized, he was junior warden, and later served as master seven different terms. During a visit to Philadelphia in 1792, he was made a Royal Arch Mason, and from 1797-99 was high priest of American Union Chapter. In 1808 he was unanimously elected as the first Grand Master of the Grand Lodge of Ohio, but declined the honor due to his advanced age. Died May 1, 1824.
PROCEEDINGS, 1886
From Proceedings, Page 1886-88:
Col. Rufus Putnam was born in Sutton, Mass., April 9, 1738, and died in Marietta, O., May 1, 1824. When nineteen years of age he enlisted in the French war, and in 1760 was made an ensign. He afterwards became a millwright, but in 1773 went on an expedition to West Florida. In 1775 he entered the Continental Army as Lieutenant-Colonel, in 1776 was appointed engineer with the rank of Colonel, and in 1777 commanded a regiment in the Massachusetts line. Prior to his appointment by Congress as an engineer, Washington employed him to draw a map of the enemy's fortifications at Boston and of all the American defences around it. In January, 1778, he superintended the erection of the fortifications at West Point, making that place the American Gibraltar. He commanded the troops in the Northern Department when General Greaton, of Roxbury, was on a furlough in February, 1783. Just prior to the close of the war he was promoted to Brigadier-General. . .
Bro. Putnam was appointed by President Washington, in 1789, Judge of the Supreme Court Of the North-western territory, and in 1792 was appointed Brigadier-General, under General Wayne, and was commissioned to make a treaty with the Indian tribes on the Wabash. In 1796 he was made Surveyor-General of United States lands, which office he held until 1803. In the latter year he was a member of the convention which framed the State constitution of Ohio.
Bro. Putnam resided in Marietta from 1788 until his death. He deserves much credit for his public spirit and untiring devotion. In all interests looking towards the material, educational and moral development of the western country he was an active and strong participant. The memory of him, like his work, still survives.
Col. Rufus Putnam was proposed and accepted for the degrees in Masonry in American Union Lodge, and was entered July 26, 1779. He became a Fellow Craft Aug. 26, 1779,-and a Master Mason Sept. 9, 1779. American Union Lodge was chartered by St. John's (or Modern) Grand Lodge Feb. 15, 1776, but Washington Lodge, No. 10, was erected by the Massachusetts (or Ancient) Grand Lodge Nov. 11, 1779. According to the return of Washington Lodge, No. 10 ("received 2d March, 1781"), Col. Rufus Putnam was also initiated in that Lodge after June 24, 1780, and before December 7 of that year. He is given as a member of that Lodge in its later returns. . .
Bro. Rufus Putnam was elected Master of American Union Lodge in 1791, 1793, 1798, 1800, 1804. He was High Priest of American Union Chapter 1797-99, 1804-8, or eight years.
Gen. Putnam continued an officer or active member of the Lodge, and when, in 1808, Masonry had so flourished in Ohio that a Grand Lodge seemed necessary, and a convention to form one had assembled, Bro. Rufus Putnam was, on the 7th of January, 1808, elected Grand Master of Masons in Ohio. He never enjoyed the honor of presiding over that Body, for he was then seventy years of age, and infirmity was heavy upon him. January 5, 1809, he declined to hold the office longer, being still unable to meet with the Brethren, and forwarded to the Grand Lodge a fraternal and sweet-spirited letter. He survived fifteen more years, dying at the age of eighty-six. "All said a good man had gone to his rest.
NEW ENGLAND CRAFTSMAN, 1925
From New England Craftsman, Vol. XX, No. 4, January 1925, Page 118:
RUFUS PUTNAM — FREEMASON
Few Americans prominent in our history more justly earned the title of pioneer. Rufus Putnam was a pioneer in the State of Ohio, a pioneer in early Masonry, a pioneer in Ohio law, and a pioneer — one of the earliest — against slavery.
General Putnam was born in Sutton, Worcester County, Massachusetts, April 9, 1738, the same year, it happened, in which Pope Clement XII issued the first Roman Catholic bull agains! Freemasonry. He died in Marietta, Ohio, May 1, 1824.
At the age of nineteen be enlisted in the war against France and saw four years of military service. In 1761 he gave up military life, married, and took up farming and surveying. In 1773, after having become proficient as a surveyor, he spent eight months in Florida with his cousin Israel, equally famous as a soldier and pioneer, and while there assisted in arranging for the migration of several hundred families from New England into the province now known as the State of Florida.
Upon the outbreak of the Revolutionary War he enlisted in the Continental Army with the rank of Lieutenant-Colonel of Engineers. Very soon thereafter his skill in military engineering became so noticeable, especially in view of the fact of his having had no previous experience, that General Washington highly complimented him upon his work. Congress commissioned him an engineer with the rank of Colonel in 1776. and he held the post of Chief Engineer until 1778, at which time Kosciusko succeeded him. The military impregnability of West Point was very largely due to his plans.
It happened that while Colonel Putnam was in the army at West Point, the Masons. of whom General Washington was the most conspicuous, celebrated the festival of St. John the Baptist in an army lodge on the Hudson River. It is probable that this inspired Colonel Putnam to apply for membership. He was raised in American Union Lodge Sept. 6, 1779, at a meeting held two miles from West Point.
In 1783 Washington secured for him a commission as Brigadier General. After the Continental Army was disbanded at the close of the Revolution, General Putnam spent icveral years in helping to organize a company that later settled on the Muskingum River, where a settlement was made, now known as the town of Marietta. Putnam laid out the town and thus may thought of as a father of the State of Ohio. From that time on he passed from one station of influence to another, with a career too full of incident to be described here. After the settlement of Marietta a charter of the old American Union Lodge was used as authority for organizing a lodge there, and Putnam became its first Junior Warden. When the Grand Lodge of Ohio was organized in 1808 he was unanimously chosen Grand Master, although by that time he had become too aged for active service in the Masonic ranks. His beautiful letter of resignation is still very interesting to read:
To the Grand Lodge of the Most Ancient and Honorable Society of Free and Accepted Masons for the State of Ohio, your Brother sends Greeting:

It was with high sensibility and gratitude I received the information that the Grand Convention of Masons at Chillicothe, in January last, elected me to the office of Grand Master of our Most Ancient and Honorable Fraternity. But however sensibly I feel the high honor done me by the Convention, and am disposed to promote the interests of the Craft in general and this State in particular, l must decllne the appointment. My sun is far its meridian, and is almost set, A few sands only remain in my glass. I am unable to undergo the necessary labors of that high and important office. I am unable to make you a visit at this time, without a sacrifice and hazard of health which prudence forbids.

May the great Architect, under whose all-seeing eye all Masons profess to labor, have you in His holy keeping, that when our labors here are finished, we may, through the merits of Him that was dead but is now alive and lives forevermore, be admitted Into that temple not made with hands, eternal in the heavens. Amen. So prays your friend and brother,

RUFUS PUTNAM.
Marietta, December 26, 1808.
The early pioneers of Masonry were an heroic band. Cass, Johnson, Carson, Lewis – with hundreds like them; to such Putnam belonged. To Masonry they gave the same devotion as to the flag. In Masonic research, these are more than worthy of our study.
– Bro. George W. Baird, P. G. M., District of Columbia, In The Builder.
NEW ENGLAND CRAFTSMAN, 1927
From New England Craftsman, Vol. XXII, No. 6, April 1927, Page 440:
Rufus Putnam, Grand Master
By Charles S. Plumb, Grand Historian, Grand Lodge of Ohio
(Copyright © 1927, by The Masonic Service Association of the United States.
Reprinted by permission)
Rufus Putnam was born at Sutton, Massachusetts, on April 9, 1738. His father was a man of local distinction, who served as town clerk, town treasurer, and was a representative in the Great and General Court, otherwise the Massachusetts Legislature. He was a religious man, and church deacon for several years. He died in 1745. Two years later the mother of Rufus married again. This stepfather would not assist the boy to obtain an education, so he studied as best he could, but it is said that when he was nine years old, his total time spent in school had been only three weeks. At the age of sixteen he was apprenticed to a millwright, his only chance for study being at night. In his diary he wrote, "I turned my attention chiefly to arithmetic, geography and history. Had I been as much engaged in learning to write, with spelling and grammar I might have been much better qualified to fulfill the duties of the succeeding scenes of life which, in Providence, I have been called to pass through."
At eighteen years of age Putnam had a fine physique, being six feet tall. In muscular strength and power of endurance, he was equal to the best of the pioneers of his day. He was a man of courage, and always stood for what was right and true, was of superior intelligence, and noted for his remarkable common sense.
Rufus Putnam is primarily of interest to us from a Masonic viewpoint, but as a prelude to this his life as a soldier and citizen deserves consideration.
Putnam as a Soldier
The French and Indian War began in 1754. Rufus enlisted as a private and rendered active service under several captains, including the famous Israel Putnam, who was a relative. After peace was declared in 1763, he made his home at New Braintree, where he built mills and engaged in farming. This occupation he continued eight years.
In 1761 he married, but his wife died in less than a year. In 1765 he married Persis Rice, by whom he had ten children.
On April 19, when the American Revolution began, Putnam enlisted and was appointed a lieutenant colonel. In the army he was called on to build fortifications, laying out those around Roxbury and Sewell's Point, also those opposite the enemy's works in Boston and Charlestown, at West Point, N. Y., and at Newport, R. I. In 1776 General Washington called on Putnam to help get the British out of Boston, which he did through strategy. During the war Washington formed a great friendship for Putnam. On August 11, 1776, Putnam received the following communication:
Sir: I have the pleasure to inform you that Congress has appointed you an engineer, with the rank of Colonel and pay of sixty dollars per month.

I am sir, your assured friend and servant,
G. Washington.
Putnam played a prominent part in the War. The appointment bv Congress, above referred to by Washington, was in fact that of Chief Engineer of the army, he being employed extensively in constructional work. But he preferred service in the field, and in December resigned his position as engineer, and took command of the 5th Massachusetts regiment, in which he rendered conspicuous service. In 1783 he was elevated to the rank of brigadier general by Congress. With tin conclusion of the war Putnam returned to his Massachusetts home.
Putnam as a Citizen
Prior to the opening of the Revolutionary War, in 1773, Putnam was sent to Florida by the Crown government to investigate lands to be granted Colonial soldiers as a reward for service. In the sloop Mississippi, "the military company of adventurers" as they were known, examined the West Florida Coast and sailed up the Mississippi to the Yazoo. This experience was very interesting, but no lands were given the former soldiers of the king. While residing in Massachusetts he rendered service as a member of the State legislature.
Following the war, Putnam became interested in the lands in the Northwest Territory, and 83 officers of the Continental Army petitioned Congress for a grant of these lands. Putnam wrote Washington for his influence in their behalf. In 1785 Putnam was requested by Congress to survey certain lands northwest of the Ohio River. In March, 1786, delegates from eight Massachusetts counties met in Boston, and organized the Ohio Company for purchasing these western lands, and later Congress provided for their sale. After much detail of organization, in 1788, General Putnam, in charge of a party of forty-eight men, started for the Ohio country, arriving then on April 7, landing on the present site of Marietta. This was the first American settlement west of Pennsylvania.
"In the course of the year," writes General Putnam in his diary, "in addition to the above number (48) there came 84 men, making 132 for 1788." Some Indian fighting took place about Marietta, and, in 1790, President Washington appointed General Putnam "Judge of the General Court in and over the territory Northwest of the Ohio." In 1792 Putnam traveled into what is now Indiana; and at Vincennes effected a peace treaty with eight Wabash Indian tribes, thereby terminating the frontier war with the Indians that had caused much trouble. From 1796 to 1803 General Putnam was Surveyor General of the United States, receiving his appointment from President Washington.
In various directions General Putnam promoted civic betterment and di voted himself to education as well. He was largely instrumental in starting Muskingum Academy from which Marietta College resulted. In 1801 he was elected a trustee of Ohio University, the first college to be established in the State. In 1802 he was elected a member of the convention to draw up a State constitution. He fought against the introduction of slavery in Ohio, was the pioneer organizer of a Bible society and Sabbath school, and, in 1807, drafted I plans for a church, which was used by the Congregational Society of Marietta. He was one of the earliest students of archaeology in America, and made a careful survey and map of the wonderful prehistoric mound in the Marietta cemetery.
Rufus Putnam, Freemason
In February, 1776, a charter was granted American Union Lodge, No. 1, "to work in Roxberry or any place (or anywhere) on the continent of America, where no Grand Lodge is established." The charter for this Lodge was granted by Richard Gridley, Deputy Grand Master of the American Colonies.
On the basis of this charter, the Grand Lodges of Massachusetts and Pennsylvania recognized American Union Lodge, No. 1.
During the Revolutionary War this lodge moved about in the American army. At one time during the war the lodge held meetings at Nelson's Point, opposite West Point, in what was known as Robinson House or Beverly Robinson House. Here Rufus Putnam, on August 2, 1779, was initiated an Entered Apprentice; on August 26 he was passed to the degree of Fellowcraft; while on September 9, 1779, he was raised a Master Mason.
On June 25, 1790, ten Masons met at Marietta to consider the organization of a lodge. A communication was submitted to Capt. Jonathan Heart, of Fort Hamar, opposite Marietta, the Worshipful Master of American Union Lodge, No. 1, and Bro. Rufus Putnam, one of its members, to form a lodge, or re-establish American Union, No. 1. In reply to this communication, Brother Heart wrote the brethren as follows:
WHEREFORE, being the present Master of the lodge held under authority of said warrant, as may appear by having recourse to the records deposited in Frederick's Lodge, held at Farmington, State of Connecticut, and being the eldest Ancient Mason within said territory, I have thought proper, with the advice of Brother Putnam, member, and Bro. Benjamin Tupper, Past Master, to grant the request contained in your petition, and will meet you in Campus Martius, on Monday, the 28th inst., at six o'clock p. m. for the purpose of forming you into a lodge.
On June 28, nine brothers met and opened American Union Lodge, No. 1, with Brother Putnam acting as Junior Warden. On August 22, 1791, Bro. Rufus Putnam was elected Worshipful Master to succeed Brother Heart, who was killed in battle in St. Clair's defeat in western Ohio. In 1792 Brother Putnam, with two others, were advanced from the Master Mason to Royal Arch degrees. In 1793 he was again elected Worshipful Master of American Union Lodge, No. 1. On January 7, 1808, in the organization of the Grand Lodge of Ohio at Chillicothe, Brother Putnam was elected to serve as the first Most Worshipful Grand Master of that body.
On January 5, 1809, the Grand Lodge of Ohio F. & A. M. opened in due form at Chillicothe. On this occasion the following letter from the Grand Master elect, Bro. Rufus Putnam, was submitted by R. W. Senior Grand Warden Bro. George Tod:
To the Grand Lodge of the Most Ancient and Honorable Society of Free and Accepted Masons for the State of Ohio, Your Brother Scndeth Greeting:

It was with high sensibility and gratitude I received the information that the Grand Convention of Masons, convened at Chillicothe in January last, elected me to the office of Grand Master of your most ancient and honorable society; but, however sensibly I feel the high honor done me by the convention, and am disposed to promote the interest of the Craft in general, and in this State in particular, I must decline the appointment. My sun is far past the meridian; it is almost set; a few sands only remain in my glass; I am unable to undergo the necessary labors of that high and important office ; unable to make you a visit at this time, without a sacrifice and hazard of health which prudence forbids.

May the Great Architect, under whose all-seeing eye all Masons profess to labor, have you in His holy keeping, that when our labors here are finished, we may, through the merits of Him that was dead, but now is alive, and lives for ever more, be admitted into the Temple not made with hands, eternal in the heavens; Amen. So prays your friend and brother.

Rufus Putnam.
This beautiful and dignified Masonic communication, written late in 1808, would indicate a frail state of health. However, Brother Putnam took an active interest in Masonic matters at Marietta for some years following this date. He was an earnest supporter of the work of the Craft, and rendered such service as his strength would permit. Among the historical treasures in American Union Lodge, No. 1, is a piece of paper, dated at Marietta, May 1, 1815, of which the following is a copy.
We, the undersigned, Royal and Most Excellent Masters, Past Masters, and Mark Master Masons, working in the aforesaid degrees, under the sanction of the warrant of the American Union Lodge in Marietta -

Do hereby caution and admonish the Master Masons, Fellowcraft and Enter-Apprentice Members of the American Union Lodge aforesaid, against indiscriminately destroying the authority by which the brethren of the different degrees (in Masonry of the Lodge) work.

Whereas such an indiscriminate surrender would impair the rights and privileges of the brethren, working under the Royal Arch chapter, by virtue of the aforesaid authority, and would destroy the chapter altogether.

Rufus Putnam,
Ichabod Nye,
Joseph Millard,
Peter Howe,
Joseph Bates,
Thos. Stanley.
General Putnam died on May 4, 1824, and was laid at rest in the notable Mound Cemetery at Marietta. For many years a modest little stone marked the grave, but a few years ago the Marietta Chapter of the Daughters of the American Revolution erected a dignified monument in its place.
In 1780 Mr. Putnam purchased a home of substantial character at Rutland, Massachusetts, that was built by an Irish Tory named John Murray. Very close to 110 years later this property was bought by the Rufus Putnam Memorial Association, an organization with headquarters at Worcester, Mass. Among resolutions adopted at the tenth annual meeting of this association occur the following:
WHEREAS, Marietta College represents the high ideals of patriotism and morality carried into the Northwest by Massachusetts pioneers 125 years ago, now owns and preserves with pride the journal, diaries, and all other papers of General Rufus Putnam, and all the journals, records, accounts, surveys and other manuscripts of the original Ohio Company of Associates, owns the Stimson Collection of Americana, and its Historical Museum, preserves hundreds of priceless memorials of those historic Massachusetts founders of Ohio, has already been made custodian of the archives of the Ohio Company of Associates of New York, and further, is with fidelity and patriotic enthusiasm keeping alive the memory of this great historic event; <therefore be it,

Resolved, that we, the Rufus Putnam Memorial Association, in order to perpetuate through the centuries the reverence for unselfish devotion of the pioneers who first settled in the great State of Ohio, do appoint through its President a committee of ten to formulate and carry out a plan to secure what shall be known as the General Rufus Putnam Memorial Fund of one hundred thousand dollars.
In an eloquent address by Charles S. Dana, of Marietta, at the annual meeting of the Memorial Association held on September 27, 1910, among other things be very truly said the following:
The story of Rufus Putnam is the story of the Thirteen Colonies, of the Continental Government, of the Colonial and Indian Wars, of the American Revolution, of the suppression of Shay's Rebellion, and of Ohio. His days were crowded in an epoch that changed the course of civilization, and hand in hand with the men of 1776 lie took up the inheritance of the Magna Charta, of Plymouth Rock, of the Virginia Constitution, of the Declaration of Independence, and while the Colonies were framing the Constitution of the United States, lie joined in compelling the Ordinance of 1787. Can the imagination, at this distance, reach the sublimity of the work of Putnam and his compeers?
---