MAGLWRider
From MasonicGenealogy
WILLIAM H. RIDER 1865-1923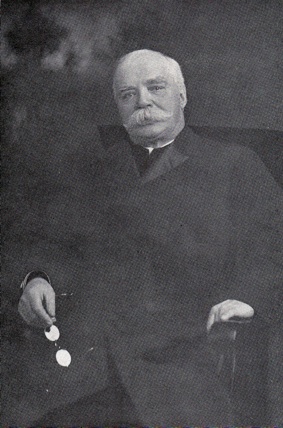 Grand Chaplain, 1902-1909
Deputy Grand Master, 1910
MEMORIAL
FROM PROCEEDINGS, 1923
From Proceedings, Page 1923-314:
Rev. and R. W. William H. Rider, D.D., Grand Chaplain of this Grand Lodge in 1907, 1908, and 1909, and Deputy Grand Master in 1910, passed to the higher life August 28, 1923. R.W. Bro. Rider had been for more than fifty-one years a member of the Fraternity, and the whole long period of his Masonic life was marked by unswerving devotion to the service and to the ideals of our Fraternity. R,.W. Bro. Rider was one of the most distinguished ministers in the Universalist Church, occupying for many years the historic pulpit in Gloucester from which John Murray, himself a Grand Chaplain of this Grand Lodge, was the first to preach the distinctive doctrine of that denomination in this country. R.W. Bro. Rider's ministry, however, extended far beyond the bounds of his parish. It was his great desire to serve his fellow men in all the ways in which he could some in contact with them. Much of this service was rendered through the Masonic Fraternity. Another portion of it was rendered in long service as a Chaplain in the Massachusetts Volunteer Militia. In Gloucester, Dr. Rider might well have been called a pastor at large. The interests of the whole community, the needs of the fisher-folk and their families, the hardships of those who suffered from the losses incident to this dangerous occupation, were close to his mind and heart. All these people regardless of religious or denominational affiliation looked to R.W. Bro. Rider as a friend and almost as a father, and they never looked. in vain. In his later years, as the infirmities of age began to creep upon him, he retired to the lesser activities of a smaller parish in Essex, but it was only the flesh and not the spirit that failed. His was a rare life of service crowned by large rewards in the affection of his fellow men. His genial, hearty presence and his great voice rich with the tones of a warm human sympathy will be greatly missed from among us.
From Proceedings, Page 1923-506:
William Henry Rider was born in Provincetown, Mass., November 13, 1846, son of Col. Godfrey Rider and Phoebe Nye (Fuller) Rider. His father was a graduate of West Point and Colonel of the 33d Massachusetts Volunteers. His mother was a direct descendant of the Mayflower pilgrims, having William Bradford, John and Priscilla Alden, John and Elizabeth Tilly Howland, Myles Standish and others of that distinguished company among her ancestors.
Distinguished son of distinguished ancestry, who of us who knew him doubted his inherent right to be called an American? He had a strong, sturdy body capable of bearing heavy burdens, a voice which could not fail to attract attention at all times, and yet withal a heart as big as the proverbial ox and as soft and tender as a woman's. He was a typical Minister of the Gospel of his choice, and was never happier than when plying his profession among those of other faiths or of no faith. It mattered not to him so long as it was a human being in distress, one who needed his or some other's kindly services. His buoyant disposition and unquenchable good nature made him so attractive that his many parishioners never gave up their friendship for him, as is fully attested by their calling incessantly upon him in cases of bereavement.
It is said that in the earlier days of his Ministry his love was not entirely confined to the human kind, but that he dearly loved a good horse, particularly if he was speedy, and those of his old parishioners u,ho are still living recall that in one of his parishes much rivalry existed between a Catholic Priest and himself as to whose horse was the faster.
Brother Rider was educated in the schools of his native town, graduating from Provincetown High School and Westbrook (Maine) Seminary. He was in the class of 1869 at Tufts College, where he was a member of the Zeta psi Fraternity. He received the degree of B. D. from Tufts Divinity School in 1871, M. A. in 1872, S. T. D. in 1892. In 1897 and 1898, he was Russell Lecturer at Tufts and on the occasion of the college's fiftieth anniversary, preached the sermon. He was president of the Tufts College Divinity Alumni. In 1898, he preached the occasional sermon before the State Convention of Universalists at Salem.
He was ordained to the Universalist Ministry at Arlington, Mass., in 1871 and ministered to the following parishes: Malden, Mass., 1873 to 1882, Cincinnati, Ohio, 1883, Gloucester, Mass., 1888 to 1913, and Essex, Mass., 1913 to 1923. It is of interest that this Gloucester church, where most of his life as a minister was passed, was established by John Murray, the first preacher of Universalism in this country and a former Chaplain of this Grand Lodge. In his capacity as a Minister of the Gospel he served as Chaplain of the 5th Regiment, M.V.M., 1877 to 1882, 1st Battalion Cavalry, 1884 to 1898, and Ancient and Honorable Artillery Company, 1875 and 1876.
His long and distinguished Masonic career may be dated from his Raising in Hiram Lodge, Arlington, Mass., on February 22, 1872, where he served as Chaplain. On April 4, 1893, he was admitted to membership in The Tyrian Lodge, Gloucester, Mass., where he served as Chaplain in 1894 and from 1899 to 1921, Chaplain Emeritus in 1922 and 1923, Worshipful Master in 1897 and 1898. He was District Deputy Grand Master for the Ninth District in 1903 and 1904, Deputy Grand Master in 1910, and served as Grand Chaplain from 1902 to 1909. He was exalted to the Degree of Royal Arch Mason in Menotomy Chapter, Arlington, Mass., in 1872, and received the Council Degrees in Wyoming Council in Melrose, Mass., in 1873. The orders of Knighthood were received by Brother Rider in Hugh de Payens Commandery, Knights Templars, at Melrose, Mass., in 1872. He was a Charter member of Bethlehem Commandery at Gloucester, Mass., and served as its Prelate for many years.
Brother Rider was married in 1872 to Elizabeth Ann Fillebrown, of Arlington, Mass., who passed away in Essex September 5, 1917. They were not blessed with children. After a period of failing health but undiminished courage and devotion to his work, Brother Rider passed to the Celestial Lodge Above on August 28, 1923, at his home in Essex. Church and Masonic funeral services were held in the Congregational Church in Essex August 31, and his interment at Provincetown, Mass,, on September 1, was under the direction of the Craft he so loved.
A consistent minister of the universal fatherhood of God, it is not to be wondered at that he was an ardent Freemason, carrying the ministrations of his calling into the rostrum and market place, to the mansion and the hovel, through sunshine and shadow.
He was welcome among those of every walk in life. His reward was the gratitude and love of those to whom he ministered. Among his friends in the Church, in the community, and in this ancient Fraternity of ours the sweet remembrance of his many virtues shall last till time itself shall be no more. Knowing him, one could easily attribute to him the inspiration for that poem which applies to him and which consciously or unconsciously, was the keynote of his life.
"Let me live in a house by the side of the road
Where the races of men go by;
They are good, they are bad, they are weak, they are strong,
Wise, foolish - so am I.
Then why should I sit in the scorner's seat,
Or hurl the cynic's ban?
Let me live in my house by the side of the road
And be a friend to man."
Dana J. Flanders,
Aaron Cogswell,
Addison G. Brooks,
Committee.
FROM NEW ENGLAND CRAFTSMAN, 1923
From New England Craftsman, Vol. XIX, No. 1, October 1923, Page 28:
The Rev. Dr. William H. Rider, for 30 years pastor of the Independent Christian Universalist Church in Gloucester, the mother church he denomination in this country, died at Essex. Mass., Tuesday, August 28.
He was born of Mayflower ancestry, In Provincetown, 77 years ago and was graduated from Tufts College and Tufts Divinity School. Before resigning the Gloucester pastorate, he been pastor of the Universalist Church at Essex, Mass. for the last 10 years.
In the Masonic order, he had been master, Chaplain and Chaplain Emeritus of Tyrian Lodge, Gloucester, Deputy Grand Master of the Ninth District and Deputy Grand Master of the Grand Lodge of Massachusetts. He had also served as Chaplain of the 2nd corps of cadets, the Ancient and Honorable Artillery Company and Massachusetts, New England and National fraterna1 associations.
He married Elizabeth Fillebrown of Arlington, who died several years ago. He is survived by three brothers, Dr. Godfrey Ryder of Malden, Scott Ryder of Medford and the Rev. Charles Ryder of Providence. Dr. Ryder changed the spelling of his name to avoid confusion with that of the Rev. Dr. William H. Rider of the Andover Theological Seminary.
SPEECHES
CORNERSTONE LAYING IN MARBLEHEAD, 1905
From Proceedings, Page 1905-135, September 28, 1905, at the cornerstone laying of the Post Office in Marblehead:
In this thrifty land of ours, in these busy times, little attention is given to any new building. Why, then, have we gathered in this historic town,
Wind swept and washed
By the-wild Atlantic's restless tide,
to lay this corner-stone?
Why these officials, these representative citizens, this Body of Masons with its impressive ceremonies? No large increase of residents, nor merchant marine, nor returning trade seems to warrant ampler accommodation. To be sure, in place of the old-time Cape Ann fishing craft, there sail from the safe anchorage of the harbor the white winged fleet of pleasure, a glad gay squadron that come and go with the morning and evening breeze, and along the rock-ribbed shores, or perched on the commanding hills, dwell in summer hundreds of lovers of this wonderful locality.
What, then, is the logic of the occasion, the significance of the building whose foundation-stone we consecrate ? What but a national recognition of Marblehead and its conspicuous part in the formative period of our Republic.
Recall the fact that we are near the one hundred and thirtieth anniversary of the sailing of the Franklin under Capt. John Luman, and the Lynch under Captain Broughton, the very beginning of the American Navy, and you have fullest warrant why a grateful country should maintain a Custom House in this patriotic seaport as a memorial of Manly, Glover, and the long list of loyal sons who suggested and fitted out the victorious marine force of the Revolution, bearing the Pine Tree Flag of a new power on the sea. Across the Atlantic they were singing:
"Rule, Britannia! Britannia rules the waves! "
The sea dogs of Marblehead pitched a new song that has come swelling down through unbroken triumphs:
"Columbia the gem of the ocean."
We lay, then, the corner-stone of a national tribute to the unequal part of your sires in the upbuilding of our prosperity. With laudable pride you can recall the enviable contributions given by this town on land and sea alike, until the absence of some suitable memorial would challenge the notice of a grateful government.
Familiar as household tales is the story of the building of the Desire in 1636, the third vessel constructed in the Colony. Were it possible to reproduce a model of that early craft, what better ornament to grace the entrance to the custom and revenue rooms of the completed edifice. Familiar, too, the first act of forcible resistance to "British tyranny." Not in Salem by its North Bridge, nor in Boston on Kings street, but earlier, in 1769, when Capt. Thomas Powers and his Marblehead crew fought for three hours the sloop of war Rose, killing her lieutenant, and giving to Michael Corbett, with his harpoon, the high distinction of shedding the first blood for American liberty. There he stands in enduring fame, type of the true patriot who seizes what is nearest at hand and fights for God and his country. Small wonder that such a people should produce a Gerry, whose distinguished service advanced him to the Vice-Presidency of these United States.
Indeed, Paul Revere may have been spurred in his midnight ride by Major Pedrick, and with no unkind purpose, but rather to illustrate how deep and indomitable the loyalty of this section, we may point to Mugford who, when shot, cried out, "I am a dead man; don't give up the vessel; you will be able to beat them off."
On land the same spirit animated the patriotic sons. Who other than Colonel Glover and his Marblehead regiment saved the army from total defeat at Long Island? That Washington should publicly thank such men was ample compensation and reason for the added valor when at mid-winter, amid snow and ice, the hardy men of this town led the forlorn hope, crossed the Delaware, and won Trenton. What wonder General Knox, years after in an address before our Legislature, paid this tribute: "The men of Marblehead alike at home, upon land or sea, alike ardent, patriotic, unflinching, whenever they unfurled the flag of the country."
With somewhat of Lafayette's counsel in mind the department of construction might order a tablet with: "May your posterity, in the preservation of that liberty so gloriously purchased, ever venerate the memory of their ancestors." Such illustrious history can never be too often repeated;. it must turn us from the engrossing materialism of this commercial age to the brave days of old when character counted, and love of country was warmer than love of country's wealth.
"Ill fares the land, to hastening ills a prey,
Where wealth accumulates and men decay."
Put in plain speech we want no new laws, no new measures, but the old time men, who were not blinded by any subtle distinctions, who knew, right from wrong, and had moral patriotic sense enough to stand square, leaving the gambler to stand pat.
True to the traditions of their Revolutionary fathers, with undiminished loyalty, the men of this neighborhood heard the call of Lincoln on April 15, and were the very first to answer, the three companies of the Eighth Regiment under Captains Martin, Phillips and Boardman being the first in Massachusetts to leave home, first in Boston, first to leave Annapolis and repair the road leading to the relief of the Capitol. This occasion is in a very real way a memorial of our indebtedness to such a past, a re-dedication of ourselves to that spirit of patriotic devotion to our Fatherland, nowhere more brilliant, more heroic, more self-sacrificing than in the generous hearts of the men of Marblehead.
Beside such a use of the hour, this occasion is significant as an educator of what is best in American citizenship. For this intent the Grand Lodge of Free and Accepted Masons in Massachusetts, this home Lodge among the very oldest in our Commonwealth, have united in imposing form to declare the ethical beauty of the building, and excite a desire to construct our every public action agreeably with the interests of the common good.
Honor, unstinted honor, to those on the deck or field who stand with the guns, but loyalty, consecration, valor, all that make a true citizen and a true soldier, is not always armed with a sword. Honor, unstinted honor, to those on the home side of the firing line, where the war cloud never rises and the drum never beats; there, too, is a moral bravery, an honest purpose, and a devoted courage as imperative as grand. Lack of this quiet, strenuous, manly citizenship is the urgent need. Repeatedly, that lover of the craft, that democratic citizen, that ideal American, Theodore Roosevelt, has declared, "What we need most in this Republic is not special genius, unusual brilliancy, but the honest and upright adherence on the part of the mass of citizens to the fundamental laws of private and public morality, which are now what they have been during recorded history. We shall succeed or fail in making the Republic what it should be made, what it shall and must be made, according to the manner in which we seriously set ourselves to the task of citizenship."
That exalted task is alike the aim of Masonry and manhood, it calls for the best in us, due our fellows and due the government, which is only a name for our collective selves. May I add that the one service our President has done more valuable than any other is not his share in the recent peace conference at Kittery, nor the use of his high office in behalf of a world-wide court of arbitration; his topmost service for the United States is in changing the attitude toward public life, and inviting young men to deal square, and stand by the government. It is occasion for large hope that, as never before, our people demand in public affairs those cardinal virtues which in Masonry and character are the very foundation-stones on which to build any lasting beauty.
Reckless speculation, petty pilfering, broken confidences, unfraternal conduct, have too long marked the public action of those whose reputations have fallen like an ill-constructed building, until government, society, with the lofty mission of Masonry, declare for a more ethical deportment. Not an easy thing, not an aptable thing. Often it means breaking from party ties, isolation from friends, exposure to sharp, unjust treatment. Be it so! Better a man without a party than a partisan with ignoble schemes, and ignoble following of hungry retainers, who, Judas-like, for thirty pieces of silver would treasonably sell ballot, law and order. Parties are inevitable and wise, but there are ranges of public life in which partisanship is only an interference and injury, just as there are times when a true man forgets that there is any such thing as party, and only remembers that he has a country to which all parties are subservient, and to which they must bow. Better say, in the name of God, Amen! I will stand for the right, I will not lower the standard of public morality. As with plumb, square and level the builder tries and proves his work, so will I as a citizen walk uprightly. I will square my actions by the square of virtue, I will walk upon the level of an honest, loyal American. The time was, yesterday, when to enter public life was disreputable. To-day it. is disreputable to keep out and away from it. Ah, when we shall every one put our best into public affairs, you shall see this land of ours doing things never before accomplished by any people.
The promise of this day is the evidence of an awakening in morality, a great ethical uplift is sweeping over the country. The press, the pulpit, every educator is discussing the moral use of our great national wealth, and our exceptional prosperity. We have learned to fix an honest standard in money. We are learning the proper use of it, how shall we administer our great wealth. We are calling for a strict account, not because we are poor, the people of the United States have learned the art of money getting as no nation under the sun ever knew before. A mighty consciousness of the eternal justice is moving us to a fair and equitable use of wealth. A prophetic spirit of fraternity is compelling the nation toward a real advance in the direction of cleaner methods and more honorable transactions.
Let us by such consecrating ceremonies as we are now engaged in keep alive discussion and contention for the public good, until our contention shall become that noble contention, or rather emulation, of who best can work and best agree. You recall that when the Pilgrims, grateful for their safe arrival in the waters of Plymouth Bay Colony, dropped anchor in Cape Cod Harbor, they drew up their famous compact — the first written declaration of self-government among men — its cornerstone: "In the name of God, Amen. We whose hand, etc., do hereby compact for the general good." That is the true American spirit, that the purpose of this building, post-office and custom house, for the general good. Nothing could be more ideal, and we have come together in God's name, in the name of our country, in the name of all that is worth our strength and thought, to build and keep it for the general good.
Whether or not a few of us can rule the rest of us, whether selfishness shall shape legislation, whether we shall grow a fraternal temper, depends not on any revolutionary movement, not on any forcible interruption of trade, but upon that moral and generous regard for others, that determination to lose self in the common good. For of this we are sure. Sure that if throughout our people there is developing a spirit of lawlessness, of competition, reckless of our neighbor, so that one must not observe all the rules of honor, but must get what he is after anyhow, then there will follow anarchy and worse than provincial tyranny. Individualism is grand in a grand individual, it is barbaric, brutish, when it ignores the well-being of others. Educated individualism, the individualism of wealth, of skill, even of wisdom, must severally be tempered with that togetherness which makes for country.
This leads at the end to ask, after all our country does for us how singularly unmindful we are of what we owe unto it, what will we return unto it? A serious question, as if one asked, what will you give to the united good? I ask this because of late we have a habit of looking to the government, the State, to build our roads, our public institutions, while we ourselves are criminally, neglectful of our duties to State and nation, yea, to town and ward. God forgive me if it be wrong, but the man who does not gratefully appreciate his citizenship should have all the privileges of citizenship taken from him, until he is a cheerful and obedient servant, until he considers every measure for the common good as vital to his own peace, and recognizes the serious obligation of doing his part. Our fathers and brothers paid too great a price for our institutions and advantages to permit any indifference in public affairs, any trading in public places, any private ownership in the Commonwealth.
This is both Masonic and American, since, as a citizen, Masonry charges every one to be exemplary in the discharge of his civil duties by never proposing or countenancing any act which may have a tendency to subvert the peace and good order of society; to pay due obedience to the laws under whose protection he may live, and by never losing sight of the allegiance due our country.
Because of this we lay the corner-stone of the public building in expectation that beyond any local pride, justifiable as that may be, it will encourage a citizenship and character consistent with our American ideals, after the. lofty pattern set before us by the immortal names that were not born to die.
"One oath let us swear—by the God who is o'er us,
By the thousands who've lived and who've died for our land,
By Washington, Lincoln, the great gone before us,
The hope of the world, our dear country shall stand."
CORNERSTONE LAYING IN WHITMAN, 1906
From Proceedings, Page 1906-129, September 29, 1906, at the cornerstone laying of the town hall in Whitman:
"In the name of God, Amen. We . . . do by these presents solemnly and mutually . . . covenant mid combine ourselves together into a civic body politic, for our belter ordering and preservation ... to enact, constitute and frame such just and equal laws as shall be thought most meet and convenient for the general good of the Colony ..."
In brief, thus did your forbears declare their purpose, when, nearly two hundred and eighty-six years ago, they drew up their immortal compact in the cabin of the Mayflower, as she swung at her anchor in the harbor of Cope Cod; the first written constitution in the world; the very corner-stone of our glorious Republic, laid in the cement of a common cause by men banded together in the sacred brotherhood among whom no contention should exist, save that noble -contention or emulation of who best can work and best agree.
In that inherited spirit these citizens of Whitman, with their neighbors from the towns of Plymouth County, have set apart this day in which to publicly consecrate the building to be erected to the great American principles of just and equal laws, such civic government and local regulation as may best contribute to the general good of your prosperous community.
Loyal to your traditions, the genius of our Commonwealth, conscious that citizenship involves obligation to each other as well as individual success, that not alone in extensive factories, growing population, enlarged territory, the facilities of trade, of travel, the luxury of modern dwellings, all the advantages of the times in which we live contribute to the real wealth and life of any people, but far above these desirable benefits and environment, a town. Yes. the single man must build on the firm foundation of justice, brotherly regard, thai truth which is the corner-stone of nil success.
With becoming recognition of the Ancient Craft, which by tools and implements of architecture impress us with the serious fact that morality, character, the fraternal sense of togetherness, must enter into all we undertake, that "unless the Lord build the house they labor in vain that build it," yon have invited the Grand Lodge of Free and Accepted Masons of Massachusetts to assist in laying Hie cornerstone of your Town Hall.
Such a ceremony is significant in these commercial times, it is prophetic of an undying sense of the right as well as an evidence of grateful memory for all that the principles alike of our Republic and this Ancient Order have bequeathed unto us.
Our eminent President, now the foremost citizen of our United States, delights in urging as on to "the square deal." What is that, but due obedience to the law under whoso protection you live, and due justice to your neighbor?
Others prominent in our public Interests, departing from the early American idea, tell us that the safety of the American Republic will always depend on the readiness of its citizens to remember and to act under the remembrance thai every citizen is a soldier in reserve. We must have an army and a navy and a national defence which will enable us to ward off an enemy. Remembrance of our fathers, of the men who from the settlement of these then barbaric shores, down through every war with savage or with a Motherland so lacking in protection that she drove her children to battle for liberty and equality, down through the fratricidal strip of 61-65, ought to teach us that America above all needs men. Men fired with justice, with fortitude, with truth, and brotherly love; men who can spring from the farm, the bench, the desk, from the quietude of home and dare under God the world.
Infinitely better than a trained and hireling soldiery is a citizenship that is ever drilled in right principles. Better say: In the name of God, Amen! I will stand for the just and true. I will not lower the standard of public morality. As with plumb, square and level the builder tries and proves his work, so will I as a citizen walk uprightly. 1 will square my actions by the square of virtue. I will walk upon the level of an honest, loyal American.
However imposing the proportions of the edifice to be erected, of wood or brick or stone, it cannot stand the test of time unless hold together by the cement, the clinching nails, the dovetail fitness of part to part in a perfect whole.
No man, no country, ever found lasting success — high life — when this was forgotten. Oh, be sure your cause is just, for then God battles with you. victory is yours. No matter if the hum of toil, the rush of the car. the thousand voices of material prosperity call, if your cause, if your spirit is unjust. Abandon the cause and seek a fair, a generous purpose.
Carlyle eloquently remarked: "I tell thee, there is nothing else but justice: one strong thing I find here below — the just thing, the true thing. My friend, if thou hast all the artillery of Woodwich marching at thy back in support of an unjust thing, and infinite bonfires visibly waiting ahead to blaze centuries to come for thy victory on behalf of it, I would advise thee to call Halt! to fling down thy baton and say, In God's name. No! What will thy success amount to? If the thing is unjust, thou bast not succeeded though bonfires blazed from North to South and bells rang, and editors wrote leading articles, and the just thing lay trampled out of sight to all mortal eyes and abolished and annihilated." With somewhat, of this eternal quality in her brave woman's heart, when the mob rose in shameless purpose to blacken the fair mime of the southern city, and drove like an affrighted beast one Of the negroes to Seeming death, a woman opened her door to the refugee crying, "Stop men! this negro may be the worst of all, blackest (if the gang, but. he shall have justice. Be men, and respect the Eternal Right." There she stands patriotic witness that God is in our midst, that fair-mindedness, equitable treatment, not self-gratification, not self-desire, self-profit, but the divine charity which gives itself for the good of others must be the very foundation of civic life.
Not always have we kept this in mind. Where are the men and people who forgot?
Egypt, Assyria, Babylon, Rome,— pray the Lord of Hosts we may not add America — tell one tragic story: a single name repeals the same inevitable fate of injustice, selfishness, forgetfulness of the common good. Napoleon, without conscience, fraternity, lost in the solitude of his selfishness, mindful only of power, sneered like a tyrant on trembling Europe. To him God was Hie Almighty; with Thor he cried:
"Force rules the world still,
Has ruled it, shall rule it;
Meekness is weakness.
Strength in triumphant,
Over the whole earth
Still it is Thor's day . . ."
He needed to hear —
"Stronger than still
Is the sword of the Spirit:
Swifter than arrows
The light of the Truth in.
Greater than Anger
Is love, and subdueth."
But flushed with victory he would not hear; with his grand army he won awful battles. Then the snow fell, the snow that melts on a maiden's cheek, and he was brushed aside as some peasant woman sweeps the white flakes from her cottage door. Again he defied, again he seemed to triumph, A great cry went up from the allied forces, then the rain, the rain that falls alike on every field, held back his artillery, and this despot was carried Into exile to die on a lonely isle, a cynic, a weakling.
The promise of this day and these consecrating ceremonies are hopeful signs that a mighty sense of public and private justice, a political fraternity is compelling us to a real prosperity, a domestic peace, a personal worth.
Wherefore, in the name of God, Amen! From this cornerstone there shall rise in attractive beauty and massive strength a building of the people for the people, wherein joy over great success, justice in all ordinances and a republican sense of brotherhood shall long keep if the meeting-place for Whitman's citizens, just and true men, lovers of this community and of all that makes for enduring character.
FEAST OF ST. JOHN, DECEMBER 1906
From Proceedings, Page 1906-211:
Most Worshipful Grand Master and Brethren: What a magical affair this Fraternity of ours is. One would hardly think by the glow of the sunshine nod by the warmth of the genial welcome which yon express that this was winter time. Il is glorious summer; and here, in what the Senior Grand Chaplain some few years who denominated us the "Church of the Catacombs," here we gather ourselves together to keep the Feast of Saint John,— Saint John the Evangelist; Saint John the teller of good news. Oh, if men would only listen, how many lives the great God has sent into this world to tell the good news! In the jargon and Babel and confusion, in the strife and the selfishness, we lose the music of this Evangelist. If we would only listen, how many, many there are singing not only the love of God, but singing the warm love of men. It is the song you hear to-day. It is the topmost theme not only of our beloved Fraternity, but of the world at large. — the togetherness of man,— and what is a closer epitome of the object and the purpose of our beloved Order?
Only the other day the thought came that the leading nations are the nations most expressive of their love one for another. It is no surprise that the warm-hearted, genial, kind and humane Jap has overcame the more individual and isolated and self-centred Russ. Take the map and just look at it a moment, and as you look at it, you will see that those people who ore the most open, the most fraternal, who have the greatest number of words of endearment in their language, who are not ashamed of their love one for another, are the strong peoples of the world. Sometimes, indeed, I fancy that we of Saxon origin have kept too close to the traditions of our forefathers.
I remember, only a matter of a few years ago, waiting at Newport for I he oncoming passengers to take the boat for New York; and a man came on the upper deck, seemingly quite by himself, and as he looked there came a wondrous glow of love and warm fellowship on his face; and he pushed by me. and grabbing a man who had apparently taken no notice of anything until that moment, he embraced him almost as a lover might embrace his mate, and he kissed him on the cheek; and I thought that was a wonderful thing, one man kissing another on the cheek; but the more 1 think of it the more I believe that the one thing we lack is just this confidence in our Fraternity. We talk about it. We give it sweet names. But we hesitate. We are a little slow in expressing our regard one for another, our love one for another. We want something of the Celt, a little more of the Celt in us. Do you know how many terms of endearment an Irishman has for his sweetheart? Perhaps he doesn't love her any more than you and I love our sweethearts and wives, but he has so many more ways of telling it that it is no wonder that he makes a believer. And I wish something of that would come into our American lives, something that would lift us out of the reserve which seems to be natural to us I don't mean that we are to be boisterous in the matter and knock one another down. This is very much the manner of the sailor. It is his natural manner. In the streets of old Gloucester one sees many of these sailors meeting their old cronies, and witnesses many an ebullition of warm feeling. The expression of it usually takes something like this form, — a hearty slap on the hack, and a "Confound you, old man, how are you?"
I do not mean that we should do that; although, believe me, Brethren, I think the good angel passes over the rough words of the seaman because of the warmth and the heartiness and the frankness of his noble love. So it ought to be with yon and me; and I am glad that now and then in the long calendar of the year there come days when we assemble together to get the vision of good fellowship, the vision of the Bearer of the Message of Love, the vision of the Evangelist.
I almost thought as I was speaking that possibly some of you might be saying, "Well, can't that fellow forget that he is a clergyman? Must he always preach?" Much like the little lad who said to his father, "Papa, look at our minister. He is a good man, ain't he?" And his father answered, "Yes, I think he is a right good man." "And good men, when they die, go to Heaven, don't they?" '"Yes, certainly." "Well, why don't he die?" [Laughter.]
You haven't said that, and so I am going to presume just a little longer, for I have a warm desire to participate ere the services are altogether closed at Hiram Lodge in Arlington, where I received my Masonic degrees, and for which Lodge and its associations I have a warm place in my heart, I assure you; but ere I go I want to ask why is it that we put so much stress on the ritual of Masonry, and forget that for which all its symbolism stands. I do not like to be critical, and I am not critical ; but sometimes. Brethren, when I look about and I see the love of one man for another put to practical test, I wish we could introduce into our Fraternity some features that would be perhaps not loss ideal, but our ideals carried more into practice — the ideals of helpfulness, the helping a man when he is down. Anybody can take care of himself when he has a bank account. Anybody Ban look the world in the face when he is Strong and well; but the time that brotherhood comes to the front is the time when a fellow is down.
In the early part of the evening the good Chaplain and myself were speaking of the unfortunate passing away of a man who had been eminent, in the Grand Army of the Republic, and how one by one his friends had passed away, so that his end came at Togus, in the State of Maine, in the soldiers' home there. Oh, good heavens, in a great country like this, that we take our patriots when they cannot care for themselves and put them away in some little quiet home, and think we have expressed the gratitude which the Republic owes to its defenders." And you and I sometimes do the same thing.
Not long ago, as a delegation from old Tyrian Lodge on the Cape, we went and followed the body of a man to his last resting place, a man whom we hail almost forgotten during these last years of his life, and it made me sad; I felt the tragedy of it, the unreality of it. the un-Masonic relation of it. I beseech you, then, in all these scenes of good times and good fellowship, in this year of prosperity that is drawing to a close, and in the happiness of this hour — I beseech you to reconsecrate yourselves to the principles of our beloved Fraternity, and to carry them out into such active and constant practice that you will forget the manner of your doing in the largeness of your doing. Isn't it possible for us, with all the grand conceptions of all these names that come down to us, with the loyalty and the generosity that has been referred to of our venerable Grand Secretary before us as an example — isn't it possible for us to get out of the way of a mere formal ritualism, of a mere intellectual conception, and get the warmth and the sunshine and the love which every Mason has a right to ask from every other Mason. If ever I "get on my tippers" — and we are all likely to — I want to tell you. one and all, that I shall have no apology, I shall offer no excuse; I shall go to any fellow-Mason and say, " John, George, Charles, William," whatever his name may be, "here I am. I want your help; I have a right to ask it." And if any of you get into that place, don't you hesitate to say to me, " Look here, Will Rider, I want a lift;" and I will lift you to the extent of the bottom of my pocket, or I have misinterpreted Masonry [applause], or I Lave been wrongly educated by those pious forefathers of mine who, when they thought of God, thought of their obligation to their fellows, and were the better sons of God because they were better brothers one to another.
I thank you, Most Worshipful Grand Master, and I thank you, Brethren, for the privilege of keeping the Feast of Saint John with you at this time. "Why should the children of the king go mourning oil the days?" If anybody on God's earth has a right to be joyous, to sing — whether with some of you, "There's a hole in the bottom of the sea," or to do other things that may be suggested by that song, "How dry I am" — I think it is ourselves. I have no excuse for the gladness which God makes possible for me and my fellows. He has provided joyous seasons for us, and so there comes Christmas, and then the Feast of St. John, and then New Year; oh, what a long list God has given to us of happy days and happy fellowships! God bless you every one. [Applause.]
CORNERSTONE LAYING IN MARION, NOVEMBER 1908
From Proceedings, Page 1908-134:
Most Worshipful Grand Master, Brethren of Pythagorean Lodge and Friends: Back of the waves that kiss the fair shores of yonder bay as a lover the sweet forehead of his maid, or charge the trembling sands with the white battalions of the storm, is the might}' sea; back of the sea the Almighty, He who saith, "Hitherto shalt thou come, np farther; and here shalt thy proud waves be stayed." Law. not accident, regulated force, orderly as seed-time and harvest, summer and winter, controls all things.
Back of this gathering of fraternal hearts, grateful as the men of Israel when they laid the foundations of the second house of the Lord, back of these impressive ceremonies is the spirit of the same Almighty, " who laid the foundations of the earth; who stretched the line upon it; who laid the cornerstone thereof, when the morning stars sang together, and all the sons of God shouted for joy."
What are sea, earth, man, but expressions of Infinite wisdom?
What is life in you and me but the breathing of the Infinite life reproducing itself in what is best in our humanity, making love, relief, truth, with Temperance, Fortitude, Prudence and Justice, the cardinal marks of our divine origin and destiny?
And what is growth but harmony unto law, aspiration toward Infinite perfection!
If the sharp wind of this wintry afternoon chills the air, and the setting sun already lowers its crimson scarf on the wooded shoulders of the Western hills, we keep stout hearts and trusty minds, for well we know in the orderly procession of the seasons God calls the earth from labor to refreshment that it may give us another spring ; well we know the sun sinks
"To rise upon some fairer shore;
And bright in Heaven's jewelled crown
It shines forevermore."
Just, then, as our forbears rounding some bend of this New England shore found safe harbor, just as they established lights along the shore to point pleasant entrances into anchorage, or to warn against rock and shoal, we come to-day to rear a beacon for the cheerful harbor of brotherly love, sure anchorage against discouragement, the ills' and storms incident to the voyage of life.
Little wonder we sing and are glad, since we know our trust is in the Most High. His all-seeing eye views all the way in which we go. God knows and all is well.
Years ago there came from old Lippica one of her sturdy sons of the sea to win his bride on the Cape shore. He told brave tales of wonderful catches of oil and bone. "Where did you find your whales? asked a master mariner. How could he answer where, out on God's great sea? He could and did, for the ocean is not trackless. He gave the latitude and longitude signs known to the navigator the world over.
Are we not mariners out on God's sea? What duty, what joy to exchange greetings, our bearings, the port to which we steer.
Kindness, prohibits any extended thought exposed as we are, yet must we most thankfully speak the gladness of our hearts over the laying of this corner-stone of a building whose real architect is the mind of man trying to put into stone and wood a monument of trust in God that shall tell the visitors to your delightful locality that here, as the world over, live men who reverence the Unseen Wisdom, Strength and Beauty, who live with one another as Brothers all.
CORNERSTONE LAYING IN CHELSEA, JULY 1909
From Proceedings, Page 1909-77:
Most Worshipful Grand Master Flanders, Brethren and Citizens:
Some passer-by observant of these impressive ceremonies and unmindful of the forces which really dominate human life might ask why such conspicuous service in the erection of a structure which will shelter no roofless family, offer no space for productive skill, afford no technical instruction, provide no market place, no counting-room, nor hall for the adjustment of commercial or civic rights?
Why, indeed, in the upbuilding of homes, of factories, stores, schools, and municipal edifice, should men pause in such practical and imperative construction to consecrate the corner-stone of a structure set apart from all these purposes? In this city, rising Phoenix-like from her ashes, needing every encouragement to uphold her meritorious courage, her splendid loyalty, her enviable enthusiasm, why this hallowing of brick and stone, iron and wood, which will serve only an order of men segregated from the multitude?
Where is its utility, the warrant thus to dignify it and invoke the blessing of the Most High God upon its erection? If human life was a mere getting of things, and not a being, if it was not the growth of larger life, if life was not best and sweetest to the best, to those who in themselves are rich in the distinctive qualities of human life, then the passer-by might ask us to take these materials and convert them into some hospital, some educational institution, some court.
But simply because life is more than all these helps and environment, simply because brick and stone never made a hospital or a school or a chamber of justice without the incarnate spirit of Him " in whom we live and move and have our being," simply because your lives and mine are fit and above all to be grown, we have the largest warrant to construct on the busiest street in this busy city an assembly-place where men may reverently, gladly, hopefully consider their topmost obligations to make the life within strong, beautiful and worthy ; where, after giving a part of the day to their usual avocations, they may inspire a grand conduct under the genuine desire, —
"Oh, be my friend, and teach me to be thine."
For aside from the sacredness of whatever is true, just, gracious and tending to temperance, relief and the fine sense of togetherness, there is nothing veiled, — Lodge, Chapter, Council, Commandery are in nothing foreign to the greatest possible usefulness of industry, learning, the bestowal of alms to poor and needy, the defence of the destitute and the aim of the purest expression of religion.
Ignorance, passion and selfish curiosity aud selfish mercenary purpose only exclude and compel mystery. Your manly soul the world over understands and honors all that shall be practised within the completed building ; yes —
"There is neither East nor West,
Border nor breed nor birth,
When two strong men stand face to face,
Though they come from the ends of the earth."
Not many years back a returning whaler brought from the far Pacific a half savage Sandwich Islander. As the unlettered, uncultivated Joe in his crude way mingled with the boys of the little seaport, he interpreted much of what was said. One summer morning his captain passed, and Joe was asked what sort of a man Captain was. Stooping, Joe drew a crooked line on the sand and with a roguish smile quickly erased it with his bare brown feet, then carefully he drew a straight line, lifted his grateful face and proudly said, "Cap, he like that." Joe knew what the best of us know and honor, knew what our patron Saint John meant when by the Jordan's ford he proclaimed, "Make straight His way." — John, the echo of Israel's grand old prophet Isaiah, who centuries before called unto his brethren, "Make straight a highway for our God."
Following this universal thought held sacred by savage and savant alike, Van Dyke sings:
"Four things a man must learn to do
If he would make his record true:
To think without confusion clearly;
To love his fellowmen sincerely;
To act from honest motives purely;
To trust in God and heaven securely."
Men are learning these truly Masonic virtues. This day is prophetic witness of the real worth of fraternal relations. We gratefully pause to make public acknowledgment of our indebtedness to the Benevolent and Protective Order of Elks, whose generous courtesy has given us hospitality and friendly shelter, upon whose walls we read emblazoned in electric colors the Justice, Relief and Faith we hold as sacred above all else.
If at times it has seemed as though we were only idealists, then remember that the ideal is the teacher, the inspirer, the awakener of lofty life; that the highest charity stimulates the will to be above want, to rise out of need and limitation into liberal living and cooperative endeavor. Our benefactors are those who show us how to do, to produce, to acquire. The giving of alms without the giving of courage, of hope, may harm. He who shows the way, who gives more light, more truth, is your greatest friend.
Citizens of Chelsea, how proud you should be of the indomitable will, the manly perseverance, the loyal hearts that are rebuilding from her ruins a larger and prouder city!
Believe me, loftier than any edifice, more beautiful than any architecture that shall grace your streets is this spirit within your fellow citizens, the spirit and temper of men who compel material to answer their ambitions and their needs.
Within the arm of Cape Cod the White Squadron of our great Republic is maneuvering to train its gallant crews in the art of war. We who recall the brave days of '61-'65 know that our country will never lack a victorious fleet as long as we can keep quick and warm a loyal spirit among men, because the man is bigger than the gun he fires.
Is not this adequate warrant why we erect a building in your midst that shall grow and nourish a fine type of manhood ? If Dr. Eliot is right in his New Religion, then, too, we who would develop character, purity of life, fraternal regard, are not far from the kingdom.
The utilitarian has his answer, then, in the cultivation of that manly strength, beauty and wisdom which underlie all endeavor. Recall Tennyson's
"My strong sword cleaves the casques of men,
My tough lance thrusteth sure,
My strength is as the strength of ten
Because my heart is pure."

Most Worshipful Grand Master, Brethren and citizens: With this high purpose are we not warranted by all that the most ancient knew, the latest scholar has found out, and the heart of man holds as sacred, to invoke God's blessing on this undertaking, that it may be a very temple from whose service men, like priests, like warriors, shall enter the busy world, with one word on their lips, " Emmanuel," one trust in their hearts, one fraternal purpose in their conduct?

CORNERSTONE LAYING IN WOBURN, NOVEMBER 1910

From Proceedings, Page 1910-153:

W. M. of Mount Horeb Lodge and Brethren:

Filial as he is fraternal, the absence of our M. W. Grand Master moves us all with deep sympathy in this trial hour of a son's devotion to his venerable and much beloved mother.

For his sake we dare assume the high honor of this occasion, and undertake without excuse what he would the better have conducted. The wintry day compels a change in place and atmosphere, to which we hurriedly conform.

Already, we have in orderly and dignified procession gathered at the designated spot, and, with significant ceremony in the presence of observant citizens and inquiring lookers on, laid the corner-stone of the Federal Building about to be erected for the public use of Woburn and her people.

In accordance with our law and ancient usage we have invoked the blessing of the Supreme Architect and in symbolic manner have applied those instruments of construction which are not only the jewels of our Craft, but are as well the representative implements of operative Masonry, and remind us that from the first rude shelters of barbaric man to the imposing edifices that lift their gracefulness, strength and artistic worth in city's square or on some sacred hill, the shrine of worshipping men, each and all must follow the fixed law of architecture. From corner-stone to turret each separate block of granite, sandstone, marble or concrete must be laid in its place conforming to square, level and plumb.

Apart, then, from the public expression of our country's recognition of the contribution which Woburn has ever made in grand lives, in loyal devotion and unfailing fealty, we ought not to miss the real lesson of these impressive rites and the unchanging law of architectural worth.

May I therefore direct your minds, by reason of that law, and the world-wide use of tools, however familiar, which are really sacred, to liberty through law to individual consecration, which like the squared and fitted stones make the complete whole.

There is a growing tendency to disregard gauge, rule and obedience to established ways. We are fostering high schools of lawlessness. It is a matter of common faith that one can build out of plumb, out of level, out of square. Let to-day's ceremony reiterate the unbreakable law that neither in the upbuilding of our houses, our halls, our federal buildings, our courts or our churches, nor in the upbuilding of character, of community and country, can we look for any abiding success without compliance with established law; a compliance of community and individual alike.

We are the people, and we — you and I — regardless of wealth or outward possession must use the old-fashioned yet never outgrown virtues of New England forbears; yes, the old-fashioned, never outgrown virtues of English people.

We and not the wrongdoer have this obligation; no one builds alone, we build together.

Believe me, it is not the so-called degraded people we have most to dread ; it is the people at large; sometimes those who are looked upon as leaders, yet assume that they are privileged to do what moral and statute law prohibit. This haunts us, for as indulgence weakens a man, so lawlessness weakens a nation. This occasion, its rich traditions, summons us to stand out for moral and ethical standards, as the building whose cornerstone we have just laid appeals to individual loyalty to country and our fellow men.

"Our to-days and yesterdays,
Are the blocks with which we build.

"Truly shape and fashion these;
Leave no yawning gaps between:
Think not, because no man sees,
Such things will remain unseen.

"In the elder days of art,
Builders wrought with greatest care
Each minute and unseen part;
For the Gods see everywhere."

— Longfellow.

In the historic peroration of the address delivered by Daniel Webster June 17, 1843, at the dedication of the granite shaft that marks Bunker Hill, among other immortal thoughts he proclaimed: "Let us remember that it is only religion and morals and knowledge that can make men respectable and happy under any form of government; that no government is respectable which is not just; that, without sacred public principle, fidelity and honor, no mere forms of government, no machinery of laws can give dignity to political society. In our day and generation let us seek to raise and improve the moral sentiment, so that we may look not for a degraded but for an elevated and improved future. And when both we and our children shall have been consigned to the house appointed for all the living, may love of country — and pride of country — glow with equal fervor among those to whom our names and our blood shall have descended!"

We cannot, therefore, be too often reminded by imposing ceremony, by symbolic use of instruments recognized the world over as emblems of trust in Almighty God, of square and virtuous action, of the equality of all men in the privileges and obligations of free citizenship, of upright living before God and man, that we are severally as well as collectively responsible for the continuance of our glorious American government.

While we may select our masters, the overseers of our public work, we have no right to delegate to them our individual and imperative consecration. In a republic there can be no evasion, no exemption, no immunity in personal obligation. We had a nation before we had either 'a Constitution or a declaration of rights. Ere the peal of the April bell came ringing over the hills calling the illustrious patriots of Woburn to hasten to the defence of their fellow Americans at Lexington and the bridge at Concord, the genius of our country had already raised up an immortal company of men who without law were yet shaping a new government among the nations of the world.

Legislation comes after the creative, the inspiring mind. Alone, law, plan, formula, cannot make a people mighty or maintain a Commonwealth. Nothing can take the place of individual loyally ; loyalty based not on legislation but on and in the awakened conscience of the single citizen.

And where, except in the transmitted morals, the inherited sense of right, the world-wide sacredness of what is just, square, level and plumb; where, except in the religious sense of a community and in the religious consciousness of the individual, shall we go for the stimulating of citizenship?

Mark this thought: It has no reference to partisanship in politics, nor creed or class iu religion. Thank God that as Americans we clasp hands together for the common good, never asking or caring for lines of birth or sect or party. Well .we know that when men are indifferent to their responsibility to God and the right they soon are indifferent to all responsibility.

Wisely some clear thinker says: "The real dangers that threaten our republic come not from this religion nor from that religion, but rather from irreligion."

Even as another declares:

"What constitutes a State?
Not high-raised battlement or labored mound,
Thick wall or moated gate;
Not cities proud with spires and turrets crowned,
Not bays and broad-armed ports,
Where, laughing at the storm, rich navies ride.
Not starred and spangled courts,
Where low-browed baseness wafts perfume to pride.
No : — men, high-minded men,
With powers us far above dull brutes endued In forest, brake or den, As beasts excel cold rocks and brambles rude, —
Men who their duties know, But know their rights, and knowing, dare maintain,
Prevent the long-aimed blow,
And crush the tyrant while they rend the chain;
These constitute a State."

Let others excuse this day's gathering of representative men, proud citizens of this historic town, who, grateful for our country's recognition of Woburn's part from the first brave days up to this auspicious nineteenth of November, have thus publicly expressed their appreciation of the gift of the federal building. You and I make no apology: rather in all genuine and sincere desire, by ancient and venerated ceremonies, we indicate not only our Masonic loyalty to established rules of architecture, but as well our Masonic indebtedness to our gloriously free country, that only asks for that noble contention, or rather emulation, of who best can work and best agree.

CORNERSTONE LAYING IN SWAMPSCOTT, DECEMBER 1911

From Proceedings, Page 1911-239:

Than the impressive ceremony now completed, what could be more significantly fitting? What more in keeping with the genius of our Fraternity, or more conducive to the mutual aim of School and Masonry, and intelligent and moral life? Not of contention, but rather of that noble emulation of who best can work and best agree?

Grand Master Flanders has already recited the purpose of parade, the symbolic application of our venerated implements, thus publicly signalizing the beginning of structures erected for the worship of God, for benevolent and charitable objects, for the commemoration and encouragement of deeds of valor and patriotism and for the purposes of the administration of justice and free government.

Of all structures, what one contributes so much to an intelligent worship of the Supreme Architect of the Universe as the Public School, acquainting us with the fixed principles ancient as "When the morning stars sang together and all the sons of God shouted aloud for joy"? What one better reminds us:

"No matter the time or ken,
There never was separate heart-beat in all the race of men!"

What one more dramatically draws back the curtain and reveals the deeds of valor and patriotism until the young thrill with the splendid spirit of brave blood?

What one sets forth in clearer splendor that even handed justice, which is the very cement and support of civil society?

What one more brilliantly shows the foundation of free government resting on obedience to just laws, an equitable and common interest in political concerns, than the very bulwark of our Commonwealth, our free common school, which side by side with the church emphasizes with us that religion and intelligent citizenship and Masonry walk together on the highway of our American civilization.

Surely in this purpose the school and Masonry are one: together they teach the unchanging laws of God seen in the great natural world, where on every hand one sees the reign of law, "that nothing walks with aimless feet," seen as well in the world of man held by the undeviating principles of character.

Study has for its highest aim not the development of more skilful workers, more accurate accountants, more harmonious singers, men and women who can do more, but men and women who in themselves are more; the wisdom we draw from the past, the strength our knowledge of art may furnish for present structures and the very beauty we derive from the monuments of other ages should contribute to that immortal wisdom, strength and beauty — the soul of man.

If it is the State's duty to acquaint her young with the advance of the race from darkness into light, from light into more light, so too this is precisely our duty, to trace the real mastery of man as, relying on the ethical tendencies of humanity, he has come to the summit — to the golden age of to-day.

Whatever, then, mathematics may enable the astronomer to calculate until he measures the stars in their course, or the architect to construct as he follows the exact principles of geometry, they will miss the glory of their science unless they find ideality in it, and realize that the whole round world is permeated with intelligence. Call it by whatever name you will, as the late Professor Pierce so eloquently puts it:

"It is the truth of science, the beauty of poetry, the logic of philosophy, and the faith of religion. Ignorance cannot hide it, nor deformity degrade it, nor superstition corrupt it, nor scepticism conceal it. It vibrates in every soul; it is the consolation of the slave, and the conscience of the King. It is the corner-stone upon which sound government is built, and the fulcrum on which eloquent speech moves the world."

Yes, we may add, it is the art of arts, the secret of the grandest architecture, a perfected human life.

Why, what are symbolic letters, the very beacon lights of history, if they do not illumine the way of man?

This, in brief, is the meaning of the hour, the real current that carries us beyond the narrow limits of local and neighborly concern out on the broad sea of human activity, there as in the domestic relations to guide our lives by the fixed stars, to send some hailing cry of fraternal cheer across the water and sail on, ever on, to the port beyond the fog.

As after parade and ceremony we gather as in this hall in social greeting and refreshment, as after school is out and fair-faced girls and lusty lads return home, so both school and Masonry are prophetic, they look up and not down; like the illustrious Tyrian they serve a higher impulse than selfish greed, they yield not to misrule or any violence. Knowledge, benevolence, justice, charity — what are they but steps that elevate us into the presence of the Eternal?

---

Distinguished Brothers