MAGLWManchester
From MasonicGenealogy
WILLIAM G. MANCHESTER 1939-1998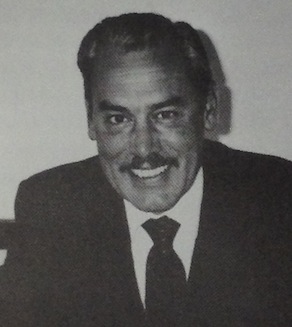 Junior Grand Warden, 1989
BIOGRAPHY
MEMORIAL
From Proceedings, Page 1998-22:
Right Worshipful William Giles Manchester was born in Cambridge, Massachusetts on June 20, 1939, the son of Lila and Giles Dayton Manchester.
He was married to Nancy Anne Caley on September 12, 1959. Bill is survived by his wife, Nancy and their daughter Alison Manchester.
He was educated in the Somerville School System, Northeastern University and Wentworth Institute in Boston. His professional career began with Corenco Corporation in Tewksbury, where he worked for twenty-five years. Those years were interrupted by his service in the United States Army during the Vietnam War for six years. He was employed by Aleppo Shrine for ten years as the Building Superintendent, followed by subsequent employment at Crossroads on the Charles for five years in the same capacity. At the time of his death, Bill was employed by Ceeco Company as a Mechanical Engineer.
Right Worshipful Brother Manchester attended the College Avenue United Methodist Church in Somerville. He served as an officer of the Lacount Men's Bible Class and as captain of the bowling team on the Somerville Church League.
He served Masonry with pride and distinction in many areas. He was raised in Somerville Lodge in 1962 and served as Master in 1969 and again in 1991. He was a Charter Member of The DeMolay Lodge and Master in 1978. Brother Manchester held membership in The Masters Lodge in Newtonville, Norumbega and Brookline Lodge also in Newtonville and Good Samaritan Lodge in Reading. Right Worshipful Brother Manchester served Grand Lodge in the following capacities: Grand Sword Bearer 1981-1982-1983, District Deputy Grand Master of the Cambridge 2nd Masonic District 1984 and 1985. He became a Permanent Member of Grand Lodge after being elected and serving as Junior Grand Warden 1989, atwhich time he was presented the Henry Price Medal. He was also the Grand Representative to the Grand Lodge of Benito Juarez from 1989 to 1994 and Representative to the Grand Lodge Valle de Mexico from 1994 to his passing.
He was a member of Chapter, Council and Commandery in the York Rite and served Saint Bemard Commandery No. 12 as Commander in 1996-1997. The Scottish Rite was a true love of his and he participated in the work of all four Bodies. Mount Olivet Chapter of Rose Croix was fortunate to have Bill serve three years as Most Wise Master. He was created a Sovereign Grand Inspector General 33rd Degree in Milwaukee, Wisconsin, in 1996. Brother Manchester was also a member of Massachusetts College Societas Rosicruciana in Civitatibus Foederatis, Aleppo Temple Shrine, and Boston Court No. 103 Royal Order of Jesters.
Bill was an avid golfer and organized many golf tournaments for the Shrine, Jesters, church and many other fraternal organizations. Among his many talents were his musical accomplishments playing the musette pipe in the Oriental Band of the Shrine, and an old bass, held together with "vise-grips", that he played in a small organized or disorganized make-up of bands.
Brother Manchester was a member of Boston Chapter Order of DeMolay and served as Master Councilor as well as various State-wide offrces. He served as Dad Advisor and also coached the bowling and baseball teams. Bill was an Active Legionnaire of the DeMolay Legion of Honor, having received the highest award in DeMolay, by the Intemational Supreme Council of the Order of DeMolay. He was a Past president of the Massachusetts Court, DeMolay Legion of Honor and served as the Secretary-Treasurer for many years. At the time of his passing, he was the Vice Chairman of the Massachusetts DeMolay Foundation.
Right Worshipful William Giles Manchester passed away on January 2, 1998 at his home in Reading, Massachusetts. A Masonic Service was held on January 5, 1998, at the MacDonald Rockwell MacDonald Funeral Home in Watertown, with over 800 Masons and friends in attendance. Right Worshipful and Reverend John R.S. Higgins, Grand Chaplain, conducted a Memorial Service on January 5, 1998.
May the memory of William Giles Manchester inspire all of us to dedicated service to God, Family, Country, Mankind and Masonry.
Respectfully submitted,
M.W. Albert T. Ames
R.W. Robert F. Doherty
R.W. Robert Johnston
---