MAGLWLoring
From MasonicGenealogy
WILLIAM C. LORING 1925-2010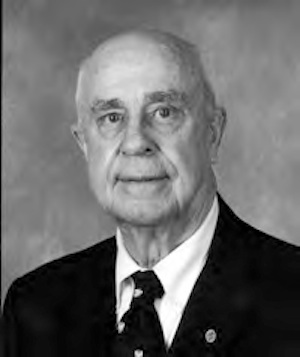 Deputy Grand Master, 1982
MEMORIAL
COUNCIL OF DELIBERATION, 2011
From Proceedings of the Massachusetts Council of Deliberation AASR NMJ 2011, Page 25:
Ill. William Caleb Loring, 33°
Born on June 30, 1925
Died on February 10, 2011
Ill. William Caleb Loring, 33° was the son of Augustus and Rosa­mund (Bowditch) Loring. He was educated in the Groton Public Schools and graduated from Harvard University in 1950. He had a long career in the banking industry, serving as trust officer for State Street Bank from 1950 to 1971; trust department manager at a Boston law firm from 1971 to 1981; and finally retiring as trust officer for the Naumkeag Bank & Trust in Salem in 1982. He served in the United States Coast Guard from 1943 to 1946 and the United States Navy from 1951 to 1952.
On December 28, 1966, at Beverly Farms, Massachusetts, he was united in marriage to Agnes Waller. From this union were born three children, William, Anne and Timothy.
He was a member of St. John's Episcopal Church, where he served as lay reader. Civically, he served as alderman for the city of Beverly. He was a member of the Salem Athenaeum, the Ellis Memorial Center, and the Marine Society of Salem.
Ill. Bro. Loring was raised a Master Mason in the Lodge of St. Andrew in Boston on September 23, 1954 and affiliated with Manchester Lodge, where he served as Master in 1961 and 1972. He served the Grand Lodge as District Deputy Grand Master of the 1st Masonic District as well as Deputy Grand Master. He was exalted in St. Paul Chapter R.A.M. on January 17, 1961; greeted in Boston Council R.& S.M. on February 25, 1982; and knighted in St. Bernard Commandery No. 12, K.T. on April 12, 1961. He served as Commander in 1988. He completed the fourth through the eighteenth degrees of the Scottish Rite in the Valley of Salem, and the consisto­rial degrees in the Valley of Boston on October 27, 1978. On September 3, 2002, he was created a Sovereign Grand Inspector General, 33°.
He was a member of Aleppo Temple, A.A.O.N.M.S., Royal Order of Jesters, and the Societas Rosicruciana.
PROCEEDINGS, 2016
From Proceedings, Page 2016-227:
William C. Loring, a Past Deputy Grand Master of the Grand Lodge of Massachusetts, died in North Andover, Massachusetts in February 2011. The following memorial is provided as a supplement to the 2016 Proceedings of the Grand Lodge.
When M. W. J. Philip Berquist introduced R. W. William Caleb Loring in December 1981 as his second Deputy Grand Master, he described him as "a Mason whose service to our Craft has been exemplary, a man who carries with him a tradition of service to his country and fellow man from a family noted for benevolence and leadership throughout our country's history." He served admirably in that position
This characterization was appropriate and accurate. Brother Loring was born on June 30, 1925 in Beverly, Mass., and attended the Dexter School and Groton School, where he was a great student and star athlete. In 1943, he was drafted and served in the Coast Guard in World War II; a member of the Naval Reserve, he was called again to active service during the Korean War.
After his second honorable discharge, Brother Loring worked as a private trustee for State Street Bank and the law firm of Choate, Hall and Stewart. His Masonic associations were primarily in Boston; in 1954 he was raised a Master Mason in the Lodge of St. Andrew, where he took membership and served as Worshipful Master from 1962 to 1964 and again in 1973. In 1975 and 1976, by appointment of M. W. Stanley F. Maxwell, he served as District Deputy Grand Master for the Boston 1st Masonic District.
Brother Loring was a member of all of the Scottish Rite bodies of the Valley of Boston, as well as St. Paul's Royal Arch Chapter, St. Bernard's Commandery #12, and Aleppo Temple, A. A. O. N. M. S. In 2002 he received the 33°, the highest accolade of Scottish Rite Freemasonry.
R. W. William Caleb Loring entered the celestial Lodge above on February 10, 2011, after a long illness. It was said that he was never happier than when sailing with his wife along the coast of Maine, even in the sunset of his life. He is fondly remembered by the many people whose lives he touched.
SPEECHES
FEAST OF ST. JOHN, DECEMBER 1981
From Proceedings, Page 1981-176:
Worshipful Grand Master and Distinguished Brethren All:
When I was presented a lambskin or white leather apron I was informed by the Master of my Lodge that this was the greatest honor that could be conferred on me by king, prince, potentate, or any other man except he be a Mason.
I was convinced of this statement until I was installed as Master of the Lodge of Saint Andrew by the Most Worshipful Laurence E. Eaton. I later was pleasantly surprised to find that I was in error when the Most Worshipful Stanley F. Maxwell appointed me District Deputy Grand Master of the First Boston Masonic District six years ago.
This afternoon I have been accorded an honor of being admitted to a group of the finest Masons who have held this important office of Deputy Grand Master. To say that I'm most pleased and honored to merit such an honor is to put it mildly. In actuality, I am overwhelmed and after that introduction words fail me.
I have been asking myself the same question doubtlessly many Deputy Grand Masters have asked themselves repeatedly before installation, "am I worthy and qualified to hold such an important office". Time alone will tell.
The important consolation to this question of the feeling of inadequacy is the personal friendship and support I have received in all the offices I have held by all of the Past Grand Masters and the PresidingGrand Master.
I have the good fortune of belonging to two of the finest Lodges in the Commonwealth, the Manchester Lodge and the Lodge of Saint Andrew. My mother Lodge, the Lodge of Saint Andrew, has a motto that has guided me through many Masonic occasions in the past and will continue in the future. It is Audae, vidae, takae. Translated from the Latin it means "To see, to hear and be silent." With these words to guide me, how can I fail.
Most Worshipful Sir, your guiding us will not fail. Thank you.
---