MAGLWCushing
From MasonicGenealogy
WINTHROP JACOBS CUSHING 1878-1949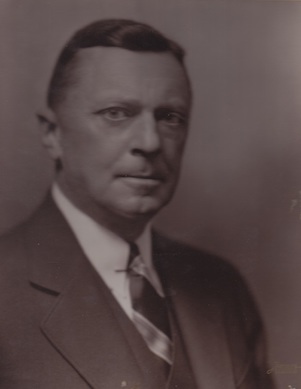 Junior Grand Steward, 1922
Deputy Grand Master, 1942
MEMORIAL
Born in South Hingham, Massachusetts, November 19, 1878
Died in Hingham, Massachusetts, March 20, 1949
Winthrop Jacobs Cushing was the son of Henry W. and Fannie A. (Jacobs) Cushing. He was a descendant of Matthew Cushing, one of the first settlers in Hingham, who came from Hingham, England, in 1638. His paternal grandfather, Henry Cushing, and maternal grandfather, Joseph Jacobs, Jr., both represented their districts in the Massachusetts House of Representatives. His maternal great grandfather was a captain in the local infantry company prior to the Mexican War.
Brother Cushing was educated in the public schools of Hingham and subsequently entered the banking and insurance business, being associated with several banks in various capacities. During the past twenty years he was Treasurer and Director of the Hingham Mutual Fire Insurance Company, Trustee and Member of the Board of Investment of the Hingham Institution for Savings, and Director of the Hingham Trust Company.
Brother Cushing was a lifelong resident of Hingham, where he was a devoted and interested leader in the religious and civic life of the community as evidenced by the fact that he has served as Chairman of the Parish Committee of the Second Parish in Hingham, Treasurer of the High Street Cemetery Association of Hingham, and various committees of the Town, such as Committee on Appropriations, Sidewalk Committee, Planning Board and many others. He was a member of the Wompatuck Club, South Shore Country Club and Hingham Chamber of Commerce.
On June 19,1920, he married Mildred Irene Buckman, who survives him. There were no children.
Brother Cushing was an enthusiastic and devoted Mason, exemplifying at all times a true spirit of friendship and love for his fellow man. He was raised a Master Mason in Old Colony Lodge of Hingham on March 29, 1904, and served as its Worshipful Master in 1917 and 1918. In Grand Lodge he was Junior Grand Steward in 1922, Deputy Grand Master in 1942, appointed Grand Representative for the Grand Lodge of California in 1942, and was the recipient of the Henry Price Medal. He received the Royal Arch Degree in Pentalpha Chapter at East Weymouth on November 11, 1904, and served as its High Priest in 1911 and 1912. He was a charter member of Wompatuck Chapter at Hingham and served as its High Priest under dispensation in 1921 and first High Priest under charter in 1922.
In Grand Chapter he was Grand Principal Sojourner in 1923, Grand Captain of the Host in 1924, Deputy Grand High Priest in 1925, and Grand High Priest in 1928, 1929 and 1930. He was Chairman of the Board of Trustees of the Grand Chapter and was the recipient of the Paul Revere Medal. He was anointed in the Massachusetts Convention of High Priests on March 7, 1922, and served as its President in 1931, 1932 and 1933.
He received the Super Excellent Degree in Boston Council, Royal and Select Masters, on February 23, 1905. He received the Order of the Temple in South Shore Commandery, Knights Templar, on January 14, 1907.
In the Ancient Accepted Scottish Rite he received the degrees in Boston Lafayette Lodge of Perfection on April 6, 1906, in Giles F. Yates Council, Princes of Jerusalem, on October 12, 1905, in Mount Olivet Chapter of Rose Croix, on December 21, 1905, and in Massachusetts Consistory on April 26, 1907, in which body he served as Second Lieutenant Commander in 1936 and 1937, First Lieutenant Commander from 1940 to 1943, and Commander-in-Chief from 1943 to 1946. He was coronetted an Honorary Member of the Supreme Council, 33rd Degree, on September 26,1945.
The many positions of honor and trust, not only in the Masonic Fraternity, but in business and in his community life, to which Brother Cushing was chosen, were filled with conspicuous ability and carried with them the respect and esteem of his associates in every phase of his useful and friendly life.
On March 23, funeral services were held at his home in Hingham, attended by a very large gathering of his Masonic Brethren, numerous neighbors and friends. His passing leaves a void in our hearts, but the memory of his friendship will remain with us always.
Respectfully submitted
Frederick W. Hale
George W. Cushman
Albert W. Kimball
---