MAGLWChessman
From MasonicGenealogy
WILLIAM H. CHESSMAN 1823-1897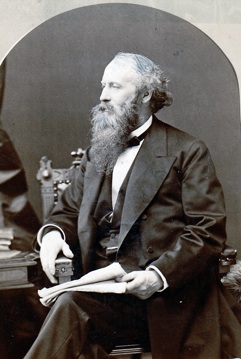 Grand Marshal, 1872-1877
Senior Grand Warden, 1878
MEMORIAL
From Proceedings, Page 1897-289:
It is in honor of the dead, but for the sake of the living, that we recall the memory of our departed friends. They have passed forever beyond the reach of our praise or our blame. Our love, our bitter grief, cannot recall them, and science, with all the assistance that wealth can give it, has lost its power to restore health or alleviate suffering; but we may look upon all that was lovely and pleasant in their lives, may separate the gold from the dross of their worldly existence, and from the suggestions thus made may derive encouragement and strength for the future.
R.W. William Henry Chessman, our late Past Senior Grand Warden, was born at Hallowell, Me., July 30, 1823. He was the son of Rev. Daniel and Christina (Hallett) Chessman. His father was a Baptist clergyman, a graduate of Brown University, whose pastoral life was spent in Bristol, R.I., Hallowell, Me., Lynn and Hyannis, Mass., and who died at the last named town in 1839. He was a member of the Masonic Order. Christina Hallett was the daughter of Capt. Benjamin Hallett, of Osterville, a pioneer of the coasting trade from Boston to the Hudson river, his vessel being the first to run between Boston and Lansingburgh at the head, of sloop navigation. His largest sloop was called the "Ten Sisters," the name being suggested by the fact that he had ten adult daughters. His only son was Hon. Benjamin F. Hallett, United States District Attorney in Boston under the Pierce Administration. B. F. Hallett was known for many years as an aggressive anti-Mason, but his only son, the late Hon. Henry L. Hallett, United States Commissioner, was made a Mason in Winslow Lewis Lodge in i860, with his father's approval.
William H. Chessman finished his school training in the High School at Hyannis, decided to enter upon a mercantile life, and after some experience in a country store, as clerk, came to Boston in the same capacity, at the age of nineteen. He engaged in business on his own account in 1857, and was located for most of the remaining forty years of his life at No. 9 Central street. His residence from 1842 was always in Boston. He was never married. For the twenty years preceding his death his home was with his sister, the widow of William S. Thatcher, who was a charter member of Winslow Lewis Lodge. Bro. Chessman's death was the direct result of injuries received in a fall at Mt. Pleasant, N.H. He was at the time, with other members of the District Deputy Grand Masters' Association, sharing in the pleasures of their annual excursion. Competent surgical assistance was at hand, but the extent of his injuries was not imagined, and, in fact, was not ascertained until after his death.
Against his own protest, it was decided that he could go no further. With the most careful provision for his comfort, he was removed to the Massachusetts General Hospital, where he died in the evening of the next day, Saturday, Sept. 4, 1897. The funeral service was on the following Wednesday, while the Grand Lodge was in session, and was attended by many of his associates here, who. withdrew from the meeting of this Body to pay their sad tribute of respect to his mortal remains. The burial was at Forest Hills.
Bro. Chessman was initiated in Winslow Lewis Lodge, June 22, 1860. He was passed September 14, raised October 26, and elected to membership Aug. 23, 1861, signing the By-Laws of the Lodge September 4 of that year. He was Inside Sentinel in 1862 and 1863, Senior Deacon in 1864 and 1865, Junior Warden in 1866 and 1867, and at the annual meeting in November, 1867, was chosen Worshipful Master. He filled the chair for two years, and became an Honorary Member. May 27, 1870. During the following fifteen years he served the Lodge on its standing committees. He was Grand Marshal, by the appointment of Grand Masters Nickerson and Everett, from 1872 to 1877 inclusive, six years, a length of service equalled or exceeded by only three others in our history, and was elected Senior Grand Warden Dec. 12, 1877, becoming, at the end of a year's service in that capacity, a Permanent Member of the Grand Lodge. In all these positions, and especially in the office of Grand Marshal, he was distinguished by his regular attendance at Communications, and by painstaking fidelity and attention to the details of his duties. He was an able interpreter of the ritual, and his commanding presence, joined to a keen sense of the fitness of things, made him an admirable conductor of those ceremonies which were performed under his direction. His every movement was carefully preconsidered and executed with graceful precision. In matters of legislation, while possessed of decided opinions, he seldom placed himself in a position of leadership, but he approved himself to his friends as a wise and conservative adviser.
His connection with other Masonic Bodies we give as a matter of record. He received the capitular degrees in St. Matthew's Chapter in June, 1866, and was admitted to membership in St. Andrew's Chapter Nov. 2, 1870. The orders of knighthood were conferred upon him in St. Omer Encampment (now Commandery), in November, 1866, and January, 1867. In 1877 he was elected a member of St. Bernard Commandery, and was its Eminent Commander in 1883 and 1884. The degrees of the Ancient and Accepted Scottish Rite, from the fourth to the thirty-second inclusive, were conferred upon him in Lowell Lodge of Perfection, Lowell Council of Princes of Jerusalem, Mt. Calvary Chapter of Rose Croix and Boston Consistory, Feb. 20, 1863. He received the honor of the 33d degree Aug. 20, 1874. He presided over the deliberations of Giles F. Yates Council from 1876 to 1879.
Bro. Chessman's business career was, as has been indicated, a long and uneventful one, varied, so far as we are aware, only by his active service at Fort Warren with the Independent Corps of Cadets in 1862. He left behind him a good name established by upright and honorable dealing. The social wants of his nature were satisfied by his membership in various organizations. His strongest interest was in the Masonic Fraternity. For those among us who enjoyed the personal friendship of our late Brother, words fail to express our appreciation of the kindliness of his disposition. Advancing years bowed the stately form and made the step more feeble, but his heart was ever young and close in touch with the youngest of his companions. He loved his friends, he wished to have them around him or to be with them, and the chair in his counting-room, standing near his own, could tell the story of many a visitor who came to him in the midst of the busy day to exchange words of cheer or feel the touch of sympathy, and who never went away disappointed. It is pleasant for us to remember that when he left that counting-room for the last time, it was to enjoy a period of recreation with those whom he held so dear, his Brethren of the Craft.
Of his own blood but few have survived to mourn his loss: a widowed sister, with her children, and an only brother, bound to him by the Mystic Tie as well as by relationship. With them and others, in his last will and testament, the Grand Lodge is designated as a beneficiary, receiving his Masonic library — the books to which he made almost daily reference — and an interest as residuary legatee in a portion of his estate. The latter bequest is accompanied by his reason for making it "because I love the Craft." And we, because of that love, and because of the love his fellow Craftsmen bore to him, believe that, like one of whom we have read, his name has been written among those whom the love of God' has blest, that the weary feet which stumbled here are now kept without fear of falling, and that the eyes which grew dim while they were beholding the beautiful things of earth, now look forth upon the eternal hills of Heaven.
Respectfully submitted,
THOS. W. DAVIS,
IVORY H. POPE,
ABRAHAM BYEIELD,
Committee.
---