MAGLSLovell
From MasonicGenealogy
STEPHEN LOVELL 1799-1858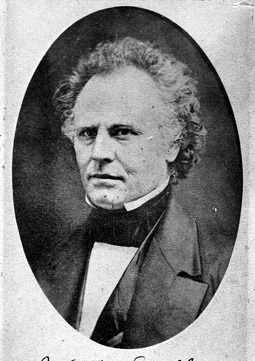 MEMORIAL
From Proceedings, Page 1873-355:
REV. STEPHEN LOVELL, BOSTON, Christian Baptist. 1849, 1852-1854.
His funeral occurred, at Boston, on the 8th of October, 1858. A small pamphlet was printed, in 1858, by John Wilson & Son, 22 School Street, Boston, containing " Funeral Address," by Rev. William R. Alger, and an "Obituary Notice," by R.W. Winslow Lewis, M.D.
The inscription of the Address and Notice is as follows: —
ADDRESS AT THE FUNERAL OF REV. STEPHEN LOVELL, WITH AN OBITUARY NOTICE OF THE SAME.
This slight tribute of Love and Respect to their esteemed Companion, and Brother Sir Knight, the Rev. Stephen Lovell, is inscribed to St. Paul's Chapter of Royal Arch-Masons, and to the Boston Encampment of Knights Templars, by Companions and Sir Knights, Alger and Lewis.

FUNERAL ADDRESS, BY WILLIAM R. ALGER.

We have met here, afflicted family of mourners, whose beloved head and stay has been removed; sorrowing Brotherhood of the Ancient Order whose society he so sacredly cherished; Companions lamenting a long-tried fellow-sojourner stricken down; Knights whose devotions he led, and whose peaceful warfare of the cross he joined in so long, — we have met here to pay the last tribute of humanity to the remains of a dear and honored friand now departed from us.

He has fallen in that battle in which all must, sooner or later, suffer defeat; and we can only gather around to look our last on his marble brow, pay our final offerings of love and respect, and plant the memorial sprigs of acacia upon our Brother's grave. As we gaze on the clay-cold form, which answers not our look; as busy recollection wanders through the bygone years, and revives a thousand buried scenes; as the funeral notes steal into our souls with their melancholy message of "dust to dust"; as we recognize that great doom of death which has fallen on him, but broods over us all, — we weep to think we shall not see his face again, nor walk in his fellowship on earth any more.

But let me speak no further such words as these; for by nature, and the spontaneous upwelling of our hearts, we all feel acutely enough the sad emotions and sombre side of the hour. It becomes the Christian minister rather to comfort and cheer up the mourners with victorious notes, than to sadden them by depressing suggestions.

And surely we have everything that there could be in such a case to console us, to give us resignation, and to fill us with the grateful trust that God doeth all things well. Our friend was not snatched away untimely, but in the maturity of his years, when he had drained the cup of experience of its manifold ingredients, and known all that earth had to offer. He had trod the heights and depths of its joys and griefs, tested its prizes, fathomed its disappointments, and achieved its great end. He lived to see his children's children rise up to call him blessed. He had finished his mortal tasks. And, when prostration and pain fell to his lot, why should he linger? When he could fold his wasted hands on his bosom, and pray, "Father, now lettest thou thy servant depart in peace; for he hath drained his cup, and is no longer of service here," truly it was his merciful time to die. Who will not bow in resignation?

He was not summoned when unprepared; but he was quite ready to die. His whole life, devoted to the sublime ends of truth and virtue, charity and good-will among men, was an ample preparation for death; and he was ready. As he lay for so many slow, heavy days on that couch of suffering, to which it was the Father's will to confine him; as he looked back over his departed years, — no remembrance of wasted days and squandered talents disturbed him with melancholy regret; no desolate and blistering tract of dissipation rose upon his view to make him tremble and weep; no dark and lurid record of indulged vices, selfish luxury, careless sloth, cold inhumanity, secret crimes, appeared to scare his soul with guilty visions of remorse and terror. No; but industry, integrity, innocence, and religion, self-denial, and diligent ministering unto the poor, the sick and the sorrowful, — which had filled the measure of his abilities and the range of his opportunities,— gave him peace, and filled him with confidence to go and give in his account.

He was, therefore, not called unwillingly away; but he was desirous, nay, anxious, to die. During those last days, perhaps he repeated oftener than any other expression the familiar lines: —

"Fly swift around, ye wheels of time!
And bring the welcome day."

And, the last time I saw him in life, no words falling from his emaciated and quivering lips touched me so much as these: "The light, the light! oh, when shall I lose myself in the blessed light of God?" Yet, with all this sanguine trust, there was no impatience. His frequent prayer was, "O Father, if it be possible, let this cup pass from me! nevertheless, not my will, but thine, be done." While he manifested that perfect love which casteth out fear, he also showed that filial submission which would not murmur. This sustaining faith, instead of being charged with any presumption, was full of a tender abasement. He said to me, not long before his death, with most touching sincerity of expression, "I have been a poor servant; oh, I know I have been a poor servant! but I hope my heavenly Father will be merciful to me." In this spirit of faith and humbleness he waited — waited with a patient eagerness — the arrival of the final hour; and, when it came, it came as an angel of God's love to strike off his fetters, open his prison-doors, and bid him walk in paradise. He stretched out his hand, and, following his guide through the little darkness of death into the great illumination of immortality, found that as it had been Christ to live, so it was gain to die. Who can regret that he has gone to heaven? Who would recall him to earth, even if he could?

And now, if I would lay on his unsullied forehead a garland of praises fragrant and beautiful as the flowers which love and friendship have clustered there, but one thing restrains me. It is not that anything inconsistent with the heartiest eulogy is to be discerned in his life; for, in regard to the virtues of temperance, frugality, purity, honesty, fidelity, punctuality, that life was a model worthy of the most exact imitation. No, it is not that; but it is that his own modest spirit of self-depreciation would say to me at the first word, "Hold; there is the standard of perfection set up in Christ; and I fall so far short of it, that I cannot bear to be praised." And yet, if not for his sake, still, in deference to our own feelings and for justice' sake, something must be said.

At the age of eighteen, amidst the exactions of a secular avocation, our friend experienced religion. The love of God, the love of Christ, a sense of the realities of eternity, an interest in the salvation of souls, flooded his being with regenerative impulses; and he entered the ministry. He joined the Methodists, that noble body of fervid believers and laborers, — best representative of the great missionary heart of Christianity; that denomination which, arrayed in apostolic simplicity and fired with apostolic zeal, has done so much, far and wide, to redeem men, and to glorify God. From that time unto his death, — a period of forty years, — he bore, with unflinching energy and fortitude, his full share of those hardships of toil, poverty, and self-denial, which, in the Methodist church, to this day, keep alive the example of the foot-wanderings, the fastings, the privations, and the sufferings, of Christ and his first followers. His deepest heart's love remained to the last with that body of Christians, although he constantly grew in doctrinal liberality.

As long as his faltering lips could move, he sang the old songs of Zion; repeating, with death-bed accents and grateful tears: —

"Jesus sought me, when, a stranger,
I wandered from the fold of God."

It is much to say, — and yet I know that all who were intimate with our friend will justify the statement, — that, throughout his life, in every relation he sustained, in every office he held, he was a model of conscientiousness in the punctual performance of every duty. Underneath a somewhat sensitive and reserved exterior, he had great delicacy and warmth of feeling, as all who possessed his intimate confidence were well aware. As his strength ebbed away in his last illness, this grew constantly more manifest. And it may literally be said of him, that "nothing in his life became him like the leaving it." He put on meekness, faith, resignation, piety, and sweetness as transfiguration-garments; and every one who enjoyed an interview with him in those days will ever cherish the remembrance of it as a hallowed privilege.

Well, he has finished his course. He has fought the good fight. Henceforth there is a crown for him in heaven. He rests from his labors, and his works do follow him. If he has left any enemies on earth, I would say to them, "Come here; look on this poor brow, so pale and helpless, and let the tears you shed blot out the record forever."

Companions, old comrades with him for many a year in the endeared rites of the guarded sanctuary, this-pilgrim has happily reached his goal before you. He has hrown off the weeds and sandals, and laid aside the staff and scrip, of mortality. With palm and crown he now treads the heavenly courts, where no rugged paths pede, and where no bitter tears are ever shed.

Knights, behold your Prelate! Full low he lies who stood erect, and marched before you, in many a field of duty and friendship. There he now teaches you his final moral with the tragic " Nevermore" of those voiceless lips. He sleeps his last sleep; he has fought his last battle. No sound will awake him to conflict or to sorrow again. Crowned as a celestial victor, he now leads the upward way, and invites you — with the consecrating cross on your breasts, and the redeeming faith in your hearts — to follow to the right hand of Christ. Oh, remember his prayers, and imitate his religious example!

Farewell, Brother! Thy pilgrimage is safely ended, and thy rest is sweet. No longer shall we take pleasant counsel together, as in the old times which memory will ever cherish. Farewell, pathetic form, so worn and furrowed with watching and pain. No more shalt thou be racked with the spasms of suffering, or weary with the long-drawn night. Fond hands shall lay thee tenderly in the bosom of thy mother earth, where thou shalt sleep well. Beneath the tears of visiting mourners, and the flowers of spring, and the winter snows, and the happy songs of returning birds, thou, who canst nevermore return, shalt peacefully sleep the years away. But why do I address this off-cast robe? Farewell for a season, Brother in heaven! Thy prayer is answered. The wheels of time have flown swiftly round, and brought the welcome day at last. It is better than thou thoughtest; thou hast found, not lost, thyself in the light of God. The gracious Saviour, in answer to thy self-accusing cry of unprofitable servant, replies, "Nay: well done, good and faithful servant! Enter into my joy." We will not lament, but envy thee, sainted Brother. God grant that, when our summons comes, we may all be as well fitted as thou wert; and that, when our warfare is over and our banners are furled, we may meet thee where the great Captain of our salvation welcomes and rewards his faithful soldiers!
OBITUARY NOTICE, BY WINSLOW LEWIS.
Again we are called, and alas! how soon, to make the dark announcement of death, and to pen the record of mortality. One more has arrived at that place where action ceases; where probation ends; where all the powers of life have ceased their operations.

Let us, thus called, apply the lesson to our hearts. Let us reap, though Death is the sower. Let us glean from seed rising from the grave. Let the fruit of revelation strip even that grave of its victory. Let not our hearts be troubled that a useful and varied life is closed. Let us rather exult that a soldier of Christ has terminated his earthly warfare, not only with courage and constancy, but with submission and divine faith; that he has cast off the frail armor of the flesh, and is now robed in the panoply of immortality. Let us neutralize the dismal impressions of the pall, the hearse, the weeds, and sable garments. When the grave is the bed of the true-hearted and the patient, and when we meet him there, that mound of sodden earth becomes a more eloquent preacher of the soul's triumph than many a costly pulpit. From how many weaknesses, tortures, sicknesses of soul, it is the merciful deliverer ! Through it the Saviour speaks his "Come unto me, ye weary and heavy-laden."

Thus removed from the pangs of a long-continued and dreadful disease, let us devote a few moments to the life and characteristics of the Rev. Sir Knight Stephen Lovell; of one who has been for many years a most active and energetic Mason; who, in whatever office he was placed, performed the duties with singular ability, with a power possessed but by few. He was a gifted man. His external qualifications, as an effective teacher, were of a prepossessing character. His frame was well-proportioned, his movements graceful. The seat of intellect was large, the forehead wide; and the whole cerebral structure denoted mental power. The voice was harmonious, the enunciation distinct and emphatic, and the style of his oratory commanding, impressive. Who has not been struck with admiration at the appropriateness of his language in prayer, on the very varied and often unprepared occasions when called to administer at the altar ? We all can recall, on a very recent solemnity, — the last in which he ever officiated in an asylum of Templars, — that our tears bore witness to the sublime and most heart-rending appeal then made to his Father in heaven. It was when we were here met to attend the funeral of our late Brother Thacher, who died from a most malignant, protracted, and painful disease, similar to that which affected the poor sufferer then on his knees.

When he was asked, while lying on his seat, — his flesh quivering with lancinating pains, his body feeble and faint, his face pallid and worn with tortures, — if he felt capable to the solemn duty, he replied, "To commune with my God in prayer is both my duty and comfort." And what devotion, faith, composure, and resignation were concentrated in this prayer ! Thanking that great Power who "loveth, though he chasteneth," that he had endued the departed to bear his hard lot without a murmur, he besought him to endow the supplicant to sustain, without repining, the awful load of life which it was God's will to impose on him; that he might soon be permitted to rest in peace; that though the avenue to the tomb was appalling to frail mortality, and the painful path beset with agonies, still that, armed by faith in God and in immortality, he might be permitted, in his own good time, to reach the goal of everlasting rest.

That prayer was heard. Trustful, unrepining, unconquered, like a true soldier of Christ, with the cross before him, with the assurance that in hoc signo vinces, he yielded his wasted body to death, but his soul to the God who gave it.

Stephen Lovell was born in Weymouth, April, 1799. His ancestors were among the first settlers there; and many of the name are still there. His father was Capt. Stephen Lovell. A common-school education was all that he received in his early life; but, on entering the ministry, he studied several years at Waterville, in Maine. At the age of eighteen he became religiously impressed, and joined the Baldwin-place Church, in Boston. He became a preacher of the Methodist persuasion, and officiated at various places in Maine and Massachusetts. He labored constantly and earnestly in the cause of his Master, and preached six thousand sermons. The sect to which he belonged have ever been distinguished for their zeal and success in winning souls to the cause of Christ; and the eloquent eulogium paid to them on the day of the funeral of our Brother, by one of our number, so justly eminent for "thoughts that breathe, and words that burn," did but justice to that band of Christian heroes, who loud proclaim "Salvation in Immanuel's name."

In 1825 he received the degrees in Amity Lodge, Camden, Me.; our good Sir Knight Joseph Hall being the Junior Warden. In 1826 he took the degrees in Jerusalem Chapter, Hallowell, as also the Council Degrees in the same place; and next year was elected High Priest of that Chapter. Perhaps there was not a better informed Companion, in all that regarded these degrees, than Companion Lovell. In 1827 he was Master of Temple Lodge, in Winthrop, Me.; and recently held the first office in St. Paul's Lodge, South Boston. He was Head of the Council of Royal and Select Masters, Grand High Priest of the Grand Chapter of Massachusetts, and Grand Lecturer and President of the Massachusetts Convention of High Priests, and District Deputy Grand Master of the Grand Lodge of Massachusetts, Prelate of this encampment, and its Recorder at the time of his death. In all these relations he was punctual and indefatigable; and Masonry owes much to this zealous votary.

For several years past, he has officiated as Chaplain of the Houses of Industry and Reformation at South Boston. He was an animated, able, and effective preacher; and whatever cause he espoused, to it he lent his whole might. During his long illness he received the kind attentions of his Brethren, who did much to smooth his bed of anguish. With his dying breath he blessed them. All that surgical or medical skill could do was rendered to him by Brothers; they closed his eyes when death had shut out forever the light of earth. Brothers bore his once manly, but now shattered, frame to the tomb of a Brother, and there left him to sleep in Christ; and now Brothers would pay their last tribute by placing on their records: —



"That this Encampment lament the loss, and will ever hold in grateful and dear remembrance the memory of the Rev. Sir Knight Stephen Lovell, as one of the most devoted and excellent Brothers, — one precious in the cause of Freemasonry, in the cause of philanthropy, and, better far, in the cause of Christ.

"That we sincerely mourn and sympathize with the bereaved family of our dear departed Brother, that a trusted husband and father has been laid down in the midst of his strength and usefulness; and we sincerely trust, that, as they miss the wise counsellor and protector who has been the earthly representative of Providence, they will look with a necessary confidence to Him who is the Father of the fatherless, and the widow's God."
FUNERAL ODE UPON THE DEATH OF REV. SIR STEPHEN LOVELL, BY SIR H. G. BARROWS.
What means this pageantry of knights,
This gathering here to-day ?
Why are these weeping ones thus clad
I n sorrow's dark array ?
A Christian warrior has fallen;
Has laid his armor by;
Has reached the asylum of the blest, —
A mansion in the sky.
With faith in immortality,
With hope e'er beaming bright,
A knightly soldier of the cross
Has fought the Christian fight.

No more official robe or crook
Or mitre shall invest
The form of yonder weary knight, —
That warrior sunk to rest.
Look up, then, mourners, to that cross
Which comfort brings in grief;
May God this consolation grant,
And send your souls relief !
Then look not on that lifeless form,
Nor seek him here below;
By faith behold him on that shore
Where life's pure waters flow.
From Moore's Freemason's Monthly, Vol. XVIII, No. 1, November 1858, Page 11:
FUNERAL OF BROTHER LOVELL, BY A CORRESPONDENT.
Bro. Lovell died in Boston, on the 29th day of September last, aged 59.
The impressive services of our Masonic ceremonies were performed on Sunday, the 3d of October, over the body of Rev. Sir Knight Stephen Lovell, for some time Chaplain of the Houses of Industry and Reformation, at South Boston, and though for some time previous to his death he was unable, from the nature of his disease, to attend to the duties devolving upon him in that capacity, yet the authorities who had the appointing of that officer, with a noble minded liberality, so seldom exercised in this grasping world of ours, retained him in the office, and he held the situation until his death. This was a source of great happiness to him, and he often expressed his gratitude for it. May those generous hearted individuals meet the reward such noble actions deserve!
He had held office in the Grand Encampment; had been Prelate in the Boston Encampment of Knights Templars; Grand High Priest of the Grand Chapter; High Priest of St. Paul's R. A. Chapter; M.I. in the Council of R. and S. Masters, and W. M. of St. Paul's Lodge, at South Boston. The Boston and De Molay Encampments of Knights Templars, together with members of the several associations above mentioned, turned out with very full ranks to pay the last tribute of respect to their Brother and Companion,—the Sir Knights in full uniform and the Companions and Brothers in their appropriate regalia. They assembled at the Masonic Temple, in Tremont street, and under the command of Sir Knight Jno. K. Hall, took up the line of march for the former residence of the deceased, in Ashland Place, passing through Tremont, Boylston and Washington streets. As the Sir Knights in their splendid uniform passed up Washington street in platoons, their full ranks, and regular and well timed steps, without any accompanying music, gave a beauty and solemnity to the scene that could not be combined in any other body of men, and the applause given by that expressive silence which influenced the crowd of spectators, spoke volumes in their favor. When opposite the former residence of the deceased, the escort came into line and prepared to receive the body with due honors; the body was borne by twelve Sir Knights, who were detailed by Sir Knight Hall from the two Encampments, and attended by the superior officers of both, viz:—M. E. Com., Wm. Ellison ; Generalissimo, Dr. Winslow Lewis; Capt. Gen., C. B. F. Adams, of the Boston Encampment—M. E. Com., Dr. Clement A. Walker; Generalissimo, Wm. Parkman; Capt. General, Capt Charles Robbins, of the De Molay Encampment After receiving the body, the procession proceeded to the Bev. Edward E. Hale's Church, in Washington street, where Rev. Sir Knight Alger made a very brief address, owing to the lateness ot the hour, (it being near the time for the afternoon service,) but which was very eloquent and impressive. The body was then received by the Sir Knights drawn up in line in front of the Church, and escorted to the Cemetery on Boston Neck, where Dr. Daniel Harwood, Grand Commander of the Grand Encamp¬ ment, read a portion of the Masonic Funeral Service over the remains; after which the Brethren deposited their sprigs of acacia upon the coffin and resumed the line of march for the Masonic Temple, where they were dismissed. Not the least thing occurred to disturb the solemnity of this most impressive scene, although the streets were thronged with eager spectators for the whole route. Not the least interesting feature of this occasion, particularly to the Fraternity, was the presence of our old and valued Sir Knight, John B. Hammatt, over eighty years of age, who turned out with his Past Commander's Jewel. We have seldom, if ever, among our always impressive ceremonies, attended one more solemn and effective.
His duties here finished, cur Sir Knight has gone
To behold his Commander whose Cross he has borne;
His Sword in its scabbard, untainted its blade;
Ever green be the spot where his ashes are laid.
---
Address at the presentation of Jewels to Mount Lebanon Lodge, 1851