MAGLSChebookjian
From MasonicGenealogy
SHANT L. CHEBOOKJIAN 1928-2004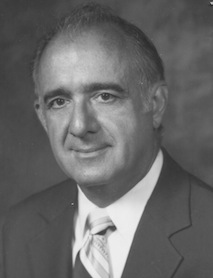 MM 1966, WM 1974, 2002, 2003, Victory
WM 1993, The Masters
Senior Grand Deacon 1976
DDGM, Waltham 5, 1979-1980
Senior Grand Warden 1983
NOTES
SENIOR GRAND WARDEN RECEPTION, APRIL 1983
From TROWEL, Summer 1983, Page 16:
The Senior Grand Warden's reception and dinner was held in the Masonic Temple, Watertown, Mass., on Saturday, April 16, 1983, in the presence of a large turnout and with the Grand Master leading a fine delegation of the Grand Lodge officers and many of the permanent members of the Grand Lodge. Wor. Stephen Kaloyanides, Master of the Lodge, received the Grand Master who in turn introduced his accompanying Suite. A program of events included a soloist, greetings from selected speakers, and the presentation of the prestigious Henry Price medal to the honoree by the Grand Master.
Playing a leading role in the festivities were members of the "Armenian Air Force and the Armenian Naval Forces" — none of whom were readily identified. A shish-kebob-style dinner capped a festive culinary delight, with a social hour following the completion of the evening.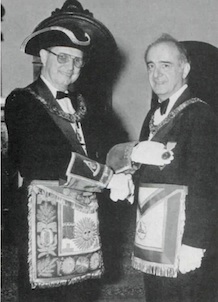 The accompanying photo pictures the Grand Master "pinning" the Henry Price medal on
R. W. Shant L. Chebookjian, Senior Grand Warden.
BIOGRAPHY
MEMORIAL
From Proceedings, 2004-119:
Shant Leo Chebookjian, born September 18, 1926 at Somerville, Massachusetts and departed June 8, 2004 at Waltham, Massachusetts. He was the son of Hrand and Vartouhi Chebookjian. Shant attended Somerville High School, Massachusetts Institute of Technology and following his service in the U.S. Marine Corps he graduated from Dartmouth College.
On September 25, 1949, Shant married Rosanne Karoghlanian. They were blessed with three children, Richard, Sema and Susan, and two grandchildren, Anoush and Armen. He had the great honor to raise his son to the Master Mason Degree.
An active member of the Armenian Youth Foundation and served on the Central Executive Committee of that organization. For his years of service and leadership, he was elected a National Honorary Member of the AYF and in 1977 he was honored as the Olympic King at the annual AYF Olympic Games. He was a founding member of the AYF's Olympic Governing Body that guided the games into their current successful format.
Shant worked professionally at Polaroid Corporation in Waltham for 30 years. In 1982 he opened Fremont Travel and operated that agency for 20 years. An active Waltham businessman he joined Waltham Rotary where he served on numerous committees. Rotary International richly recognized his efforts and he was to be installed as president of the Rotary Club of Waltham in June of 2004.
Shant was raised in Victory Lodge, Watertown on March 4, 1966 and became Master of that Lodge in 1974 and then again in 2002 and 2003 when it merged with Waltham Triad Lodge. In 1984 he became a charter member of The Masters Lodge and served as its Worshipful Master in 1993. He served Grand Lodge as its Senior Grand Deacon in 1976. Shant was appointed District Deputy Grand Master for the Waltham 5th District for the years 1979-1980. He was selected by the Grand Lodge of Tamaulisas, Mexico as their Representative near the Grand Lodge of Massachusetts in 1981 and served in that capacity until his death. In 1983 Shant was elected and served as Senior Grand Warden of the Grand Lodge of Massachusetts and in the same year was awarded the Henry Price Medal. In the York Rite, he was a member of Saint Paul's Chapter of Royal Arch Masons, Triad Chapter of Royal Arch Masons, Boston Council of Royal and Select Master Masons of Massachusetts. In the Scottish Rite, he was a member of the Valley of Boston, Ancient Accepted Scottish Rite and was active as Director of the Work for Boston Lafayette Lodge of Perfection. He received the Meritorious Service Award in 1987 and was elected an Honorary Member of the Supreme Council, 33° in 1991. He was an active member of Aleppo Temple A.A.O.N.M.S, and was director of the ritualistic degree team.
Shant was a lifelong parishioner of St. James Episcopal Church in Somerville. A man of faith he became an ordained minister and served his parish faithfully for many years.
To every thing there is a season, and a time to every purpose under the heaven. A time to be born, and a time to die; a time to plant, and a time to pluck up that which is planted; a time to kill, and a time to heal; a time to break down, and a time to build up; a time to weep and a time to laugh; a time to mourn and a time to dance; a time to cast away stones, and a time to gather stones together; a time to embrace. and a time to refrain from embracing; a time to get, and a time to lose; a time to keep and a time to cast away; a time to rend and a time to sew; a time to keep silence and a time to speak; a time to love, and a time to hate; a time of war, and a time of peace.
---