MAGLSBell
From MasonicGenealogy
SHUBAEL BELL 1766-1819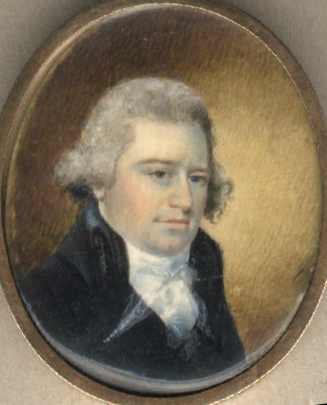 MM 1794, WM 1802-1805, 1809, St. John's
DDGM, Boston 1, 1810
Senior Grand Deacon 1803-1804
Junior Grand Warden 1806-1807
Senior Grand Warden 1808
BIOGRAPHY
From Proceedings, Page 1904-189, at the presentation of his portrait in Grand Lodge:
The Recording Grand Secretary called the attention of the Brethren to a time-worn and somewhat dilapidated oil painting intended to represent the features of Captain Shubael Bell, who was Senior Grand Warden of this Grand Lodge in 1808. The portrait had for many years been in the possession of Brother Bell's grandniece, Mrs. Mary E. Young, widow of Rev. Joshua Young who was one of our Grand Chaplains from 1871 to 1881. The lady has loaned it to the Grand Lodge on the condition that if any of her descendants make request for its return their wish shall be complied with.
Shubael Bell was born in Boston in 1766. He was a carpenter by trade, but at the age of thirty he was appointed Deputy Sheriff for Suffolk County by the Sheriff, Jeremiah Allen, and served until his death. In 1810 he was also made the jailor. Imprisonment for debt was then in full force and common practice.
In the eulogy pronounced at his funeral, it is related that the office of Deputy Sheriff had "in most parts of New England been filled by coarse, boisterous and iron-hearted men of violence and insensibility seemed to be considered at that time by most people to be indispensable in the character of such an officer. The conduct of Mr. Bell produced a general revolution in public sentiment upon this subject. He stood like the spirit of justice in the form of the angel of mercy between debtor and creditor, softening the severity of the latter and rousing the hopes and encouraging the exertions of the former. From the weight of his character, and the just reputation gained by the delicate and happy discharge of his duty, the office became respectable, and when vacancies occurred, men of worth were eager to obtain an appointment."
From other sources we learn that before Brother Bell became jailor, the prisoners were fed more like brutes than as human beings, the soup, which constituted their principal fare, being actually set before them in troughs. He changed all that, made a great bonfire of the troughs in the jail-yard, built a good kitchen on the premises, provided towels, bowls and spoons, dispensed clean and nutritious soups and meats, whitewashed the cells, and caused the prisoners literally to shout for joy. All this he did in spite of strong opposition. When a prisoner was. discharged, he would furnish him with money from his own pocket, fearing that he might be driven by hunger to commit some offence which might cause his speedy return. It was a common occurrence for men who had been under his charge to visit him for the sole purpose of thanking him for his kindness to them.
Shubael Bell was the sixth of the nine children of John Bell and Rachel Briggs. He was a twin with his sister Mary. He married, first, Joanna Smith Masters, July 26, 1789; and second, Ann Heaves, at Christ Church, October 16, 1808. There were no children. His house was on Court Street, near the Court House. He was Senior Warden of Christ Church from April, 1812, until his death, in May, 1819. He gave to the Church the Decalogue, which still ornaments the wall, back of the altar in two frames, the altar piece, platform and carpet.
In 1815 he also gave the bust of Washington which the family have always believed to be by Houdon and to have been bought in Philadelphia, a duplicate of one now in the capitol, at Richmond, Virginia. When the funeral obsequies of Washington were held in Boston, this bust was carried in the procession, and John Briggs Bell, Shubael's brother, carried the open Bible, as Chaplain, wearing a Masonic apron which is now in the possession of Phoenix Lodge, of Hanover, Mass.
In June, 1815, Brother Bell assisted Rev. Brother Asa Eaton, the rector of Christ Church, in establishing the first Sunday School in New England. It was known as the Salem: Street Sunday School and was held in the old Academy, the next building north of the Church. He was one of the founders of St. Matthew's Chapel, South Boston, a member of the British Charitable Society, President of the Irish Association, and assisted in forming the Massachusetts Fire Society.
He was initiated in St. John's Lodge, of Boston, in 1794, Secretary in 1797, and 1798, Junior Warden in 1799 and 1800, Senior Warden in 1801, W. Master from 1802 to 1805, and again in 1809, Treasurer in 1810 and 1811, Junior Warden again in 1814 and 1815, and Senior Warden again in 1818. He was admitted to membership in St. Andrew's Chapter, January 28, 1801, and served as its Treasurer from 1805 to 1808, and as High Priest in 1808 and 1809. He was one of the earliest members of Boston Encampment of Knights Templars.
In the Columbian Centinel, of Boston, edited and published by Benjamin Russell, Past Grand Master, there appeared in the issue of Wednesday, June 2, 1819, the following, among the death notices: "In this town, on Sunday morning, Shubael Bell, Esq., aged 53, Deputy Sheriff and Prison Keeper, of Suffolk. All his duties as a public officer, as a member of the Episcopal Church, as an associate of numerous Charitable Societies, as a relative and a citizen, were zealously and faithfully performed. His mind was cultivated by study; his heart enlarged by practical benevolence; his whole life was a scene of active usefulness and his death is universally lamented. He who has long had constantly in view the worst of mankind and is yet eminent for the humanity of his disposition, must have had it originally in a great degree and continued to cultivate it very carefully. His remains were privately entombed in Christ Church, yesterday morning, at his own request."
Some time before his death he bought the tomb directly under the porch of Christ Church, where his bones rest with those of his ancestors which he had removed from the graves in Copp's Hill Burial Ground. On the 8th of June following his death a memorial service was held in Christ Church and a eulogy was delivered by Brother Samuel L. Knapp, which was published by St. John's Lodge and a copy is preserved in the Library of this Grand Lodge.
The family relate the following incident, as showing his strong sympathy with those under his charge: One of the prisoners was condemned to die and Captain Bell was in the habit of reading prayers with him at night. A strong effort was made to have him pardoned, which resulted in a reprieve being granted, but he was finally hung. Captain Bell was of opinion that it was an act of cruelty to reprieve the man, and said that he thought another such case would kill him. Not long after, another case did occur, and was believed to have been a principal cause of the death of the kind-hearted jailor.
The portrait exhibited to the Grand Lodge was painted by an artist by the name of Johnson. To restore it to good condition would require much labor and a long time. It is quite possible that it may be decided to be inexpedient to attempt restoration, but rather to be content with a copy which very probably maybe made to furnish a better idea of the man than the time-worn original affords.
---