MAGLRStevens
From MasonicGenealogy
ROBERT H. STEVENS 1915-2006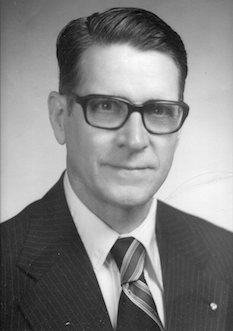 Senior Grand Warden, 1979
BIOGRAPHY
MEMORIAL
From Proceedings, Page 2006-109:
Right Worshipful Robert Henry Stevens was born in West Lebanon, New Hampshire on July 26, 1915. Brother Stevens died on July 3, 2006 in Milton Hospital from a stroke at 90 years of age. He had resided in Milton for over 60 years.
Brother Robert was the beloved husband of Audrey Munch Stevens and the devoted father of Jeffrey L. Stevens of Roslindale and Janet H. Stevens of Quincy. He was a veteran of World War II serving in the Adjunct General's Office of Military Intelligence. After the war, Right Worshipful Bob owned a camera repair business.
In 1957, Brother Stevens began a 25-year career at MIT. His work took him to Draper Lab, where he worked on gyroscopes for the Polaris Submarine Missile and Space Programs. Right Worshipful Robert Henry Stevens received his Masonic degrees at Milton Lodge taking his Entered Apprentice Degree January 17, 1947, and his Fellow Craft Degree February 21, 1947. He was raised to the Sublime Degree of Master Mason on March 28, 1947. He served as Worshipful Master of Milton Lodge in 1956, also serving as its treasurer from 1999 to 2002. He was an affiliated member of St. John's Lodge in Boston and voted an honorary member of Richard C. MacLaurin Lodge. He was Master of the 4th Lodge of Instruction, and a member of the Grand Lodge Education Committee, and a noted speaker at Lodges of Instruction around the jurisdiction.
Right Worshipful Stevens was District Deputy Grand Master of the Roxbury 4th District in 1965 and 1966. He served our Grand Lodge as Senior Grand Warden in 1979. Bob also served as Grand Representative of the Grand Lodge of Cuba near the Grand Lodge of Massachusetts. Right Worshipful Bob received the Joseph Warren Medal in 1972 and the Henry Price Medal in 1979.
Robert Henry Stevens was a devout worshipper at the Parkway United Methodist Church where he often preached on Laity Sunday. He spent twenty years working with the Boy Scouts and was one of the youngest men to become a Council Member.
He was pleased that during his Masonic career that he was able to join the same Lodges as his maternal grandfather, Henry Elisiah Mosely. Brother Mosely was responsible for establishing a program for crippled children, which later became known as the Shriner's Program of Boston.
The funeral for Right Worshipful Stevens was held on Saturday, July 8, 2006 at the Chapman, Cole, Gleason Funeral Home in Milton. Interment was private.
Respectfully submitted,
R.W. Philip A. Drouin
R.W. Robert Johnston
R.W. W. Terence Stephens
---