MAGLRCustance
From MasonicGenealogy
ROBERT W. CUSTANCE 1918-1987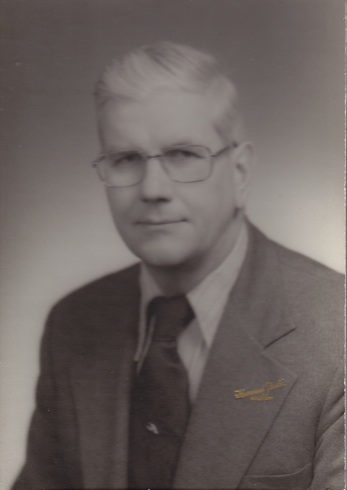 Deputy Grand Master, 1975
MEMORIAL
From TROWEL, Spring 1988, Page 12:
R.W. Robert Wallace Custance, 33°, a valued friend and worker in Freemasonry, his community, and the business world, was killed instantly July 16, 1987, when the plane he was piloting crashed into the Canterbury, NH, woods. Deputy Grand Master in 1975 and holder of the Henry Price Medal, he was serving Grand Lodge as Lecturer.
Born to Howard E. and Orra A. (Lynon) Custance, Bro. Bob had spent his entire life in Lexington and attended its public schools. A shipwright at the Boston Shipyard, he served in the Navy during World War II as a Carpenter's Mate. After the war he attended Northeastern U. where he received a B.A. Degree in 1948. He then entered his father's construction business and was President of Custance Brothers at the time of his death.
Married to Ruth H. Bradley in 1948, she survives him with six children: Howard E. of Boxboro (from an earlier marriage); Philip L. of Burlington; Dana B. of Belmont, NH; Janet E. of Laconia, NH; Steven W. of Wakefield, and Pamela R. of Cambridge. He leaves two sisters: Elinor Bettencourt of Lexington and Ruth B. Miller of Palm Desert, CA; he also leaves eight grandchildren.
Active in the First Baptist Church of Lexington, he was also a Director of the Boston Federal Savings Bank, the Dana Home, and the Carlton-Willard Home. He was a Corporator of the New England Deaconess Hospital and the Symmes Arlington Hospital; President of the Lexington Historical Society and Past President of the Lexington Chamber of Commerce and the Lexington Rotary Club. A Past Master Councilor of Battle Green Chapter, Order of DeMolay, he had been honored with the Degree of Chevalier and the Active Legion of Honor. He was also President of the Massachusetts Court of Legionnaires.
Raised in Simon W. Robinson Lodge, Lexington, in 1941, Bro. Bob served as Master in 1957-58 and was a Trustee. He later affiliated with Dalhousie Lodge of Newton and was a charter member of The DeMolay and Masters' Lodges. He was D. D. G. M. of the Somerville 6th District in 1964 and 1965, and in addition to being Deputy Grand Master and a Grand Lecturer he was Grand Representative from the Grand Lodge of California near the Grand Lodge of Massachusetts.
From Proceedings, Page 1987-83:
Our Brother Robert Wallace Custance was born in Lexington, Massachusetts, on March 22, 1918, the son of Howard and Orra A. Custance. Right Worshipful Brother Custance was educated in the Lexington Public Schools and Northeastern University, graduating in 1948 with a B.A. degree. He was President of Custance Brothers, Inc., a building construction firm established in 191 I by his father and uncle. In community affairs, R. W. Brother Custance was very active. He was a member of the First Baptist Church of Lexington and served as a Deacon, member of the Board of Trustees and the Executive Board. He was a Past President of the Rotary Club of Lexington, president of the Lexington Historical Society, and Past President of the Lexington Chamber of Commerce. He was a director of the Boston Federal Savings Bank in Lexington. He also served as a Corporator of both the Deaconess Hospital and Symmes Arlington Hospital as well as Vice President of the Dana Home for the Aged in Lexington and a director of the Carleton-Willard Home of Bedford. He served in the United States Navy in 1944-1945.
In Masonry, Brother Custance had an outstanding record. He was a Past Master Councillor of Battlegreen Chapter of the Order of DeMolay, and was the recipient of the degrees of Chevalier and the Legion of Honor. He joined Simon W. Robinson Lodge, A.F. & A.M., and received the Entered Apprentice degree on April 15, 1941, the Fellowcraft degree on May 12, 1941, and the Master Mason degree on June 9,1941. He served as Worshipful Master in the year 1957-1958; as a District Deputy Grand Master in 1964-1965; and was appointed Deputy Grand Master of the Grand Lodge in 1975. He was the recipient of the Henry Price Medal of fhe Grand Lodge. He was also a member of The DeMolay Lodge, Dalhousie Lodge, and The Masters Lodge. He was appointed a Grand Lecturer of the Grand Lodge in 1980 and served until his untimely passing.
On April 30, 1966, Brother Custance joined Menotomy Royal Arch Chapter and later affiliated with St. Andrew's Royal Arch Chapter. On May 21, 1966, he was greeted in Boston Council of Royal and Select Masters, and on March 20, 1967 , was knighted in Boston Commandery No. 2, Knights Templar. He later affiliated in St. Bemard Commandery No. 12 and served that Commandery as Commander in 1979-1980. In the Sconish Rite. Brother Custance joined the four Bodies in the Valley of Boston in the Spring Class of 1961. He served Giles F. Yates Council, Princes of Jerusalem, as Sovereign Prince in 1983-1985. Brother Custance received the Thirty-third degree on September 25, 1985, and was made an Honorary Member of the Supreme Council. Other affiliations include Aleppo Temple, Ancient Arabic Order of the Nobles of the Mystic Shrine; Royal Order of Jesters, and Societas Rosicruciana in Civitatibus Foederatis.
On June 12, 1948, Right Worshipful Brother Custance was united in marriage to Ruth (Bradley) Custance, and to this union were born three sons and two daughters: Philip L. of Burlington; Dana B. of Belmont, New Hampshire; Steven W. of Wakefield; Janet E. of Laconia, New Hampshire; and Pamela R. of Cambridge. One other son, Howard E. of Boxboro, was of a previous marriage. All survive Brother Custance with his widow Ruth. Also surviving are two sisters and eight grandchildren.
The officers of Simon W. Robinson Lodge conducted a Masonic funeral service on Sunday, July 19th, at the Douglass Funeral Home, Lexington, and the funeral was held in the First Baptist Church on July 20th with Reverend and Brother Brian Dixon officiating. Interment was in the family plot in Westview Cemetery, Lexington. The outpouring of his Masonic associates was a remarkable tribute to a well-loved citizen and outstanding Masonic Brother.
Respectfully submitted,
Manuel R. Parker
Jeffrey B. Hodgdon
Stanley F. Maxwell
Committee
SPEECHES
FEAST OF ST. JOHN, DECEMBER 1974
From Proceedings, Page 1974-302:
Most Worshipful Grand Master, Distinguished Guests, and Brethren:
I am very humble as I stand before you tonight as I realize the responsibility that has been put upon me, but I will do all in my power to do what I can for the Most Worshipful Grand Master.
I must say that this is not all my own doing as I had a great father, and I am sorry he can not be here tonight, but he started me at a young age to be a Mason. When I was about the age of ten and he would forget his Past Master's apron occasionally, he would call home and ask me if I would bring it down. That was quite a privilege for me and I would carry it down to Simon W. Robinson Lodge and go up to the second floor and see those great Masons wearing their aprons, and I sometimes wondered if I would ever become one.
It seems not long after that I reached the age of sixteen and was allowed to join DeMolay. Much to my surprise the first thing they told me was it was not a junior Masonic organization, so I was somewhat disappointed.
At any rate, I got through DeMolay and decided to see if they would let me join the Masons and I was fortunate since I did not get blackballed and became a member. I took my three Degrees and I thought at last I could be with my father as a Brother. I found out I was a Brother, but in the Simon W. Robinson Lodge the Past Masters sit in the East and I was not allowed to sit with him. There again my hope was that some day I would be a Past Master and this came true. I finally caught up with my father and was able to sit with him, but it was a long row to hoe and he inspired me all the way.
As you heard, I come from that great town of Lexington and we are going to celebrate the Bicentennial as well as dedicate the Scottish Rite Masonic Museum and Library, which we are very proud to have in our town. Which reminds me that not too far from here, a great light shown approximately 200 years ago, and a great Mason saw the light and knew what it meant and he spread the word throughout the neighboring towns and aroused a great many people to fight for the defense of our country that night.
We all have seen the great light in Masonry, and I hope that we will carry the word during this coming year and, as our Grand Master says, that we may touch someone else.
Now, Most Worshipful Sir, I speak for all of your appointed officers when I express our sincere thanks to you for the opportunity to further serve Masonry and our Grand Lodge and you personally in the year ahead. Those of us who have known you for some time have a great respect and admiration for your ability to lead. We are most happy to be a part of your first team and our effort will be to help you carry out your work.
---