MAGLRCorr
From MasonicGenealogy
ROBERT C. CORR 1956-2019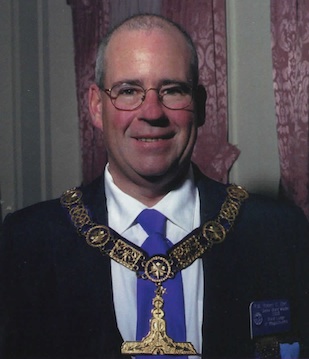 MM 1979, WM 1984, Oriental
Member 1993, Oriental-Martha's Vineyard
Member 1995, Ionic (Taunton)
Member 1999, Union (Nantucket)
Member 2004, WM 2004, Metacomet Daylight
Member 2006, Cawnacome Sunshine
Member 2008, WM 2010, Joseph Webb
Member 2010, Winslow Lewis
Member 2011, Mount Lebanon
DDGM, Nantucket 31, 1993-1994
Senior Grand Warden 2003
BIOGRAPHY
From TROWEL, Spring 2002, Page 11:
A native of Taunton, where he graduated in 1974 in the last class at the old Taunton High located on Washington Street, Right Worshipful Bob Corr probably knows all the ripples in the waters that surround Martha's Vineyard — that haven for so many summer visitors. He is employed as a boatswain by the Woods Hole. Martha's Vineyard and Nantucket Steamship Authority. He is a bachelor, a resident of Vineyard Haven and a man deeply immersed in the Masonic fraternity.
The son of Robert Howard Corr and Patricia Cary Corr, he received light in Oriental Lodge at Edgartown in 1979. That Lodge is now merged with Martha's Vineyard Lodge, and he was the Worshipful Master in 1984 and 1985. The next eight years saw him serving as Secretary, now assistant Secretary. He has been the Lodge ritualist for several years, and in 1993-94 was the District Deputy Grand Master of the Nantucket 31st Masonic District. He is a member of the Grand Lodge Future Leader Identification Committee.
Bro. Corr is affiliated with Union Lodge, F. & A. M. of Nantucket, Social Harmony Lodge of Wareham, and King David Lodge of Taunton.
In Capitular Masonry he is a Past High Priest of Vineyard Haven Chapter, and District Deputy Grand High Priest of the 12th Capitular District in 1991-92. He was the Secretary of Vineyard Chapter for sixteen years. He holds honorary membership in Isle of the Sea Chapter, Nantucket.
His Cryptic involvement began with New Bedford Council, Royal and Select Masters in 1981.He affiliated with Cape Cod Council in Centerville, and with Orient-Winthrop (now Medford) Council. He was a charter member of Vineyard Council at Oak Bluffs in 1984. He was the Illustrious Master four different times, and in 1995 was the Grand Master of Ceremonies of the Grand Council of Massachusetts. He served as Deputy Grand Master of the Grand Council of Massachusetts in 1997. He was a Grand Lecturer of the Grand Council in 2002. In 1999 he received the Abraham A. Dame Medal from Grand Council.
Bro. Corr was knighted into Chivalric Masonry at Sutton Commandery No. 16. New Bedford, in 1981 and affiliated with Cape Cod Commandery No. 54, where he has been Commander three different years. He is currently Commander of Sutton Commandery. His Scottish Rite membership is in Southeastern Massachusetts. He was Thrice Potent Master of Fall River Lodge of Perfection. 1993-94, and Most Wise Master of St. Andrews Chapter of Rose Croix, 1997-98.
He has been Vice Chairman of the Executive Committee two different times.
Our Senior Grand Warden is a member of Palestine Temple Shrine of Cranston. Rhode Island: Oriental Chapter No. 73. Order of the Eastern Star, at Oak Bluffs: Mayflower York Rite College No. 105; Massachusetts Priory No. 52, Knights of the York Cross of Honor: St. Matthews Conclave. Red Cross of Constantine of Springfield: and the Masonic Secretaries" Association of Massachusetts.
Bro. Corr has been with the Steamship Authority since 1974. As a boatswain on the Motor Vessel Martha's Vineyard, he is responsible for the safe loading and storage of all cargo and vehicles aboard the vessel, supervising the deck crew, and monitoring all seamanship, as well as administrative responsibilities such as payroll.
Rt. Wor. Corr is a member of St. Andrew's Episcopal
 Church. Edgartown. where he has served on the vestry,
 been senior warden, and a member of the choir. He is a 
licensed lay reader and lay eucharistic minister.
---