MAGLRBeach
From MasonicGenealogy
ROBERT PRESTON BEACH 1916-2007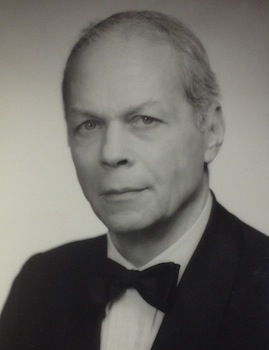 MM 1945, Beth-Horon
WM 1961, The Harvard
Grand Marshal, 1963-1965
Senior Grand Warden, 1966
Grand Secretary, 1969-1988
BIOGRAPHY
RETIREMENT, 1989
From TROWEL, Summer 1989, Page 31:
Masonry Tributes Retiring Robert Preston Beach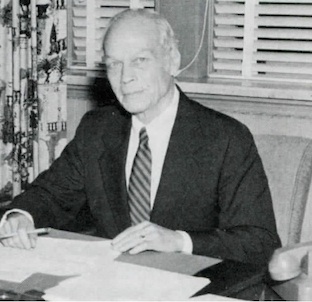 R. W. Robert P. Beach
Massachusetts Masonry paid tribute to the 25 years of Grand Lodge service by Robert P. Beach at a testimonial held in the Grand Master's Banquet Hall of Grand Lodge on April 8. Guests included his wife Barbara and Rev. Bro. Peter H. Meek and his wife Barbara. The latter is the daughter of Bob and Barbara Beach, and Bro. Meek is a Grand Lodge Chaplain.
M. W. Albert T. Ames presided at the affair and introduced Past Grand Masters Whitfield M. Johnson, Donald W. Vose, Stanley F. Maxwell, Arthur H. Melanson, J. Philip Berquist, and David B. Richardson, all of whom paid tribute to Bro. Beach's long service for Grand Lodge that began when he was Grand Marshal for the late M. W. A. Neill Osgood, 1963-65. A State Senate citation was presented to the honored guest, along with a purse of money to help ease the expense of a planned trip to the Orient.
A native of Portland, OR, and educated in the West Coast and at Harvard, Bro. Beach had World War II service as an officer in the Navy, most of which was in the Pacific Theater of Operations. Raised in Beth-Horon Lodge in Brookline in 1945, he is an affiliate of The Harvard Lodge where he was Master in 1961, Meridian Lodge of Natick, and a charter member of Maugus Hill, DeMolay, and the Masters Lodges. He holds Honorary membership in Sibert Lodge of the Canal Zone.
Senior Grand Warden in 1966 and assistant to Grand Secretary Earl W. Taylor in 1968, Bro. Bob was elected Grand Secretary in 1969 and served through 1988. He is a member of the Library, Museum, and Foreign Relations committees, and Grand Representative to the Grand Lodge of the District of Columbia. He was secretary for several years of the Grand Secretaries Association of the U.S. and Canada.
Holder of the two most prestigious honors given by our Grand Lodge, he received the Joseph Warren Medal in 1963 and the Henry Price Medal in 1966. He was honored by the Grand Lodge of New Hampshire with the presentation of the Jeremy L. Cross Medal. A Certified Public Accountant, Bro. Beach maintains a business office in Boston.
MEMORIAL
OBITUARY, 2007
Obituary, obtained at Legacy.com:
Age 91 of Bedford, March 9, 2007. Husband of Barbara (Harvey) Beach. Father of Barbara B. Meek and her husband Rev. Peter H. Meek of Lexington. Grandfather of Amy Meek. Memorial Service, Friday, March 16 at 2:00 p.m. in the Chapel at Carleton Willard Village, 100 Old Billerica Rd., Bedford. Relatives and friends kindly invited. Interment private.
COUNCIL OF DELIBERATION, 2007
From Proceedings of the Massachusetts Council of Deliberation AASR NMJ 2007, Page 26:
I11. Robert Preston Beach, 33°
Born in Portland, Oregon, January 29, 1916
Died in Bedford, Massachusetts, March 9, 2007
Ill:.Robert Preston Beach was the son of Henry and Olga (Linblad) Beach. He graduated from high school in San Francisco, the University of California (B.S.) in 1938, and Harvard Business School (M.B.A.) in 1940. A Certified Public Accountant, he was employed in turn by Coopers and Lybrand, Brown & Sharpe Manufacturing Co. (Secretary), Metcalf & Eddy, Engineers (Business Manager), and Sears & Nyberg, accountants, before being appointed Grand Secretary of the Grand Lodge of Massachusetts in 1968.
On July 12, 1941, he married Barbara F. Harvey of Brookline who, together with their daughter Barbara A. Beach (now Mrs. Peter H. Meek), survives him.
In World War II he saw active duty in Washington, D.C., and the Pacific Theater, retiring as a Lieut. Cmdr., USNR.
He and his wife were members of the First Congregational Church in Wellesley Hills, Mass. (He was a Trustee, Treasurer, and Clerk.) He also served as a Trustee of Leonard Morse Hospital and later of New England Baptist Hospital.
Ill:. Brother Beach was raised a Master Mason in Beth-horon Lodge, later affiliating with Meridian Lodge and The Harvard Lodge (Master 1960-1961), and was a Charter Member of Maugus Hill Lodge (Treasurer). He was Grand Marshal (1962-1965) and Senior Grand Warden (1966) of the Grand Lodge. He received the Distinguished Service Medal, the Henry Price Medal, and was an Honorary Member of the DeMolay Legion of Honor.
He joined the York Rite: St. Paul's Royal Arch Chapter in 1947, St. Bernard Commandery No.12 in 1960 (Commander 1965-1966) , and Boston Council in 1962. In 1958 he was initiated in the Scottish Rite and became a Life Member of the Valley of Boston bodies. He was Sovereign Prince of Giles F. Yates Council. Princes of Jerusalem 1974-1977. He received the 33° in Boston on September 24, 1975.
He was also a member of Aleppo Temple and Abou Saad Temple, A.A.O.N.M.S., the Royal Order of Scotland, Societas Rosicruciana, Damascus Tabernacle No. XXVI (Preceptor),the Red Cross of Constantine (Junior General), and the National Sojourners (President of the local chapter).
Funeral services for him were conducted in Bedford, Mass. on March 16, 2007 in Carlton-Willard, the retirement community where Ill.. Brother Beach and his wife lived. His body was cremated.
---