MAGLRAstley
From MasonicGenealogy
RONALD ASTLEY 1901-1986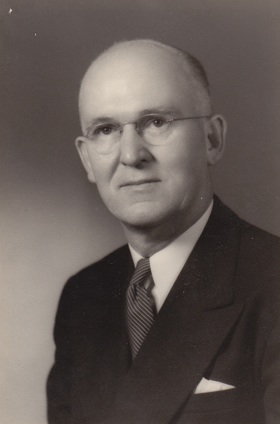 MEMORIAL
From Proceedings, Page 1987-19:
Right Worshipful Ronald Astley was born in Holyoke, Massachusens, on July 15, 1901, and was called to "that house, not made with hands", on December 31, 1986.
The son of Joseph and Margaret (Kemp) Astley, he moved to South Hadley in 1902 and spent his remaining years as an active part of this community. He was educated in the South Hadley school system, graduating from South Hadley High School, where he had served as Class President, in 1919.
Right Worshipful Astley began his business career with the American Writing Paper Company in Holyoke and three years later joined the P.P. Kellogg Company, a Division of the United States Paper Company, as its purchasing Agent. From here he moved to the Highland Manufacturing Company, where he filled many positions, ultimately becoming Treasurer and Manager of the Company; retiring in 1964.
On April 3,1923, he married Pauline E. Lane, who passed away in 1964. On June 17, 1967, he married Violet Williams, who survives him.
In his community, Right worshipful Astley served as a member of the Board of Assessors for the Town of South Hadley for 17 years. He also served on the Industrial Committee for the city of Holyoke, chairman of the Housing Authority for the Elderly in South Hadley, chairman of the Holyoke chapter of the National Council of Christians and Jews, and chairman of civil Defense in South Hadley. An Incorporator of the Holyoke Hospital, he also served as chairman of the Appraising Committee of the Holyoke Co-Operative Bank, as an Incorporator of the Community Savings Bank and President of the Holyoke Lions Club.
Right Worshipful Astley was raised in Mount Holyoke Lodge A. F. & A. M., South Hadley Falls, on May 19, 1928. Progressing through the chairs, he was installed as Worshipful Master in 1934. Appointed District Deputy Grand Master in 1939 and 1940 by M.W.Joseph Earl Perry, he was elected Senior Grand Warden of the Grand Lodge of Massachusetts in 1949. He was appointed a member of the Grand Lodge Education Committee in 1947 and served through 1970. Elected to the Board of Directors of the Grand Lodge, he served from 1953 though 1977. He was a Grand Representative of the Grand Lodge of Kentucky at the Grand Lodge of Massachusetts. A recipient of the Joseph Warren and Henry Price Medals, awarded by the Grand Lodge of Massachusetts for notable and distinguished service to the Craft, Right Worshipful Astley was presented the Veteran's Medal in 1978 signifying 50 years of membership in the Fratemity.
In York Rite Masonry, Right Worshipful Astley was exalted in Mount Holyoke Chapter, Royal Arch Masonry, Holyoke, on September 25, 1956. Greeted in Holyoke Council, Royal and Select Masters, on November 5, 1956, and Knighted in Saint Andrew Commandery Number 49, Knights Templar, on November 18, 1963.
Active in Scottish Rite Masonry, Right Worshipful Astley completed his degrees in the Valley of Springfield on April 30, 1953. He was Thrice Potent Master of Evening Star Lodge of Perfection in 1963-1964. Created a Sovereign Grand Inspector General, Thirty-third Degree, Honorary Member of the Supreme Council, on September 27, 1961, he was crowned an active member on September 27, 1967, at Pittsburgh, Pennsylvania. On September 30, 1976, Right Worshipful Astley became an Active Emeritus Member. Right Worshipful Astley served on the following committees for the Supreme Council: Committee on - 1967-1976, Committee on Buildings and Properties - 1969-1972, Special Committee on Program Development - 1973, and Committee on Benevolence - 1974-1976.
Right Worshipful Astley was a member of Saint Matthew's Conclave, Red Cross of Constantine, Melha Temple, Ancient Arabic Order Nobles of the Mystic Shrine, Sojourners Club, the General Westover Square Club, Westover Air Force Base, and served for more than 15 years on the Board of Governors of the Shriners Bums Institute, Boston Unit. He served the Craft well and faithfully and was honored with honorary memberships by Hope Lodge, Artisan Lodge, Aurora Lodge, Mount Zion Lodge, Star Lodge, Athol Lodge, Trinity Lodge, Wilder Lodge, Chicopee Lodge, Day Spring Lodge, Star Evening Star Lodge, William Whiting Lodge, Mount Holyoke Lodge as well as Salaam Shrine Temple, Newark, New Jersey.
A member of the Congregational Church of South Hadley Falls, he served as Superintendent of its Sunday School, as well as a Church Deacon and member of the Finance and Prudential Committees.
Right Worshipful Ronald Astley was a distinguished Mason, an upright citizen, a man who was an inspiration to all. Sought after by Lodges as a speaker and Installing Master, his voice always rang true. It has been said by many, that "You haven't seen a Masonic Installation Ceremony unless you've seen a Ron Astley Installation." His personal and public goal was always "a better tomorrow." He said, "Regardless of what today is like, I believe better days are yet to come - if we work at it." He will be sorely missed.
In addition to being survived by his wife, Violet, he also leaves a sister, Lillian of Knoxville, Tennessee, and several nieces and nephews.
A Masonic Funeral Service was conducted by worshipful John M. Gauger and the Officers of Mount Holyoke A. F. & A. M. on Friday evening, January 2, 1987, at the Ryder Funeral Home in South Hadley. Religious services were held on Saturday, January 3, 1987, at the Congregational Church of South Hadley Falls, with Rev. Carl Siktberg, Minister of the South Hadley United Methodist Church, officiating. Right Worshipful Ronald Astley was laid to rest in the Village Cemetery, south Hadley Falls.
Fratemally submitted,
R.W. Benjamin G. Hull
R.W. Lewis L. Huston
R.W. Ronald E. Jackson
R.W. Roland E. Mosley
Wor. John M. Gauger
Committee
---