MAGLPTurner
From MasonicGenealogy
PHILIP M. TURNER 1931-1999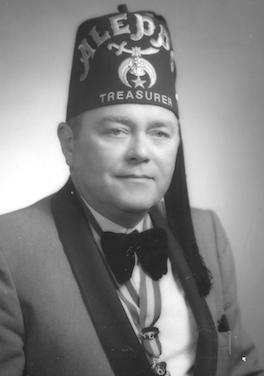 Junior Grand Warden, 1976
MEMORIAL
From Proceedings, Page 2000-34:
Born April 27, 1931, in Arlington, Massachusetts
Departed December 30, 1999, in Duxbury, Massachusetts
Our Brother was born in Arlington, MA, son of Edgar Lloyd Turner and Wilma May (Mason) Turner on April 27, 1931. He attended The Rivers School and Kimball Union Academy graduating from Babson College in 1954 with a Bachelor of Science Degree in Business Administration. Following his graduation, he served two years in the U. S. Army during the Korean War as a member of the Honor Guard at Fort Knox. He subsequently became involved in several family businesses including management of several Howard Johnson Restaurants along the East Coast and Seven-Up Bottling Company of New England. He was instrumental in the establishment of many embryo enterprises, often as the financial advisor. Some of these included Boston Magazine, Village at Southbridge Associates, Town Hall Village, First Middleboro Associates, Weston Associates, Clifton Grill, Orbital Advertising, North Village at Webster, Concord Company, Newton Company, Coastal Structures, and the Fremont consortium of several corporations.
He served as Treasurer of many organizations, evidence of great trust so often reposed in him. Among these were the Rivers Country Day School which he also served as President, the First Baptist Church of Weston, the Baptist Home and Evanswood Community of Kingston, member of the Board of Governors and Treasurer of the Shriners Hospital Boston Burns Uni! and the Greater Boston 32° Masonic Learning Center for Children, Aleppo Temple Ancient Arabic Order Nobles of the Mystic Shrine, as an owner and Treasurer of the New England Patriots, Wellesley and The Masters Masonic Lodges, being a Charter Member of the latter, St. Bemard Commandery, a founder and Treasurer of The Split Fifth, and many, many others so often serving for the benefit of humanity.
He was Initiated on December 8, 1953; Passed on January 12, 1954; and Raised in Wellesley Lodge on February 9,1954, by his father during his term as Master of that Lodge. Brother Tumer served that Lodge as its Master in 1965-66, was installed by his father who died very suddenly two weeks later at the Imperial Session of the Shrine in San Diego during his term as Marshal in the Imperial Line. One of his first duties in office as Master was to read the memorial to his father. It should be noted that his grandfather, Edgar Barter Turner, was a member of Mount Hermon Lodge in Medford and his two sons, James and David, are fourth generation Masons as members of Wellesley Lodge.
Brother Turner's Masonic career is impressive and followed his service as Master of Wellesley Lodge. He was President of the Past Masters' Association of the Fifth Masonic District in 1966. He was District Deputy Grand Master of the Waltham Fifth Masonic District in 1972 and 1973, elected Junior Grand Warden for the year 1976, recipient of the Henry Price Medal in that year, and Grand Representative from the Grand Lodge of France. He was also a Trustee ofthe Masonic Education and Charity Trust for several years and Treasurer of the DeMolay Foundation of Massachusetts and an Honorary Legionnaire of Honor.
He was a member of the BackBay Square and Compasses Club; Boston Court No. 103, Royal Order of Jesters; Brae Burn Country Club; Duxbury Yacht Club, although he would rarely step in a boat and often said that water was only good for showers and making ice cubes; The Hundred Club of Massachusetts; and other philanthropic organizations as well.
He was exalted in Saint Paul's Royal Arch Chapter on March 11,1972; greeted in Boston Council, Royal and Select Masters on March 18, 1972; knighted in Boston Commandery on April 8, t972; and affiliated with St. Bernard Commandery, No. 12 on October 9, 1974, in which he served as Treasurer.
In the Scottish Rite, he received the Degrees in Boston Lafayetle Lodge of Perfection on April 2, 1954; in Giles F. Yates Council, Princes of Jerusalem on April 9; in Mt. Olivet Chapter of Rose Croix on April 16; in Massachusetts Consistory on April 23; and served as Thrice Potent Master in the Lodge of Perfection in 1981, 1982, and 1983. He was also a former Trustee of that Body.
He was created a Sovereign Grand Inspector General, 33°, Honorary Member of the Supreme Council, at Milwaukee, WI, on September 28, 1983. Most recently, he was elected a Director of the Scottish Rite Masonic Museum of Our National Heritage in Atlantic City, NJ, last September'
He is survived by his wife of forty-six years, Elizabeth Ann (Frieswyk), their five children and spouses: Michael Lloyd Turner and Mary, Deborah Steranko and Jim, Stephen Mason Turner and Rachel, David Carl Turner and Sherry, James Edgar Turner and Maria, and nine grandchildren. His sister, Pauly, is the wife of Wor. and Past Potentate Frederick A. Spencer.
A Memorial Service was held at the Scofish Rite Masonic Museum of Our National Heritage in Lexington and conducted by Senior Grand Chaplain, R.W. & Rev. John Robert Stewart Higgins, assisted by M.W. J. Philip Berquist and R.W. Shant L. Chebookjian, with over five hundred in attendance. A family committal service followed at Duxbury Cemetery.
His continued service to this Grand Lodge as well as to Freemasonry in all its facets here in Massachusetts will be so greatly missed and so very difficult to replace. May the Grand Architect of the Universe have him in His Heavenly Keeping.
Fratemally submitted,
M.W. M.W. J. Philip Berquist
R.W. Shant L. Chebookjian
M.W. David W. Lovering
Committee
FROM MEMORIAL SERVICE, JANUARY 2000
Philip leaves many who loved him dearly: his wife, Liz, to whom he was married for 46 years. Five children: Michael/Mary, Debbie/Jim, Steve/Rachel, David/Sherry, Jamie/Maria. Nine grandchildren: Jessica, Casey, Ethan, Clayton, Wyatt, Ricky, Heather, Whitney, Jillian. He also leaves a sister, Pauly, and her husband, Fred, as well as Sandy, who worked with him and loved him like a Dad for 32 years. His family, friends and co-workers will all miss him.
As we mourn his death we should also celebrate his life for all the wonderful memories he gave us. Who will ever forget his fortieth birthday party on the tennis court with all his friends in black tie, gowns and sneakers. The image of his blushing face as Lin Hewitt presented the gift of a belly dancer reminds us of his quiet, conservative nature. The antique car, the pictures - a night to remember!
Weston friends will always remember seeing him wash the driveway and stringing his 7-Up two liter bottles across the patio to keep the squirrels away from his bird feeders. Those squirrels always drove him nuts! Much of Daddy's free time was spent on squirrels, from throwing rocks at them to catching them in cages. They were a constant nuisance that brought joy to his life. Besides trying to outfox the squirrels, Daddy loved to feed the birds, water the lawn and everything else in the yard.
He always said that water was only good for three things: watering, taking a shower and making ice cubes. Drinking water was out of the question - it was only orange soda for him. Only once was Bob Lavin able to get him on the boat and tliat was only to see the tall ships. He found endless pleasure in sorting and counting his coins. He enjoyed cards from solitaire to cribbage! Oh, how he enjoyed a good game of cribbage! He taught most of his grandchildren how to play. His favorite opponent, of course, was Gordon Dancer. They would keep score all week and what joy he had in collecting the four cents for his victories!
Some of Phil's pet peeves were: poorly performed ritual, unbalanced checkbooks, wallets left in the car, "nudies" in Duxbury and both ponds on the 11"' hole at Duxbury Y. C.
Some of Phil's favorite things were: a little lobster with his butter, chocolate ice cream with butterscotch sauce, candy, checking the air in his tires (Sneaking out for a cigarette), lottery tickets, Kon Tiki, harassing David and Jim on the golf course. The list goes on ...
Phil enjoyed most things in life. When we remember him, we need to remember his simple pleasures, his constant optimism, his always pleasant mood and his quiet but sweet smile.
We all loved him dearly and will miss him endlessly. Remember he is finally back with Linwood and Nancie B., Linwood with a martini and Nancie with the cigarettes. Think of them laughing and smiling while they watch over us.
We love you, Philip Turner!
---