MAGLPJones
From MasonicGenealogy
PETER C. JONES 1808-1885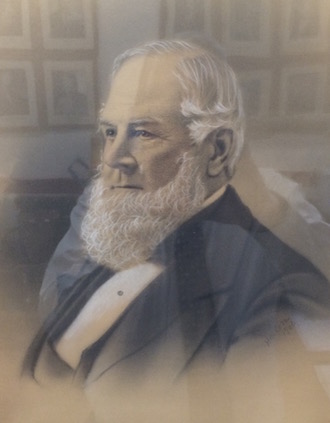 Junior Grand Warden, 1862
NECROLOGY
MM 1841, WM 1848-1849, Columbian
WM 1860, Dalhousie
Grand Sword Bearer 1857-1860, Junior Grand Deacon 1861, Junior Grand Warden 1862
BIOGRAPHY
From Liberal Freemason, Vol. III, No. 9, December 1879, Page 273:
For nearly forty years the Freemasons of Boston have been familiar with the ever-smiling face of Peter C. Jones, and those in the Commonwealth who have been such for more than five years, are quite as familiar with it.
His has been a busy life, full of incidents, as his memory is of reminiscences of citizenship and of Masonry, interesting and instructive in both respects.
The place of his birth, with its history of loyalty and patriotism, no doubt impressed both elements into the character of Ihe youth, who has been in all the years of his manhood, loyal and patriotic as a citizen, and equally true to his duties as a Mason.
He was born in Charlestown, Mass., on the 10th day of August, l808, removed to Boston in the fall of 1822, subsequently engaged in mercantile pursuits, which he followed actively, and with varying success until the great fire in 1872 and for a time after, though he has now retired from the cares of business life.
Many will long remember him for his open and fair dealing and the name of Peter C. Jones, dealer in Paper and Paper Stock, will linger in many memories and be cherished for the honesty of his purpose and methods in an age that is passed.
Young, active, and energetic, he was elected, in 1837, assistant engineer in the Boston Fire Department, where he continued until his resignation was accepted in 1847, but he had then been an active member of that department for more than twenty years.
He always took an intelligent interest in the city affairs, found some time to devote his attention to them, and was elected a member of the Common Council, from old Ward Nine in 1850, '51 and '52. In 1854 he was chosen one of the Directors of the House of Industry and Reformation, and, in 1856, was elected representative from Boston in the General Court of the Commonwealth of Massachusetts. He was also, at about this period, a Trustee of the Massachusetts Charitable Mechanic Association, in which place he served two years.
His attention was early attracted to Freemasonry, but the anti-Masonic hindrances delayed the execution of his wish until. April 1st, 1841, when he was made a Mason in Columbian Lodge of Boston. In this Lodge he served as Junior Deacon one year, Senior Deacon three years, Senior Warden two years, and as Master two years, ending with 1849. In 1861, he was elected Junior Grand Warden of the Grand Lodge of Massachusetts, and is a permanent member of that Body.
Without any delay he applied for the degrees in Capitular Masonry, was exalted in St. Andrews Royal Arch Chapter. in Boston, and became a member, on March 2d, 1842. In this body he served as Scribe and King, one year each, and High Priest two years, ending with 1848. In 1858, he was elected to Honorary membership.
For twenty-four years he was the faithful financial officer of the Grand Chapter of Massachusetts, commencing with September, 1852, when he was elected Grand Treasurer, and served until 1876, when he declined a re-election.
In November, 1843, he was created a Knight Templar, in Boston Commandery, serving two years as Captain General, but dimitted to assist in founding St. Bernard Commandery, in Boston, of which he was Treasurer for several years.
Brother Jones also assisted to organize Dalhousie Lodge, in Newton, served as Master, U. D. and was afterwards elected an Honorary member. He is also an Honorary member of Gethsemane Commandery.
He received the degrees to the 14th, in Boston Lodge of Perfection, in 1856, and subsequently, the remainder of the degrees in the A. and A. Rite, including the 320, the last grade being conferred in Boston Consistory in 1863.
In his social and family relations, Brother Jones has been fortunate; broken, indeed, has been the home circle by the death of his wife, some years since, but the fragrance of her memory still sheds its joys on the family she cherished and adorned.
The entire portion of his business life was passed in Boston, but a number of years since, our Brother removed to Newton, where he still resides with two daughters.
His children, four sons and four daughters, have all grown to man and womanhood, and three of the former, William P., Peter C. and George, are Masons.
Peter C. Jones, Junior, is a successful merchant at Honolulu, Sandwich Islands, where he was made a Mason, and has been Master of the Lodge; and to that distant city the father once journeyed to see and greet his son.
William has been Senior Warden of Columbian Lodge, but like his brother George, they find the claims of business too exhaustive of time to hold official stations.
In an age of activity in Masonry, and interest in its work, Brother Jones has had many well known and well-remembered associates, but among them all, none excels, and but few are so conspicuous for fidelity to trust and duty as the true man and Mason, Peter C. Jones.
MEMORIAL
From Proceedings, Page 1887-120.
"R.W. PETER C. JONES, Past Junior Grand Warden of this Grand Lodge, was born in Charlestown, Mass., August 10, 1808, and, died in Newton, May 23, 1885. His business life was passed in the city of Boston. Honesty and fidelity characterized his entire career. From early manhood he cherished our Institution, devoting much time to its interests occupying positions of trust as Worshipful Master of Columbian Lodge, High Priest of St. Andrew's R.A. Chapter, Treasurer of the Grand R.A. Chapter of Massachusetts, and Junior Grand Warden of this Grand Lodge in 1861."
---