MAGLNRay
From MasonicGenealogy
NORMAN A. RAY 1895-1992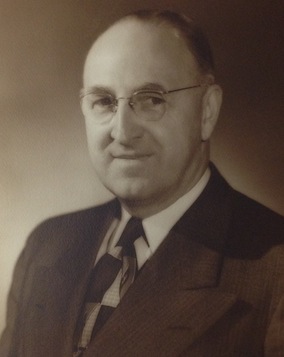 MEMORIAL
From Proceedings, Page 1992-85:
Right Worshipful Norman Alfred Ray was born in Billerica, Massachusetts on March 23, 1895, the son of Edwin Norman Ray and Carrie Faulkner Ray. He was educated in the Somerville school system and attended Northeastern University. He was married to Florence Louise McGowan on June 26, 1920, who died on February 18, 1944, leaving a daughter Marilyn Louise Ray. On January 12, 1946 he married Evelyn Gage Steam and they celebrated their 46th wedding anniversary this year. He is survived by his wife Evelyn, his daughter Marilyn and two grandchildren, Kevin and Lynn Ramsey.
His professional career began with Nutting and Wells Insurance Company in Boston in 1914. His career was interrupted by World War I when he joined the Army at Camp Lee Virginia. He attained the rank of 2nd Lieutenant and retained this rank for eight years in the Army Reserve. On his retum from the service he was a salesman for Paine Furniture of Boston for nine years. He then returned to the insurance industry with the William Wallace Company as a partner until his semiretirement in 1966. He continued as a consultant in the brokerage business until 1985.
Right Worshipful Brother Ray was very active in the College Avenue United Methodist Church of Somerville having served as President of the Board of Trustees, Lay Leader, President of the Lacount Class and as a member of the following committees: Pastor Parish, Auditing, Recreation, Finance and Ushering.
His greatest love was Masonry which he served with so much pride and distinction. He was raised in Somerville Lodge in 1923 and served as its Master in 1937 and as Treasurer for eighteen years. He was District Deputy Grand Master of the Arlington 6th District in 1941-1942, Senior Grand warden n 1952, Master of the 13th Lodge of Instruction, Director of the Education Department from 1952 to 1970, Grand Representative to the Grand Lodge of connecticut, and proxy to Saint John's Lodge in Concepción, Chile. He was the recipient of the Joseph Warren Medal, The Henry Price Medal, the 50 year Veterans Medal and Legion of Honor by DeMolay.
He was received into the York Rite in Somerville Royal Arch Chapter, Somerville, Orient Council, Somerville and DeMolay Commandery, Newton. A member of all Scottish Rite Bodies in the valley of Boston, he was an active shriner in Aleppo Temple having served on the Ritualist Degree Team and with the Chanters. He was a fifty year member of all of the above bodies.
A memory which will last in the minds of many past Senior Grand Wardens, as well as those of us who have heard it, is the charge to the incoming Senior Grand Warden. This charge has been delivered by Brother Ray over two decades at the Senior Grand Warden's Reception.
He served his community in many areas: Kiwanis, Lions, president of Somerville YMCA, Trustee of Somerville Hospital, Somerville Home for the Aged and the Central club. He was an accomplished organist, serving the Massachusetts Federation of Men's Bible classes, Grand Lodge organist and along with his wife, Evelyn, performing many concerts. He also played the piano and had his own band and played in many ballrooms in the Greater Boston area.
Right Worshipful Norman Alfred Ray was a talented baseball player with some fine semi-pro baseball teams. He once pitched against Satchel Paige, but was quick to relate that he did not win the game.
Right Worshipful Norman Alfred Ray passed away on May 29, 1992. A Masonic Service was held on May 31, 1992 with ninety-five in attendance. A memorial service was held on June 1, 1992 at the College Avenue United Methodist Church.
May the memory of Norman Alfred Ray inspire all of us to dedicated service to God, Family, Country and Mankind.
A Fratemal Remembrance by,
R.W. Robert Johnston
R.W. William G. Manchester
R.W. Robert F. Doherty, Deputy Grand Master
---