MAGLJWatsonJr
From MasonicGenealogy
JAMES T. WATSON, JR. 1912-2006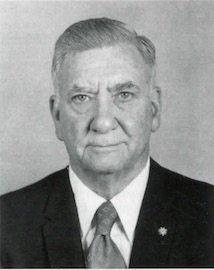 BIOGRAPHY
From TROWEL, Summer 2001, Page 14:
R. W. James 
Taylor
 Watson, Jr. 
served our Grand 
Lodge as Junior
 Grand Warden in
 1980 but has been a 
fixture in his Lodges,
 his Districts and in
 Masonry in Massa
chusetts for many, 
many years. Jim, as 
he is affectionately 
known by all, was 
raised in Narragansett
 Lodge, now Massasoit
-Narragansett Lodge, 
in 1946 and served
 as its Master in 1952. 
He affiliated with Metacomet Daylight Lodge and recently with Abraham H. Howland, Jr. Lodge.
He has served our Grand Lodge as a member of the Education Committee, District Deputy Grand Master of the New Bedford 30th Masonic District, Junior Grand Steward, Grand Lecturer, Grand Representative from North Carolina near our Grand Lodge in addition to Junior Grand Warden and was awarded the Joseph Warren Distinguished Service Medal in 1974 and the Henry Price medal in 1980. He did receive the Fifty Year Veterans Medal in 1996. For years Jim has written a column in the monthly notice of Massasoit-Narragansett Lodge, many of historic personalities, events and of general significance. These have been carefully preserved in the archives of Trowel.
He writes, "All things must change! I have been warned to curtail my activities greatly to avoid future developments. I have enjoyed the many hours I have spent researching and writing of the lives of many of our great Masons over these past years, but I also realize that in this my 89th year of life that we must compensate for the ravages of time.
"The die is cast. There will be no more future copy for Trowel from this source."
Expressions of appreciation to Jim in behalf of all his Brethren in Freemasonry for his dedication, his research, his writings and his contributions to the education of the Craft would fall far short of those he deserves. He warrants great praise and thanks from Grand Lodge, from Trowel and the Brethren of Freemasonry in general. With permission from Massasoit-Narragansett Lodge, Trowel will honor R. W. James T. Watson, Jr. by continuing From Watson's Corner as originally written for the Lodge's monthly notice in this and future issues.
---