MAGLIPope
From MasonicGenealogy
IVORY HOVEY POPE 1828-1905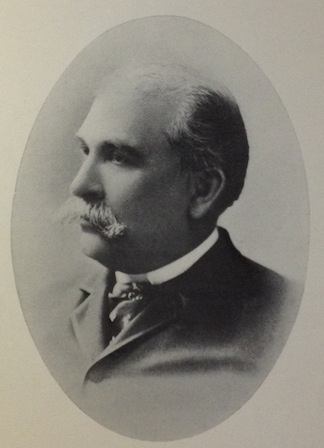 Junior Grand Warden, 1869
MEMORIAL
PROCEEDINGS, 1905
From Proceedings, Page 1905-173:
"R.W. Bro. Ivory Hovey Pope died at his residence in Somerville on May 6, 1905, aged 76 years, 11 months and 7 days. After a distressing illness of several weeks, which he bore with patience and fortitude, he was released from the suffering and weakness of this world, to enter into the land of rest. He was born in Wells, Me., May 29, 1828.
"He was employed in the government Naval Office in Boston for nearly forty years, where he was respected and Honored for his upright character and honesty of purpose. He was made a Master Mason in Star of Bethlehem Lodge, Chelsea, May 23, 1855; became a charter member of Joseph Warren Lodge, of Boston, instituted Sept. 23, 1856, and was its Worshipful Master in 1861, '62 and '63, and its Secretary for twelve years. He was Grand Lecturer of this Grand Lodge in 1863, '67 and '68, and served as Junior Grand Warden in 1869. He was a member of St. Andrew's Royal Arch Chapter, and a life member of Boston Commandery Knights Templar. He received the degrees of the Ancient Accepted Scottish Rite in Boston, April 3, 1863, and on Sept. 18, 1900, was created a Sovereign Grand Inspector General, thirty-third degree, at Boston. His friendships were strong and abiding. He was quiet and modest in manner and in speech, but forcible and persuasive in his advocacy of truth and devotion to principle."
CAMBRIDGE CHRONICLE, 1905
From Cambridge Chronicle, May 13, 1905:
Ivory H. Pope, a man very well Known to members of the Third Universalist church and to many other Cambridge residents, died Saturday, at his home, 108 Orchard street. West Somerville, after an Illness of two months' duration. Funeral services were conducted at his late residence, Tuesday afternoon, at 2 o'clock, by Rev. William B. Eddy, of the Third Universalist church. The Beethoven quartet sang. Numerous beautiful floral tributes marked the esteem Id which Mr. Pope was held on every side. The burial was In Mt. Auburn cemetery.
Mr. Pope was born In Wells, Me., May 29, 1828. He was a lineal descendant of Major Isaac of Revolutionary fame, who raised and commanded a company In Col. Cotton's Plymouth regiment In 1776, and who was afterwards major of the third regiment of Massachusetts Colonials. Major Pope was one of the original members of the Society of the Cincinnati, to which membership Mr. Pope succeeded. In his youth, Mr. Pope came to Boston, but the Civil War found him a clerk In Washington. At the close of the struggle he returned to this vicinity and entered the naval office, with which he was connected for over 40 years. The last 80 years of his life were spent at 108 Orchard street, and before that time he had lived In Cambridgeport.
He was a 33d degree Mason, a former master of Joseph Warren Lodge of Boston, and a member of the Grand Lodge of Massachusetts and of the Supreme Council. In early life he was connected with the Boston Fire Department, from which he derived a membership In the Boston Veteran Firemen's Association. He was a man of quiet speech and manner, but was ever strong and persuasive in his advocacy of truth. He was at all times a loyal and generous friend. He was especially noted for Integrity, uprightness and loyalty to principle. A Republican of the school of Sumner, Wilson and Andrew, Mr. Pope was ever true to the best traditions of his party. He Is survived by a widow.
NEW ENGLAND CRAFTSMAN, OCTOBER 1905
From New England Craftsman, Vol. I, No. 1, October 1905, Page 31:
Brother Ivory H. Pope, a well known mason of Massachusetts, died at his home in Somerville, Mass, May 6, 1905 at the age of 76 years. 11 months, 7 days. He was born in Wells, Me. He was initiated in Star of Bethlehem Lodge and admitted to membership June 27, 1855. he dimitted from this lodge and United with Joseph Warren Lodge of Boston and was its first Senior Warden. He was Worshipful Master of the Lodge from Dec. 1860 to Dec. 1863 He was a permanent Member of the Grand Lodge of Massachusetts and a Thirty Third Degree mason.
---