MAGLHFaulkner
From MasonicGenealogy
HERBERT N. FAULKNER 1902-1967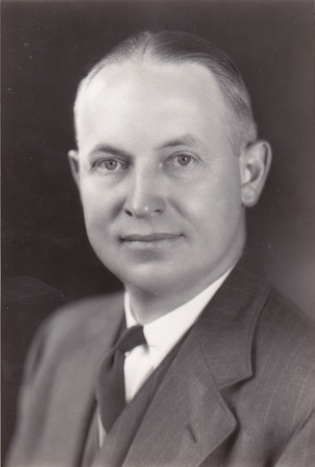 Deputy Grand Master, 1957
MEMORIAL
From Proceedings, Page 1967-84:
Right Worshipful Herbert Nelson Faulkner, son of James Robbins Faulkner and Mary Belle Faulkner, born July 25, 1902 in Charlestown, Massachusetts, and after many years of devoted service to Massachusetts Freemasonry, passed away at Boston, February 1, 1967.
Brother Faulkner became a Mason in Wyoming Lodge, Melrose, Massachusetts, on June 26, 1924. Passed September 26, 1924. Raised October 29, 1924, and became Worshipful Master of Wyoming Lodge in 1942. He served as District Deputy Grand Master of the Melrose Seventh District 1955-1956. He received the Henry Price Medal in 1957 while serving the Grand Lodge as Deputy Grand Master. He was Grand Representative of the Grand Lodge of lreland. He was a member of, and a very devoted worker for, the Unitarian Church of Melrose. As a boy he served as President of the Young People's Group, was a Sunday School teacher and later Superintendent of the Sunday School. He served many years as a member of the Endowment Fund Committee.
Herb graduated from Melrose High School in 1919 after active participation in school theatricals, the orchestra and varsity football squad.
He attended Boston University night school where he received both his Bachelor's and Master's Degree in Business Administration.
In the line of public service Brother Faulkner gave much of his time to the Melrose School Committee serving as Chairman of the Committee for eight years. He also gave freely of his time to several youth movements and groups.
Brother Faulkner was exalted in Waverly Royal Arch Chapter, Melrose, June 8,1929, High Priest 1938. Knighted Hugh de Payens Commandery No. 20, K.T. April 6, 1931. Greeted Melrose Council, R. & S.M. May 21, 1947.
Scottish Rite Bodies, Valley of Boston:
Boston Lafayette Lodge of Perfection Dec..4, 1942
Giles F. Yates Council, P. of J. Dec. 11, 1942
Mount Olivet Chapter of Rose Croix Feb. 19, 1943
Mass. Consistory Feb. 26, 1943

Commander-in-Chief 1949-1952

Created a Sovereign Grand Inspector General, 33°

Honorary Member Supreme Council Sept. 26, 1951

Crowned an Active Member Sept. 25, 1958

Deputy for Massachusetts Sept. 1962 until his death
Member Mass. College, Societas Rosicruciana In Civitatibus Foederatis May 11, 1956
Member, Aleppo Temple, A.A.O.N.M.S., Ill. Potentate 1963, Vice Chairman, Shriners Hospitals for Crippled Children
Burns Institute, Boston Unit
Brother Faulkner's business life was devoted to banking having joined the First Federal Savings and Loan Association of Cambridge, Mass., on October 15, 1932. On October 24, 1932 he was appointed Secretary Comptroller, then elected to the 2nd Vice Presidency, 1st Vice Presidency, and then became President of that Association in March 1948. He retired December 13,1966. I He was also a Past President of the Boston Chapter of the American Savings and Loan Institute, Past National President of the American Savings and Loan Institute, Past President of the Boston Chapter Financial Public Society and a member of the Senior Advisory Committee.
In Melrose, Massachusetts, June 20, 1929, Brother Faulkner married Mildred H. Albee who died February g, 1963. They had one daughter. On December 30, 1965, Brother Faulkner and Mrs. Catharine Twitchell Coburn were married. Mrs. Faulkner survives; together with his daughter, Mrs. Richard A. Jones; three grandchildren; his mother, ;and a stepson, Charles Coburn, Manchester, N. H.
"Gay, tender-hearted and clever,
Witty and terse to the end, -
Thanks we should render forever,
Thanks to have had such a friend.
Bright be the blossoms about him,
Soft be the singing of birds;
We who have known him to love him,
Loved him too deeply for words."
The funeral service was held on Friday afternoon, February 3, in the Melrose Unitarian Church, with the minister, Rev. Peter Lee Scott, and the Rev. and M.W. Thomas Sherrard Roy, D.D., and Past Grand Master of Masons in Massachusetts officiating. Present to do him honor were M.W. [http://masonicgenealogy.com/MediaWiki/index.php?title=GMBooth Thomas A. Booth, Grand Master of Masons in Massachusetts, and several Past Grand Masters, and many other Masonic dignitaries.
Fraternally submitted,
Andrew G. Jenkins
C. Andrew Wing
John W. Dahl, Jr.
Commitee
SPEECHES
FEAST OF ST. JOHN, DECEMBER 1956
From Proceedings, Page 1956-483:
Most Worshipjul Grand Master, Distinguished Guests, and Brethren:
I am most happy that I have this opportunity to say just a word in sincere gratitude to the Most Worshipful Grand Master for appointing me as his Deputy Grand Master. If I were a younger man, I should probably say that I am getting a terrific kick out of this appointment, but being now a member of Grand Lodge, it is necessary for me to be more dignified at times; so I shall merely say that I am thoroughly thrilled at the opportunity to serve Grand Lodge and particularly serve our Most Worshipful Grand Master, Andrew G. Jenkins.
One thing that has been impressed upon District Deputies in the Seventh District is that their best speeches are their shortest ones. But I should just like to say that about two weeks ago, when I was enjoying a hunter's dinner in the central part of the state where we had raccoon, moose meat, rabbit and chicken, and I came home feeling very happy, my daughter said, "Dad, you had a telephone call today. No name was left, but it was from Lowell." Well, in my job we have many institutions throughout New England, and when a call comes in on Sunday, it is usually bad news. It can be a fire or a robbery. Of course, I knew it wouldn't be a defalcation in Lowell, but it might be the loss of an important executive in one of our institutions.
So I was really upset for about an hour or so until an operator called again, and Andy said, "Hello, Herb." Now many of you have had the thrill of having been appointed to some office in Grand Lodge. Many of you have been and are District Deputies and you know what that thrill is when you get your letter or when you get your appointment. Only those who have had the opportunity to be a Deputy Grand Master know that additional thrill when one asks: "If I am elected Grand Master, will you be my Deputy Grand Master?" And after one or two questions to assure myself that I might handle the job, I said, "Yes." And Brethren, I have been thrilled ever since; I am still thrilled.
I recognize the duties, but I can say to our Most Worshipful Grand Master that I am proud to be on his team and I will do my best in any way that I can. (Applause)
---