MAGLGRhodes
From MasonicGenealogy
GEORGE H. RHODES 1848-1916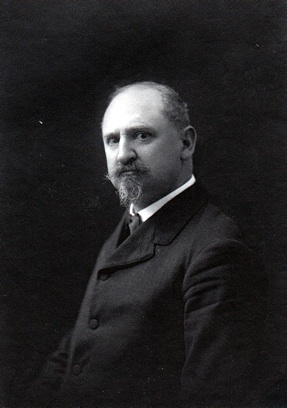 Junior Grand Warden, 1890
MEMORIAL
From Proceedings, Page 1916-573, Grand Master's Address:
"It is with sincere regret that I announce the death of R.W. George Holbrook Rhodes. He died at Poland Springs Me. on Thursday, October 19, 1916. His sixty-eight years of earthly life were all spent in Taunton where he won and retained the respect of its people. Brother Rhodes was very active in Masonic affairs and freely gave of his strength and time to every Masonic duty. His example lives, his memory abides, his light shines upon our path."
From Proceedings, Page 1916-686:
George Holbrook Rhodes passed beyond the veil and from mortal sight on October 19, 1916, at Poland Springs, Maine, where he had gone in the hope of regaining his health. In his passing we have lost a zealous worker in the cause of Masonry and his native town a good and loyal citizen.
He was born at Taunton, August 11, 1848, and was the son: of Marcus Mortom and Rowena Adeline Rhodes. He received his education in the public schools of the city of his birth, graduating from the High School, of that place in July, 1866, where his studious habits and close application to his work endeared him to the teachers and pupils with whom he was associated and laid the foundation for a long and successful business career.
On his graduation at the age of eighteen years, he entered the employ of his father and" later was admitted to partnership; and when the firm was incorporated in 1888 as the M. M. Rhodes & Sons Company he was elected. its treasurer and served in that capacity until his death.
In both private and public affairs the interests of his home city drew very largely upon his time and attention; in 1877 he was elected a member of the Common Council and served continuously from that date until 1887. In 1883 he was honored by being made the president of that board and retained that office until his retirement from public affairs.
His business ability and sound judgment in financial matters were early recognized by the local banking institutions where he was called upon to accept positions of trust and responsibility. For a number of years he served as director of the Taunton National Bank and trustee of the Taunton Savings Bank.
By virtue of being a member of the Common Council and President oJ that Board, he became a Trustee of the Public Library, a most congenial task, as it brought him in contact with educational matters, in which he was deeply interested, and was one of the causes of his taking up work in connection with Wheaton Seminary, now Wheaton College for young women, at Norton, Mass., and while he never held any official position in the management of the affairs of that school, he devoted. a large amount of time to its interests and was one of its most active workers.
During these years of a busy life in the material concerns of business and finance in a growing and prosperous community where it seemed at times that there were hardly enough hours in the twenty-four to meet the demands upon his attention, he still found time for service in the religious and social life of his city, being a member of the Broadway Church and one of its most active workers and supporters. He was also treasurer of the Young Men's Christian Association when it was organized.
At an early age he became interested in Masonry and the Fraternity gained in Brother Rhodes one of its most ardent and loyal members. Until the time of his death he never allowed an opportunity to pass where he could be of service, and it was service of a kind that will endure when those of us who knew him shall have passed from the stage of active life aud others have taken our places.
He was initiated in King David Lodge April 22, 1870. In March, 1873, he dimitted from King David Lodge and took membership in Charles H. Titus Lodge of Taunton, and was elected its Worshipful Master in 1877, serving two years.
On June 20,1872, he was exalted a Royal Arch Mason in Keystone Royal Arch Chapter, of Foxboro, Mass. He received the Cryptic Degrees in Taunton Council Royal and Select Masters in January, 1873, and served as Thrice Illustrious Master from February to October, 1885. He was Knighted in St. John's Commandery No. 1, Knights Templars of Providence, R. L, on January 19, 1874, and after serving in the various subordinate positions was elected Eminent Commander at the Annual Conclave in December, 1880, serving one year. He was also a Trustee of St. John's Charity Fund from March 7, 1887, until the time of his decease.
In Scottish Rite Masonry he received the fourteenth degree September 25, 1871, in Boston Lodge of Perfection; the sixteenth degree October 6, 1871, in Giles F. Yates Council, Princes of Jerusalem; the eighteenth degree October 20, 1871, in Mt. Olivet Chapter of Rose Croix; the thirty-second degree November 3, 1871, in Massachusetts Consistory. He was made an honorary member of the thirty-third degree at the meeting of the Supreme Council for the Northern Jurisdiction of the United States held in Boston September 21, 1897.
But this did not complete the work or satisfy his interest in Masonry and from December 11, 1881, to December 11, 1882, he served the Grand Lodge as Junior Grand Steward. He was District Deputy Grand Master from December, 1882, until December, 1885 (Twenty-third Masonic District), and in December, 1886; became Grand Marshal and served in that capacity until December, 1889. In December of the same year he was elected as Junior Grand Warden and served for the year ending 1890.
His interests did not terminate in the Grand Lodge with the expiration of his term as Junior Grand Warden. IIe was elected a member of the Masonic Education and Charity Trust in December, 1894, and served for several years as Clerk of that Board, occupying that position until the time of his death.
Such is a brief record of one who lived an active life of service and now they tell me he is dead. It is a foolish fashion of speech and not true, -not until the mountains crumble to their bases, the lakes and streams are dried up to their parched beds, for there is no such thing as death, and it is possibly better that he should have passed on as he did, for now when we again meet we shall not meet a Brother grown old in years and. weakened with toil, but we shaIl find our friend and Brother himself once more, strong, vigorous, at fullest prime, and together we shall:journey on under new and brighter skies to mightier and larger opportunities for service to our kind.
Respectfully submitted,
William H. Emerson
Henry Gregory Jordan
C. D. Freeman
Committee.
---