MAGLFDobson
From MasonicGenealogy
FRANK W. DOBSON 1877-1929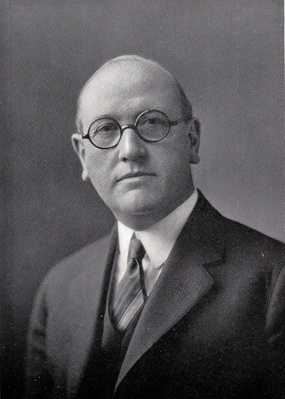 Grand Standard Bearer, 1919
Grand Marshal, 1920-1922
Senior Grand Warden, 1923
MEMORIAL
From Proceedings, Page 1929-211:
Brother Dobson was born in Lowell, September 17, 1877 and died there after a long and painful illness October 18, 1929. His active business life was spent in the service of the New England Telephone and Telegraph Company with which he held an important and responsible position.
Brother Dobson became a member of William North Lodge in 1900, and was its Worshipful Master in 1911 and 1912. He was a Charter Member of William Sewall Gardner Lodge when it was formed in 1929 and was its Chaplain, but the state of his health prevented his active service in that capacity. He was Grand Marshal during the administration of M.W. Arthur D. Prince in 1920, 1921, and 1922, and was Senior Grand Warden in 1923.
He was a member of Mt. Horeb R. A. Chapter, of Ahasuerus Council, R. and S. Masters, and of Pilgrim Commandery of which he was a Past Commander. Ife was a member of the Scottish Rite bodies in Lowell and of Massachusetts Consistory. At the time of his death he was Senior Warden of Mt. Calvary Chapter of Rose Croix and Second Lieutenant Commander of Massachusetts Consistory. Rare ability in the rendering of ritual, a fine presence, and a voice of especially good quality combined to give unusual distinction to his work as a Masonic officer and a participant in the degrees of the Scottish Rite. Cheerful, kindly, sympathetic he won friends wherever he went, in the outside world as well as in Masonic circles. His death leaves our whole Fraternity poorer.
From Proceedings, Page 1929-259:
Born in Lowell, September 17, 1877.
Died October 18, 1929, age 52 years.
R.W. Brother Dobson was a member of William North Lodge of Lowell, in which he received Masonic light in 1900 and of which he became Worshipful Master in 1911-12.
After serving one year as Grancl Standard Bearer he was appointed Grand Marshal of the M.W. Grand Lodge for three years, 1920-21-22 and was elected Senior Grand. Warden for 1923. He was a member of Mt. Horeb Royal Arch Chapter and Ahasuerus Council. Receiving the degree of Knight Templar in Pilgrim Commandery No. 9, K. T. in 1912 he soon became one of its most capable officers, occupying the position of Eminent Commander in 1923-4. On his retirement from the head of the Commandery he resumed the position of prelate, which he had filled with unusual ability for several years and continued in this office to the great satisfaction of his Fraters until illness forced his retirement. He served the Grand Commandery as Division Commander in the year 1925-26.
He was a member of Lowell Lodge of Perfection, Lowell Council P. of J., Mt. Calvar;r Chapter of Rose Croix, and Massachusetts Consistory, serving as an Officer in the Lodge, Chapter, and Consistory.
His service to the A. A. S. R. was of a distinctly high order and he was occupying the position of Senior Warden of Mt. Calvary Chapter of Rose Croix at the time of his death. He was an extremely valuable Officer in Massachusetts Consistory, filling many important parts in the several degrees with high ability, and was serving as Second Lieutenant Commander of that body when death took him away.
He was married in 1915 to Florence E. Flemings, who survives him.
In early life he was engaged in newspaper work but most of his years of manhood were given to the service of the N. E. Telephone Company for which he was in charge of buildings. In business as well as in his Masonic life, his outstanding characteristic was his unswerving loyalty and earnest application to his tasks.
Of tall and commanding presence and possessed of a rich and sympathetic voice, he was able to give new meaning to ancient ritual and by force of his magnetism to impress in a very definite way the serious lessons of our degrees. He was faithful in all his undertakings, and they were many, but he was happy in the performance of them. Meticulous in his attention to detail, nothing suffered when placed in his hands. Critical and jealous of the dignity of Freemasonry he kept his own conception of it on a high plane.
His capacity for friendship was very broad. Quick in pleasant repartee he was welcome company everywhere. No man could count more loyal friends, who gave countless evidences of their respect and affection throughout his long and discouraging illness. His future held great promise but he was cut down in his prime and Masonry suffers a great loss in his passing.
His funeral services were conducted at the new Masonic Temple in Lowell by M.W. Dudley H. Ferrell where there was veritable evidence of the high regard of his many friends in all walks of life and from all parts of the Commonwealth. It was peculiarly fitting that our last farewells should be expressed within this building, for he had followed the course of its construction with exceeding interest from the day when he had charge of the laying of the corner-stone until the day of dedication when from his sick bed, his mind followed in detail the ceremonies with which he was so familiar. It is an appealing thought and hope, that his spirit was hovering over us as we were bidding him Godspeed on his journey to that "undiscovered country from whose bourne no traveler returns."
"So I am glad, not that my friend has gone,
But that the earth he laughed and lived upon
Was my earth, too:
That I had closely known and loved him
And that my love I'd shown.
Tears over his departure?
Nay, a smile
That I had walked with him a little while."
Arthur D. Prince,
Dudley H. Ferrell,
Alvah H. Weaver,
Committee.
---