MAGLEWright
From MasonicGenealogy
EDWIN WRIGHT 1821-1899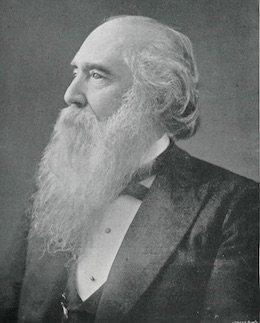 Deputy Grand Master, 1881-1883
MEMORIAL
From Proceedings, Page 1899-11:
"Again it becomes the sad duty of the Grand Lodge to pay its tribute of love and respect to the memory of one of its number. Edwin Wright passed on to a higher degree, Jan. 21, 1899, in his seventy-eighth year. He was born in 1821, in North Coventry, Conn. His academic education was completed in the great college of his native State. His scholarship and early love of letters are plainly shown by the fact that he was the valedictorian of his class, — the Yale class of 1844. His scholarly tastes and acquirements lasted and increased throughout the whole of his long life. After graduation he was for a while a successful teacher in schools in Boston and Medford, and then studied law, part of the time at Harvard, and was admitted to the bar in 1850.
"His legal career was perhaps uneventful, in that it was not distinguished by the trial of any great causes; but he was a wise counsellor, a lawyer of ample learning, and a prudent man of affairs. In the early part of his career he was best known as a Judge of the Police Court of Boston. When the Rebellion broke out in 1861 he was a Special Justice of that Court, and. on the departure for the seat of war of Col. George Duncan Wells, one of the regular Justices, Judge Wright was requested by him, under the statute as it then stood, to fill his place in his absence. Bro. Wright sat in this capacity until Colonel Wells' death in battle, and afterward was continued upon the bench until the Court was superseded by the present Municipal Court.
"The importance of a Court of primary jurisdiction, under whatever name, is not chiefly in the initiation of proceedings afterward to be carried higher, but in dealing discreetly, both as to law and fact, with the affairs of the humble classes, the poor, the oppressed, perhaps the criminal. In such matters Judge Wright's legal skill as well as his common sense, discretion and kindliness had abundant opportunity for exercise, especially in the treatment of young offenders, and it is said that none of his decisions that were carried to a higher tribunal were ever reversed. After leaving the bench he continued in practice, mainly in matters of real estate, until his final illness, sustaining to the last his position as a careful and industrious lawyer and wise adviser.
"Judge Wright was always a great reader and a diligent student of many topics outside of his profession, — religion, ethics, politics, general literature and the problems of education. He was a ready, even a brilliant, speaker, and an interesting lecturer, not merely in the Boston Law School, but before literary societies. He also rendered valuable service in the General Court for two terms, and for many years on the Boston School Board. In politics he was a consistent Republican.
"He died after a very brief illness, leaving behind him a widow, daughter of the late Paul Curtis, one son and one married daughter. On the third day after his death his funeral from the Old. South Church was attended by a large body of the officers and members of the Boston Commandery of Knights. Templar.
"Brother Wright became a Mason somewhat late in life, being forty-six years old when he received the Master's degree in The Massachusetts Lodge, Jan. 20, 1868, but his devotion to the Fraternity grew apace, and his advancement was rapid. He received the. Royal Arch degree in May, 1869, in St. Paul's Chapter, and served as High Priest of that Chapter in 1874, 1875 and 1877. In 1879, 1880, and again in 1890, he was Master of Massachusetts Lodge. He was Grand King of the Grand Chapter in 1879, and Deputy Grand Master of the Grand Lodge in 1881, 1882 and 1883. He was made a Knight. Templar in Boston Commandery in 1874, and served that Body in various offices, ending with that of Eminent Commander in 1883. He also received the various degrees of the Scottish Rite, being created Inspector General 33°, Sept. 19, 1882. In all these offices he bore himself with dignity and grace.
"He was fond of the Masonic ritual, and was sometimes called upon to perform it in other Bodies than his own. If the degrees conferred by him were perhaps not quite in touch with the latest revised text of the Grand Lecturers, they were always most serious and impressive. In this Grand Lodge, his voice used often to be heard upon the matters under discussion. Of late years his age has frequently induced his absence or his silence; but among the older of us he will be remembered as for many years one of the most characteristic figures in the Masonry of Massachusetts.
Respectfully submitted,
S. LOTHROP THORNDIKE,
GEORGE E. HENRY,
CHARLES A. NEILL,
Committee.
---