MAGLEHamilton
From MasonicGenealogy
EUGENE B. HAMILTON 1886-1976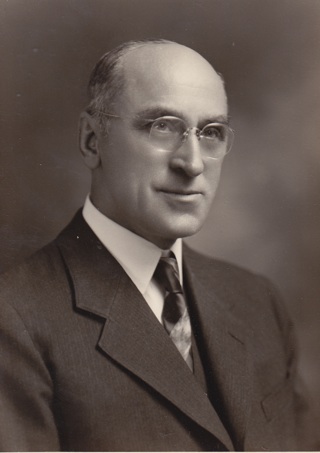 Deputy Grand Master, 1948
MEMORIAL
From Proceedings, Page 1976-251:
"Right Worshipful Eugene Bartlett Hamilton, son of Frederick A. and Emily (Grindle) Hamilton, was born in Brooklin, Maine on August 19, 1886 and died in Blue Hill, Maine on May 11, 1976 in his ninetieth year. He was educated in the public schools and the George Stevens Academy in Blue Hill, and Bryant and Stratton Commercial School in Boston. He was a wholesale shoe salesman (1908-1910) and then became a real estate developer in Massachusetts and Florida where, at one time, he owned a large part of Fort Lauderdale. After retiring from that business he became an officer in the Dix Lumber Company in Cambridge, Massachusetts. He lived in Somerville and Lexington until he retired to Blue Hill where he lived for the rest of his life.
"Wherever he lived he was active in community service including service as a Trustee of Somerville Hospital. He became a Mason in John Abbot Lodge in Somerville on May 7, 1929 and was its Worshipful Master in 1936 and 1937 and was elected an Honorary Member on March 6, 1962.
"He became a Charter Member of Freedom Lodge of Arlington on December 22, 1947 and was elected an Honorary Member of Simon W. Robinson Lodge in Lexington on April 9, 1956. He served on many Masonic committees and was elected Master of the Twelfth Lodge of Instruction in 1939 and 1940. He was District Deputy Grand Master of the Arlington Sixth Masonic District in 1939 and 1940 and a lifelong member of the Past District Deputy Grand Masters Association of Massachusetts.
"He was Deputy Grand Master in 1948 during which year he was Acting Grand Master for an extended period while the Grand Master was in Europe. He was awarded the Henry Price Medal in 1948 and was Grand Representative of the Grand Lodge of Florida at the Grand Lodge of Massachusetts from 1951 to 1966.
"On May 12, 1937 he received the Superexcellent Degree in Orient Council in Somerville and was Illustrious Master of Orient Council in 1944-1945. He then served as Grand Master of Ceremonies, and as Deputy Grand Master and in December 1952 was installed as Most Illustrious Grand Master of the Grand Council, serving through 1953, 1954 and 1955.
"On June 5, 1953, he was elected to the Red Cross of Constantine and was Puissant Sovereign of Bay State Conclave, Knights of the Red Cross of Constantine in 1958 and 1959. In November 1937, he received the Order of the Temple in Coeur de Lion Commandery No. 34 in Charlestown, Massachusetts and was its Eminent Commander in 1943.
"He was a firm but a modest man, who never sought office, but who never shirked the call of duty or request for help. He was respected by all and beloved by those who were privileged to really know him."
Respectfully submitted,
Joseph Earl Perry
Arthur B. Savel
Irvin E. Johansen
Committee
SPEECHES
FEAST OF ST. JOHN, DECEMBER 1947
From Proceedings, Page 1947-481:
Most Worshipful Grand Master, honored guests and my Brethren:
I did not know I had such a record. I am going to try to keep it as good as it appears now. I have no political aspirations. As I think over the proceedings of this afternoon, it is really difficult for me to realize that I have had a part in such a colorful affair. It is difficult for me to realize the honor which has so recently come to me. Many of you who are sitting at this head-table know exactly how I feel because you have been Deputy Grand Masters, and I could select any one of you as a guide to follow during the next year.
I think it is only natural for one who has come into this office to look back over the long list of notables who have held it. In doing this, I find that in 1780 our illustrious Brother Paul Revere was Deputy Grand Master of Masons in Massachusetts. Five years prior to his installation into that office, he made his famous midnight ride to Lexington. In some respects I expect to do something that Paul Revere did, for I am planning to ride to Lexington tonight, and it may be nearly midnight when I get there. However, I hope to go by automobile and not on horseback. I shall approach Lexington Common, which was the scene of the battle, and is now guarded by the statue of the Minute Man. I shall turn right on to Hancock Street for a few hundred yards, and I shall pause for a few moments in front of the Hancock-Clarke house, and more than ever before, I shall be impressed with the realization that I am at the very spot where Paul Revere ended his midnight ride to Lexington. I shall be looking at the very door on which Paul Revere rapped so loudly and called to John Hancock and Samuel Adams: "Awake! The British are coming!" I presume very soon after that alarm was given lights appeared in the several rooms of that house, and there must have been a considerable amount of excitement and some confusion as those two famous patriots made their preparations to make a hasty departure. Within a few hours "came the dawn" of April 19, 1775, a day which might have brought great disaster, in which case Paul Revere, John Hancock, Samuel Adams and many others would have gone down in history as "traitors," and not as heroes and patriots, but fortunately for them and for us, it was a glorious morning for America.
As I shall follow Paul Revere's course into Lexington tonight, may God give me strength and wisdom to follow in his footsteps as Deputy Grand Master, and to you, Most Worshipful Grand Master, to this Grand Lodge and to the Masons of Massachusetts, I pledge my whole-hearted devotion.
It took a lot of courage and a lot of faith in Paul Revere's time to foresee independence for America. Conditions throughout the world today are not very bright. It is a challenge to our faith in God and in humanity, but if we keep the faith, I am confident that we shall live to see a ray of light appearing over the Eastern horizon, the advent of another glorioujv morning for America and for the world — a day when the true spirit of Masonry shall be renewed in the hearts of all men; when brotherly love shall prevail; when nation shall no longer make war against nation; and when peace shall spread to the four corners of the earth, universal and eternal.
---