MAGLEGrabill
From MasonicGenealogy
ETHELBERT VINCENT GRABILL 1874-1951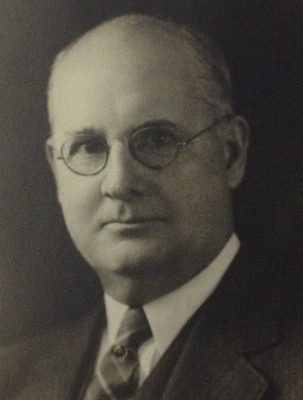 Deputy Grand Master, 1949
MEMORIAL
Born in Greenville, Michigan, October 6, 1874
Died in Boston, November 30, 1951
To speak of R.W. Ethelbert V. Grabill is to speak of a person who in the eyes of God and man exemplified every virtue that made life worth-while. In religion and in educational, fraternal and communal interests his warm and kindly influence was felt by all who were privileged to know him.
He was the son of Elliott Finley and Ann Sutton Jenney Grabill, receiving his early education in Greenville, Michigan. He then attended Oberlin College, where he earned a Bachelor's and later a Doctor's Degree. He continued his education at Harvard College and received an LL.B. Degree in 1899. His main profession since youth was law, and for many years he was the Reporter of Decisions of the Supreme Judicial Court.
He was a member of the American, the Massachusetts, and the Boston Bar Associations, the Harvard Law School Association, the Bostonian Society, Boston City Club, and Appalachian Mountain Club. He was Vice-President of the American Congregational Association and a Trustee and Secretary of the Eliot School.
As an author, he won distinction by writing Sacco and Vanzetti in the Scales of Justice, 1927 and The Prevention of Industrial Disputes, 1946.
While active in so many fields, he found his greatest love and work in Masonrv. He was raised a Master Mason in Columbian Lodge, Boston, on June 6, 1918. He later became a Charter Member of Loyalty. In 1943 he was elected Worshipful Master of Columbian Lodge, holding this office for two years.
He received the Royal Arch Degree in St. Paul's Chapter, 1919; the Super Excellent Degree in Boston Council, 1923; and the Order of the Temple in St. Bernard Cornmandery, 1919, of which he was Eminent Commander in 1925. He was for some years Chairman of the Judiciary Committee of the Grand Commandery and Organizer and Chairman of the Educational Fund Committee of the Knights Templars.
In the Ancient and Accepted Scottish Rite Bodies he was a member of Boston Lafayette Lodge of Perfection, Giles F. Yates Council of Princes of jerusalem, Mt. Olivet Chapter of Rose Croix, and Massachusetts Consistory, of which he was Commander-in-Chief, 1946-1949. He was an Honorary 33rd Degree Mason.
In 1949 he was appointed Right Worshipful Deputy Grand Master of Masons in Massachusetts, and was a holder of the Henry Price Medal. One of his finest expressions in Masonry was a pageant that he wrote entitled, The Infuence of Masonry in the History of Our Country.
His last words were a glowing and loving tribute to his wife for long devotion and companionship, and to the value of Masonic principles, wherein he stated, "Ever since I was raised as a Master Mason, I have been wholeheartedly convinced of the potential value of Masonic principles and their kinetic value for the peace and welfare of all both within and outside the fraternity."
A life so rich and full in human endeavor cannot soon be forgotten. We shall always cherish his beloved memory. It can truly be said of R.W. Ethelbert Yincent Grabill that while on this good earth, he was a man lost in his work, a work that may well have been lost without him.
Fraternally submitted
Roger Keith, Chairman
Nathan P. Harris
Herman A. Osgood
Committee
WILL
From New England Craftsman, Vol. XLVI, No. 9, September 1951, Page 143:
The will of the late Ethelbert V. Grabill of Jamaica Plain, Massachusetts, lawyer and for nearly 30 years reporter of decisions of the Supreme Judicial Court, leaves his entire estate in trust for the benefit of his widow, Elizabeth — and makes affectionate tribute to her.
Reads the will in part: "My beloved wife and I started our married life with very little capital investment in this world's goods. Such as there was was mostly hers. But we were wealthy in mutual love and confidence as to our future and the future of such family as we should found.
"What we afterwards accumulated I always have felt was as much the result of her wisdom and mode of living as of mine. This point of view I earnestly commend to my children and descendants."
Tribute was also paid to the value of Masonic principles in these words: "Ever since I was raised as a Master Mason, I have been wholeheartedly convinced of the potential value of Masonic principles and the kinetic value lr the peace and welfare of all both within and outside the fraternity."
SPEECHES
FEAST OF ST. JOHN, DECEMBER 1948
From Proceedings, Page 1948-265:
You heard what the Most Worshipful Grand Master said just before he called on me. More definitely, he said, "Now we will get down to brass tacks." I am the first brass tack. I don't like to start a term of office by making mistakes, so I am not going to make a speech of any length.
It is going to be a wonderful experience to serve with Roger Keith. I don't know as I would have refused any office or any request he'd made of me to serve with him. I would have accepted for I am very fond of him personally. He knows that. I am very fond of him in his office, and he knows that too. I will do my best.
In the Grand Secretary's report he spoke of how much each lodge officer misses by not attending Grand Lodge meetings. He is right. I am going to tell a little experience I had today.
Before Grand Lodge opened, I sat beside our British Brother, Dennis Bardens, of Citizen Lodge No. 2911 of London. He comes from homogeneous England to heterogeneous America where there is a Grand Lodge in every state and each governs itself except that they all subscribe to the same grand tenets of Freemasonry. He was puzzled by that fact of autonomous Grand Lodges.
I can't give you our whole conversation, but it was very enlightening. I will say, however, that I was very glad that later in the afternoon we were addressed by the Grand Master of the Commonwealth of Virginia, and I think our British Brother's eyes were opened when that message came from that Commonwealth which we generally consider a Southern State, showing that in Virginia the same bonds of world-wide fellowship exist which are so heartily endorsed and expressed here.
I could not help but think of the Unity which has been preached so earnestly, consistently and continuously by our Senior Past Grand Master, and, incidentally, the Most Puissant Sovereign Grand Commander of the Scottish Rite, our beloved Melvin M. Johnson. It is unity, my Brothers, that must and shall come and continue in spite of the fact that we have different Grand Jurisdictions.
I am not going to detain you further. Thank you!
---