MAGLEGibbs
From MasonicGenealogy
EMERY BENTON GIBBS 1862-1922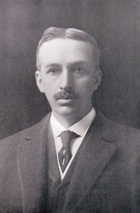 Deputy Grand Master, 1914
MEMORIAL
From Proceedings, Page 1922-49:
Right Worshipful Emery Benton Gibbs was born in Byron, Me., October 23, 1862, the son of Catherine Meserve and Phineas Stearns Gibbs. He died at his home in Brookline February 9, 1922.
Brother Gibbs, as a boy and young man, attended. Kent's Hill School, Hebron Academy, Coburn Classical Institute, and Colby College, all of Maine, graduating from college with the degree of A.B. in the year 1888. He then entered the Law School of Boston University from which he was graduated with the degree of LL.B. in 1891. He was admitted to the Massachusetts Bar January 20, 1891, and later to the Bar of the Federal Courts.
While at Boston University Law School he entered the office of Joseph Willard, Esquire, with whom he was associated for several years. Later he was professionally associated with William Faxon, Esquire, Judge and R,.W. Edward B. Pratt, and Leon C. Guptill, Esquire, being in partnership with the last named at the time of his death. In addition to general practice, Brother Gibbs was Referee in Bankruptcy for Norfolk County, having been originally appointed by Judge Francis C. Lowell at the time the Bankruptcy law went into effect in 1898, holding this office by successive appointments continuously until the date of his death. He was appointed Public Administrator for Norfolk County in 1908 and for successive terms, dying in office. In 1897 he was a member of the Legislature from the Town of Brookline.
As Referee in Bankruptcy and as Master and Auditor in many important cases, both in the Federal and State Courts, Brother Gibbs' decisions were carefully thought out and were sound in law and in fact. Seldom was a decision of his overruled. He held a very great many positions of trust and responsibility.
For several years prior to his death he was Trustee of Colby College and a considerable benefactor of that institution, giving to it not only money but what,was more valuable, his personal services. He served as President and as Chairman of the Board of Trustees of the Boston Baptist Social Union, as President of the Massachusetts Baptist Convention, as Trustee of the New England Baptist Hospital, and as Trustee of the Baptist Church in Brookline of which he was Deacon at the time of his death.
In Freemasonry he received his first degree in Beth-Horon Lodge on May 9, 1893, his second degree on June 13, 1893, and his third degree (under dispensation) on June 27, 1893. In 1906 and 1907 he served as Master of his Lodge. In 1912 and 1913 he was District Deputy Grand Master for the Fifth Masonic District and in 1914 Deputy Grand Master in the Grand Lodge.
Such are the formal statements with regard to the life of a Brother who was loved by all, but they give little information as to his real service to the Fraternity and to the community. If ever there lived, one who could be called a really good man, he certainly was entitled to such an appelation. At the Bar, in civil life, in his church, in his Lodge, and in his home he was respected as few men are. Positive in conviction which he did not hesitate to express, his judgment carried great influence and in innumerable ways left its imprint upon the history of his day. Even his criticisms were made in such a kindly and good-natured way that they were gladly received and always welcomed. The tributes of respect paid to his memory in the memorial services held. after his death were eloquent in their testimony to the affability, sincerity, and energy of his exceedingly lovable character and disposition.
Brother Gibbs' Masonic life was devoted to symbolic Masonry. He took none of the other degrees of the Fraternity. He never sought its honors. Such offices as came to him were thrust upon him and he accepted their responsibilities with seriousness of purpose and conscientious devotion to duty, even beyond his physical strength. His example remains in our memories as a stimulus to service, devotion and uprightness.
Respectfully submitted,
Melvin M. Johnson,
Fred M. Blanchard,
Arthur T. Crosby,
Committee.
---