MAGLDRemington
From MasonicGenealogy
DAVID TROWBRIDGE REMINGTON 1845-1917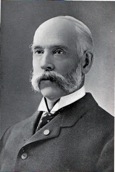 Junior Grand Warden, 1901
MEMORIAL
From Proceedings, Page 1918-133:
R. W. David Trowbridge Remington was born in Plainfield, Mass., June 11, 1845. left an orphan at an early age, he lived the uneventful life of a boy in a small town among the hills of western Massachusetts until October 9, 1861, when, at the age of sixteen years, three months, and twenty-eight clays, he enlisted in Company B of the 31st Massachusetts Infantry. (The armv roster gives his age as eighteen at time of enlistment.) Serving until his discharge,. February 14, 1864, the following day he reenlisted in the same regiment.
The larger part of his service was with the Army of Southern Mississippi; he was wounded at the battle of Sabine Cross Roads, La., April 8, 1864; also at the battle of Blaklis, near Mobile, Ala., April 8, 1865; and was honorably discharged September 9, 1865, with rank of corporal. Soon after his return from the Army he settled in Northampton, Mass., entering the employ of the Northampton Emery Wheel Company, where he labored for many years, becoming very proficient in that line of work. He was later employed as superintendent of emery wheel manufactories in Springfield, Mass., and at Bridgeport, Conn.
Receiving in the year 1890 an appointment at the State House as messenger of the Senate, he entered. into a life of activities that were to give him a state-wide friendship and would also place upon him great responsibilities. After two years' service as messenger, he was appointed Doorkeeper of the Senate, serving two years, when (January, 1904) he was appointed Sergeant at Arms of the General Court. Here his cordial greeting, uniform courtesy, and desire to assist all who needed his service won him a host of frends.
Of his official work, let us quote from the Springfield Daily Republican:
"Captain Remington made an enviable record during his term of office as Sergeant at Arms. In the five years preceding 1909 he had saved the Commonwealth $50,000 from the annual appropriations made for his work."
The words quoted speak great praise for a faithful public servant. They show his loyalty and devotion to his State, and that to him a public office was a trust to be wisely administered; that his integrity was as rock-ribbed as the everlasting hills among which he was born.
Retiring from office January, 1910, in a physical condition that obliged him to conserve his strength, he removed to Springfield,, Mass., where on December 21, 1917, he passed from this mortal life.
He was Initiated in Jerusalem Lodge, receiving the
Entered Apprentice Degree, February 8, 1876,
Fellow Craft Degree, March 7, 1876,
Master Mason Degree, April 4, 1876.
He served his Lodge as Junior Deacon in the years 1877 and 1878; was elected. Senior Deacon in 1879, serving three years; elected Senior Warden in 1887, serving two years; and was chosen Worshipful Master in 1889, holding that office for two years.
He received the Capitular Degrees in Northampton Royal Arch Chapter, being Exalted March 10, 1886, and served as Master of the First Veil in 1888. He was appointed Right Worshipful District Deputy Grand Master of the Thirteenth Masonic District in 1893, holding that office for two years. In December, 1900, he was elected Junior Grand Warden of the Most Worshipful Grand Lodge, thus rounding out an active Masonic life of more than twenty-five years.
During the years he lived near his home Lodge he was interested in all its activities. His was a life of devotion to his country, family, and. the Craft, each receiving the full measure of his thoughtful care and strength. His cordial words of greeting, of cheer and kindness; his hearty hand, clasp-these his friends cannot soon forget.
"He is gone, but in memory liveth,
He is dead, his example is here;
The sweetness and fragrance it giveth
Will linger for many a year."
Respectfully submitted,
John A. Sullivan,
Edwin A. Blodgett,
James Campbell,
Committee.
---