MAGLDCrafts
From MasonicGenealogy
DAVID W[HITE]. CRAFTS 1820-1901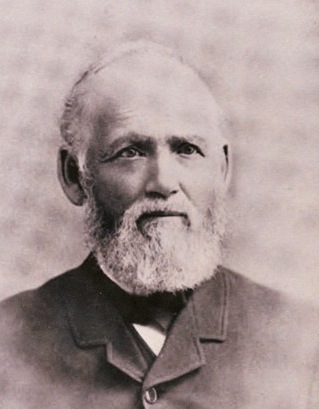 Senior Grand Warden, 1871
MEMORIAL
From Proceedings, Page 1901-87:
"Right Worshipful David White Crafts, a Permanent Member of this Grand Lodge, died at his home in Northampton, on the twelfth day of March, 1901, in the eighty-second year of his age.
"Brother Crafts was one of a family of ten children of Chester and Phila Crafts, and was born in Whately, Mass., Feb. 17, 1820. He was of Puritan stock, being a descendant, in the eighth generation, of Lieut. Griffin Crafts, the first of that name to settle on American soil, who came over from England with Governor Winthrop in the year 1680; and his grandfather, James Crafts, a native of Hatfield, served in the Revolutionary war.
"Brother Crafts received a good common school education. He was quite young when his father died, and at the time he was eleven years old he had begun to support himself. After the death of his father the family removed to South Deerfield. David afterward lived in Montague and Conway. In 1834 he came to Northampton, where, with the exception of six years in Boston and two years in Holyoke, he spent the remainder of a long, useful, and active life. His coming to Boston was in 1843. While there he was prosperously engaged as a hair dresser at Court Square. Finding the sea air too sharp for his lungs, he, in 1849, returned to Northampton and continued for a time the occupation he had pursued in Boston. Later he went into the general grocery business, spending two of the years he was in that business in Holyoke. Then he engaged in the boot and shoe business in the store at the corner of Main and Pleasant streets, Northampton.
"In 1857 he was elected a director of the Northampton Gas Light Company and served as its president for four years. He then became superintendent and general manager of the Company, a position which he held to the time of his death, making a record of over forty years of signally faithful service. Indeed, the prosperity of the Company during these years was largely due to his careful management. He was a member of the American Gaslight Association and of the New England Association of Gas Engineers.
"In politics Brother Crafts was a life-long Democrat, but he never held a political office. He was a prominent member of St. John's Episcopal church, ever an active worker therein and a liberal contributor to its support. He was for a long time clerk of the parish, for many years a member of the vestry, and had held the offices of Junior and Senior Warden.
"In Masonry he was a solid ashlar, a strong supporting pillar, an inspiring force, known and felt throughout the Western counties of this jurisdiction; and in his more active years he was quite a familiar figure at this Grand East. He received the degree of Master Mason in Jerusalem Lodge, Northampton, in June, 1852. In November of that year he was appointed Junior Deacon and in successive years thereafter, seven in all, he held the offices of Senior Deacon, Junior and Senior Warden and Worshipful Master. From 1880 to the time of his death he was trustee of the Lodge's charity fund. He was for four years, beginning with 1866, District Deputy Grand Master of the then Tenth Masonic District, comprising the Lodges at Palmer, Northampton, Springfield, Chicopee, Holyoke, Warren, Monson, Brookfield, Ware, Easthampton and South Hadley. He was Senior Grand Warden of this Grand Lodge in 1870. .
"His connection with Royal Arch Masonry dates from 1854 when he received its degrees in Northampton Chapter. In 1858 he served his Chapter as Master of the First Veil and in the four following years as High Priest. The Chapter was very thriving during his administration and his Companions greatly regretted his refusal to accept reelection to a fifth term. On Oct. 10, 1865, he was elected Grand King of the Grand Chapter, serving for one year. When the Commonwealth. was divided into nine capitular districts in 1872, Brother Crafts was appointed Deputy Grand High Priest for the fifth district, comprising the Chapters at Greenfield, Northampton, Pittsfield, Adams, Holyoke and Westfield, and served in that capacity for five years. Grand Secretary Waite writes of him that the records show that during these years, and those immediately following, Companion Crafts was among the most punctual of attendants upon the convocations of the Grand Chapter. The degrees of Cryptic Masonry were taken by our Brother in Titus Strong Council, Greenfield, in 1864. Thirty-one years later his signature heads the list of petitioners for a dispensation to form William Parsons Council of Royal and Select Masters at Northampton of which he was a charter member. He was also a charter member of Northampton Commandery of Knights Templars and was its first Commander, holding that position in the years 1869 and 1870.
"Brother Crafts was married to Miss Wealthy C. Munyan, of Northampton, May 11, 1841. They enjoyed an ideal wedded life of more than fifty years, celebrating their golden wedding in 1891. Three children were born to them, none of whom are living. There are two grand-children, one of whom, David C. Crafts, is Recorder of Northampton Commandery of Knights Templars. Mrs. Crafts died in 1895. During these latter years a devoted daughter-in-law has looked after the household and tenderly ministered to our Brother's comfort.
"In Northampton, the city of his pride, and whose interests he had done so much to promote, the death of Brother Crafts was keenly felt. It was the passing from the city's activities of a notable figure, a significant factor, an inspiring influence. Conscientious, untiring and efficient in business matters; kind, cheery and resourceful in the social circle; self-sacrificing, devoted and helpful in religious and charitable association; a man pleasant to meet and in whom every one found a friend, he well exemplified the spirit of the scriptural injunction, 'Not slothful in business; fervent in spirit; serving the Lord.' It was evident too, that, to Brother Crafts, life was a deeply felt blessing. At its every milestone he found a refreshing spring. He loved his church and his Lodge, his work was his pleasure and his home a domestic paradise. " Surely," could he say, 'goodness and mercy follow me all the days of my life;— my cup runneth over.' And we may add quite aptly these heartening words of Solomon : 'Seest thou a man diligent in his business? he shall stand before kings; he shall not stand before mean men.'"
Respectfully submitted,
SAMUEL B. SPOONER,
DAVID T. REMINGTON,
'HENRY R. CHASE,
Committee.
---