MAGLCMerrill
From MasonicGenealogy
CHAUNCEY D. MERRILL 1898-1985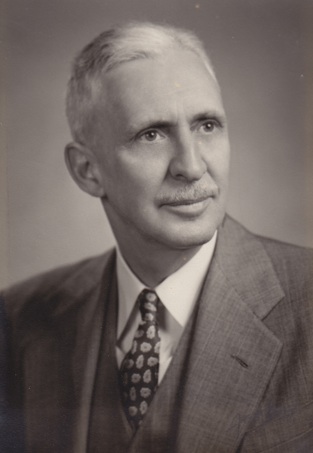 MEMORIAL
FROM PROCEEDINGS, 1985
From Proceedings, Page 1985-91:
Brother Chauncey Dean Merrill was born at Skowhegan, Maine on June 3, 1898, the son of William Truman Merrill and Mira Caldwell Merrill. His basic education was at Dorchester High School, Dorchester, Massachusetts, and continuing education at Dartmouth College in Hanover, New Hampshire where he graduated in 1919 with the degree of Bachelor of Science.
Shortly after his graduation there, Brother Merrill began work with. the United States Forest Service in California and Arkansas during the years 1920-1928, followed by the profession of Life Underwriter for the Equitable Life Assurance Company, and earned the title of Chartered Life Underwriter of the American College of Life Underwriters in 1932.
Brother Merrill combined this profession with thirty-five years service in the armed forces, culminating with the rank of Major General, commanding the 94th Infantry Division stationed in Boston.
The Masonic career of Brother Merrill began as an Entered Apprentice received on June 3, 1919 in Bezaleel Lodge No. 100 of Hanover, New Hampshire. This was followed by the Fellow Craft degree on July 1, 1919, and the sublime degree of Master Mason on August 13, 1919. He demitted from this Lodge on July 6, 1936 and joined Major General Henry Knox Lodge in Boston the same year. Brother Merrill served as Worshipful Master of this Lodge in 1947, and as District Deputy Grand Master of the Chelsea Third Masonic District in 1950 and 1951. His service to Masonry in Massachusetts was rewarded by being elected to the office of Junior Grand Warden for the year 1954.
Brother Merrill's other Masonic affiliations included the Royal Arch Degree received in 1921 in Sonora Chapter, Sonora, California, and the Order of the Temple received in 1922 in Pacific Commandery No. 3, also at Sonora. His Scottish Rite membership was in Sacramento Consistory, Sacramento, California. He was also a Past President of the Red Diamond Chapter No. 135, National Sojourners.
In February of 1955, Brother Merrill was appointed Grand Representative of the Grand Lodge of New Zealand and served in this capacity through 1967. He was presented with the Henry Price Medal in 1954, and the 50 Year Veterans Medal in 1969. In August of 199 Brother Merrill was awarded a 60 Year Pin at a special meeting of Major General Henry Knox Lodge, having served Masonry faithfully and with distinction during those years.
In addition to his fraternal and professional life, Brother Merrill found time to devote his services to the East Congregational Church of Milton, Massachusetts as a Deacon and Moderator for twenty years.
Brother Merrill passed away suddenly of a heart attack on February 25, 1985 at Hilton Head, South Carolina. He is survived by his wife of sixty years, Victoria Austin Merrill of Hanover New Hampshire, and three children - Willard Dean Merrill of Woodstock, Vermont, Will Austin Merrill of Cassleberry, Florida, and Lucile Birch of Lyme, New Hampshire, together with ten grandchildren and eight great-grandchildren.
His devoted and ardent work for Freemasonry, together with unremitting service to his community and church, were characteristics that epitomized the life of Right Worshipful Chauncey Dean Merrill.
Respectfully submitted,
Wyman S. Randall
John D. Manning
Franklin N. Cunningham
Committee
FROM TROWEL, 1985
From TROWEL, Fall 1985, Page 9:
Maj. Gen. and Bro. Chauncey Dean Merrill, a native of Maine who distinguished himself in the military for 42 years, died at his Hilton Head, SC, home in April. The former Junior Grand Warden (1954) had been a member of the Craft for 60 years.
A graduate of Dartmouth College in 1917, he joined with Major General Henry Knox Lodge of Boston along with his classmate, R.W. Charles H. Sargent, Jr., who was for many years Relief Commissioner of Grand Lodge. Bro. Merrill was Master of the Lodge in 1947 and served as D.D.G.M. of the Chelsea Third, 1949-51. He was the holder of the Henry Price Medal. He had served as Chairman of the Trustees of his Lodge for several years.
Enlisting in the Army as a private in 1918, he saw limited World War I experience and in 1919 graduated from the SATC at Plattsburg, NY, where he was commissioned a Second Lieutenant. He held his commission in the Army Reserves while employed with the Equitable Life Insurance Co. Recalled to active service in World War II, his long military service was climaxed as Commanding General of the 94th Infantry Reserve Division that was based in Boston.
He is survived by his wife, Ernestine, a daughter, Lucille Birch of Lyme, NH, and two sons, both members of the Craft, who are career men in the armed services.
---