MAGLCDowns
From MasonicGenealogy
CYRIL WINFRED DOWNS 1896-1965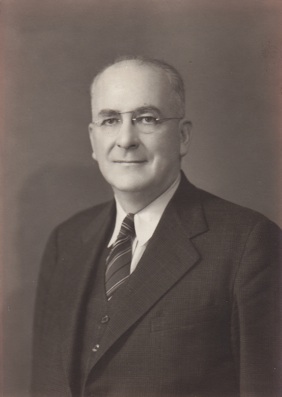 Senior Grand Warden, 1945
MEMORIAL
From Proceedings, Page 1965-374:
R.W. Cyril Winfred Downs, the son of Thomas and Anna M. Downs, was born on Christmas Day 1896 and after many years of devoted service to Massachusetts Free Masonry, especially on Cape Cod, he passed away October 1, 1965.
Brother Downs became a Mason during the First World War in Universal Lodge in Orleans on May 10, 1918. He was Passed July 18 and Raised August 12 by courtesy in Escambia Lodge No. 15 in Pensacola, Florida. ln 1927 he affiliated with Adams Lodge in Wellfleet and became a member of the three Scottish Rite Bodies in the Valley of Fall River and Massachusetts Consistory in Boston in 1938 and an affiliate member of Old Colony Consistory in Fall River in 1953.
In 1931 he was Master of his Lodge of Instruction, and in 1932 and 1933 he presided as Master over Universal Lodge. His talents and zeal for Masonry were apparent from the first, and in 1935 he began a long period of service to Grand Lodge by being appointed as Grand Pursuivant by M.W. Claude L. Allen, who also appointed him District Deputy Grand Master of the Provincetown 32nd District for 1936 and 1937. The following year he was appointed to the Grand Lodge Service Committee by M.W. Joseph Earl Perry, a position which he held until 1963.
He received the Joseph Warren Distinguished Service Medal in 1942 from M.W. Albert A. Schaefer, and in 1945 he was elected Senior Grand Warden and was presented with the Henry Price Medal by M.W. Samuel Holmes Wragg. In 1952 M.W. Thomas S. Roy recommended Brother Downs for appointment as Grand Representative of the Grand Lodge of Argentina near our Grand Lodge, which position he held at the time of his death. His Masonic Service also included the Presidency of the Cape Cod Past Masters' Association and the past District Deputy Grand Masters, Association of Massachusetts.
Brother Downs had an equally distinguished record of civic activity, which began with his World War I Naval Aviation service. In World War II he was an Associate Member of the Advisory Board and Re-employment Committee for the Barnstable county selective service Board, and. he served Wellfleet as Chairman of the Committee of Public Safety. In public service he was a member of the Wellfleet School Committee from 1929 to 1935. From 1936 to 1943 he was a member and Chairman of the Town Finance Committee and from 1943 to 1956 he presided over the Town Meetings as Moderator, thus giving 27 years to the public service of his townsmen.
Brother Downs gave generously of himself in his charitable and religious activities as Commander of John R. McKay Post of the American Legion; Corporator of the Cape Cod Hospital; Director and Member of the Executive Committee of the Cape Cod Chapter of the American Red Cross; and an active parishoner of the First Congregational Church of Wellfleet.
He commenced his business career in the hardware business in Orleans and became resident manager of the Wellfleet Branch of the Nickerson Lumber Company in 1926. In 1941 he was elected President and Chief Executive officer of the Wellfleet Savings Bank, retiring from the presidency in 1962 to become Chairman of the Board, which office he held at the time of his death.
His directorships included the Cape Cod Chamber of Commerce, First National Bank of Provincetown and Cape Cod Cooperative Bank. In addition to his other many activities he established the Downs Insurance Agency, which his son continues to direct.
Brother Downs was one of a family of six boys, all of whom distinguished themselves in their respective fields and all of whom except one preceded him in death. In addition to one brother, he is survived by his wife Dorothy, two children, Cyril Jr. and Mrs. Channing Grout, and four grandchildren. To chronicle the positions of trust and responsibilities which were held by R.W. Brother Downs gives but a mere glimpse of a life of devoted service to God, to Masonry, to his Community and to his fellow man. The full comprehension of this service can never be expressed in mere words. His life will be an inspiratign to those of us for whom there is yet time to complete our allotted tasks.
Respectfully submitted,
Whitfield W. Johnson
George E. Rose
James S. Philbrick
Warren F. Dyer
Committee
---