MAGLCBalcom
From MasonicGenealogy
CHARLES CLARENCE BALCOM 1883-1948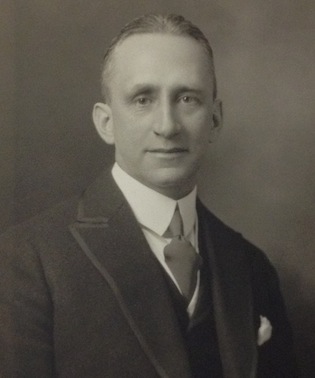 MEMORIAL
From Proceedings, Page 1949-35:
Right Worshipful Charles Clarence Balcom was born in Marlboro, Massachusetts, October 8, 1883, and died in Boston, Massachusetts, November 22, 1948. A host of friends and Masonic Brethren were shocked to learn of his sudden death and passing to the Great Beyond. He was the son of Clarence E. and Susan M. Balcom, late of Hudson, Massachusetts.
R.W. Brother Balcom was married October 18, 1918, to Marie Goodrich, who survives him, as well as two sisters, Nellie L. Balcom and Grace L. Balcom, who reside in Hudson. He was educated in the schools of Hudson and Bryant & Stratton Commercial School of Boston.
He began his business career as an accountant for the old Boston Journal, and later served on the advertising staff of the Boston Transcript for twenty-five years. For many years, up to the time of his passing, he was Treasurer of the Old South Photo-Engraving Corporation of Boston.
His Masonic record is as follows: Raised to the Sublime Degree of Master Mason in Doric Lodge of Hudson, Massachusetts, on October 9, 1905, from which he dimitted and affiliated with Joseph Webb Lodge of Boston February 1, 1922, He was a charter member of Fourth Estate Lodge of Boston, and served as its Worshipful Master in 1926. In the Most Worshipful Grand Lodge of Ancient Free and Accepted Masons of the Commonwealth of Massachusetts he served as District Deputy Grand Master for the (Boston) Third Masonic District 1927-1928, by appointment of Most Worshipful Frank L. Simpson; Grand Marshal 1929-1930-1931; Senior Grand Warden 1932. He received the Henry Price Medal in 1930.
He was made a Capitular Mason in Saint Andrew's Royal Arch Chapter February 4, 1931, and served as its High Priest 1937-1938. He received his Super-Excellent Degree in Boston Council, Royal and Select Masters, March 9, 1932, and served as its Illustrious Master in 1935 and 1937. He also served as Grand Principal Conductor of the Work of the Grand Council of Royal and Select Masters in 1938. He received the Order of the Temple May 20, 1931, in Boston Commandery, from which he dimitted in 1936 and affiliated with Saint Bernard Commandery of Boston May 13, 1936, and served as its Eminent Commander in 1942.
In the Ancient Accepted Scottish Rite of Freemasonry, Ill' Brother Balcom received the degrees in Boston Lafayette Lodge of Perfection February 3,1928; Giles F. Yates Council, Princes of Jerusalem February 10, 1928; Mount Olivet Chapter of Rose Croix February 17, 1928, and Massachusetts Consistory March 9, 1928, all in the Valley of Boston. He was Most Wise Master of Mount Olivet Chapter of Rose Croix 1946-1947, and up to the time of his death November 22, 1948. He was appointed by lll. Claude LeRoy Allen, 33°, Deputy for Massachusetts, as Master of Ceremonies of Massachusetts Council of Deliberation June 11, 1948. He was crowned a Sovereign Grand Inspector General 33°, and made an honorary member of the Supreme Council at Boston, Massachusetts, September 29, 1948.
His devotion to Masonry will ever serve as an inspiration to all who knew him. He was meticulous in every duty he assumed. His warm friendship which ruled his life was radiated in every activity. To those who were ill or met with misfortune, his helping hand was ever present, and his many deeds of kindness will be remembered by many of his Masonic friends and associates until time shall be no more. His cheery smile and his genial comradeship made him liked and respected by all who were privileged to know him. He never refused the warmth of life or the joy of living. He was a man among men and yet without compromise of principle. The teachings of Freemasonry became a part of his daily life, and there was in his heart the positive conviction that life and love and the beauty and richness of living are eternal.
In addition to his Masonic affiliations, he was a member of Sons of Union Veterans of the Civil War; Veteran Association, First Corps of Cadets; Past President, Newton Improvement Society; member of Executive Committee of Middlesex Club; Incorporator of the Boston Penny Savings Bank; Past President, Bryant & Stratton Alumni Association and "Dad" of Boston Chapter of DeMolay.
Funeral services were conducted at the New Old South Church in Copley Square, Boston, by the Rev. Dr. Frederick M. Meek, Minister of the Church, and Dr. Mcllyar H. Lichliter, 33°, Grand Prior of the Supreme Council. A host of the Brethren, including members of the Supreme Council and a great many of his devoted friends attended.
"Here was a friend whose heart was good;
He walked with men and understood,
His was a voice that spoke of cheer,
And fell like music on the ear.
His was a smile men loved to see;
His was a hand that asked no fee,
For friendliness or kindness done,
And now that he has journeyed on,
His is a fame that never ends -
He leaves behind uncounted friends."
Fraternally submitted
Claude L. Allen
Rutherford E. Smith
Clarence D. Nesbit
Committee
---